If you want to expand your income streams and enter the world of affiliate marketing, becoming a chatbot affiliate partner can be an excellent option. As more businesses turn to chatbots to provide customer service and improve engagement, the chatbot industry is booming.
In fact, according to a report by MarketsandMarkets, the global chatbot market is expected to reach $9.4 billion by 2024, growing at a compound annual growth rate (CAGR) of 29.7%.
As a chatbot affiliate partner, you can earn commissions by promoting chatbot solutions to your audience. This can include businesses of all sizes that are looking to improve their customer service, generate more leads, or automate repetitive tasks.
But why become a chatbot affiliate partner specifically?
In this blog post, we'll explore the top seven benefits of becoming a chatbot affiliate partner. From earning passive income to offering cutting-edge solutions to your audience, there are many compelling reasons to consider this opportunity. So, let's dive in and discover why becoming a chatbot affiliate partner could be the right move for you.
What is Affiliate marketing and how does it work?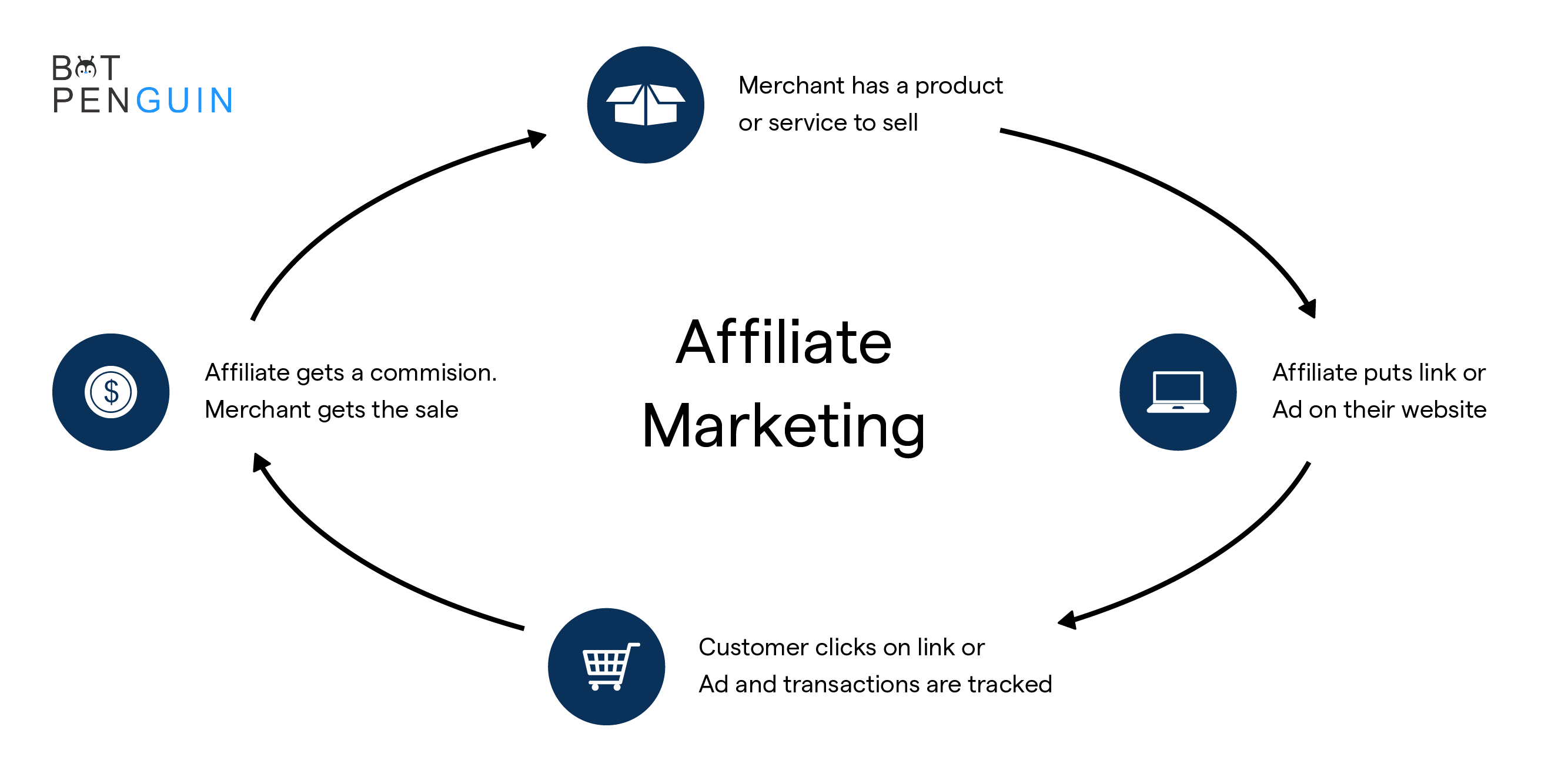 Affiliate marketing is online advertising in which a partner or affiliate promotes a product or service of another business in return for a commission on any leads or sales generated.
In affiliate marketing, company partners with an affiliate to market its goods or services to its own audience or followers (often via an affiliate network). In order to track any clicks or purchases made through those links, the affiliate creates special tracking links or codes.
The affiliate receives a commission on the sale or leads when a customer clicks on a special tracking link and purchases something or completes a particular task (like filling out a form). The specific agreement between the affiliate and the business determines the commission rate.
It is possible to conduct affiliate marketing through a variety of platforms, including blogs, social media, email, and chatbots. It can be an efficient way for affiliates to make passive income by endorsing goods or services they believe in, as well as a low-cost method for businesses to attract new clients.
Affiliates are compensated for promoting and generating leads or sales for a company's goods or services in the performance-based marketing strategy known as affiliate marketing.
Top 7 Reasons to Become a Chatbot Affiliate Partner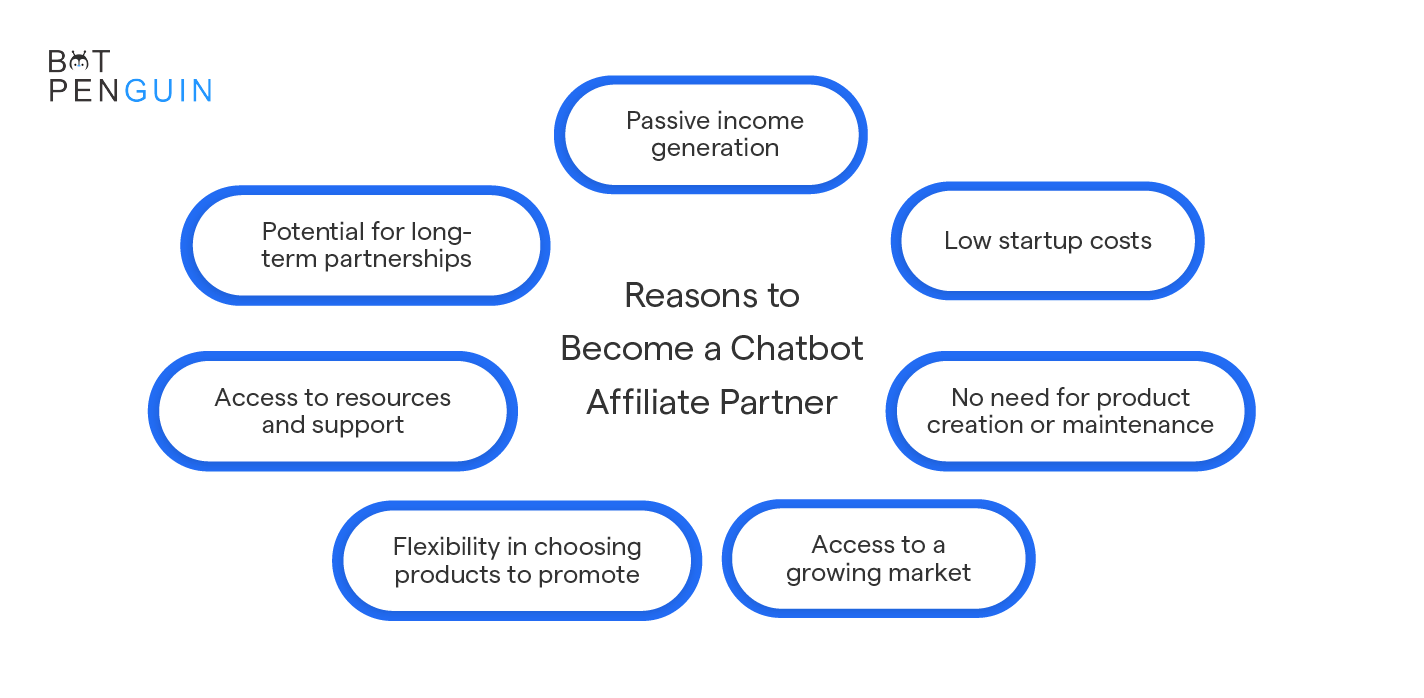 Passive income generation
Passive income generation is one of the key benefits of becoming a chatbot affiliate partner. Passive income refers to income earned with little to no ongoing effort on the part of the recipient. With chatbot affiliate partnerships, affiliates can earn commissions on sales or leads generated through their promotion efforts, even when they're not actively promoting the products or services.
This is made possible through unique tracking links or codes that track any clicks or purchases made through those links. Once set up, these links can continue to generate income for the affiliate over time. This can be especially appealing for those seeking extra income without dedicating significant time or resources to ongoing promotion efforts.
A flexible and accessible way for people to generate additional income and achieve financial freedom is through chatbot affiliate partnerships.
Low startup costs
Another key benefit of becoming a chatbot affiliate partner is the low startup costs. Unlike starting a traditional business or investing in other income-generating opportunities, becoming a chatbot affiliate partner typically involves little to no startup costs.
In most cases, all that's needed is a platform (such as a blog or social media account) to promote the chatbot products and a willingness to invest time and effort in promotion. There's no need to invest in inventory, develop a product, or purchase equipment, which can significantly reduce the barriers to entry for those looking to earn extra income.
This low barrier to entry can be especially appealing to those who may need more financial resources to invest in a traditional business but still want to explore income-generating opportunities. A low-risk way to test a potential new revenue stream before investing more time and money is to sign up as a chatbot affiliate partner.
No need for product creation or maintenance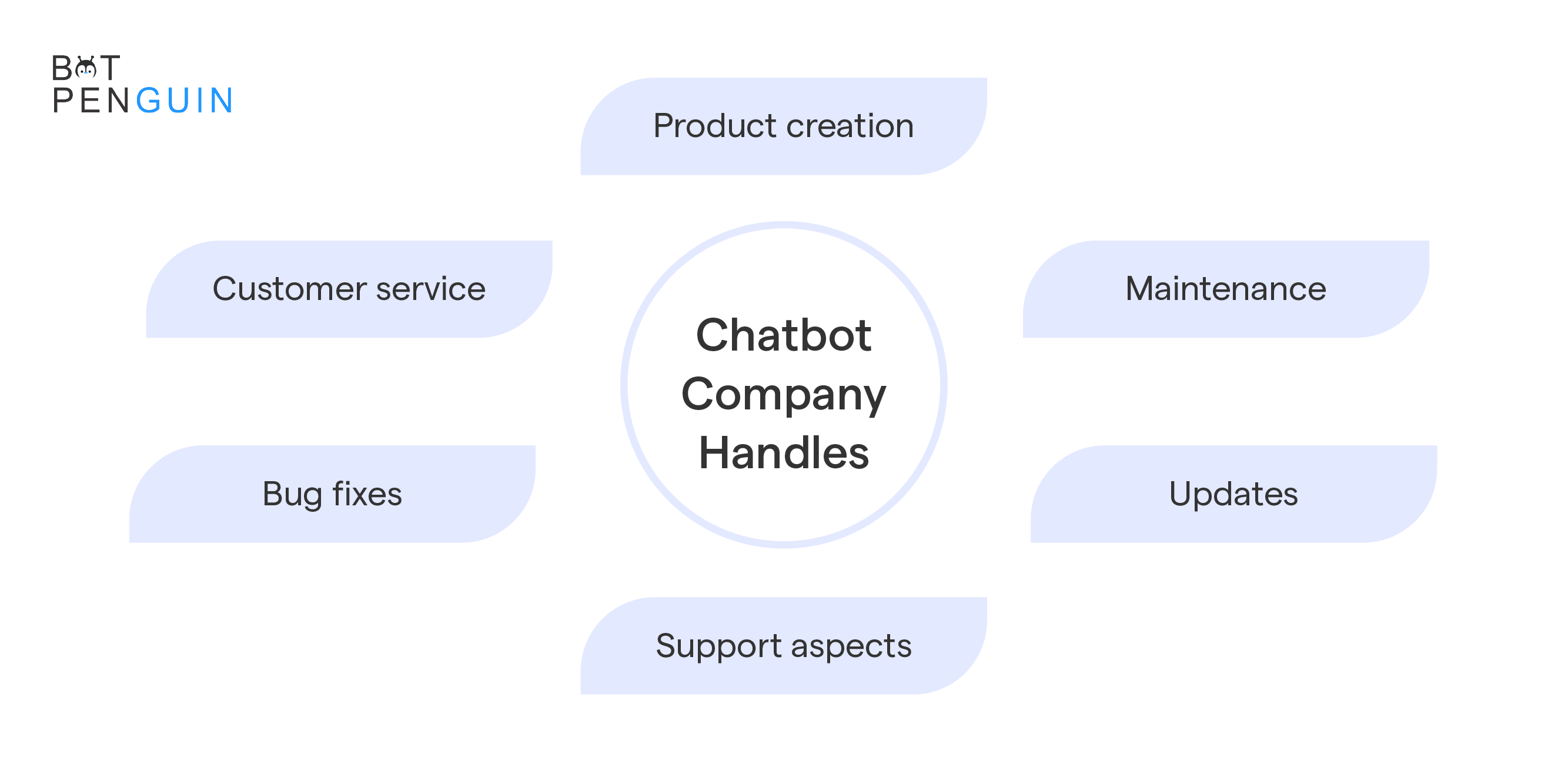 There is no requirement for product production or upkeep, which is another important advantage of working as a chatbot affiliate partner. This means that affiliates can handle the time, effort, and resources that typically go into creating and maintaining a product or service.
The chatbot company or platform handles all product creation, maintenance, and support aspects, including updates, bug fixes, and customer service. This allows affiliates to focus solely on promoting the product or service and earning commissions on sales or leads generated through their promotion efforts.
This can be a significant advantage for those needing more skills, resources, or interest in developing and maintaining their products or services. It also means that affiliates can use the chatbot company's or platform's expertise and resources to offer high-quality products or services to their audience or followers.
Access to a growing market
Chatbots are becoming increasingly popular as a tool for businesses to communicate with their customers and automate certain tasks, such as customer service, sales, and marketing. As such, a growing demand for chatbot products and services creates opportunities for affiliates to tap into this market and earn commissions on sales or leads generated through their promotion efforts.
Furthermore, chatbots are not limited to any specific industry or niche. Chatbots can be used by businesses in various sectors, including healthcare, finance, retail, and more. This means that affiliates can promote a wide range of products and services, allowing them to choose products that align with their interests or expertise.
Access to a growing market is a significant advantage for chatbot affiliates, allowing them to tap into a high-demand market and earn significant commissions.
Flexibility in choosing products to promote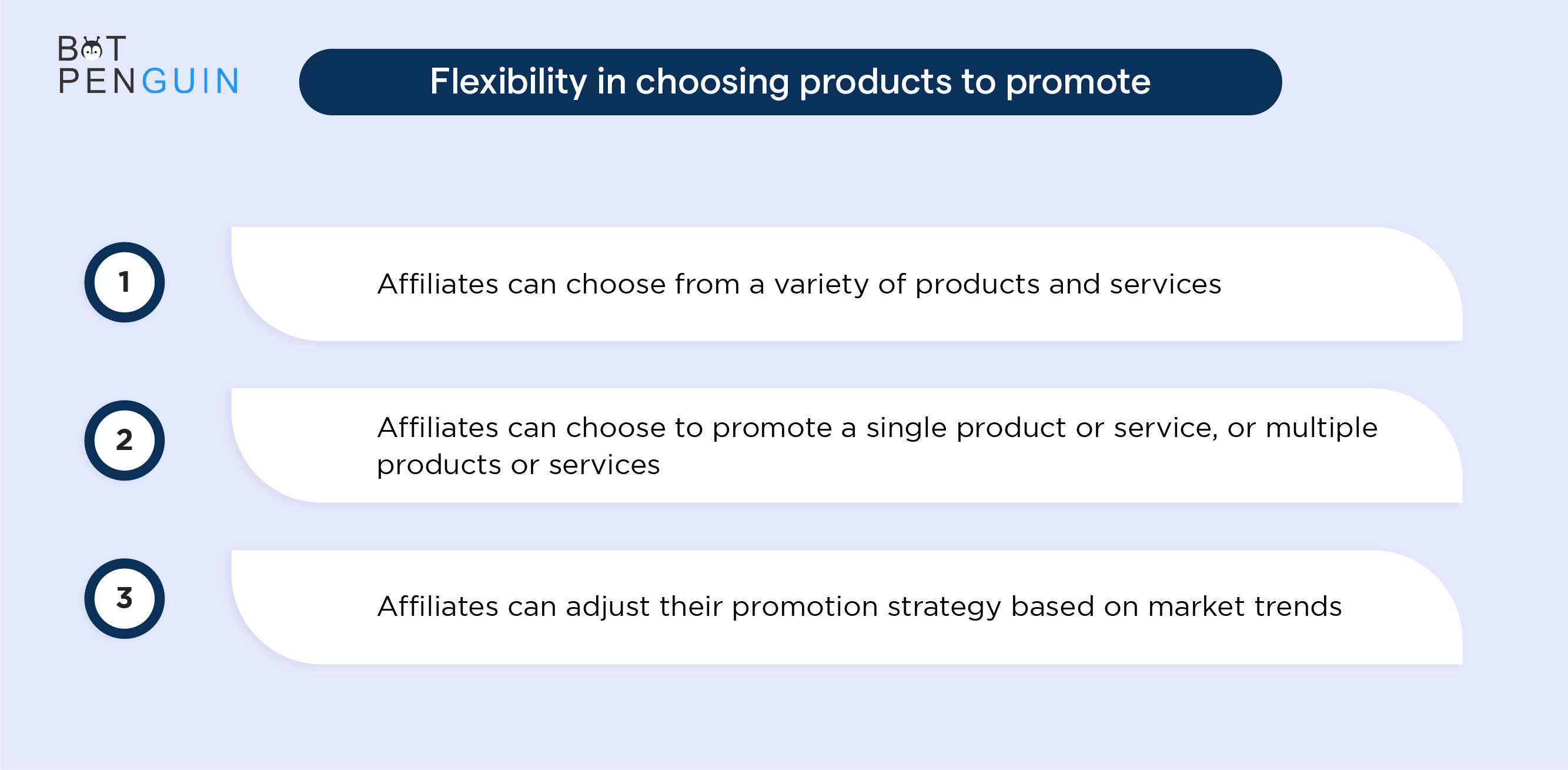 Affiliates can choose from a variety of products and services that chatbot companies and platforms typically offer, allowing them to promote things that are relevant to their interests, areas of expertise, or target market.
Affiliates can choose to promote a single product or service, or multiple products or services, depending on their goals and preferences. They can also choose to promote products from different chatbot companies or platforms, giving them even more flexibility in selecting products to promote.
This flexibility can be especially beneficial for affiliates with a specific niche or audience, allowing them to select relevant and valuable products for their followers. It also means that affiliates can adjust their promotion strategy based on market trends or changes in their audience's needs and preferences.
Chatbot affiliate agreements have many benefits since they give affiliates a lot of freedom in the items they sell, allowing them to focus their marketing efforts on audiences and unique goals.
Access to resources and support
Access to resources and support is another benefit of becoming a chatbot affiliate partner. Chatbot companies and platforms typically provide their affiliates with resources and support to help them promote their products effectively and maximize their earning potential.
These resources may include training and marketing materials and access to affiliate managers or support staff who can assist and answer questions. Affiliates may also have access to analytics and tracking tools to monitor their performance and adjust their strategies accordingly.
In addition, chatbot companies and platforms may offer incentives or bonuses for high-performing affiliates, such as increased commissions or exclusive promotions.
Access to resources and support can benefit chatbot affiliates, especially those new to affiliate marketing or looking to improve their performance. It can help them learn best practices, develop effective promotion strategies, and maximize their earning potential.
Potential for long-term partnerships
Chatbot firms and platforms often respect long-term partnerships with their affiliates and are willing to provide additional benefits and incentives to promote continued promotion efforts.
By building a long-term relationship with a chatbot company or platform, affiliates can benefit from ongoing support, training, and resources and access to new products and services as they are developed. This can help affiliates continually improve their promotion strategies and maximize their earning potential.
In addition, long-term partnerships can also lead to increased trust and credibility with the audience, as followers may see the affiliate's continued promotion of the chatbot product or service as a sign of its quality and value.
Conclusion
Becoming a chatbot affiliate partner is a fantastic option for marketers, bloggers, and business owners looking to make passive money while promoting cutting-edge chatbot services to their audience.
The secret to being a successful chatbot affiliate partner is to market top-notch chatbot products that cater to your target market and offer first-rate customer support.
Becoming an affiliate partner with BotPenguin can be an excellent opportunity for you. With a 20% lifetime commission on each sale, you're looking at a sizeable and steady income.
Curious? Check out our affiliate program here.