No one set out to build a chatbot to revolutionize the customer service experience. We just wanted to make it faster and more convenient for people to find information on a website or mobile app.
In the beginning, we had natural language processing (NLP), which is essentially the ability of a computer to recognize patterns in human speech and decipher what a person is saying. But that level of recognition comes with some severe limitations. However, most of them were solved by including machine learning.
Yes, there are tons of chatbot builder platforms out there. Some of them include NLP, while others rely on machine learning. Still, others might have both—it depends on what you're looking for and what's available from your provider. Luckily, plenty of chatbot software platforms are out there, and they're not all created equal.
In This Article, We'll share the top three most robust and easy-to-use online chatbot maker platforms with unique features.
Chatbot Maker Platforms And How They Make Life Easy!
Creating a chatbot for your business, website, or app can seem like an impossible challenge if you don't have the skills to build it from scratch.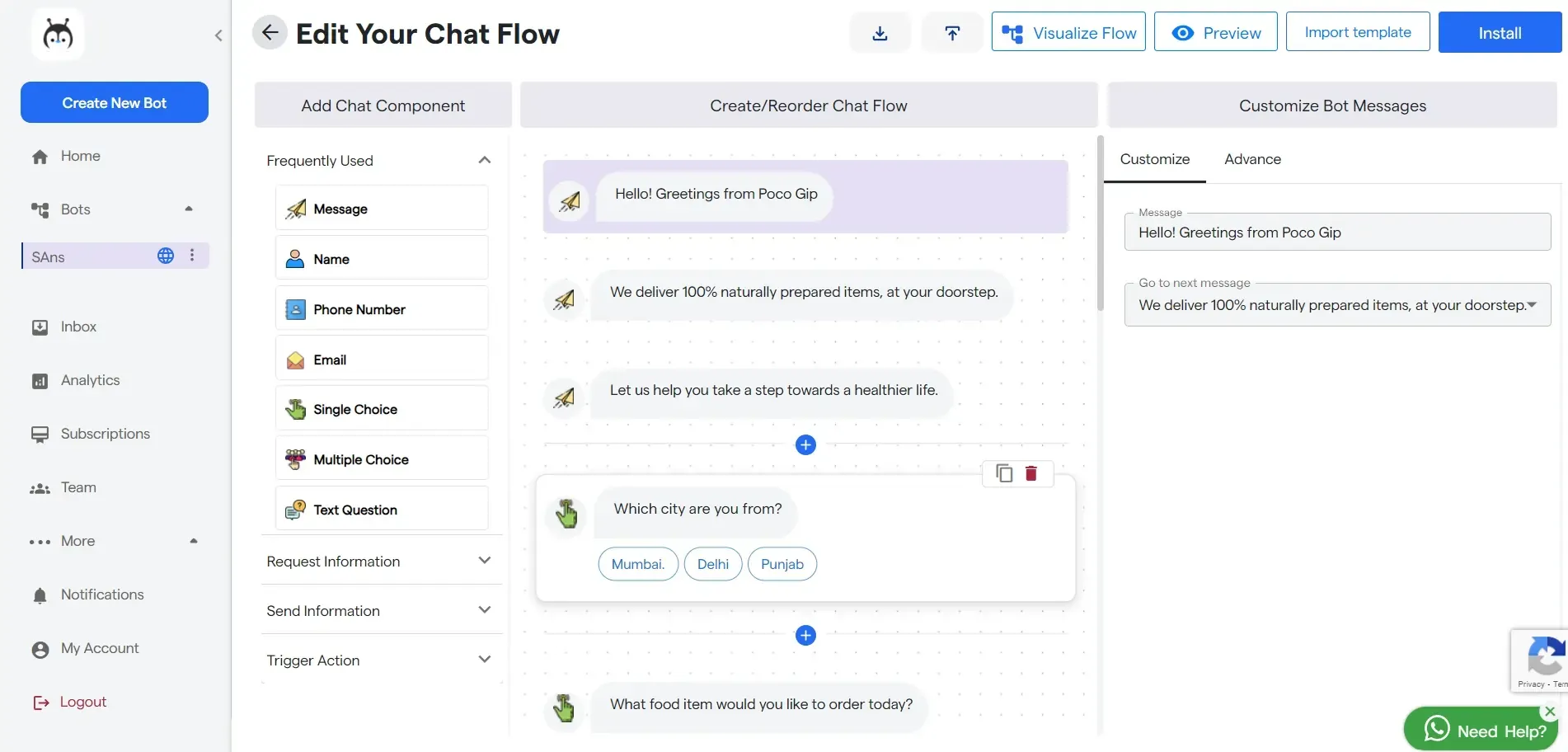 Fortunately, a new class of developer tools provides an alternative where you can create and customize chatbots without writing any code. These online chatbot maker platforms let you create chatbots with little effort, no coding required.
They help you quickly and easily develop a conversational interface for your app or website.
You can start by creating a simple flowchart explaining how someone might interact with your bot. The tool then translates that flowchart into code, which it uses to generate a bot that responds to specific user inputs in a way that follows the logic of the original flowchart.
You can then add graphics and customize the content and responses of your bot with no coding required.
Why don't you try by your self? Create chatbot for free today. Try BotPenguin!
BotPenguin
BotPenguin is a online chatbot maker free software that allows you to create and manage your bot in minutes. You can use this bot for customer support, lead generation, sales support, order management, etc.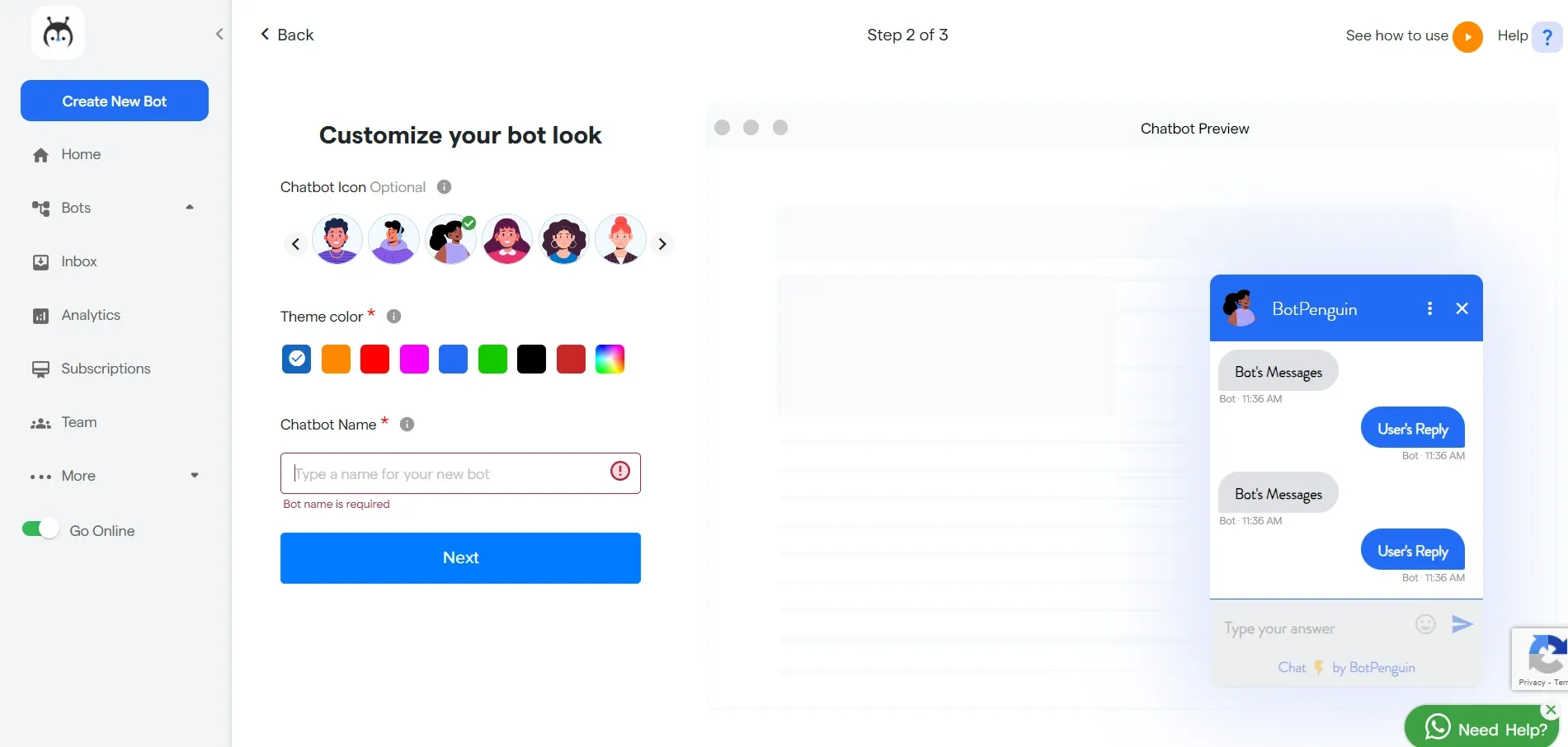 The best thing about BotPenguin is that it's easy to use even if you have no experience with coding or programming. You'll be able to get started and create a chatbot in just a few minutes.
Features and benefits of BotPenguin
Easy to use
BotPenguin's easy-to-use interface makes it very simple to use the platform. You can design your chatbot in minutes and start chatting with your customers immediately.
Rich features for customization
You can customize your chatbot to match your brand identity. You can make it appear more human-like by adding personality traits. These features allow you to give customers a better experience when interacting with them through a chatbot.
Powerful analytics tools
BotPenguin provides real-time analytics tools to monitor user engagement levels, conversion rates, etc., and optimize messages based on results received from these analytics tools. It helps you improve messaging and get better results from each message sent out by your chatbot.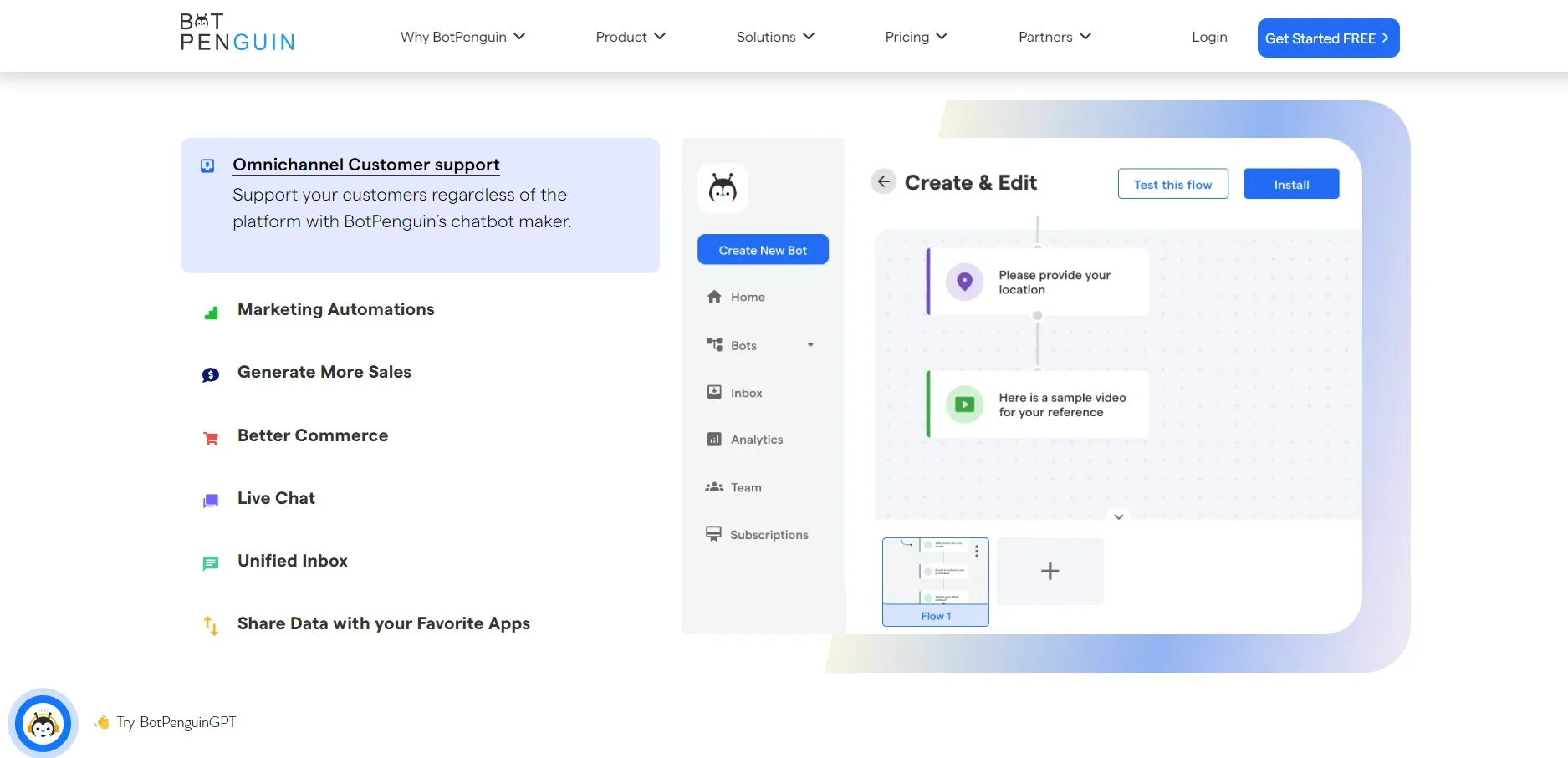 Built-in NLP engine
The NLP engine uses machine learning techniques that allow the bot to understand the meaning behind words and sentences. It helps the bot respond accordingly and gives you better results when compared with traditional bots, which use rules based on keywords.
Natural language processing (NLP)
NLP allows your bot to understand human language and respond accordingly without having to follow predefined rules or scripts. It makes it much more human-like because it can realize slang and technical terms, often used in chats, compared to traditional bots, which only understand simple keywords or phrases.
Versatility
BotPenguin allows you to create bots for Facebook Messenger, Skype, and Telegram, which is more than most competitors offer. The platform supports more than 20 languages, including Spanish, French, German, and Russian. It makes it easier for you to localize your bot and reach a broader audience.
ManyChat
ManyChat is an online chatbot maker that ManyChat, Inc created. The company was founded in 2015. It is based in San Francisco, California. ManyChat is one of the most popular online chatbot maker free platform because it has many features and high-quality templates.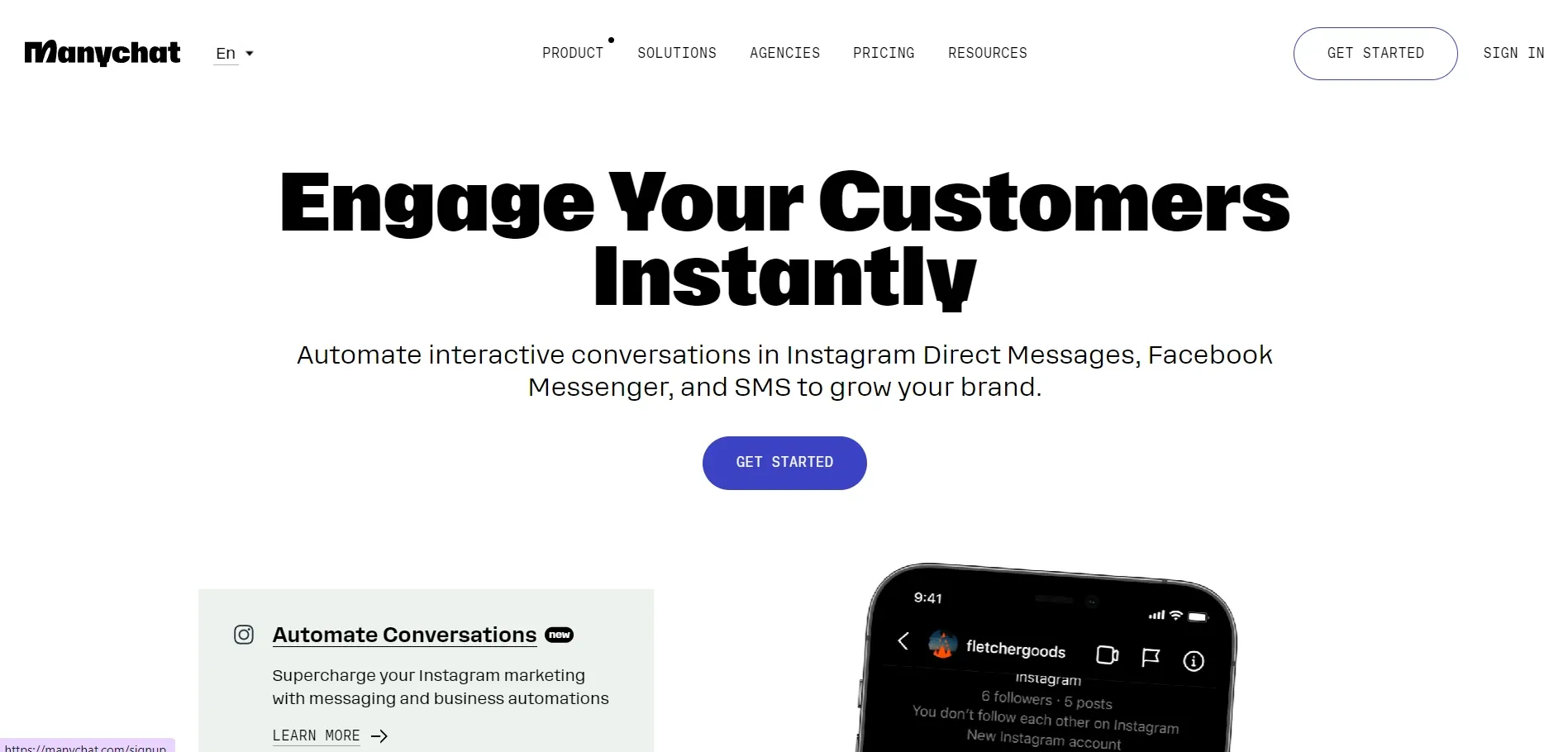 It has a wide range of templates and tools that you can use to create your chatbot. The software also has an easy-to-use interface that offers thousands of free tools to help you build a successful business and generate leads.
The template library contains over 20,000 templates you can use for different purposes such as sales, marketing, or customer support. You can also create your unique template using the drag-and-drop or HTML editor.
You can also create custom landing pages for each campaign with a few clicks using the built-in landing page builder tool within ManyChat.
Why Use ManyChat?
Chatbot Builder
ManyChat has an easy-to-use chatbot builder that allows you to create a fully automated bot without programming skills. You can build a conversational interface and publish it on Facebook Messenger.
Messaging App
You can use the app to send messages directly to your customers, followers, or website visitors via their mobile phone numbers or emails without any hassle of setting up multiple accounts.
Automation
With the help of the automation feature, you can automate your business processes by creating various automated flows with different triggers. E.g., when someone purchases something from your online store.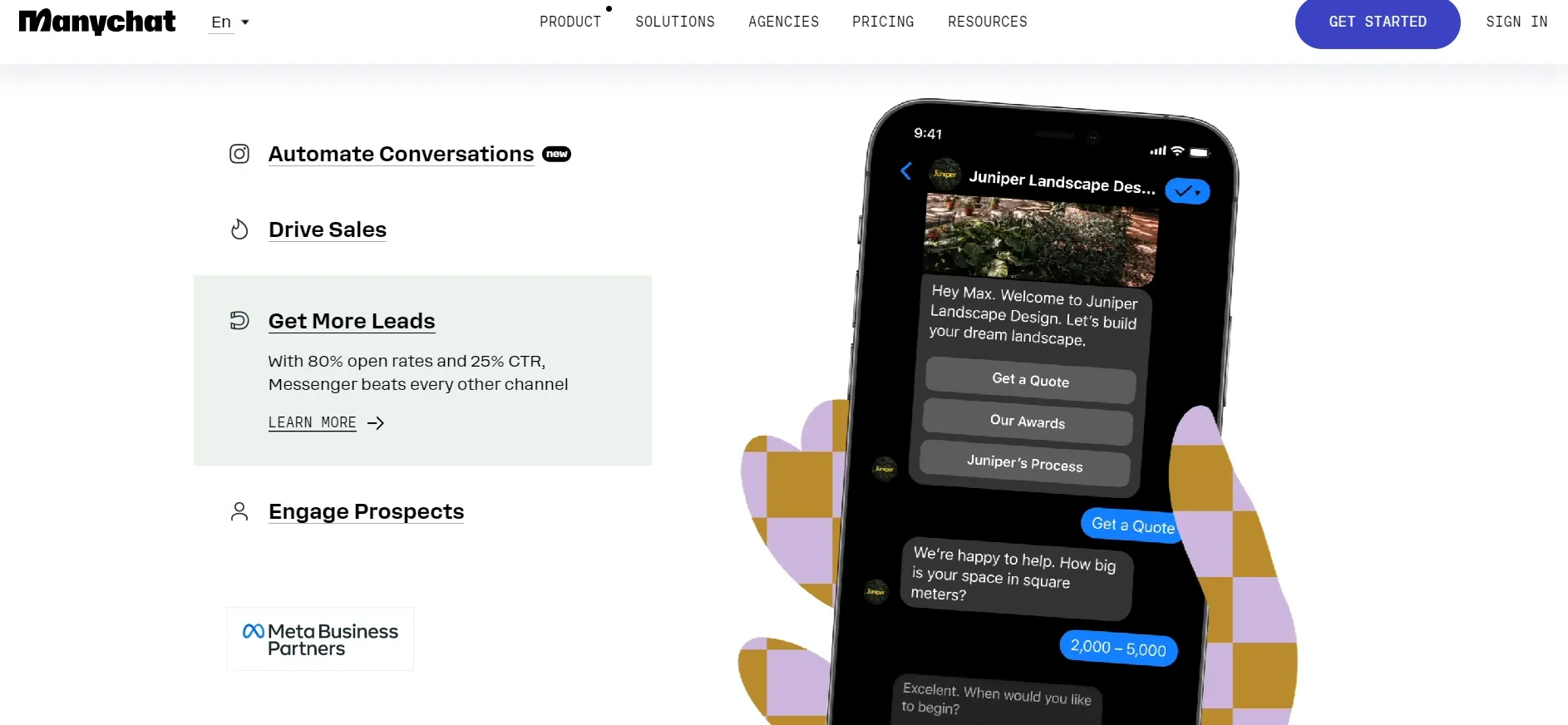 Analytics
This tool provides detailed analytics about how people interact with your chatbot, including the number of clicks and actions users take after clicking on buttons in the chat window. Hence, you can analyze what is working well for them and improve it accordingly so that they will take more action in the future!
Personalization
One of the most important aspects when creating your chatbot is personalization. You want the audience to feel like they are talking to a natural person, not a bot. With ManyChat, you can customize your chatbot with different colors and text styles to match your brand's identity.
You can also personalize the chatbot by including images in your messages. The image will be shown as part of the conversation. It will help you build trust with your audience as it helps them remember your name or brand better than just plain text messages would have done in this case. You can customize your chatbot with different colors and text styles to match your brand's identity.
Botsify
It is an Online chatbot maker platform for businesses of all sizes. It has a simple drag-and-drop interface so that you can build your chatbot without coding. You can also choose from more than 100 pre-built chatbot templates.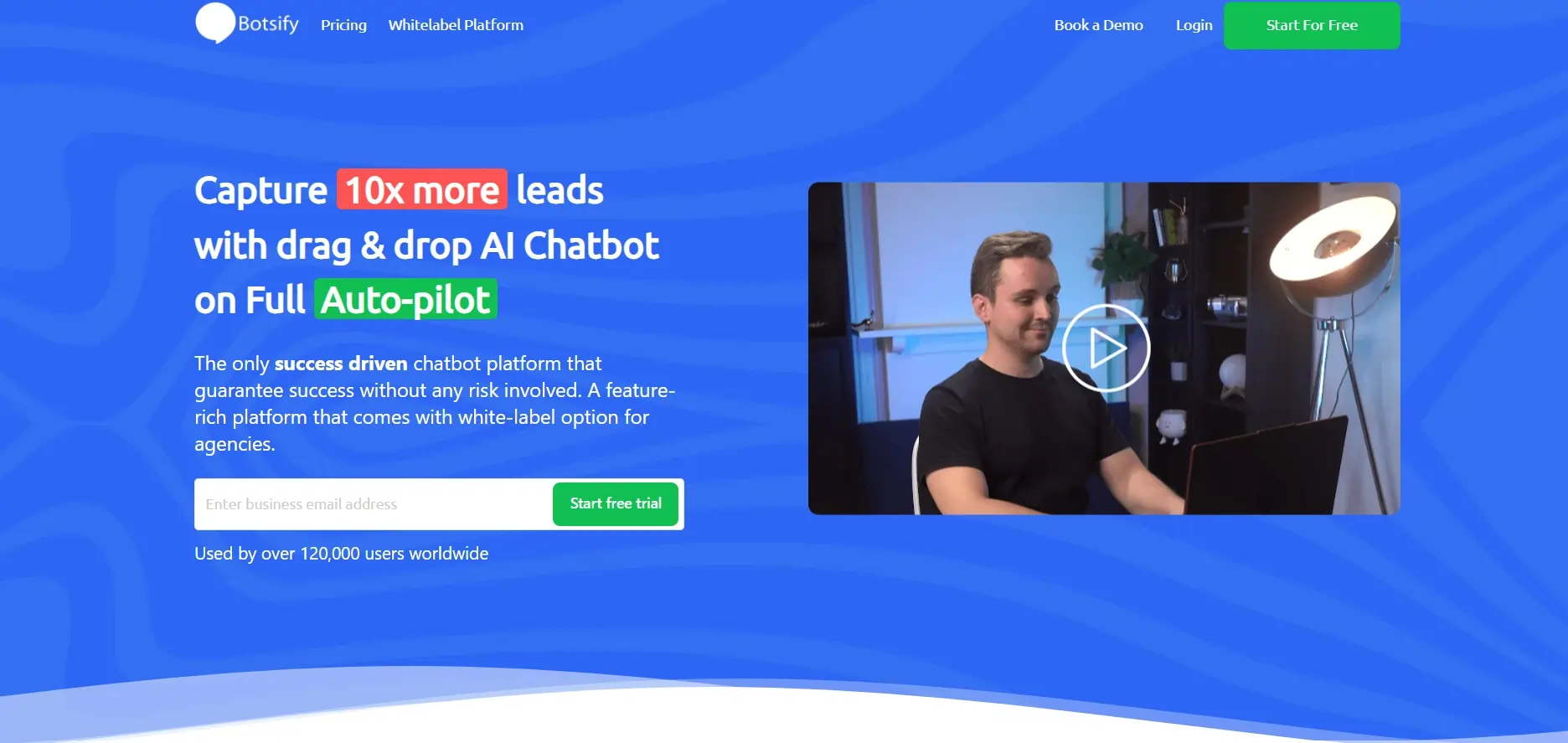 Botsify allows you to create multiple bots at once, so you don't have to keep making them individually for each app or website where you want them deployed. It also comes with a full suite of analytics tools to monitor how well each bot is doing and make changes accordingly.
The Botsify platform supports many chat platforms, including Facebook Messenger, Skype, Slack, Telegram, and many others.
Why Use Botsify?
Friendly UI
Botsify is extremely easy to use and can be operated by anyone with basic knowledge of coding or programming languages such as JavaScript, NodeJS, or Python.
No Coding Required
Even if you are unfamiliar with coding languages, you can still create your chatbot using this platform. It offers drag-n-drop design tools which allow users to develop their bots without writing any code themselves.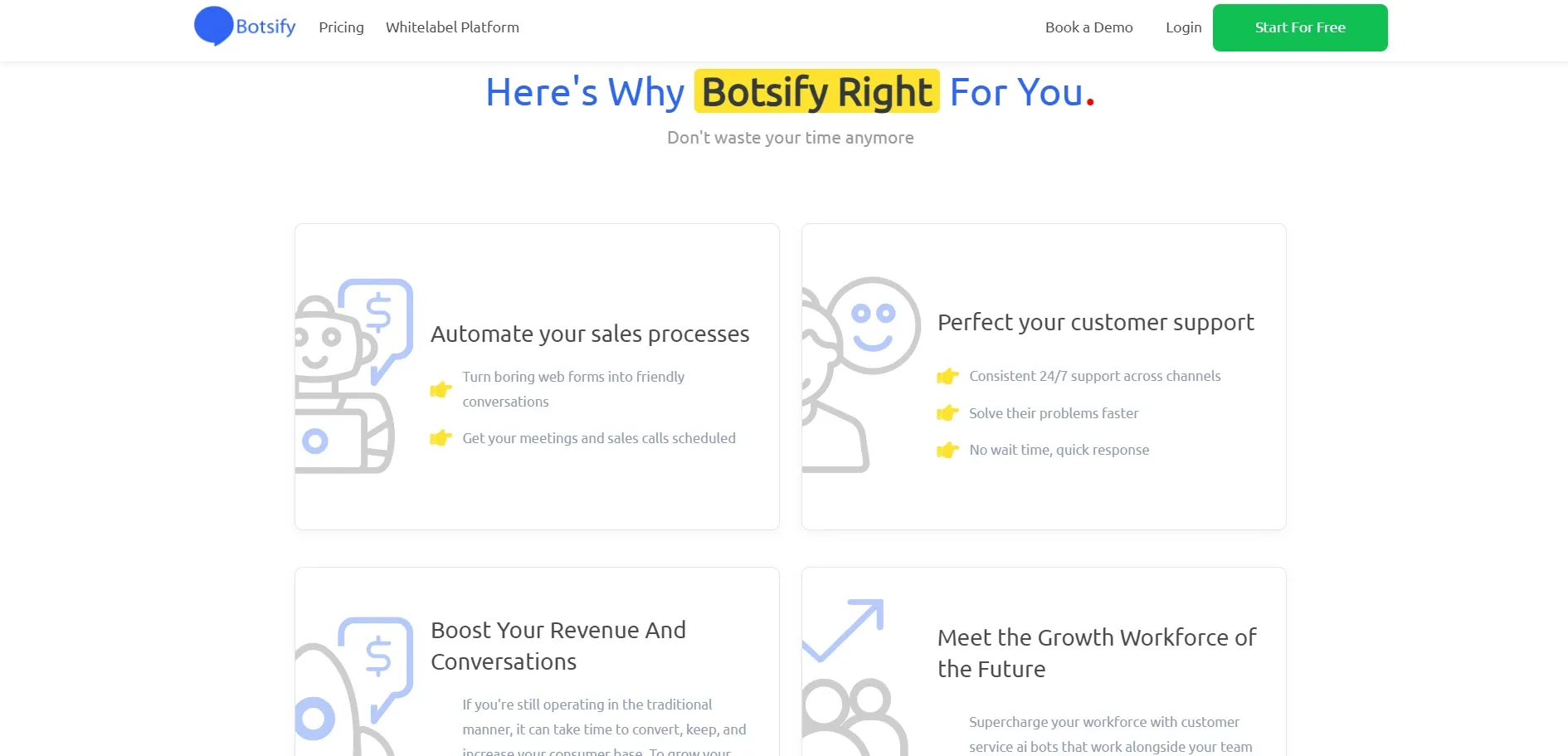 Real-Time Chat Functionality
This feature allows users to interact with your bots in real-time by sending messages through text or voice channels (like Facebook Messenger). Also, this feature will enable users to send pictures and videos along with their messages, making them look more human-like than other automated messaging apps.
Chatbot analytics
Get insights into your bot's performance, including the number of messages sent, the number of interactions, conversation duration, and much more.
Natural language understanding (NLU)
Botsify uses NLU to understand natural language queries and respond accordingly. This feature helps you build conversational bots with ease.
Multiple channels integration
Botsify allows you to integrate your chatbot with multiple channels such as Messenger, Telegram, Slack, Skype, and more via API calls or webhooks.
Inline bot
Inline bots can be added to any page on your website by pasting the code snippet provided by Botsify with just a few lines of code.
Conclusion
Chatbots have become an integral part of business solutions. You can use them for purposes like ordering services, booking a cab, or finding online information.
We found some of the best Chatbot Platforms available in the market. You can create a Chatbot without learning any coding language and with stunning features.
Using online chatbot maker free software to use templates you can build your chatbot today. Try BotPenguin! and get your chatbot now
Chatbots might be the way to do it if you are looking for a definite way to attract customers and increase your sales. We hope you will implement these platforms and have a remarkable turnaround on your website!
Frequently Asked Questions
How can an Online chatbot maker free platforms benefit my business?
Chatbot maker platforms empower businesses to create and deploy chatbots without coding knowledge. They save time and resources by automating customer interactions, improving response times, and enhancing customer engagement. Chatbots can handle routine inquiries, provide personalized recommendations, generate leads, and even facilitate transactions.
Which chatbot maker platform is best for e-commerce businesses?
For e-commerce businesses, chatbot maker platforms like [Platform A] and [Platform B] offer features specifically designed for online retail, such as product catalog integration, order tracking, abandoned cart recovery, and secure payment gateways.
Can chatbot maker platforms integrate with my existing systems?
Yes, top chatbot maker free platforms have robust integration capabilities. They can seamlessly integrate with customer relationship management (CRM) systems, email marketing platforms, help desk software, and other business tools to streamline operations and provide a unified customer experience.
Are chatbot maker platforms suitable for small businesses?
Absolutely! Chatbot maker free platforms are accessible and affordable, making them ideal for small businesses. They provide an opportunity to automate customer interactions and compete with larger enterprises while delivering a personalized and efficient customer experience.
Do I need coding skills to use chatbot maker platforms?
No coding skills are required to use most chatbot maker platforms. They offer user-friendly interfaces and visual builders that allow you to create and customize chatbots using simple drag-and-drop functionality.
Can Online chatbot maker platforms create chatbots for social media platforms?
Yes, many chatbot maker platforms support integration with popular social media platforms like Facebook Messenger, WhatsApp, and Instagram. This enables businesses to engage with their customers on the channels they prefer.
How can chatbot maker platforms help improve lead generation?
Chatbot maker platforms offer lead generation features like lead capture forms, lead qualification, and automated follow-ups. Chatbots can engage with website visitors, collect their contact information, and nurture leads through personalized conversations.
Are online chatbot maker free platforms capable of handling multilingual conversations?
Yes, top chatbot maker platforms support multilingual conversations. They have language detection and translation capabilities, allowing businesses to engage with customers in their preferred languages and cater to a global audience.