Customers demand personalised support. Uninterrupted and Quick. And, if you fail to give it to them, you're guaranteeing your Shopify store big losses in the future.
How?
If we listen to Forbes, 63% of customers are more likely to return to a website with live chat support.
Comm100 goes a step ahead with its research. It says Live chat handled by Hatbots has a higher satisfaction rate (87.58%).
But, we don't want you to get impressed by numbers! Think about it yourself. Put yourself in your customer's shoes.
Suppose you wanted to buy a laptop for your son. He wants it urgently. But you don't see whether it's available or not on the website (Maybe a glitch). Would you wait for a phone call with customer support or would you go to the live chat support and get your answer immediately?
We bet you'd go to the live chat.
Great! But, what if you could do that directly through WhatsApp? Wouldn't it make it even easier and more convenient?
Think about what it can do for your Shopify store & your customers. They would be able to ask anything, anytime. You can send personalised product recommendations to them directly. You can tell them about your new product launch directly.
How to do that? Whatsapp Integration is the answer. So let us begin by knowing what is WhatsApp Integration.
What is WhatsApp integration?
Wondering about WhatsApp integration? Let me break it down for you.
WhatsApp is the chat app taking over the world - over 2 billion users and counting! No surprise businesses are eager to tap into that huge audience.
That's where WhatsApp integration comes in. It links up your business tools and systems with the WhatsApp platform. So you can connect with customers directly in WhatsApp.
We're talking about automatically sending notifications, providing support, sharing product info, taking orders, and accepting payments. All through WhatsApp chat!
It's a big upgrade for customer experience and saves tons of time too. Instead of switching between apps and channels, everything's right there in one place - easy peasy!
So in a nutshell, WhatsApp integration powers up your business to engage customers in WhatsApp seamlessly. And who doesn't want that? It's a no-brainer win-win
You're ready to start chatting with your customers on WhatsApp. This is such an exciting move for your business! WhatsApp integration opens up a ton of possibilities to connect with customers in new ways.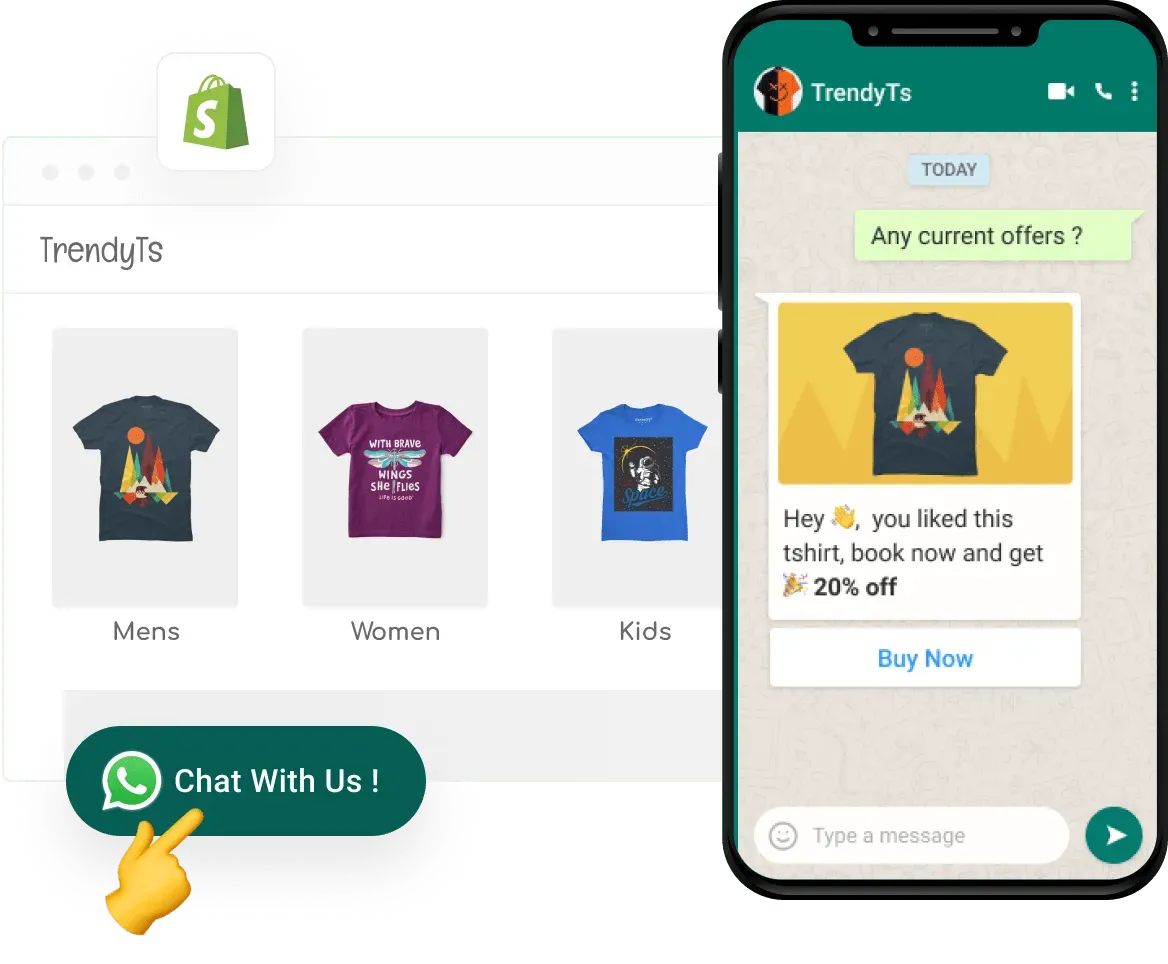 Just think - you can provide instant support, share product info, send promotions, accept orders, and handle payments right within WhatsApp chat. No need to switch between apps or channels. It's all smooth and seamless for customers.
And that's just the start. The benefits keep coming with WhatsApp integration:
WhatsApp Integration on Shopify– Is it any good?
WhatsApp integration on Shopify store can boost sales and improve customer satisfaction.
And with AI-powered recommendation systems and personalized marketing campaigns, you can target the right audience and increase sales even more.
What else can it do?
Boost Customer Engagement and Satisfaction
You understand how crucial it is to maintain your customer's interest and satisfaction as a Shopify store owner.
With so many online options, offering personalized and efficient customer support is essential. Luckily, WhatsApp integration on Shopify can help you achieve just that.
Let's look at two key features that boost customer engagement and satisfaction.
Direct Communication Channel
Giving your customers a direct communication channel with your company with WhatsApp integration is one of the key advantages of doing so.
Customers may now use this feature to contact you immediately rather than waiting for voicemail messages or emails to appear.
64% of consumers prefer messaging platforms for customer service, says Clickatell.
An easy and effective method of communicating with your customers is provided by WhatsApp integration. You may answer consumer questions via real-time messaging, which increases the probability that they will be satisfied and make a purchase.
Moreover, instant messaging also means you can resolve issues faster, leading to higher customer retention rates.
Personalized Customer Support
Personalized customer support is also key to boosting customer engagement and satisfaction. With WhatsApp integration, you can offer tailored experiences to your customers.
You can use customized marketing campaigns, AI-powered recommendation systems, and targeted push notifications to promote products and offer promotions.
But, perhaps more essential to building customer loyalty is the ability to provide personalized customer support. With WhatsApp integration, you can communicate one-on-one with customers, offer tailored advice, and resolve issues quickly.
Customers feel valued when they receive support tailored to their needs and preferences. A touch of personalization can result in higher customer satisfaction, more positive reviews, and improved customer engagement.
Increase Conversion Rates and Sales
As a Shopify business owner, your main objective is to increase sales by turning visitors into paying customers. Fortunately, Shopify WhatsApp integration can significantly boost your conversion rates.
Let's look at two important aspects that can assist you in doing Shopify WhatsApp integration.
Seamless Checkout Experience
Regarding online shopping, a smooth and hassle-free checkout experience is vital.
With Shopify WhatsApp integration, you can provide customers with a seamless checkout process.
By integrating WhatsApp into your shopping cart, you can offer real-time assistance to customers during the checkout process. You can address their concerns instantly if they have questions about payment options, shipping details, or discount codes.
By offering immediate support and guidance, you can prevent cart abandonment and increase the likelihood of completing the purchase.
Research by Revech has shown that live chat support during checkout can lead to a 40% increase in conversion rates.
Shopify WhatsApp integration ensures that your customers can access personalized support when they need it most.
Personalized Product Recommendations
Another powerful feature of Shopify WhatsApp integration is the ability to provide personalized product recommendations to your customers.
With AI-powered recommendation systems, you can analyze customer data and browsing behavior to suggest products that align with their interests and preferences.
Customers feel more linked to the items and are more inclined to believe your recommendations, which have been found to enhance conversion rates by up to 26%.
Additionally, you can send tailored marketing initiatives and sales pitches straight to your clients' WhatsApp inboxes through Shopify WhatsApp integration.
You may generate a sense of exclusivity and urgency with this degree of personalisation, which will increase sales and improve client satisfaction.
With this level of personalization, you can create a sense of exclusivity and urgency, leading to increased sales and higher customer satisfaction.
And increasing your conversion rate isn't that tough. Meet Botpenguin, the home of chatbot solutions. For every chatbot solution you can name, BotPenguin can do it. And there is just too much to offer:
Automate Order and Shipping Updates
Keeping customers informed about their orders and shipments is crucial when running an online store. With WhatsApp integration on Shopify, you can automate order and shipping updates, providing your customers with real-time information.
Let's explore two key features that can help you achieve Shopify WhatsApp integration.
Order Confirmation and Tracking
The first step in providing a seamless customer experience is to automate order confirmations and tracking updates. With WhatsApp integration, you can send automated messages to your customers when they place an order.
This instant confirmation reassures customers that their purchase was successful and that their order is being processed.
In addition to order confirmations, Shopify WhatsApp integration also enables you to provide tracking updates. With real-time tracking information, customers can stay up to date on the progress of their shipments.
Automated messages can inform customers when their order is shipped, out for delivery, or delivered.
This proactive approach to keeping customers informed eliminates the need for them to check their emails or visit your store for updates constantly.
Automating these order confirmations and tracking updates enhances the customer experience, decreases customer inquiries about order status, and builds trust with your customers.
Transactional Notifications and Reminders
In addition to order confirmations and tracking updates, Shopify WhatsApp integration allows you to send transactional notifications and reminders. These automated messages gently remind customers about important information related to their purchases.
Just imagine! You can send reminders to your customers if they have abandoned their cart, encouraging them to complete their purchase.
You can also send notifications about upcoming sales, promotions, or flash deals to create a sense of urgency and drive more sales.
Additionally, you can utilize Shopify WhatsApp integration to send post-purchase notifications, asking customers for feedback, testimonials, or product reviews.
These reminders can help you gather valuable user feedback, strengthen customer relationships, and increase customer engagement.
Automating these transactional notifications and reminders maximizes your chances of converting leads, generating repeat business, and encouraging customer loyalty.
Improve Marketing and Promotion Strategies
As a Shopify store owner, you always look for ways to improve your marketing and promotion strategies. With WhatsApp integration on Shopify, you can take your marketing efforts to the next level.
Let's explore two key features that can help you achieve this.
Customer Loyalty and Retention
Building customer loyalty and retention is vital for the success of any e-commerce business. With WhatsApp integration, you can create a more personalized and engaging experience for your customers, strengthening their loyalty and encouraging them to return to your store.
One effective way to achieve this is by sending personalized offers and promotions to your customers via WhatsApp.
These exclusive promotions can be tailored to their interests, preferences, and behavior, increasing the likelihood of a conversion.
Additionally, you can use WhatsApp to send targeted post-purchase follow-up messages, thanking customers for their purchase and encouraging them to buy again.
You can automate messaging to customers, informing them about reward processes linked to the program. This approach not only builds customer loyalty but also encourages brand advocacy.
By implementing these tactics and maintaining open communication with your customers, you can strengthen their loyalty, encourage repeat purchases, and improve customer retention.
Targeted Marketing Campaigns
Targeted marketing campaigns are also an essential feature of WhatsApp integration on Shopify.
WhatsApp allows for segmentation by customer interest, demography, geography, and other personalized data. This targeted approach can be leveraged to send specific offers and promotions to customers based on their needs and preferences.
By leveraging WhatsApp's segmentation feature, you can send tailored offers to customers who have left items in their cart, encouraging them to return and complete their purchase.
You can also use WhatsApp to segment your customers by location and send timely reminders about upcoming events or local promotions.
Moreover, you can utilize WhatsApp integration to implement multichannel campaigns, such as SMS, email, social media, and push notifications.
This ability to integrate marketing channels creates a more comprehensive and effective marketing strategy that is now much more achievable with WhatsApp integration.
By using personalized and targeted marketing campaigns, you can deliver more relevant messages that resonate with your customers. This approach not only increases the likelihood of conversions but also strengthens your brand image and reputation.
Conclusion
In a nutshell, integrating WhatsApp into your Shopify store can work wonders for your business!
You can boost engagement and keep your customers satisfied by offering direct communication channels and personalized customer support.
The seamless checkout experience and personalized product recommendations will significantly increase conversion rates and sales.
Moreover, automating order and shipping updates through WhatsApp keeps your customers informed and enhances their overall experience.
But the benefits don't stop there! WhatsApp integration takes your marketing and promotion strategies to a whole new level.
After reading about all those amazing benefits of WhatsApp integration, you're probably wondering how to easily achieve this for your Shopify store. Well, we've got great news - the ultimate customer engagement solution is here with BotPenguin's WhatsApp and Shopify integration!
With BotPenguin, you can automate customer support, generate leads, and run marketing campaigns seamlessly through WhatsApp messaging. Respond instantly to queries, share product info, and take orders - all without ever leaving the WhatsApp chat.
BotPenguin makes it effortless to enhance your store's customer experience by integrating the convenient features of WhatsApp. So you can provide the fast, personalized, and smooth communication today's customers expect.
Don't wait to elevate your business - embrace the advantages of WhatsApp integration right away with BotPenguin.
Frequently Asked Questions (FAQs)
Can WhatsApp integration on Shopify increase sales conversions?
Absolutely! WhatsApp integration on Shopify you can have interactive nature. Businesses can send personalized offers, address customer concerns, and provide timely order updates, leading to higher sales conversions and reduced cart abandonment.
Does Shopify WhatsApp integration help in marketing and promotions?
Yes, Shopify WhatsApp integration does! Businesses can use WhatsApp to send customers targeted promotions, product updates, and exclusive deals. This personalized marketing approach increases customer loyalty and drives repeat purchases on Shopify.
Can businesses use WhatsApp for automated order notifications on Shopify?
Indeed! By WhatsApp integration on Shopify, businesses can set up automated order notifications, shipping updates, and delivery confirmations, keeping customers informed and engaged throughout the purchase journey.
Are there additional features or plugins for WhatsApp integration on Shopify?
Indeed! Several plugins and tools offer advanced features like chatbots, multi-agent support, and WhatsApp analytics, further enhancing the integration's capabilities and providing more comprehensive customer support on Shopify.
Can WhatsApp integration benefit both small and large businesses on Shopify?
Absolutely! WhatsApp integration offers benefits for businesses of all sizes on Shopify. It empowers small businesses to provide personalized support and compete with more prominent brands, while larger enterprises can quickly scale their customer engagement efforts.