Are you looking to enhance your customer service and boost sales through conversational AI, but don't have the resources to build a chatbot from scratch?
White label chatbot partnerships provide a cost-effective solution by leveraging an existing platform.
Outsourcing bot development to an expert partner allows businesses of all sizes to streamline support, increase conversions, and save costs - without heavy investment.
This insightful guide explores how white label partnerships work and their key benefits. By customizing an off-the-shelf chatbot under your own brand, you can offer 24/7 automated assistance to customers.
Let us explore more about whitelabel chatbot partnerships in more depth; so let us start with knowing what White Label Chatbot Partnership is.
What is a White Label Chatbot Partnership?
A white label chatbot partnership is a collaboration between your business and a chatbot provider, where the chatbot is customized and branded under your business's name and identity.
This allows you to offer chatbot services to your customers without investing in building and maintaining the technology yourself.
Now it's time to explore the benefits of White Label Chatbot Partnerships.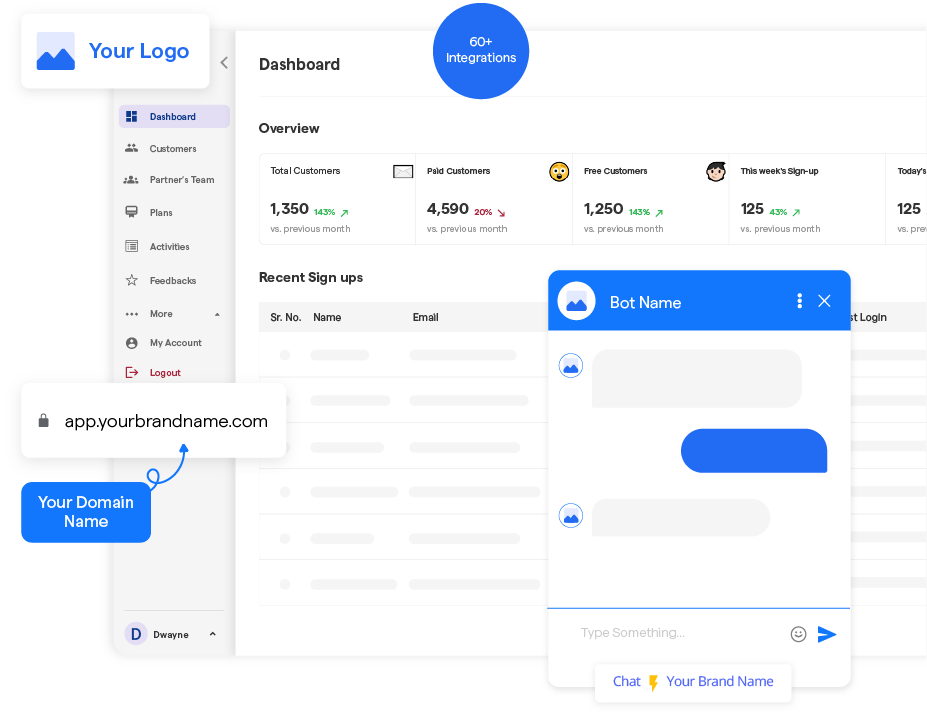 The Benefits of White Label Chatbot Partnerships
Want to take benefits through conversational AI, but don't have the resources to build a chatbot from scratch?
White label chatbot partnerships provide a cost-effective solution by leveraging an existing platform.
Discover how outsourcing bot development can streamline customer support, drive sales, and boost ROI in this insightful guide.
Enhance Customer Service
Providing your customers with 24/7 support, instant responses, and personalized assistance. It not only elevates customer satisfaction but also streamlines handling customer queries, freeing up your team for other vital tasks.
Increase Sales and Conversions
Chatbots excel at providing product recommendations, answering customer questions, and aiding in purchasing. Integrating a chatbot into your website or online store can boost sales and conversions by guiding customers through their buying journey and addressing concerns.
Cost-effectiveness
Developing and maintaining a chatbot from scratch can be costly. Partnering with a white label chatbot provider saves time and money, as they handle the technical aspects and ongoing maintenance.
Brand Consistency
White-label chatbot partnerships maintain brand consistency across all customer touchpoints. The chatbot can be customized to match your brand's unique tone, voice, and visual identity, ensuring a seamless brand experience.
Flexible Integration
White-label chatbots seamlessly integrate with various platforms and systems. Whether you use a CRM, helpdesk tool, or e-commerce platform, they can enhance workflow efficiency.
Now time to explore the factors that are necessary to consider while choosing a white label chatbot partner
Suggested Reading:
Choosing the Right White Label Chatbot Partner
Finding the perfect chatbot partner can seem like a daunting task, but it doesn't have to be. With so many options out there, how do you know who's right for your business needs?
Let's explore how to choose white label chatbot partner.
Customization Options
Choose a partner that offers high customization levels to align the chatbot with your brand's personality and specific needs.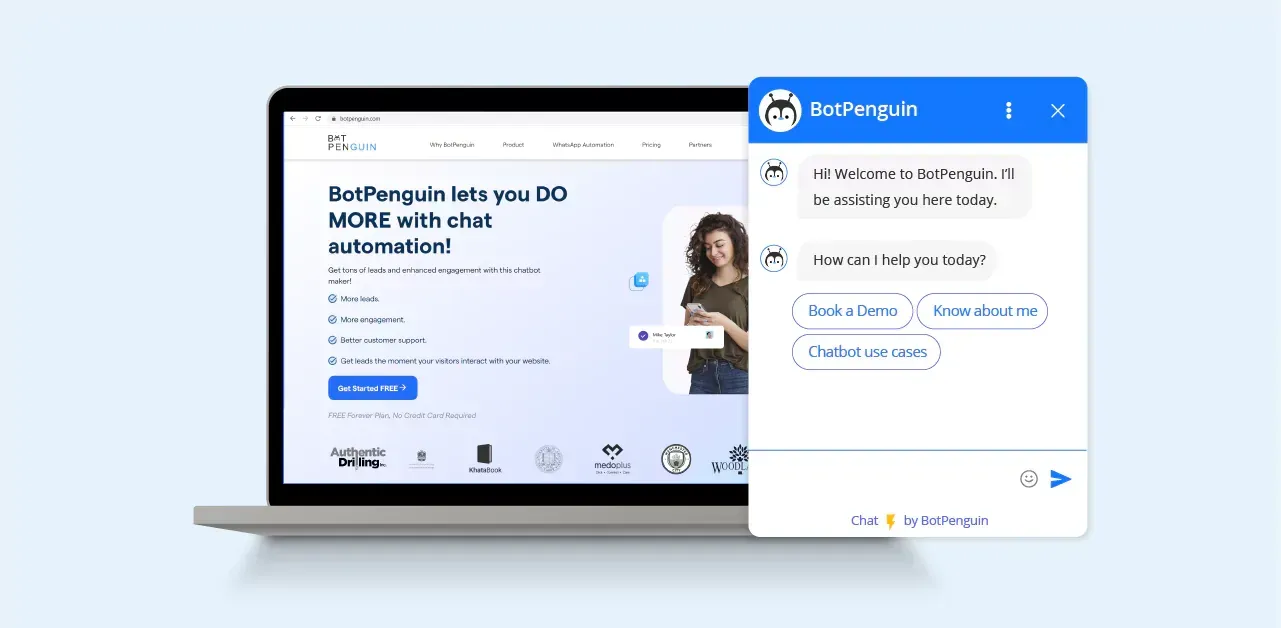 Proven Track Record
Research and choose a partner with a history of delivering high-quality, reliable chatbot solutions. Customer reviews and case studies can provide insights into their work.
Scalability and Support
Ensure the partner can meet your current and future business needs. Think about scalability, ongoing support, and handling increased customer demand.
Data Security and Compliance
Protecting customer data is paramount. Confirm the partner has robust security measures and complies with privacy regulations.
And shaking hands with BotPenguin means that you are well on your way to providing your customer base with all the features they need in a chatbot.
Become an affiliate, implementation, or whitelabel chatbot partner with BotPenguin, and offer chatbot solutions from WhatsApp automation to chatGPT plugins.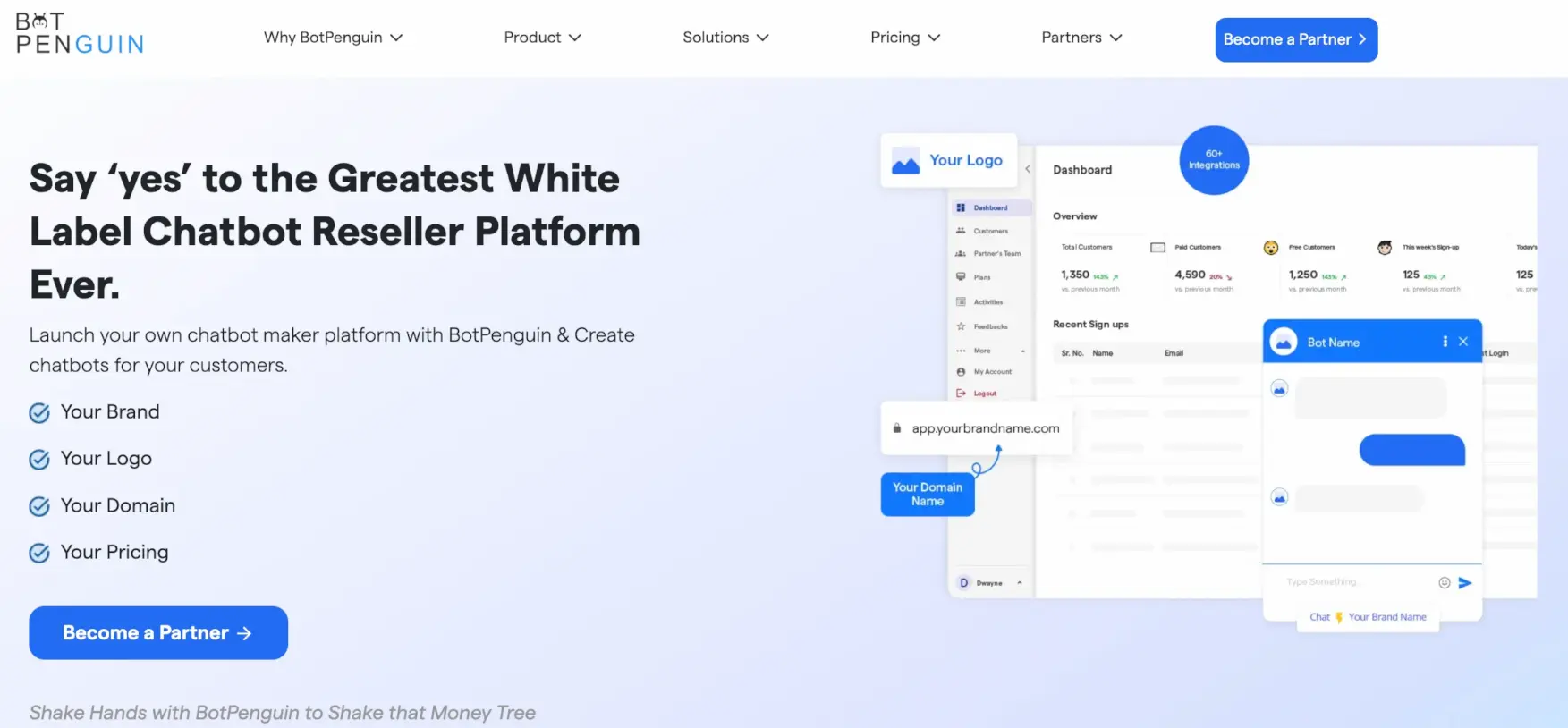 Conclusion
White label chatbot partnerships provide a cost-effective way to use conversational AI without heavy investment.
By outsourcing bot development to an expert partner like BotPenguin, businesses of all sizes can enhance customer service, boost sales and conversions, save costs, and maintain brand consistency.
BotPenguin has a proven track record of delivering high-quality, customizable chatbot solutions with robust security. Our scalable platform ensures chatbots can meet current and future needs.
Contact BotPenguin today to explore how a white label partnership could supercharge your business!
Suggested Reading:
Frequently Asked Questions (FAQs)
How can chatbots shape the future of you and your business?
Chatbots are revolutionizing customer engagement, streamlining tasks, and boosting productivity, leading to improved customer experiences and business growth.
What makes chatbots so powerful?
Chatbots are powerful due to their ability to provide instant, personalized responses and continuous availability, resulting in improved efficiency, reduced costs, and heightened customer satisfaction.
What is the concept of White Label chatbot strategy?
A White Label chatbot strategy enables businesses to customize and brand a chatbot solution as their own, providing personalized customer experiences without extensive development.
What does BotPenguin offer in terms of white label collaboration?
BotPenguin offers a white label collaboration that allows businesses to partner with them and utilize their chatbot technology under their own brand, enhancing customer interactions and driving business success.
Why is a White Label Chatbot important for customer-driven businesses?
A White Label Chatbot is crucial for customer-driven businesses as it enables alignment with their brand, delivering consistent and seamless customer experiences that foster satisfaction and loyalty.