Want a quick, easy, & permanent way to take your customer support to the next level?
Try integrating your Woocommerce with Whatsapp.
Look, Customers want quick solutions.
42% of customers expect a reply within an hour, says Zendesk.
And guess which app they're most familiar with? WhatsApp!
WhatsApp has 2 billion active users every month. Talk about untapped potential.
Now, combine both things and you've got the answer. Integrate your Woocommerce website with Whatsapp. Meet & answer your customers at where they hang out the most.
With WhatsApp's instant messaging feature, customers can get their queries answered in real-time and get back to doing whatever they want.
But there are other benefits of Whatsapp WooCommerce integration.
Whatsapp WooCommerce offers increased sales and conversions, personalized customer experiences, and streamlined support and query resolution. And who doesn't want that?
Buckle up and get ready to learn how to take your support game to the next level with WhatsApp WooCommerce integration.
But before that, we will see what Whatsapp WooCommerce integration is.
What is WhatsApp WooCommerce Integration?
In simple terms, you may link your WooCommerce store with WhatsApp using WhatsApp WooCommerce integration.
You can provide your consumers instant messaging assistance on their preferred app by integrating your store with WhatsApp.
Businesses can benefit from Whatsapp WooCommerce, increasing customer satisfaction and loyalty and promoting expansion.
In the next section, we will cover more benefits of Whatsapp WooCommerce.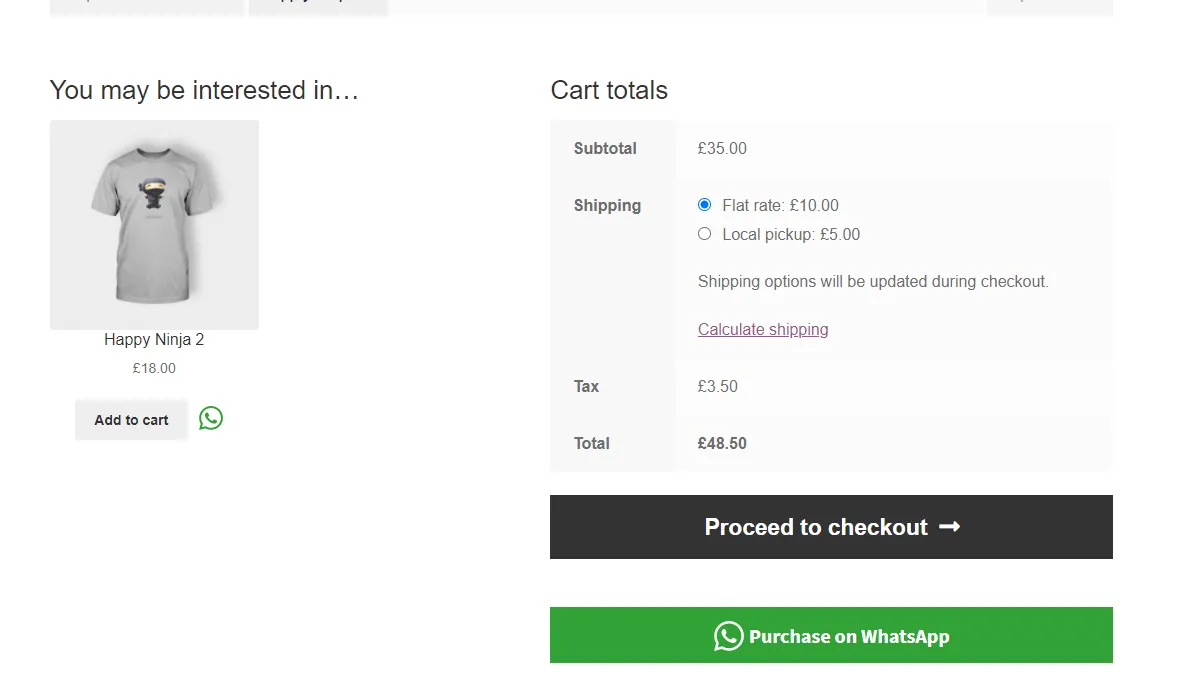 What WhatsApp WooCommerce Integration can do?
Incorporating WhatsApp WooCommerce Integration opens doors to unparalleled customer engagement, streamlined operations, and amplified sales potential.
Elevate your e-commerce game today!
Let us discuss the benefits of Whatsapp WooCommerce integration that will help your business.
Improved Communication
Let's face it; customers want convenience. By integrating WhatsApp into your WooCommerce store, you give them just that.
Customers may now easily and quickly contact your customer support staff. In fact, clients are more likely to select your WooCommerce business over rivals because the average WhatsApp response time is under 15 minutes.
Customers may now provide pictures of problems they encounter with the WooCommerce store because WhatsApp allows users to send multimedia messages like photographs and videos.
This facilitates the diagnosis and resolution of problems by your customer support staff, resulting in a smooth client experience.
Personalized Customer Experience
80% of customers tend to buy anything from a business that provides a personalized experience, Says Epsilon & GBH.
WhatsApp is your gateway to personalized experience.
You can provide clients with a more personal experience on Whatsapp.
A simple example: Customers develop trust in your company when they receive regular updates regarding their orders.
By sending personalized messages, you can improve customer loyalty, which is crucial for your WooCommerce store's success.
Increased Sales and Conversions
In business, the bottom line matters most.
You can significantly increase sales and conversions by integrating WhatsApp into your WooCommerce store.
With WhatsApp, you can send your customers alerts about new products, discounts, and deals.
Furthermore, through WhatsApp's broadcast feature, you can send personalized messages with a higher open and click-through rate than traditional email campaigns. This will lead to higher sales and conversions, music to any WooCommerce store owner's ears.
Streamlined Support and Query Resolution
Customers will always have questions and concerns. With traditional support channels, resolving queries in real time can be cumbersome.
This is where WhatsApp WooCommerce integration comes in handy.
By integrating WhatsApp, your customer service team can resolve queries and issues in real time through WhatsApp chat or by initiating a WhatsApp call.
This greatly reduces the time it takes to resolve customer issues, leading to increased customer satisfaction and loyalty.
Hope you got till here all the amazing benefits of Whatsapp WooCommerce integration.
Are you ready to take your WooCommerce store to the next level by integrating WhatsApp? Look no further! Now let's move on How to Integrate Whatsapp with WooCommerce.
How to Integrate WhatsApp with WooCommerce
Here are the easy steps to integrate WhatsApp with Woocommerce.
Step 1
Choose a WhatsApp Integration Plugin
The first step is choosing a WhatsApp integration plugin for your WooCommerce store.
Selecting a WhatsApp integration plugin for a WooCommerce shop is the first step.
There are several plugins, each with special functions and characteristics. Find out which one best meets your needs by taking your time.
It's important to consider factors like customer feedback, user usability, and compatibility with the WooCommerce shop version.
Keep in mind that an easy integration procedure is made possible by the correct plugin.
And finding one for yourself isn't that tough. Meet Botpenguin, the home of chatbot solutions, all set to serve you on a bunch of platforms:
Step 2
Install and Activate the Plugin
Once you've selected the perfect WhatsApp integration plugin, it's time to install and activate it. Don't worry; this is a straightforward process.
Just follow these simple steps:
Go to the WooCommerce dashboard and log in.

Click under the "Plugins" section & select "Add New."

Look for the plugin for WhatsApp integration you've chosen.

After clicking the "Install" button, click the "Activate" button to finish the installation.
Congratulations! You've successfully installed and activated the WhatsApp integration plugin for your WooCommerce store.
Step 3
Configure the Integration Settings
The integration settings must be configured now that the plugin has been launched. This will guarantee a flawless connection between WhatsApp and your WooCommerce shop.
Try these easy steps:
Go to the "Settings" area of your WooCommerce dashboard to find the plugin options.

To open the settings page, look for the WhatsApp integration plugin and click on it.

Your WhatsApp phone number and other essential information will be requested from you.

Once you've completed all the required information, click "Save" to keep your changes.
Finished now! You've successfully configured the integration settings for WhatsApp and WooCommerce.
Exploring Advanced Features of Whatsapp WooCommerce Integration
Now that you've integrated WhatsApp with WooCommerce, you can explore the advanced features of the integration plugin.
These features may include automated messages, product catalog integration, and customer segmentation.
These advanced features can enhance customer engagement, boost sales, and provide a personalized shopping experience.
Take some time to familiarize yourself with the options available in the plugin and experiment with different settings to find what works best for your WooCommerce store.
Now that you have this powerful tool, it's important to implement best practices for optimized and effective integration.
Best Practices for WhatsApp WooCommerce Integration
Congratulations on integrating WhatsApp with your WooCommerce store!
In this section, we will explore three key best practices that will help you maximize the potential of WhatsApp for your WooCommerce store.
Let's dive in!
Optimize Customer Communication
One of the best benefit of Whatsapp WooCommerce integration is to improve customer communication.
To make the most of this integration, here are some best practices to follow:
Prompt and Personalized Responses
When customers reach out to your store via WhatsApp, strive to respond promptly with personalized messages. Automated responses are great for acknowledging customer inquiries, but nothing beats the personal touch.
Take the time to understand the customer's query or concern and provide a tailored response.
Offer Multimedia Support
WhatsApp allows users to send multimedia files such as images and videos. Utilize this feature to provide better support to your customers.
Encourage them to send screenshots or photos of any issues or product inquiries.
This will enable your support team to understand the customer's needs better and provide more accurate solutions.
Utilize Automation Features
WhatsApp integration plugins for WooCommerce often have automation features to streamline your communication processes. Here are some best practices to leverage these features effectively.
Order Confirmation and Tracking
Automate order confirmation messages and provide customers with tracking information directly through WhatsApp.
By doing this, you and your clients will save time and keep each other updated on the progress of their orders. To solicit comments and promote consumer evaluations, consider sending automated follow-up communications.
Abandoned Cart Reminders
Send automated reminders to customers who have abandoned their shopping carts.
This can be a gentle nudge to complete their purchase and increase your conversion rates.
Customize these messages to include discounts or incentives to entice them to return and complete their purchase.
Monitor and Analyze Performance
Monitoring and analyzing the performance of your WhatsApp WooCommerce integration is essential to ensure it is effectively contributing to your overall business goals.
Here are some best practices to help you with this:
Track Conversation Metrics
Leverage the analytics provided by your WhatsApp integration plugin to monitor important conversation metrics. Track response time, customer satisfaction ratings, and average message volume.
You may improve your customer support procedures by identifying areas for improvement and making well-informed decisions based on the analysis of this data.
Measure Sales and Conversion Impact
Analyze how your integration with WhatsApp is impacting your sales and conversions. Monitor key metrics such as the number of WhatsApp-generated sales, conversion rates from WhatsApp interactions, and average order value for WhatsApp customers.
This will give you valuable insights into the effectiveness of WhatsApp as a sales channel.
Conclusion
Integrating WhatsApp with your WooCommerce store can significantly boost your customer support efforts.
By leveraging WhatsApp's real-time and personalized communication capabilities, you can provide prompt and effective support to your customers, leading to a better overall shopping experience.
Don't wait any longer! Integrate WhatsApp with your WooCommerce store today and see the difference it can make in boosting your customer support efforts and driving sales.
How to get started? The answer is BotPenguin—the ultimate game-changer for your online store! Seamlessly integrated with WhatsApp and WooCommerce, it's the chatbot you've been dreaming of.
Got questions about products? Need to track your order? BotPenguin's got you covered, all on the WhatsApp platform you love.
Elevate your customer support, enhance shopping experiences, and watch those sales skyrocket!
Don't wait—give your store the Ai Midas touch today with BotPenguin.
Frequently Asked Questions (FAQs)
Can WhatsApp integration help reduce response times for customer inquiries?
Absolutely! WhatsApp's real-time nature allows businesses to respond promptly to customer inquiries, resulting in reduced response times and better customer experiences than traditional email or ticket-based support systems.
How does WhatsApp WooCommerce integration improve customer engagement?
By integrating WhatsApp with WooCommerce, businesses can proactively engage customers with order notifications, shipping updates, and personalized offers. This interactive approach strengthens the customer-business relationship, driving engagement and repeat purchases.
How can businesses handle multiple customer inquiries efficiently through WhatsApp?
By using WhatsApp's multi-agent support or integrating it with a help desk system, businesses can assign customer inquiries to available agents. This efficient distribution ensures timely responses and effective query resolution for all customers.
Does WhatsApp WooCommerce integration help businesses track customer interactions?
Absolutely! With WhatsApp analytics, businesses can monitor response times, message open rates, and customer engagement metrics. These insights help measure customer satisfaction and identify improvement areas in customer support.
How can businesses ensure data privacy while using WhatsApp for customer support?
Businesses can ensure customer data security by following best practices in data handling and complying with privacy regulations like GDPR. Additionally, using end-to-end encryption on WhatsApp protects customer communications.
Can WhatsApp integration with CRM systems enhance customer service workflow?
Integrating WhatsApp with CRM systems centralizes customer data, allowing agents to access order history, preferences, and past interactions. This integration streamlines customer service, enabling agents to provide more personalized and context-aware support.