Introduction
Ready to know about the top chatbot builder for Woocommerce?
Imagine you're running a WooCommerce store with your virtual doors wide open, but something's missing – that personal touch, the 24/7 support that makes customers feel at home. Don't worry; we've got you covered!
In this blog, we're going to unveil the top chatbot for WooCommerce. Did you know Gartner claims that by the end of 2023, 85% of customer interactions will be handled without human intervention?
Yes, you heard it right!
So, buckle up as we explore, decode, and discover how these AI wonders can transform your online store into a customer haven that never sleeps.
Let's navigate our way to e-commerce success with chatbots by knowing why chatbots for WooCommerce!
Why Chatbots for WooCommerce?
Chatbots, the game-changers! Let's take a moment to consider some statistics:
Chatbots Magazine found that businesses can expect to reduce customer service costs by an average of 30% by implementing chatbots. However, the study also found that some businesses were able to achieve savings of up to 70%.
That's akin to receiving a discount on your e-commerce stress levels! Moreover, your customers don't adhere to a 9-to-5 schedule, and neither do chatbots.
They are the ultimate 24/7 customer service champions, delivering instant answers and ensuring your shoppers feel like VIPs.
Now it's time to see how Chatbots for WooCommerce works.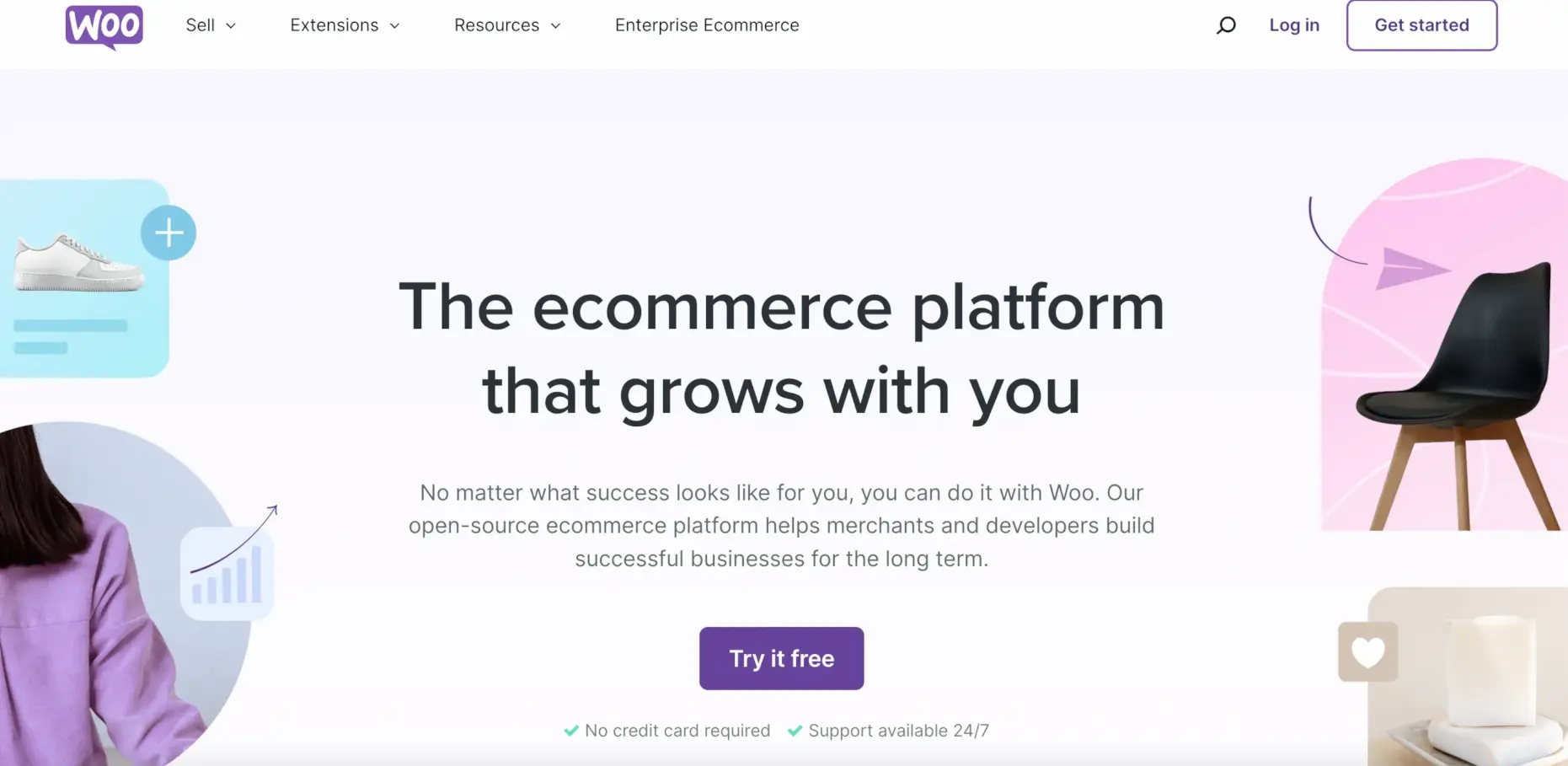 How Chatbots Work in WooCommerce?
Understanding the Chatbot Interaction Have you ever conversed with a chatbot? It's akin to texting your helpful store assistant but with a touch of coolness.
These AI companions utilize natural language processing (NLP) to comprehend your customers' messages, from "I need a new phone case" to "Give me that trendy tech gadget."
NLP is the secret ingredient that enables your chatbot to decipher emojis, slang, and even the occasional typo – because we've all made a typing mistake.
Mapping Customer Journeys with Chabot for Woocommerce
Envision this: a customer stumbles into your online emporium, eager to discover the perfect pair of sneakers.
Chatbots, armed with their programming prowess, can swoop in and guide them through the array of choices.
They might start with a friendly greeting like, "Hello! Searching for sneakers? What's your style?" With each interaction, chatbots craft a tailored journey that's smoother than a buttery croissant.
Evaluating the Top Chatbot Platforms for Woocommerce
We're on a mission to help you find the perfect chatbot platform for your needs. From BotPenguin to ChatMasters Pro, we've got the lowdown on the top contenders.
Let's explore, compare, and find the chatbot that'll take your business to the next level!
BotPenguin
BotPenguin is a game-changing chatbot for Woocommerce. It seamlessly integrates with WhatsApp and WooCommerce, revolutionizing your e-commerce strategy.
Whether you have product queries or need order tracking, BotPenguin has you covered on the WhatsApp platform.
But BotPenguin isn't just a chatbot; it's a customer support powerhouse. It eliminates long response times, providing instant assistance and personalized recommendations, enhancing the shopping experience.
This results in increased sales, higher conversion rates, and happier customers.
Pros:
Seamless WhatsApp and WooCommerce integration

24/7 customer support for higher convenience

Automates repetitive queries for improved efficiency

Understand customers for enhanced experiences

Boosts key metrics like lead generation and conversion
And the tech for BotPenguin just doesn't stop there. For every chatbot solution you can name, BotPenguin can do it, making omnichannel support look easy: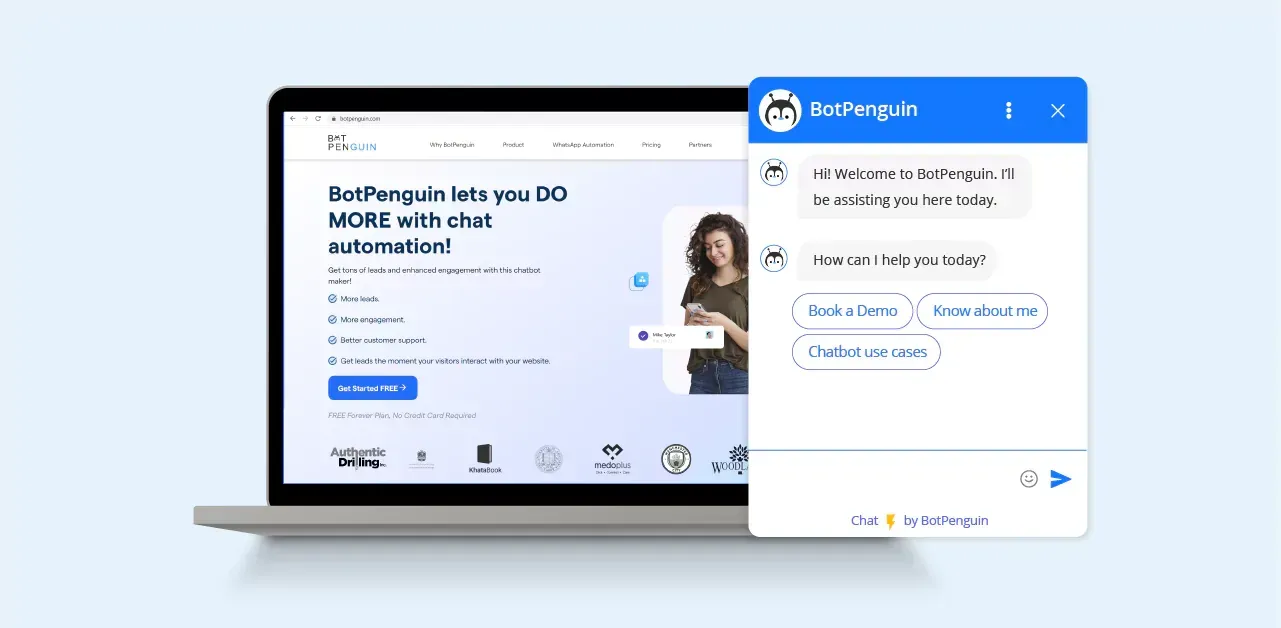 WooBot
WooBot is a chatbot focused on customization and brand identity. They understand how important it is for a business to have a chatbot that matches their brand's style.
WooBot makes it easy to customize your chatbot's look and feel so it reflects the aesthetics of your store. Your chatbot can be designed to look as stylish as your most popular product.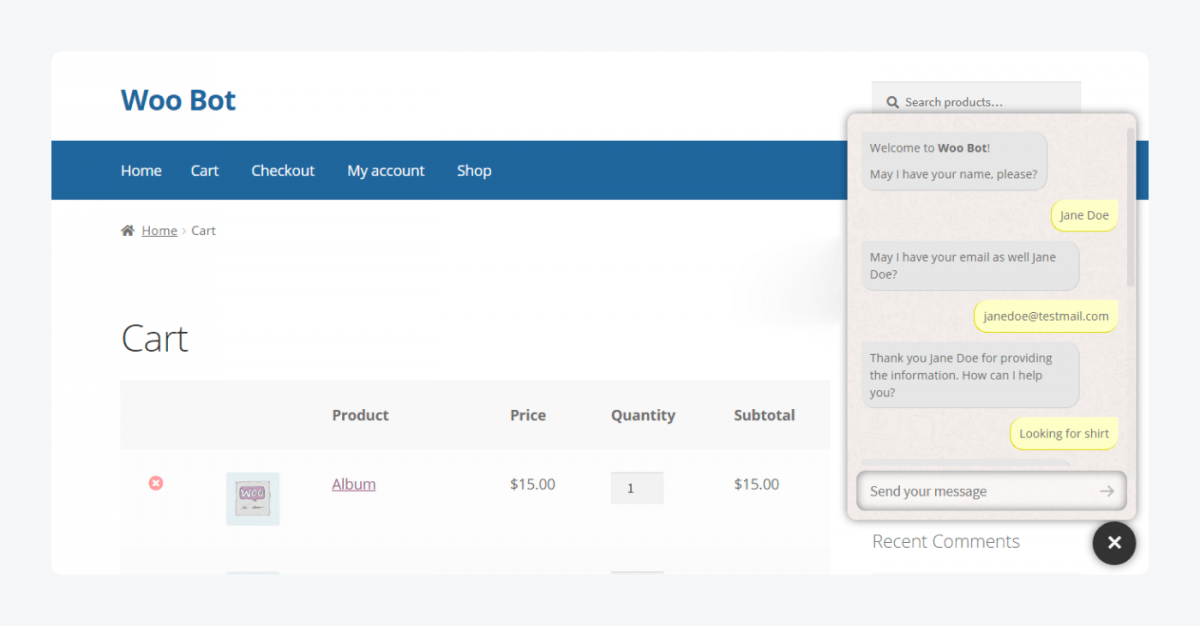 Pros:
Assists with products, orders, recommendations, and tracking

Empowers brands through customizable appearances

Multi-tasking virtual assistant for all needs
Cons:
Focus on style over functionality

Limited integration options

May not scale for high-volume stores
Suggested Reading:
Tidio
Tidio is an intuitive chatbot for WooCommerce designed to make customer service a breeze. It effectively combines live chat, chatbots, and email marketing features to provide robust communication channels for businesses.
Pros:
User-friendly interface makes setup and usage straightforward.

Handles multiple queries simultaneously.

Efficient combination of chatbot, live chat, and email marketing.

Offers excellent real-time customer support.

Customizable to match your website aesthetics.
Cons:
Pricing can be a bit steep for small businesses.

Can sometimes struggle with complex queries.

Lack of more native integrations.

The mobile app could offer more functionalities.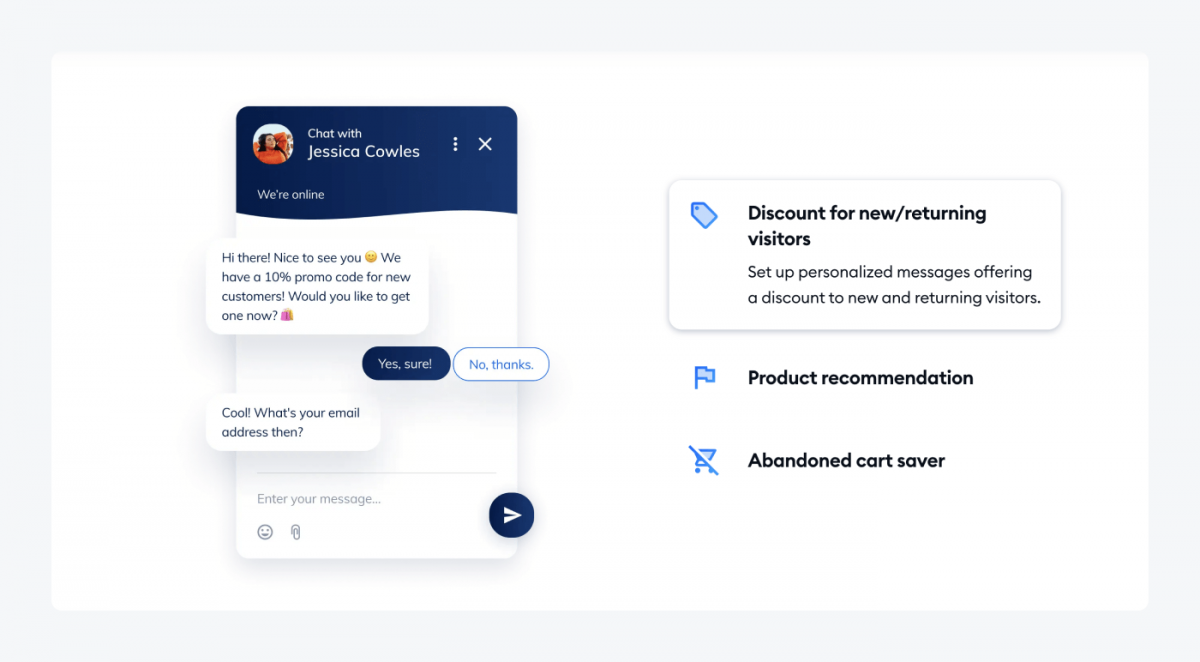 Key Considerations Before Integration
These key considerations are like your treasure map to successful implementation.
We'll navigate through setting crystal-clear chatbot goals, ensuring your digital ship is seaworthy, and managing the coinage for this adventure.
So, grab your compass, and let's chart a course to integration success!
Setting Your Chatbot Goals
Like any journey, having a roadmap is essential. What do you want your chatbot to accomplish? Is it handling customer inquiries, turbocharging sales, or perhaps both? Define your goals; your chatbot will be your reliable companion on this adventure.
Resource Check
We understand – chatbots are impressive, but they require a slice of digital resources to function effectively.
Double-check if your hosting and resources are up to the task. No one wants a sluggish chatbot that moves slower than a snail.
Suggested Reading:
Budget Discussion
It's time to discuss finances! Chatbots can be cost-effective allies, but there's an associated cost like any partnership. Calculate the investment – including platform fees and customization expenses – and ensure your budget remains manageable.
Conclusion
Chatbot technology is changing WooCommerce by offering 24/7 support, cost savings, and personalized customer journeys.
Among the top platforms, BotPenguin shines with seamless integration into WhatsApp and WooCommerce, delivering instant assistance and driving higher sales conversion rates.
Before integration, it's crucial to define your chatbot goals, assess resources, and budget wisely.
Start with BotPenguin's potential to transform your online store, enhancing customer support, and boosting sales.
Don't miss the opportunity for e-commerce success – integrate BotPenguin today!