In today's fast-paced business world, scheduling ensures smooth operations and productivity. However, scheduling can be a time-consuming and tedious task, especially for businesses with multiple employees and complex workflows.
That's where scheduling software comes in, allowing businesses to automate and streamline their scheduling processes. But, Could you take it one step further and schedule it 10x faster? Enter chatbot integrations with scheduling software. Businesses can improve efficiency and reduce the time and resources required for scheduling by integrating chatbots with scheduling software.
In this guide, we will look at the benefits of chatbot integrations with scheduling software, how to set them up, and real-world examples of businesses that have used this solution successfully.
What Are Chatbot Integrations?
Chatbot integrations refer to the process of connecting your chatbot with other software applications or platforms. This allows your chatbot to communicate and exchange data with these systems, enhancing its capabilities and functionality. With the right integrations, your chatbot can access a wealth of information and provide more comprehensive and helpful responses to users.
Types Of Chatbot Integrations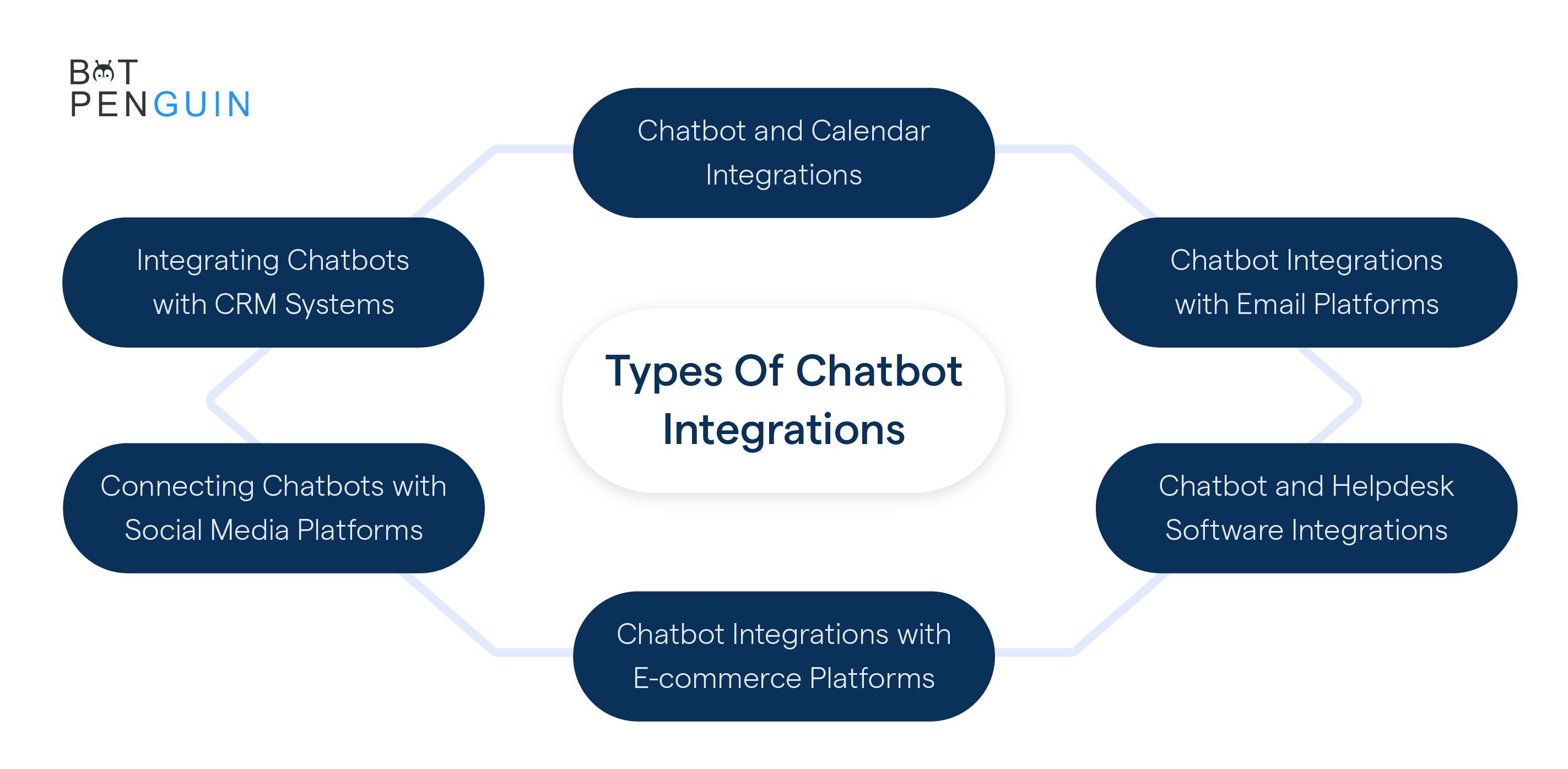 Chatbot integrations refer to the process of incorporating a chatbot into various platforms, systems, or applications to enhance communication and automate tasks. These integrations allow chatbots to interact seamlessly with users across multiple channels and provide personalized and efficient support.
1. Integrating Chatbots with CRM Systems
CRM (Customer Relationship Management) systems store valuable customer data. By integrating your chatbot with a CRM system, it can pull relevant information to personalize interactions, track customer interactions, and even update customer information in real time.
2. Chatbot and Calendar Integrations
For scheduling, integrating chatbots with calendar systems like Google Calendar or Microsoft Outlook can work wonders. These integrations allow chatbots to access and manage a user's schedule, enabling them to set up meetings, send reminders, and check availability, all through conversational interfaces.
3. Chatbot Integrations with Email Platforms
Chatbots can also integrate with email platforms to send automated emails or gather information from emails. For instance, a chatbot could schedule meetings via email or send follow-up emails after a chat conversation.
4. Connecting Chatbots with Social Media Platforms
Integrating chatbots with social media platforms allows businesses to automate customer interactions on these platforms. For example, a chatbot on Facebook Messenger could handle customer inquiries, book appointments, or even sell products directly within the chat.
5. Chatbot Integrations with E-commerce Platforms
For e-commerce businesses, chatbots can integrate with e-commerce platforms like Shopify or WooCommerce. These chatbots can provide product recommendations, track orders, and handle basic customer service inquiries, providing a more interactive shopping experience.
6. Chatbot and Helpdesk Software Integrations
Helpdesk software integrations enable chatbots to create, update, and track support tickets. This can help businesses provide faster, more efficient customer support, freeing up human agents to handle more complex issues.
Why use Chatbot Integrations for Scheduling?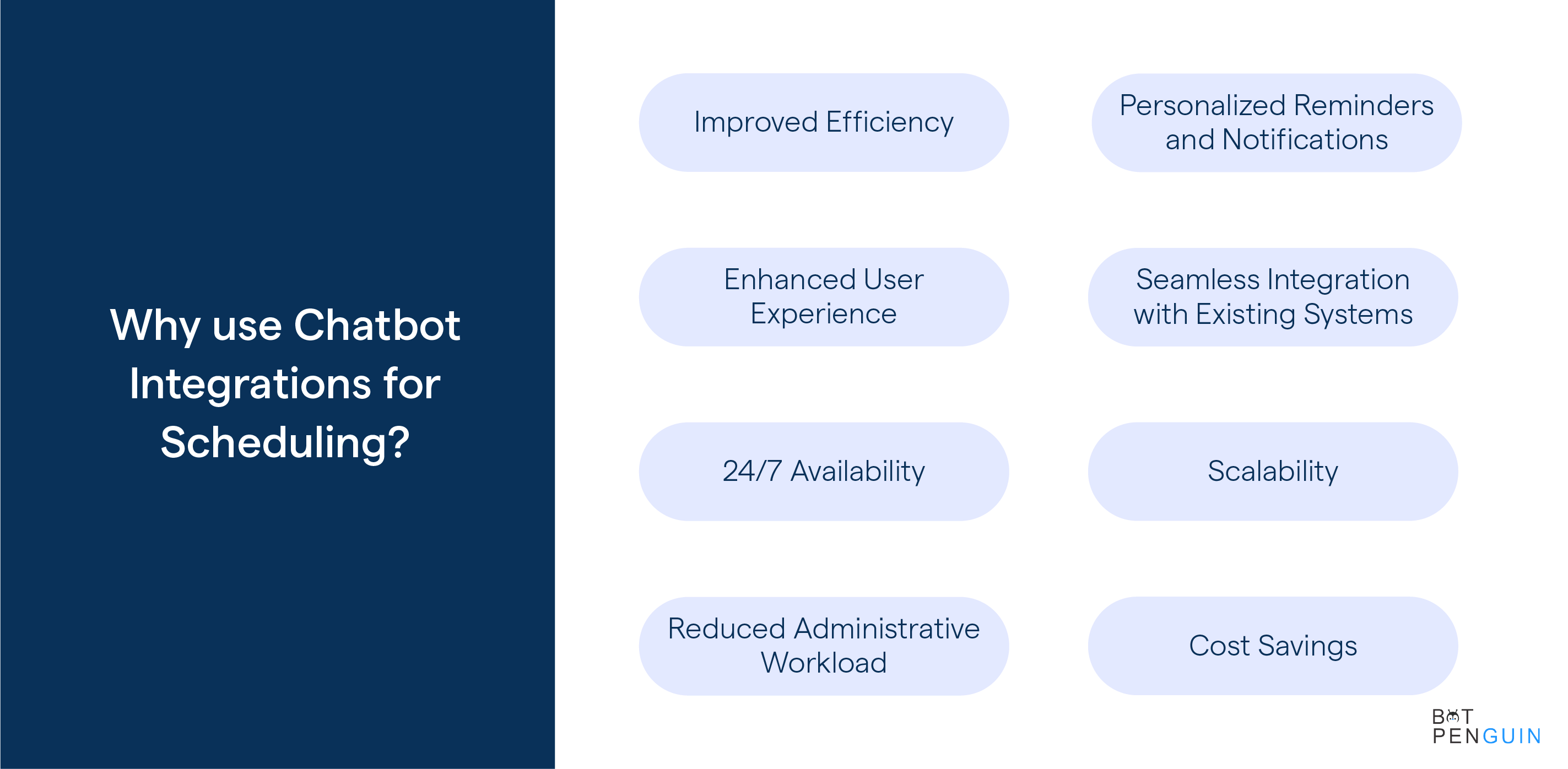 Improved Efficiency
Chatbot integrations for scheduling streamline the process of setting up meetings, appointments, and events. By handling these tasks automatically, chatbots save time and reduce the potential for errors, allowing users to focus on more important tasks.
Enhanced User Experience
Chatbots offer a conversational, user-friendly interface that makes scheduling easy and intuitive. By guiding users through the scheduling process step by step, chatbots ensure that users have a positive experience and feel confident in their ability to schedule events.
24/7 Availability
One of the key advantages of chatbot integrations is their constant availability. Users can access chatbots at any time, day or night, to schedule appointments, check availability, or make changes to existing events. This round-the-clock service ensures that users can always get the help they need when they need it.
Reduced Administrative Workload
By automating the scheduling process, chatbot integrations significantly reduce the administrative burden on staff members. This frees up valuable time and resources that can be devoted to more strategic tasks, ultimately improving overall productivity and efficiency.
Personalized Reminders and Notifications
Chatbot integrations can be programmed to send personalized reminders and notifications to users, ensuring that they are always aware of upcoming events and appointments. This helps to reduce the likelihood of missed appointments and last-minute cancellations, resulting in a more organized and efficient scheduling process.
Seamless Integration with Existing Systems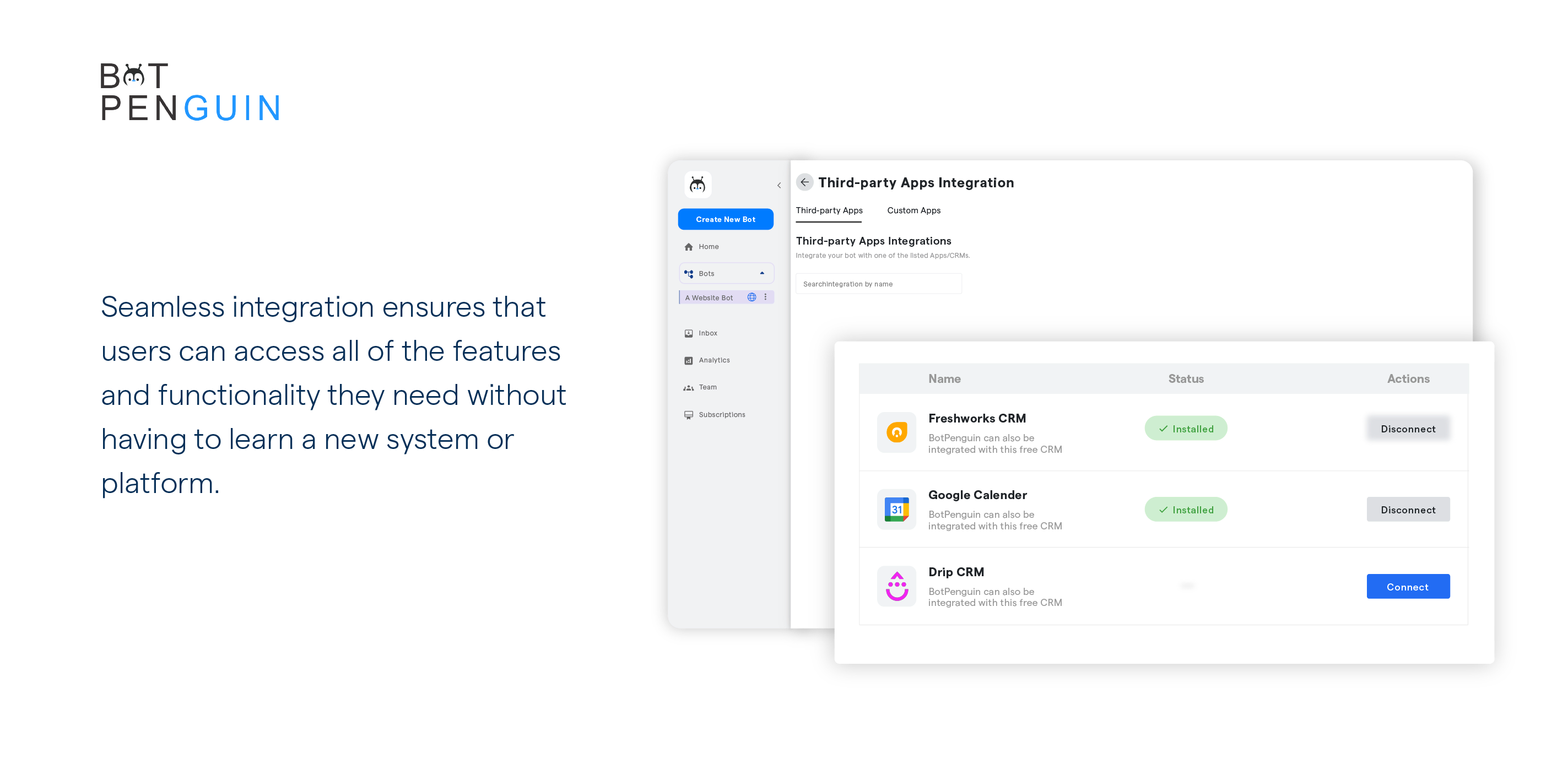 Chatbot integrations can be easily integrated with existing scheduling software and tools, allowing users to continue using the systems they are already familiar with. This seamless integration ensures that users can access all of the features and functionality they need without having to learn a new system or platform.
Scalability
As businesses grow and evolve, their scheduling needs will change. Chatbot integrations offer a scalable solution that can easily be adapted to accommodate these changes. Whether a business needs to handle a larger volume of appointments or manage more complex scheduling processes, chatbot integrations can be easily configured to meet these demands.
Cost Savings
By automating the scheduling process and reducing the administrative workload, chatbot integrations can lead to significant cost savings for businesses. These savings can be reinvested in other areas of the business, helping to drive growth and improve overall performance.
How Can Chatbots Speed Up Scheduling?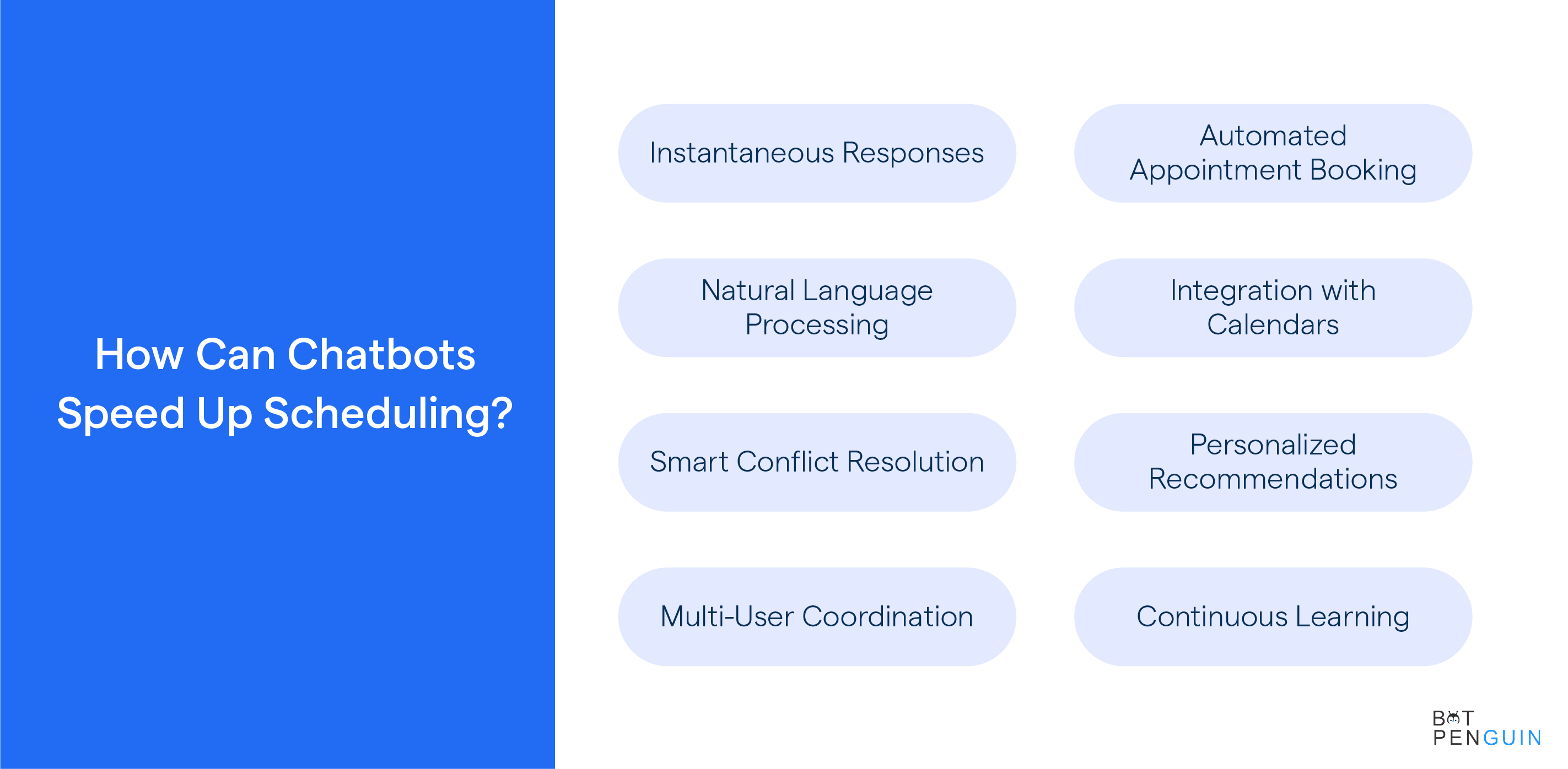 Chatbots can expedite the scheduling process by handling appointment bookings efficiently and autonomously. With their round-the-clock availability and swift responses, chatbots eliminate the need for manual intervention.
1. Instantaneous Responses
Chatbots can speed up scheduling by providing instantaneous responses to user queries. This eliminates the need for users to wait for replies from human assistants, resulting in a faster and more efficient scheduling process.
2. Automated Appointment Booking
Chatbots can automate the appointment booking process by gathering necessary information from users, such as preferred dates and times, and then checking availability within the system. By handling this process automatically, chatbots save users time and effort, making scheduling faster and more efficient.
3. Natural Language Processing
Through natural language processing (NLP), chatbots can understand and interpret user inputs in a conversational manner. This allows users to communicate their scheduling needs using everyday language, making the scheduling process quicker and more intuitive.
4. Integration with Calendars
Chatbots can integrate with users' calendars, enabling them to quickly identify available time slots and book appointments accordingly. This seamless integration speeds up the scheduling process by eliminating the need for users to manually check their calendars and enter appointment details.
5. Smart Conflict Resolution
Chatbots can intelligently identify and resolve scheduling conflicts, such as double bookings or overlapping appointments. By automatically suggesting alternative time slots or rescheduling appointments, chatbots can speed up the scheduling process and ensure that users' calendars remain organized and conflict-free.
6. Personalized Recommendations
By analyzing users' preferences and past scheduling patterns, chatbots can offer personalized recommendations for appointment times and dates. This helps to streamline the scheduling process, as users can quickly select from a list of suggested options that best suit their needs.
7. Multi-User Coordination
Chatbots can coordinate scheduling between multiple users, making it easy to find mutually agreeable times for meetings or events. By automating this process, chatbots save users the time and effort of manually comparing schedules and negotiating suitable appointment times.
8. Continuous Learning
As chatbots interact with users and handle scheduling tasks, they continuously learn and improve their performance. This ongoing learning enables them to become more efficient and accurate over time, speeding up the scheduling process and providing users with an increasingly seamless experience.
How to Implement Chatbot Integrations for Scheduling?
How to Implement Chatbot Integrations for Scheduling?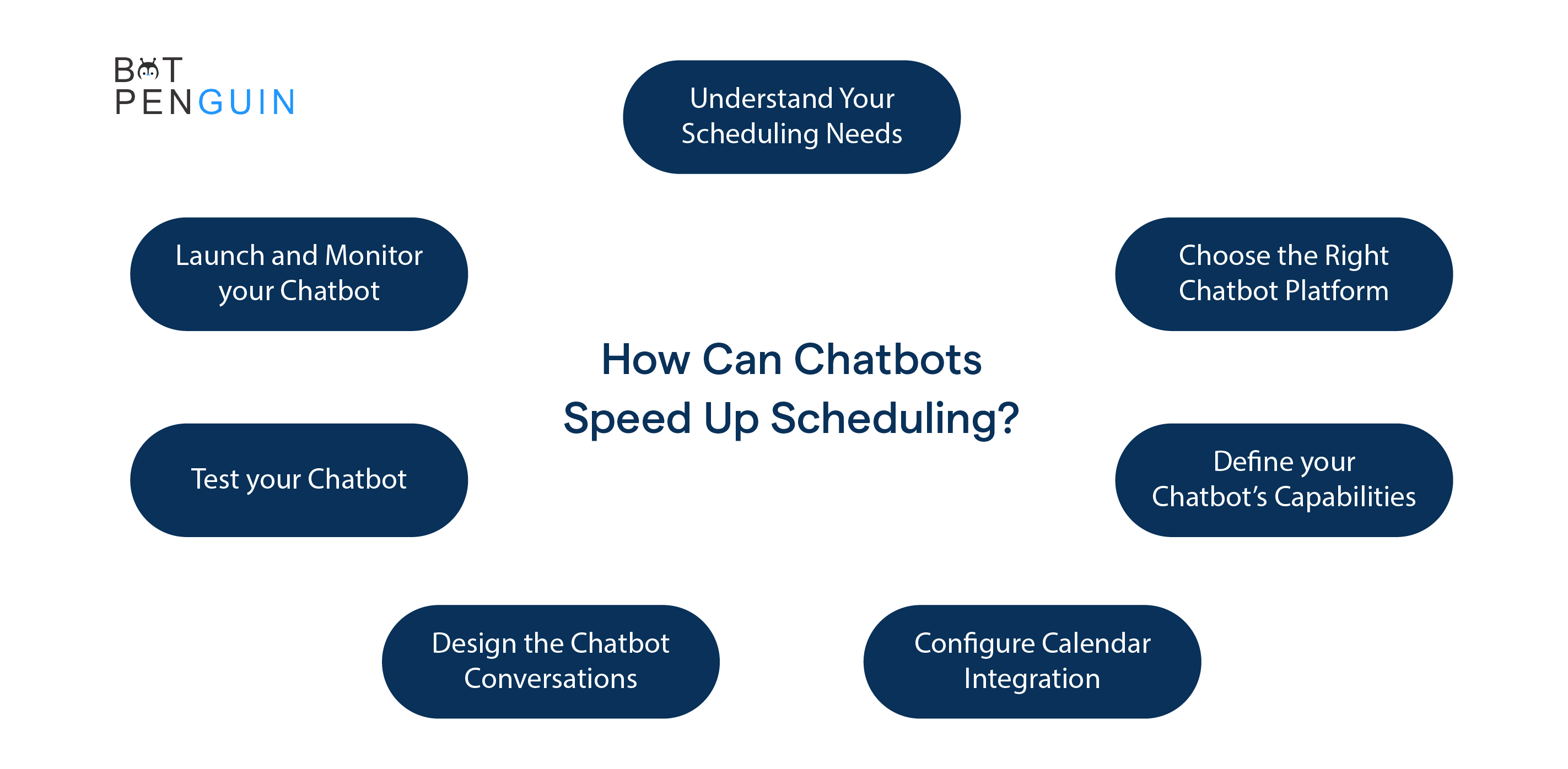 Understand Your Scheduling Needs
Before integrating a chatbot for scheduling, clearly outline your requirements. This could include understanding the complexity of your scheduling process, the volume of appointments, and whether you need multi-user coordination. Also, determine the platforms where you want the chatbot to operate (e.g., website, Facebook Messenger, Slack).
Choose the Right Chatbot Platform
Select a chatbot platform that suits your needs. Some platforms are better suited for complex scheduling tasks, while others are designed for simpler, more straightforward scheduling. Consider factors like the platform's capabilities, ease of use, customization options, and integration with your existing software.
Define Your Chatbot's Capabilities
Outline the tasks you want your chatbot to handle. This could range from setting up simple one-on-one meetings to handling group scheduling, sending reminders, or rescheduling appointments. Ensure your chosen chatbot platform can support these tasks.
Configure Calendar Integration
For the chatbot to manage scheduling effectively, it needs access to your calendar. Most chatbot platforms can integrate with popular calendar apps like Google Calendar or Microsoft Outlook. This allows the chatbot to view availability, set new appointments, and send updates or reminders.
Design the Chatbot Conversations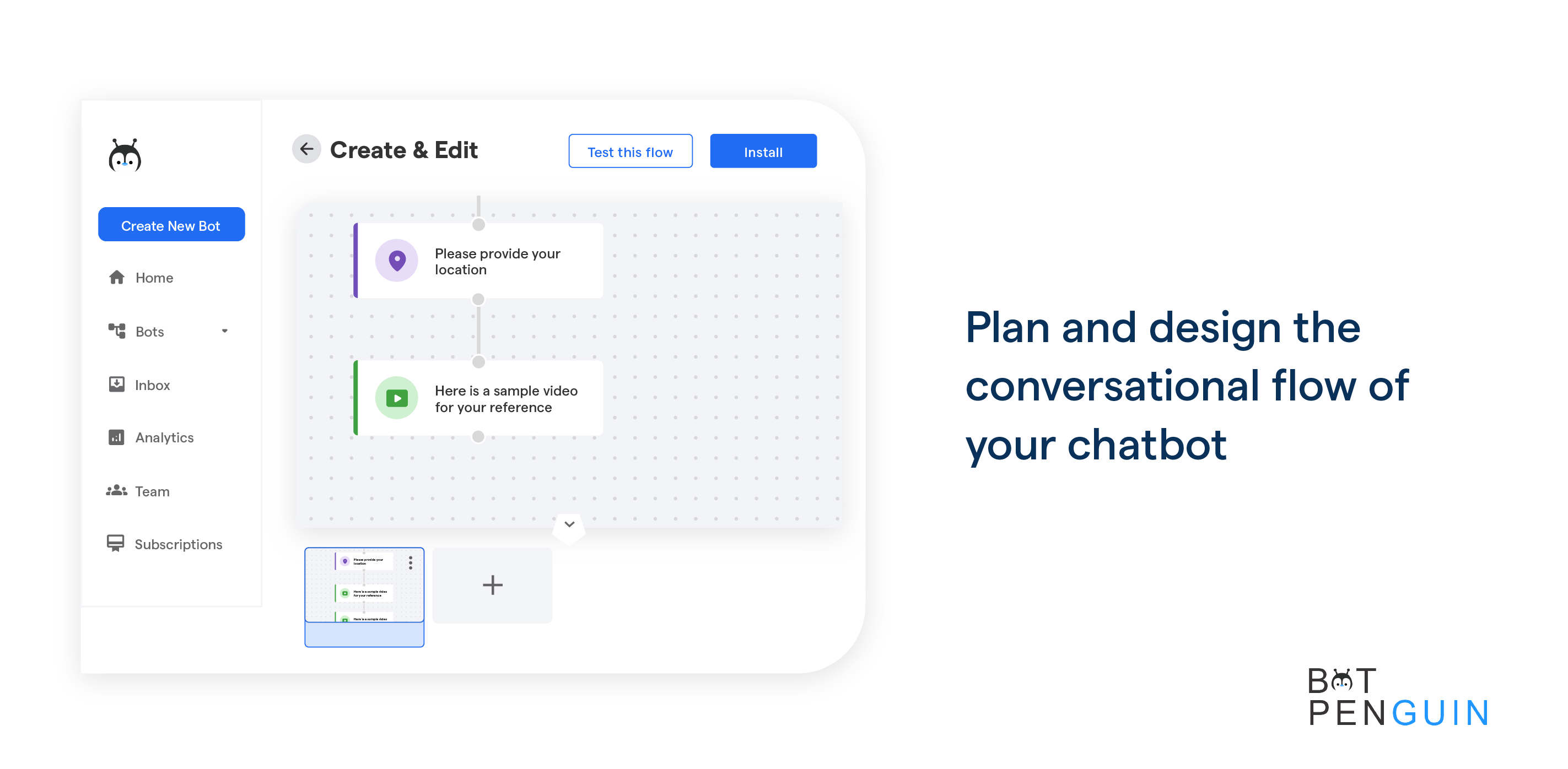 Plan and design the conversational flow of your chatbot. This includes the initial greeting, questions to determine the user's scheduling needs, and responses to user inputs. Keep the conversation natural and user-friendly to improve user experience and effectiveness.
Test Your Chatbot
Before rolling out the chatbot, test it thoroughly. Ensure it can handle a variety of scheduling scenarios, understand user inputs correctly, and respond appropriately. Check the integration with your calendar app and make sure it updates schedules correctly.
Launch and Monitor Your Chatbot
Once you're satisfied with your testing, it's time to launch your chatbot. However, your job doesn't end there. Monitor the chatbot's performance, gather user feedback, and make necessary adjustments. Continuous monitoring and improvement will ensure your chatbot remains effective and beneficial to your scheduling process.
Choosing the Right Chatbot and Scheduling Software
1. Define Your Requirements
Before selecting a chatbot and scheduling software, it's essential to define your specific needs and objectives. Consider factors such as the size of your organization, the complexity of scheduling tasks, and the level of integration required with existing systems. By understanding your requirements, you can narrow down your options and choose a solution that best meets your needs.
2. Evaluate Features and Functionality
Look for chatbot and scheduling software that offers a comprehensive set of features and functionalities to address your scheduling needs. Key features may include calendar integration, natural language processing, conflict resolution, and support for multiple time zones. Ensure that the software can handle your organization's scheduling complexities and provide a seamless user experience.
3. User Experience and Interface
The user experience and interface play a crucial role in the success of a chatbot and scheduling software. Look for solutions that offer an intuitive, easy-to-use interface, enabling users to interact with the chatbot effortlessly and complete scheduling tasks efficiently. A well-designed interface can significantly enhance user satisfaction and adoption rates.
4. Integration and Compatibility
Choose a chatbot and scheduling software that can easily integrate with your existing systems, such as calendar platforms, project management tools, and customer relationship management (CRM) systems. Seamless integration ensures that the software can work in harmony with your current infrastructure, minimizing disruptions and maximizing efficiency.
5. Security and Privacy
Lastly, prioritize security and privacy when selecting a chatbot and scheduling software. Ensure that the solution follows industry best practices and complies with relevant data protection regulations. Robust security measures, such as encryption, secure data storage, and strict access controls, are essential to safeguard sensitive information and maintain user trust.
Challenges and Solutions for Chatbot Integrations for Scheduling
Integrating chatbots for scheduling comes with its fair share of challenges, but there are effective solutions to overcome them.
Calendar Integration
One challenge in developing chatbots for scheduling is integrating with various calendar platforms, such as Google Calendar, Microsoft Outlook, or Apple Calendar. To address this, developers need to leverage APIs and authentication protocols provided by these platforms, ensuring seamless and secure access to users' calendars for scheduling purposes.
Time Zone Management
Handling different time zones can be a complex task for scheduling chatbots. To overcome this challenge, chatbots must be designed to accurately identify and convert time zones, ensuring that appointments are scheduled at the correct local time for all participants.
Natural Language Processing
Understanding and interpreting user inputs in natural language is a critical aspect of scheduling chatbots. To address this, developers need to employ advanced natural language processing (NLP) techniques and machine learning algorithms, enabling chatbots to understand and respond to user requests effectively.
Conflict Resolution
Scheduling conflicts are inevitable, and chatbots must be equipped to handle them gracefully. To tackle this challenge, chatbots should be designed to detect conflicts and offer alternative time slots or suggest rescheduling options, ensuring a smooth and efficient scheduling experience.
User Preferences and Availability
Accommodating user preferences and availability is crucial for a scheduling chatbot. To address this, chatbots can be designed to learn from users' past scheduling patterns and preferences, offering personalized suggestions and adapting to individual needs.
Privacy and Security
Maintaining user privacy and data security is a significant concern when integrating chatbots for scheduling. To ensure the protection of sensitive information, developers must implement robust security measures, such as encryption, secure data storage, and strict access controls, while adhering to data protection regulations and guidelines.
Conclusion
In conclusion, chatbot integrations can revolutionize the way you schedule appointments and meetings, making the process 10x faster and more efficient.
By leveraging advanced features such as natural language processing, calendar integration, and conflict resolution, chatbot platforms like BotPenguin can streamline your scheduling tasks and adapt to your unique needs.
Don't miss out on the opportunity to transform your scheduling experience and enhance productivity. Give BotPenguin a try and sign up today to experience the benefits of a smart, user-friendly chatbot platform that's designed to make your life easier.