Looking to tap into the rapidly growing conversational AI market, but not sure where to start? Have you considered becoming a chatbot affiliate partner?
The demand for chatbots is booming. By 2025, the global chatbot market is forecasted to surpass $19 billion according to Meticulous Research. As a chatbot affiliate partner, you can capitalize on this opportunity without needing to build any chatbots yourself.
BotPenguin empowers chatbot affiliate partners by providing access to cutting-edge, human-like chatbots. These chatbots are powered by ChatGPT and have enterprise fine-tuning.
BotPenguin is a chatbot platform that offers a high-quality chatbot affiliate program. As an affiliate partner, you can earn commission on every chatbot sale that you generate.
With our innovative technology and continuous optimization by AI engineers, you drive chatbot sales using your marketing skills while we handle the tech and support.
So continue reading on how to become a chatbot affiliate partner with BotPenguin.
What is a Chatbot Affiliate Program?
A chatbot affiliate program is a partnership between a chatbot platform provider, like BotPenguin, and individuals or companies who promote their chatbot services in exchange for commissions.
As a chatbot affiliate partner, you will be equipped with marketing materials and a unique referral link to promote BotPenguin's chatbot services. For every successful referral or sale made through your link, you will earn a commission.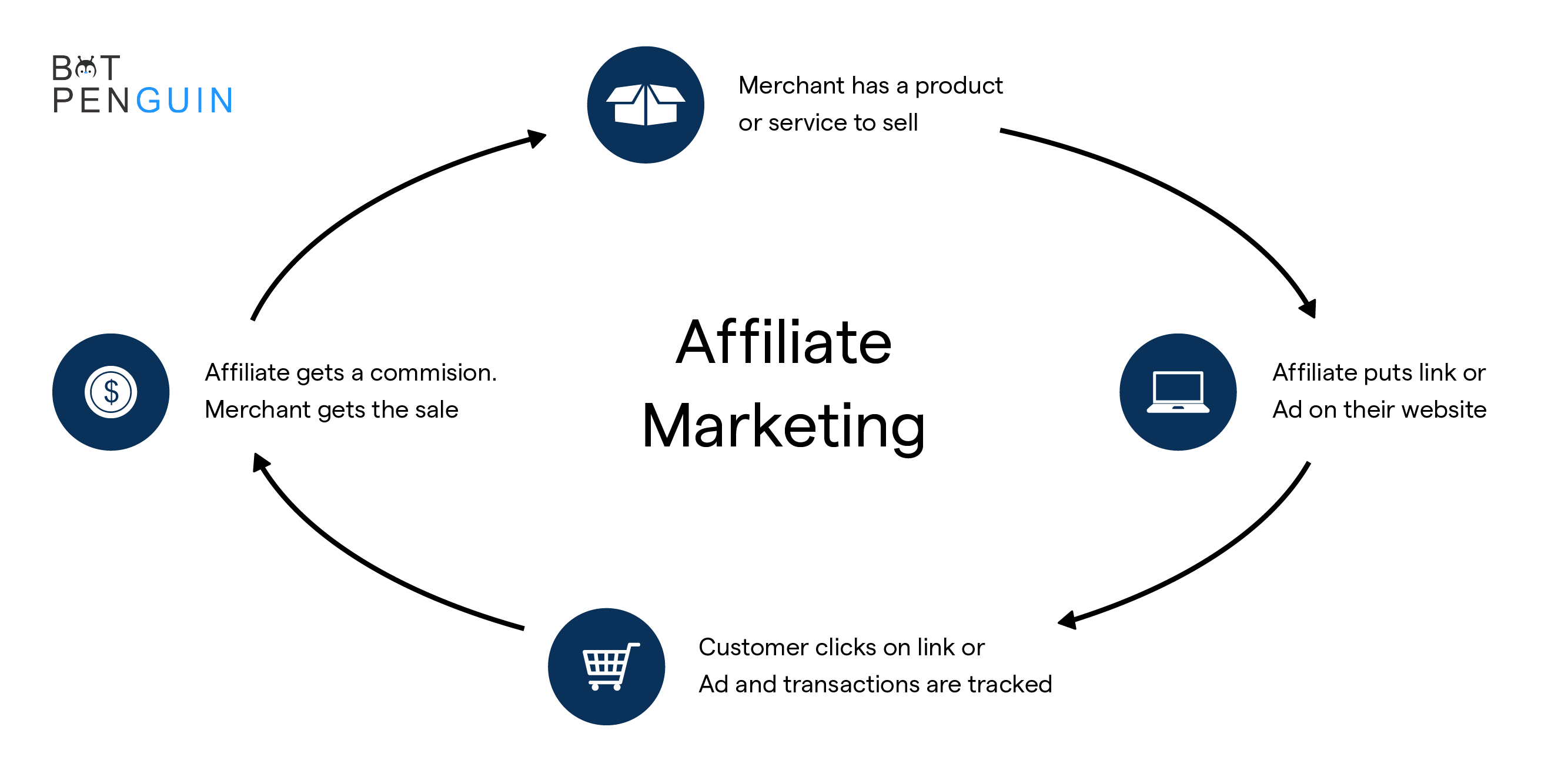 BotPenguin's affiliate marketing comes with several benefits. Not only can you earn generous commissions, but you also have the opportunity to offer discounts to your customers.
Why Join BotPenguin's Chatbot Affiliate Program?
There are several compelling reasons why you should consider BotPenguin's affiliate partnership. Let's take a closer look at some of the unique features and advantages our Chabot affiliate program offers:
Cutting-edge Chatbot Technology
BotPenguin provides state-of-the-art chatbot solutions that are designed to enhance customer experience and drive business growth. By joining our Chabot affiliate program, you can align yourself with a reputable brand known for its innovative chatbot technology.
Lucrative Commissions
When you refer customers to BotPenguin and they sign up for our chatbot services, you'll earn attractive commissions. Our commission rates are competitive, ensuring that your efforts to promote our chatbot solutions can be financially rewarding.
Dedicated Support
As a chatbot affiliate partner, you will have access to our dedicated support team. We are here to assist you every step of the way, providing you with the information and resources you need to effectively promote our chatbot services.
Marketing Materials
Receive ready-to-use marketing materials, including banners, ads, and landing pages, to effectively promote our chatbot services.
Customer Discounts
You can provide exclusive discounts to your customers when they sign up for BotPenguin's chatbot services through your referral link. This will help you attract more customers and increase your earning potential.
How to Join BotPenguin's Chatbot Affiliate Program
Becoming a chatbot affiliate partner with BotPenguin is a straightforward process. Follow these simple steps to get started with BotPenguin's affiliate partnership:
Step 1
Visit Our Website
Go to the BotPenguin website and navigate to the chatbot affiliate program page.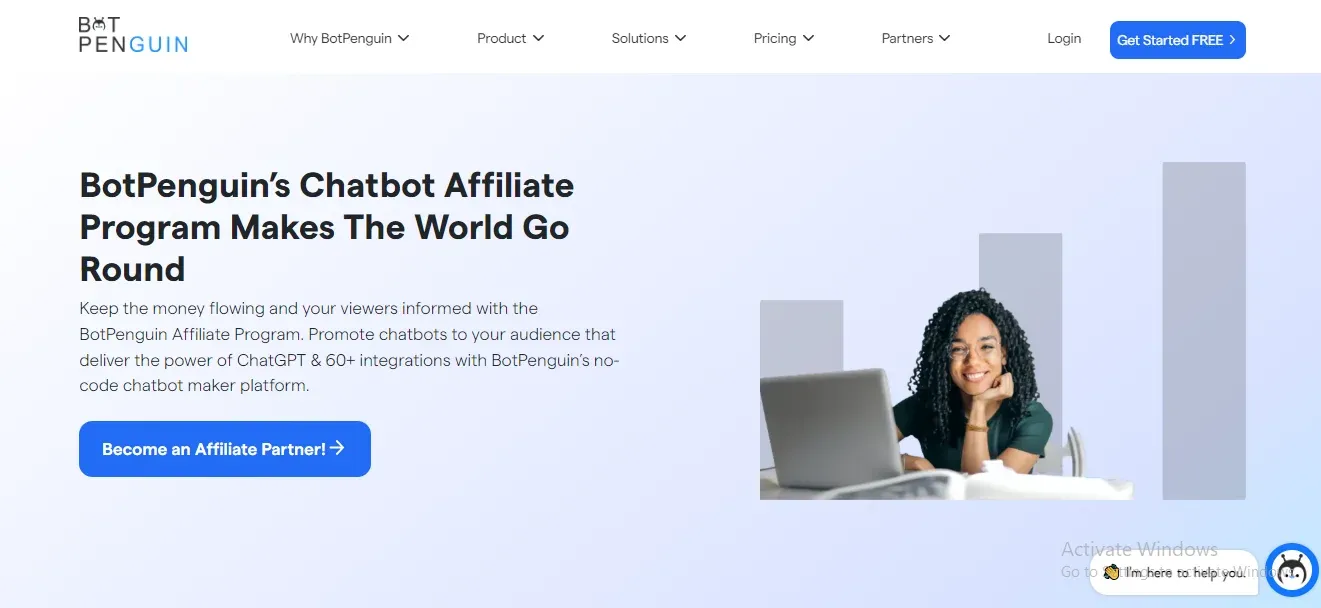 Step 2
Fill Out the Application Form
Complete the application form, providing accurate and relevant information about yourself or your business.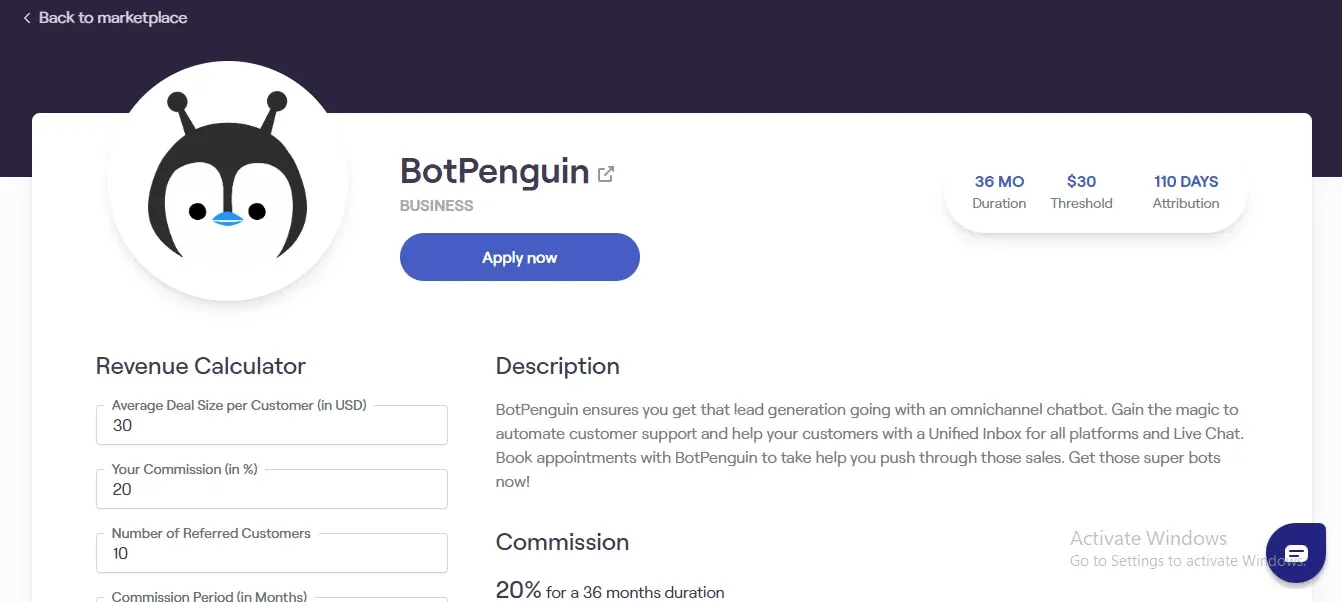 Step 3
Agree to the Terms and Conditions
Read and accept our terms and conditions, ensuring that you understand the guidelines and requirements of our chatbot affiliate program.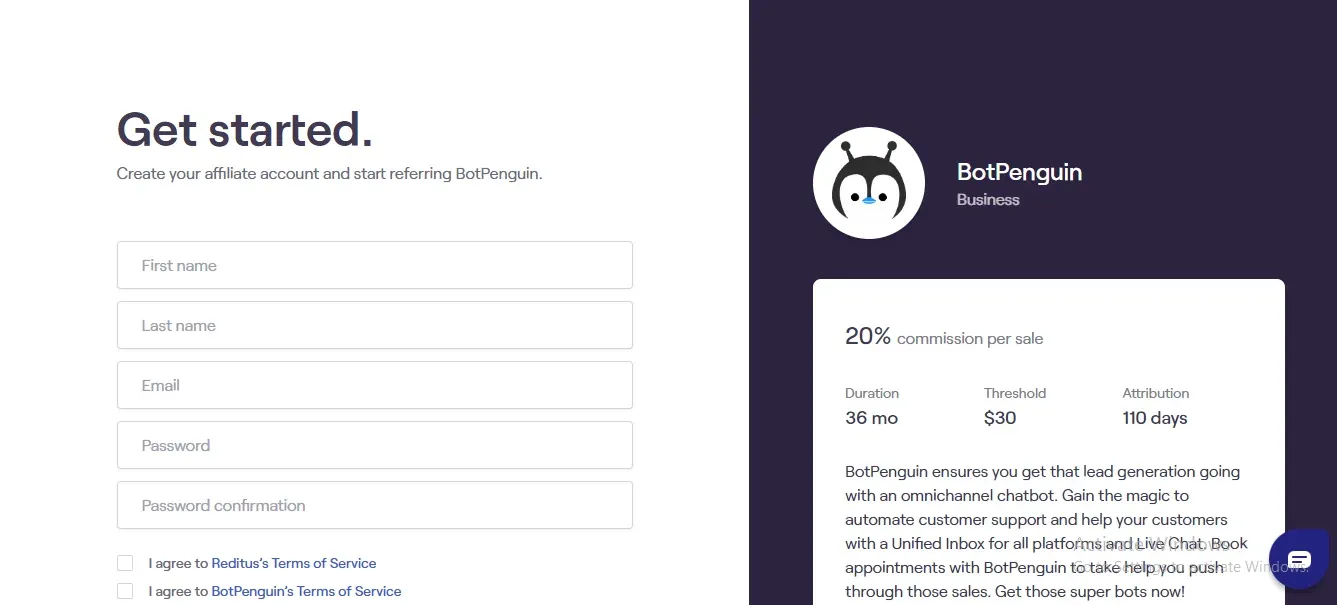 Step 4
Submit Your Application
Submit your application for review. Our team will carefully assess your application and get back to you with further instructions.

What BotPenguin Takes Care Of?
As a chatbot affiliate partner, BotPenguin takes care of several important tasks, allowing you to focus on promoting the product and maximizing your earnings: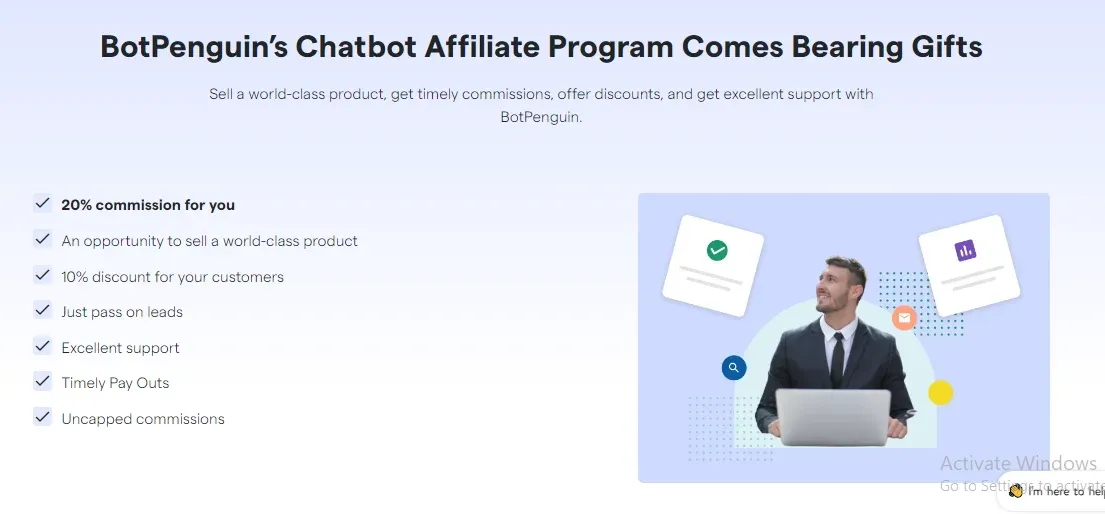 Lead Conversion
We convert the leads generated through your referral link into paying customers. Doing this ensures you receive the commissions.
Demos and Presentations
Our team conducts product demos and presentations to potential customers. We showcase the benefits and features of our chatbot services.
Customer Retention
BotPenguin takes responsibility for customer retention. It ensures that customers remain happy and satisfied with our chatbot solutions.
What is the Commission Structure of BotPenguin?
BotPenguin's affiliate partnership offers a transparent and competitive commission structure. Commissions are calculated based on the sales made through your referral link. Payouts are made regularly, ensuring that you receive your earnings promptly.
Conclusion
The conversational AI revolution is here and Gartner predicts that 25% of enterprise teams will adopt AI assistants like chatbots this year.
As a chatbot affiliate partner, BotPenguin empowers you to build a chatbot business without any technical investment. Our continuously optimized ChatGPT-based chatbots coupled with competitive commissions enable your success.
We handle the heavy lifting so you can focus on marketing. Many BotPenguin chatbot affiliate partners achieved profitability within a few months per our internal data.
Become your boss and own the AI era through the BotPenguin Chatbot affiliate program. With our cutting-edge chatbot technology, attractive commissions, and dedicated support, you can take your earning potential to the next level.
The future is now - let BotPenguin accelerate your entrepreneurial aspirations.
Visit our website now for more information and to get started on your affiliate journey with BotPenguin's affiliate marketing!