Are you tired of juggling a million tasks and still feeling like you're falling behind? Do you wish there was a way to streamline your operations and make your business run more efficiently?
Well, chatbot integrations are here to save the day! These handy little digital assistants can help you automate various aspects of your business and make your operations smoother.
It is anticipated that by 2024, customers worldwide will spend $142 billion on chatbots, a remarkable figure compared to the overall spend of $2.8 billion in 2019. With every online industry now operating 24/7, 40% of customers prefer bots to virtual agents, and that number will rise.
In this blog post, we'll explore the ins and outs of chatbot integrations and how they can change how you handle day-to-day tasks. So, grab a cup of coffee, sit back, and let's dive into chatbot integrations and discover how they can transform your operations for the better.
After all, who doesn't want to work smarter, not harder?
What is a Chatbot integration?
Chatbot integrations are all about adding a clever little AI-powered chatbot buddy into your business's existing communication channels, platforms, or systems.
These chatbots are designed to mimic human-like conversations, understand what your customers are asking, and respond accordingly, making things easier for everyone involved.
Let's dive into some examples to see chatbot integration in action.
Imagine you have an online store selling cool gadgets and gizmos. Integrating a chatbot into your website or mobile app can help customers find the perfect product, answer any questions they have, and even guide them through the checkout process.
Your customers get the help they need, and you save time and resources by automating the process – it's a win-win!
Let's say you're running a trendy cafe in the city. You could integrate a chatbot into your social media channels, and it can help customers with things like reservations, menu inquiries, and even special event bookings.
Your customers get quick and friendly answers to their questions, and you can focus on creating the perfect dining experience.
Some Insightful Statistics on chatbot sales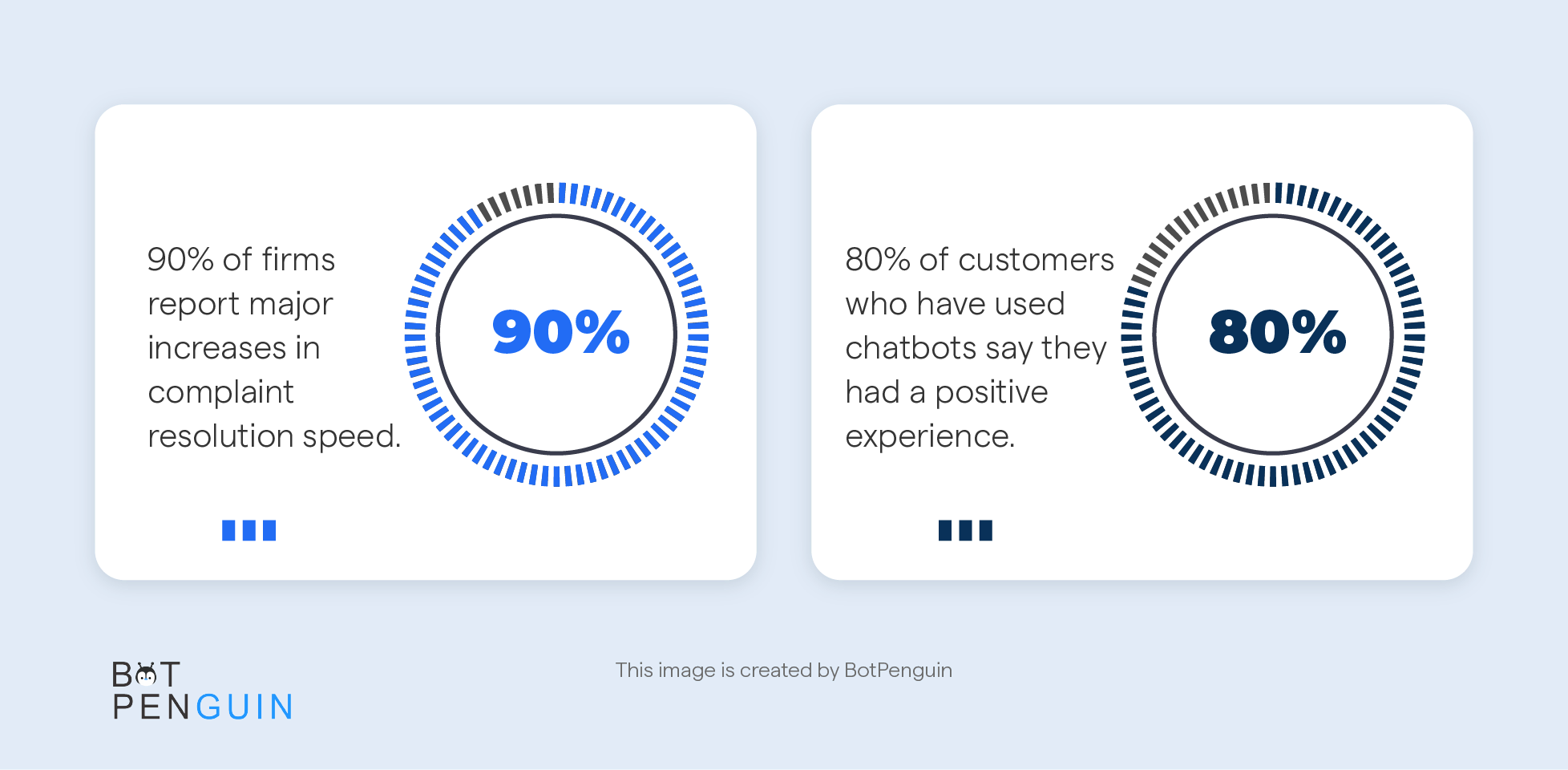 Earlier, chatbots could only gather basic data and information. Today, we have bots that can handle complex tasks, the use cases for chatbots have significantly expanded, and they have become a game changer for small businesses.
They're useful for answering simple queries, interacting with customers, gathering data, acquiring leads, and driving sales.
Here are some key statistics to put things in perspective
Over 60% of users would rather use a customer service bot than wait for a human agent to respond to their inquiries. Regarding customer service, chatbots are becoming the new norm.

Which service is more beneficial to customers? According to The Chatbot survey, 64% of consumers agree! Knowing that your organization provides support at all hours of the day and night can influence whether or not a customer purchases your goods.

90% of firms report major increases in complaint resolution speed. What a great way to boost customer satisfaction.

80% of customers who have used chatbots say they had a positive experience. That's a pretty high level of happiness. Chatbots could be an excellent way to improve your customer service.
How do chatbot integrations improve business efficiency?
Making the Customer Journey Smoother
Prospects being lost midway through a sales funnel is never ideal, and no firm wants that to happen.
Customers may be discouraged from purchasing for various reasons, such as a lengthy checkout procedure or hidden prices.
Chatbots can assist brands in reducing customer turnover and improving the customer journey.
You can write the right bot scripts, engage customers effectively, and answer their questions at various stages of their journey.
You can provide additional information on items, services, or shipping to alleviate client concerns and make the customer journey more enjoyable.
Use interactive material like videos to provide insights and develop trust with prospects and consumers.
Boost your Social media presence
You already know how important social media is to your marketing plan. Did you realize that chatbots can now be a part of it?
While over 40 million businesses use Facebook Messenger to communicate with customers, only about 300,000 chatbots use the same platform.
Installing chatbots on your Facebook business account will significantly expand your marketing opportunities and, in turn, help drive sales and conversions. Many people prefer to contact a business through social media. Using an effective chatbot allows clients to ask questions, seek product recommendations, and even complete a purchase using your chatbot system.
Grade your leads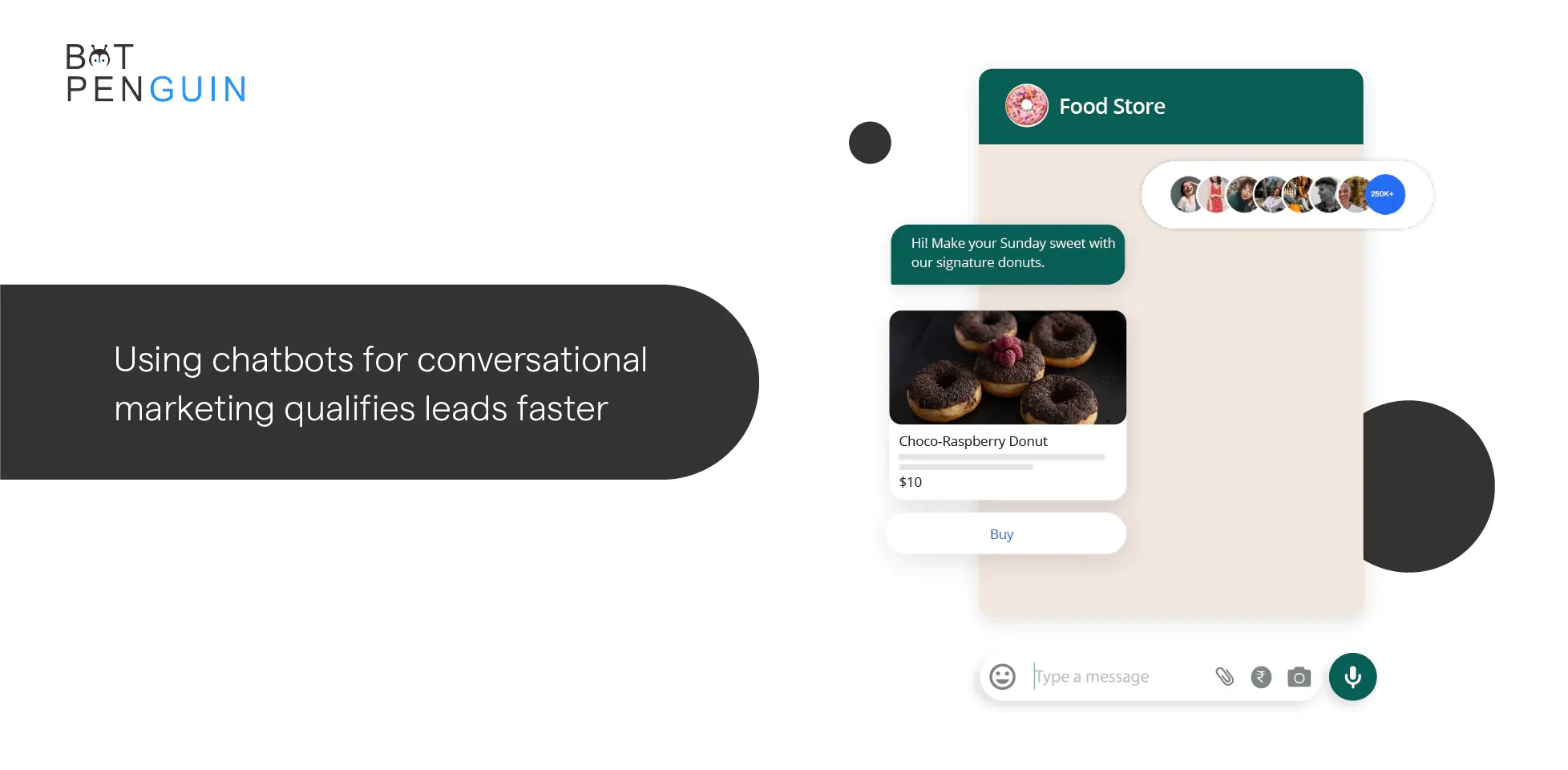 The number of leads that go nowhere is one of the most aggravating aspects of marketing. Proposal automation tools and chatbots are becoming more popular.
They can improve your lead qualification process and save time and money by only engaging human resources for real promise leads. It implies more real-world sales opportunities and better use of your agents' time.
Using chatbots for conversational marketing qualifies leads faster, especially when combined with the previously mentioned personalization factors.
Bots may not be actual humans, but with machine learning, they can lead a discussion in ways that a webform cannot.
That means they can easily separate the wheat from the chaff and increase your conversion rates by scheduling appointments or transferring to human agents as needed.
Monitor Consumer Data to Gain Insights
By monitoring user data, chatbots are an effective tool for tracking purchasing trends and analyzing customer behaviors.
This information can assist businesses in marketing their products differently and expanding their reach.
Similarly, bots can gather input via simple questions to improve products or optimize websites.
Sephora, a worldwide recognized cosmetics business, has launched a chatbot in collaboration with the Kik messaging app. Customers can utilize the chatbot to ask for makeup recommendations or product evaluations and receive relevant goods or videos.
Improve email automation
Email automation cannot be completely replaced.
Still, chatbots can take over some of the duties you presently perform with email marketing and do them faster and more efficiently.
Rather than using an email channel, you can use your chatbot platform to have the same discussions and provide the same information to clients much faster and more efficiently.
Again, it's all about streamlining; if you have a new potential lead, you can take them straight to your chatbot platform (typically via Facebook Messenger or something similar) and move that consumer through your sales funnel in seconds.
It can also improve the customer experience because they are no longer required to wait for emails.
Makes personalization easier
60% of customers will purchase further if they receive a customized experience. Chatbots can help you take customization to the next level, especially if coupled with your CRM system. They can recognize returning clients and collect data on new consumers.
Your chatbots will answer and ask questions, resulting in richer data in your CRM repository, allowing your chatbot to guide users to recommended goods and discover prior (or new) buying behaviors and patterns. Your chatbots will become more personalized as time goes on, thanks to machine learning (ML).
Streamline Your Customer Onboarding Process
Customers enjoy personalization and an onboarding just for them..
They will still be hesitant to find the knowledge independently, no matter how many lessons or content guides you provide.
Customers, after all, like brands that show them the way.
It is where a website chatbot can help your company by educating customers and easing the onboarding process.
Chatbots can ask questions, collect responses, and then illustrate the road to the customer's wants.
Bots can assist brands in directing clients to the best place to find the information they need to make informed decisions.
Achieve Scalability of Support
The ability to scale assistance should always be one of the top priorities for any customer-centric firm.
And, by achieving scalability of support, it can successfully handle any traffic surge — such as the holiday season or peak hours — without much investment.
This is where chatbots can help: they ensure that your company can manage conversations during peak hours without adding more support experts or providing training, for example.
Many restaurant businesses use chatbots to handle situations where demand increases effectively, customer orders increase, and a small staff cannot handle it. Chatbots are being used by major corporations such as Taco Bell and Dominos to schedule parcel delivery.
Balance Automation with Human Touch
Combining AI technology and a human touch can help brands provide consistent customer service.
Similarly, combining a chatbot with live chat software enables users to self-serve while still connecting with a human agent as needed.
By using AI-enabled chatbots as the primary channel, your company can provide real-time assistance, respond to inquiries quickly, and increase customer satisfaction.
However, there may be times when the bot is unable to determine the user's intent in the request and must hand over to a human.
As a result, you must understand the difference between chatbots and live chats and try to integrate them for better customer support.
Devise a Conversational Marketing Strategy
Conversational marketing uses real-time consumer interactions to move prospects through the sales funnel.
It can assist your company in creating authentic experiences and building relationships with customers.
When organizations utilize chatbots for marketing, they can effortlessly engage with people through customized messaging and intelligent chatbots, increasing conversion rates.
Domino's AnyWare takes conversational marketing to the next level by allowing customers to order their favorite foods from various menu selections.
The takeaway
A chatbot can be a fantastic tool for businesses looking to expand rapidly.
If you find yourself short on time or money, juggling numerous tasks at once, and becoming increasingly tired, introducing chatbots could be your solution.
An easy-to-implement chatbot solution? BotPenguin
Its versatility, user-friendly interface, and AI-powered features provide personalized customer support while boosting efficiency.
Embrace the future of communication with BotPenguin and watch your operations thrive in the digital landscape.
Sign up today. No credit card is required :)