Are you seeking a quick, affordable, and effective way to improve your Telegram bot?
Level up your Telegram game with a slick chatbot - no coding required!
BotPenguin lets you easily create an AI-powered bot that charms and delights.
Forget fussy work, this free chatbot builder rocks drag-n-drop simplicity.
In mere minutes, your bot is ready to captivate audiences, boost engagement, and wow users with skills.
From polls to promos, unleash creative features that hook attention. And did we mention it's 100% free? Yup, you can craft a fully functional bot and say bye to costs.
Get the scoop on designing your dream team chatbot the easy way - read on!
What is BotPenguin?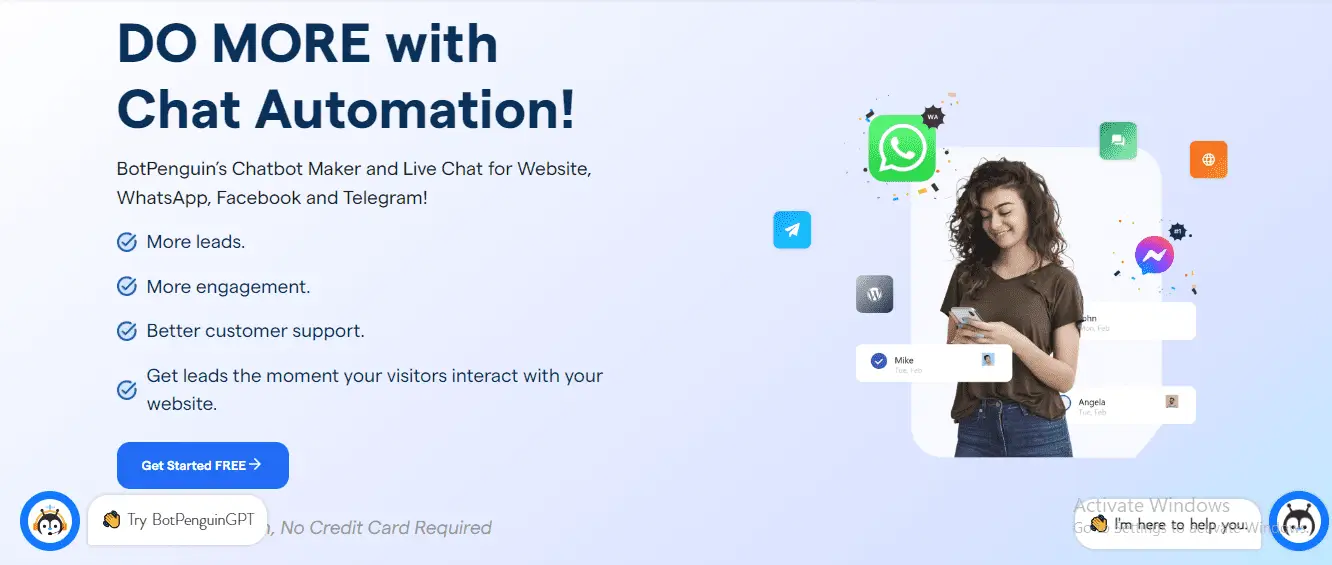 BotPenguin is like having a super-smart digital assistant for your business.
Picture this: You've got a platform that's powered by AI, ready to whip up chatbots that can talk the talk on channels like WhatsApp, websites, Facebook Messenger, Telegram, and more.
Now, why is this a big deal? Because BotPenguin is your secret weapon to make things smoother than ever. Think of it as your trusty sidekick, automating tasks that usually eat up your time—like customer service, sales pitches, and even those marketing moves that get your brand in the spotlight.
But here's the real magic: it's not just about getting things done faster. BotPenguin is a pro at creating genuine connections. Your customers get instant, accurate responses, and you get to build those solid relationships that keep them coming back for more.
So whether it's answering questions, sealing deals, or sparking conversations, BotPenguin has your back. It's like having a team of tireless bots working 24/7, making sure your business runs like a well-oiled machine.
And the tech for BotPenguin just doesn't stop there. Be any chatbot solution, BotPenguin can do it all. And there is just too much to offer:
Getting Started with BotPenguin
To develop a free chatbot on Telegram using best Telegram chatbot builder platform BotPenguin, adhere to these easy steps:
Step 1
Sign Up for BotPenguin
Simply visit the BotPenguin website and create a free account. You must first create a strong password and enter your email address. Your BotPenguin dashboard will be displayed when you sign up.
Step 2
Connect to Telegram
In the BotPenguin interfaces, click the "Connect Channels" button and select "Telegram" from the list of available messaging services. Connecting your Telegram account to BotPenguin is easy by following the instructions on-screen.
Step 3
Create a New Chatbot
After connecting to Telegram, click the "Create New Chatbot" button to start building your chatbot. Give your chatbot a name and description to make it identifiable. You can also set a profile picture for your chatbot.
Step 4
Design Conversation Flow
Now comes the fun part - designing the conversation flow for your chatbot. BotPenguin provides a drag-and-drop interface that allows you to create interactive and dynamic conversations. Add different message elements like text, images, buttons, and quick replies to engage your audience effectively.
Step 5
Deploy Chatbot on Telegram
Once you have designed your chatbot's conversation flow, it's time to deploy it on Telegram. BotPenguin will generate a unique API key for your chatbot. Copy the API key in your Telegram account's BotPenguin integration settings and put it there.
Step 6
Test and Improve
Before launching your chatbot to the public, test it thoroughly to ensure it works as intended. BotPenguin provides a testing feature that allows you to simulate conversations and adjust if needed. Gather feedback from your testers and make improvements accordingly.
How to Make a Successful Chatbot?
Creating a chatbot is just the first step. But things don't end there. You can take it up by a few notches. To make sure you're creating a Telegram chabot that brings your results, Keep these few things in mind:
Keep it Conversational
Use conversational language and a friendly tone to make your chatbot feel like a real person. Avoid using formal and robotic phrases, and engage with your users naturally and lively.
Provide Quick and Relevant Responses
Ensure your chatbot responds promptly to user queries with accurate and helpful information. Use the conversation flow to anticipate common questions and provide pre-defined responses for a seamless user experience.
Make it Interactive
Include interactive elements like buttons and quick replies to allow users to navigate the chatbot easily. You can engage users and guide them toward the information they seek by providing multiple options.
Personalize the Experience
Tailor the chatbot's responses to match the user's preferences and context. Use variables like the user's name or location to provide personalized recommendations and suggestions.
Analyze and Improve
Regularly analyze the performance of your chatbot using BotPenguin's analytics dashboard. The chatbot's performance may be improved by monitoring user engagement, response time, and conversion rates.
Conclusion
Follow the steps outlined in the blog post and practice the best practices to build a powerful and engaging chatbot for your Telegram channel or group.
As BotPenguin is the ultimate chatbot solution. Say hello to effortless bot creation and management designed for businesses like yours.
Features that set us apart:
Drag-and-drop simplicity

Customizable templates

AI-powered

Dive into data with analytics and reporting

Sync seamlessly with Facebook Messenger, Slack, wooCommerce, Shopify, and more

Round-the-clock support for your peace of mind.
Ready to see the change? Start your journey now. Success is just a chat away!