Introduction
Is a Squarespace chatbot worth it? Everyone is looking for fresh investments these days. The most challenging aspect is deciding what to invest in.
It might be challenging to create and customize your Squarespace chatbot. It can, however, be worse if you do it alone. But what if the advantages exceed the drawbacks?
This article will teach you about Squarespace Chatbot and its advantages. It will also introduce you to the reasons why you need a Squarespace chatbot.
Squarespace is a terrific platform for many businesses to host their website, expand their online presence, and engage with shoppers.
Additionally, combining the platform with chatbots and marketing automation has great potential to increase revenue.
According to study predictions for 2022, chatbots would result in cost savings of $8 billion.
Nevertheless, as each online platform has its own underlying procedures and unique guidelines, chatbots created specifically for that platform are more likely to succeed than chatbots created for all purposes.
Because of this, we decided to concentrate on Squarespace chatbots and explain why they're a smart investment for your company.
Let's get started!
Why do you need Squarespace chatbots?
Listed below are a few reasons why you need a Squarespace chatbots:
Customer Service
The Squarespace website's chatbots that seamlessly interact with it may carry out various tasks independently.
They can have nuanced conversations with customers, respond to their questions, and point them in the right direction for products or pages.
Website visitors might need assistance with a variety of tasks, so having a dynamic mode of interaction with them is advantageous to both the business and the clients.
This can relieve a lot of pressure on your company's resources, as discussed in the point after. Additionally, it enhances the general user experience for potential clients and consumers.
Saves time and resources
Squarespace chatbots are available around-the-clock, can manage numerous conversations at once, and instantly react to many questions.
This frees up your staff to concentrate on more important problems.
Naturally, chatbots must be able to accurately comprehend user expectations or purpose to select the most appropriate answer.
It is not sufficient for chatbots to respond to user activities. Modern artificial intelligence (AI) chatbots demonstrate intelligent behaviors.
They do split-second calculations about possible outcomes thanks to sophisticated algorithms that examine each message's language content and other useful data.
Additionally, you may build a chatbot with natural language processing (NLP) for tailored interactions that enhance and make more sense for the user.
By deploying a chatbot for Squarespace, you can be close to your audience
A chatbot doesn't operate alone; in the background, it continually gathers and exchanges data with other website components or integrates with your CRM system.
Utilizing a Chatbot for Squarespace removes any compatibility problems and allows you to delve further into user preferences.
Marketing will become more and more data-driven as organizations quickly occupy the internet realm.
In this regard, the utility of a smart bot that can collect data and act on it is only expected to grow in the coming campaigns.
Long-term operations can be streamlined, revenue streams can be strengthened and diversified, multiple marketing channels can be integrated, and customers will ultimately be happier thanks to well-trained chatbots.
All of these benefits can be achieved without high initial outlays or ongoing maintenance costs.
Bots may be anticipated to grow increasingly effective and beneficial to their owners as the volume of data collected rises and the best reactions to user behaviors are identified.
How to start a chatbot on Squarespace?
Squarespace's AI-powered chatbots are intelligent, intricate, and versatile, depending on the applications they are designed to serve.
Starting a chatbot on Squarespace is relatively straightforward and can be done in a few steps:
Choose a chatbot platform: There are many chatbot platforms available, including BotPenguin, Tars, and MobileMonkey, among others. Choose a platform that fits your business needs and offers the features you need.
Set up the chatbot: Once you've chosen a platform, you'll need to create an account and set up your chatbot. This may involve selecting a template or building a chatbot from scratch using the platform's drag-and-drop interface.
Integrate with Squarespace: Most chatbot platforms will offer a way to integrate with Squarespace. This may involve adding a code snippet to your Squarespace website or using a plugin.
Customize your chatbot: Customize your chatbot to meet the needs of your business and provide a personalized experience for your customers. This may involve setting up automated responses, defining conversation flows, and adding lead capture forms.
Test and refine: Once you've set up your chatbot, test it to make sure it's functioning as intended. Refine the chatbot based on the results of your tests and the feedback you receive from customers.
Following these steps, you can quickly and easily set up a chatbot on Squarespace to automate customer interactions, improve customer satisfaction, and streamline your business operations.
Conclusion
You can enhance customer service or advertise your goods and services by including a chatbot on your Squarespace website.
However, it's crucial to keep in mind that chatbots are not actual people and should not be utilized in place of genuine human connection.
We advise utilizing a contact form or live chat if you're seeking a more intimate approach to interacting with website visitors.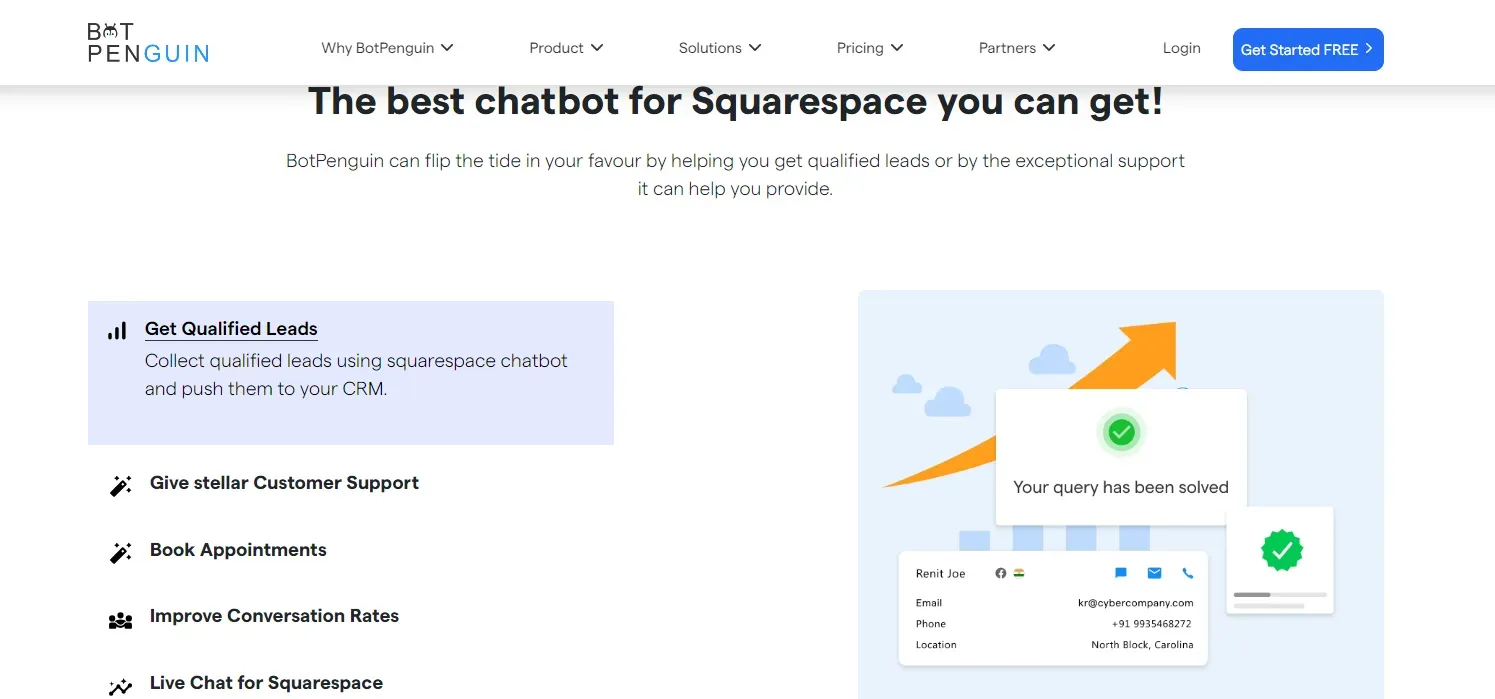 Utilize the BotPenguin platform to develop chatbots for Squarespace and simplify your customer service experience.
BotPenguin is a user-friendly platform that helps businesses create custom chatbots to automate customer support, increase engagement and streamline communication.
So, why wait? Create your chatbot today!
Frequently Asked Questions (FAQs)
Is it free to use Squarespace?
No, Squarespace is not entirely free to use. While Squarespace offers a 14-day free trial to new users, you must choose and pay for a subscription plan to continue using the platform after that period.
Squarespace offers several subscription plans with varying features and pricing, starting at $12 per month for a Personal website plan and going up to $40 per month for an Advanced Commerce plan. Add-on features, such as email marketing, e-commerce transaction fees, and premium templates, are also additional fees.
Does Squarespace work well for new users?
A good blogging platform is available on Squarespace, making it ideal for novices. A sample blog with ready-made content for you to update will be added in less than a minute.
What is Squarespace used for?
A complete content management system, or CMS, is Squarespace. You may create a website, host your content, register your unique domain name, sell things, keep track of your site's stats, and much more with just one subscription.