The world is changing. It's a new era of customer service, where businesses are adopting technology to increase conversions and sales.
With BotPenguin, you can build an automated chatbot right on your website. It will help you get more customers by interacting with them in real-time.
This blog will show you why BotPenguin is an excellent free tool for creating automated chatbots on your website or app platform!
What is BotPenguin?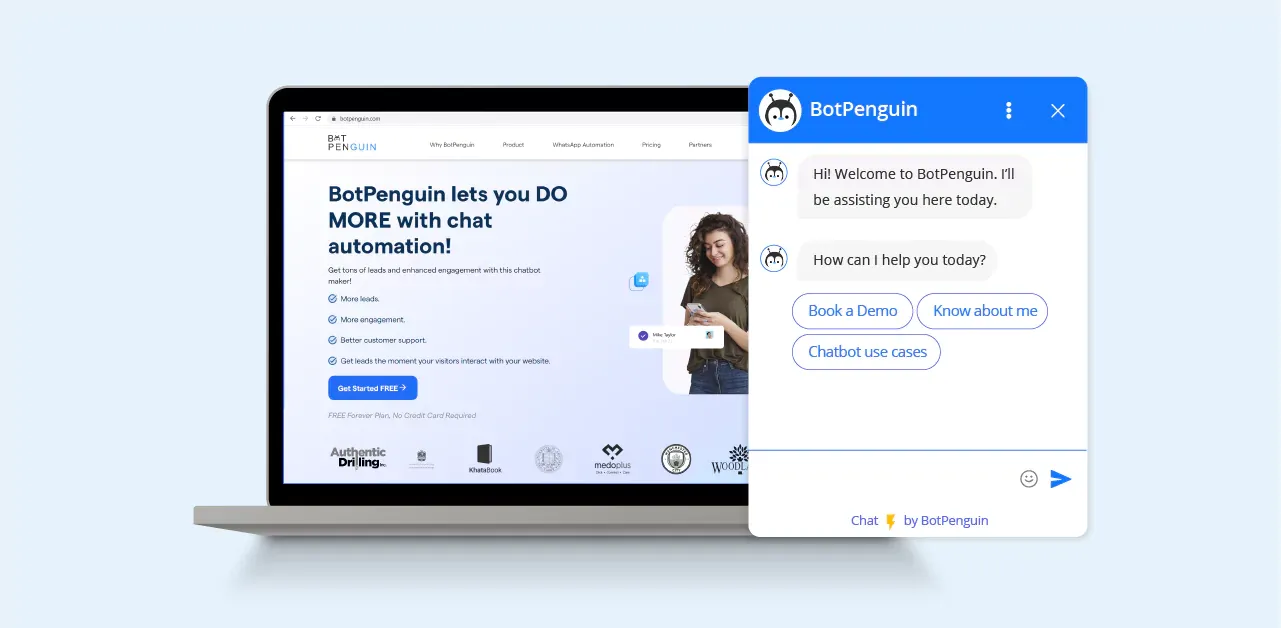 It is a free chatbot builder that helps you build a website chatbot in minutes.
You don't need to code anything; it is easy to use and has many built-in features.
You can customize your chatbot with a few clicks by the drag-and-drop method!
Build your own Telegram Chatbots using BotPenguin, it also offers chatbot creation for social platforms, websites, wordpress:
7 reasons to build your website chatbot with BotPenguin
Reasons to build your website chatbot with BotPenguin
1. BotPenguin website chat builder requires no coding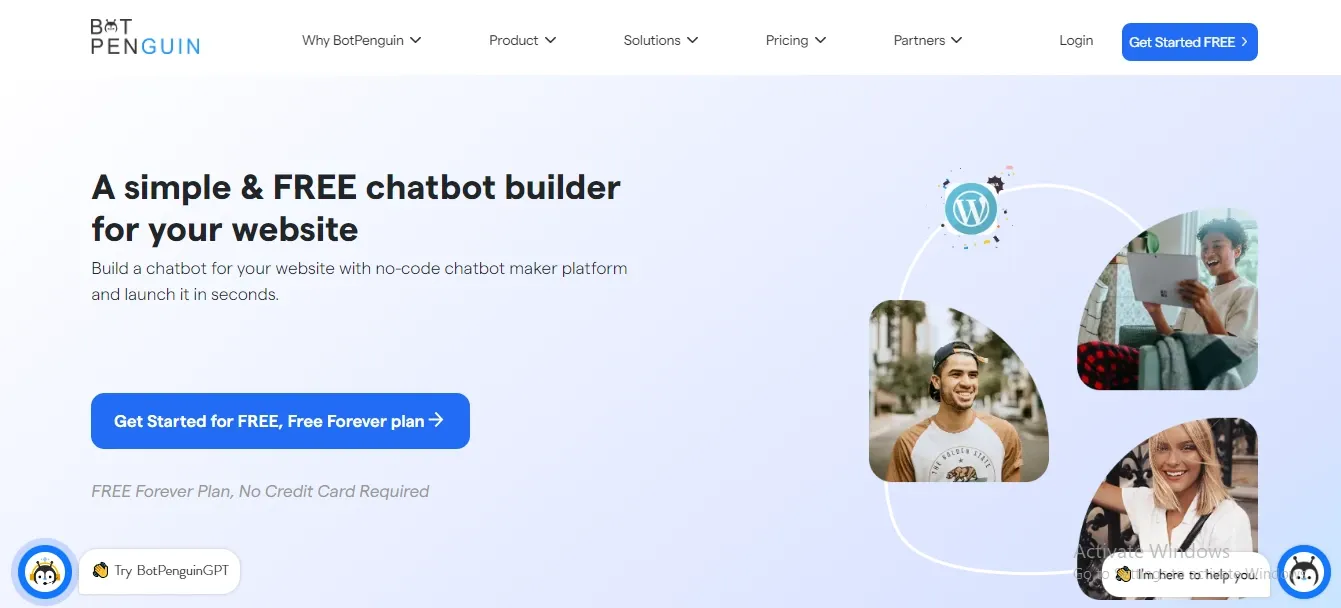 BotPenguin is a web-based platform that allows you to create your chatbot in minutes without any coding required.
You can use our software as a starting point and by using the extensive list of prebuilt integrations and widgets.
No one likes paying for software and hiring developers to get your website chatbot.
BotPenguin slashes off the need for programmers.
2. BotPenguin offers real-time chatbot analytics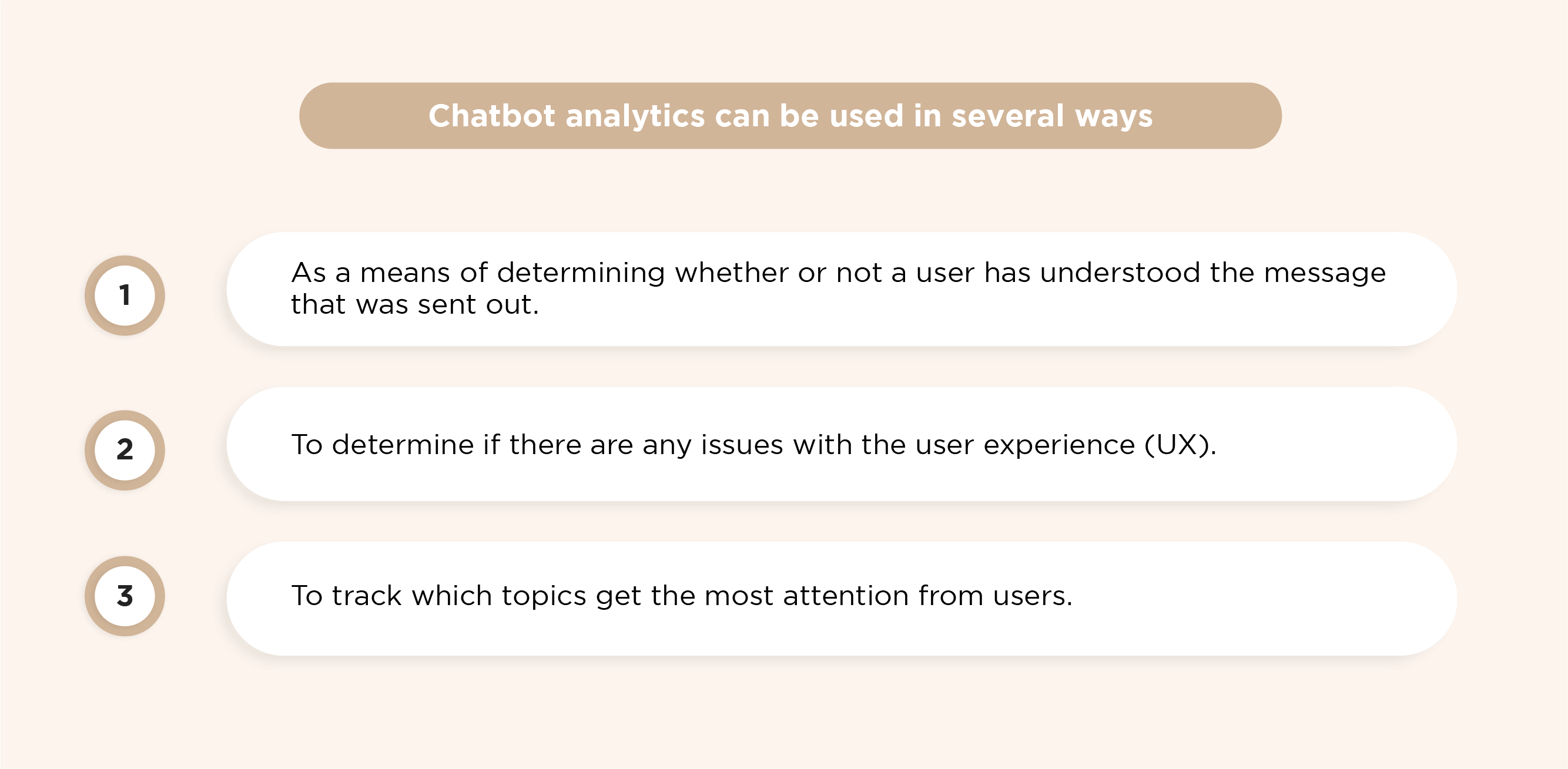 Real-time chatbot analytics is important for monitoring the health of your bot's conversation.
This allows you to see what people say, how they say it, and where your conversation is heading.
Chatbot analytics can be used in several ways:
As a means of determining whether or not a user has understood the message that was sent out;

To determine if there are any issues with the user experience (UX).

To track which topics get the most attention from users.
3. BotPenguin provides a high range of customization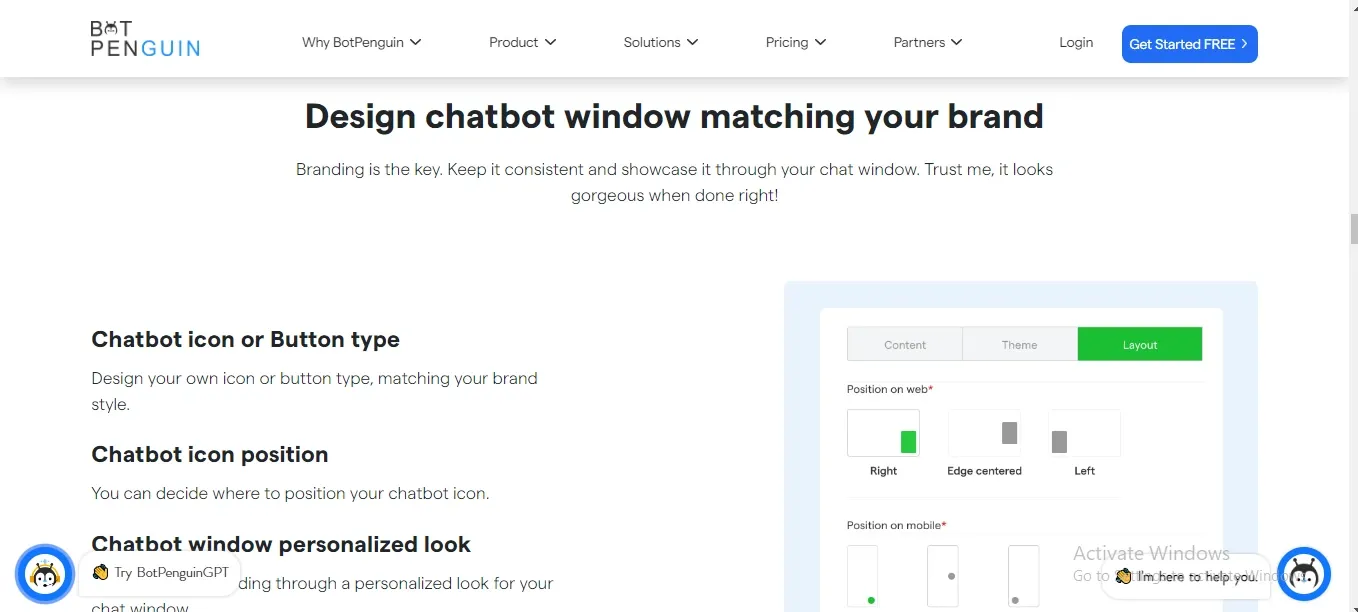 Website chatbot builder—BotPenguin has been proven to build perfectly customized website chatbots per the client's demands.
BotPenguin offers a wide range of features that you can customize to make your website chatbot unique.
These include:
You can create a custom look and feel for your chatbot and its answers to common questions.

The customization can be done based on its objectives and the platform they are making it for. This means you can create a branded experience for clients interacting with it on their websites or applications.

You can even choose between multiple voices (including male and female) to fit the personality of your brand's voiceover artist or writer or even use an existing recording if desired.

The palette of customization offered by BotPenguin leaves no customer dissatisfied!
4. BotPenguin makes sales scalable & efficient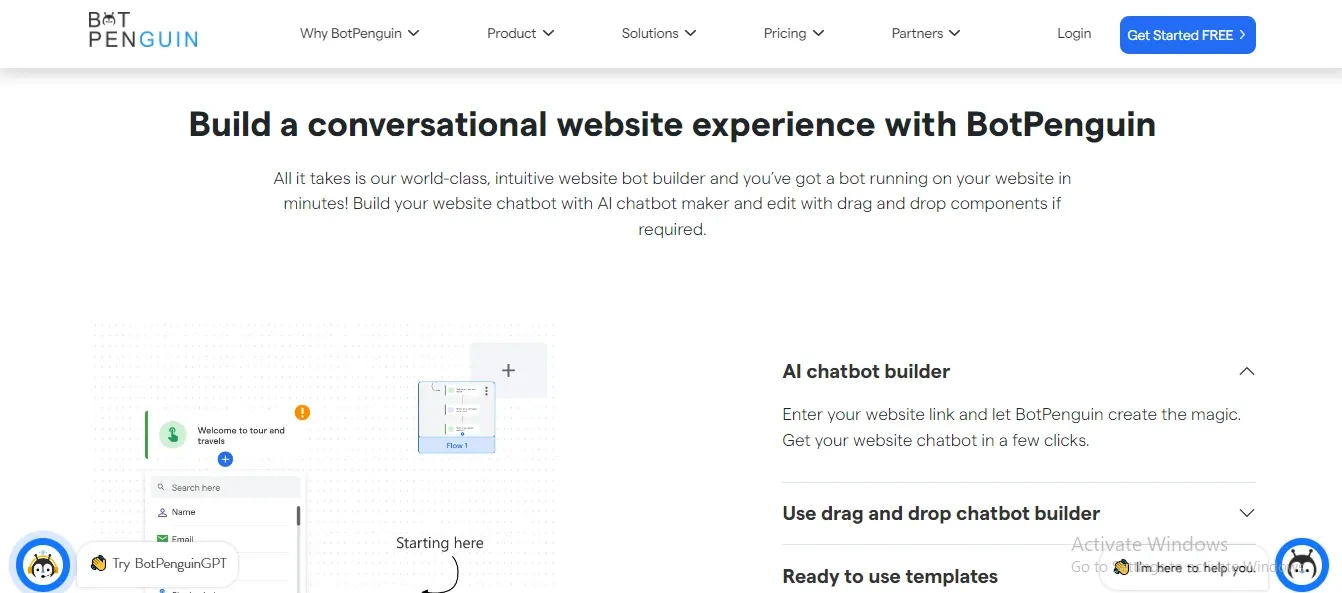 Building a website bot is a simple, cost-effective way to increase sales and improve customer service.
With BotPenguin, you can access its dashboard, where you can get insight into all the metrics and statistical data, making it very scalable and efficient.
This aids in making informed decisions related to marketing campaigns and sales strategy.
5. BotPenguin gives your business a competitive edge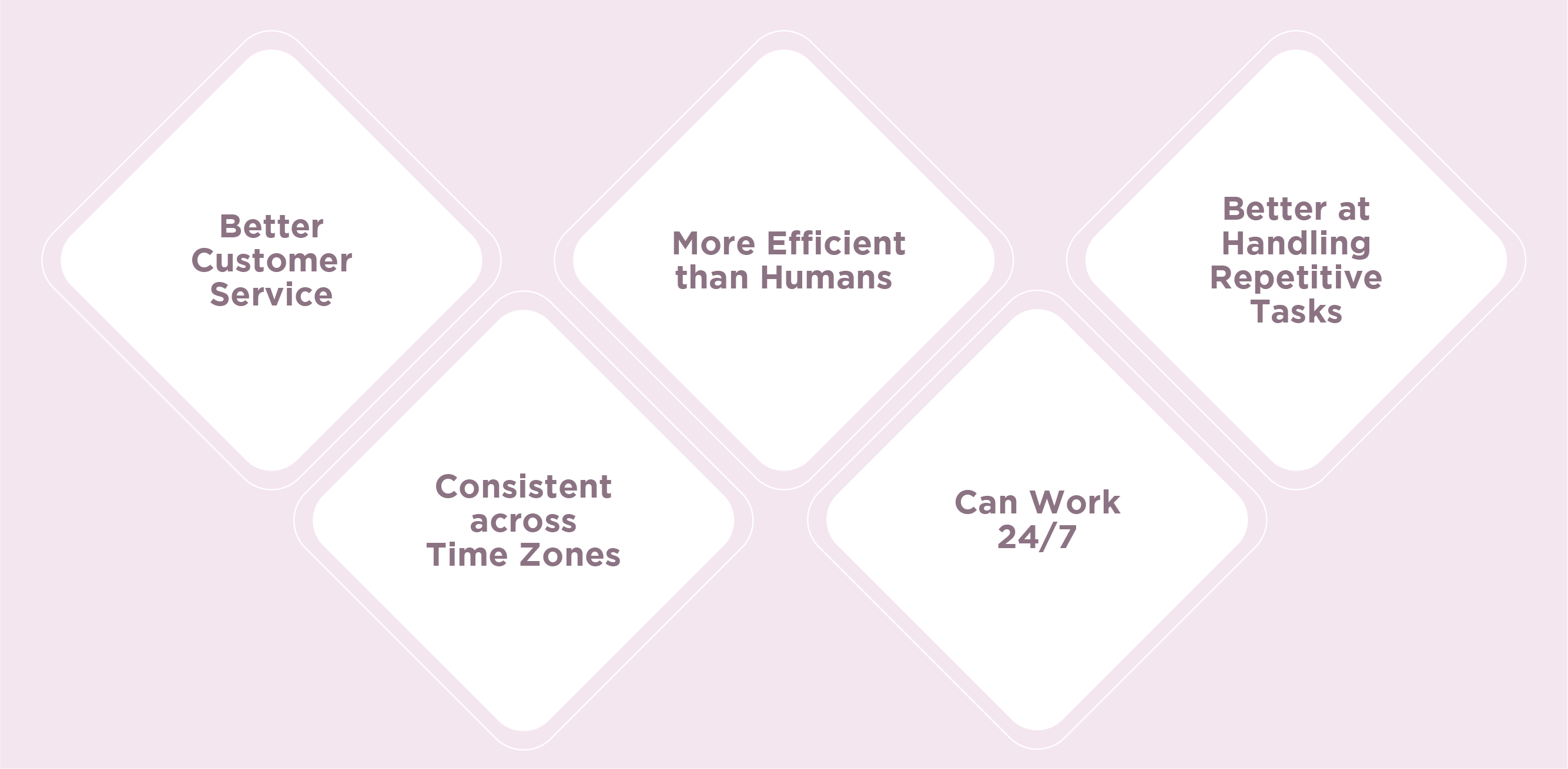 With BotPenguin's website chatbot builder, you will be able to provide better customer service than your competitors.
Website bot is the future of customer service, and BotPenguin is the future of free website chatbot builder.
They're more efficient than humans, better at handling repetitive tasks, and more consistent across time zones.
Website chatbots can work 24/7, so you don't have to worry about your bot being offline or out of commission when you need them most.
6. BotPenguin is user-friendly and convenient to use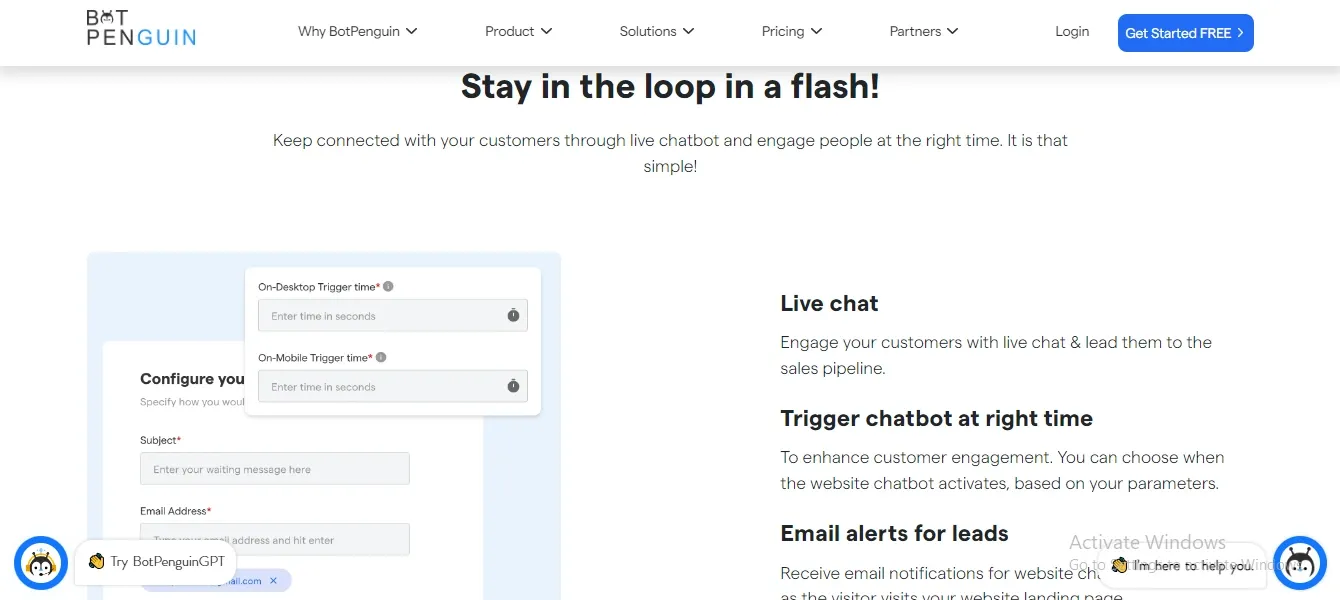 Building free website chatbots with BotPenguin is easy and can be a great way to improve your customer service and boost your sales.
Website chatbots can be built easily with drag-and-drop methodology.
If you're looking for a way to improve your customer service, BotPenguin is a great place to start.
We make it a piece of cake for businesses of all sizes to build website chatbots without any coding experience, so there's no reason not to try us!
7. BotPenguin needs no extra service charges

The best part about building a website bot yourself by using BotPenguin is that you get 100% control over the experience your users have on their end, and no third-party services or fees are involved!
Conclusion
We hope these reasons have convinced you that building your website chatbots using BotPenguin is a great way to improve customer service and increase sales.
Your business will benefit more from increased revenue because more loyal customers mean more referrals than ever!
If you want to learn more about what it takes to build a free website chatbot with BotPenguin, check out our free trial!
Contact us right away!

Frequently Asked Questions (FAQs)
Can I integrate BotPenguin chatbot with my existing website easily?
Yes, absolutely! BotPenguin provides seamless integration options for various platforms and Customer relationship management (CRMs).
Whether your website is built on WordPress, Shopify, or custom HTML, BotPenguin's integration process is straightforward.
You can simply follow the step-by-step instructions provided by BotPenguin to have your chatbot up and running in no time.
Does BotPenguin offer multi-language support for chatbots?
Yes, BotPenguin supports multiple languages, making it suitable for global businesses and diverse audiences.
Whether your target market speaks English, Spanish, French, or any other language, BotPenguin's NLP capabilities enable effective communication and understanding across different languages.
How secure is the data handled by BotPenguin chatbot?
BotPenguin prioritizes data security and privacy. It employs industry-standard encryption protocols and follows strict data handling practices to ensure that all user interactions and information are safeguarded.
You can trust BotPenguin to maintain the confidentiality and integrity of your data.
Can I customize the appearance of the chatbot to match my website's branding?
Absolutely! BotPenguin allows you to customize the chatbot's appearance, including color schemes, avatars, and chatbox design, to align with your website's branding.
This helps create a consistent user experience and reinforces your brand identity.
What type of analytics and insights does BotPenguin provide?
BotPenguin offers comprehensive analytics and insights to help you monitor and evaluate the chatbot's performance.
You can track user interactions, frequently asked questions, conversion rates, and other essential metrics to optimize the chatbot's effectiveness and improve customer satisfaction.
Can I create a chatbot for different purposes using BotPenguin?
Absolutely! BotPenguin is versatile and allows you to build chatbots for various purposes, such as customer support, lead generation, appointment scheduling, and more.
Its flexible framework and wide range of templates cater to different business needs.
Does BotPenguin offer customer support in case I need assistance?
Yes, BotPenguin provides customer support to assist users with any queries or issues they may encounter during the chatbot development process.
Their support team is responsive and dedicated to helping you make the most of their platform.