What is the norm for sales across platforms right now( where does online chat come into play)?
The modern world is full of distractions. Smartphones, tablets, and other handheld devices keep us busy with one thing or another. The internet makes it easy to access any information any time we want. It can make it difficult for businesses to reach their customers who are constantly distracted by various types of content on the internet. Online chat software is an excellent tool for companies to connect directly with their website visitors. With Online Chat, you can answer your clients' questions about your business, products, and services. Furthermore, they can ask anything else they may want to know about you. It allows you to engage in real-time conversations with people visiting your website right now. It is a great way to build relationships with people interested in what you're offering them.
Why is Online chat so important?
You can also use Online chat software as a sales tool by pre-set canned messages or custom scripts for your agents. They can follow a plan of action when interacting with potential leads on your website. Online chat was proven to have a higher satisfaction rate than phone calls, emails, or social media. According to an eMarketer survey, 73% of respondents rated Online chat as either "very" or "extremely" helpful when they visit an e-commerce website. In contrast, only 61% of respondents said the same about phone support. Most online shoppers are looking for quick responses and solutions to their problems. They are more likely to purchase your business if you can provide that in real-time.
Some facts about Online chat and its effect on businesses:
According to Zendesk, online chat companies can increase their average order value by 20%.
If your average order value is $100, you could improve this by $20 simply by using Online chat software!
75% of online customers feel frustrated when they cannot find quick answers to their questions
44% of customers say that having their questions answered by a live person while in the middle of an online purchase is one of the most important features a website can offer.
Online chat can increase the conversion rate by up to 20%
Online chat can cut your support costs by 30%
More than 65% of people prefer Online chat to other forms of communication with customer service.
53% of customers say they are more likely to buy from a site where they can get instant online support
Customers who use Online chat are three times more likely to purchase than those who don't.
61% of consumers say that having access to instant approval is one of the most critical features a company can offer
79% of consumers would instead use Online chat than make a phone call for customer support
73% of people expect to be able to find answers or solutions on their own without needing to ask for assistance.
So providing self-service options such as FAQs, knowledgebase and forums are also beneficial.
How does it work?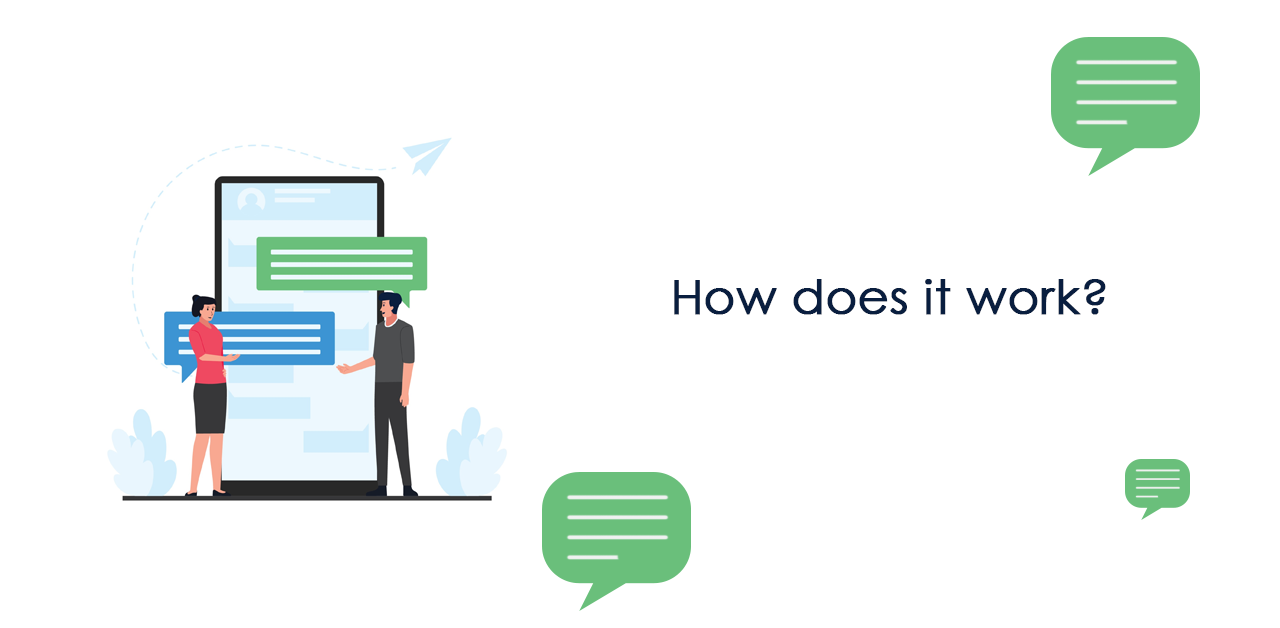 Research indicates that customers prefer to solve their issues and queries with the help of Online chat. According to KPMG, 73% of customers find Web chatting most satisfactory when resolving issues. Moreover, 93% of them are likely to return to do business with a company that offers excellent customer service through live chat. This fact is pretty simple; customers want instant solutions to their problems, and Online chat helps them resolve the issue in real-time. For instance, if a customer is looking for a product but has some questions about the product specifications, they can get the answers instantly through Online chat support. It helps them make an informed decision without waiting for long periods. Sales inquiries are also dealt with in real-time through live chat support, as sales reps don't have to wait until they have enough time to call back a potential customer. They can answer all their questions and concerns instantly through Online chat support and convert them into leads.
Here is a scenario to help you understand where exactly does online chat helps your business?
Say a customer visits your website and fills out a text box with their question or comment. The customer's computer sends the information to the live chat server, which forwards it to an available online agent if there's one available. If there isn't an agent available, a queue may store the request until someone becomes available or emails you as an offline message. Once an agent receives the request, they can communicate with the customer directly through the live chat interface. When the conversation is complete, the agent closes the chat session and logs any helpful information into the company's CRM system. Additionally, they can use help desk software to make future interactions more efficient.
Benefits of interacting with customers through Webchat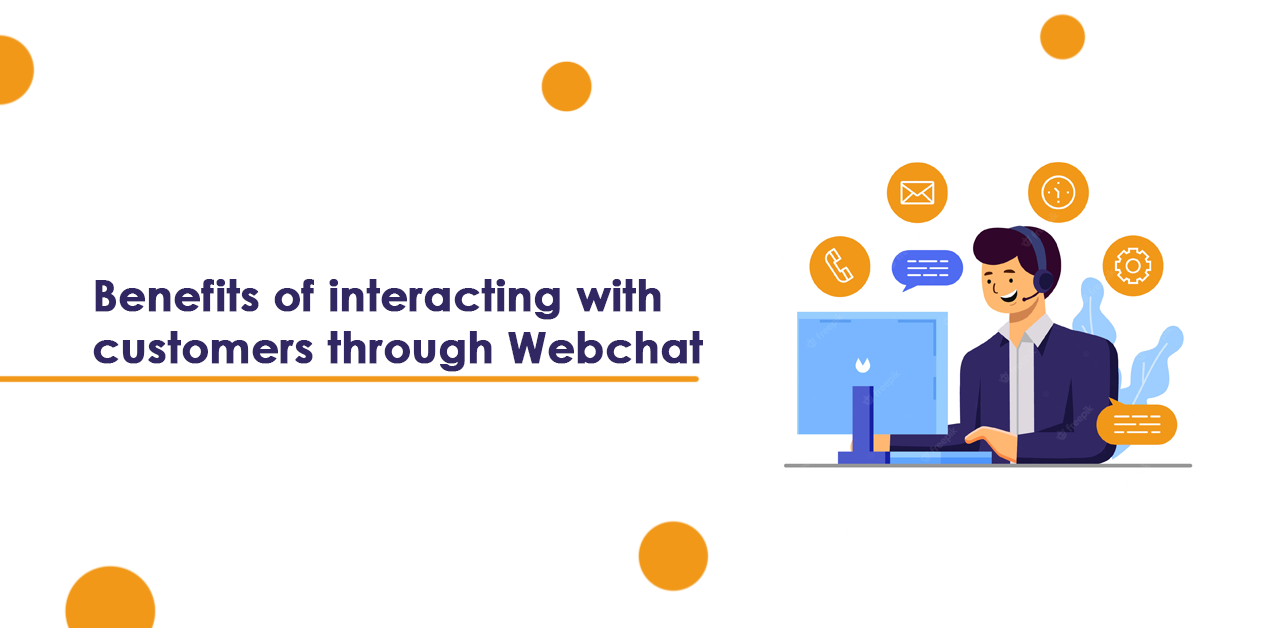 Here are some of the essential benefits of Webchat:
Fast Support
Webchat provides immediate answers to customer questions, leading to more sales and improved customer satisfaction.
Comprehensive Feedback
Webchat allows you to understand your customers better. It can provide valuable insight into customer needs, preferences, behaviors, and spending habits, which can help improve products, services, and marketing campaigns.
Increase Consumer Loyalty
Webchat increases customer loyalty by allowing you to build relationships with customers. It enables you to brand yourself as a helpful resource for the people who use your products or services. Moreover, it creates a sense of community among your customers, leading to greater engagement and advocacy.
Personalize Consumer Experience
Web chat allows you to personalize customer interactions by creating detailed profiles of individual customers based on their unique histories across multiple channels. It ensures that representatives can better understand how they prefer to interact and how they like their problems solved.
Some Drawbacks of Implementing Chat Software

Some customers may find live chat intrusive or annoying and close the window without engaging with your representative. Chat requires trained staff members familiar with your products and capable of answering customers' questions on the fly. Implementing chat requires significant investment in software, training, and staffing costs. If your customer base isn't large enough to justify it, the investment might not pay off as much as you would like. With every great thing, there are minor hiccups along the way. Despite these few drawbacks, Web Chat easily outweighs the bad by a huge factor. This article aims to give a holistic idea that you can't get when you don't have all the facts.
Online chat: Is it worth it?
The answer to this question is "yes" for most businesses. In a study conducted by Forrester Research, 25% of companies that implemented online chat support said that it increased their sales by at least 20%. More than 50% of consumers consider live chat helpful. A recent survey from Bright Pattern indicates that 78% of customers are more likely to return to a website if they can get answers quickly. However, there are some important considerations when determining whether Online chat is right for your business. Online chat is not the best choice for every business. If you sell in high volumes, or if your product or service requires extensive education or high-touch sales, live chat may not be suitable for you. Customers who have done extensive research on your product or service before purchase may also prefer live chat over other forms of communication, such as phone or email. If this is you, undoubtedly go for it! However, you're unlikely to see the results you want without implementing a few other strategies alongside your online chat software. BotPenguin is a chatbot-building platform that empowers businesses to achieve more leads, conversions, and sales by using customized chatbots.