Let's talk about WhatsApp Chatbot Tools. Think of them as your business's customer service life-savers, ready 24/7, rain or shine.
But with so many potential sidekicks (read tools) available, how do you nail down your dynamic duo? You've come to the right place!
Our handy guide is all about selecting the best WhatsApp chatbot tools, with all the details, and none of the jargon, in a fun, accessible way.
Buckle up, because we're going on a fast-paced ride through the land of WhatsApp Chatbot Tools! Let's get rolling!
How to Select the Best WhatsApp Chatbot Tools
Let's first explore how to select the best WhatsApp chatbot tools for your business. Considering the following factors will help you make an informed decision: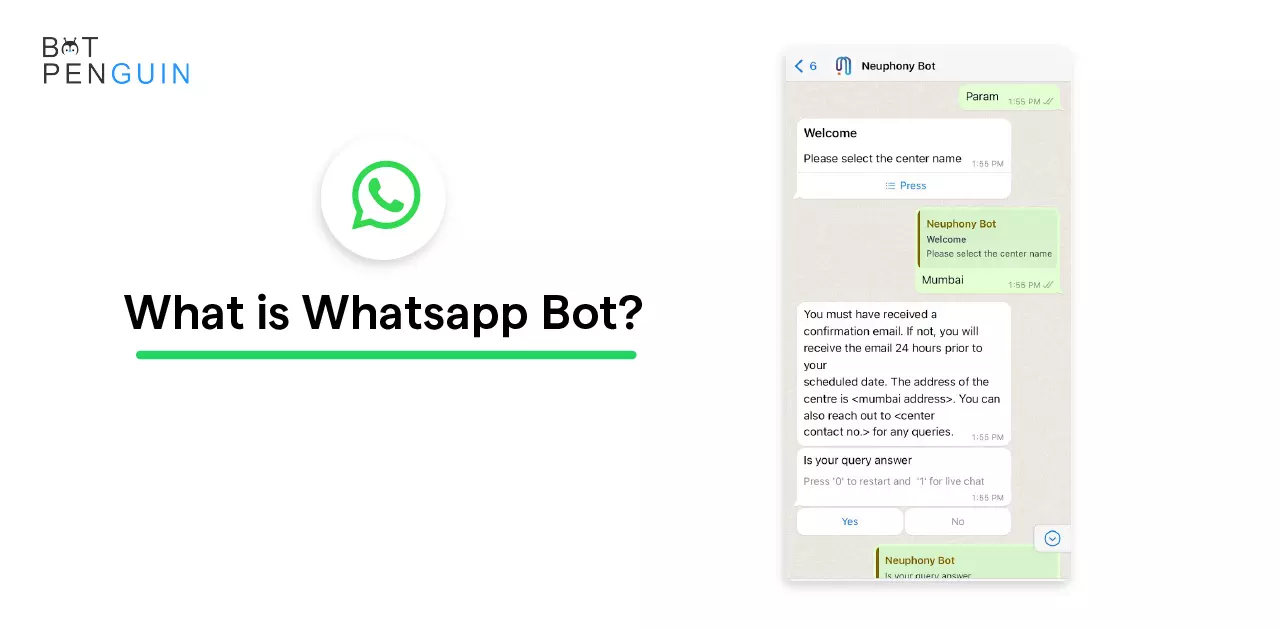 Features and Functionality
When choosing WhatsApp chatbot tools, it's crucial to evaluate the features and functionality offered. Look for tools that provide advanced NLP capabilities, integration with other systems, and the ability to handle multimedia formats.
Consider features like chat history storage, response customization, and analytics to assess the success and performance of your chatbot.
User Experience
The user experience of your chatbot is paramount in delivering an enjoyable customer experience. Ensure that the chatbot tool you choose offers a user-friendly interface and conversational design.
Your chatbot should be able to handle complex queries, understand context, and provide relevant and personalized responses. A chatbot with a natural and engaging conversation flow will create a positive impression on your customers.
Scalability
As your business grows, so will your customer engagement. It's important to choose chatbot tools that can scale according to your business needs. Look for platforms that can handle large volumes of inquiries without compromising on response quality or speed.
This scalability will ensure that your chatbot can accommodate increased customer demand as your business expands.
Integration and Customization
Integration capabilities are crucial when selecting chatbot tools. Consider whether the tool can integrate with your existing systems, such as CRM software or e-commerce platforms. This will allow your chatbot to access customer data and provide more personalized responses.
Additionally, look for customization options that enable you to tailor the chatbot to your brand's voice and tone, making it feel more authentic and aligned with your business values.
Security and Data Privacy
Data security and privacy should be a top priority when choosing WhatsApp chatbot tools. Ensure that the tool you select adheres to strict security protocols, encrypts data, and stores it securely. It's important to protect both customer information and your business data to build trust and maintain compliance with privacy regulations.
By considering these factors when selecting WhatsApp chatbot tools, you can ensure that you choose a solution that aligns with your business goals and provides an optimal customer experience.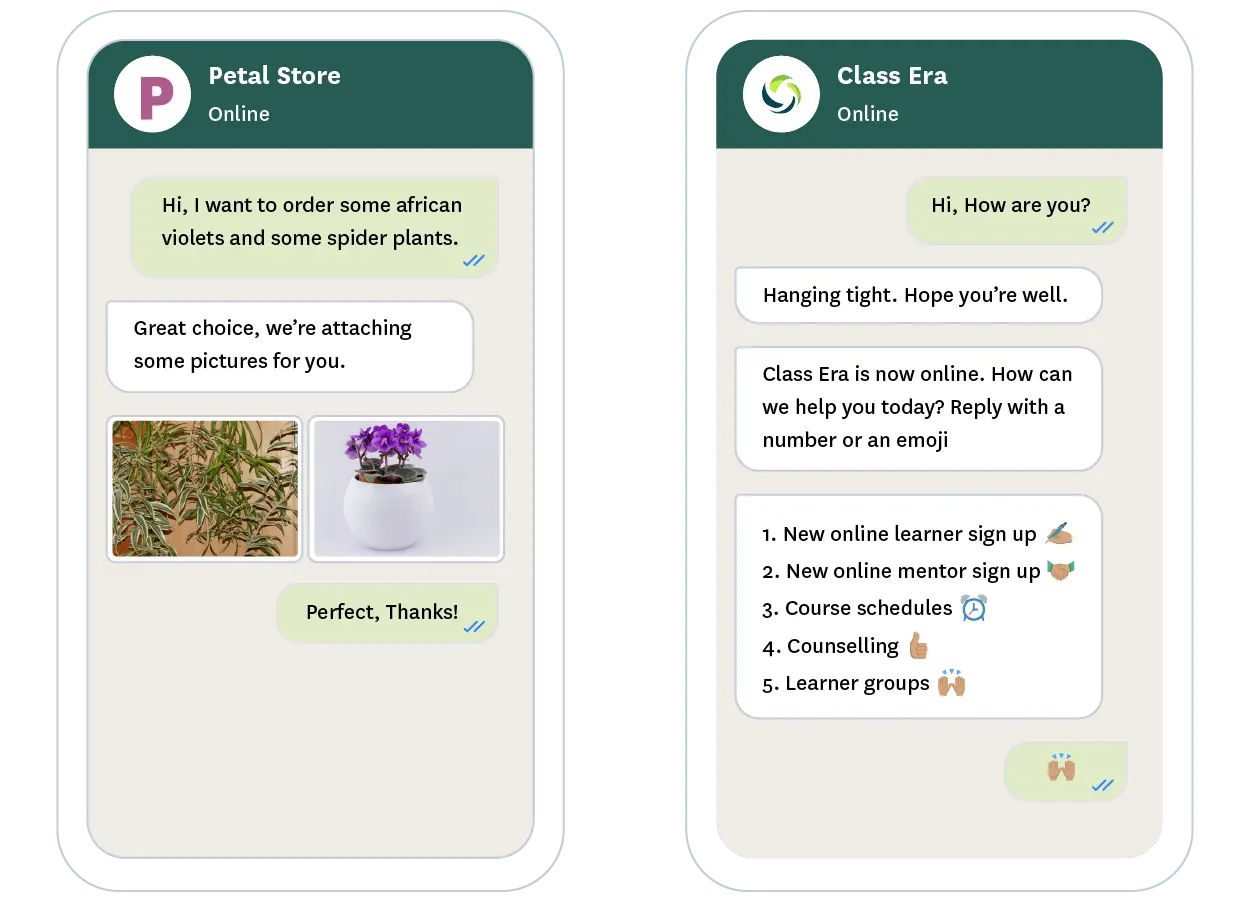 Top 15 WhatsApp Chatbot Tools for 2023
WhatsApp chatbots have become essential for businesses looking to enhance their customer communication and optimize their operations. With a wide range of chatbot tools available, it's important to choose the right one for your business needs. Here are the top 15 WhatsApp chatbot tools to consider for 2023:
So, let's dive in!
BotPenguin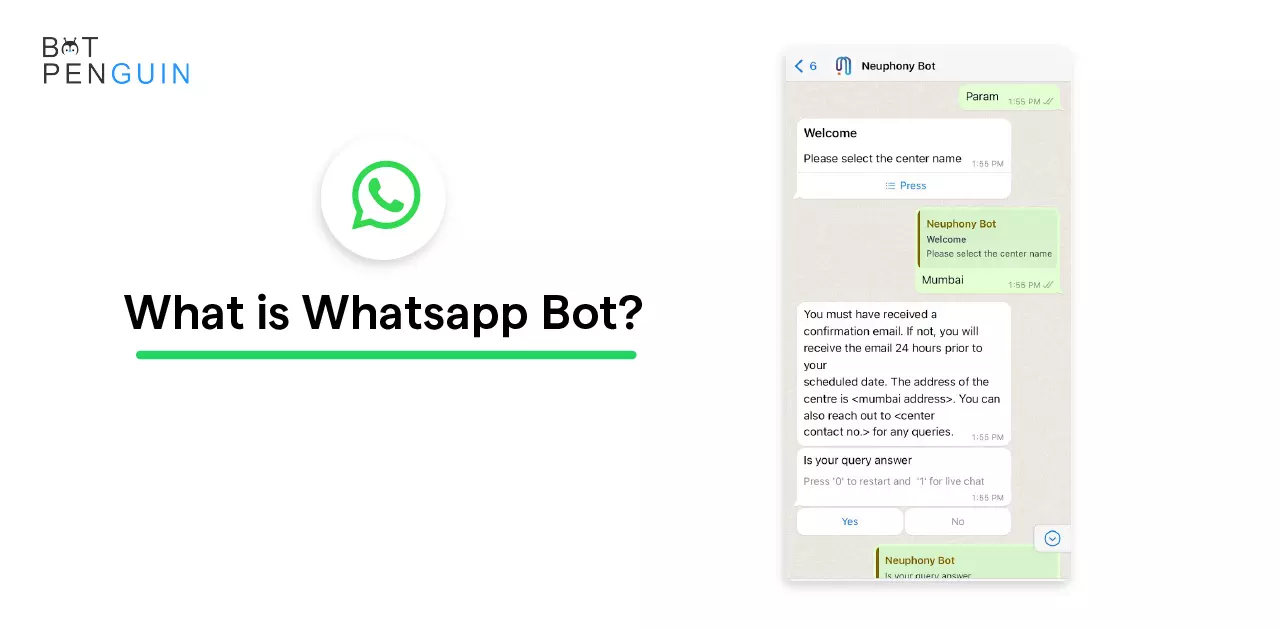 Time to meet BotPenguin– the ace in the world of chatbots, first. This tool specializes in creating fantastic WhatsApp chatbots for lead generation without any hassle. With BotPenguin, you can build a WhatsApp chatbot for leads easily.
This is more than just a basic chatbot. BotPenguin is an all-rounder. Use it to sell products, engage customers, and solve queries 24/7. Plan and launch drip campaigns with just a few clicks.
Want to launch a new product? Don't wait for customers to find it themselves. Use BotPenguin's WhatsApp chatbot to broadcast a message to all your clients.
Features: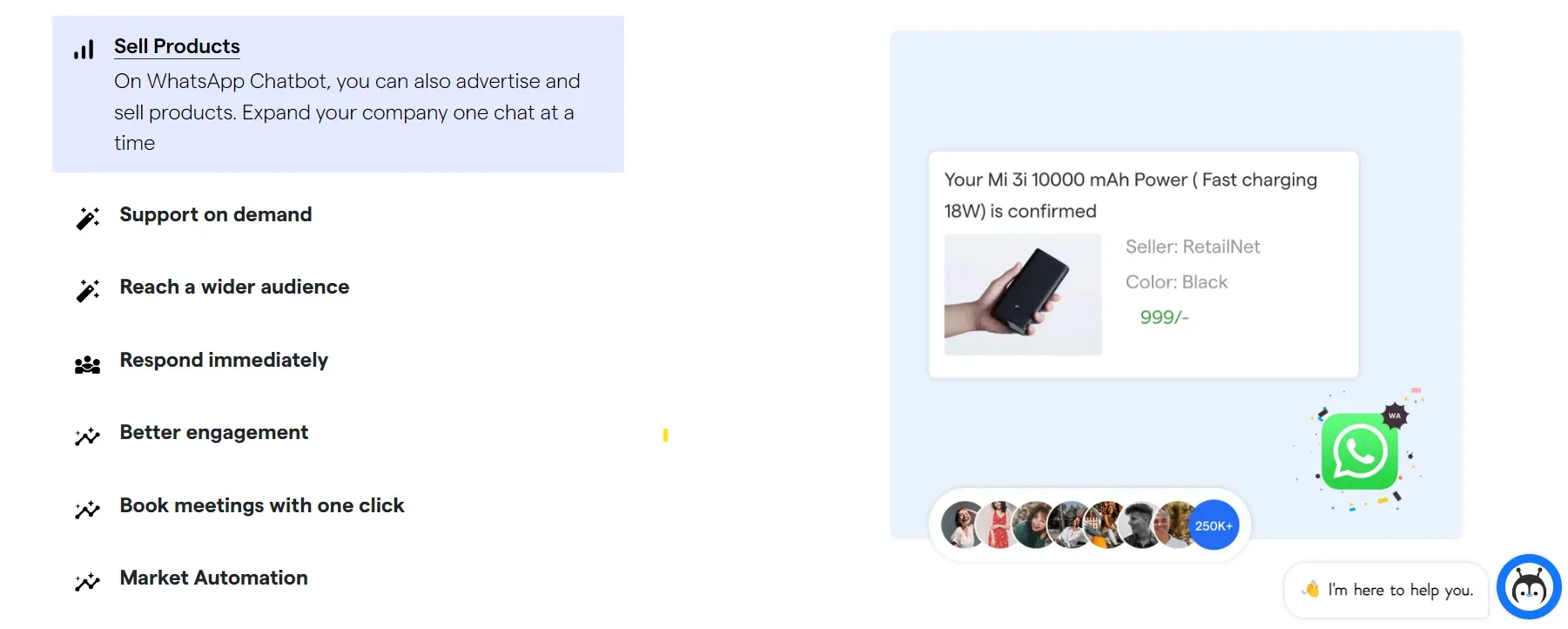 Streamlined and user-friendly interface

Rich interoperability with other business tools

Quality lead generation

Flexible operational workflows

Excellent engagement features
Pricing: Free basic plan; paid plans start from as low as $6.
Along with WhatsApp Chatbot, BotPenguin offers chatbot creation for other social platforms like:

Wati
Meet Wati, a formidable contender in the realm of WhatsApp chatbot tools.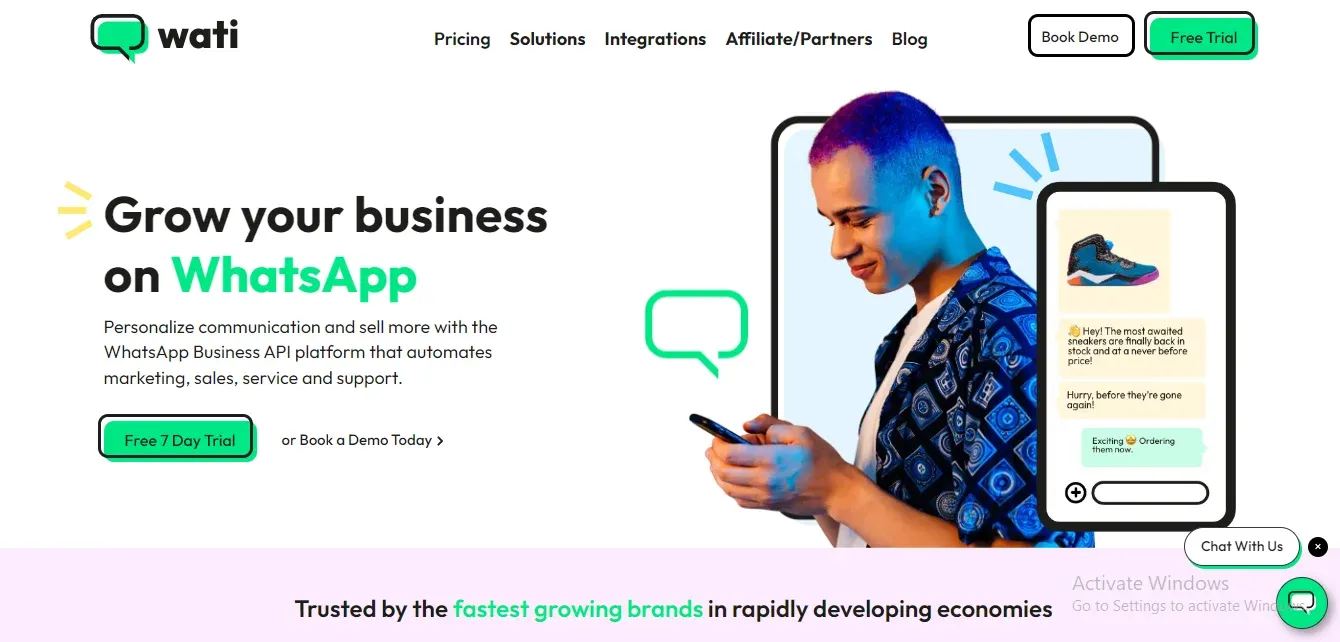 Among our top picks for enhancing customer engagement and lead generation, Wati shines as an exceptional choice. This tool seamlessly crafts WhatsApp chatbots that excel in lead generation and customer interaction.
Wati is one of the best WhatsApp chatbot platforms, offering reliable, user-friendly, and fast setup for handling customer interactions in real-time.
Pros:
Rapid setup cycle for businesses

Effective CRM tools integration

Wide-ranging third-party integrations

Multi-agent collaborative features

Competitive pricing
Cons:
Limited automation features

The interface could be more intuitive

Support responses can be slow

Lack of rich analytical features

Limited scalabilty
Pricing: Free initial plan; premium plan from $39/month
Interakt
As we navigate the landscape of enhancing customer interactions and lead generation, Interkart emerges as a compelling choice.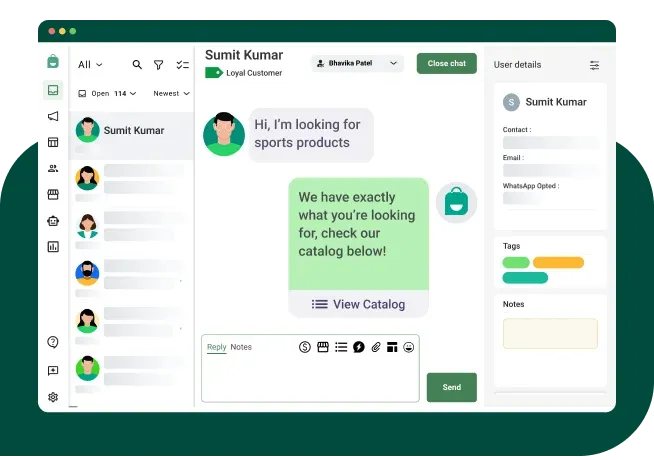 This tool garners attention for its exceptional proficiency in creating seamless WhatsApp chatbots optimized for lead generation and customer engagement.
Interakt is an enterprise-level WhatsApp chatbot tool that automates customer service with exceptional reporting and analytics.
Pros
Detailed analytics and reporting features

Excellent customer support

Channel unification for Customer interactions

Advanced automation capabilities

Efficient agent efficiency tracking
Cons
Integration needs improvement

Limited machine learning capabilities

Complex architectural setup

Limitations in customization

High pricing point
Pricing: Basic plan starts at $49/month
Aisensy
Aisensy stands at the forefront of WhatsApp chatbot tools in 2023, offering businesses an all-encompassing solution for amplified customer engagement through AI-driven conversations.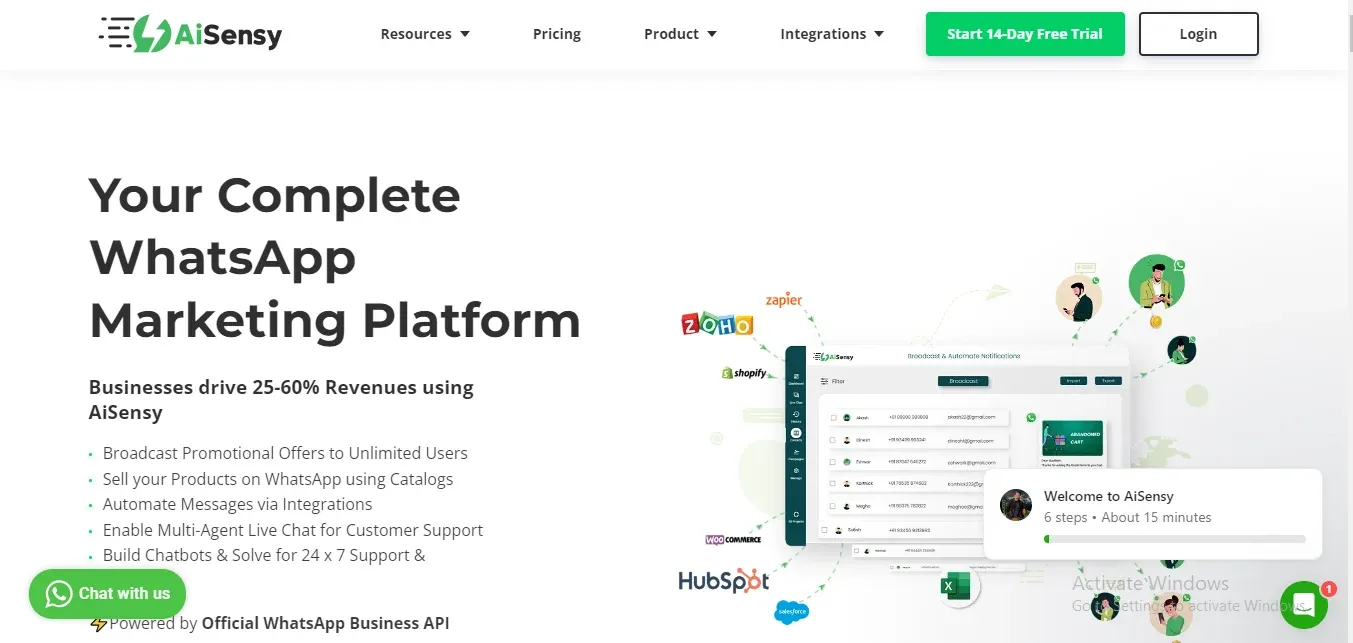 Aisensy offers powerful WhatsApp chatbot platforms, specializing in user-friendly interfaces, and compatibility across many platforms which aids in automating customer interactions.
Pros
Ease of use

Extensive multi-channel support

Advanced automation capabilities

Data-driven insights

Comprehensive integration options
Cons
Limited third-party integrations

Slightly high pricing for smaller businesses

Could have better customization options

Advanced features require time to learn

Customer support is not available 24/7
Pricing: Plans start at $50/month
Quickreply.ai, an AI Bot for WhatsApp tool designed specifically for the e-commerce industry, brings advanced automation features to streamline customer interactions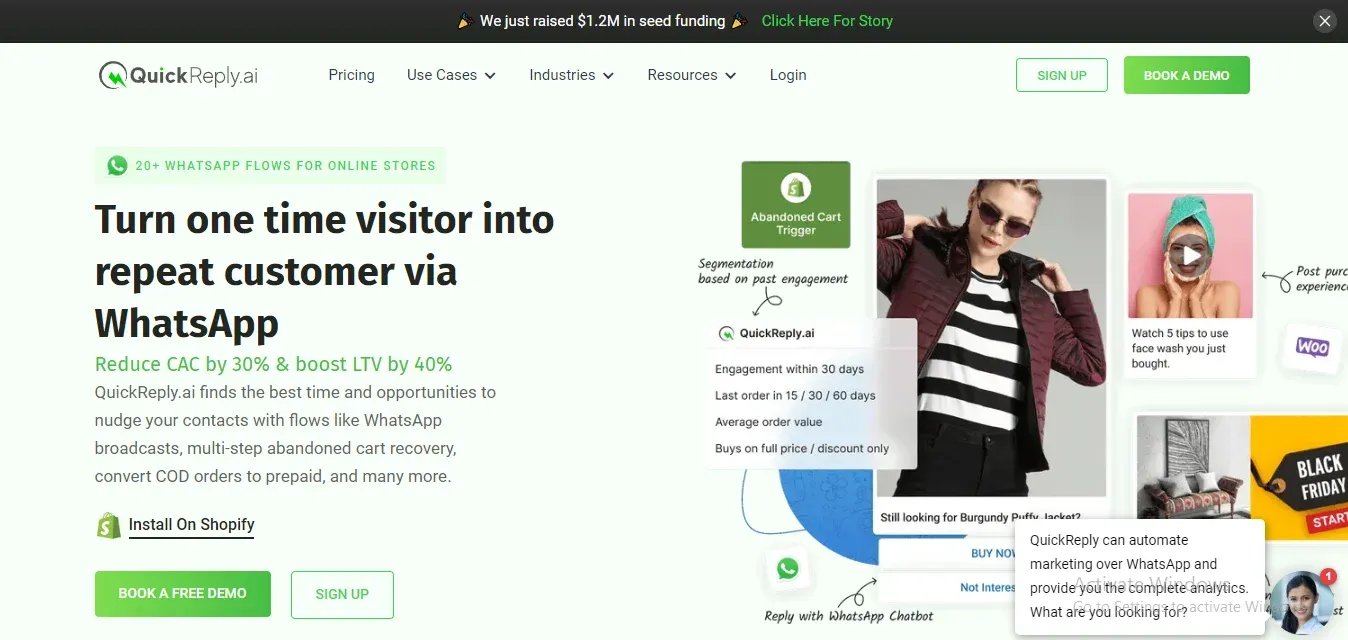 The platform's intuitive interface enables easy customization, ensuring that even those with limited technical expertise can develop impactful chatbots.
Pros
Specifically tailored for e-commerce businesses

Has robust automation capabilities

Multilingual support

Seamless integration with e-commerce platforms

Provides comprehensive user analytics
Cons
Lack of customization options

Less efficient for non e-commerce businesses

Interface may take some time to get used to

Documentation lacks clarity

Limited CRM integrations
Pricing: Pricing available on request
Engati
In 2023, Engati emerges as a versatile platform that seamlessly integrates with WhatsApp, bolstering customer interactions across industries.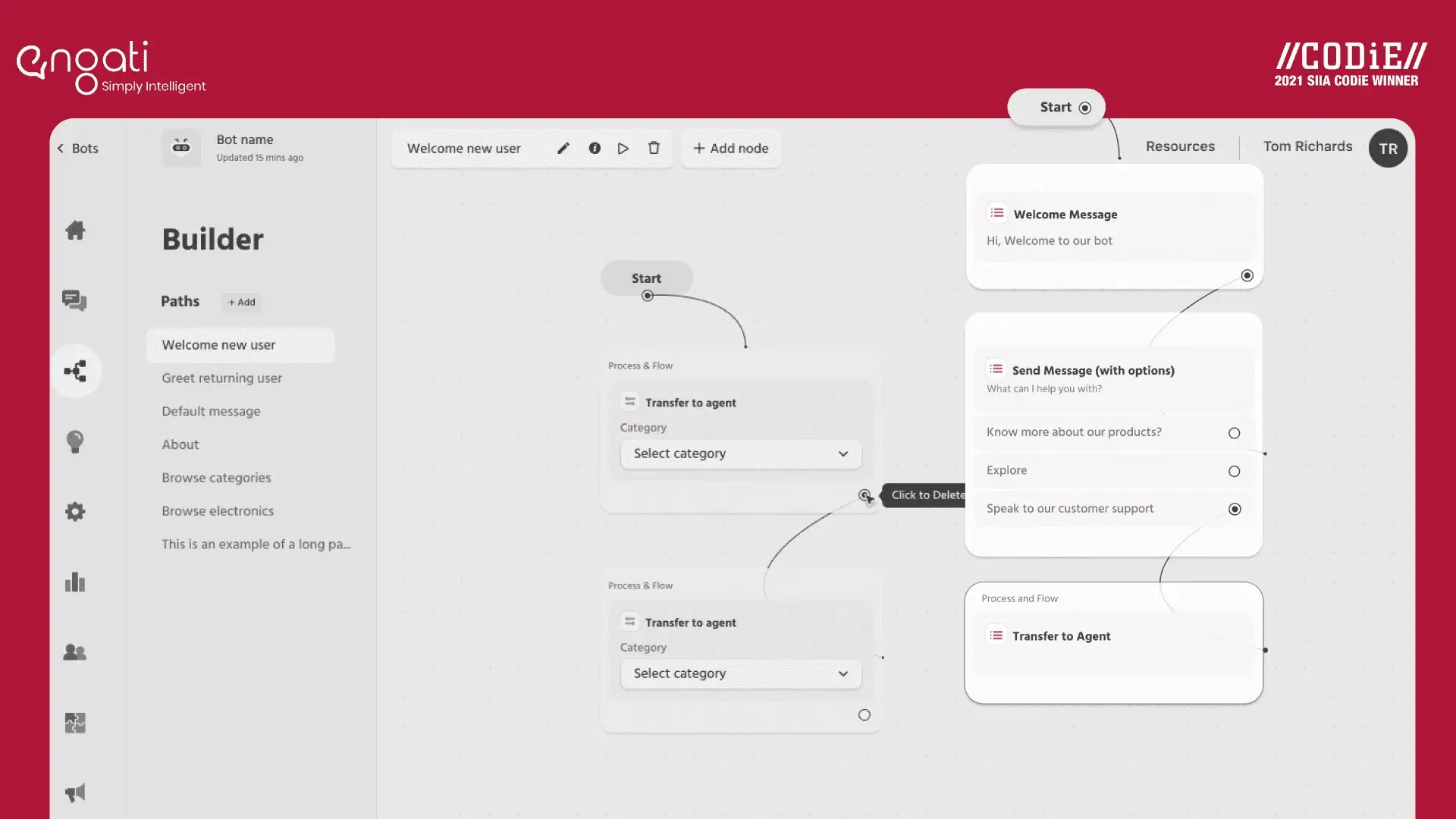 Engati's user-friendly interface facilitates the creation of AI-powered chatbots without extensive technical prowess.
With its WhatsApp integration, Engati enables businesses to provide real-time responses, ensuring round-the-clock availability for customer queries.
Pros
Unique live chat feature that complements automation

Multi-channel support for customer interactions

Advanced conversational AI capabilities

Seamless integration with other business tools

Affordable pricing options
Cons
Does not have industry-specific templates

Limited CMS functionality

Certain features can be a bit complex

Chat design interface needs improvement

Limited in some languages
Pricing: Free basic plan; Pro plans from $19/month
Respond.io
Respond.io stands out in 2023 as a unified platform for customer communication.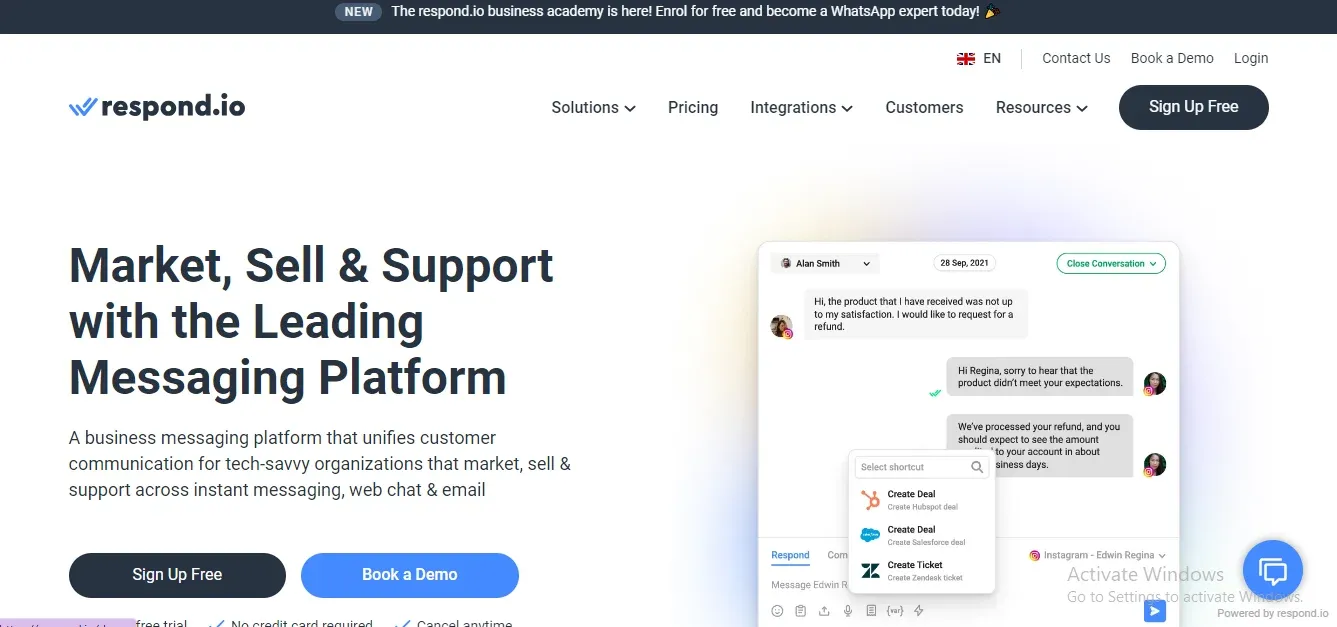 Seamlessly integrating with WhatsApp, Respond.io streamlines interactions through multiple messaging channels. Its intuitive dashboard allows businesses to manage conversations effectively.
Pros
High customization potential

Supports rich media messages

Seamless integration with marketing tools

Robust real-time analytic features

Multilingual support
Cons
Might be challenging for less tech-savvy users

Some limitations in CRM functionality

Learning curve to fully grasp its functionalities

Limited documentation

Lacks telephony support
Pricing: Free basic plan; Paid plans starting from $29/month
Verloop.io
Verloop.io is one of the more advanced WhatsApp chatbot platforms that uses machine learning to provide highly personalized customer interactions.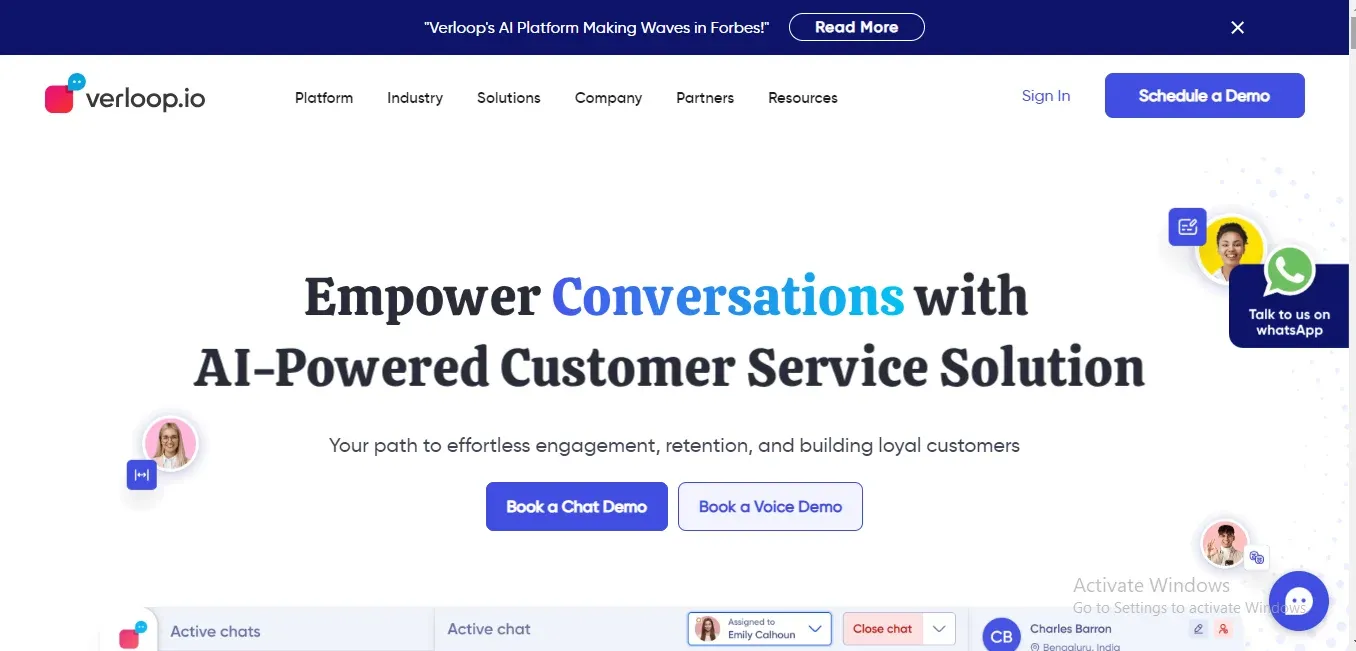 It takes center stage among WhatsApp chatbot tools in 2023, offering businesses a powerful conversational automation platform.
Pros
Excellent personalization through machine learning

Effective CRM integration

Availability of A/B testing

Efficient customer support

Offers advanced reporting and analytics
Cons
Can be pricey for smaller businesses

Lacks certain third-party integrations

Limited capabilities in multiple languages

Hard to handle complex queries

Premium features come at an additional cost
Pricing: Plans start at $50/month
Delightchat
Delightchat shines as a streamlined solution for e-commerce businesses in 2023. It empowers brands to provide efficient customer support.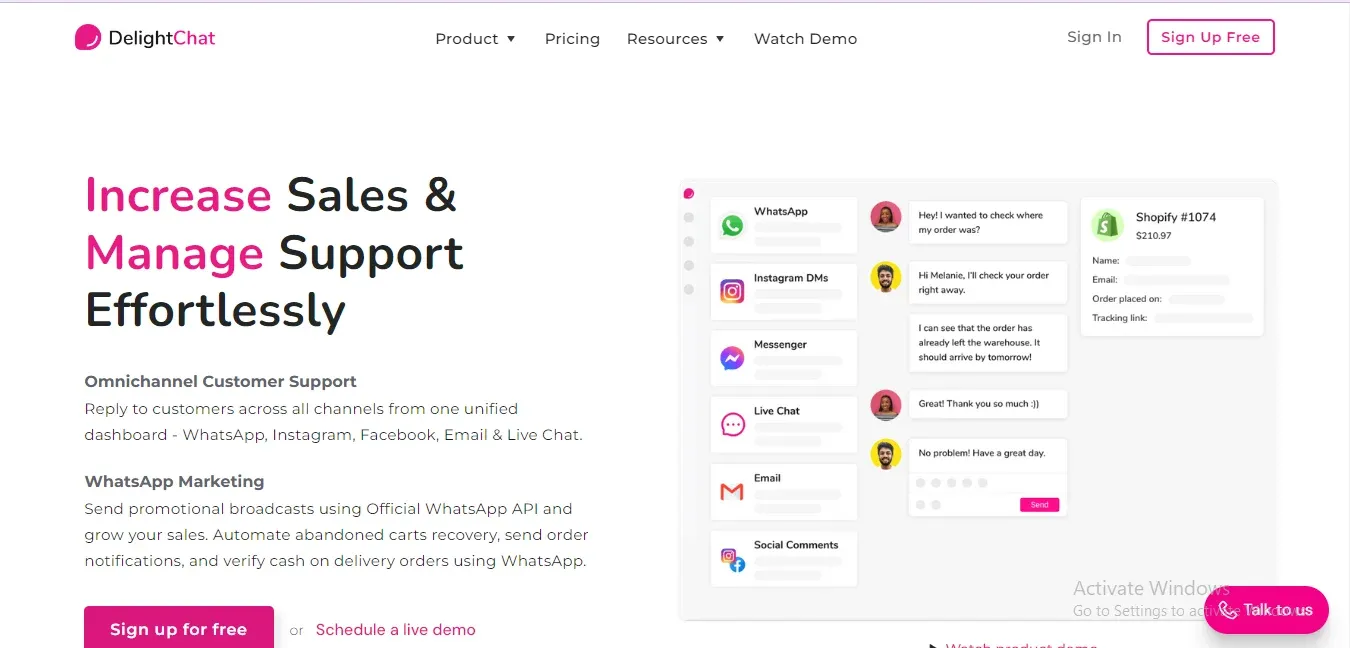 Its provides a unique way to manage customer support for eCommerce businesses by unifying all communication in a single chatbot for WhatsApp platform.
Pros
Centralizes all company communications

User-friendly interface

Excellent support performance

Provides team collaboration features

Very affordable pricing options
Cons
Notification functionality needs improvement

Lacks role-based access control

Limited reporting capabilities

Minor lags in the interface

Does not support all messaging platforms
Pricing: Plans start at $10 per month
Landbot
Landbot is an intuitive chatbot for WhatsApp that emphasizes an easily understandable graphical user interface to simplify chatbot creation and customization.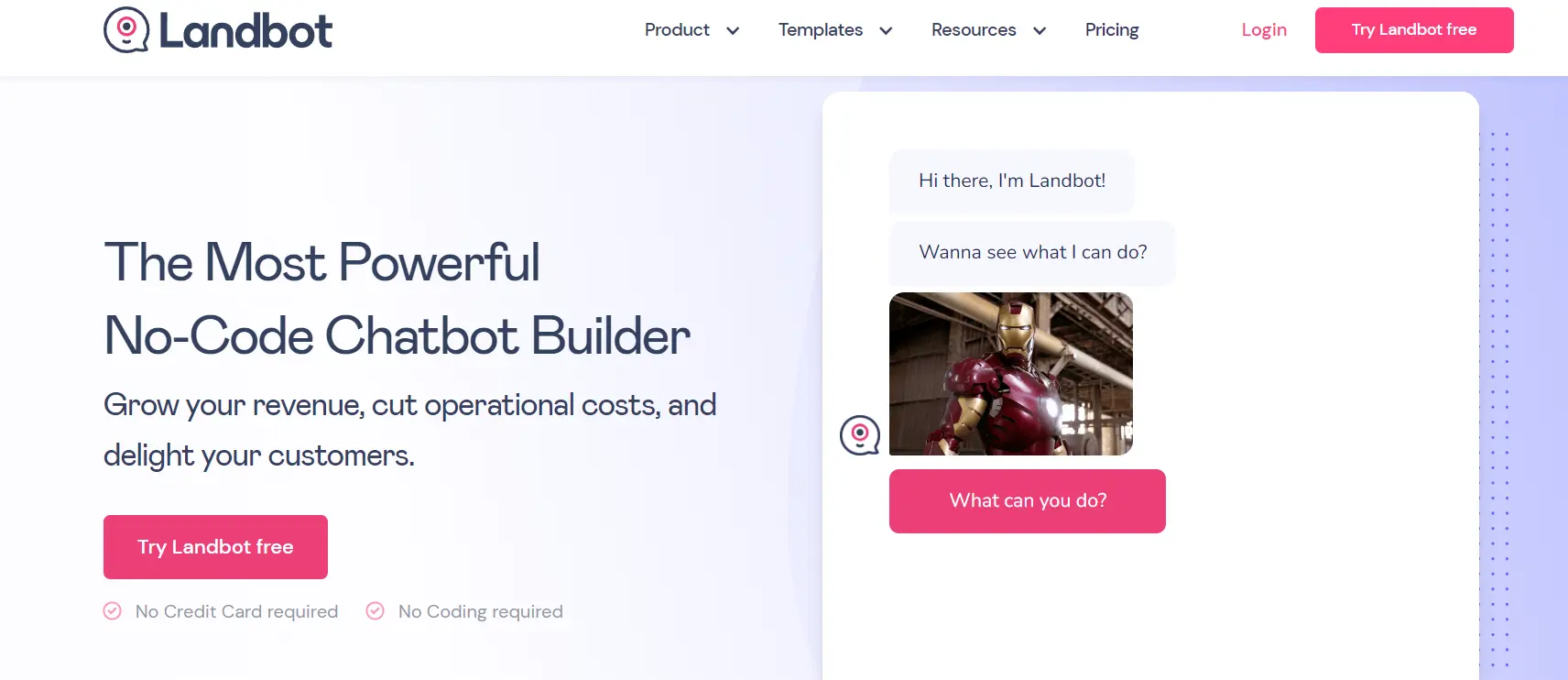 Through a visual interface, users can design chatbots that engage customers in a personalized manner. Landbot's WhatsApp integration ensures instant delivery of messages, nurturing real-time interactions.
Pros
Graphical interface for easy chatbot creation

Seamless integration with various business tools

Allows multi-channel messaging

Provides personalized customer interactions

Supports rich media content
Cons
Limited features in the free plan

AI capability is average

Limited CRM functionalities

Doesn't support voice-based bots

Customization needs improvement
Pricing: Free basic plan; Paid plans from $30/month
BotSociety
Botsociety is a powerful Chatbot for WhatsApp that simplifies the design process by offering an extensive selection of pre-built templates and customization options.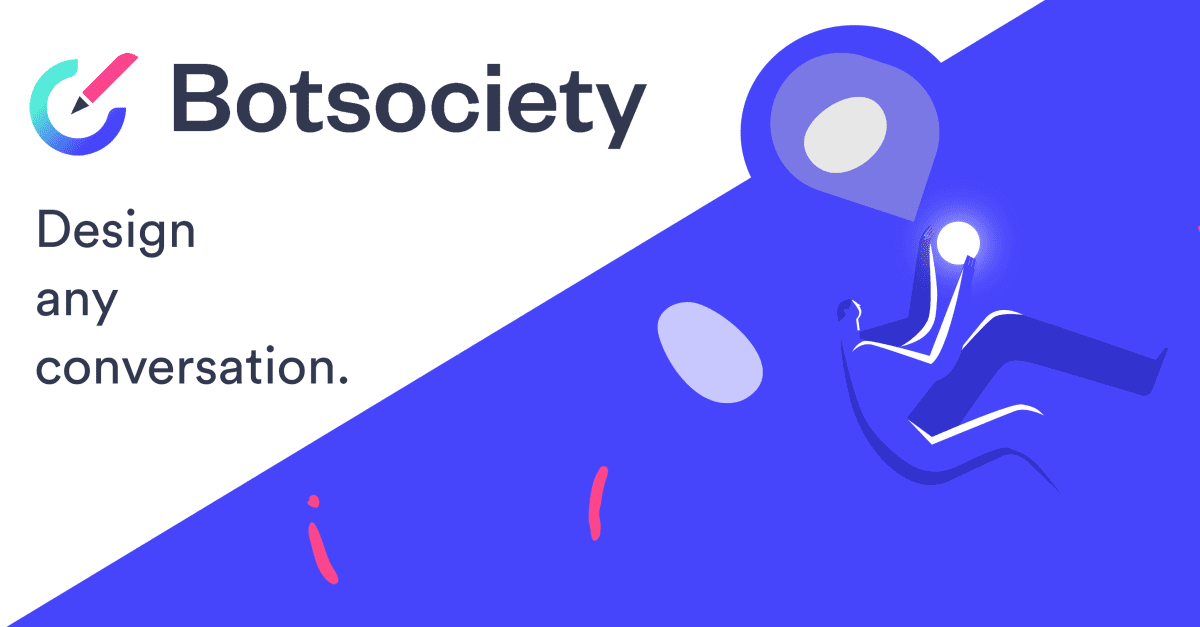 With its user-friendly interface, Botsociety empowers users to create conversational flows, making it an ideal tool for designing interactive customer experiences.
Pros
Wide range of pre-built conversation templates

Highly customizable features

Ability to export and import conversation designs

Team collaboration support

Voice assistant designs supported
Cons
Can be overwhelming for new users due

Limited automation capabilities

Lacks built-in analytics features

Poor customer support in some cases

Limited integrations with few third-party tools
Pricing: Free limited plan; Paid plans from $39/month
SnatchBot
SnatchBot offers businesses the ability to automate conversations and provide instant responses.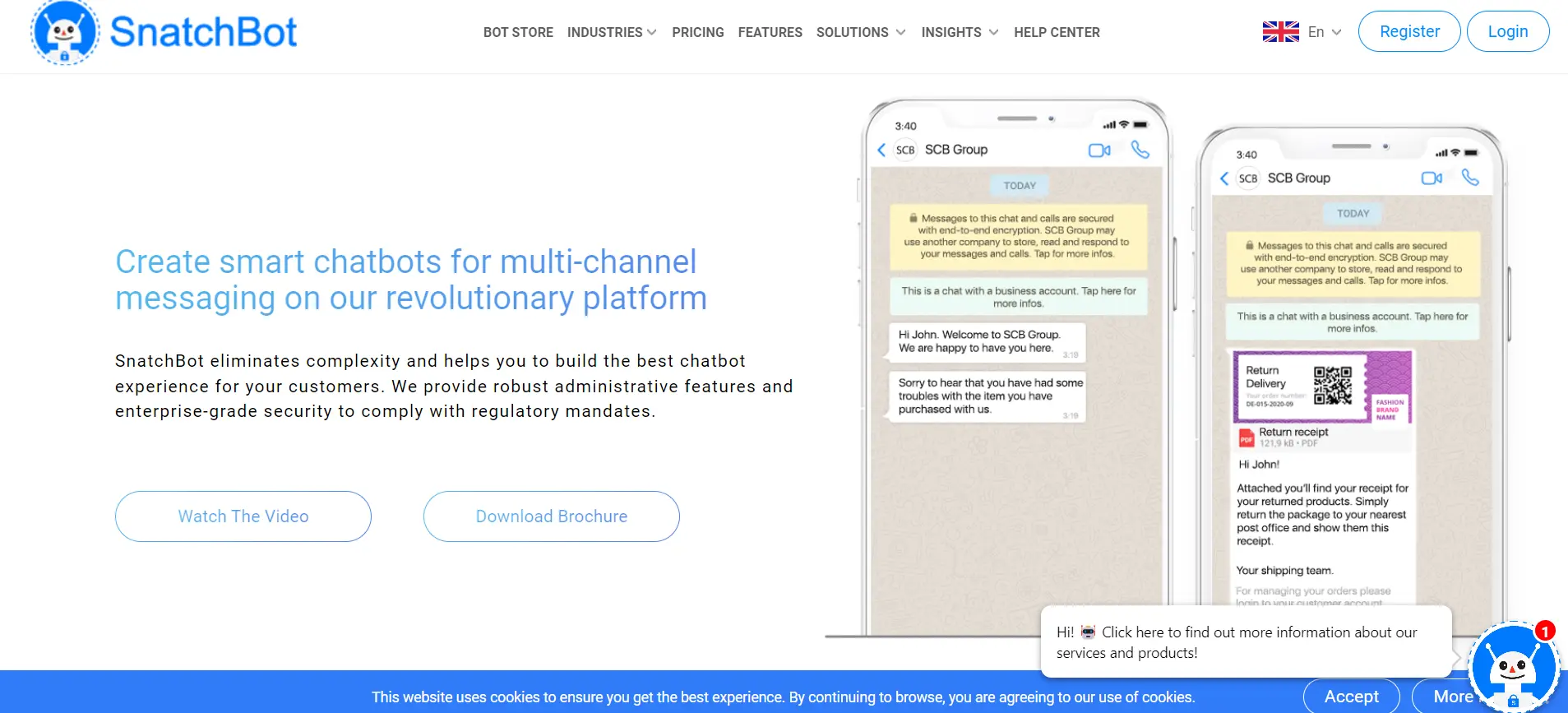 Its natural language processing capabilities enable chatbots to understand user intent and engage in fluid interactions.
Pros
User-friendly interface

Wide variety of pre-built templates

Multilingual support

Extensive integration capabilities

API access for pro users
Cons
Limited conversational AI capabilities

Learning curve for setting up complex conversations

Limited premium templates

Some complex features can be challenging to navigate

Customer support could be better
Pricing: Free plan available; Pro plan from $30/month
Gupshup
Gupshup empowers businesses to reach customers on their preferred platform.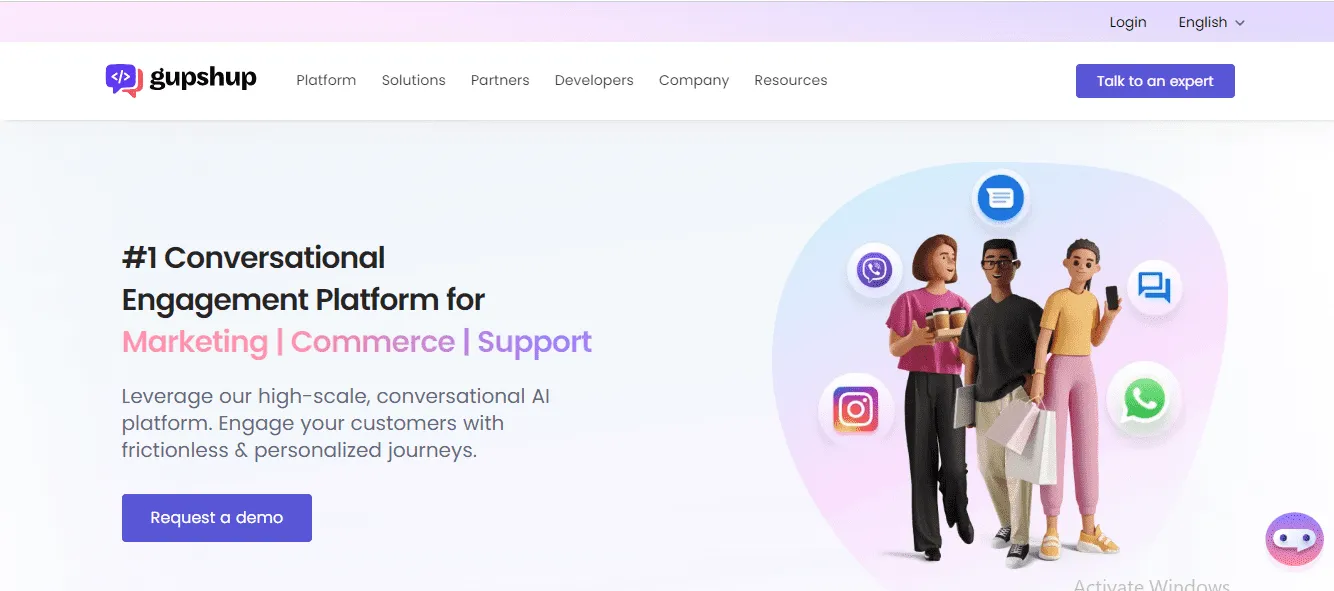 With its user-friendly interface, Gupshup allows companies to create engaging chatbots without complex coding.
Its WhatsApp integration facilitates real-time interactions, enhancing customer engagement. Gupshup's analytics provide insights to optimize strategies and improve user experiences.
Pros
Powerful API for extensive customizations

Quick deployment capabilities

Offers SMS and messaging integrations

Highly scalable solution

Wide range of analytics and reporting tools
Cons
The interface can be challenging for first-time users

Limited pre-built templates

High costs for large-scale deployments

Initial setup can be complex

Lacks voice-chat support
Pricing: Pricing available upon request
LivePerson
LivePerson enables businesses to provide personalized interactions through AI-powered chatbots.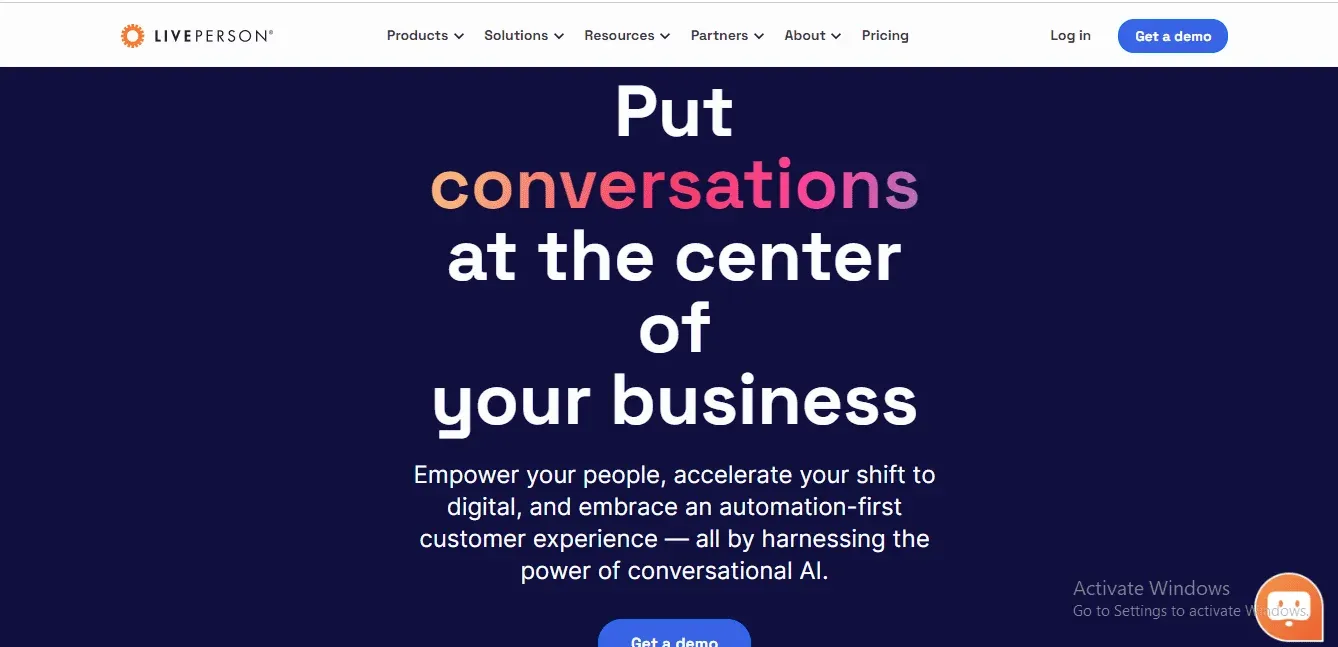 LivePerson's emphasis on human connection ensures that chatbots seamlessly transition conversations to human agents when needed.
Pros
Combines automated AI with human agent expertise

Customizable and scalable solutions

Multichannel support connecting channels including social media

Rich AI-powered automation features

Comprehensive analytics and reporting
Cons
Steep learning curve for new users

High costs for enterprise customers

Complex setup process

Limited third-party integrations

Does not have industry-specific templates
Pricing: Pricing available upon request
Tars
Empowering businesses with engaging chatbots, Tars lets users guide visitors through personalized experiences.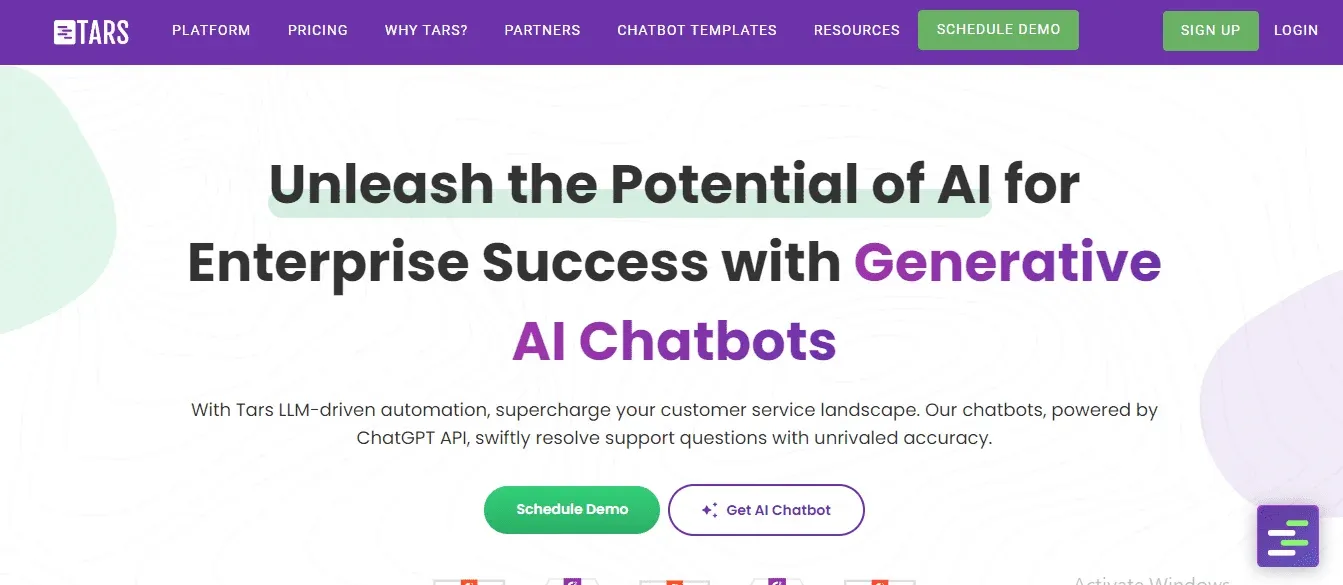 By seamlessly fusing AI-driven conversations and WhatsApp integration, Tars facilitates real-time communication.
Lead generation forms and insightful analytics equip businesses to enhance user engagement.
Pros
Rich customization options

Integration with CRM tools

Exceptional customer support

Provides a wide range of pre-built templates

Supports versatile conversation structures
Cons
High costs for smaller businesses

Requires technical expertise for custom setups

No voice-chat support

Limitations in multi-language support

Lacks in-house analytics tools
Pricing: Starts at $99/month
How much Does a WhatsApp Chatbot Cost?
The cost to implement a WhatsApp bot largely depends on two main factors - the number of conversations and the platform you're using.
Number of Conversations
As a key determining factor, the number of conversations essentially refers to the number of interactions between the chatbot and customers.
A higher volume of conversations typically means a higher price point. This is due to the computational and data resources required to handle these interactions.
Platform Used
The platform you're using will also dramatically affect the cost. Different platforms come with different features, reliability, support, and complexity, thus the pricing varies.
Some platforms may charge you based on additional features such as language processing, integration capabilities, or analytics functionalities.
BotPenguin's Pricing
BotPenguin offers a great starting point in this regard. They have a free plan that gives you 100 free conversations to begin with, allowing you to test and experiment with the platform without immediate costs.
Once beyond those initial 100 free conversations, BotPenguin's pricing is fairly competitive, starting at approximately $6 for every 1000 conversations. This pricing structure provides the scalability you need, where you only pay more as your usage increases.
Finally, considering future variations in your chatbot usage, it's also crucial to note that BotPenguin offers flexibility in its plans - allowing for adjustment based on evolving conversation needs of your business.
Comply with WhatsApp Message Rules
Compliance with WhatsApp's message rules is crucial when using a WhatsApp chat bot for your business. WhatsApp has stringent guidelines meant to maintain a high-quality, spam-free user experience. Violating these can result in banning of your chatbot, so it's important to understand and adhere to these regulations.
Here are some of the key rules:
Quality Content
Avoid sending spammy or irrelevant content. Your messages should be useful and meaningful, enhancing user experience rather than disturbing it.
Opt-In Requirement
An important rule is that customers must first give their consent or 'opt-in' before you can send them WhatsApp messages. Opt-ins must be actionable, meaning the user knows they are subscribing to messages from your business.
Message Types and Templates
WhatsApp categorizes messages into two types: Session Messages and Template Messages. Understanding and complying with the rules for each of these types is necessary.
Session messages are any messages sent within a 24-hour window after a customer's inquiry. Template messages, on the other hand, are message templates approved by WhatsApp that can be sent anytime.
Policy Adherence
In addition to these specific rules, businesses must comply with WhatsApp's Business Policy and Commerce Policy, which include guidelines about prohibited content, intellectual property infringement, and more.
Remember, the key to utilizing WhatsApp within your business effectively is to respect the platform's rules and guidelines and to prioritize the user experience at all times.
Conclusion
Choosing the right WhatsApp chatbot tool is key to optimizing customer interactions and enhancing overall business operations.
Each tool has its unique features and advantages. However, it's crucial to consider factors such as the tool's features, user experience, scalability, integration capabilities, customization options, and data security protocols.
One tool that stands out among the rest is BotPenguin. It is an ace when it comes to creating powerful and effective chatbots with advanced features, including chat history storage, response customization, and robust analytics.
Its user-friendly interface, advanced NLP capabilities, and the ability to handle high volumes of inquiries make it an excellent choice for businesses of all sizes.
Moreover, BotPenguin ensures your data is secure, maintaining strict security protocols and encrypting data.
Its ability to integrate with existing systems adds to its value, allowing you to provide more personalized customer experiences.
With BotPenguin, you can build a sharp, effective chatbot even if you're not technically inclined, allowing more focus on your business goals.
Remember, the right chatbot tool will make interactions with your customers more engaging, personalized, and effective. So, take your business to the next level with BotPenguin today!

Frequently asked questions (FAQs)
What businesses can benefit from WhatsApp chatbot tools in 2023?
WhatsApp chatbot tools can benefit a wide range of businesses, including e-commerce stores, retail outlets, service providers, healthcare providers, financial institutions, and more.
Any business that wants to enhance customer engagement, streamline communication processes, and automate tasks can benefit from chatbots on WhatsApp.
What are the advantages of deploying WhatsApp chatbot tools in 2023?
WhatsApp chatbot tools offer numerous advantages, including improved customer engagement, faster response times, cost savings, scalability, accessibility, and data analytics.
Chatbots can handle multiple conversations simultaneously, provide personalized experiences, and facilitate transactions on WhatsApp, leading to higher customer satisfaction and increased revenue.
Can WhatsApp chatbot tools be customized to reflect a business's branding and tone?
Yes, WhatsApp chatbot tools can be customized to reflect a business's branding, tone, and personality. Businesses can use colors, logos, and fonts to align the chatbot style with their brand.
They can also use pre-defined scripts or AI capabilities to ensure consistent tone and language.
What kind of support and maintenance do businesses need to manage WhatsApp chatbot tools?
Businesses should ensure that their WhatsApp chatbot tool offers comprehensive support and maintenance options, including dedicated technical support, regular updates, and bug fixes.
This ensures that the chatbot functions optimally, providing a smooth experience for users and businesses alike