Have you been looking for a WhatsApp Chatbot Platform? Try out BotPenguin.
It's Free Forever, integrates with 60+ Platforms, extremely easy to use & set up, and requires no coding.
BotPenguin is three times more affordable than its competitors and offers tons of extra features.
But, we don't want you to get convinced by all that. In the following sections, we have explained everything you need to know about BotPenguin WhatsApp Chatbot platform.
Starting with a simple and important question…
What is BotPenguin?
BotPenguin is a highly versatile platform designed for creating and managing WhatsApp & AI chatbots.
BotPenguin simplifies the process, enabling anyone, regardless of their technical expertise, to automate conversations effectively.
With BotPenguin, you can effortlessly offer instant and personalized support and sales assistance to your customers through WhatsApp.
Whether it's addressing frequently asked questions or guiding users through purchases, BotPenguin handles it all seamlessly within the chat.
Now, let's get into the really fun part - BotPenguin's awesome features that blow other platforms out of the water.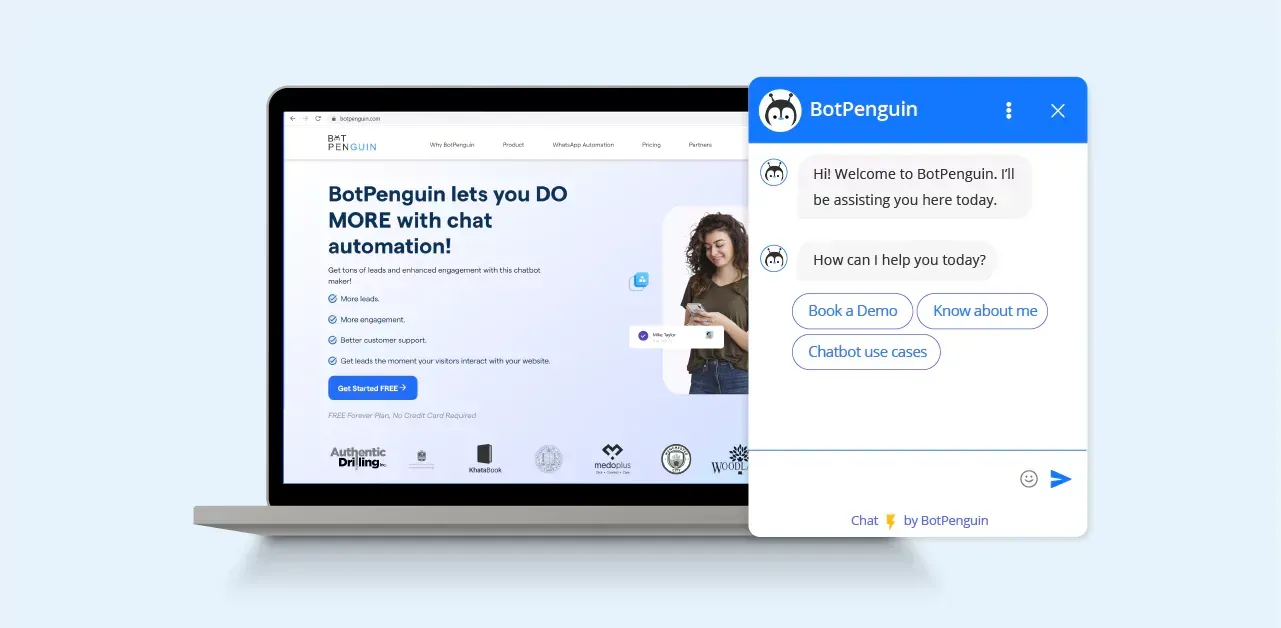 Features of BotPenguin WhatsApp chatbot platform
Ready to explore the seriously awesome features that make BotPenguin the MVP of WhatsApp chatbot platforms? From embeddable widget to customer segmentation this tool wins big time when it comes to building next-level conversational AI.
Let's explore some of its notable features:
Embeddable Widgets
Now, you have the flexibility to use various widgets to reach your customers through different channels. You can add a WhatsApp button, display ads, utilize QR codes, create a website, or even link to a reference website.
Message Campaigns
You can now implement Drip Campaigns and Bulk message campaigns to send messages all at once. No need for bulky email marketing software – we've got you covered.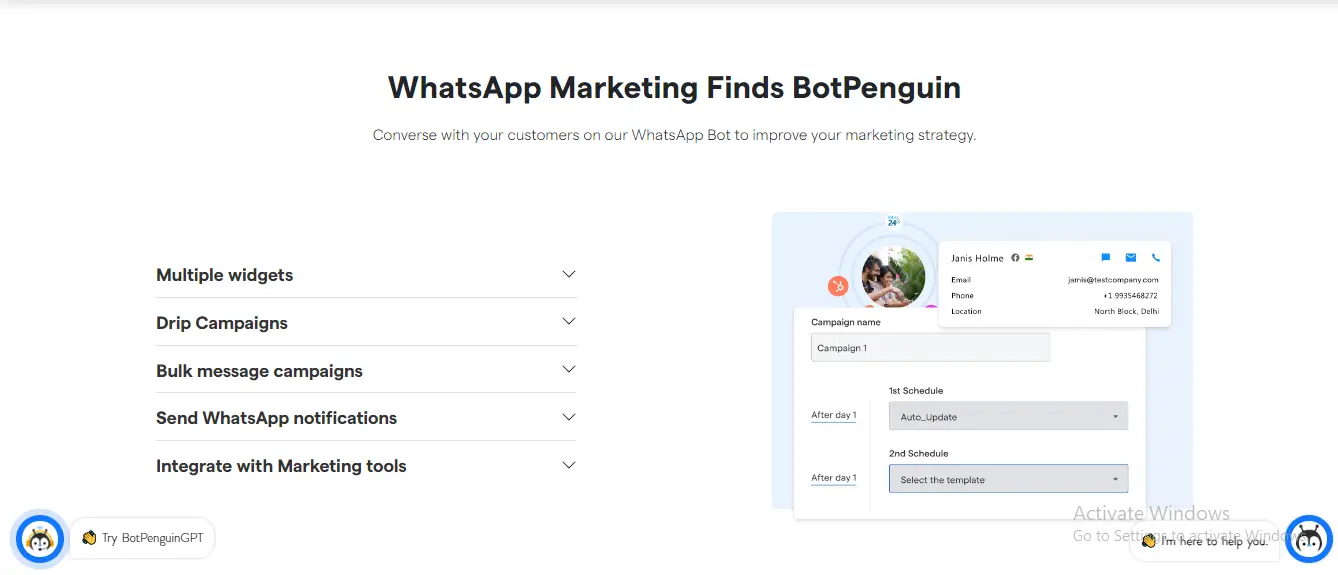 Scheduled Messages
Harness the power of timing. Send your customers the right offers and discounts at precisely the right moment by automating WhatsApp messages based on their past behavior and purchases.
Alerts & Push Notifications
Keep your customers informed with ease by sending them alerts and push notifications. It's remarkably straightforward, isn't it?
Customer Segmentation
Organize your customers based on their demographics, shopping patterns, or any other criteria you choose. Import these customer segments and run customized WhatsApp automation campaigns tailored to their specific needs.
And the tech for BotPenguin just doesn't stop there. From automating the lead generation process to customer support automation, BotPenguin has too much to offer:
Those are just a few of the impressive capabilities that make BotPenguin the top choice. Now let's see some real-world examples of how businesses use it:
Use Cases of BotPenguin WhatsApp chatbot platform
Alright, time to see BotPenguin in action! Let's explore some real-world examples of how businesses are using this chatbot platform's powers for epic success.
From lead gen to customer support and beyond, BotPenguin bots are crushing it across industries to help companies automate conversations and engage users.
Intrigued about the use cases? Well, get hyped! We'll highlight some of the top ways businesses are transforming experiences with BotPenguin's conversational AI superpowers.
Let's dive into these game-changing BotPenguin WhatsApp chatbot platform, use cases!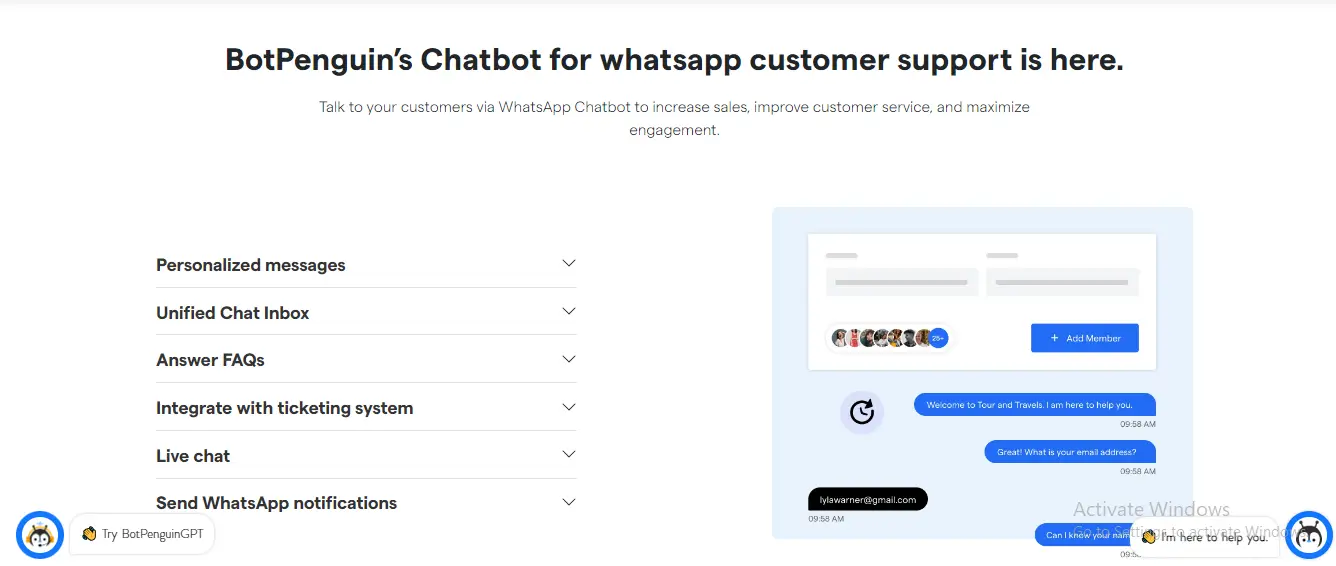 Streamlining customer operations
With the help of chatbots, customer concerns are routed through a single interface, reducing wait times and improving response speed.
Additionally, customer complaints can be logged and analyzed to identify common issues and devise efficient solutions.
Suggested Reading:
Appointment scheduling
Chatbots integrated with the company's calendar can automatically check availability and schedule appointments for various businesses, such as healthcare organizations or home maintenance companies.
This eliminates the need for manual coordination and saves time for both customers and staff.
Automated outbound marketing
Chatbots can be utilized to send outbound marketing messages, allowing businesses to reach out to customers proactively.
This feature enables personalized and targeted marketing campaigns, enhancing customer engagement and driving sales.
The use cases are endless! Next up, customization options...
Customization and Personalization Options
With BotPenguin WhatsApp chatbot platform, you can totally customize conversations to match your brand.
You can train your bot to recognize customer preferences and adapt its chat style to each person.
Help your bot get to know your customers for next-level personalization.
Up next: the awesome analytics superpowers that help you dominate your industry!
Analytics and Reporting
Wondering what customers are loving, or curious about? Well, BotPenguin bots have you covered with Analystics and reporting!
These analytics provide valuable intel about how customers interact with your bot.
See which products get them hyped, monitor response times, and more, then use these insights to crush your goals!
BotPenguin WhatsApp chatbot platform offers detailed reports highlighting metrics like engagement, retention, and interaction length. With these tools, you'll totally optimize your approach.
So there you have it - customization, personalization, and analytics that help your business and bots thrive! Let's put these powers to work.
Getting Started with BotPenguin WhatsApp chatbot platform
BotPenguin offers stellar customer assistance whenever needed. Friendly experts are available by chat and email to answer questions and help you succeed.
There are also tons of tutorials, docs, and resources to learn the ropes. You'll quickly become a platform pro!
Ready to get started and see the magic firsthand? Here are the simple steps:
Step 1
Sign up for an account on the BotPenguin website
Visit the BotPenguin website and sign up for an account. Fill in your details, create a password, and you're all set.
Step 2
Use the intuitive bot builder to customize your own chatbot
Once you're signed in, use our intuitive chatbot builder to create your customized chatbot.
Design its conversational flow, add responses, and customize its appearance to align with your brand.
Step 3
Integrate it with your WhatsApp Business API
Connect your chatbot with your WhatsApp Business API account.
Follow our step-by-step instructions to seamlessly integrate your chatbot and start engaging with your customers on WhatsApp.
And that's it! You'll be ready to automate WhatsApp and transform customer experiences.
Suggested Reading:
BotPenguin– The only WhatsApp Chatbot Platform you need
From robust NLP to easy customization tools, BotPenguin platform simply can't be beaten when it comes to creating next-level conversational experiences on WhatsApp.
So why not chat with the BotPenguin experts today to start boosting customer engagement?
With BotPenguin's easy setup and stellar ongoing support, you'll be automating WhatsApp like a pro in no time. Your customers will love the instant, personalized interactions.
Don't miss out on bringing your WhatsApp strategy into the future! Visit BotPenguin.com now to unlock the true potential of chatbots for your business.
Let's turn those WhatsApp messages into meaningful conversations that convert and connect.
Join the leading BotPenguin WhatsApp chatbot platform today. See you on the other side, where your customized bot awaits!