Discord has become the staple application for every smartphone user. It provides the best chat services for the gaming and other means of communication. Discord was launched as a messaging and voice chat application for gamers. But it has evolved into a larger platform with different services and users. Do you know what Discord's most popular feature is? One of the biggest known features of Discord is the integration of Discord bots.
Discord bots automate things and perform actions superficially. Since the launch of Discord in 2015, it has over 350 million registered users. Most of the users love the bot feature. However, different bots are available in Discord, like Music bots. Yes, you heard it right! There are music bots available in Discord that plays music for you to listen to while chatting on a server or chat. You can also create a playlist for long night group sessions or listen to the music in the chat background.
Continue reading to learn more about Discord's 12 best music bots in 2023.
What are Discord Music bots?
Discord bots are outside services that connect to your server and frequently offer functionality that Discord does not. These bots are used for moderation tasks like banning, muting and booting rule violators. They can also play entertaining minigames. By joining your voice channel, Discord music bots can play the music you want.
How can I install music bots on my Discord server?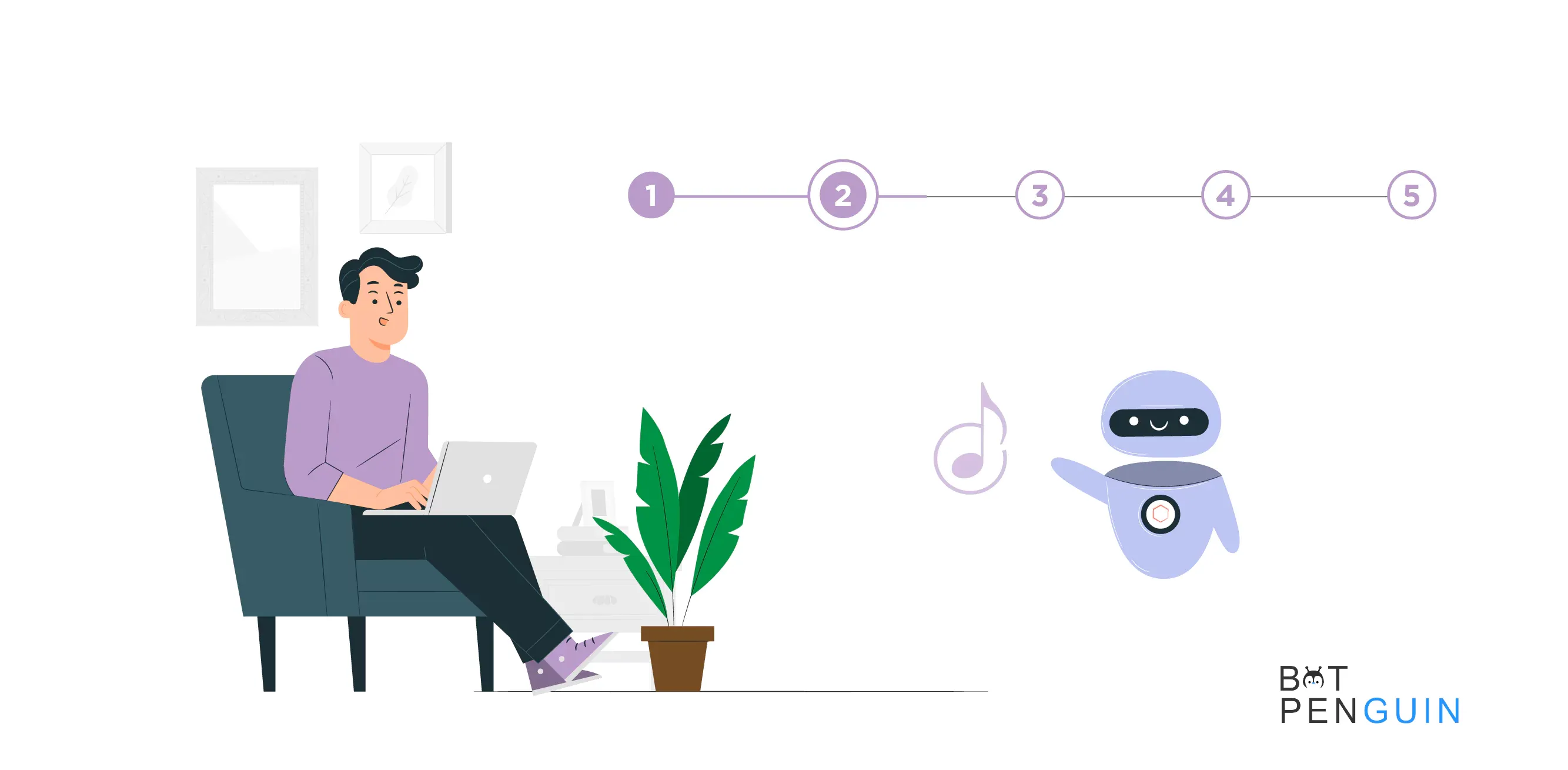 All you have to do to include Discord bots on your server is:
Step 1: Go to the webpage for the bot.
Step 2: Press "Add to Discord."
Step 3: Choose the server to which you wish to add the bot by logging in using your Discord account.
Step 4: Accept the authorizations it needs to operate correctly.
Step 5: To add bots, you must have an administrator or manage server authority.
12 Best Music Bots On Discord 2023
Jockie Music
The finest music bot available right now is called Jockie Music. With the broadest range of compatibility, support for both Spotify and Apple Music, the availability of multiple instance features, and every other feature imaginable for a Discord music bot, Jockie Music has it all.
The finest music bot available on Discord is, without a doubt, Jockie Music.
Four independent music listening sessions can go on simultaneously, thanks to Discord's flagship multiple-instances functionality. This bot also has the other capabilities mentioned such as 24-hour playback, playlists, high definition streaming, customization, and user-friendliness. The tool's premium edition, accessible by making the necessary Patreon donations, has a larger selection of exclusive Jockie bots and many other features.
Uzox
The Uzox bot should be your first choice if you require a Discord music bot with premium capabilities that is completely free. The bot supports YouTube, SoundCloud, Spotify, Twitch live broadcasts, and other services and provides dependable music playback. You also get free access to several music filters.
Lyrics support is an additional feature that deserves mention. To view the lyrics of the music you're listening to, click the on-screen lyrics button. Give Uzox bot a try if you want to use all the premium features that most Discord bots provide behind a barrier.
The Uzox bot should be your first choice if you require a Discord music bot with premium capabilities that is completely free. The bot supports YouTube, SoundCloud, Spotify, Twitch live broadcasts, and other services and provides dependable music playback. Additionally, several free audio effects or music filters are available to you.
Fredboat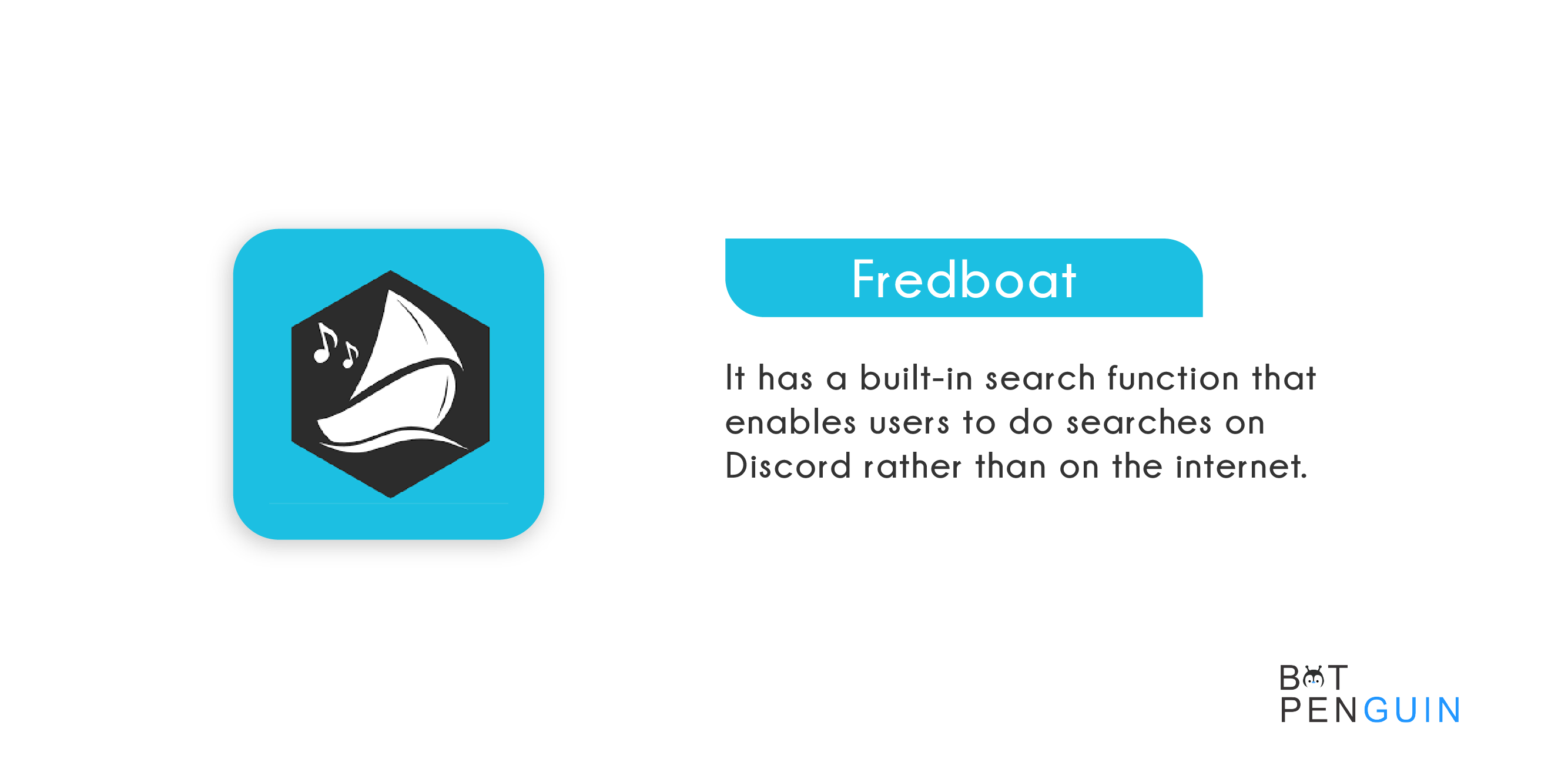 Fredboat is a music bot for Discord that offers free streaming from various well-known websites, including SoundCloud, Spotify, YouTube, and Twitch. It has a built-in search function that enables users to do searches on Discord rather than on the internet.
One of the helpful characteristics of this bot is that it saves time when users are led to the internet. Basic functions like rearranging your playlist and selecting a song to repeat are also included.
The ability to search on Fredboat is another exciting feature. You may search for the titles of the songs you wish to play rather than uploading links from Soundcloud or YouTube. The fact that Fredboat is safe and open-source makes it much more reliable.
Hydra
Another powerful music bot for Discord that you might want to take into account for music playback on your server is Hydra. With little latency or audio distortion, the bot plays high-quality music. You can select a unique prefix to access Hydra according to your preferences as long as you are the server administrator.
Additionally, Hydra has a premium edition that gives you access to some exclusive features. One of its standout characteristics is the choice that lets server users decide to skip the current track. The music offers a variety of features, including global volume settings, unlimited stored playlists, and 24/7 music playback.
The ability for server users to vote to skip the current track is one notable Hydra bot feature. Consider purchasing the premium edition of Hydra if you want to access all of its features. You get constant music playback, global volume settings, an endless number of playlists stored, and much more.
Chip
One of the most user-friendly Discord music bots is Chip. Here, you can find support for services like Bandcamp and SoundCloud and comparatively less well-known ones like Spotify. Users don't need to rely on commands to utilize the program, contributing to its usability.
Players may also use instructions to navigate the bot; to see a list of all possible commands, use "!help" (without the"). Although the program is free to use, supporting the inventor on Patreon grants users access to extra benefits, including bass boost, 24x7 playback, and global volume control.
Zandercraft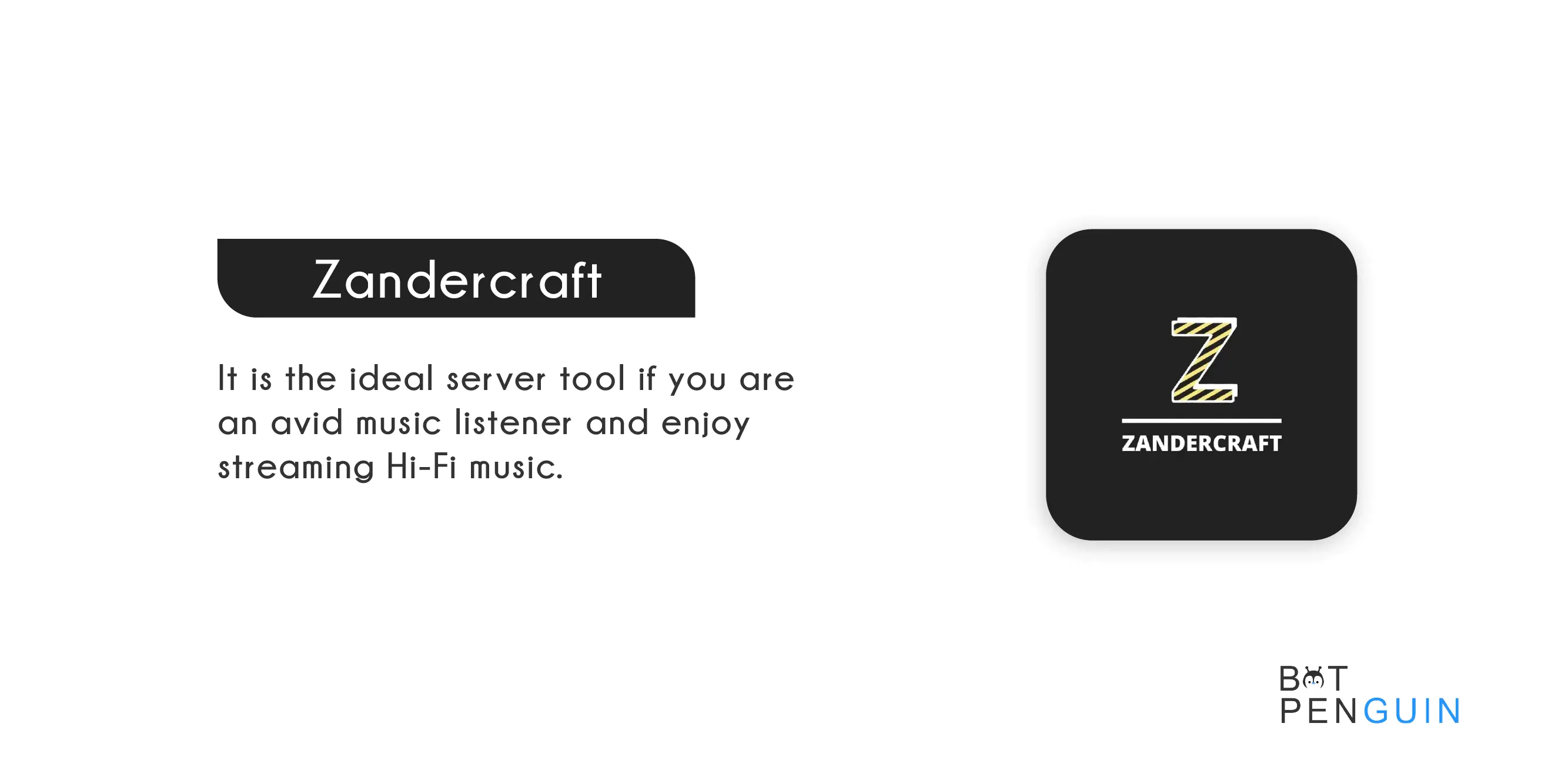 You can use the Zandercraft bot to play music for months. However, it's famous for its productivity, GIFs, and entertaining features. Because Zandercraft can play XHD (extra HD), Hi-Fi music is ideal for listening to high-quality music. It is the ideal server tool if you are an avid music listener.
All the standard functionality, such as playing music, searching for music, adding songs to a queue, making playlists of your favorite songs, and more, are supported by Zandercraft. You should certainly check out Zandercraft if you enjoy streaming Hi-Fi music and are seeking Discord music bots that can manage that.
BMO
BMO supports games, utilities, picture transformations, and more in addition to Discord music, making it much more than simply a music bot. However, we will concentrate just on the musical capabilities of the bots as that is all we are interested in. BMO is rather simple in terms of music features. Songs may be found through searches, played, and queued up. BMO has more capabilities than only music; it also supports games, tools for manipulating images, and other things.
But as this essay discusses music, we shall concentrate on that. The bot operates rather quickly and plays music with excellent sound quality and little distortion. In addition to saving your playlist, you may search for songs in it. However, the instructions to use its capabilities are also a bit complicated, so you'll need to practice using them.
Vexera
Vexera is a little bit unique compared to the other bots. It is a versatile service with a variety of distinct commands. Through Discord, these commands initiate various music-related actions, such as skipping, beginning, and stopping songs. The bot currently supports more than 300,000 discord servers, making it a prevalent option for many people.
You may use Vexera, another Discord Music Bot, to play your favorite tunes for your Discord chat buddies. It offers a superior audio listening experience that is lag-free and fluid. It leverages YouTube as its music supplier, so you can quickly get all the newest songs.
With in-channel controls, you can easily find the songs you want to listen to and manage music playback and queuing. In addition to music, it offers strong moderating features and the capability to welcome new users.
Aiode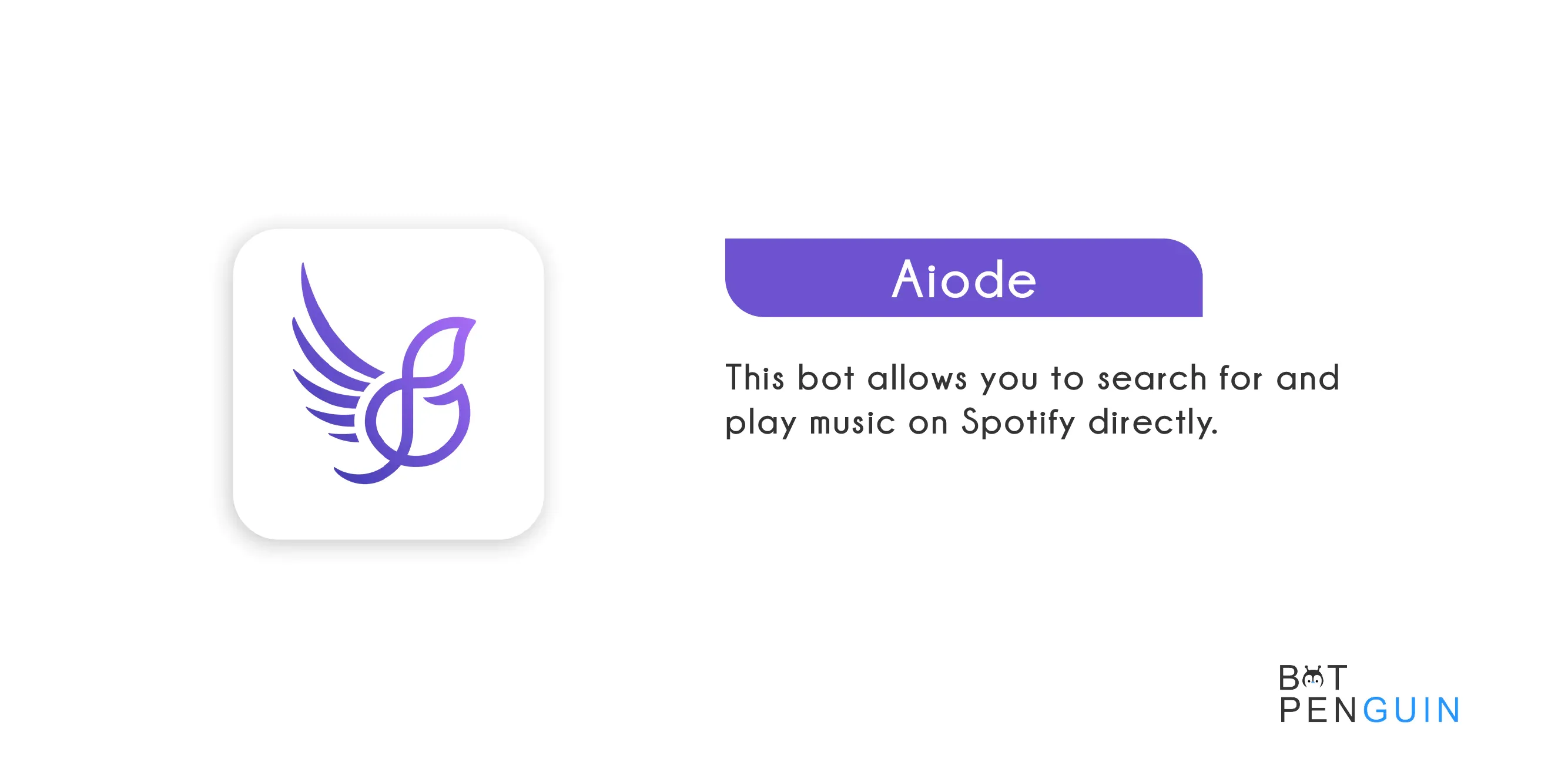 If you use Spotify, there's a good chance you're looking for a Discord music bot that can play Spotify music on your server. Well, the Discord bot you seek is Aiode (formerly Botify). The bot allows you to search for and play music on Spotify directly. Additionally, Aiode does support additional services, such as Soundcloud and YouTube.
You have a ton of customizing options with Aiode. Aiode offers everything, including personalized playlists and bot invoke instructions. Additionally, Aiode can make cross-platform playlists for you.
As a result, you may create playlists using music from services like Spotify, YouTube, Soundcloud, etc. Even playing Twitch streams on your server is possible with Aiode. Additionally, it is free!
ProBot
ProBot is essentially more than simply a music bot for Discord servers, similar to Zandercraft. It can effectively manage all you want to accomplish on your Discord server by itself because it is a robust and fully-functional bot.
ProBot allows you to broadcast high-quality audio for listening to music on your server. The bot looks for songs on YouTube and provides many helpful instructions for managing playing. For your server, it's simple to play/pause, skip, or queue up music.
ProBot may also assist you with server moderation, especially if you're managing a server with a large number of users. It works with embeds and lets you build a unique leveling system for your Discord server so that users may advance in the server based on their activities. ProBot is a potent bot that you can use, even if you only want to listen to music with your friends.
MEE6
A great music bot for Discord is MEE6. This bot is the graphic player that allows you to control your music. There are no challenging commands to utilize. Drag and drop music into your chosen order, and click to stop, play, and skip tracks. You may use it just like any other song player. The 24/7 playback, volume increase, song finding, member vote for favorite songs, and other functions are also available.
The bot also supports several music platforms, including SoundCloud, YouTube, Twitch, and others. It would help if you tried this music bot because it is competent. The music control interface is not free and part of a pro membership plan, so consider that.
ChillBot
ChillBot is perhaps the greatest available alternative for Lo-Fi music lovers. This bot essentially acts as a live-streaming radio station that constantly plays relaxing, lo-fi music. Straightforward and clear commands make controlling the bot simple, and you may play and pause music whenever you want.
Since this is a radio station, it goes without saying that you cannot use this bot to play your playlists; instead, you will experience the true atmosphere of a radio station.
Conclusion
Summing up, this article presents you with the 12 best discord music bots you can on Discord servers at any time without additional cost. However, the bots like MEE6 are not only music bots but also multipurpose bots on Discord. These music bots on Discord give you the ultimate music controls with flawless automation. So, if you want a music bot on Discord for your server, you can choose any of them mentioned above.