Did you know that BotPenguin is one of the leading chatbot providers today?
It's one of the fast-growing global businesses that provide a wide range of products and services to businesses across the globe. This company offers the best services like white-label chatbots, reselling chatbots, chatbot integration, and a wide range of support tools for members.
By 2025, the market for chatbots is assumed to be worth $1.23 billion at a compound yearly growth rate of 24.3%.
In light of these figures, you must be considering becoming a chatbot reseller to elevate your brand. However, are you confused as to why you should choose this niche and work with the aforementioned company?
Fret not! In this blog, we will walk you through the 10 amazing perks of becoming a BotPenguin chatbot reseller!
Keep reading to learn more!
10 Amazing perks of becoming a BotPenguin Chatbot Reseller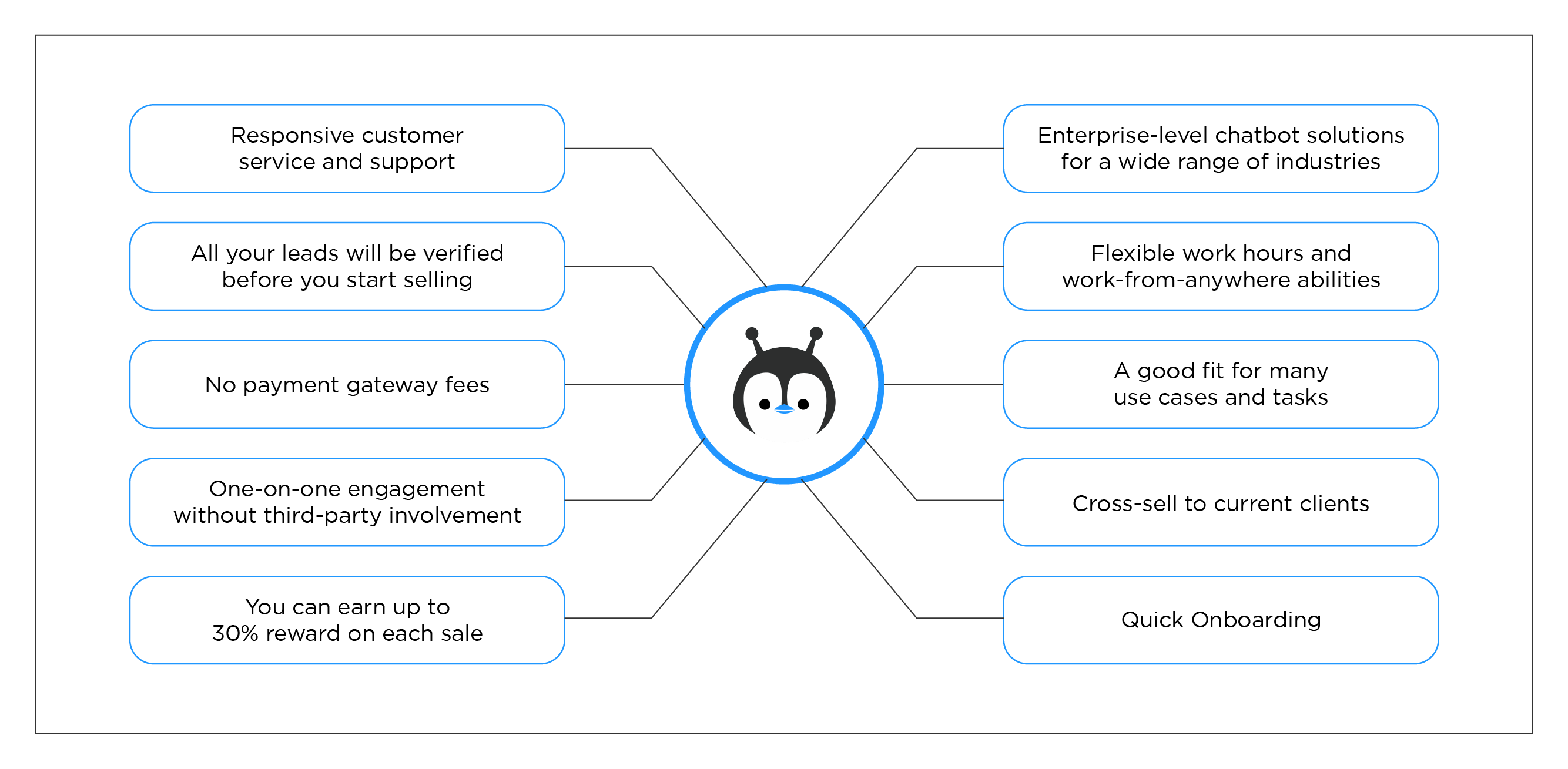 1. All your leads will be verified before you start selling
As a BotPenguin reseller, you will be able to make sure that all your leads are authentic.
All BotPenguin leads are verified by the BotPenguin team before they are sent over to you.
This means that you don't need to worry about fake leads or high-quality traffic from bots! You can check the details of each lead before starting sales with them.
It prevents scammers from trying to steal money from your company by purchasing fake goods online or hacking into Facebook and Twitter accounts.
Each lead's sales history can also be reviewed so you can determine whether this particular customer group achieved a great ROI (return on investment), or whether it was profitable enough for them to buy more products from us in the future.
2. Responsive customer service and support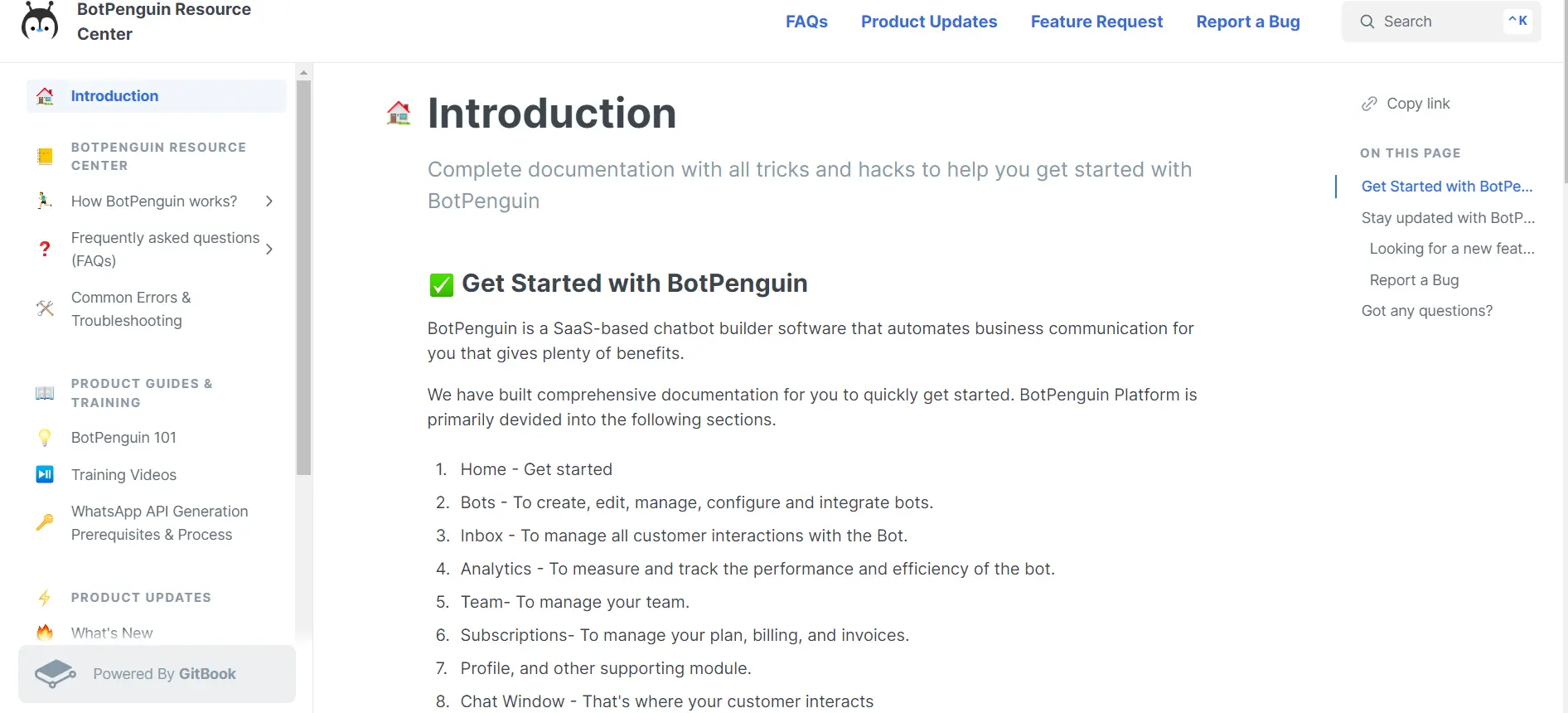 Prospects expect to receive responsive customer service and support, which is available 24/7.
BotPenguin lives up to the mark of these expectations.
The team of BotPenguin is available to help with any issues or questions you may have around the clock, and they will walk you through them step by step.
3. No payment gateway fees
Once the deal is closed, the customer is ready to make payment. You don't want to disappoint them by charging a platform or additional fees.
Unlike other services, BotPenguin does not have any hidden fees.
The best part about using BotPenguin is that it eliminates most payment gateway fees—no more worrying about how much money you're making or losing when someone pays via PayPal or Stripe etc.
4. One-on-one engagement without third-party involvement
One of the great perks of being a BotPenguin chatbot reseller is that you'll be able to sell your bot directly to customers.
This means that they can contact you through the same platform or website, or apps and begin using your bot right away!
Your customer's account information is stored in their account with us, so all they need to do is log in once and start using your service.
This ensures that there will be no interference from a third party and that the data is secured, leaving no space for personal information leakage.
5. You can earn up to 30% reward on each sale
The reward structure is tiered, and the more you sell, the higher your earnings will be.
Earn Big with Minimal Effort - Become a Chatbot Reseller and Start Making Money!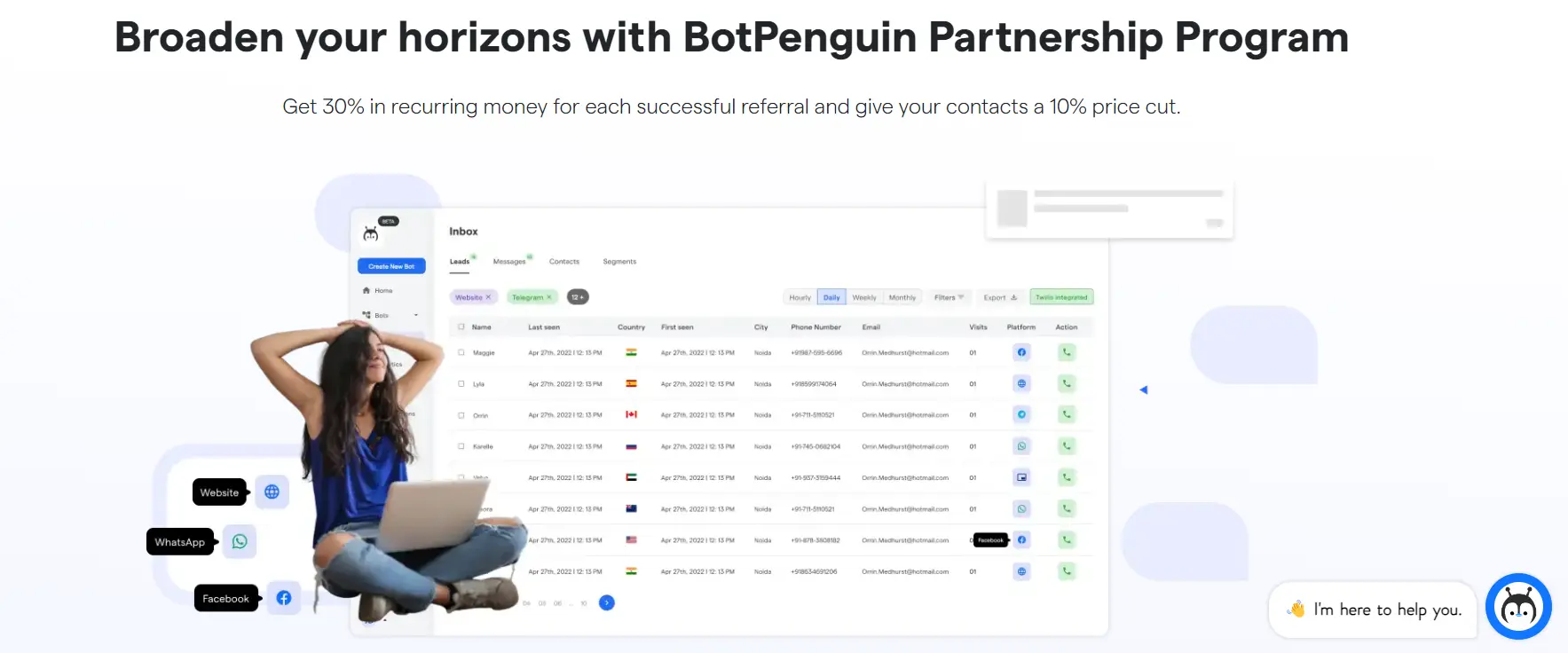 For example: if you sell 100 chatbots in a certain month, then your monthly earnings will be, for instance, Rs X per bot which means that you earned Rs X+Y from this one project alone, and this goes on.
6. Enterprise-level chatbot solutions for a wide range of industries
When you're a BotPenguin chatbot reseller, you get to sell our high-quality chatbot solution to many industries.
As, BotPenguin Offers four different types of Partner Programs:

You can target companies in any industry that need a scalable, reliable, and flexible chatbot platform. It is a one-stop solution for large companies and small-scale enterprises as well.
Bot resell activity is defined by certain protocols made by BotPenguin.
7. Flexible work hours and work-from-anywhere abilities.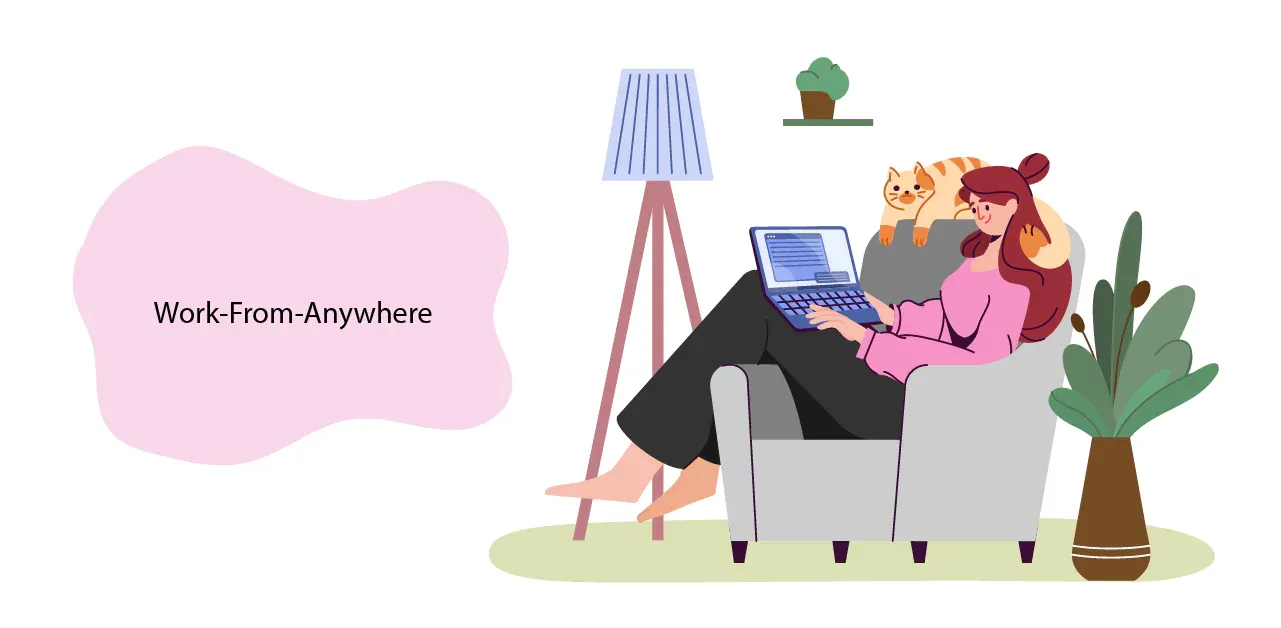 Flexible work hours are one of the best perks of becoming a BotPenguin Chatbot Reseller.
You can choose to work whenever you want and on your schedule. Amazing, right?
Being a BotPenguin chatbot reseller means that the only thing that matters is the quality of your work.
8. A good fit for many use cases and tasks
B2B resold chatbot has become an essential tool for sales teams who use them as an alternative channel for engaging with prospects or existing customers via phone calls or emails instead of face-to-face meetings.
This saves time but also increases costs because there's no opportunity cost associated with travel expenses during these times when they're not working on something else.
9. Cross-sell to current clients
This enables you to offer your existing consumer base a different alternative.
Chatbot reseller deals with cross-selling to current customers and other leads. This helps you to manage technical issues and take the brand name on the same coin.
10. Quick Onboarding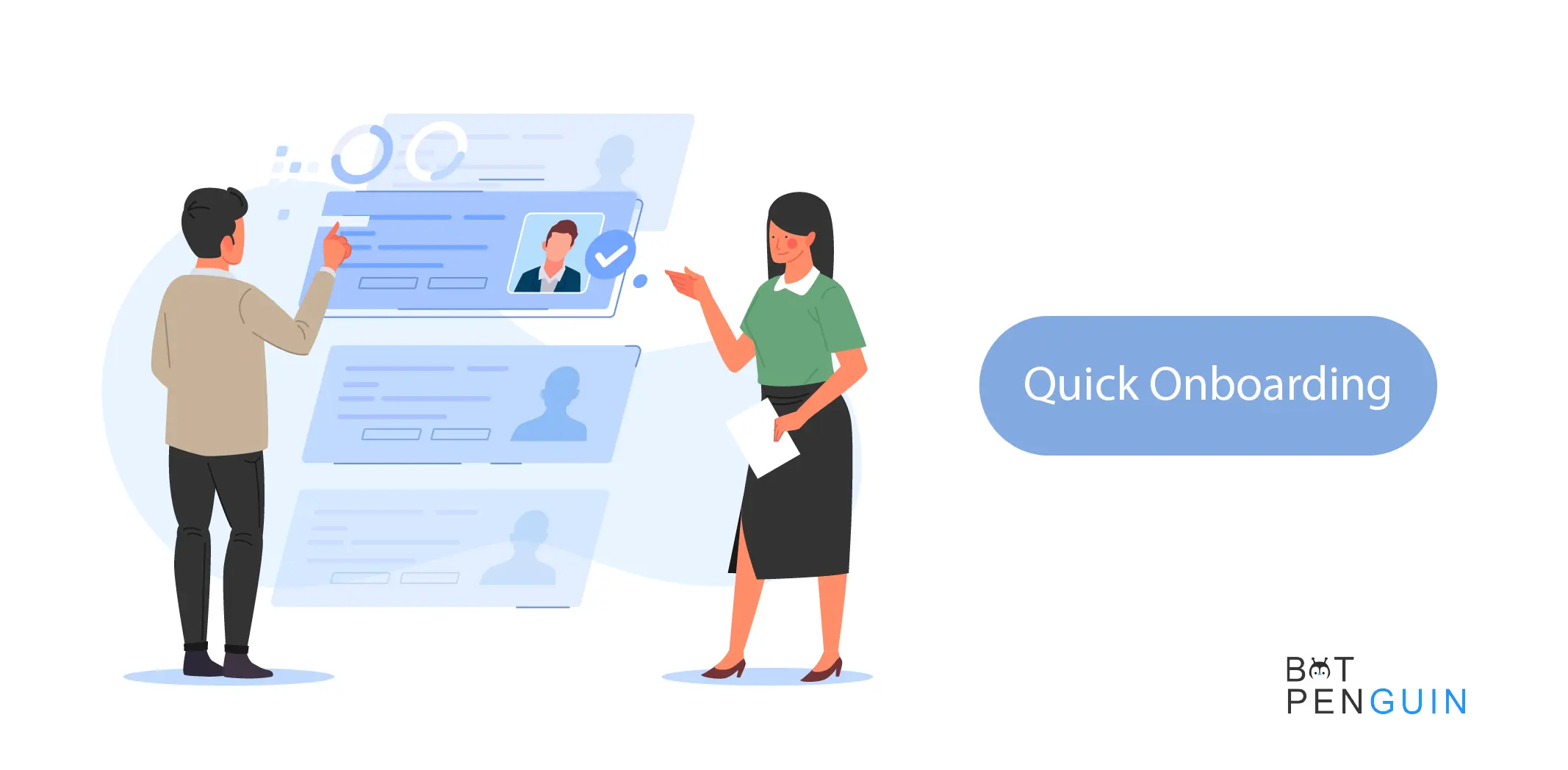 Chatbots may be tailored by your various customers to fit their brand and sentiment.
Thus they can be thought of as an improved version of chatbot reselling. BotPenguin prioritizes its partners and clients.
It won't take long for you to board and be prepared to set sail on your journey.
Conclusion
BotPenguin offers a wide range of advantages to its clients.
From high-quality leads, chatbot reselling, and white-label chatbots to enterprise-level chatbot solutions, our platform has everything you need to succeed.
Become a part of the BotPenguin chatbot resells family that has all the perks above.
Call BotPenguin right now!
Thank you for stopping by!
Frequently Asked Questions (FAQs)

What does BotPenguin's Chatbot Reseller program entail?
The Chatbot Reseller program by BotPenguin presents an opportunity for individuals and businesses to become resellers of BotPenguin's cutting-edge chatbot technology. As a reseller, you gain access to a white-label solution that allows you to offer chatbot services to your clients under your own brand name.
How can I benefit from becoming a BotPenguin Chatbot Reseller?
Becoming a BotPenguin Chatbot Reseller brings several remarkable advantages. Firstly, it enables you to generate additional revenue by selling chatbot services to your clients. Secondly, it allows you to expand your service offerings and attract new customers by leveraging the power of chatbots. Moreover, you can establish yourself as a trusted chatbot expert and foster long-term relationships with your clients.
Can I customize the chatbots as a BotPenguin Chatbot Reseller?
Certainly! As a BotPenguin Chatbot Reseller, you have the ability to fully customize the chatbots to meet the specific needs of your clients. The platform offers a range of customization options, including chatbot design, conversational flows, and integration with third-party systems. This allows you to create chatbots that align with your clients' brand identity and deliver personalized experiences to their users.
Are there any limitations on the number of chatbots I can create as a reseller?
No, there are no limitations on the number of chatbots you can create as a BotPenguin Chatbot Reseller. You can create and manage an unlimited number of chatbots for your clients, enabling you to scale your chatbot reselling business and cater to the demands of various industries and sectors.
Can I white-label the chatbot technology under my own brand name?
Absolutely! The BotPenguin Chatbot Reseller program offers a white-label solution, allowing you to brand