​​Bold360 is a cloud-based live chat platform allowing customers to communicate and manage reports from anywhere in the world. It also uses artificial intelligence (AI), which works in the background to support both the digital and front offices.
An integrated AI chatbot is included, which offers a primary client engagement option for salespeople. Users may engage with consumers at scale and lessen the stress on teams by using a conversational AI that has been built to achieve outcomes.
The tool's bots are available 24 hours a day, seven days a week, to engage clients and deliver customized outcomes. They also go above and above to help the sales and customer support teams by giving them detailed information on the clients, including previous interactions, orders, and more.
The bot even pinpoints areas for development and optimization when enough data has been collected for study.
What is Bold360?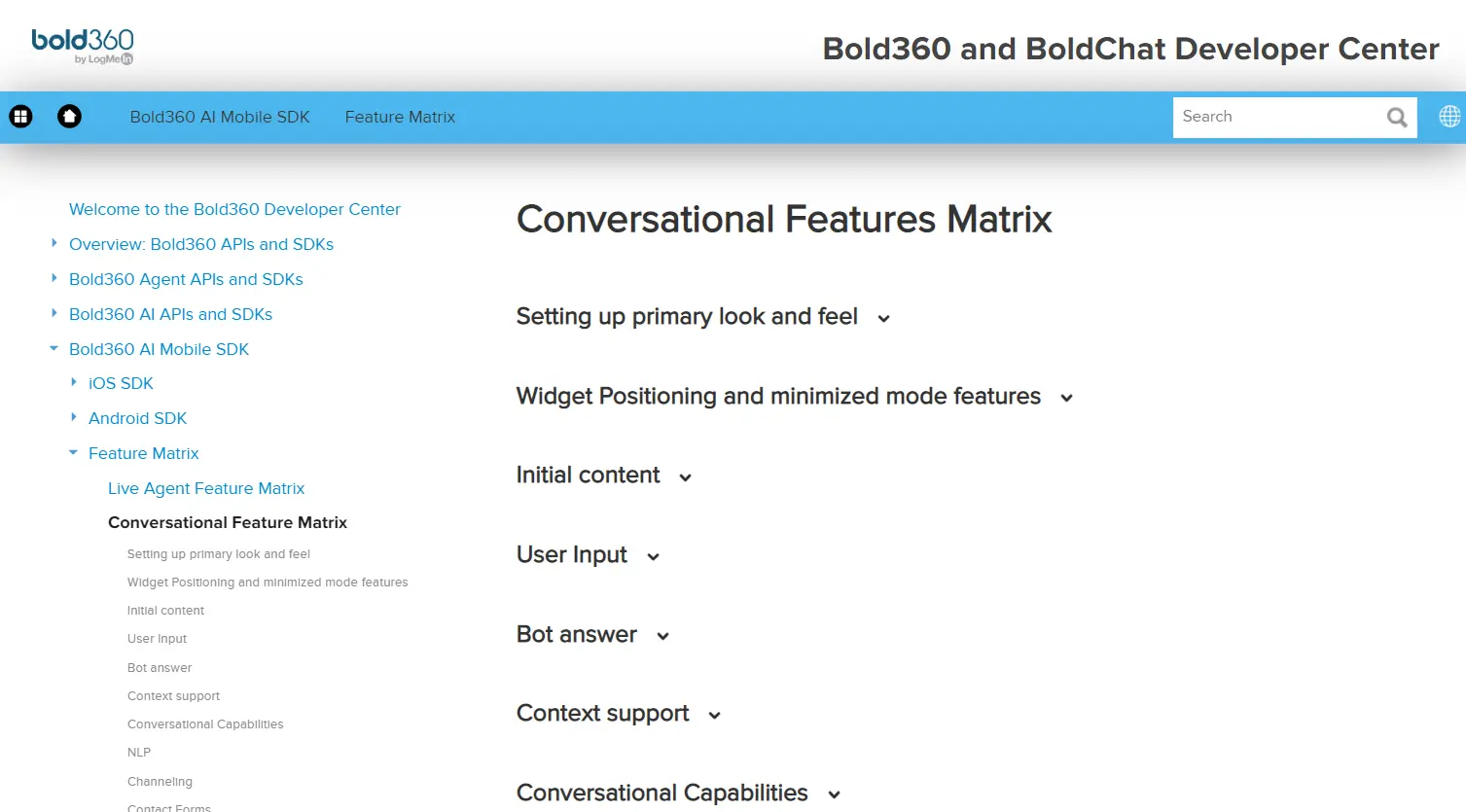 Bold360 is a live chat and conversational AI platform featuring customer engagement and service features. While Bold360 is one of the more extensive AI chatbot systems available, it is also costly and unsuitable for most businesses. It is a user-friendly live chat application that personalizes its customer service activities.
Bold360 chatbot software uses artificial intelligence to customize and enhance every connection, no matter where it occurs. It allows businesses to create more prosperous and consistent customer experiences across AI and agent-based engagements. Bold360 combines advanced intelligence with out-of-the-box ease, allowing agents to focus on what they do best: being human.

Bold360 Features
The features of Bold360 are the following:
Bold360 chat widget: You may change the color and transparency settings to modify the appearance of the Bold360 live chat widget and buttons. You can also set a welcome message, a few FAQs with articles or questions with multiple-choice options for the visitor.
Auto-complete and multi-language chatbots: Bold360 offers auto-complete and multi-language chatbots (but they don't say which languages or how many there are). When the chatbot software anticipates your customers' demands with auto-complete search keywords, your customers get faster resolutions.
Knowledge base: Bold360 chatbots may act as advisors to live chat agents in the system's back end. Bold360 will attempt to grasp the customer's purpose and extract material from its knowledge base to solve their inquiries using machine learning.
Artificial intelligence (AI) capabilities: Bold360 ai converses with consumers using Natural Language Understanding (NLU).
Canned messaging: When an algorithm searches the canned messages repository for client inquiries, the search results are updated to provide the most appropriate responses to agents.
Proactive live chat: Gather contact information from visitors before a conversation begins, keep them informed about expected response times as they wait in line, or assess their happiness after the live chat session.
Visitor tracking: Bold360 allows you to track how visitors go from page to page on your website. You may personalize your workspace to include the number of prior visitors, how the user came to the site (including the search engine term), landing page, geographic area, time on site, and current URL.
Video chat: You can transform live chat into a video conversation for visual demonstrations or consultations, and you can even share your screen.
Admin tools: Bold360 has administration tools that give users authorization access to security features, reporting, routing, and testing. It also has channel management, which allows users to handle chats, email, Twitter, SMS, online self-service, and other channels from a single location.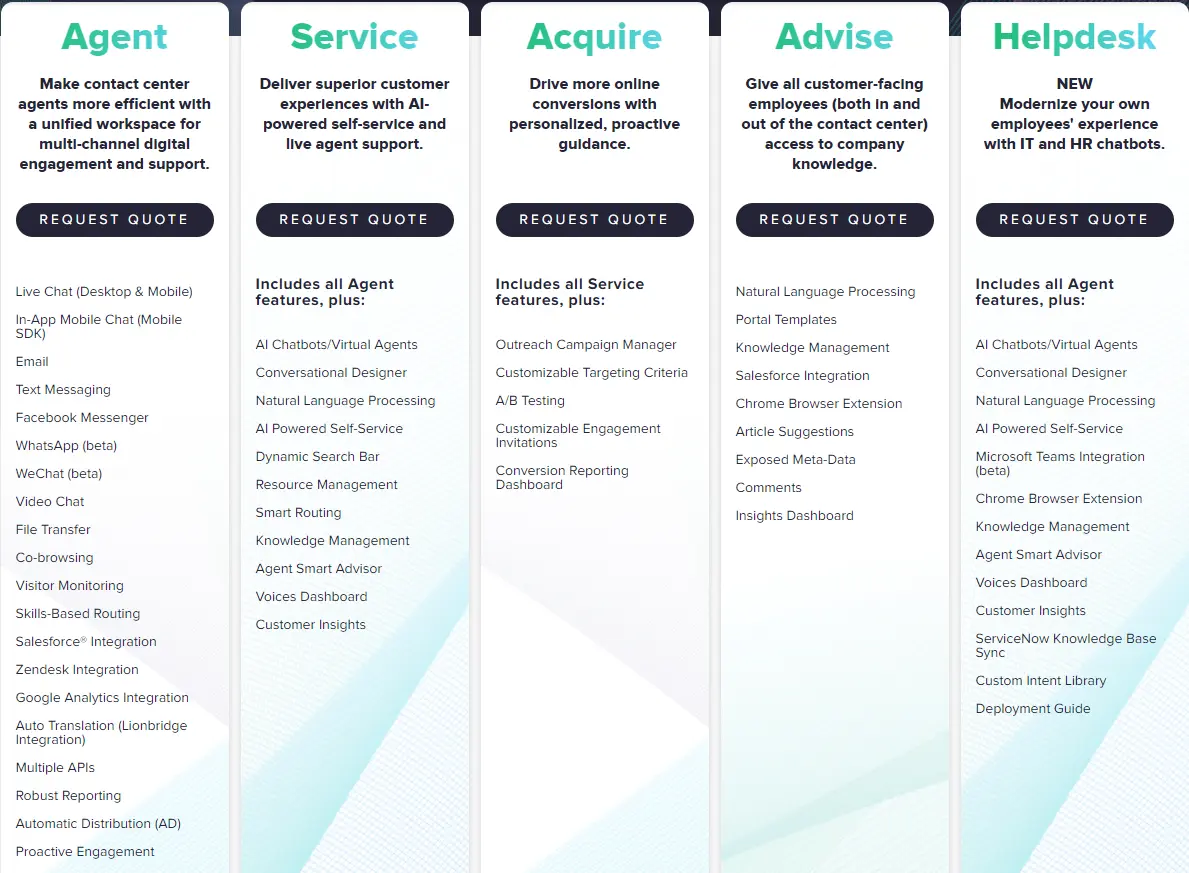 What can Bold360 do?
Nothing is hidden in Bold360. Real-time insights based on actual client experiences are displayed so you may take action right away. You also don't have to populate your knowledge domain with information ahead of time. Customers are listened to by Bold360 to help you exceed their expectations.
Bold360 bots aren't simply on the front lines, helping consumers discover answers, place orders, and resolve issues with a smile, 24 hours a day, seven days a week. They're also working extra hours behind the scenes, educating agents on improving client satisfaction.
More productive agents are provided by Bold 360. Agents don't waste time switching between displays and apps in a unified agent workspace since all channels are treated the same.
Just like that with the help of BotPenguin you can create AI Conversational chatbots for various platforms like:
Integrations of Bold360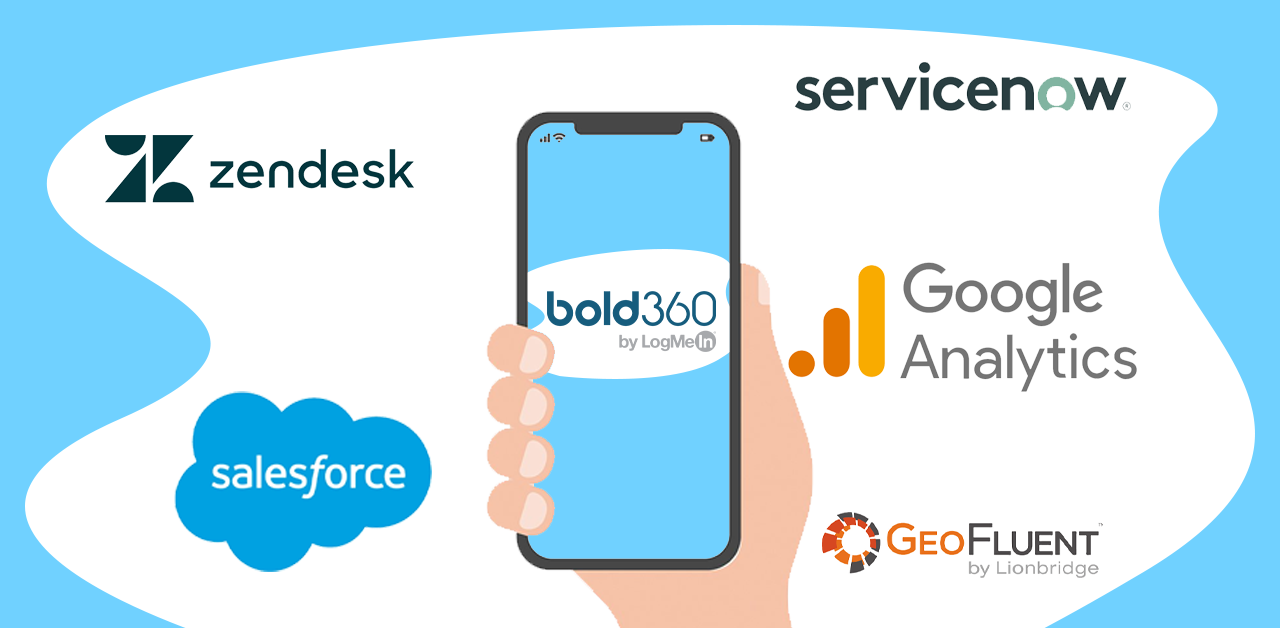 Bold360 offers native integrations and an API that you may use to create your own. However, there are just a few native integrations available, which include the following:
ServiceNow

GeoFluent

Google Analytics
API and SDK of Bold36
Integration, Data Extraction, Provisioning, and Workflow are the four APIs offered by Bold360.
Bold360 has an API that allows it to interface with your business processes. For example, you may use the Integration API to integrate your contact centers infrastructure, such as your CRM and ticketing systems:
Use bi-directional RESTful API calls to share Bold360 capabilities and chat event data with other systems.

Use the API to read and write data from your other apps.

Provide data from several systems to agents through a single interface.
By extracting data from Bold360, the Data Extraction API allows you to track, analyze, and obtain insights into your operations. The JSON REST-based Extraction API is designed for automated, bulk data exports. It may be used for custom reporting, record keeping, data warehousing, or business analytics.
You may use Bold360's Provisioning API to simplify or automate operator setup as your operations grow. This API allows you to add, change, and delete agents, canned messages, and auto-responder content programmatically.
Finally, the Workflow API allows universal or blended agents to handle client conversations across many channels such as chat and phone. Bold360 may be integrated with environments that handle agent provisioning, job assignments, and routings, such as phone, workflow management, and people provisioning systems, using this API.
Bold360 may be integrated into your apps using the Bold360 SDK framework. A mobile SDK is now available, allowing businesses to integrate chat into their native iOS and Android apps, engage consumers across platforms and create mobile experiences to match their brand.
Pros of Bold360
The pros of Bold360 are the following
Omnichannel support and engagement: It provides SMS/text messaging, WeChat, WhatsApp, Facebook Messenger, Twitter, Email, Microsoft Teams, and other messaging channels.
Bold 360 ai: Once turned on, Bold360's AI conversational system does not require data scientists and is ready to use.
One of the most excellent features of Bold360 ai is that you can watch how the technology analyzes input to arrive at resolutions and modify those resolutions as needed.
Tightly connected live agent and chatbot: Bold360's bot-to-agent routing is robust since transfers happen in the same chat window or across interaction channels.
Bold360 also claims that its bots may help with live agent training and cut training time and expenses.
Customer data utilization: Bold360 collects customer data from various interactions with your site and uses it to deliver insight to your customer service staff.
It also uses this information to lead consumers to the most appropriate resource for their requirements, whether that resource is a bot or a human person.
Cons of Bold360
The cons of Bold360 are the following
Pricing: The AI level plan contains the most needed features. It includes their natural language processing tool, self-service driven by artificial intelligence, chatbots, and intelligent routing.
If you want these features, you'll have to pay for Bold360's most costly plan. Keep in mind that the typical cost of deployment is between $60,000 and $100,000.
Bold360 implementation time and management: Bold360 implementation is time-consuming and laborious. Even on the Bold360 website, the solution would take at least six weeks to execute.
Suppose you also want to see a positive return on your Bold360 investment. In that case, you'll need a dedicated systems administrator and developer to maintain and expand the chatbot software's capabilities for your staff.
Customer service: Bold360 provides live chat help 24 hours a day, seven days a week; however, their outsourced support personnel has made multiple allegations of poor service.
The resolving of issues usually takes a few days, and there have been reports of server stability and system outages. Inadequate support for such an expensive product is neither acceptable nor sustainable.
Few native integrations: It offers a small number of native integrations compared to many other live chat software solutions. Unfortunately, to link the majority of your tech stack, you'll need to leverage their API and SDKs.
For 2020 and beyond, the platform's integrations and custom development are just too complicated.
User interface and user experience (UI/UX): Bold360, owned by LogMeIn, has obsolete security features and a UI/UX that inhibits end-user productivity.
Parts of the platform feel outdated. While Bold360 has all you need and more, it's not as slick or visually appealing as many of the new customer service chatbots on the market.
Bold360 Pricing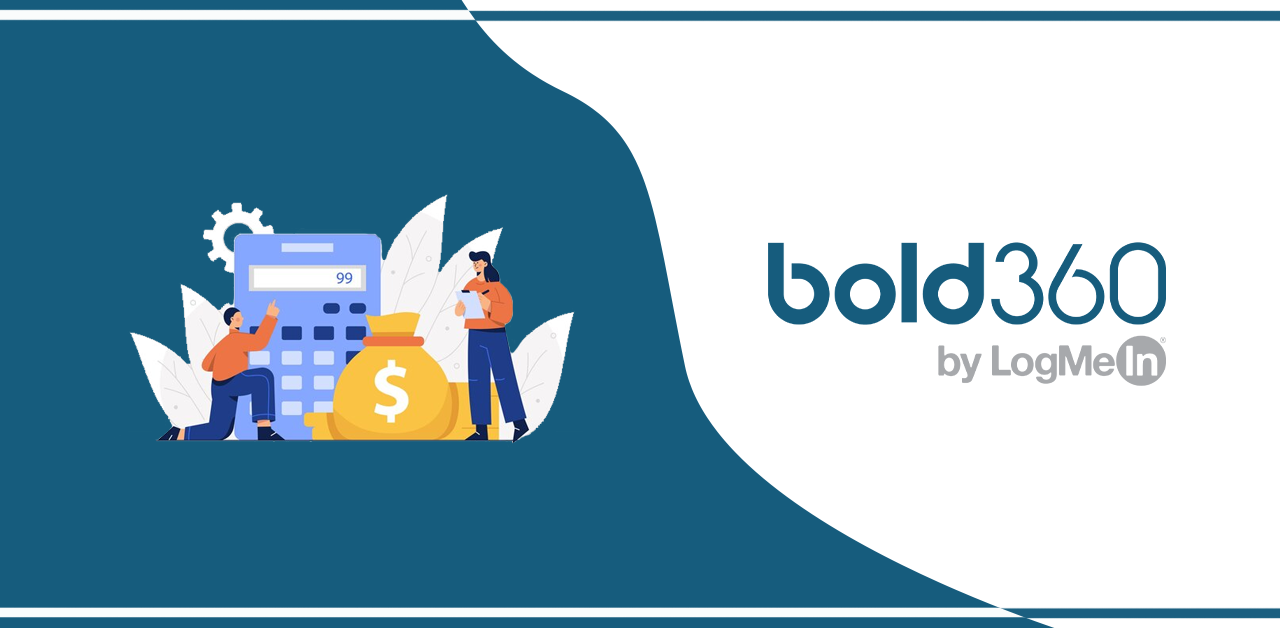 The cost is one thing you won't discover quickly on the internet. So we went incognito, sought a quote, and received a response. It typically costs between $60,000 and $100,000 a year to implement. Some of the reduced plans, on the other hand, might cost as much as $20,000 per year. Bold360 is unquestionably one of the more costly live chat and customer service chatbot options available.
The Bottom Line
It might be a good alternative to make the customer care process more effective with chatbots, but it comes at a steep price. Unless you're especially searching for AI features, other live chat services provide a lot more functionality for a lot less money.
In addition, they may be emphasizing the limits of AI at this moment. On the one hand, you'll have an intelligent AI chatbot, but you'll also need to pay someone to keep the platform up to date and provide new features for your staff.
BotPenguin is an AI-powered chatbot builder platform with amazing features and integrations with more than 40 platforms including Whatsapp, Facebook, and Telegram.
Frequently Asked Questions
What is Bold360?
Bold360 is a comprehensive customer engagement platform that uses AI to deliver personalized experiences across multiple channels, such as live chat, messaging, email, and social media.
How does Bold360 work?
Bold360 uses AI and machine learning to understand and respond to customer inquiries. Its advanced capabilities, such as natural language processing and sentiment analysis, help businesses provide relevant and efficient customer service.
What are Bold360's key features?
Bold360's key features include live chat, messaging, email, and social media management, as well as AI-powered chatbots, co-browsing, knowledge base management, and analytics and reporting.
What benefits does Bold360 offer?
By providing personalized and efficient customer service, Bold360 helps businesses improve customer engagement, increase customer satisfaction, and streamline their operations.
How is Bold360 different from other customer engagement solutions?
Bold360 stands out from other solutions due to its advanced AI capabilities, which enable it to deliver more personalized and efficient customer service.
Can Bold360 integrate with other software?
Yes, Bold360 can integrate with various software, including CRM systems, marketing automation tools, and e-commerce platforms, to provide a seamless customer experience.
How easy is it to set up Bold360?
Bold360 provides customizable templates that make it easy for businesses to set up their customer service tools, such as chatbots. Additionally, it offers a free trial to help businesses get started.
What kind of support does Bold360 offer?
Bold360 offers multiple support options, including email and phone support, a knowledge base with articles and tutorials, and a community forum for sharing best practices.