In today's messaging world, Telegram has made quite a name. It is trendy, with 550 million monthly and 55 million daily users. You have used Telegram for communicating with your family or colleagues.
With its paper plane logo, Telegram serves as a common platform to send and receive text, images, gifs, videos, calls, etc.
Telegram isn't limited just to a mere messaging and media-sharing platform. The most remarkable feature of Telegram is using bots to improve services. An even better feature is you can build your bot. Yes, you heard right.
You can build your own with no code or codes. Telegram bots are simpler and more accessible than other messaging platform bots.
This bot features is like a fictional human with codes and performs actions automatically. It receives commands in the form of HTTP requests.
Telegram bots can update you about new albums or movies and show your favorite show. In short, you get any information through these bots in only one app. But the question is, how to create a telegram bot without coding?
Continue reading to find out more about that.
What are Telegram Bots?
Telegram Bots are essentially third-party chat programs that, in many cases, may significantly improve the service. For example, suppose you're a regular Trello user. You may use the Trello Bot to generate new cards for a specific board directly from Telegram.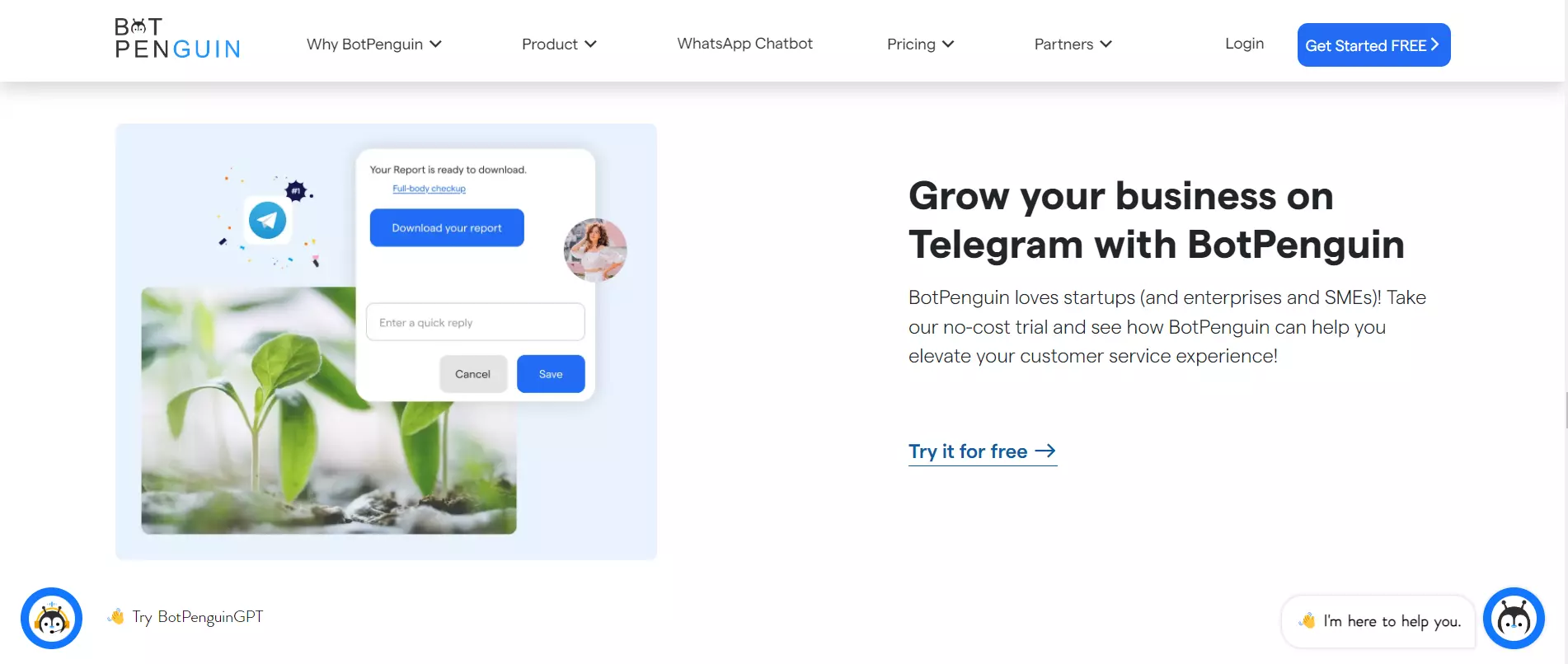 How to create a Telegram bot?
Follow these steps to create a telegram bot using Telegram Bot Builder
Step 1
On your PC, launch the Telegram app.
First, open Telegram if you haven't previously done so. The icon is found on the Desktop or in the Start Menu. Depending on your settings, you may need to add a password to obtain access to your account.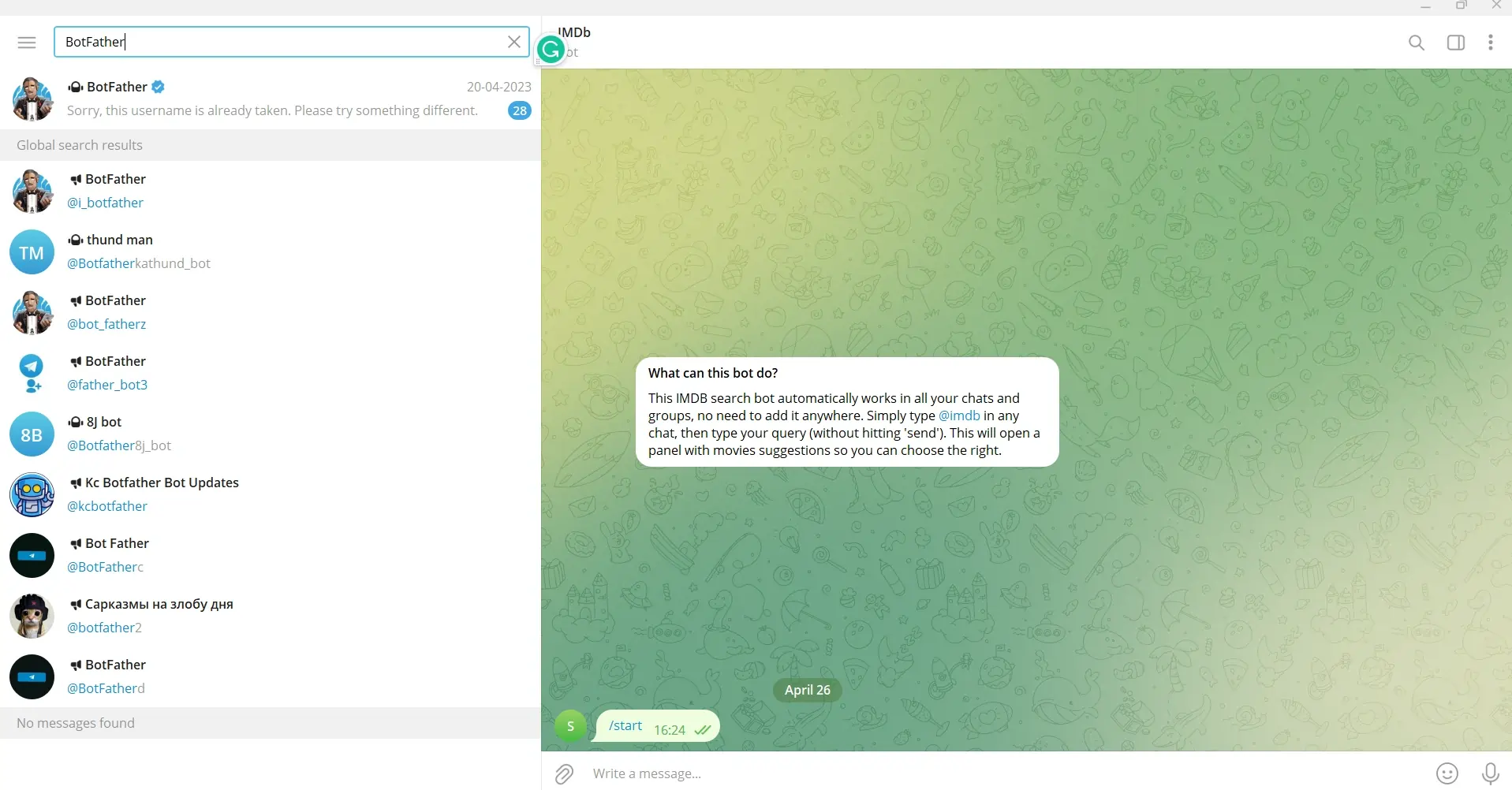 Step 2
Join BotFather
The following step is to connect to BotFather directly. To do so, go to Telegram's top-left corner and type something in the search box. Once you've done that, look for BotFather in the menu and choose it. To connect, go to the bottom of the screen and press the Start button.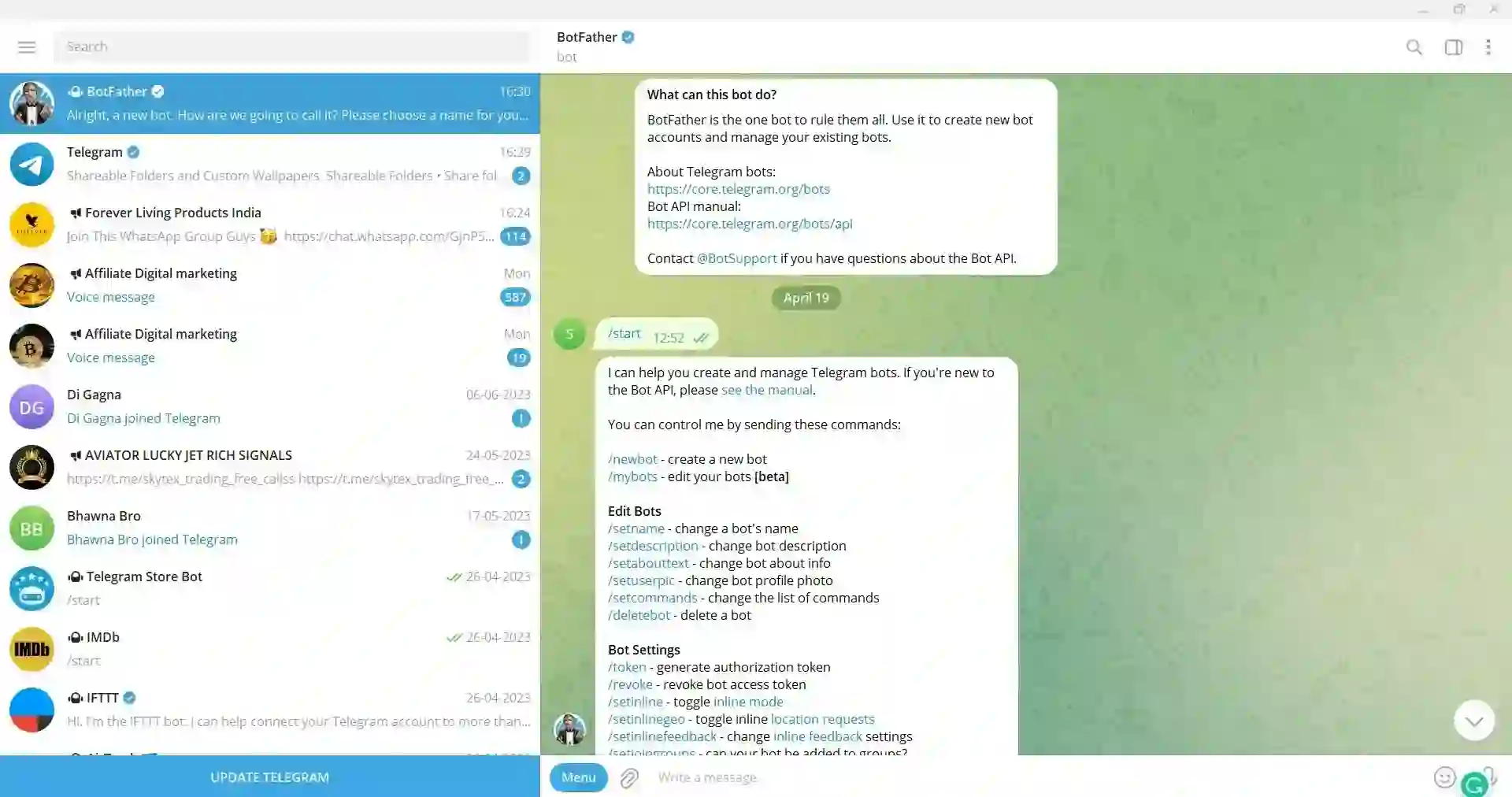 Step 3
Select the option to create a new bot
You should now see a wall of text and a list of instructions after hitting the Start button. Select /newbot since that is the only command that makes sense right now.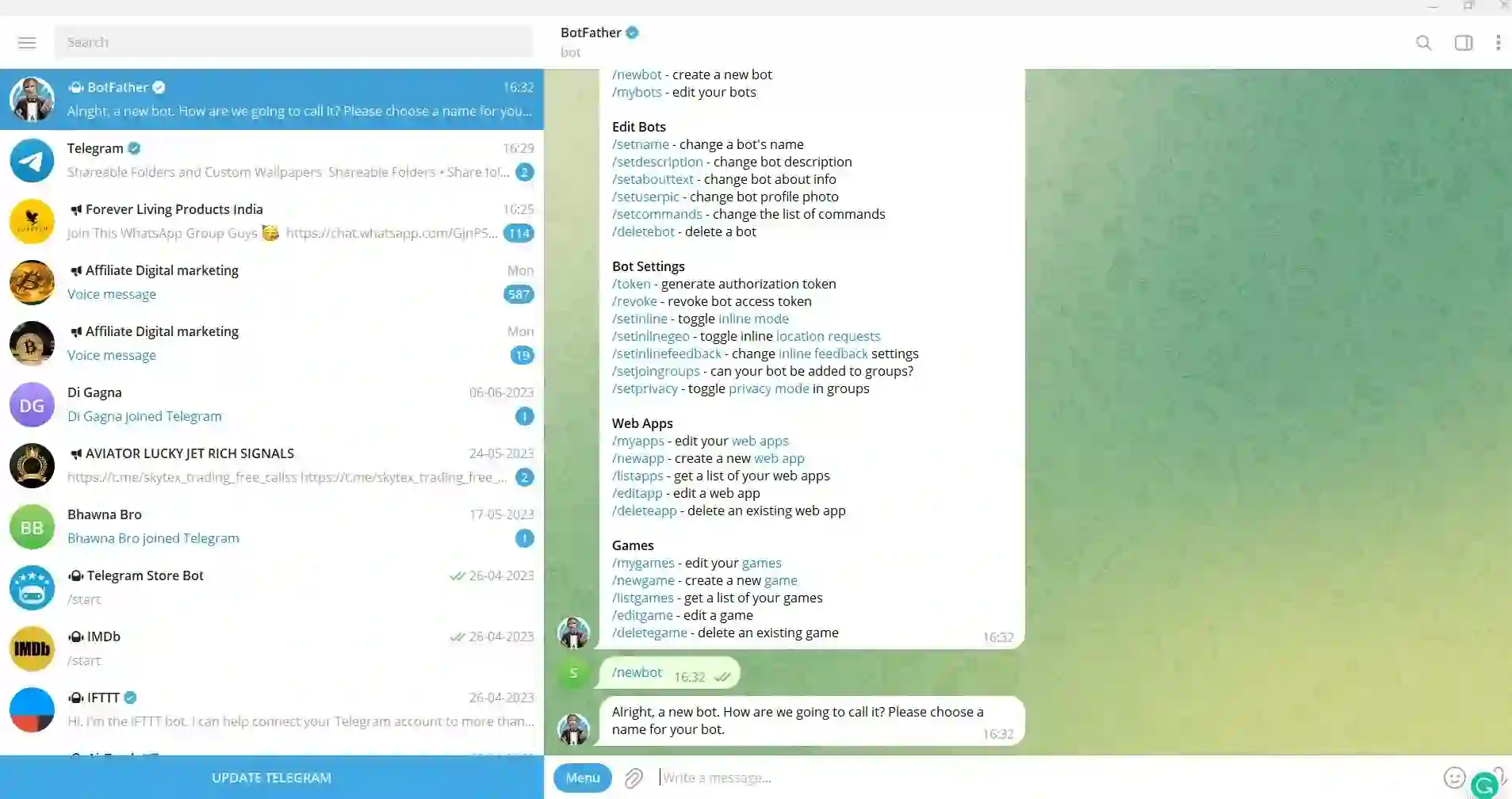 Step 4
Assign a name to your bot
BotFather will now ask you to name your new bot. Put the name into the message box and press the Enter key.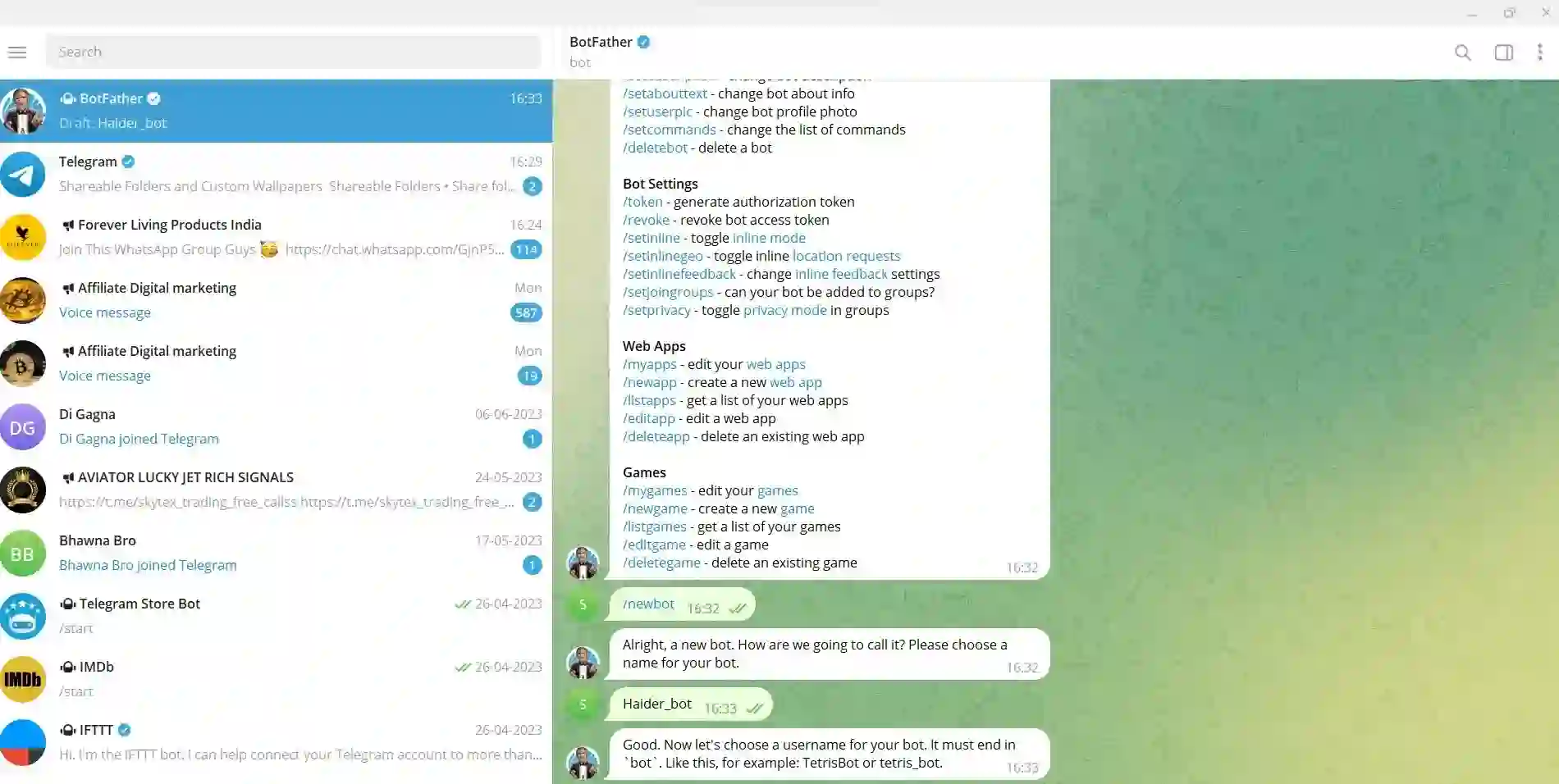 Step 5
Give your bot a unique name
It's one thing to give your bot a name, but you also need to provide it with a username. Now, enter the name you want into the text box and press Enter. Remember that the username must conclude with the word bot to be registered. TWCbot or TWC bot, for example.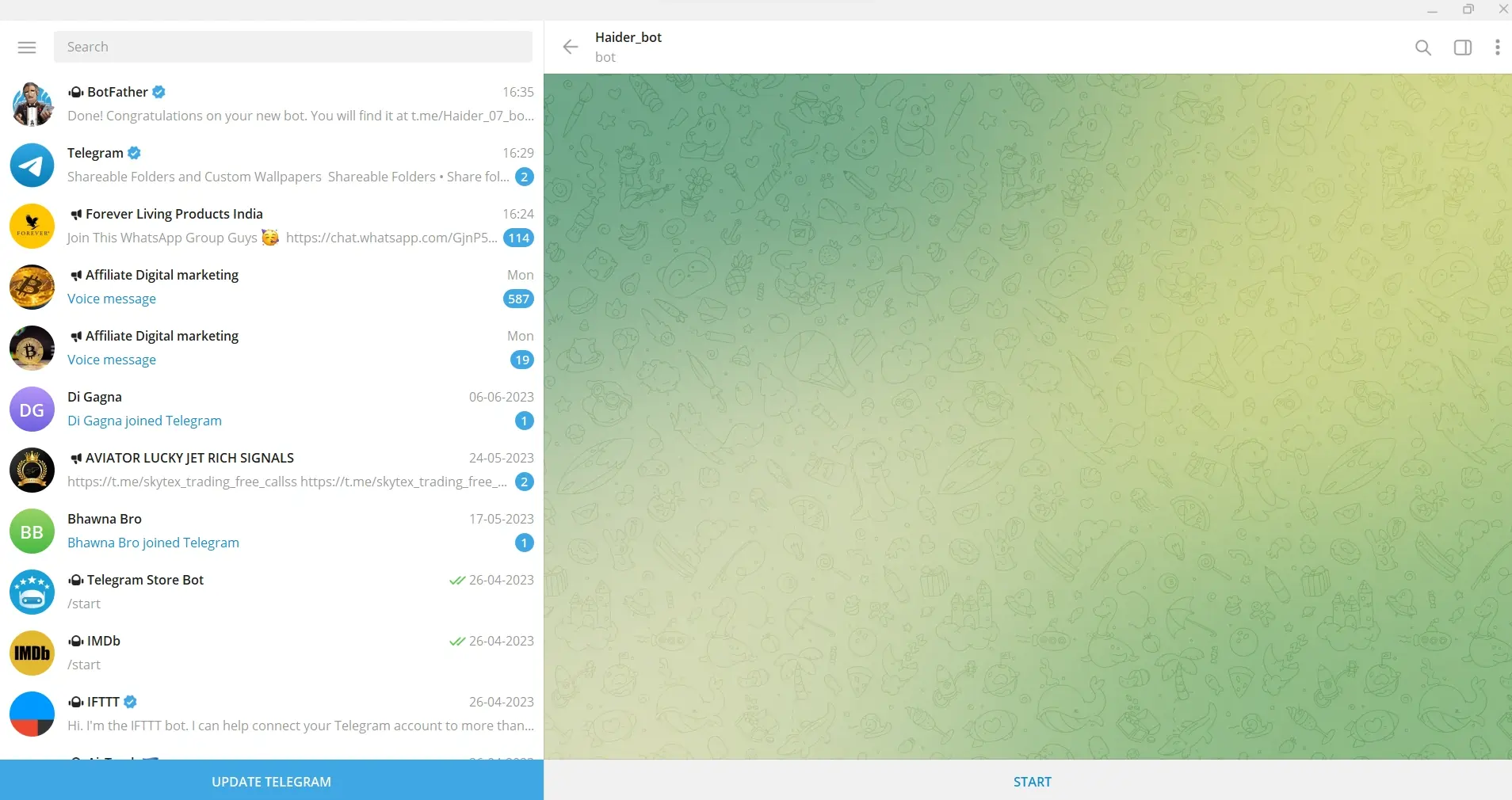 Step 6
Your bot is now live
Your Bot is all ready to use now.
Build your own Telegram Bot know! Try BotPenguin
Also Read:

What exactly is BotFather?
If you have worked with Telegram before, you've probably heard of BotFather. BotFather is the one bot who can govern them all, according to what we've learned. To build new bots or update the settings of existing ones, you'll need to go through it.
Build your own Telegram Chatbots using BotPenguin, it also offers chatbot creation for social platforms, websites, wordpress:
How to Find a Token for an Existing Telegram Bot
To Find a Token for an Existing Telegram Bot follow the steps given below or another way to build your bot is using Telegram Bot Builder

Step 1
Send the command /token to the @BotFather bot.
Step 2
Any bots you've developed will have buttons next to them.
Step 3
Select the one for which you require a token to connect it to the bot.
Step 4
Copy the value of the token.



How to connect Livegrambot to Your Telegram Bot
The purpose of Livegrambot is for any messages sent to your bot by other users to be immediately fed into your chat so you may respond. You may also join a group and have its members react to incoming messages.
Customer service, feedback, broadcasting to customers, and statistics are all elements of LivegramBot. Just look at how to connect your bot to Livegrambot.
Step 1
Type Livegrambot into the search area.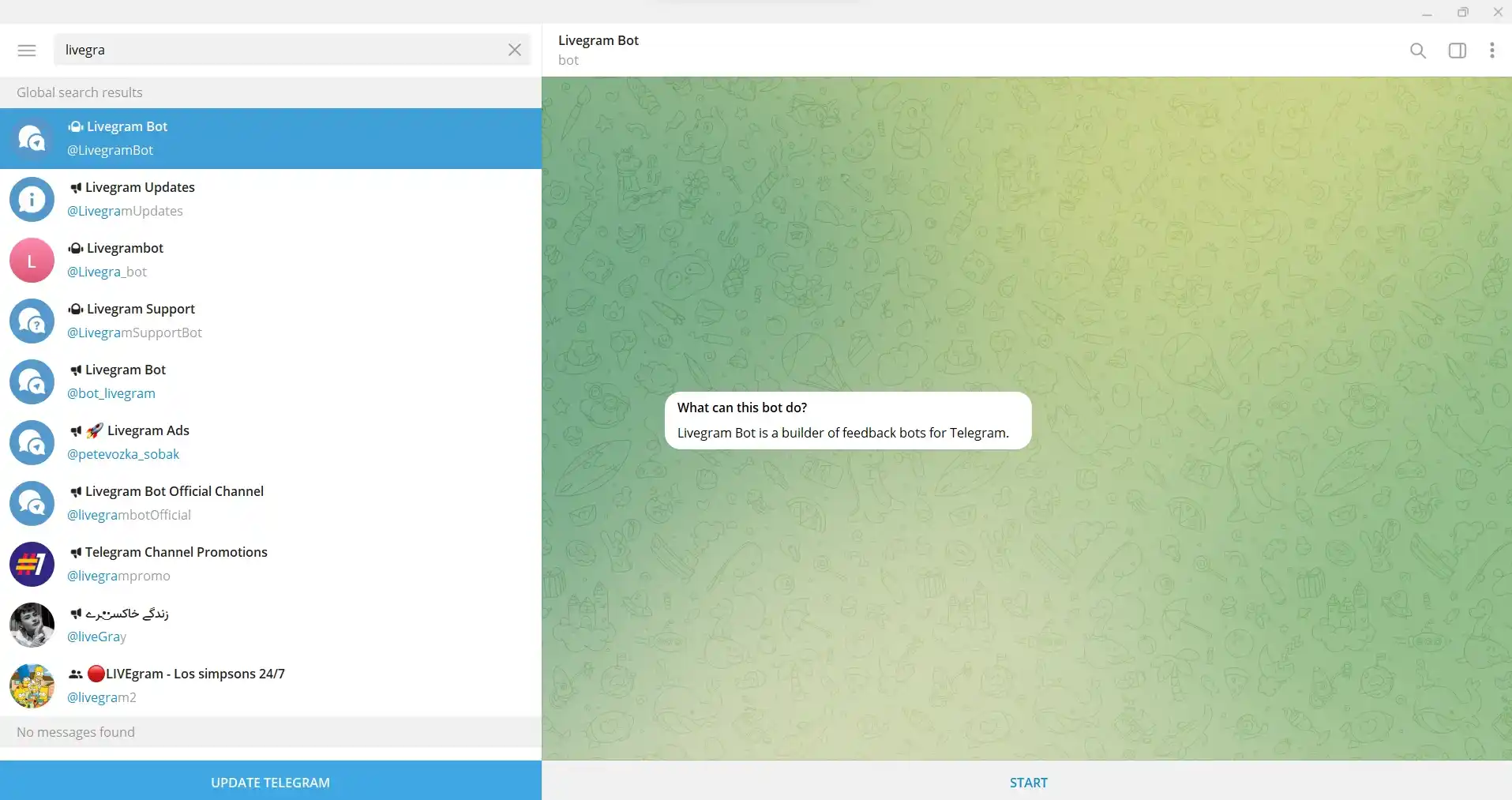 Step 2
Choose the Livegrambot logo, generally a bubble chat at the top.
Step 3
Start from the Start menu or the bottom.
Step 4
After that, you'll be given the choice of English or Russian as your language. Pick one of these.
Step 5
Livegrambot will send you a message when you pick the language. You may type and send / addbot from here.
Step 6
After a few seconds, you'll get a prompt to hit the permission button.
Step 7
Then the Agree and Continue buttons to proceed.
Step 8
You must then return to BotFather to copy your bot token.
Step 9
Transfer the Bot Token to Livegrambot after duplicating it on BotFather.
Step 10
A notification will display that your bot is now live.


11 Most Used Telegram Bots
Here are mentioned the 11 Most Used Telegram Bots
1. Movies Tracker
Movies Tracker is the best resource for finding out all there is to know about any film. Users key in the film's title. The bot will retrieve all relevant information from IMDB, including actors, plots, and reviews.
2. OpenMember
The OpenMember bot allows you to collect membership fees for your Telegram channels or groups fast and efficiently. You may charge anything you want for access, on whatever frequency, using the OpenMember bot and online dashboard interface (daily, weekly, monthly, yearly, or one-time).
3. Dr.Web Bot
Safety should always come first while downloading files and media from the Internet. Dr.Web Bot protects you by scanning all of the files and URLs that Telegram sends you.
4. InviteMember
This bot is perfect for accepting money and sending invite links to your premium channel or group users. InviteMember will enable you to build your own membership company on Telegram in about 5 minutes.
5. GameBot
The bot is found by searching @gamebot in Telegram or clicking the link below on a mobile device. It is a basic Telegram bot for playing chat games with your buddies.
6. File to Bot
It allows users to save files to the cloud and save them indefinitely. You can send files through the chat, and it will organize them categorically. It allowed users to examine and download uploaded files. You won't find any file size restrictions, and the Telegram bot accepts all file kinds.
7. Skeddy
Skeddy is a reminder bot that sends you text messages to remind you of things. It's a basic bot that allows you to send text messages to make reminders.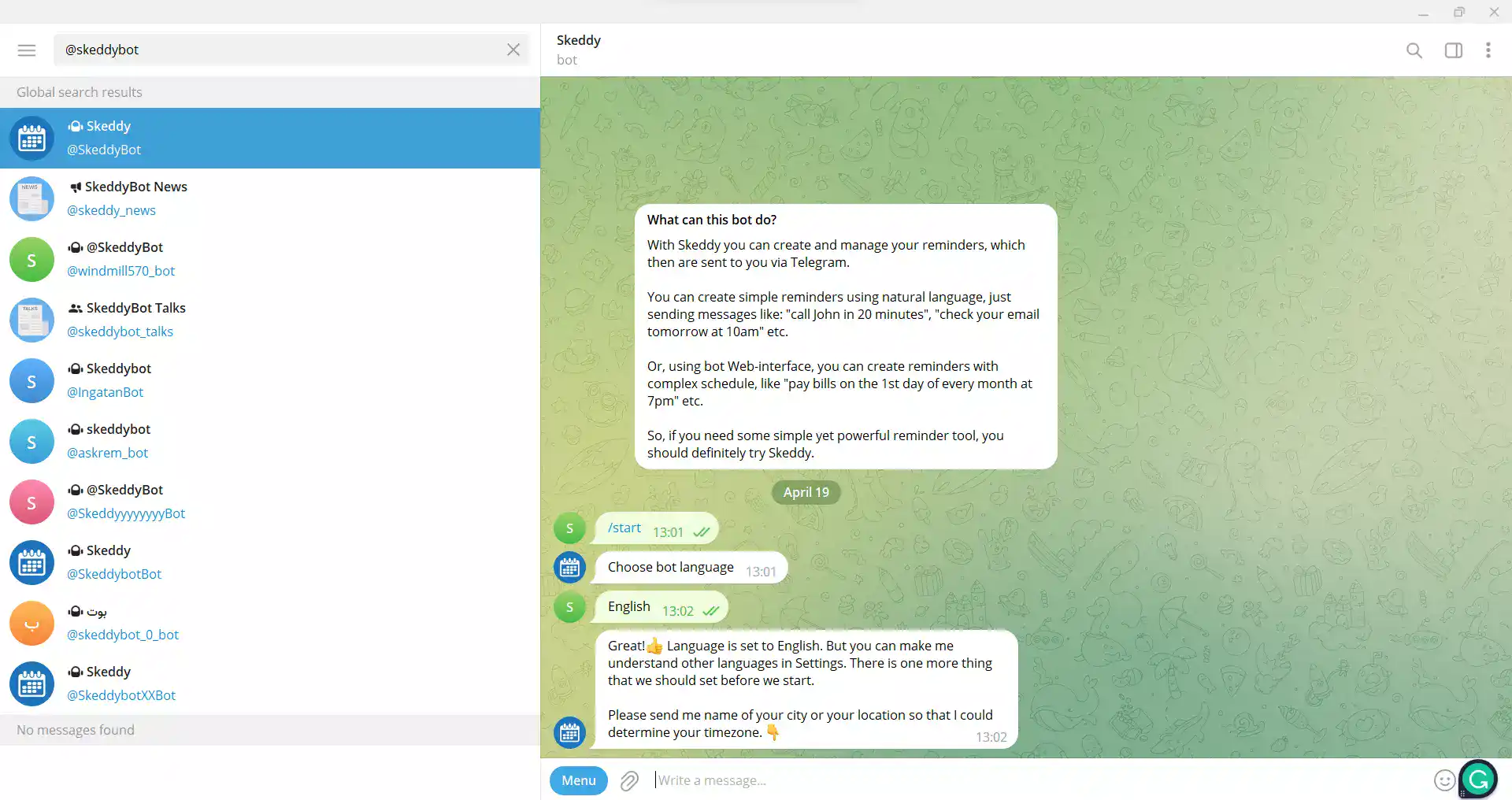 8. Get Media Bot
Get Media Bot may assist you in obtaining any media files from any location on the Internet. Now type the query.
9. Tweet It Bot
A Twitter client allows users to tweet from within the Telegram app. The Tweet bot could also tweet photographs, videos, stickers, and Gif graphics.
10. Feed Reader Bot
Users may subscribe to RSS feeds from any blog or website using Feed Reader. Following your subscription, you will receive notifications of new postings from that website in your Telegram inbox.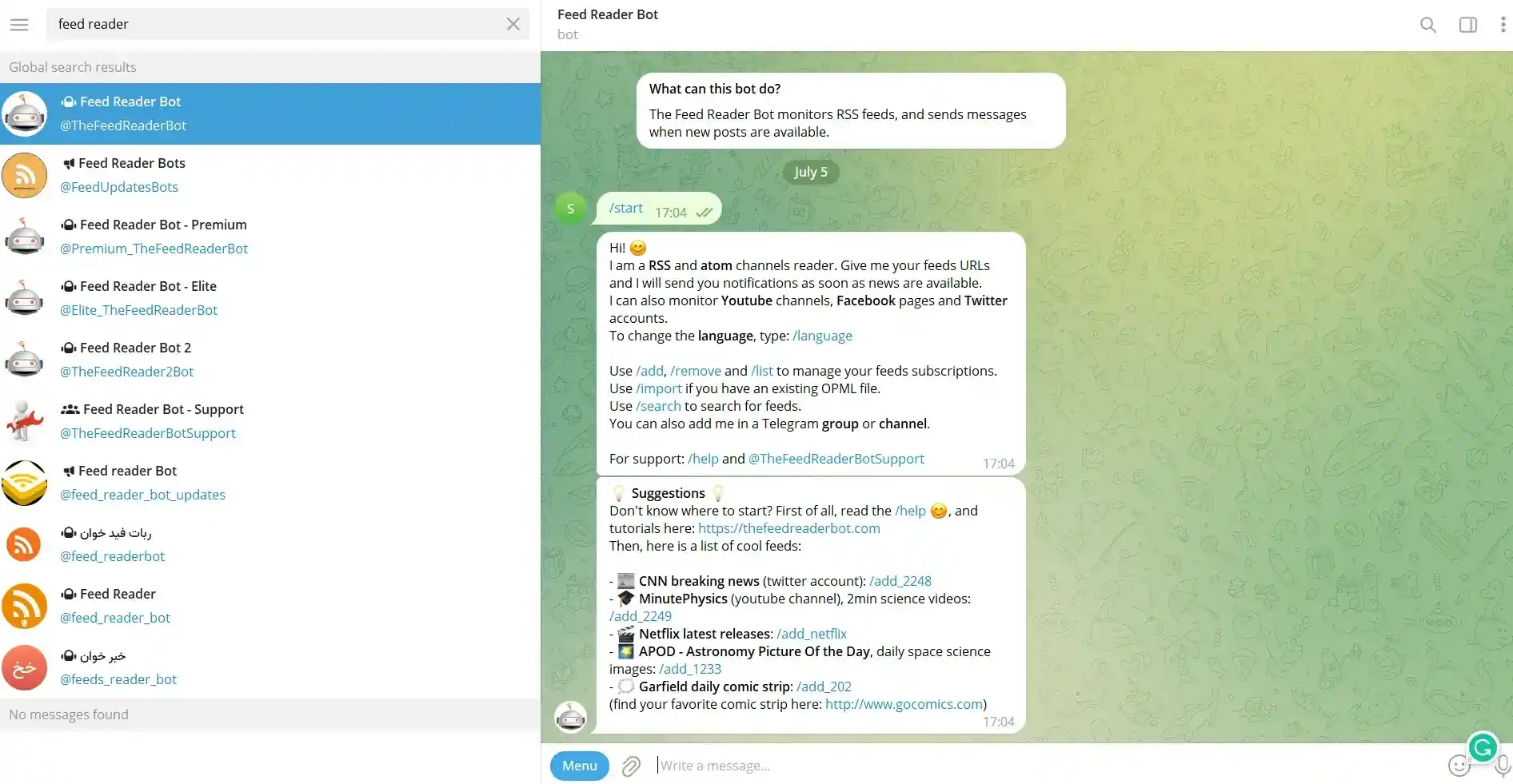 11. Poster Bot
Poster bot takes things a step further, allowing you to accomplish more with Telegram Channels. After launching the Telegram bot, you'll be able to automatically feed content from various social media platforms to your Telegram channels.
Also Read:
Conclusion
Telegram is undoubtedly the most used messaging platform. This messaging app strictly follows international security standards.
The known possibility of highly interactive bots on Telegram has made the app even more appealing. Bots can interact with users in both private and group chats. However, some bots serve functional purposes while others are for fun.
Build your own Telegram Bot know! Try BotPenguin:
Telegram bots can get notifications for movie updates, the latest news, and even cricket updates. From this article, you derived that building chatbot is very easy. BotFather is the ultimate tool for creating any Telegram bot.
Frequently Asked Questions

How can I create a Telegram Bot without coding?
Creating a Telegram Bot without coding is possible by using bot-building platforms like BotPenguin. This platform offer intuitive interfaces and drag-and-drop features to design and configure your bot's functionality.
Is it necessary to have programming skills to create a Telegram Bot?
No, you don't need programming skills to create a Telegram Bot without coding. Bot-building platforms simplify the process, allowing users to create bots using visual interfaces and pre-built templates.
What are some popular bot-building platforms for creating Telegram Bots without coding?
BotPenguin, ManyChat, and Intercom are popular bot-building platforms that enable users to create Telegram Bots without coding. These platforms offer a user-friendly experience and various features to customize your bot's behavior.
Can I integrate third-party services with my Telegram Bot created without coding?
Yes, many bot-building platforms provide integration options to connect your Telegram Bot with third-party services. You can integrate services like Google Sheets, CRM systems, email marketing tools, or payment gateways to enhance your bot's functionality.
Are there any limitations to creating a Telegram Bot without coding?
While creating a Telegram Bot without coding is convenient, there may be certain limitations in terms of advanced customization or complex functionalities. It's important to assess your requirements and evaluate if the chosen platform can fulfill your specific needs.
How do I deploy my Telegram Bot after creating it without coding?
Once you've created your Telegram Bot using a bot-building platform, the deployment process typically involves connecting the bot to your Telegram account and configuring its settings. The platform will provide instructions on how to deploy the bot and make it available for use.