The popular messaging program Telegram lets users communicate, share data, and even build bots. According to Statista, there will be more than 500 million active Telegram users in 2023.
Telegram bots are computer programs that run automatically and are capable of doing many things, including downloading music. Telegram has a vast ecosystem of bots to download music. The list begins from pop, rock, rap, and classical to regional music, and more.
Best of all, there's a massive selection of high-quality MP3 downloads completely free. Some bots offer additional capabilities too like playlists, favoriting, requests, and managing your collection.
Searching for rare remixes? With the right Telegram bot, you can have it. So, this article presents the Telegram music bots list to download music!
What are Telegram Music Bots?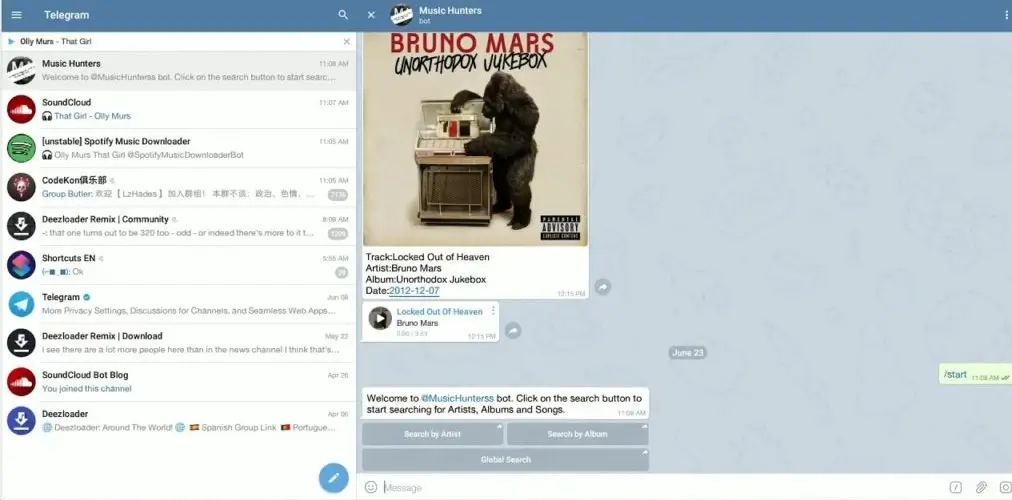 Third-party programs called "Telegram music bots" are made to communicate with users over the chat platform. They can do several things, like play games, browse, and, of course, download music!
The majority of Telegram music bots often have access to a sizable database of songs and albums. They can perform searches by artist, song title, or album name. Telegram bot can offer a link to download music in MP3 format after it has been discovered.
One of the best bot development platforms is BotPenguin. BotPenguin includes a variety of features that you can use to create your Telegram music bot without prior coding knowledge.
Along with Telegram Chatbot, BotPenguin offers chatbot creation for other social platforms like:
How Can I Find the Best Bot?
Finding the best Telegram bot for your music needs is crucial given the abundance of them available.
The following advice will help you locate the best Telegram music bots:
Search for reviews and recommendations on blogs or forums to see which bots users consistently praise. This can help surface top options.




Look at the number of members/subscribers a bot has, as more popular bots tend to offer better reliability and content.




Try out multiple bots - test search capabilities, download speeds, audio quality, and library size/diversity.




Assess if the bot offers the ability to search by genre, artist, playlists, or other filters to easily find the music you like.




Check if the bot provides additional useful features like playlists, requests, favorites, and managing downloads.




Ensure the bot has active developer support in case issues arise. They should be responsive to feedback.




Browse the bot's channel or account page for announcements to see how frequently new content is added. More active bots tend to stay relevant.




Make sure downloads are high-quality MP3s and that the bot isn't restricted in certain regions.
Finding a music download bot that suits your taste may take some trial and error. Focus on bots with consistently good reviews, engaged communities, and responsive developers to ensure the best experience.
Which are the Best Telegram Bots for Downloading Music?
We can now explore some of the best Telegram bots for downloading music because we know what to look for. The variety of bots means you can find specialized sources for genres from Euro-pop to vaporwave. Compare features and community reviews to select your go-to!
These top Telegram music bots were hand-selected for their dependability, usability, and wide selection of music.
@MusicDownloaderBot
With the aid of the well-known bot @MusicDownloaderBot, you can download music from several sources. When you enter the name of the song or artist, the Telegram bot will present you with a list of options. When you choose your preferred format and quality, the bot will start the download on your behalf. It is that simple!
@MusicDL_Bot
@MusicDL_Bot is another fantastic option for downloading music on Telegram. This bot supports a wide range of platforms, including YouTube, SoundCloud, and even Bandcamp.
@yandex_music_bot
Download tracks and playlists from Yandex Music. This Telegram bot for downloading music features top charts and new releases.
Musify
Musify is the ideal option if you're searching for a feature-rich music bot. Musify adds extra features like playlist creation, finding new artists, and sharing music with friends in addition to enabling you to download music through Telegram.
You may use Musify to search through a sizable collection of music from all around the world and create unique playlists for various occasions and feelings. In addition, this Telegram music bot makes recommendations based on your musical preferences to help you discover new songs and artists that appeal to you.
Music Uploader
Music Uploader is an excellent Telegram bot for those who have control over the music they listen to. Unlike external sources for music downloads, Music Uploader allows you to upload your music directly to Telegram.
This implies that you can easily access your favorite songs on Telegram by downloading them to your computer or mobile device. You no longer need to be concerned about getting your music from outside sources thanks to Music Uploader. Just submit your songs to the Telegram bot and listen to them wherever you are, whenever.
Conclusion
Whether you're a casual music listener or a die-hard fan, these Telegram bots offer a straightforward and practical way to access your favorite music.
Why restrict yourself to limited libraries or monthly fees? Telegram bots provide over 20 million tracks for instant streaming or downloading according to reports.
So Discover the delight of downloading music directly on Telegram by exploring the Telegram music bots list in this blog post.
And never again wait desperately for a favorite track to land on Spotify. Telegram's thriving ecosystem of music bots has your back.
And if you need a more personalized bot to fit your custom needs, meet BotPenguin.
BotPenguin is a platform that allows you to create your own Telegram bots, including music bots. It is a no-code platform, so you don't need to know how to code to create a bot. You can use the BotPenguin drag-and-drop interface to create a bot with just a few clicks. You can also use the BotPenguin API to add custom features to your bot.
Once you have finished creating your bot, you can publish it to Telegram. BotPenguin will generate a link that you can use to invite people to your bot. You can also share the link on social media or your website.
And one final thing, enjoy the music!