What is Virtual Reality (VR)?
Virtual Reality (VR) is an immersive technology that simulates a user's physical presence in a virtual environment. By using a combination of hardware and software, VR aims to create a realistic and interactive experience that can be perceived by our senses. It's like stepping into a whole new world!
So, what exactly is virtual reality? Well, imagine putting on a VR headset and suddenly finding yourself in a different place altogether. Virtual reality tricks your senses into believing that you're physically present in a digital environment.
Who uses Virtual Reality?
Gamers and Entertainment Enthusiasts
Virtual reality has revolutionized gaming, offering immersive experiences that transport users into fictional worlds. VR headsets and accessories are used by gamers as well as enthusiasts of film, virtual tours, and other forms of entertainment.
Healthcare Professionals
VR technology is employed by healthcare professionals for a range of purposes. Medical training, patient rehabilitation, and conducting therapy sessions for various conditions, such as anxiety and PTSD, are some of the applications.
Educators and Students
Virtual reality is being increasingly embraced by educators and students as a medium for interactive, immersive learning experiences. It helps users explore hard-to-reach environments, simulate real-life scenarios, and strengthen their understanding of complex concepts.
Architects and Engineers
VR technology provides architects and engineers with the ability to visualize projects like buildings, infrastructure, and urban planning in a 3D environment. By allowing clients and collaborators to experience the design, VR improves communication and decision-making processes.
Military and Emergency Services
Virtual reality is utilized by military forces and emergency services for training purposes. It offers a cost-effective and safe platform to simulate realistic scenarios, enhancing skills and preparedness for real-world situations.
Components of Virtual Reality
In order to create immersive experiences, virtual reality-based systems are composed of several key components that work together. Let's take a closer look at these components.
Hardware
VR hardware typically includes head-mounted displays (HMDs), motion tracking devices, and input controllers, all designed to provide an immersive experience for the user.
Software
Virtual reality software, including 3D modeling tools and game engines, enables the creation of realistic and interactive virtual environments for users to explore.
Graphics and Rendering
High-quality graphics and real-time rendering are crucial components of VR systems, ensuring a seamless and visually compelling virtual experience.
Sensory Feedback
VR systems often rely on sensory feedback mechanisms, such as haptic technology and spatial audio, to enhance the user's sense of presence within the virtual environment.
User Interaction
A key aspect of VR systems is the ability for users to interact naturally with the virtual environment, often accomplished through gesture recognition and motion tracking technologies.
Advantages of Virtual Reality
Virtual Reality (VR) opens up a world of possibilities beyond our imagination. Here are some advantages that this cutting-edge technology offers:
Immersive Experiences
Virtual reality's ability to create immersive and lifelike experiences revolutionizes gaming, entertainment, and storytelling. With its 3D environments, VR can engross users, taking them places they could only dream of.
Training and Education
VR offers realistic simulations for a wide range of industries, such as aviation, healthcare, and construction, enabling professionals to receive hands-on training without real-world risks. Similarly, the technology provides engaging educational experiences and facilitates learning.
Remote Collaboration
By incorporating VR into communication and collaboration tools, users can interact with others across distances and reduce the need for physical meetings. This fosters efficient and exciting collaboration for businesses and events.
Exposure Therapy and Mental Health
VR has proven to be a powerful tool in mental health treatment by providing controlled environments for exposure therapy, helping individuals overcome their anxieties and phobias. It can also be used for meditative and relaxation purposes.
Prototyping and Design
VR enables designers and engineers to visualize everything from architectural renderings to product prototypes within a three-dimensional, interactive space, accelerating the design process and identifying potential issues before production.
Disadvantages of Virtual Reality
Despite the immersive experience virtual reality provides, there are also a number of drawbacks associated with its use. Let's explore these disadvantages.
High Costs
Virtual reality equipment can be costly, creating a barrier to entry for individuals and some organizations.
Health Concerns
Extended VR use can lead to eye strain, dizziness, and nausea, and there are also concerns about potential long-term effects on physical and mental health.
Technical Issues
Virtual reality still faces technical issues such as latency problems and image resolution, which can detract from the user experience.
Limited Content
While improving, the amount of quality, immersive VR content remains relatively limited, particularly compared to more traditional forms of media.
Accessibility and Inclusion
VR currently requires users to have certain physical abilities, such as sight and mobility, meaning it's not accessible to all potential users.
How does Virtual Reality Work?
Head-Mounted Displays (HMDs)
HMDs are the primary visual component, allowing users to see virtual environments by displaying images on screens placed close to the eyes.
Tracking Systems
These systems detect a user's head and body movements, ensuring the virtual environment adjusts accordingly and creates the illusion of immersion.
Input Devices
Input devices such as VR controllers, gloves, and hand-tracking cameras allow users to interact with virtual worlds and facilitate more engaging experiences.
Audio Systems
Audio is crucial for creating realistic environments, and VR technology employs spatial audio and 3D sound to enhance the sense of presence.
Software and Applications
Software is the backbone of Virtual Reality, responsible for generating and rendering the virtual environments, whether for gaming, education, or professional use.
When do you use Virtual Reality?
Let's dive into the various circumstances where you might use Virtual Reality to enhance your experiences or work.
Gaming
One of the most popular uses of VR is in gaming, providing players with immersive, interactive experiences that transport them directly into the game world.
Training and Education
VR is widely used for training and education, simulating real-world scenarios for practice without risk, including medical training, military drills, and even learning new languages.
Real Estate Tours
Virtual Reality enables potential homebuyers to take a virtual tour of a property, making the home buying process more efficient and accessible.
Therapies and Rehabilitation
Healthcare professionals use VR for therapies and rehabilitation, be it to help stroke patients regain motor skills or to treat phobias and anxiety disorders with exposure therapy.
Remote Work and Meetings
With the rise of remote work, Virtual Reality provides an interactive platform for virtual offices and meetings, fostering improved collaboration and engagement.
Applications of Virtual Reality
Virtual Reality is ushering in a new era of immersive experiences across various domains, well beyond entertainment.
Gaming and Entertainment
Virtual Reality redefines gaming and entertainment experiences by creating immersive worlds, making users feel as if they are part of the action and transporting them to alternate realities.
Education and Training
Through the power of VR, education and training simulations have become more compelling and interactive, allowing students and professionals to learn new skills, concepts, and explore environments in a safe and realistic setting.
Healthcare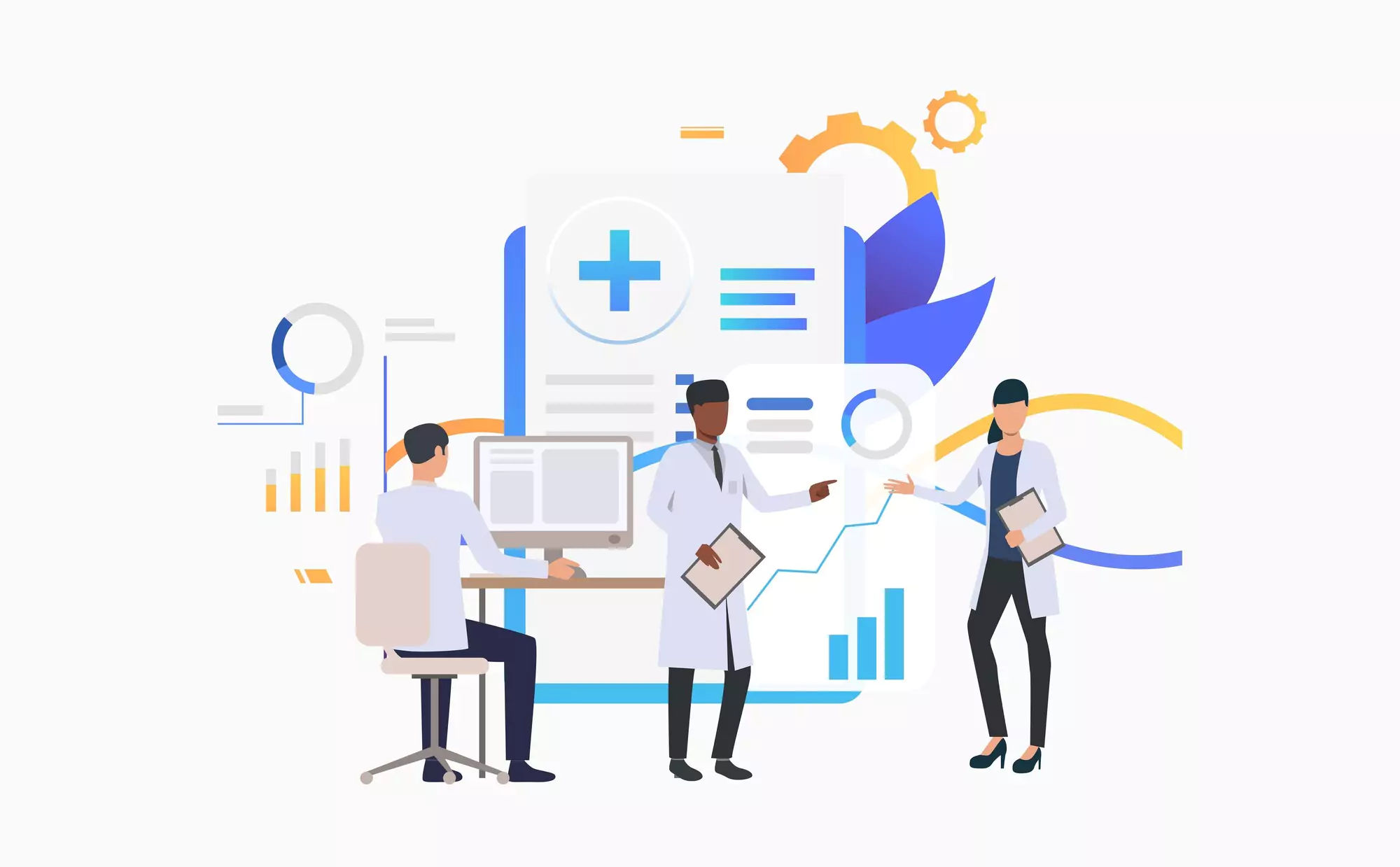 Virtual Reality is transforming healthcare by offering innovative treatments and therapies for various conditions and refining doctors' and surgeons' medical training through immersive simulations.
Architecture and Design
VR provides architects and designers with the capability to visualize and interact with their creations, test structural integrity, and evaluate designs before constructing them in the real world.
Telecommunications and Social Interaction
Virtual reality allows people to communicate and interact in virtual environments, enabling remote work, collaboration, and socialization, bridging physical distances, and revolutionizing the way we connect with each other.
Frequently Asked Questions (FAQs)
How does virtual reality work?
Virtual reality works by tricking your senses into believing you're in a virtual world. Headsets track your movements, and realistic imagery and sound are displayed and played to create the illusion.
What are the benefits of using virtual reality?
Virtual reality offers an immersive experience, enhanced training opportunities, virtual travel, and empathy building. It can also be used in various industries like gaming, entertainment, education, and healthcare.
Can I use virtual reality for gaming?
Absolutely! Virtual reality gaming takes your gaming experience to the next level. You can battle dragons, explore alien worlds, or play sports as if you were really there. It's like stepping into a video game!
Is virtual reality only for entertainment?
No, virtual reality has applications beyond entertainment. It's used in education for immersive learning, in healthcare for training and pain management, and even in architecture and design for virtual tours.
How much does virtual reality cost?
The price of virtual reality can vary. It depends on factors like the quality of the hardware, the type of headset you choose, and any additional equipment or software you may need.