What is Upselling?
Upselling is a sales technique where a company encourages customers to purchase a more expensive or upgraded version of a product or service or add additional items to their existing purchase.
It involves offering higher-value alternatives or complementary products to the customer during the sales process.
When to Upsell?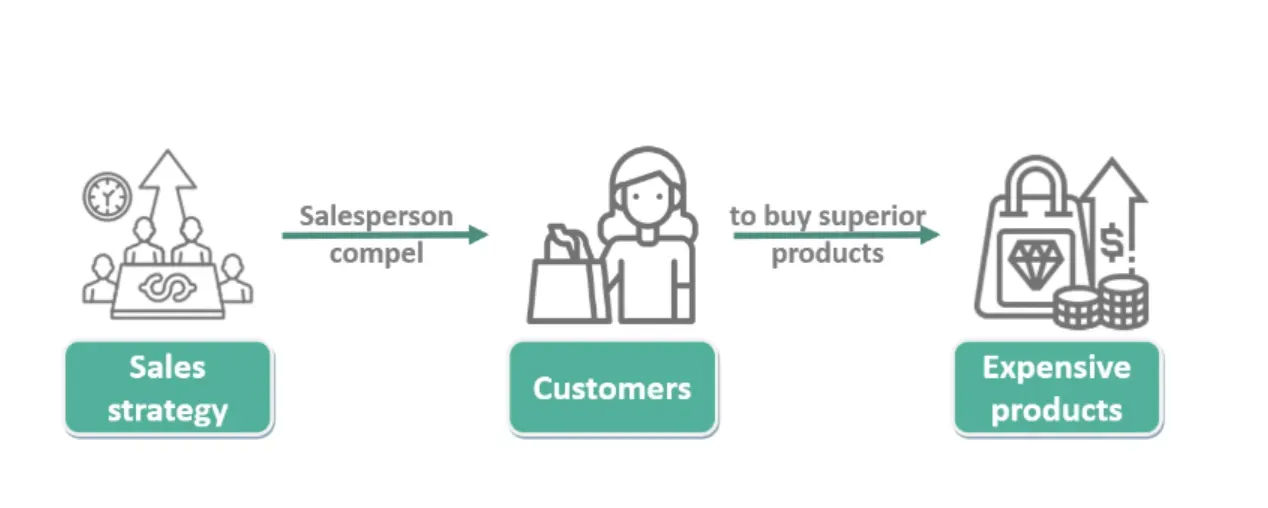 Timing is crucial when it comes to upselling to customers. Businesses should identify specific touchpoints during the customer journey where upselling can be effectively presented, such as at the point of sale, during customer support interactions, or through email follow-ups.
Examples of When to Offer Upsell Opportunities
Offering an upsell during the checkout process when customers are ready to make a purchase.

Presenting upsell options after the customer has expressed interest in a particular product or service.

Providing upsell suggestions when a customer is making a repeat purchase.
Who Benefits from Upselling?
Upselling benefits both customers and businesses in different ways.
Customers: Customers benefit from upselling by gaining access to higher-quality products or services, receiving personalized recommendations, and enjoying a better overall shopping experience.
Businesses: Businesses benefit from upselling by increasing their revenue,

improving customer satisfaction

and loyalty, and gaining a competitive edge in the market.
Where to Use Upselling?
Upselling can be implemented in various business scenarios.
E-commerce Websites: Incorporating upselling techniques on product pages, shopping carts, and order confirmation pages.
Retail Stores: Training sales associates to suggest complementary products or offer upgrades during

customer interactions

.

Service-Based Industries: Integrating upselling into service consultations, proposals, or service packages.
Types of Upselling
Upselling can be divided into 3 major categories as follows:
Product Upselling
Offering a higher-tier version of the same product, such as a premium subscription with additional features or a larger size option.
Service Upselling
Recommending additional services to enhance the customer's experience, like a maintenance package or extended warranty.
Bundle Upselling
Suggesting a bundle of related products or services at a discounted price, enticing customers to get more value for their money.
Common Examples of Upselling
When a fast-food restaurant employee asks if you want to "supersize" your meal.
When a hotel offers an upgrade to a larger room or a room with a better view for a slightly higher price.
When a streaming service suggests a premium subscription plan with ad-free streaming and access to exclusive content.
Why is Upselling Important?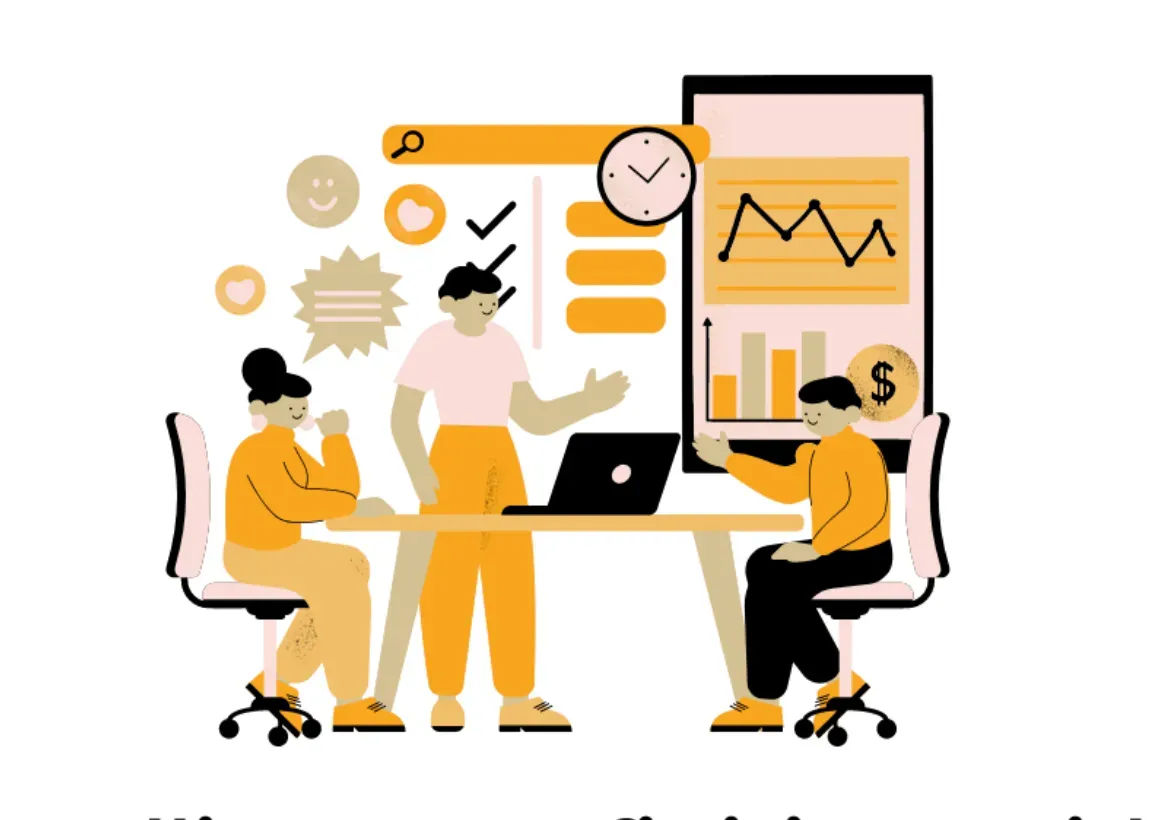 Upselling plays a crucial role in business growth and customer satisfaction.
Increases Revenue
Through upselling, businesses can maximize their revenue by increasing the average order value and generating additional sales.
Improves Customer Satisfaction
By offering customers options that align with their needs and preferences, upselling can enhance their overall experience.
Increases Profit Margins
Upselling higher-value products or services allows businesses to earn higher profit margins.
Enhances Customer Loyalty
By providing personalized recommendations and demonstrating the value of upgraded options, upselling can foster long-term customer loyalty.
What are the Benefits of Upselling?

Upselling offers several benefits for both businesses and customers.
Increase in Order Value
By suggesting additional products or services, businesses can significantly increase the total purchase value of a customer, resulting in higher revenue.
Increase in Customer Satisfaction
When customers are provided with relevant upsell options, they feel valued and perceive their needs to be met efficiently, leading to higher satisfaction levels.
Suggested Reading: Customer Satisfaction: Pitfalls and Best Practices
Increase in Customer Loyalty and Lifetime Value
Upselling helps in building long-lasting relationships with customers, increasing their loyalty and overall lifetime value to the business.
Increase in Referrals
Satisfied customers who have experienced the benefits of upselling are more likely to recommend the business to others, resulting in potential new customers.
Upselling Strategies and Techniques that businesses can use!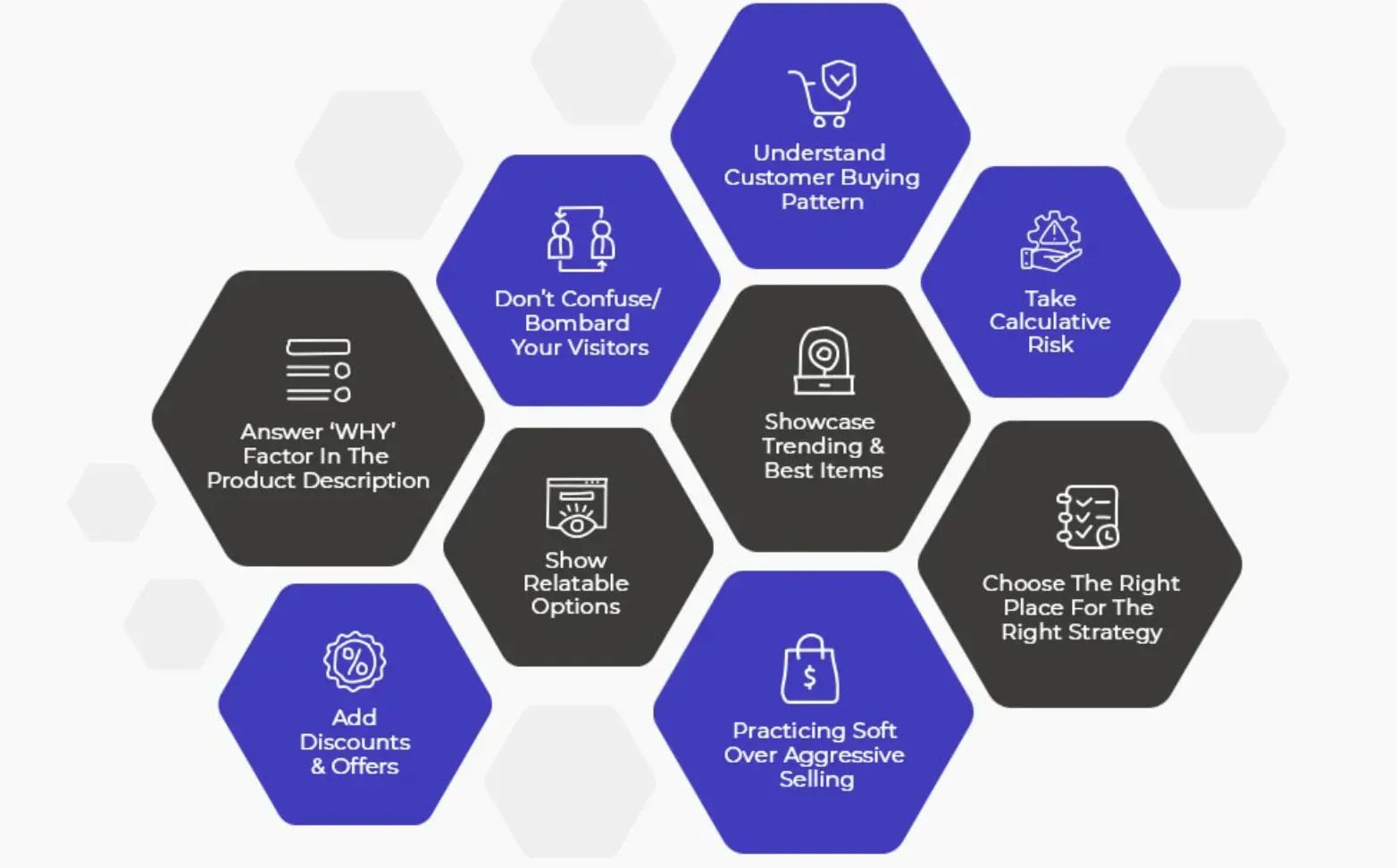 To upsell successfully, businesses can adopt various strategies and techniques.
Understanding Customers' Needs
By having a deep understanding of customer preferences and pain points, businesses can offer targeted upsell suggestions.
Being Helpful to Customers
Instead of pushing products, focus on genuinely helping customers find the best-fit solutions that meet their needs and requirements.
Providing a One-Time Discount
Offering a limited-time discount on an upsell purchase can entice customers to take advantage of the added value.
Creating Urgency
Highlighting the scarcity or time-sensitive nature of an upsell opportunity can motivate customers to make a quick decision.
Providing Social Proof and Real-Life Examples
Sharing testimonials, case studies, or real-life examples of how the upsell has benefited other customers can build trust and confidence in the customer's decision to upgrade.
How Upselling Differs from Cross-selling?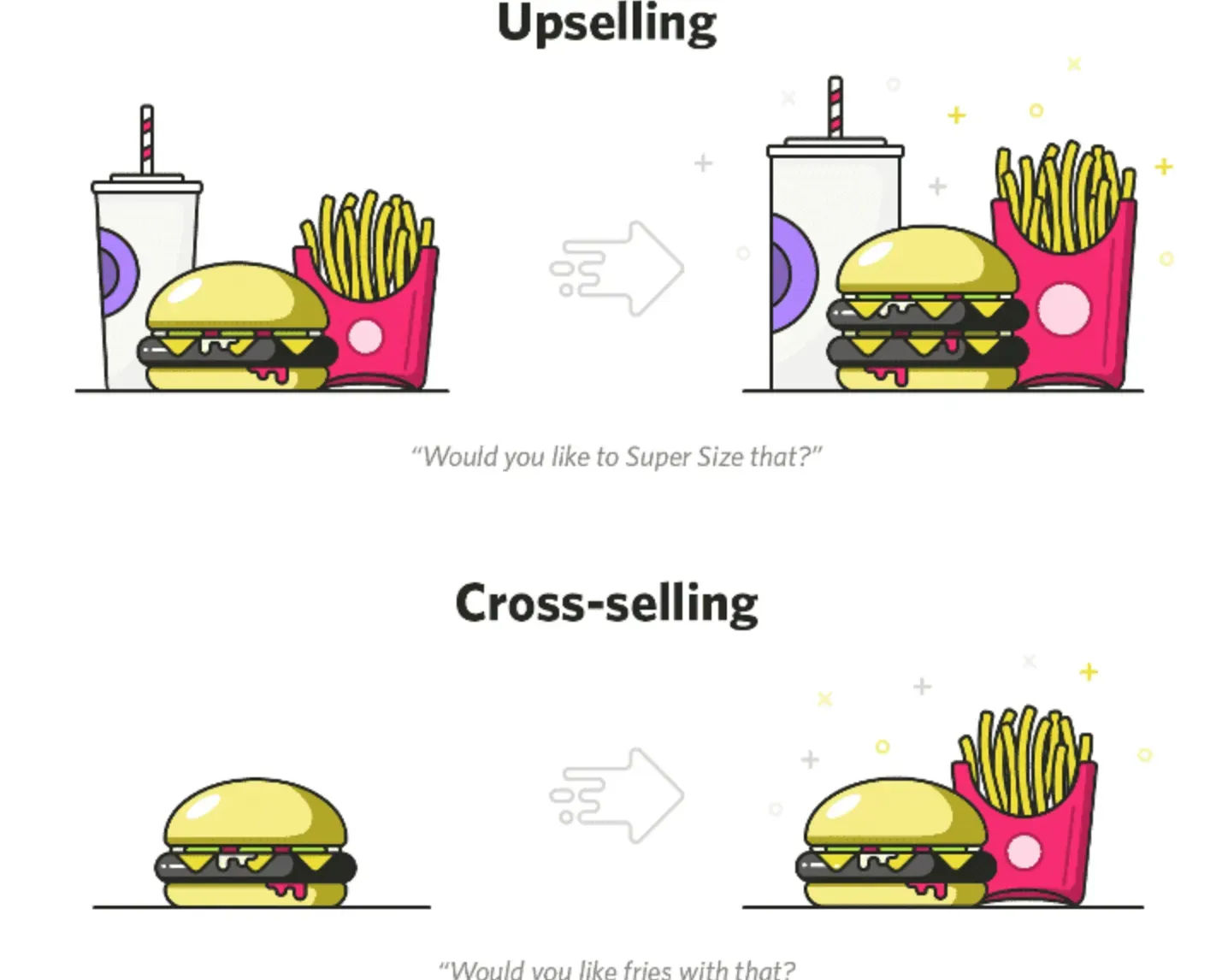 Upselling is when a business encourages a customer to purchase a more expensive, upgraded, or premium version of the item they're planning to buy. It's about maximizing the value of a customer's spending by enhancing the product or service they're already interested in.
On the other hand, Cross-selling invites customers to buy related or complementary items. This could be suggesting accessories for a smartphone you're buying or proposing fries with your burger. The key is that these items work in tandem, enhancing the overall user experience.
The Goals of Upselling and Cross-selling
Upselling typically seeks to increase the size of the customer's order, essentially aiming to make them spend more money on a single category of product or service.
In contrast, cross-selling seeks to expand the customer's order by adding more arrays or angles to it. Both strategies aim to increase the total sales, but they approach it from different directions.
The Timing Considerations
Upselling usually happens when a customer is considering a purchase, and you present them with a superior alternative.
Cross-selling, however, can happen before, during, or even after the original sale. It's about looking at the bigger picture of a customer's needs and meeting them across different categories.
Real-Life Applications
Imagine thinking about buying a basic mobile phone. Upselling would be if the salesperson convinced you to buy the latest model with better features.
Cross-selling, on the other hand, is when the salesperson suggests a phone cover, earphones, or extra warranty to go with your chosen phone, adding extra facets to your purchase.
Benefits of Both Strategies
While both tactics boost sales, they also significantly affect customer satisfaction. Upselling offers the customer a premium experience, while cross-selling ensures they have everything they might need or want as part of their purchase.
Effectively implemented, both strategies can lead to increased customer loyalty and repeat business.
Frequently Asked Questions (FAQs)
What is upselling and how does it work?
Upselling is a sales technique where businesses recommend higher-priced or upgraded products or services to customers during the shopping experience. It works by offering additional value and benefits that match customer needs.
What are the benefits of upselling?
Upselling benefits both businesses and customers by increasing revenue, improving customer loyalty, and providing better shopping experiences. For businesses, it helps increase profit margins and customer lifetime value, while customers can enjoy higher-quality options and personalized recommendations.
How can businesses successfully implement upselling strategies?
To implement successful upselling strategies, businesses should understand customer needs, provide helpful recommendations, offer one-time discounts, create urgency, and provide social proof. Additionally, identifying the right timing and place to suggest upsell opportunities is crucial for success.
How is upselling different from cross-selling?
Upselling encourages customers to upgrade or choose a higher-priced option, while cross-selling suggests complementary or related products. Upselling is focused on increasing the purchase value, while cross-selling aims to enhance the customer's purchase.
What are some famous upselling techniques used by renowned brands?
Renowned brands, such as Apple, Amazon, and McDonald's, employ successful upselling techniques. For example, Apple offers customers the option to upgrade to higher-capacity iPhones, Amazon suggests related products based on purchase history, and McDonald's asks customers if they want to "make it a meal" or add extra toppings.