Chatbots were once just a cute gimmick with no real use, but they are now indispensable tools in the business world. Of course, creating and maintaining a chatbot is time-consuming and expensive.
What could be causing this sudden increase in chatbots? Why are they gaining popularity?
According to an online survey, 44% of US consumers prefer chatbots to humans for customer service.
35% of consumers want more businesses to use chatbots to improve communication and provide a better experience.
All customer communications from your brand, whether for sales, support, or marketing, must be prompt and efficient. High levels of customer retention and satisfaction must be made sure.
AI chatbots can significantly improve customer service and provide a professional, standardized, branded, and automated approach.
The main benefits of chatbots for both businesses and customers are explained in this article.
Discover the whole story before deciding whether a bot is a wise investment for your business.
What are AI Customer Service Chatbots?
Artificial intelligence (AI) chatbots are virtual assistants that simulate human-like conversations with their users.
Chatbots utilize machine learning (ML), natural language processing (NLP), and artificial intelligence (AI) to carry out their tasks.
An AI chatbot can understand customer language and provide interactive responses to customer questions in real-time.
As they are exposed to more conversation, their responses improve over time, enhancing the user experience.
Top 7 amazing Chatbot benefits for your business
The following are some benefits of AI chatbots:
1. Enhances Customer Engagement and Sales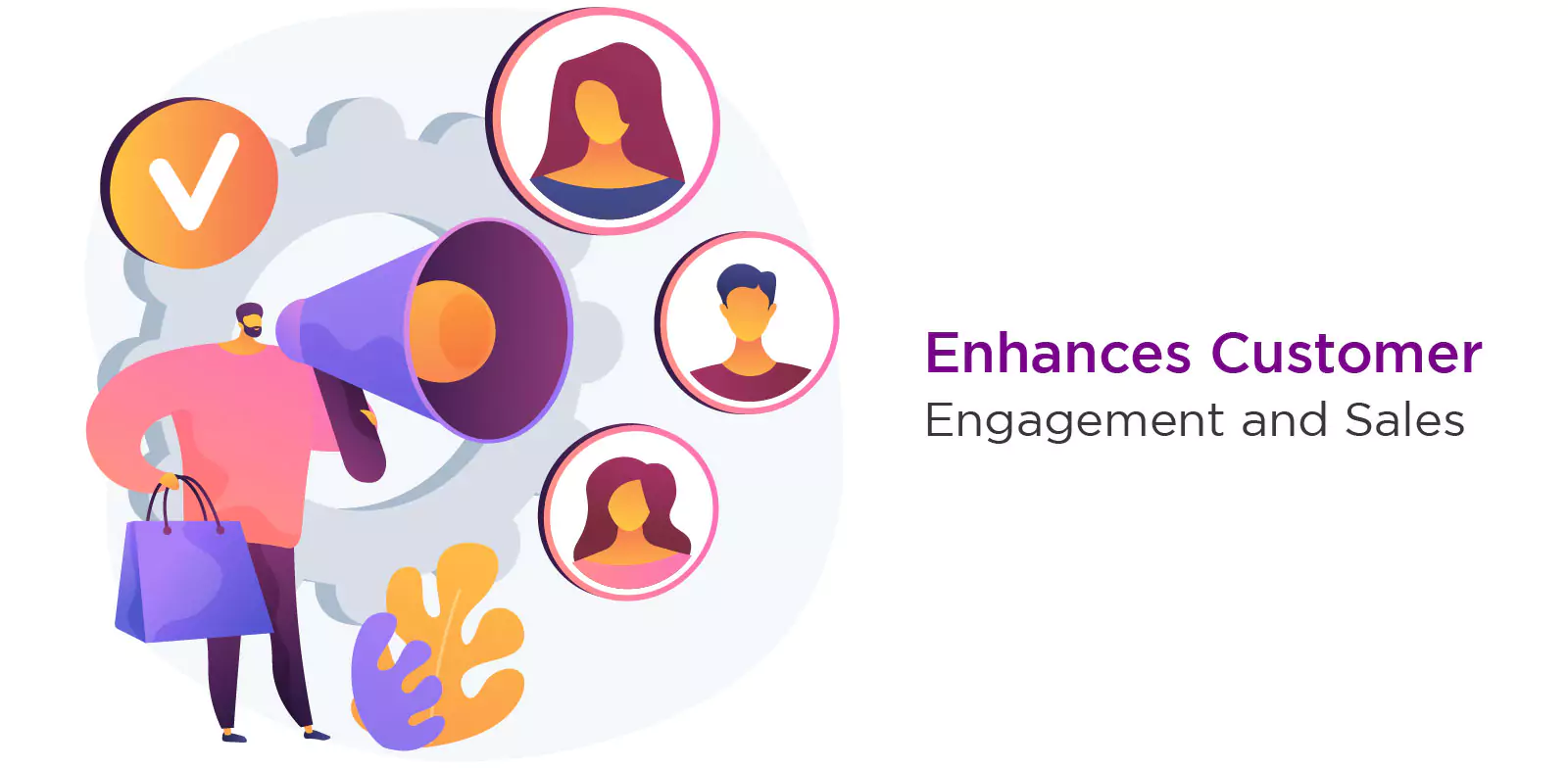 Businesses can increase customer engagement by using chatbots.
Engagement can be driven based on user data and made more interactive using conversational AI chatbots.
Additionally, customers are prone to spend more time on your website and continue the conversation if they receive pertinent and prompt responses.
2. Round-the-Clock Support
The 2018 State of Chatbots Report claims that "24-hour service" was ranked as the top perk of chatbots by 64% of respondents, followed by "instant response" by 55% of respondents.
Customer satisfaction is, as we all know, the key to success.
Having customer service available around-the-clock with prompt responses, whether your company operates locally or globally, significantly impacts your customers' satisfaction and propensity to purchase.
As chatbots are essentially virtual robots, they never get bored and keep executing your orders. They won't need a break; they'll keep working every day of the year.
This raises your customer satisfaction rating and elevates your position in your industry.
3. Low Maintenance Costs
If you run a business, you almost certainly employ a large number of people who must be paid for their work.
Furthermore, as the company expands, these costs keep on rising. Chatbots are a one-time investment that allows businesses to employ less staff overall.
When considered as a whole, chatbots' potential for cost savings makes them an alluring addition to any business.
Additionally, chatbots typically do not have any additional costs after the initial implementation cost, security upkeep, performance updates, and bug fixes.
4. Helps you Save Time
Chatbots empower businesses and save time by responding to simple questions, which is one of their main advantages.
Only the more complicated questions that require human input are sent to the support team executives.
5. Improved Lead Generation, Qualification & Nurturing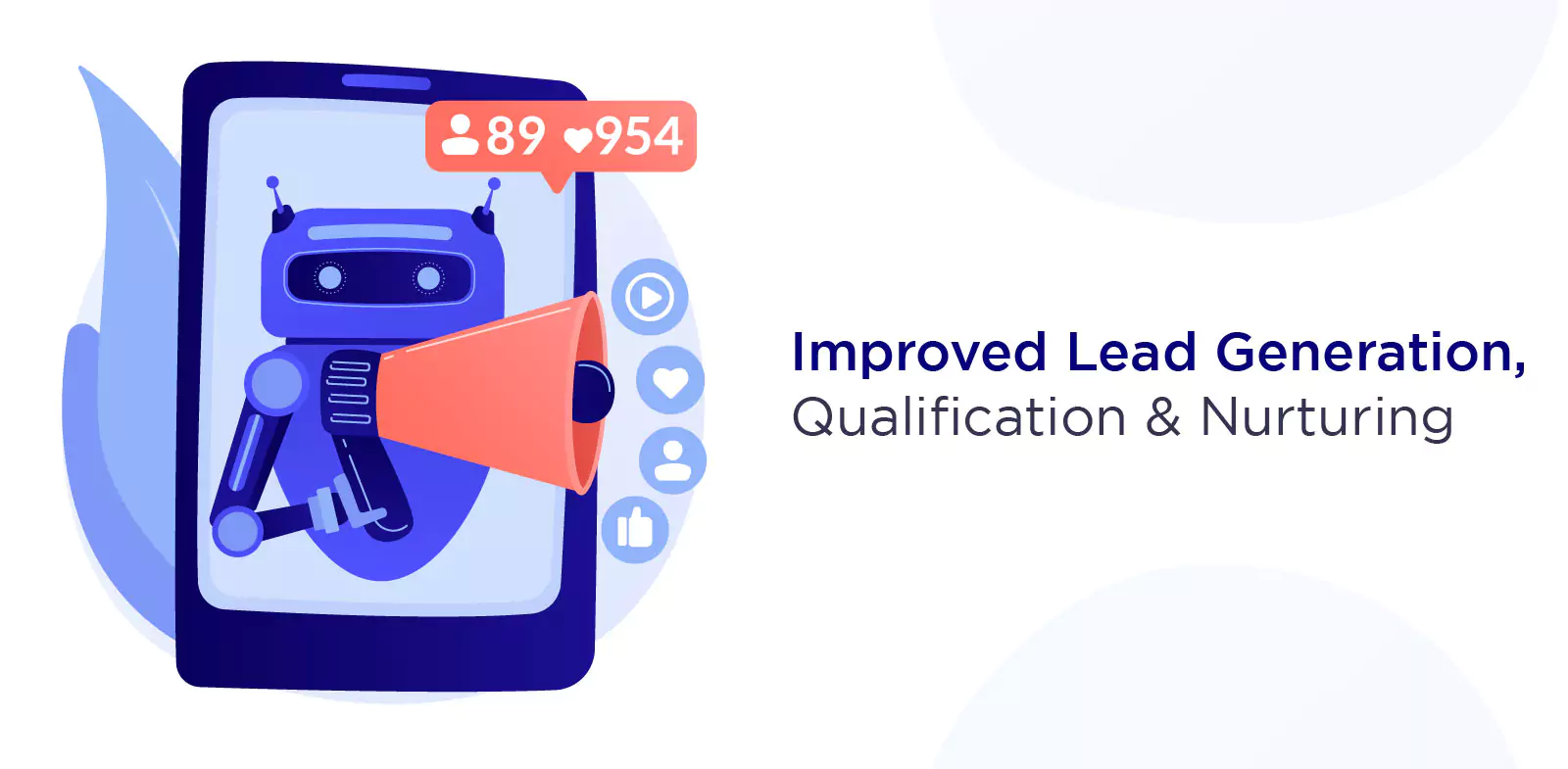 A chatbot is equipped to persuade customers and quickly generate leads by asking pertinent and necessary questions.
To achieve higher conversion rates, it ensures that the conversation flows in the right direction.
Chatbots can not only generate leads, but they can also help you qualify leads using predetermined KPIs, such as timeline, budget, relevance, resources, and more, saving you time by avoiding time-consuming leads.
Conclusion
Chatbots are not sector-specific and can be used in a variety of verticals.
Chatbots not only enable cost-savings but also guarantee a superior customer experience that distinguishes your company from the competition.
There are undoubtedly numerous situations and business procedures where bots can be helpful.
Users are switching from complicated websites and apps with structured menus to a command-line interface that is more user-friendly and customizable, thanks to chatbots!
There is no market where this type of advertising and marketing would not be successful. You must give it a try!
If you want to create a chatbot that can increase customer engagement, save money, and automate customer service operations, you should look into BotPenguin.
Contact us today!