Have you ever considered starting a successful chatbot reselling company but are unsure how to get started? You're not by yourself.
Many prospective entrepreneurs are eager to capitalize on the growing demand for conversational AI solutions.
However, without the proper advice and tools, the road to success can be difficult to navigate. How can you attract clients while also providing true value?
Learn how to use the power of BotPenguin to become a chatbot resale rockstar in this article.
You can establish a very successful chatbot empire and become a leader in this expanding sector with the correct strategy and partners.
Let's get started!
Who can Benefit from BotPenguin's Chatbot Reseller Program?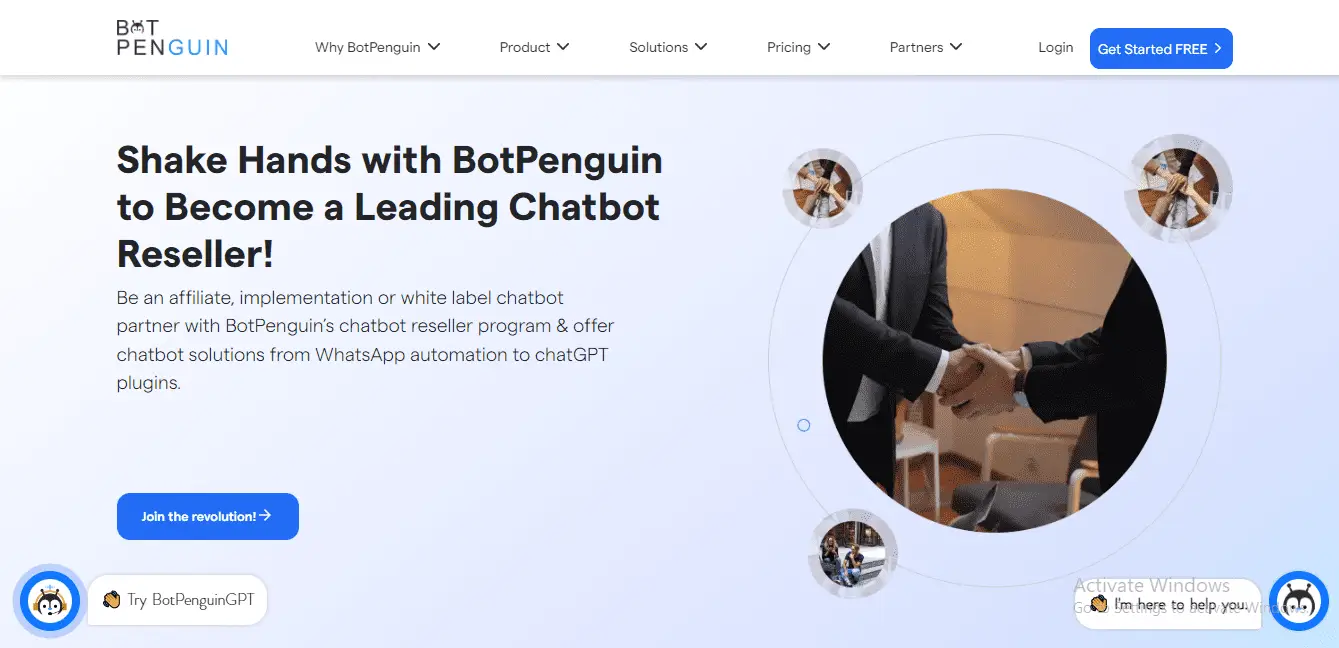 BotPenguin's reseller program caters to various individuals, agencies, and businesses. You can benefit from reselling chatbots in several ways. Here's how:
Individuals
Freelancers and entrepreneurs seeking additional revenue streams can leverage BotPenguin's reseller program. Chatbot enthusiasts and experts can showcase their skills by offering customized chatbot solutions to clients.
Agencies
Marketing agencies can expand their service offerings by including chatbot solutions. Web development agencies can enhance their websites with chatbot integration and provide additional value to their clients.
Businesses
Chatbots can be resold to clients by small and medium-sized businesses, providing them with an innovative customer care solution. Chatbots can help e-commerce enterprises optimize their sales processes and increase client engagement.
Why Choose BotPenguin's Reseller Program?
BotPenguin's reseller program stands out from the competition due to its exceptional product features, comprehensive support, and lucrative revenue opportunities.
Product Features and Benefits
Advanced Chatbot Technology: BotPenguin's chatbot platform boasts cutting-edge features and capabilities.



With natural language processing (NLP), sentiment analysis, and machine learning, chatbots offer intelligent and personalized user interactions. This technology ensures your clients receive top-notch chatbot solutions that enhance customer experience.




Customization and Branding: As a reseller, you can customize chatbots according to your clients' needs.



White-labeling options allow you to present the chatbots as your own, reinforcing your brand identity and establishing a strong market presence.





Multi-Channel Integration: BotPenguin's chatbots

seamlessly integrate with various communication channels

, including websites, social media platforms, and messaging apps. The magic number is 60+.




Analytics and Reporting: BotPenguin's platform provides robust analytics and reporting features.



This helps optimize the chatbots' effectiveness and improve customer satisfaction.
Support and Training
Dedicated Account Manager: When you join BotPenguin's reseller program, you're assigned a dedicated account manager.


Onboarding and Training: BotPenguin offers a streamlined onboarding process for resellers.
Pricing and Revenue Model
Competitive Pricing Structure: BotPenguin's reseller program provides a competitive price structure to help you maximize your income.



You may attract more clients while maintaining a healthy profit margin for your business by reselling chatbots at a fair price.




Lucrative Revenue Opportunities: With BotPenguin's reseller program, you can enjoy lucrative revenue opportunities.



Reselling chatbots provides a sustainable income stream and the flexibility to grow your business at your own pace.
To sum up, with BotPenguin you get to become a leading Chatbot Reseller! Be an affiliate, implementation, or white-label chatbot partner with BotPenguin's chatbot reseller program & offer chatbot solutions from WhatsApp automation to chatGPT plugins:
How to Get Started with BotPenguin's Chatbot Reseller Program?
Are you seeking an exciting opportunity to earn extra income by reselling chatbots? Look no further than BotPenguin's Chatbot Reseller Program!
Here's a step-by-step guide to get started:
Registration Process
Visit the BotPenguin website and navigate to the

Chatbot Reseller Program page

.

Click on the "Join Now" button to begin the registration process.

Fill in your personal information on the registration form, such as your name, email address, and contact information.

Provide any necessary business details, such as your company name and website (if applicable).

Submit the form and wait for a confirmation email from BotPenguin.
Requirements
Joining our reseller program can be done without any specific qualifications or certifications. We welcome individuals with a passion for chatbots and a desire to generate additional income. Whether a freelancer, agency owner, or entrepreneur, you can become a reseller with BotPenguin.
Resources and Tools for Resellers
When you become a reseller, you receive access to a wealth of resources and tools that can assist you in reselling chatbots:
Chatbot Creation Platform
As a reseller, you can access BotPenguin's powerful chatbot creation platform. Chatbots can be customized to e-commerce, healthcare, real estate, and others.
White-Label Solution
With BotPenguin's white-label solution, you can brand the chatbots you create as your own. This helps you establish your reseller business and maintain a professional image with your clients. The chatbots will carry your branding elements, including your logo and company name.
Marketing and Sales Collateral
To support your reselling efforts, BotPenguin provides you with marketing and sales collateral. These tools include brochures, presentations, and case studies that you can use to illustrate to potential clients the benefits of chatbots.
Dedicated Support
We understand that starting a reseller business may come with questions and challenges. As a result, we provide dedicated support to our dealers. Our experts can help you with technical challenges, sales techniques, and making the most of the program.
Conclusion
BotPenguin's Chatbot Reseller Programme provides an excellent chance for individuals and organizations to supplement their income by reselling chatbots.
With a straightforward registration process, access to powerful resources and tools, and inspiring success stories, you can confidently embark on your journey as a chatbot reseller.
If you're looking for a profitable and rewarding business opportunity, then BotPenguin's chatbot reseller program is a great option. With BotPenguin's help, you can tap into the growing chatbot market and earn a significant income.
Join BotPenguin's reseller program today and unlock the potential of chatbots for your clients and your business.