Are you ready to take your Squarespace game to the next level?
Picture this: boosting user engagement by a whopping 70%, increasing customer satisfaction to sky-high levels, and turning curious visitors into loyal fans with just a few lines of code. How, you ask? The answer lies in the magic of top-notch Squarespace chatbot builders! These digital assistants are not just cool gimmicks; they mean serious business.
Studies by Drift show that websites equipped with chatbots witness a jaw-dropping 80% increase in leads!
So, let's dive into seamless communication and explore the crème de la crème of Squarespace chatbot builders that'll level up your website's game!
Understanding Chatbot Builders for Squarespace
Chatbot builders tailored for Squarespace offer a dynamic and engaging way to enhance user experiences on your website. These specialized tools empower website owners to create, customize, and implement chatbots seamlessly within the Squarespace framework.
Chatbot builders designed for Squarespace offer seamless integration and a user-friendly interface, allowing you to create and customize chatbots without coding.
These builders empower you to automate responses, deliver dynamic content, and engage visitors effectively.
With features like lead generation and 24/7 availability, chatbot builders enhance user experiences and streamline interactions on your Squarespace website.
Benefits of Using a Chatbot Builder on Squarespace
Integrating chatbot builders into your Squarespace website can revolutionize user interactions and streamline various aspects of your online presence.
These powerful tools offer a range of benefits that enhance user engagement, automate tasks, and provide personalized experiences.
Let's delve into the key advantages of incorporating a chatbot builder on your Squarespace website:
Supercharge Your Customer Support
Say goodbye to long response times and hello to instant gratification! With a chatbot, you can provide real-time support to your visitors, answering their burning questions and concerns faster than ever.
Studies show that 64% of users believe chatbots offer better customer service, and we can't argue with that logic!
Boost User Engagement
Imagine your website coming alive with a chatty companion that engages visitors and keeps them hooked. Well, that's precisely what a chatbot does!
By providing interactive and personalized experiences, chatbots can increase user engagement by a staggering 70%. That's some serious user magnetism!
Who Can Benefit from Squarespace Chatbot Builders?
Squarespace chatbot builders can benefit a wide range of individuals and businesses. Here are some key groups that can reap the advantages of using chatbot builders on Squarespace:
E-commerce Websites
Running an online store on Squarespace? A chatbot can be your 24/7 salesperson, showcasing products, answering customer queries, and sealing the deal like a pro.
Small Businesses and Startups
As a small business owner or startup entrepreneur, time is precious. A chatbot can handle basic customer inquiries, freeing you up to focus on growing your empire.
Bloggers and Content Creators
Writers, rejoice! A chatbot can be a friendly content guide, helping readers discover relevant blog posts and keeping them engaged with your awesome content.
Service-Based Websites
Whether you offer consulting, coaching, or any service under the sun, a chatbot can be potential clients' first point of contact, giving them the necessary information and scheduling appointments.
Top Squarespace Chatbot Builders in the Market
Incorporating chatbot builders tailored for Squarespace can greatly enhance user experiences and streamline communication.
Let's explore some noteworthy options and their features, advantages, and potential limitations.
BotPenguin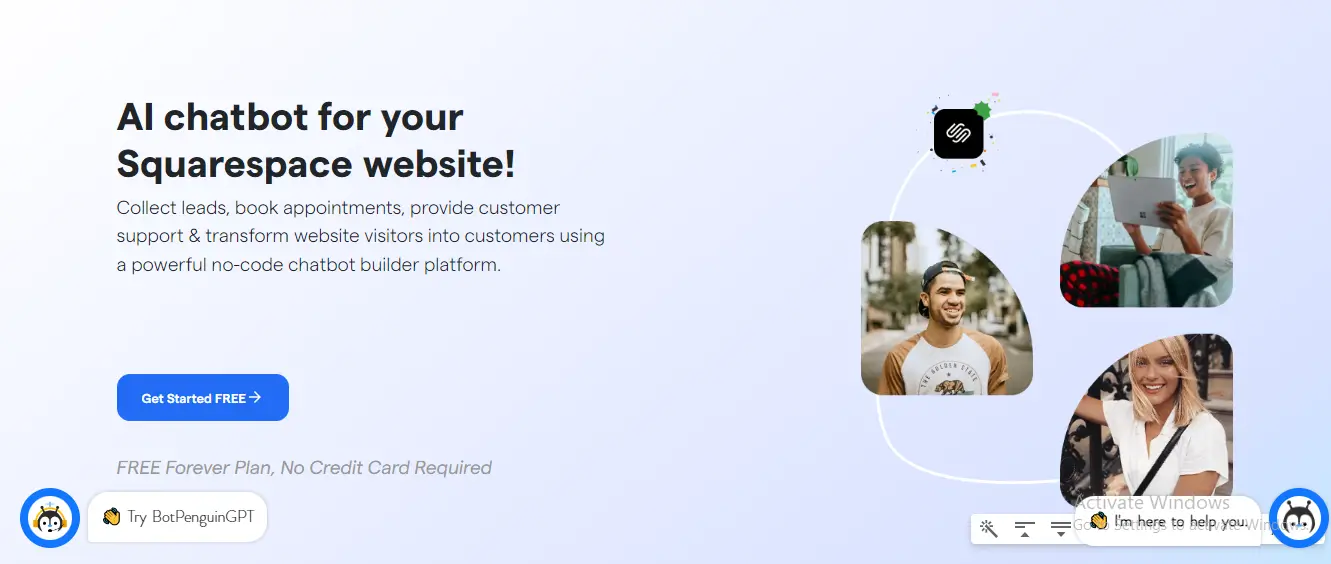 BotPenguin is a versatile chatbot builder known for its simplicity and effectiveness. It offers a wide range of customization options, interactive features, and multilingual support.
Features:
Intuitive Design with User-Friendly Interface

Customizable Chatbot Avatars for Brand Alignment

Multilingual Support for Global Audiences
Pros:
Seamless Integration with Squarespace Websites

Automated Lead Generation and Interactive Conversations

AI-Powered Responses for Enhanced User Engagement
Cons:
Certain Advanced Features May Require Learning Curve

Continuous Learning for Improved Responses
ChatterPal
ChatterPal offers interactive templates for quick chatbot setup and compatibility across multiple platforms. It focuses on engaging avatars to add personality to your conversations.
Features:
Interactive Templates for Quick Setup

Multi-Platform Compatibility for Wider Reach

Customizable Chatbot Avatars for Added Personality
Pros:
Seamless Integration with Squarespace Websites

Automated Lead Generation and Qualification

Engaging GIF and Image Support for Rich Conversations
Cons:
Advanced Features May Require Technical Know-How

Some Limitations on Complex Conversation Flows

Limited Human Handover Options
SmartBot
SmartBot emphasizes AI-enhanced natural language understanding, allowing for efficient user interactions and proactive engagement. It excels in managing conversation history and user data.
Features:
AI-Enhanced Natural Language Understanding

Conversation History and User Data Management

Smart Triggers for Proactive Customer Engagement
Pros:
User-Friendly Interface with No Coding Required

Seamless Integration with E-commerce Platforms

Continuous Learning for Improved Responses
Cons:
Limited Customization Options for Advanced Users

May Have Constraints on Complex Workflows

Higher Costs for Extensive Usage
How to Integrate a Chatbot on Squarespace?
Enhancing your Squarespace website with a chatbot brings visitors a new level of interaction and convenience.
With the right guidance, integrating a chatbot can be a straightforward process.
Here's a step-by-step guide to seamlessly integrate a chatbot and amplify user engagement on your Squarespace platform:
Choose Your Chatbot Builder
Before we dive in, pick the perfect chatbot builder like Botpenguin that aligns with your website's needs and personality. Remember, a great chatbot builder like Botpenguin will make the integration process a breeze!
And opting for BotPenguin is a real gold rush of features. From automating the lead generation process to customer support automation, BotPenguin's Chatbots has too much to offer:
Sign Up and Create Your Chatbot
Once you've selected your chatbot builder, sign up for an account and get creative! Customize your chatbot's appearance, personality, and responses to match your brand. Pro tip: A dash of humor goes a long way in winning hearts!
Obtain API Key
To connect your chatbot to Squarespace, you'll need an API key. Fear not; it's more manageable than it sounds. Just follow your chatbot builder's instructions to generate the API key.
Access Squarespace Developer Mode
Before proceeding, make sure you're in Squarespace Developer Mode. Don't worry; it's just a few clicks away. Head to your Squarespace dashboard, navigate to Settings > Advanced > Developer Mode and enable it.
Embed the Chatbot Code
This is the moment of truth! Grab the code provided by your chatbot builder and paste it into your Squarespace website's header or footer. Voila! Your chatbot is now part of the family.
Test and Tweak
The fun part begins! Test your chatbot's responses to ensure everything is running smoothly. Tweak any responses that may need a little human touch. Remember, continuous improvement is the key!
Conclusion
And there you have it, chatbot enthusiasts! We've taken a delightful journey through the captivating world of Squarespace chatbot builders, exploring how these virtual companions can work wonders for your website.
With the power of chatbots, you can boost user engagement, supercharge customer support, and skyrocket conversions like never before.
Remember to choose the chatbot builder that fits your needs like a glove and unleash its potential on your Squarespace site!
Make user experience a top priority with personalized greetings, snappy responses, and a touch of humor to win hearts.
Now, it's time to unleash your creativity and infuse your chatbot with personality and charm.
So go ahead, dive into the world of Squarespace chatbot builders, and watch your website soar to new heights of success!
Witness the transformation of your Squarespace website into a dynamic hub of engagement with BotPenguin.
Let your chatbot companion welcome, assist, and captivate your visitors, making every interaction a delightful journey.
Experience the synergy of innovation and warmth – your users will thank you, and your website will thrive like never before.
Try BotPenguin now and embark on a new era of user-centric communication excellence.