Do you know that 9,000 worldwide professionals from nine countries who work for top technology company Intuit frequently use Slack and Slack chatbots? The preferred communication method for remote and in-office teams is becoming services like Slack. There are methods to improve your Slack experience because primary Slack channels can only do so much. In addition to the more than 1,500 applications in Slack's directory, integration relationships with businesses, and its 10+ million daily active users, Slack is where more work gets done worldwide.
Sixty-five of the Fortune 100 utilize Slack to assist teams at scale, and since last year, we've increased our influence in these companies by adding 100's 1000 additional users to them. Over the previous year, more than 85,000 paid clients globally, a growth of more than 50%. Organizations with tens of thousands of members and those with tens of thousands are among them.
Slack Chatbots: What are they?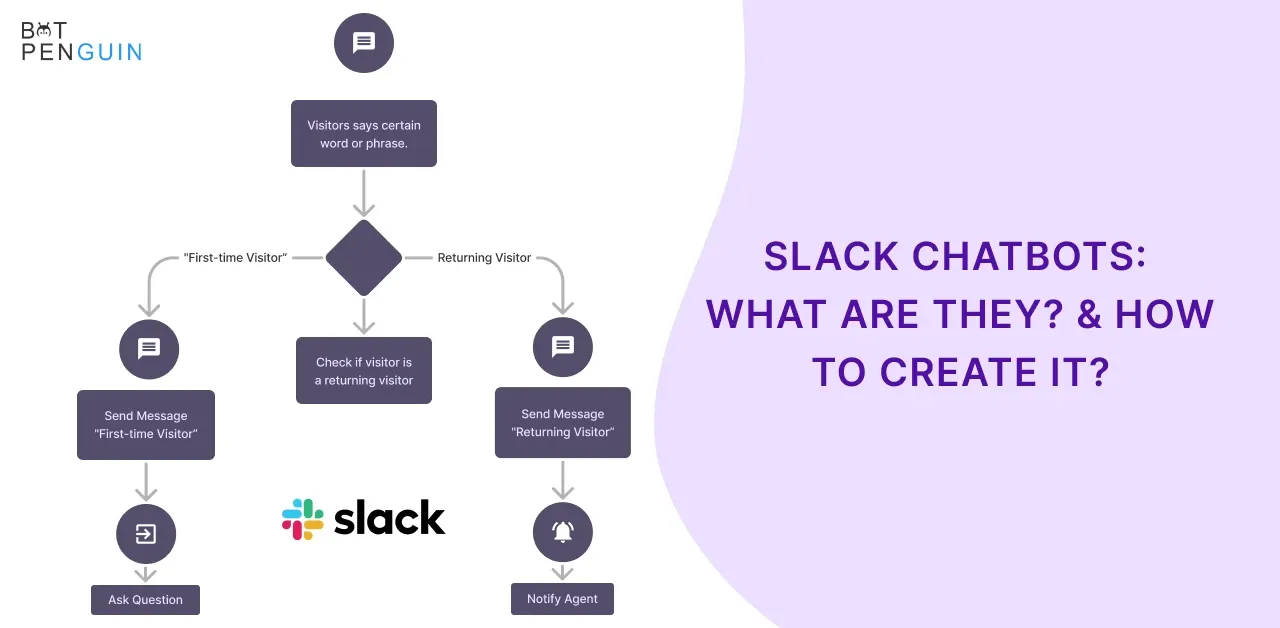 Slack is a cutting-edge chat and communication solution for the workplace that facilitates instant connections and collaboration. Additionally, it acts as a platform for user interaction with external applications, facilitating speedy task completion for all teams.
Having a chatbot on Slack makes it simple for businesses to automate user interactions and workflows that assist and provide several benefits. Slack is a trendy communication hub. Companies are beginning to use Slack bots to automate HR assistance and IT helpdesk tasks. Their use is growing in other departments like finance and facilities—making a Slack chatbot more alluring because it does not require human intervention and can support users independently. Additionally, you may automate app workflows from your Slack chatbot by utilizing no-code platforms. It implies that Slack Chabot can automate workflows and interactions, which makes it a very appealing option for delivering automated customer and staff care.
Top 6 Benefits of the Slack ChatBots at the Workplace Using Workativ Assistant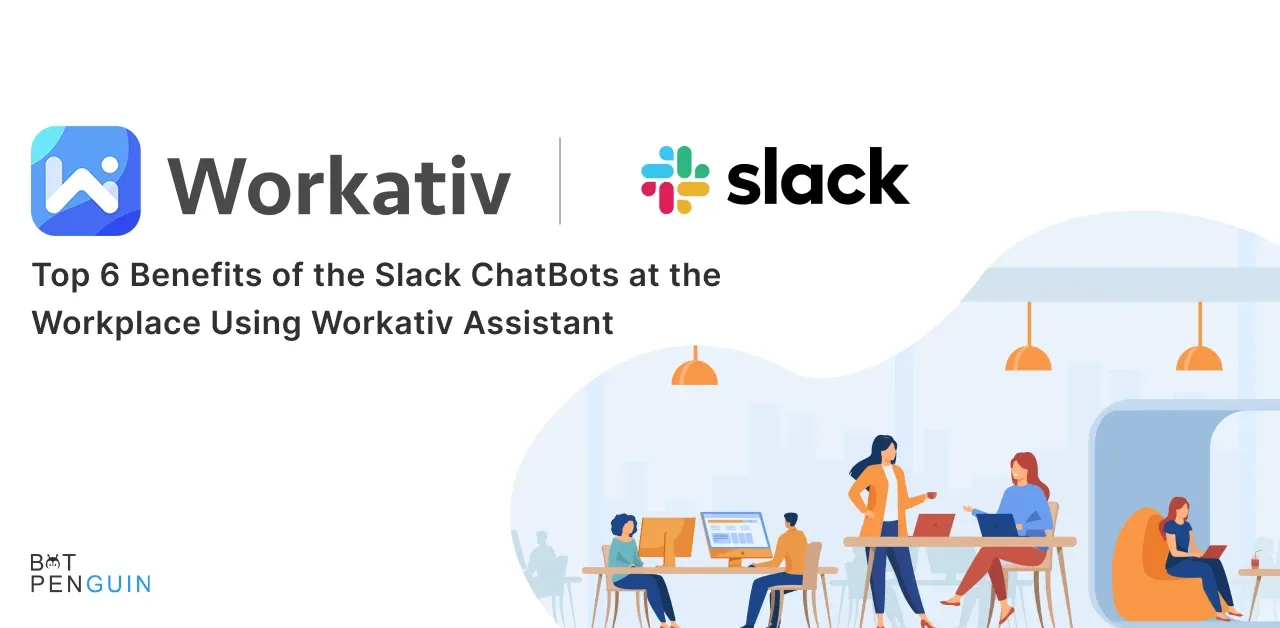 Improve self-service for your staff
Your staff may self-resolve difficulties by employing a bot created with Workativ Assistant that is deployed in the Slack channel for reporting IT problems.
Constant accessibility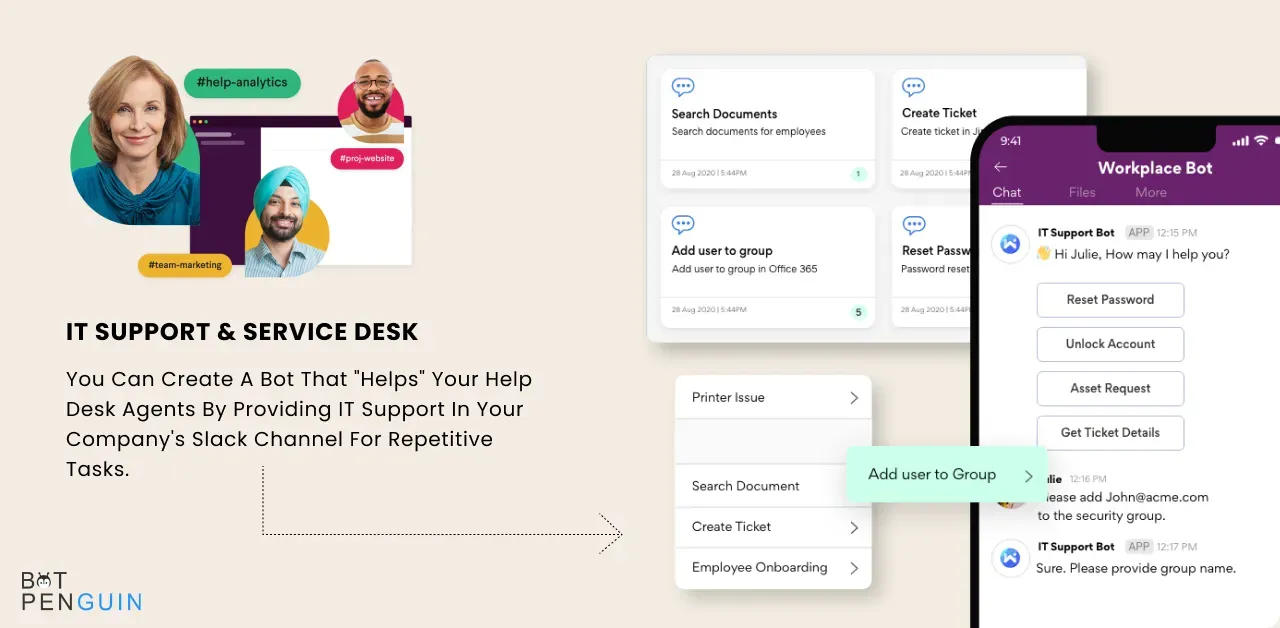 Agents at the help desk cannot be available to address employees' problems around the clock. They are also human, after all. Like the rest of us, they require plenty of sleep. You can create a bot that "helps" your help desk agents by providing IT support in your company's slack channel for repetitive tasks. These may include password resets, account unlocks, etc., and training the bot to solve issues based on solutions previously provided for related topics by a help desk agent. It eliminates the inconvenience of standing in large lines for services and enables workers to resolve issues as they arise rapidly.
Call rerouting
By allowing workers to use a bot in your company's support Slack channel to handle their IT issues, you may avoid the bottleneck caused by a single help desk staff member having to take a high volume of calls. Employee self-service through the bot also eliminates the requirement for help desk representatives to give in-person assistance.
Comprehensive
It might be annoying to constantly add the slack version of your company's apps from the Slack app directory. Instead of integrating applications from the Slack App Directory, you may link your company's apps with Workativ Assistant and automate tasks for those apps. Both your IT administrators and your staff will benefit from this.
Effective and contented workers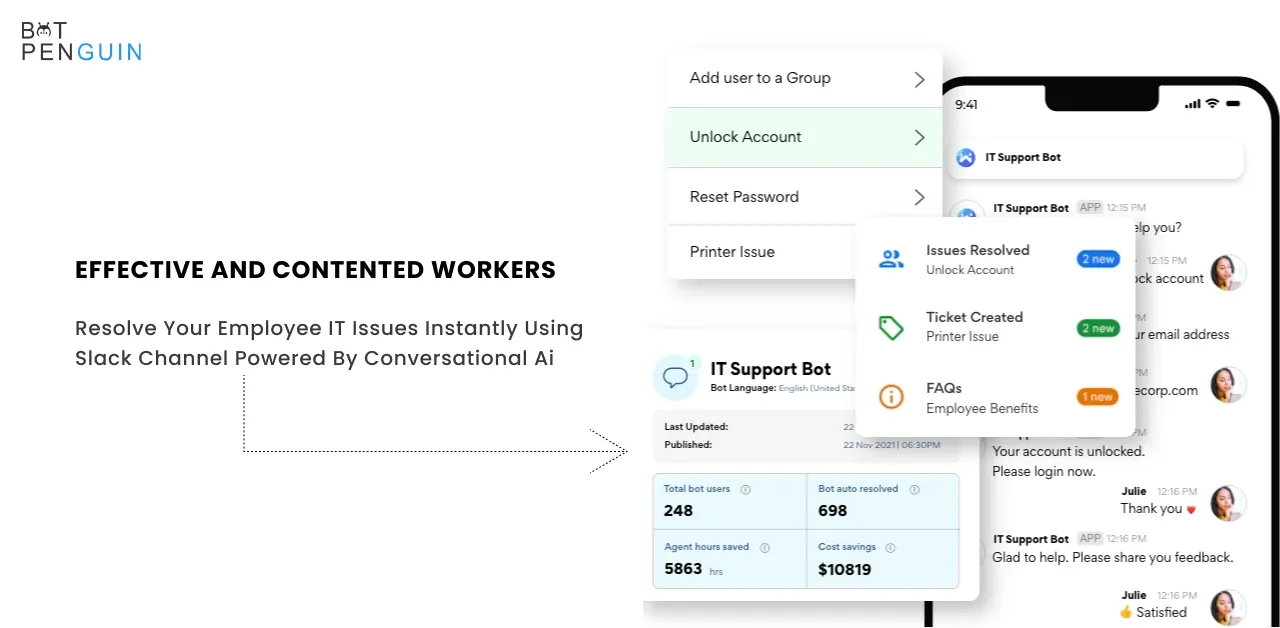 When you give your staff the ability to use a bot to handle their IT issues in a Slack channel, they are more likely to find a quick solution and get back to work. It removes the frustrating process of sending many emails, redirected to various SMEs, etc., to fix an IT issue for employees. Employee self-service enables help desk representatives to concentrate on handling the most urgent IT issues.
Cost-cutting
By eliminating the overheads associated with recurring requests and deploying a bot in a Slack channel, you may watch your help desk costs drop precipitously right away. The monthly flat rate for creating and utilizing a Slack bot with Workativ is $299. In contrast, using a live agent requires a 10x cost reduction.
Top 8 Amazing Slack Chatbots 2023
askSpoke
Trello
Task Reminder
Spacetime
AttendanceBot
GrowthBot
Giphy
Birthday Bot
Slack Chatbots: AskSpoke
Consider adding askSpoke to your Slack channel if you're sick of repeatedly responding to the same queries. This Slack bot functions as both a ticketing desk and a chatbot. The bot automatically answers common questions with concise responses, while more challenging inquiries are queued up for human reactions from you. There is some setup required because you must first add resources to askSpoke. AskSpoke is not free; payment for each employee starts at $4 per month. However, once stored, these frequent queries may be resolved without involving a human, saving time and money.
Slack Chatbots: Trello
Trello organizes information and tasks using boards so you can manage any project and know what is being accomplished. Managing cards on your boards, changing due dates, and attaching discussions to cards is simple using the Trello app for Slack - all from within Slack. You may attach panels to channels after the Trello software is installed in your workplace and your account is connected. You can add new cards to a commission from a channel if at least one panel has been linked to it.
Slack Chatbots: Task reminder
To help you remember to do particular chores, set reminders in Slack. Use the attachments and shortcuts menu to establish reminders for you, someone else, or a whole channel. You may also set up recurring reminders for particular messages you want.
Slack Chatbots: Spacetime
To make it simpler for remote teams like ours at Planetary to communicate with one another, we designed Spacetime. We also brought in weather data to offer us another topic to discuss at the virtual water cooler since we want to foster empathy and openness across the distance that divides us. Spacetime currently has a web interface and a Slack bot. We'll develop the product in the upcoming months to provide new functionalities, such as more precise availability scheduling and more choices for filtering and combining big teams.
Slack Chatbots: AttendanceBot
The all-in-one Slack solution for vacation time, time tracking, office booking, shift planning, availability, and hybrid work is called AttendanceBot. Scheduling Leave, Absence, and Time Off. The daily time monitoring function of AttendanceBot is the easiest yet most effective method to utilize. Establish a schedule so staff may sign in and out at the start of each shift. The AttendanceBot conversation is used to transmit "in" and "out," which automatically records the time spent at work.
Slack Chatbots: GrowthBot
All teams must grow to succeed. For instance, if marketing asks the bot how many site visits it received today, it will proactively gather information and show it. For seamless analysis, combine data from Google Analytics, MailChimp, and other sources. You don't need to complete a detailed report because the bot responds to queries you ask directly. Answer questions for your coworkers without initiating a video conversation to discuss. Without having to leave Slack, you can pull data.
Slack Chatbots: Giphy
Everyone loves a nice GIF. Drop a humorous GIF on your team's channel to celebrate a victory or let everyone know that bagels are in the kitchen. You may give the bot a message with the GIF topic you want to send, and it will take care of the rest. With Giphy, you can easily demonstrate your sense of humor and establish new connections with your team.
Slack Chatbots: Birthday bot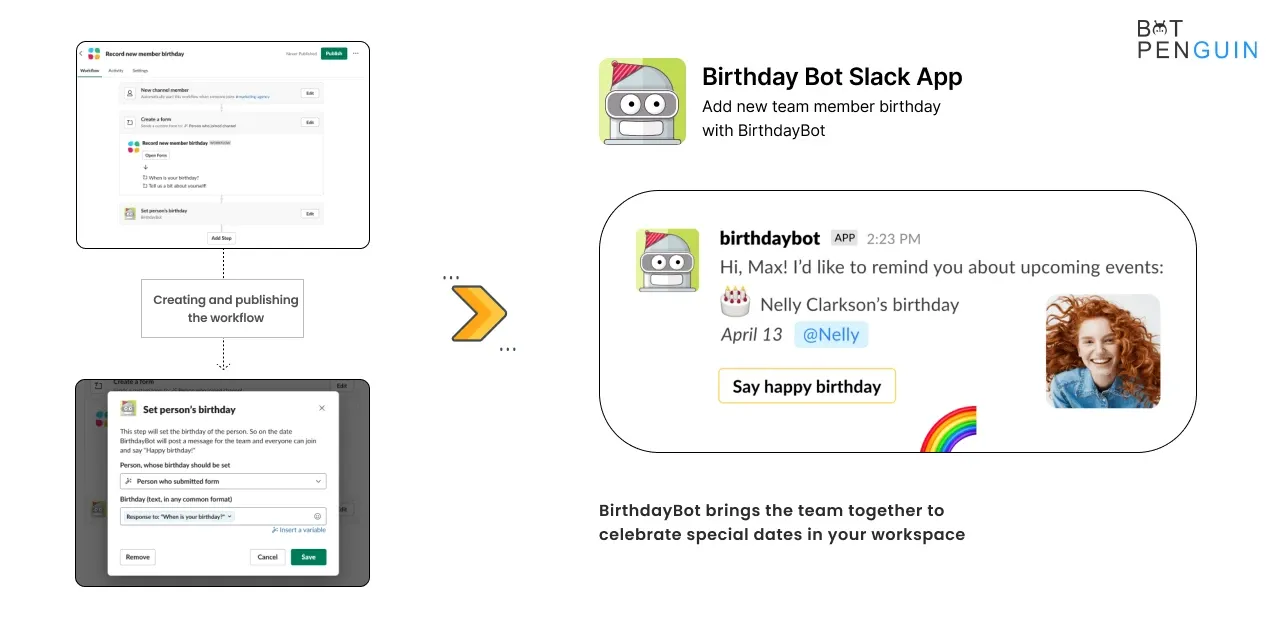 BirthdayBot allows users to share wishlists, which helps users choose the finest presents and enables managers to deliver birthday gift cards to staff members automatically. You may set clues for future birthdays because it is adjustable. You may instruct BirthdayBot to start a party in specific channels on an auspicious day.BirthdayBot offers a 14-day free trial before monthly prices for each user begin at $0.75.
Conclusion
You must realize that Slack is one of the leading business-level communication technologies for facilitating dialogue between the chatbot and users you have concluded. It has been shown that 70% of users prefer to report support concerns via Slack. While social contact is excellent, utilizing a chatbot in Slack may significantly improve workplace help by automating social interactions and tasks.
Here we have discussed its benefits: Improved self-service for your staff, Constant accessibility, Call rerouting, Comprehensive and many more, and the top 8 amazing slack chatbots of 2023. Such as spoke, Trello, Task reminder, and many more. I hope you like to read our blogs.
Sign Up On BotPenguin. It's free!