The demand for the WhatsApp Business API and WhatsApp bots has skyrocketed as more and more companies recognize the potential of WhatsApp for businesses to improve their customer service.
There's no way you haven't heard of WhatsApp bots by now, what with the app's meteoric rise in popularity among businesses.
The market is currently dominated by several chatbot providers who have made it painless for businesses to offer chatbot help on the most popular messaging platform, WhatsApp.
These tools allow you to create WhatsApp bots with minimal or no coding, giving your team a powerful new ally in the fight against customer service tickets.
If you haven't heard about WhatsApp bots, though, I'd want to share some information about them and some ideas for how you may use them.
‍Chatbots on WhatsApp, Aren't humans chatty enough?
You may ask, "Why a WhatsApp chatbot?"
Chatbots are currently mainstream. It doesn't matter if you're on a website or Whatsapp Messenger. These Chatbots are ready and waiting to assist you in finding what you're looking for.
Since research shows that 69% of customers prefer using chatbots owing to their quick and simple responses, businesses are increasingly leaning toward installing AI Chatbots.
Try BotPenguin to create your WhatsApp Chatbot NOW!
In addition, 56 percent of customers would use an AI chatbot rather than make lengthy phone contact with customer service.
As a result of the pandemic, the demand for AI chatbots and the realization of their practical business applications has increased dramatically.
At this point, you may have known that WhatsApp Bot exists because WhatsApp is the most popular chatting app. As a point of information, WhatsApp announced in 2020 that it had reached the monumental figure of 2 billion active users in a month throughout the globe. Then, what could be better than using WhatsApp to expand your company?
This is why we created WhatsApp bots. They are quick to answer questions, easy to work with, and provide a smooth service experience.
Even though we've explained the benefits of WhatsApp Bots, you could still be on the fence about whether or not to adopt them till you see them in action.
Along with WhatsApp Chatbot, BotPenguin offers chatbot creation for other social platforms like:
What is a Whatsapp chatbot?
A WhatsApp chatbot is an automated software that operates on the WhatsApp network and is powered by rules or artificial intelligence (AI). People interact with the WhatsApp chatbot using the chat interface as if conversing with a real person. It's a series of automated WhatsApp responses that mimics a human conversation.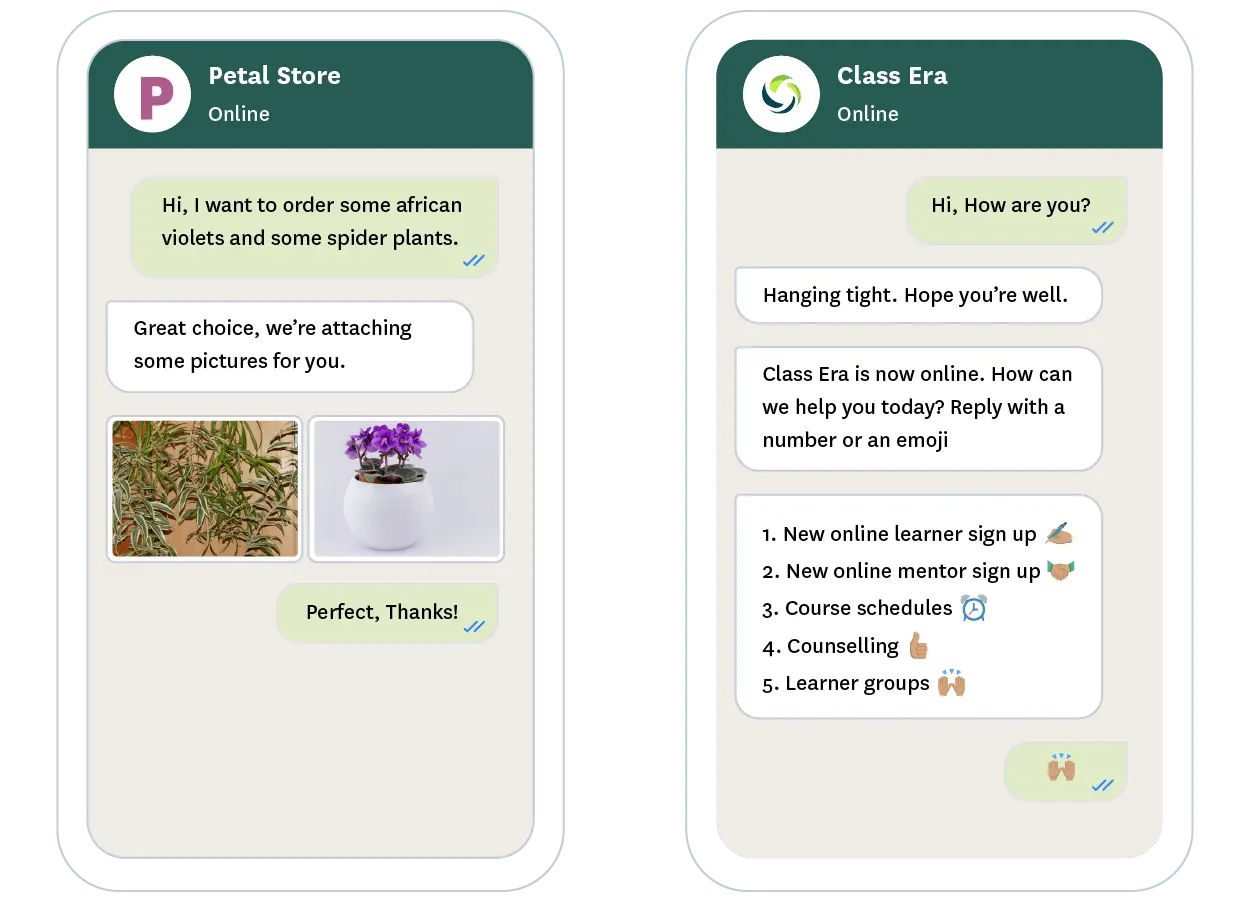 Why use a WhatsApp chatbot?
WhatsApp chatbots provide a more personalized customer experience, which improves client retention and engagement. Enhances customer interactions while increasing brand exposure and loyalty. It makes your company accessible through different platforms. Clients can receive broadcasts and outbound alerts.
Top 10 WhatsApp Chatbot Tools
1. BotPenguin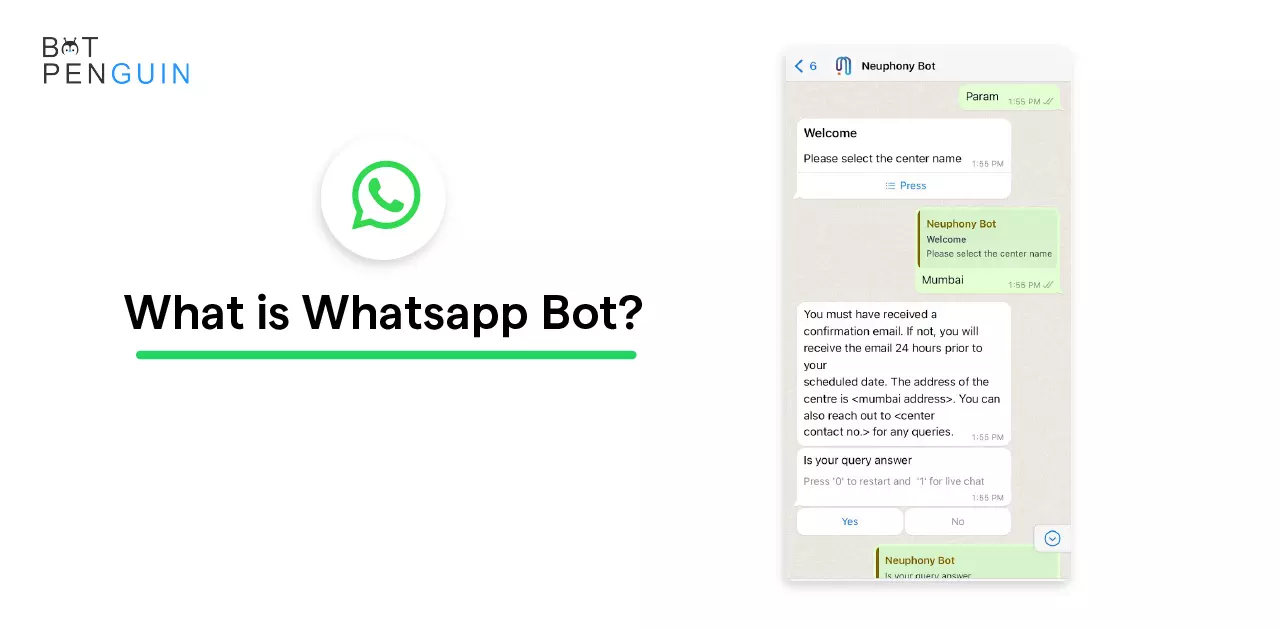 With the help of the AI-powered chatbot platform, BotPenguin, you can create amazing no-code chatbots for WhatsApp Channel.
It will interact with and engage your clients. But the fun does not stop here since you can easily deploy drip campaigns, bulk messaging, live chat, track orders or simply help your customers get the latest product information, all on WhatsApp. See, ain't this Penguin super friendly?
Key Features
Natural Language Processing
Zero Setup Cost
Conversational UI
Deep Analytics
Easy to Integrate



Pros
To create the best AI chatbot,

BotPenguin's simply the easiest chatbot builder

.
Use NLP and AI to train your chatbots.
Delivers the finest conversational experience by enabling seamless handover between chatbot and live help.
You can schedule meetings and appointments by connecting to your Google calendar or any other planner integration of your choice.
Telegram, Facebook Messenger, and WhatsApp can all be integrated.
Ideal chatbot for banking, e-commerce, telecom, real estate, and most other businesses.


Pricing
BotPenguin

has a free plan called Baby, which allows anyone to create a free, working chatbot.
The King plan costs $4.17 annually, allowing Unlimited Bots 500,000 messages/month, 10 Facebook Pages, and 3 Team Members.
Meanwhile, the Emperor's plan depends on your needs and prerequisites. You can discuss this through a demo session or a chat.
2. MessengerPeople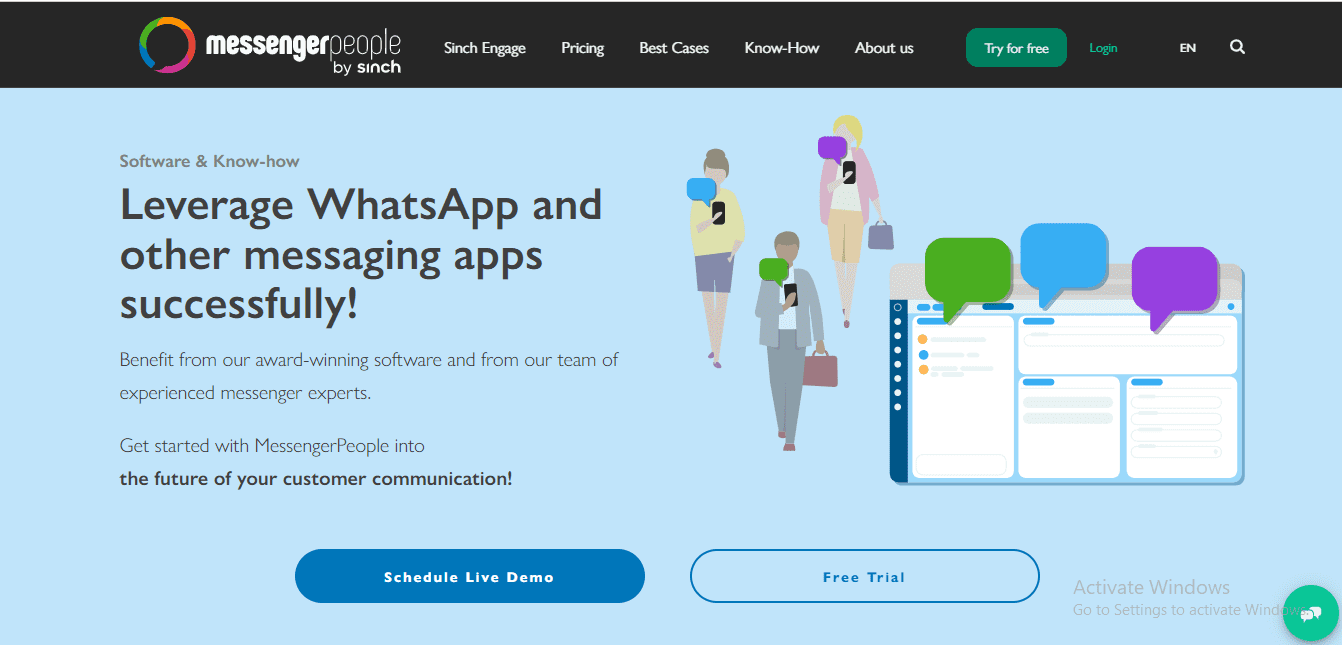 MessengerPeople caters to enterprises, both big and small. It promotes itself as a simple chatbot tool for WhatsApp, which it is.
A well-designed conversation flow can help you communicate more naturally and polishedly with customers. MessengerPeople also provides the unique capacity to collect user characteristics, which is rarely advertised.
Because the chatbot remembers information about the user as they interact with it, you can have deeper dialogues with clients about their requirements and how your company can meet those needs.
They have also worked on the system's underpinnings to provide a streamlined interface. MessengerPeople's useful features, such as ticket assignment, are a step toward the ultimate goal of automation.
Tickets created through interactions with a WhatsApp chatbot can be conveniently moved using drag and drop by users.
Humans are constantly being messaged by the Whatsbot Chatbot Tool.
The success of MessengerPeople is moderately remarkable. BMW was able to automate customer service in their workshops because of their solution.
Price
3. Botsociety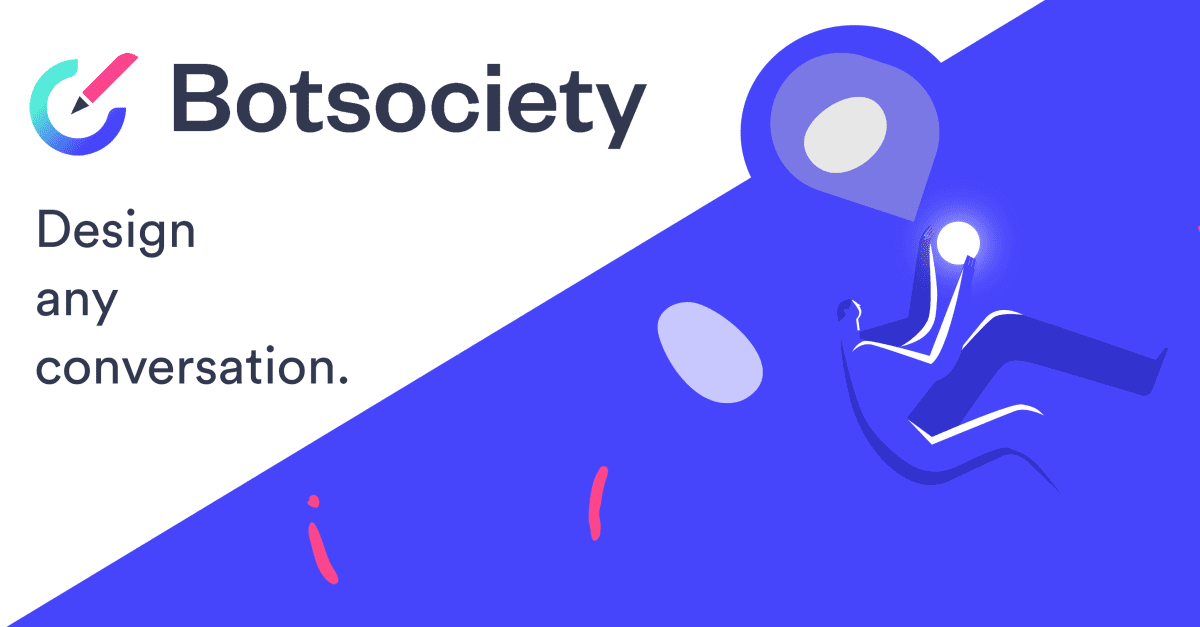 However, what if you want to test the waters with a prototype of your WhatsApp chatbot before diving in fully? There's a device that can do that. With the help of Botsociety's prototyping tool, businesses can see what their WhatsApp chatbot will look like before committing to building it.
Using a simple drag-and-drop interface, creating your chatbot is a breeze. Botsociety also provides a WhatsApp Chatbot platform for teams and companies to work together and exchange information.
In real-time, you may also put hundreds of qualified testers from different regions and demographics to work on your bots. As you might expect, being able to quickly iterate on improvements based on feedback from real users of your bot can help you build more efficient conversation patterns.
4. Rapiwha

Rapiwha provides an API for WhatsApp that is optimized for use in large-scale business communications. The app facilitates linking a phone number with a WhatsApp business account, enabling the user to initiate and receive WhatsApp messages and set up a webhook.
A chat management interface and an automated chatbot are included to handle user inquiries. Even though it isn't as advanced as some other chatbot solutions, it nevertheless allows you to respond to frequently asked questions from clients.
Price
A $1.50 daily reception fee is included in the price. When you do this, you "open" the lines of communication with your clients and get 24 hours of unlimited responses. There is a fee of $0.0273 for every message sent. There will be fees for both sending and receiving.
5. Gupshup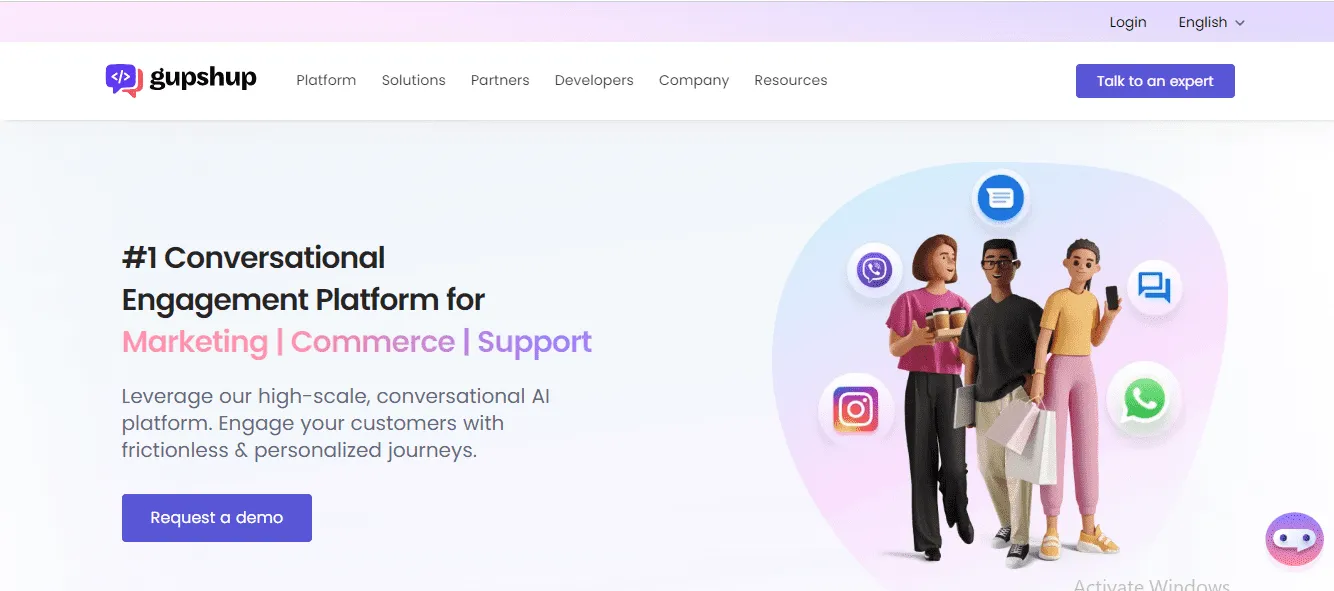 Gupshup, with headquarters in Silicon Valley, provides a popular messaging service worldwide. Over 225 billion messages have been handled so far, and they've integrated with services including Twitter, Slack, WeChat, Viber, Facebook Messenger, and WhatsApp.
Although they offer a messaging platform, their bot programming tool is where they shine. It allows programmers to make chatbots that can have basic and advanced conversations.
A ready-made option is also available, which allows you to set up automated responses, modify your chat assistant, and switch to live chat if necessary.
Price
Get started for as little as $0.001 for each SMS message sent.
6. LivePerson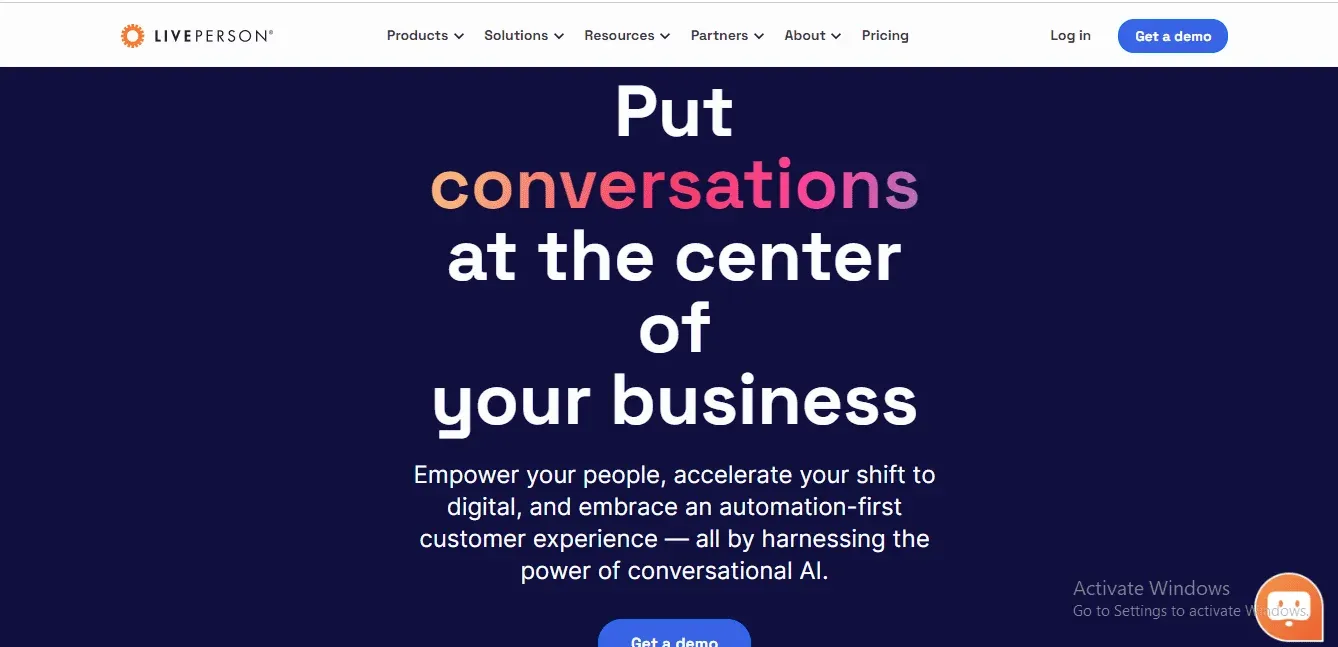 By using LivePerson, businesses can see firsthand how sophisticated and useful chatbot technology can be. The intent analysis is one feature offered by LivePerson. Using LiveIntent, your company can immediately adapt messages based on AI-detected client intent. All of this is, by the way, accessible in the here and now.
LivePerson also has a robust dashboard for evaluating the efficiency of each division's operations. The success of a company's chatbot can be measured in various ways, from the number of interactions to the average order value, the length of time it takes to convert a lead to the level of consumer satisfaction felt following a conversation with the chatbot.
Price
Get in touch with LivePerson to request pricing info and a demonstration.
7. Landbot.io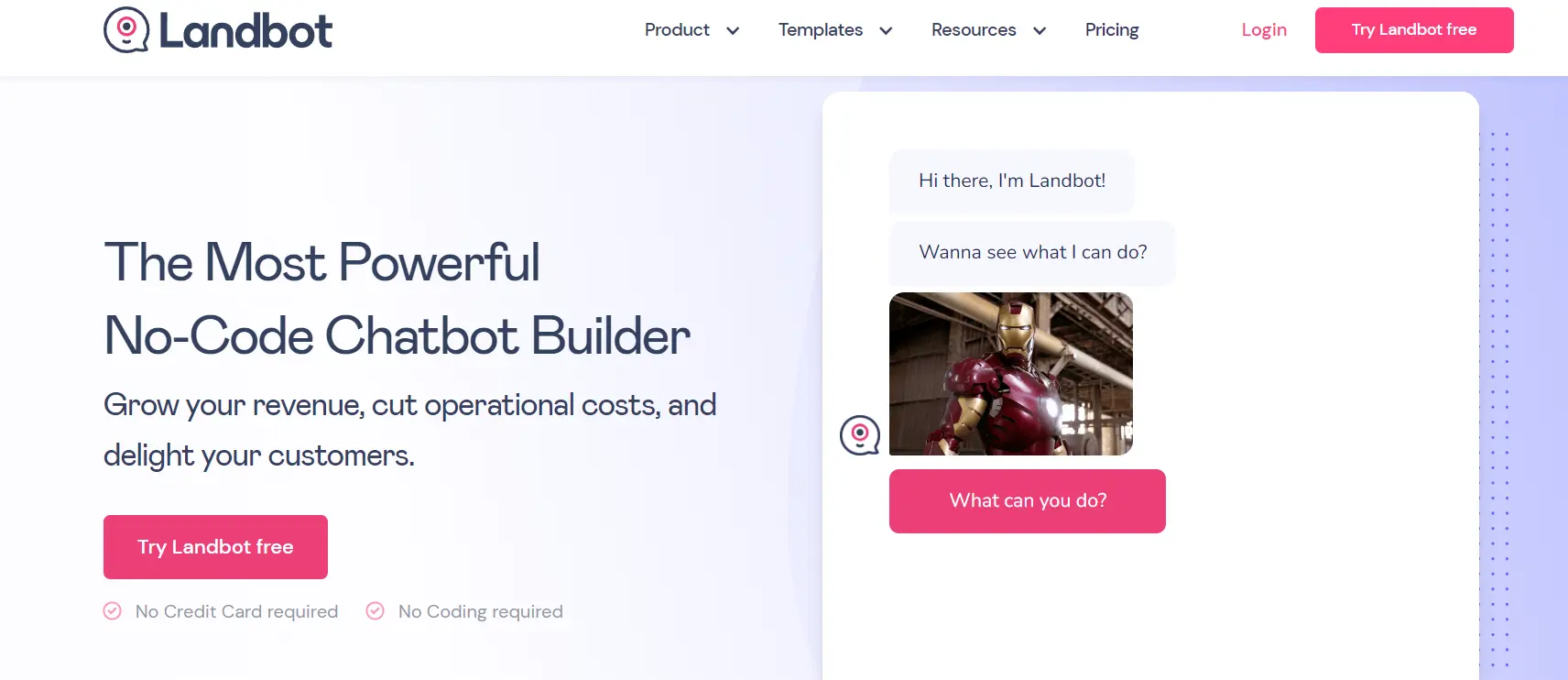 Landbot.io features a sleek user interface and intuitive, drag-and-drop capabilities for creating WhatsApp chatbots.
Prominent corporations use it, including Uber, LG, T Systems, Ernst & Young, and L'Oreal. The incorporation of many forms of media into their platform particularly interested us. Videos, photos, GIFs, and other media can be readily integrated into brand scripts to improve consumer experiences.
Landbot.io, like other bots, offers the possibility to construct integrations to facilitate real-time data collection. Other services that can be connected with this one are MailChimp, Zapier, Slack, Google Analytics, Sendgrid, and Salesforce.
They take great satisfaction in their capacity to utilize situations to generate highly tailored, natural-sounding dialogues.
Even though Landbot.io's bots are programmed to take and continue conversations in real time, human operators are always available should any issues arise.
You are free to take control of a conversation with a client at any time, which is useful if you want to follow up immediately with a promising lead.
You would be hard-pressed to find a more fully-featured tool than this one. There are many cool methods to interact with your audience that come included with Landbot.io.
One method to discover the ideal customers for an offer is to conduct a targeted advertising campaign. The software can also make conversational opt-ins, which may increase the number of people who sign up for your business's mailing list.
Price
Playground - Free to Play, Monthly Fee of €30
Pro: €100/mo
Market: Individualized Costing
8. Engati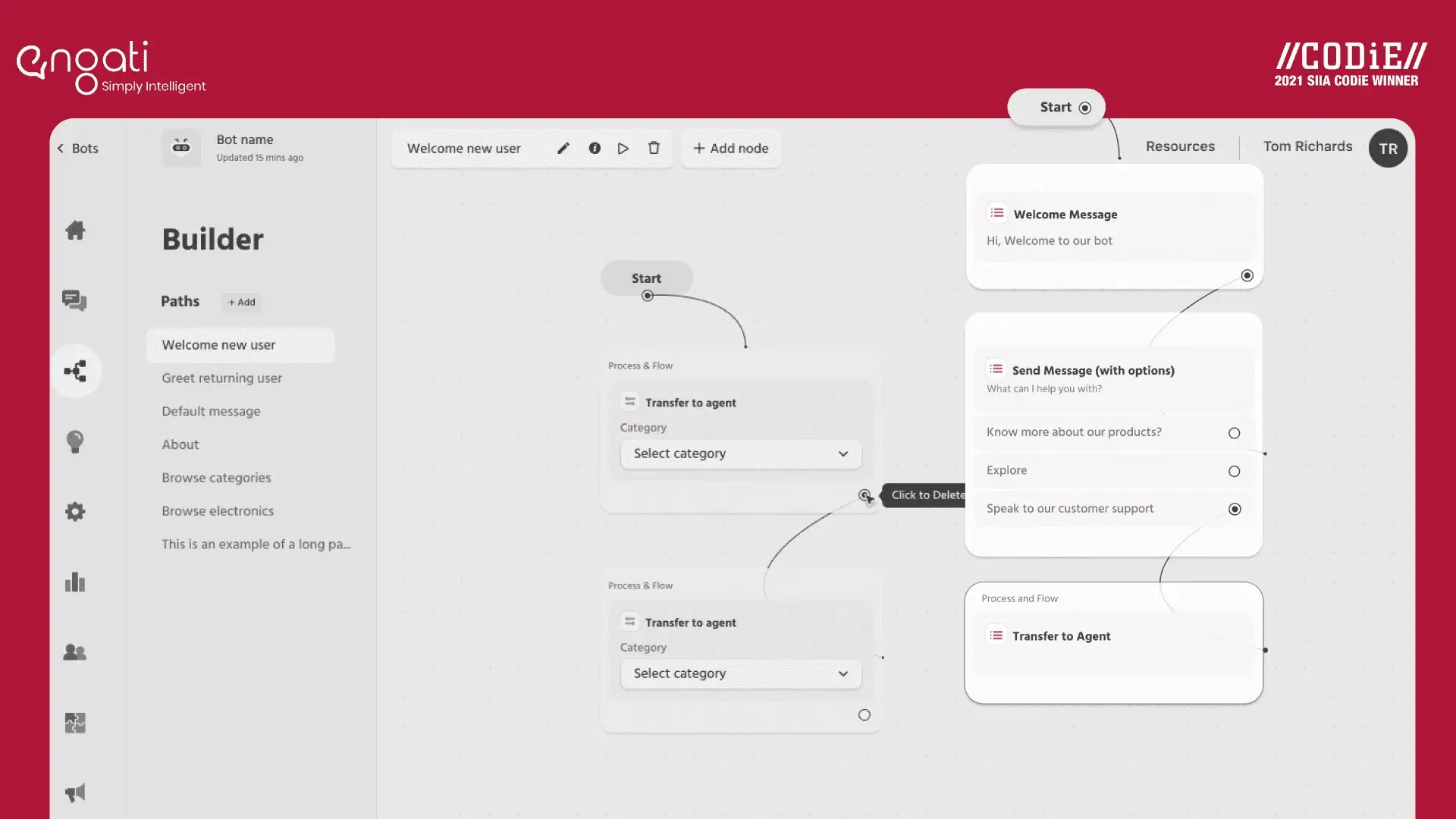 Engati is among the most highly regarded chatbot platforms. Its users are raving about how simple it is to use the conversation logic-building tool and how much simpler their interactions with the company have been.
There are a total of 14 capabilities available in the Engati chatbot. Multilingual support, natural language processing, a conversation flow builder, support for JSON Rest APIs, and a plethora of out-of-the-box connections are just a few of its many features.
Their omnichannel strategy, though, was truly remarkable. You may use Engati's technology to broadcast messages and run campaigns across more than 14 channels, including your website, mobile app, Skype, and social media.
We have seen this feature gain traction in recent chatbots, and we expect it to continue to expand.
Constantly seeking out new audience expansion opportunities is essential, and interacting with WhatsApp users presents a wealth of such possibilities.
More than 1.6 billion individuals worldwide utilize the network, so companies may reach their ideal customers more effectively than ever before.
In addition, they provide speech bots, which are becoming increasingly common in the business world.
To help you tailor your interactions to the specific needs of your target demographic, this chatbot platform also provides in-depth analytics that includes the most popular queries, actions taken, cohort analysis, and more.
Price
9. Botscrew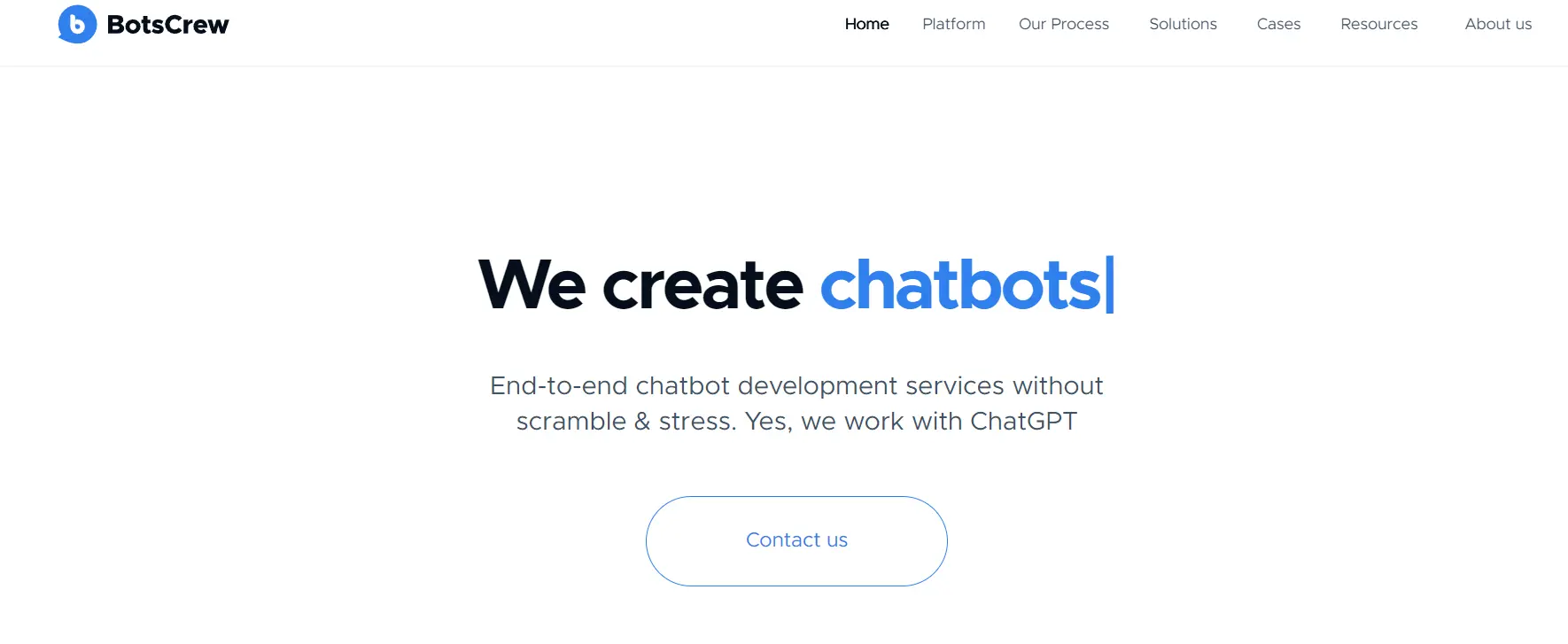 From our research, we know that a sizable number of chatbot-building resources are available for use with WhatsApp. Any company can find a workable answer to its problems. Consider Botscrew; it has some cool advertising features that make it a compelling enterprise option. You may want to personalize your chatbot's messaging as part of your remarketing plan. A simple web search will reveal that you can.
Botscrew's conversation management can be set up in various ways, depending on how your company is set up. The conversation flow editor is text-based rather than visual, like Agentbot's, but it's just as simple.
Botscrew also includes artificial intelligence, allowing you to teach your chatbot to provide more precise and informative responses.
A company can't function with just one piece of software. Therefore, Botscrew's API can connect with services like Salesforce, Messenger, Trello, and Slack. In addition, you can use the available analytics to fine-tune your WhatsApp chatbot for optimal performance.
Price
Book a presentation with the team to kick off your sales conversation.
10. Tars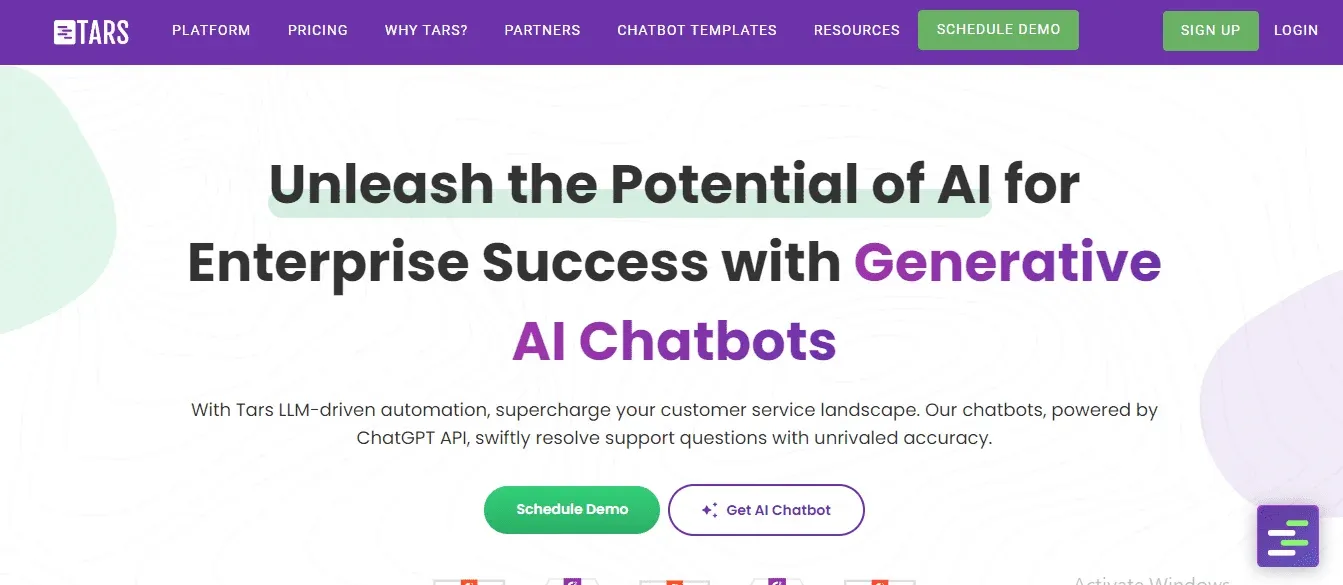 Tars is a conversational AI platform trusted by hundreds of global brands such as American Express, Vodafone, and Bosch to help them provide a more interesting and satisfying service to their customers.
They have developed approximately 20,000 chatbots, which have been utilized in over 25 million interactions.
You can use it to make sophisticated conversational apps without needing to learn how to code. However, you can also utilize their no-code chatbot generator to make a simple FAQ chatbot.
It also has a library of over a thousand pre-made designs that can be modified using a simple drag-and-drop interface. Making alterations, like correcting a typo, to a chatbot you've already created is just as simple as starting from fresh.
Its connectivity suite allows you to connect your chatbot with other technologies your company already uses, which is a really helpful feature in its own right.
With this, you can connect your chatbot to an external database containing customer information and use the information gleaned from the chat to customize the experience for each user further.
Besides sharing it on WhatsApp, you can also release your chatbot as a standalone page or widget on your company's website.
Price
For 14 days, it's free.
The true pricing is available upon request.
Suggested Reading: 15 of the Best WhatsApp Chatbot Tools for 2023
Conclusion
There are a lot of chatbot development platforms for WhatsApp, but not all of them are created equal. While others go into greater detail in their integrations and capabilities in order to provide additional business intelligence, some only provide the bare minimum.
Think carefully about the current state of your company's operations before settling on a WhatsApp chatbot service which is available at various WhatsApp Chatbot Platforms.
Does the purpose of a purchase matter? To what extent would you like your conversations to continue beyond the initial meeting? Does it make financial sense to create something intricate with protracted dialogue tree structures?
If you have a concrete answer for all of the questions above, we highly recommend BotPenguin since it has a plethora of features, plus you get the best bang for your buck with BotPenguin.
Since it is simply affordable, robust, and reliable!
There's more to think about, but we're confident that chatbots for WhatsApp will keep improving. In addition, the more advanced the solution, the better it is for organizations trying to scale without lowering their standards of quality or customer service.
Frequently Asked Questions (FAQs)
What are WhatsApp chatbot tools?
WhatsApp chatbot tools refer to software applications that enable the creation and management of chatbots on the WhatsApp Chatbot platform. They help businesses automate their customer support and marketing efforts, personalize user experiences, and streamline communication with customers.
How do WhatsApp chatbot tools function?
WhatsApp chatbot tools function by integrating with the WhatsApp Business API and using pre-built templates, machine learning, natural language processing (NLP), and artificial intelligence (AI) to create chatbots that can comprehend and respond to user queries. These tools help businesses automate their customer service, sales, and marketing processes and enhance the overall customer experience.
What are some of the best WhatsApp chatbot tools for 2023?
Some of the best WhatsApp chatbot tools for 2023 include BotPenguin, Tars, , Botsza, Engati, Landbot.io, ChatCompose, and LivePerson, These tools offer a variety of features and capabilities, including NLP, AI, and integrations with other platforms.
How can I get started with WhatsApp chatbot tools?
To get started with the WhatsApp chatbot Platform, businesses must apply for access to the WhatsApp Business API and undergo a verification process. Once approved, businesses can choose a chatbot tool provider, set up their chatbot, and start automating their customer service and marketing processes.
Can WhatsApp chatbots replace human customer service representatives?
Although WhatsApp chatbots can handle routine and repetitive tasks, they cannot entirely replace human customer service representatives. Chatbots can assist with simple inquiries and provide quick responses, but complex issues may require the expertise and empathy of a human representative. Combining chatbots with human support can offer a better overall customer experience.
What are some use cases for WhatsApp chatbots?
WhatsApp chatbots can be used for several purposes, such as customer service, sales, marketing, and lead generation. For instance, businesses can use chatbots to answer frequently asked questions, provide personalized recommendations, process orders and payments, and collect customer feedback.