According to Google Trends, interest in chatbots has increased 5 times over the past ten years. Artificial Intelligence and Chatbot are the talk of Tech Town.
Everyone is curious about their future, whether they're a necessity or not, and if at all they can completely ever replace traditional methods of providing customer service. The rise of the metaverse has only further intrigued doubters.
But the question is, does conversational AI necessarily need to replace traditional modes of interaction? Perhaps it can incorporate them to provide a superior service that goes hand-in-hand.
LivePerson emphasizes human-like interaction while also modernizing and preserving existing communication tools, offering conversational cloud, Voice AI, and CX( customer experience) tools to users.
So, what is LivePerson, and how does it work?
What is Conversational AI?
Before we dive into LivePerson, it's essential to understand what its products revolve around, Conversational AI.
Conversational AI combines natural language processing (NLP) with other software such as chatbots, voice assistants, or a voice-recognition system. It helps customers through a spoken or textual interface.
Incorporating multiple modes of communication ensures that the users receive support on their preferred channel.
How Does Conversational AI work?
Conversational AI engages in context-based dialogue with the help of NLP and other complementary algorithms. The AI becomes better at recognizing patterns and making predictions as data gets stored in the system over time.
Conversational Al engages with customers with the following steps-
Input Generation: The user provides inputs through text or voice.

Input Analysis: If the information is text-based, The system uses

natural language understanding (NLU)

to pull meaning out of the data provided. If speech-based, automatic speech recognition is applied to break down the sound into language tokens that can be analyzed further.

Dialogue Management: Natural language generation can easily create a response to a customer's query.

Reinforcement Learning: Finally, the user's inputs are analyzed to refine replies over time and ensure that the answers are accurate.
Difference between Conversational AI and Chatbots
On the surface, it can be straightforward to confuse Conversation AI and chatbots. They both can work without the real-time involvement of humans and serve the same purpose of providing customer support, but both differ on multiple functions.
Traditional chatbots supposedly have conversational capabilities, but humans write scripts and dialogues for these chatbots before they're ready to interact with users.
The chatbot is taught what to say in response to specific keywords and needs to be trained explicitly for every possible scenario. Out-of-the-box questions result in no response or trigger for human take-over.
An actual AI chatbot conversation needs conversational AI, which does not follow a script, instead progressively teaches itself through reinforcement.
On the topic of bots, let's not forget about the coolest chatbot platform—BotPenguin!
With BotPenguin, you can build unique chatbots that can perform various tasks, such as responding to frequently asked inquiries, gathering user data, and making tailored recommendations.
What is LivePerson?
LivePerson is a Saas converstional AI platform that offers services such as the Conversational Cloud and Voice Solutions to companies looking to automate their customer support and eCommerce activities fully.
The features LivePerson offers work in tandem to give customers the choice of interacting with brands on their preferred platform, when they want it, and where they want it.
Users can ideally use it in the following industries.
Telecommunication & Cable,
Healthcare
Retail
Travel & Hospitality
Automotive
Financial services
LivePerson Conversation Cloud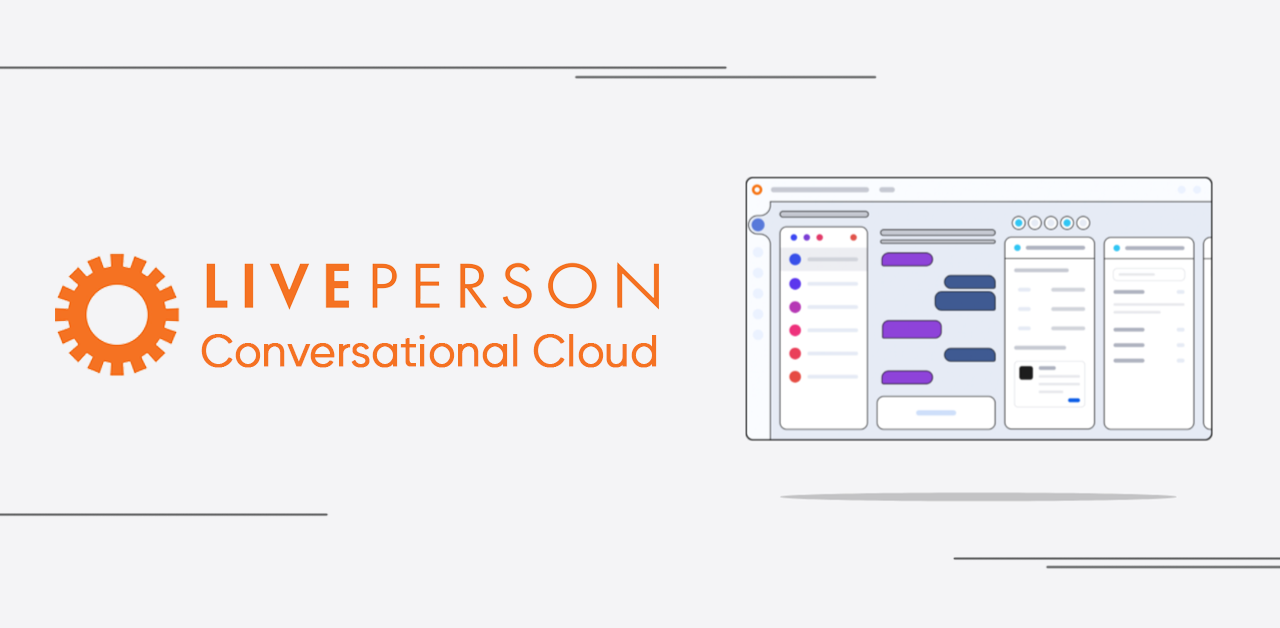 You've heard of dashboards in CRM and live chat software. But Conversation Cloud is more than just a dashboard. It's a set of tools, all combined and automated to give you the edge over your competitors.
The outcome is better connections with consumers, enhanced customer experiences, improved customer satisfaction, resulting in more growth opportunities for the brand. Brands can understand consumer needs in real-time to carry out critical business decisions at scale across all messaging channels.
The Conversational Cloud can-
Discover Intents: Understand what consumers need from your brand. Thereon, agents can route consumers to the right place (human or bot), manage agent workloads, customer queues more effectively, and discover trending intents.

Be present across customer journeys: The LivePerson Conversational AI Automatically engages customers when and where they want to have a conversation across every channel.

Work from any device: The Conversational Cloud can be accessed wherever you please, making it ideal for a remote or scattered workforce. The iOS and Android apps enable users to provide services without the need to be tethered to their PCs.

Benchmark: Understand how your KPIs are fair against the competition.

Build AI Bots: Anyone using LivePerson can build automated conversations with a simple point-and-click interface. Bots can work on every messaging channel connected to the platform. Brands can also opt to use templates to immediately leverage intents and build AI chatbots.

Integrate: The Cloud can integrate with third-party services through comprehensive APIs and SDKs. LivePerson makes it even easier for users, offering server-free customization and integration that can create custom workflows.
LivePerson Conversation Cloud: How Does it Work?
The Conversational Cloud powers human agents, bots, and systems to discover consumer intents and take necessary steps to design personalized automation and measure the effectiveness of conversations. The platform's components consist of:
Intent Manager
Intent Manager runs on NLU, built on over a billion brand-to-consumer conversations.
The Intent Manager accurately understands what consumers want by analyzing the most popular consumer intents, optimizing their fulfillment.
Intent Manager comes pre-configured for different industries, offering content creators and data scientists the flexibility to configure custom intents from a simple interface.
Conversation Builder
The Conversation Builder allows brands to build bots and connect them to messaging channels and business systems, like a CRM, product inventory, or eCommerce platforms.
The Conversation Builder lets users effortlessly manage a large chunk of dialogs and an interface that can help you create rules without any coding knowledge.
The Meaningful Automated Conversation Score (MACS) by LivePerson allows users to visualize the performance of their chatbots while understanding why specific bots may be failing to keep up. It also gives an in-depth analysis of conversion rates and the number of interactions.
LivePerson Voice AI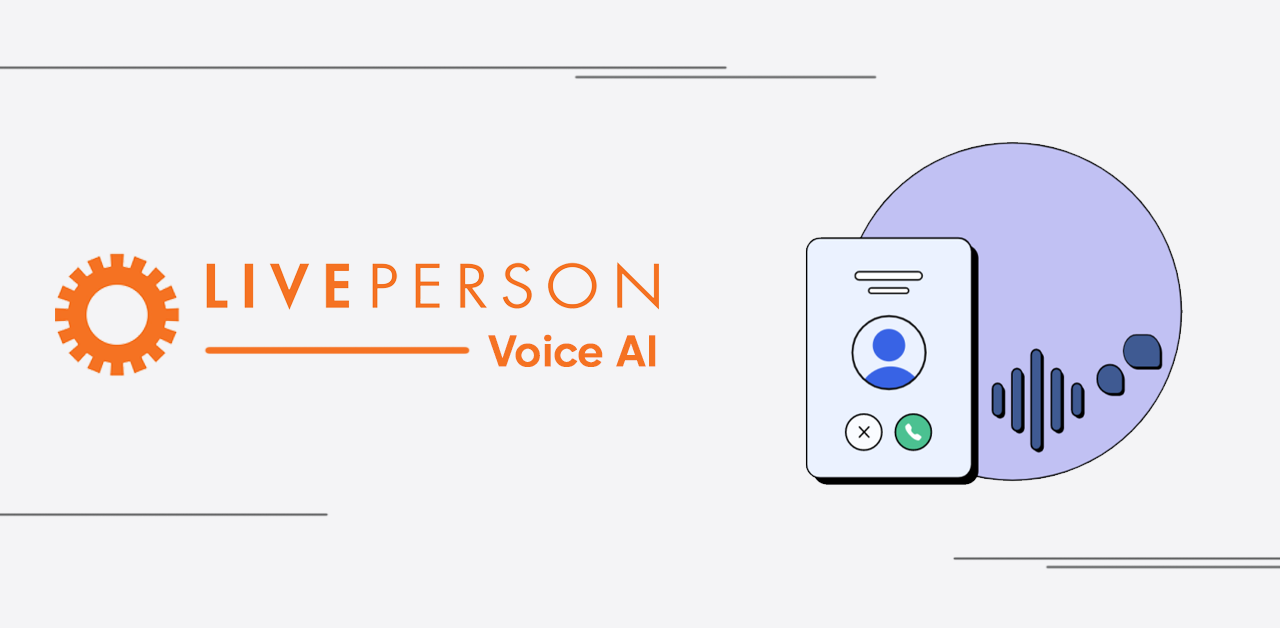 Legacy systems or traditional communication channels are still in use. According to CFI Group, 76% of consumers still prefer phone calls to reach customer support representatives.
LivePerson creates a unified, AI-driven system for personalized consumer engagement through conversational and voice analytics that delivers advanced experience integration with the Conversational AI.
The Voice AI has a holistic approach to consumer communications. It improves Customer experience with voice analytics that uses data to create better conversations and modernize customer experience without replacing traditional systems. LivePerson delivers a seamless way to communicate with consumers wherever they are.
LivePerson Voice AI: How does it work?
The Voice AI is built based on advanced speech recognition technology and predictive models. It helps users uncover sales opportunities that improve revenue and give an in-depth understanding of agent productivity through Conversational Analytics.
With Conversational Cloud, users get unparalleled visibility into consumer intents, frustrations, and pain points. They can get a holistic view from all the conversations across messaging, voice interactions, and voice, telephone, or contact center systems.
LivePerson Knowledge AI (Knowledge Base)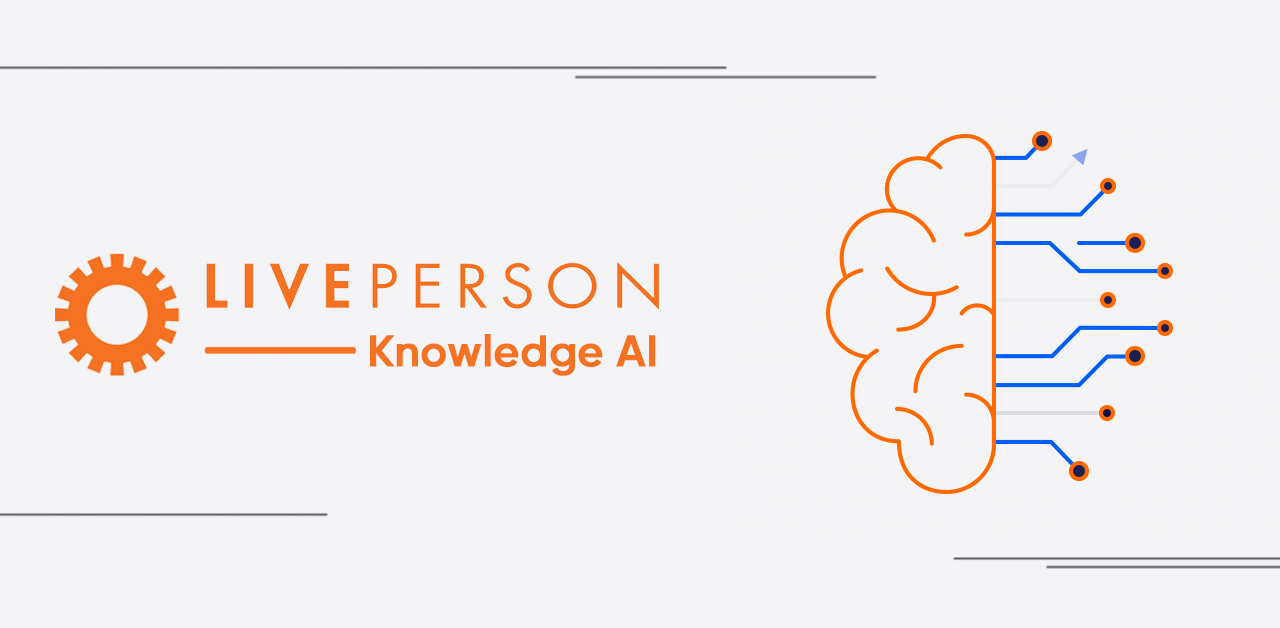 According to SalesForce, 89% of millennials use the search engine to find answers before making a call to get customer service.
The knowledge base, dubbed Knowledge AI by LivePerson, leverages brands' knowledge and content. It helps them quickly solve problems and answer common queries, minimizing the need for human agent involvement.
Knowledge AI unifies with the Conversational AI application maximize the use of curated content.
The Knowledge AI can accomplish the following tasks:
Transforming content into message-ready answers that help customers across all channels. Web, SMS, Apps, and more.
Equipping agents with AI-powered solutions that save time and effort.
Improve results by analyzing historical answer performance and testing.
Connect content to all languages supported by the LivePerson NLU engine.
LivePerson Knowledge AI: How does it work?
The Knowledge base allows brands to insert their content into consumer messages seamlessly. It delivers accurate answers and engages consumers with automated language that is meaningful and rich. It helps brands direct consumers to the information they are looking for without human involvement.
The Knowledge base works in the following ways-
It powers intelligent answers through the Conversation Builder chatbots
Recommends responses to agents through the Conversation Assist
Answers directly via APIs
How does LivePerson benefit your business?
Let us discover how LivePerson benefits your business.
AI Chatbots and tools
Chatbots automate tedious tasks and centralize digital channels, giving deep insights into user behavior on the Conversational Cloud.
The LiveEngage platform from LivePerson offers a wide range of benefits. Users can use it to promote better customer engagement and relationships. It provides a tailored solution that can quickly adapt to multiple scenarios. Be it for monitoring visitors, routing, or reporting.
Furthermore, LiveEngage lets users create easy-to-use and customizable campaigns, reach their business goals, and seek target audiences. Users may target website visitors through referral sites, Google Analytics, geolocation, new or returning visitors, AdWords campaigns, and website location.
Meaningful Connection Score (MACS)
The Meaningful Connection Score lets users identify customer sentiments in real-time interaction with customers and the data on what customers talked about. Furthermore, it gives deep insights into bot behavior, shortcomings, and what makes one bot better than another.
Scalable Tools with Third-Party Integration
The software has built-in AI automation options so users can use the LivePerson interface or integrate it with other apps, or even create their own solution.
Additionally, the software offers a Smart Capacity tool that evaluates its options before sending messages to customers. Its advanced routing capabilities redirect users or chatbots to more responsive customers than those leaving the conversations idle.
Reporting & Analytics
The software provides in-depth reporting tools, with both customizable and ready-to-use dashboards to track developments of customer support services. Both administrators and agents can work on the metrics for superior support.
Robust security protection
The likelihood of a data breach is not only reduced but is nearly impossible with LivePerson. It runs monitoring and proactive vulnerability assessments to ensure superior, robust security.
LivePerson masks and identifies sensitive data. Not only that, it lets users establish fast and lag-free interactions through geo-distributed connections.
Summing Up
LivePerson offers a comprehensive set of tools for eCommerce and Customer Support teams, giving a deep understanding of consumer intent. It offers more than most similar Conversational AI platforms boast about but barely lives up to.
The features such as the Bot Builder, Knowledge AI, Voice AI combine to give a complete, streamlined solution for better customer experience and engagement. It does it all without letting go of still widely used traditional communication channels such as the telephone.
LivePerson lives up to its promise of convenience for support agents. It offers an excellent interface that is easy to operate and integrate into third-party applications.
Frequently Asked Questions (FAQs)
What is LivePerson?
LivePerson is a cloud-based conversational platform that enables businesses to interact with their customers in real-time through various channels such as messaging, chat, and voice. It was founded in 1995 and is headquartered in New York City.
What is the working mechanism of LivePerson?
LivePerson works by enabling businesses to engage with their customers in real-time through various channels such as messaging, chat, and voice. Customers can easily reach out to businesses through these channels, and businesses can respond to them in real-time. The platform also offers features such as AI-powered chatbots, analytics, and reporting, to help businesses better understand their customers and optimize their interactions.
What features does LivePerson come with?
Some of the key features of LivePerson include messaging and chat capabilities, AI-powered chatbots, analytics and reporting, real-time monitoring, and integrations with other business tools such as CRM and marketing automation software.
How simple is the process of setting up LivePerson?
LivePerson offers a user-friendly interface and provides step-by-step guidance for setting up the platform. Businesses can also access a knowledge base and support resources to help them get started.
How secure is LivePerson?
LivePerson takes security and data privacy seriously and implements various measures to protect customer data. The platform is SOC 2 compliant and uses industry-standard encryption to protect data in transit and at rest.
What kind of support does LivePerson provide for its customers?
LivePerson offers various levels of customer support, including 24/7 support for critical issues, a dedicated customer success manager for larger accounts, and a knowledge base and support resources for self-service support.