Yes, the future is here. According to Facebook statistics, there were 300,000 chatbots on Facebook alone in 2018. In recent years the website chatbot has made massive progress in the marketing industry and efficiently increased and achieved goals. It is now becoming the most crucial weapon for the business, which reduces human needs. Thus it saves money for the company by eliminating them.
According to several business leaders' websites, chatbots have increased sales by 67% on average. In this lead generation of chatbots, humans do not have to reply to each individual. This fantastic chatbot for websites aces its job in no time with a much better pitch and tone.
What is a Website Chatbot?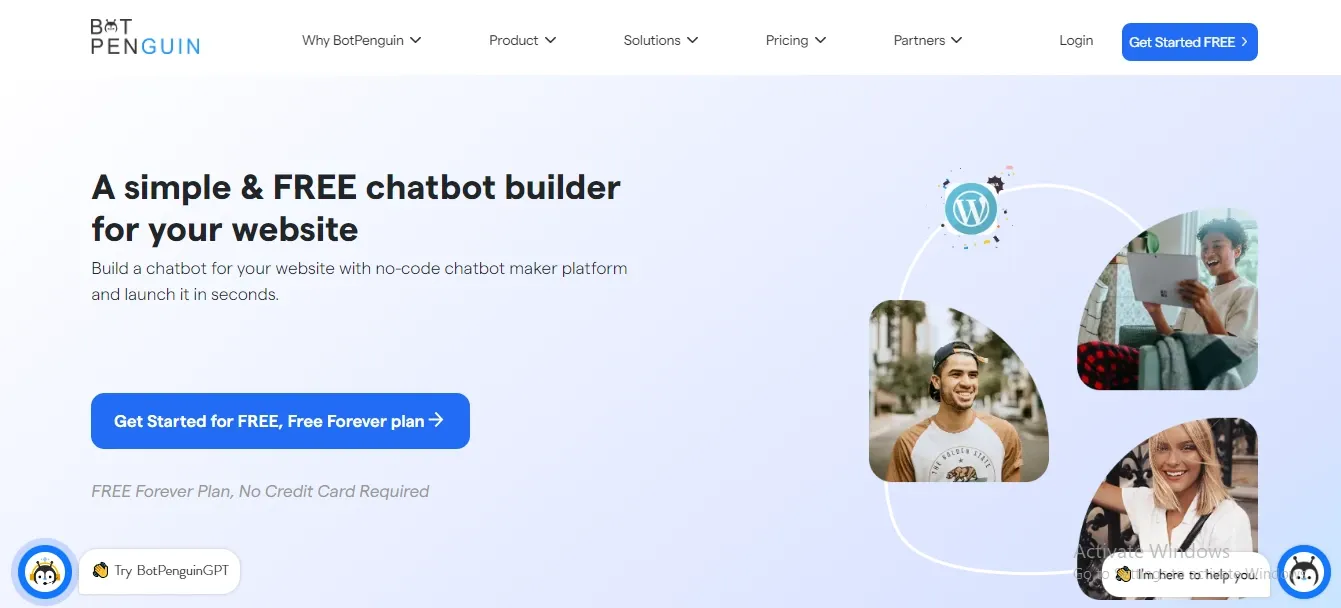 Website Chatbots are automated software that generates conversations between companies with their customers. Chatbots come with various features and essential benefits.
They work round the clock for your company and provide great flexibility to the employees.
What are lead generation Chatbots?
Lead generation chatbots bring up a conversational approach to attract clients and generate more company leads.
It engages the customer to qualify more leads by assisting them apart from the working hours.
Build your own Website Chatbot using BotPenguin, it also offers chatbot creation for social platforms, websites, wordpress:
Statistics about Website Chatbot?
70% of white-collar workers will interact with some form of chatbot by 2022
67% of global consumers had an interaction with a chatbot over the last 12 months
Chatbots will be able to handle 75-90% of healthcare & banking queries by 2022
There are over 300,000 active chatbots on Facebook
Chatbots generate 35-40% response rates.
Features of Website Chatbot
It can communicate in any language with the client.
It's an instant automated chat system that answers customers' queries then and there.
It reduces human resources and time and plays the role of a whole troop single-handedly.
It verifies the customer's information and determines whether it is relevant or not.
It can provide the service simultaneously at various websites.
You can easily alter it immediately after signing in.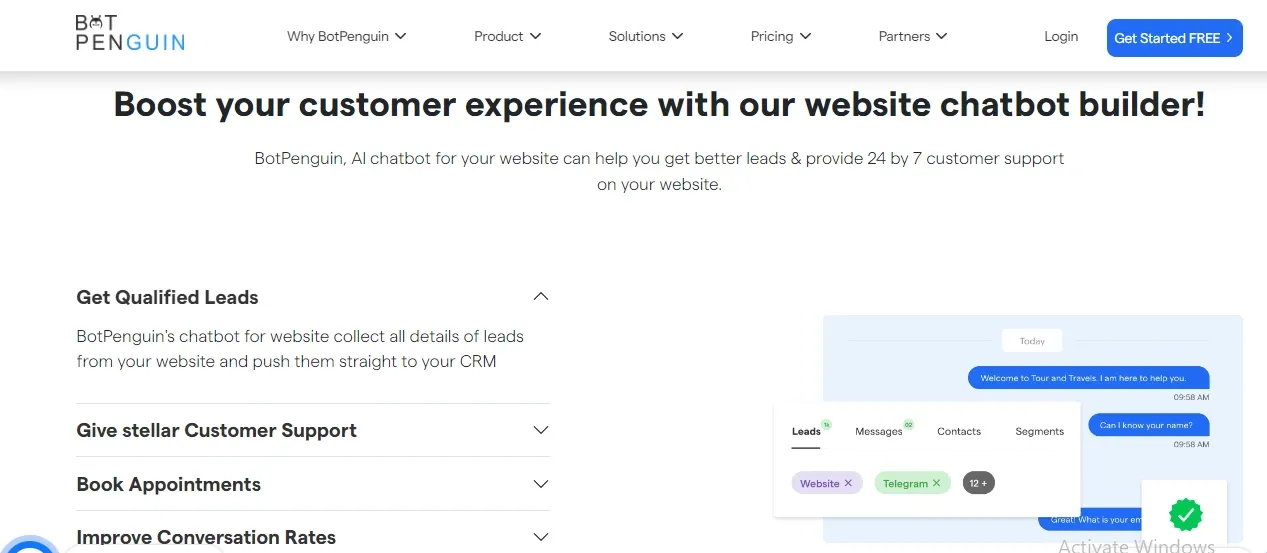 Why One Should Use Chatbots To Automate Lead Generation
Without any doubt, every marketer aims to attract new leads. There are ample reasons why one should use chatbots to automate lead generation. It's an instant automated chat system that answers the query of customers then and there. It also reduces the workforce and time and plays a role of a whole troop single-handedly.
Provide 24/7 service and support
A website chatbot never sleeps. It provides around-the-clock service to your customers. Most importantly, the customer won't wait for a response when your team is unavailable. Customer service is one of the essential services that a company can provide. Now it has become more accessible with the access of website chatbots.
Collects various data and information
It is technically impossible to remember each and everything of a customer or get the interaction properly or understand what they want to convey, but machines can. They are just one click away from the past data they collected from the same user.
Provides accessible communication with clients
It always brings up your brand and replies to the customers in the most humanized way. Visitors get to benefit from personalized customer support rather than conventional ones. It can easily integrate with all the customers.
Generate more leads every day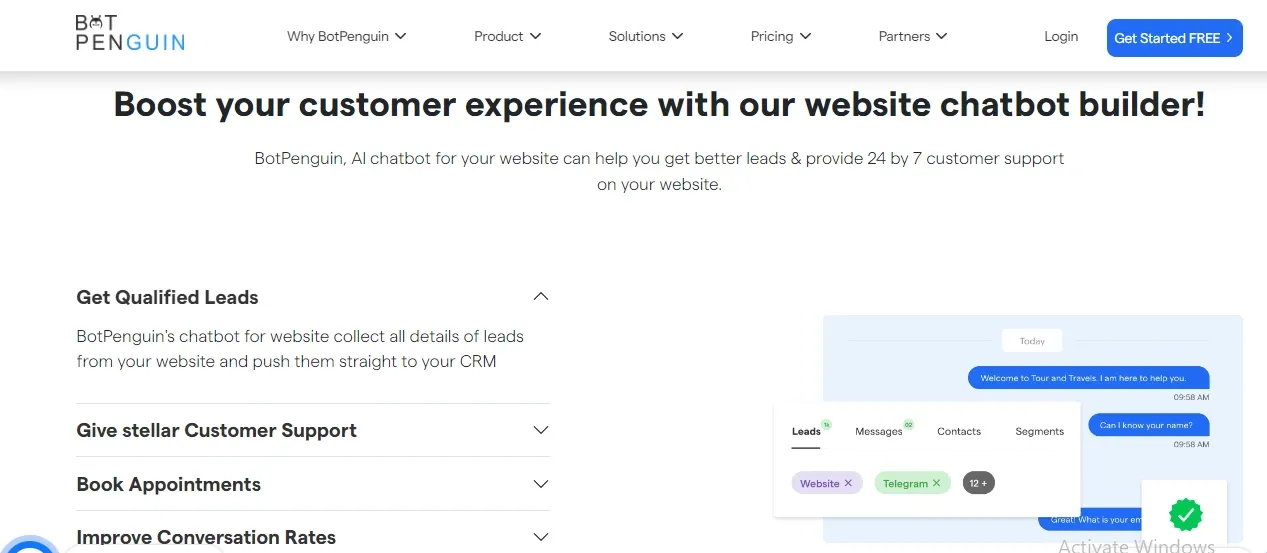 As we can witness many benefits, You can progress through chatbots. In that case, generating more information every day is undeniable. When a client comes to pay a visit to your website, the chatbot provides them a warm welcome which stops them from leaving the website.
Enhancing Customer Experience
It Helps personalize your customer experience. The website chatbot interacts with people in a most personalized way, knowing whom they are talking to and how that particular client can be managed and handled with an understanding.
Building brand awareness
The customer must know your brand well as they choose your brand overall, even if they get cheaper options. The notable thing is that the chatbot provides brand visibility to the customer, making it stand out from others.
Better ROI
Chatbots increase better return on investment. For instance, Movistar increased customer retention by 80% and reduced costs by 30% after implementing an AI-powered customer service solution.
Answers to simple and complex questions
It can communicate in any language to the client. It answers the problem and saves a lot of time that one needs to spend on this. It can answer every relevant question that one can ask about the website.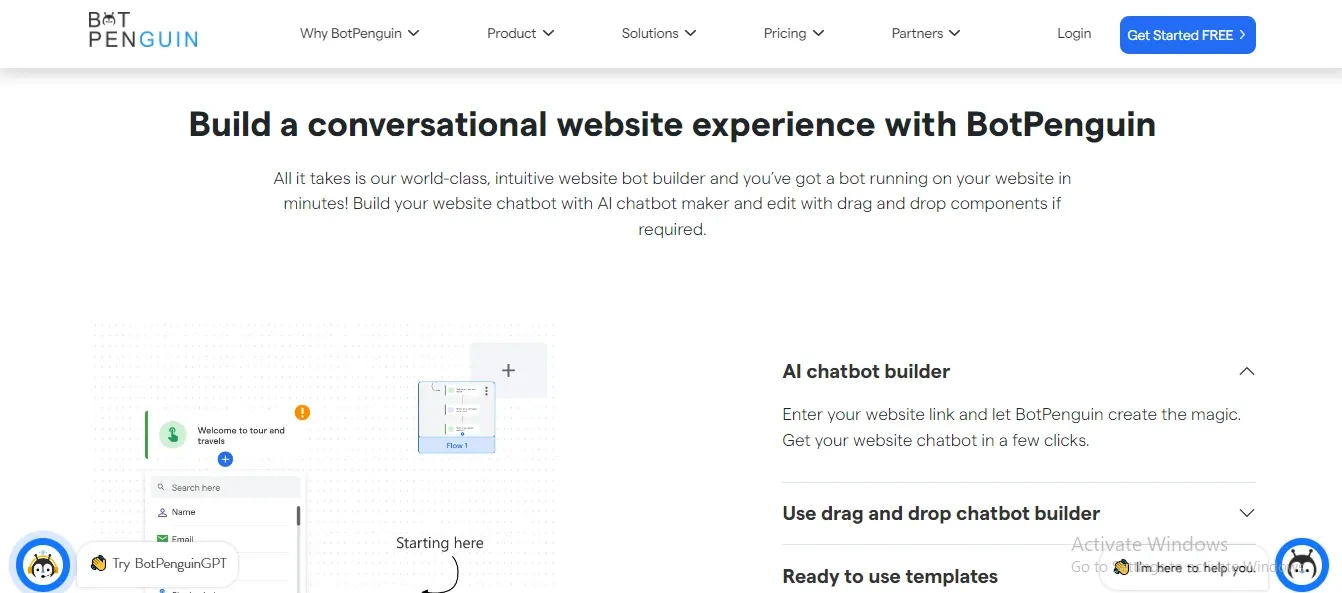 How To Use A Website Chatbot For Lead Generation
Now you are much more aware and are almost out of the clouds. Now we know how many websites chatbots can change our business goals. It is currently being available virtually everywhere.AI chatbots can be a great weapon to improve your business with intent leads. You, however, need to operate the chatbot in the right way to achieve your intended goal.
Nowadays, brands utilize chatbots to increase clients' experience and drive more sales.
Let's focus on some beneficial tips:
Chatbots help you pinpoint the customers' interests and create more involvement, emerging with more leads.
You can use chatbots to engage the customer with an exciting conversation to provide them with better knowledge about the best and least-performing products.
Just like marketers use the right content at the right moment to move the leads into the funnel, a chatbot can split up your audience according to their answers.
You can set some industry-related questions, and chatbots can qualify your sales prospects by asking these questions. In correspondence, the chatbot can suggest the client to the team or arrange a meeting with them.
The traditional methods would not work now, especially if you want lead generation. On the other hand, teaming up with a website chatbot can increase the number of leads.
Bots can decrease diversion and smoothen the data collection process, thus effortlessly boosting the lead generation strategy.
It keeps the customers engaged and tries to prove that your brand is more profitable and trustworthy for them.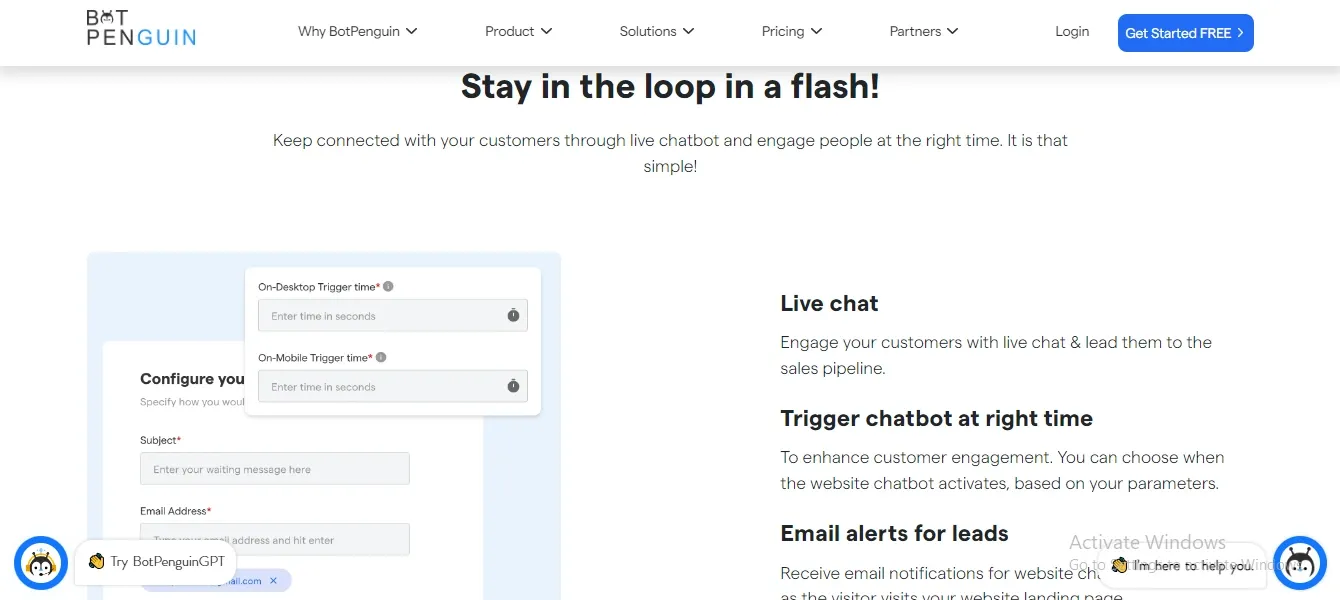 How To Set Up A Chatbot To Generate More Leads
There are a lot of processes that you need to consider while setting up a website chatbot. They are as follows:
One must thoroughly explain the objectives that they are expecting from a bot.
The chatbot must provide a specific set of questions they should cover, and sometimes, it will cover more data if the leads make it down the funnel.
Define the chatbot with a tone of voice in which your audience is comfortable. The terminology should link up with the audience's words.
Customize your chatbot while keeping your target goals in mind.
Different Types Of Chatbot For Websites
Let's introduce you to some chatbot examples which will inspire you to start using it.
Newsletter chatbots
With the help of newsletter chatbots, one can turn a single pop-up window into a communicative bot that allows you to collect feedback and rate.
FAQ chatbots
FAQ bots provide well-structured answers about your business, services, or products and give quick responses. It offers multilingual options and boosts operational efficiency.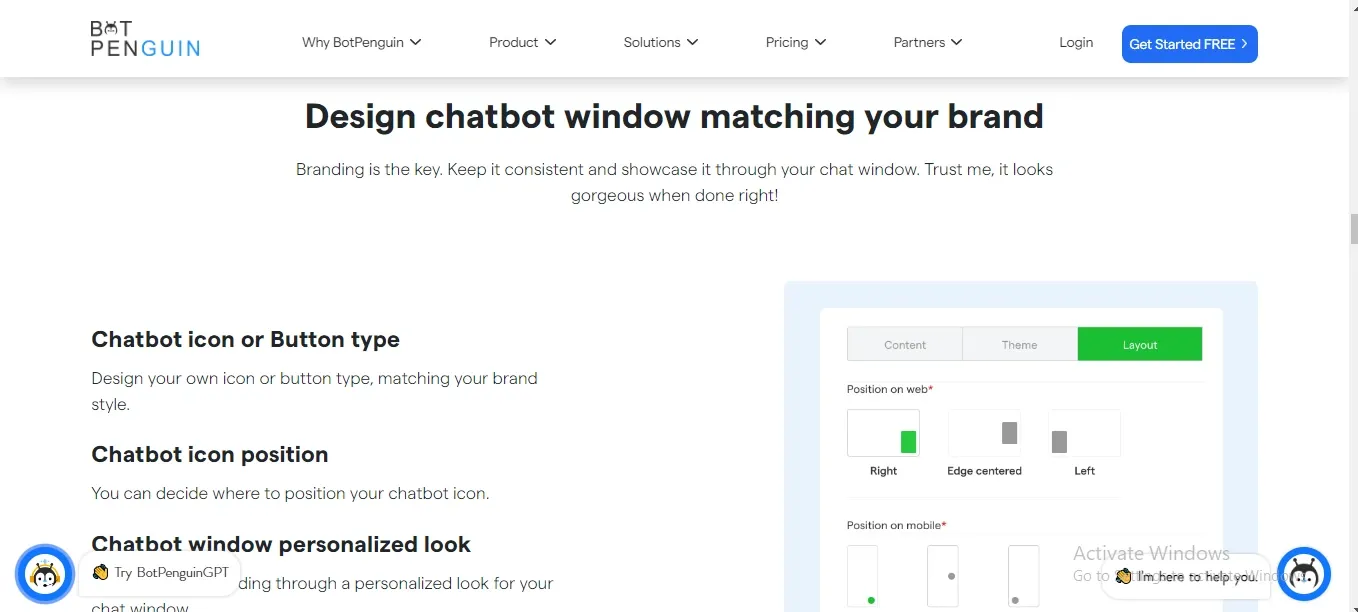 Promotional chatbots
To promote a new product of your brand or any campaign, you can use a promotional chatbot to communicate your latest offers to the visitor.
Chatbots for booking appointments
These bots can directly schedule a demo, reservation, or book an appointment.
Wrapping It Up
Website chatbots provide you with enormous facilities which provide great benefits. These programs show great promise. It builds a great connection with customers and plays a vital role in increasing productivity.
All in all, it is a handy and trustworthy software for your business. Nowadays, there is a broad range of chatbot building for various enterprises, such as e-commerce, retail, banking, leisure, travel, healthcare, etc.
Did you know you can deploy a chatbot for free with BotPenguin? Check Out BotPenguin here and go for it now!

Frequently Asked Questions (FAQs)
What benefits can businesses gain from using chatbots for lead generation?
Implementing chatbots can significantly improve lead conversion rates, reduce response time, and enhance customer satisfaction.
The automated nature of chatbots allows businesses to handle a higher volume of inquiries and capture leads 24/7, leading to increased opportunities for potential sales.
How can chatbots qualify leads effectively?
Chatbots can be programmed with predefined questions to gather specific information from website visitors.
By analyzing responses, chatbots can assess a lead's interest, needs, and budget, ensuring that the sales team focuses on the most promising prospects.
Can chatbots assist in personalized lead nurturing?
Absolutely! Chatbots can use data from previous interactions to personalize conversations.
By tailoring responses to individual preferences, chatbots create a more personalized user experience, making prospects feel valued and increasing the likelihood of lead conversion.
Are website chatbots capable of handling complex lead interactions?
Yes, advanced chatbots can handle complex conversations by using natural language processing and machine learning algorithms.
They can address intricate queries, objections, and concerns, thereby fostering trust with potential customers and maximizing lead generation potential.
Do chatbots integrate with existing lead management systems?
Yes, many website chatbots can seamlessly integrate with existing lead management systems. These integrations ensure that all lead data collected by the chatbot is directly accessible by the sales and marketing teams, streamlining the lead nurturing process.
Can chatbots handle initial sales inquiries and appointments?
Indeed, chatbots can handle initial sales inquiries by answering FAQs, providing product information, and even scheduling appointments or product demonstrations with the sales team, expediting the lead-to-sales process.
How do chatbots enhance the user experience during lead generation?
Chatbots provide instant responses, eliminating the need for users to wait for human assistance.
Moreover, they can engage users in interactive conversations, making the lead generation process more enjoyable and efficient.