With technological evolution, the Discord bot is known to everyone nowadays.
Did you know, that the discord Bot has 140 million monthly active users?
In annual revenue discord, the bot generates $130 million. As the day passes, more people are working from home.
The discord bot becomes an incredible tool to help the user and provides service to your friends, family, and colleagues.
Rythm is a popular discord server. The music bots on the discord server can easily choose songs from YouTube, Spotify, and other services so they can be broadcast on a voice channel.
If you are looking forward to knowing more about how to add discord's Rythm bot to your voice channels, this blog is meant for you.
Keep reading!
What is meant by Discord's Rythm bot?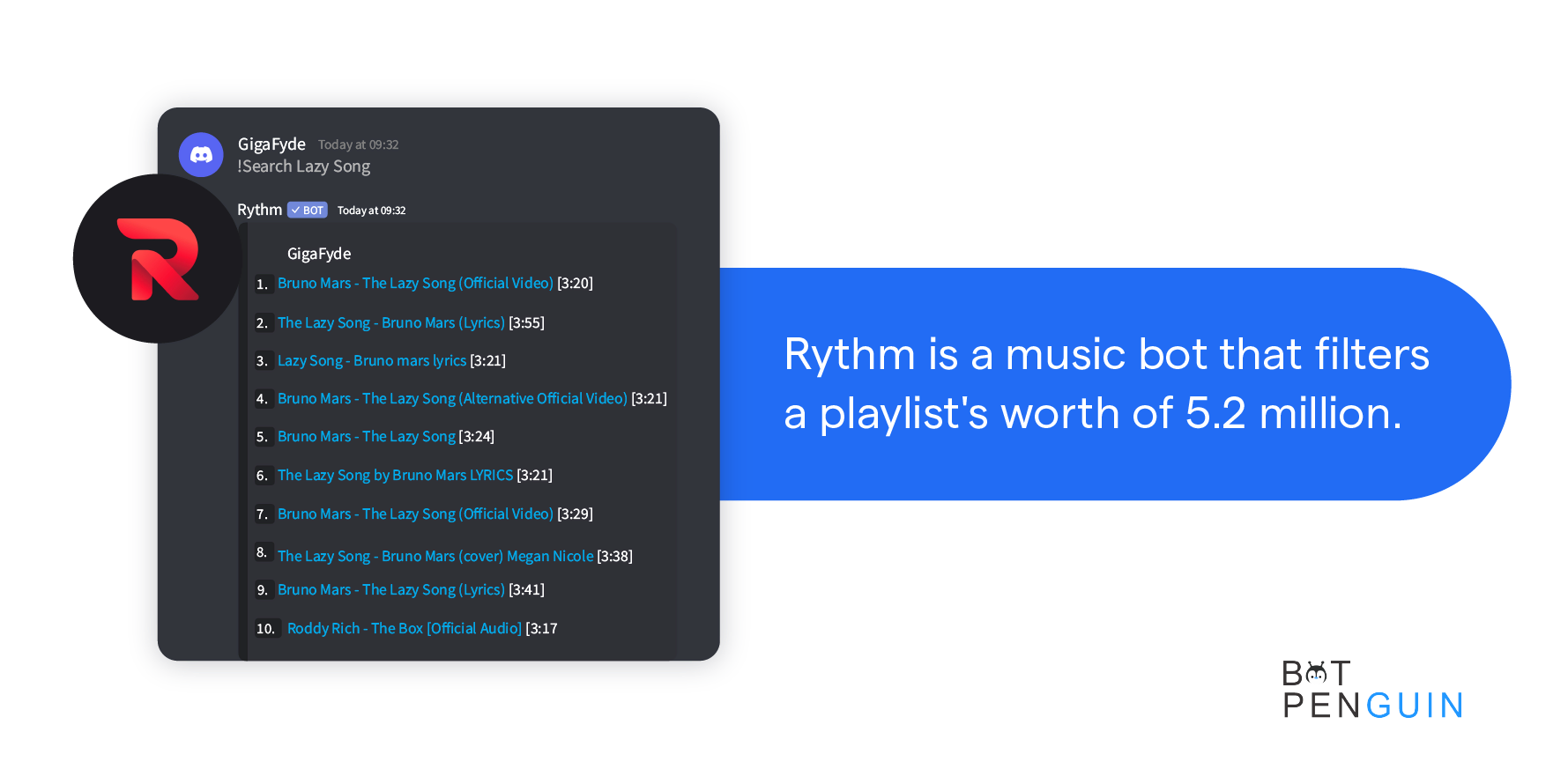 Discord bots are created to carry out robotic-like automated tasks on a discord server.
Rythm is a music discord bot that aims to provide customers with quick and easy access to all desired music, allowing them to focus on playing games rather than wasting time figuring out the bot's instructions.
It's a music bot that filters a playlist's worth of music. 5.2 million Discord servers now use the music bot Rythm.
Its goal is to deliver high-quality music while also ensuring the stability of use and providing music bot experience functionalities for the ultimate music bot.
BotPenguin offers chatbot creation for social platforms, websites, wordpress along many different features:
What is the Voice channel in the discord bot?
A Voice channel is a place where you can put up voice as well as video.
To enter the voice channel, nothing much is required. Just click on it!
No calling or ringing is required. Users or your friends on your server can see you there and can chat with you, even over video or share their screens.
How add Discord's Rythm bot to Voice Channels?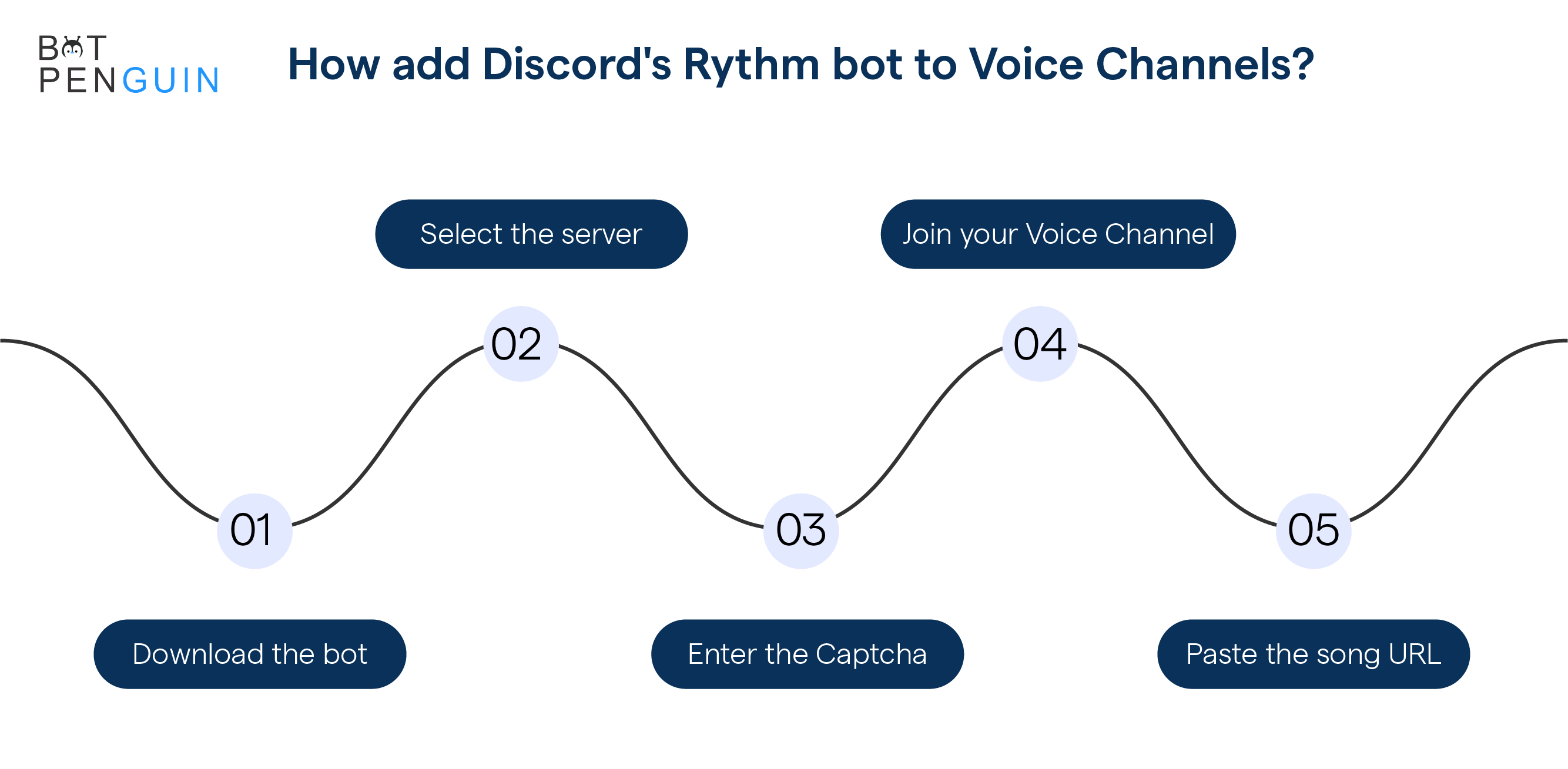 Following are the steps to add discord's Rythm to the voice channel:
Step 1
So, for the first step, you are going to download the bot. Simply, go to a website called Rythmbot.com, which will take you to the Rythm bot's dashboard.
Next, you have to go ahead and scroll down and press ads to the discord server.
Step 2
Next, it will go ahead and take you to an invite link, and there you just going to select which server you want the Rythm to be in.
Next is to go ahead and authorize the Rythm bot to be in your discord server and then wait for it to load.
Step 3
You'll have the quick captcha to verify if you're a human.
After you finish that, you'll get a message in your discord chat from the Rythm bot just saying thanks for adding us and verifying that it's been added.
Step 4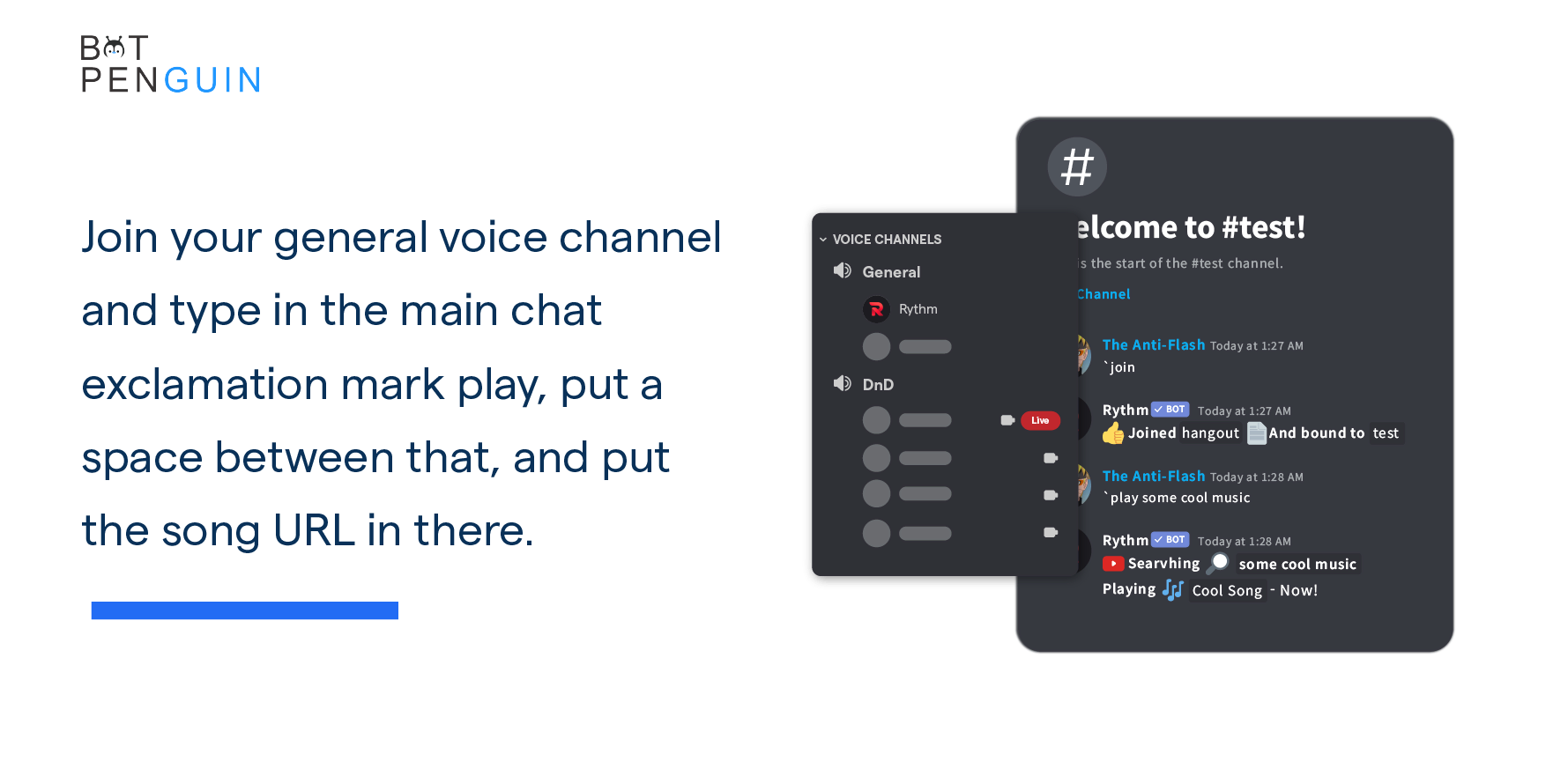 You have to go ahead and join your general voice channel or any voice channel you have and get the URL from any song on youtube and make sure you copy it.
Then go ahead and type in the main chat exclamation mark play, put a space between that, and put the URL in there. Just press enter, and the device will automatically enter your voice call.
Step 5
Then you can start playing that song in your voice call.
Also, if you want to turn down the volume of your music, you have to right-click on the Rythm bot and manually turn down the volume of the Rythm bot.
So that's how you can use a Rythm bot on your discord servers!
Conclusion
Around ten million huge discord servers currently host Rythm bot.
It has administrative features which are quite extensive. More than 300 million users utilize Discord Bots to listen to music on their servers.
Additionally, if you are adding the Rythm bot to the voice channel, it can easily search and play the song with the following steps mentioned above.
Nevertheless, if you seek to build a chatbot for your business, then you must check BotPenguin out!
Create Your Own Chatbot with BotPenguin