If you are interested in technologies, you must know that technologies like chatbots have made it possible to provide customer service more quickly. Chatbots' potential will be valuable in many facets of the customer experience. Customer support is offered, product recommendations are made, and clients are engaged through targeted marketing initiatives.
Now, chatbots are altering how companies engage with and comprehend their clients. AI will enable chatbots to provide a more individualized client experience. Additionally, it helps businesses save money on internal procedures, marketing, and customer service.
Therefore, most businesses have switched to using WhatsApp chatbots for these purposes. Is this genuinely beneficial? Is it a good decision to switch to WhatsApp chatbots?
Of course, it makes sense for companies to be on WhatsApp since that is where their customers are. After all, it is one of the largest social networking platforms on the planet, with over 2 billion users worldwide, including more than 280 million in India alone, and chat or messaging establishes itself as the most popular method of communication.
Are you wondering about the future of chatbots?
With the help of chatbots, businesses can offer customers an outstanding experience across all devices while learning a lot about the customer. Chatbots assist users in finding the information they require and resolving issues.
Any business seeking to build a successful business model must prioritize the organization's legitimacy and the caliber of its client experience.
Many well-known companies now utilize chatbots powered by artificial intelligence to stay up with the changing world. The growth of AI in the technology industry has accelerated significantly, which has sparked the development of chatbots that can assist consumers in finding the information they need online.
What role will chatbots play in the future?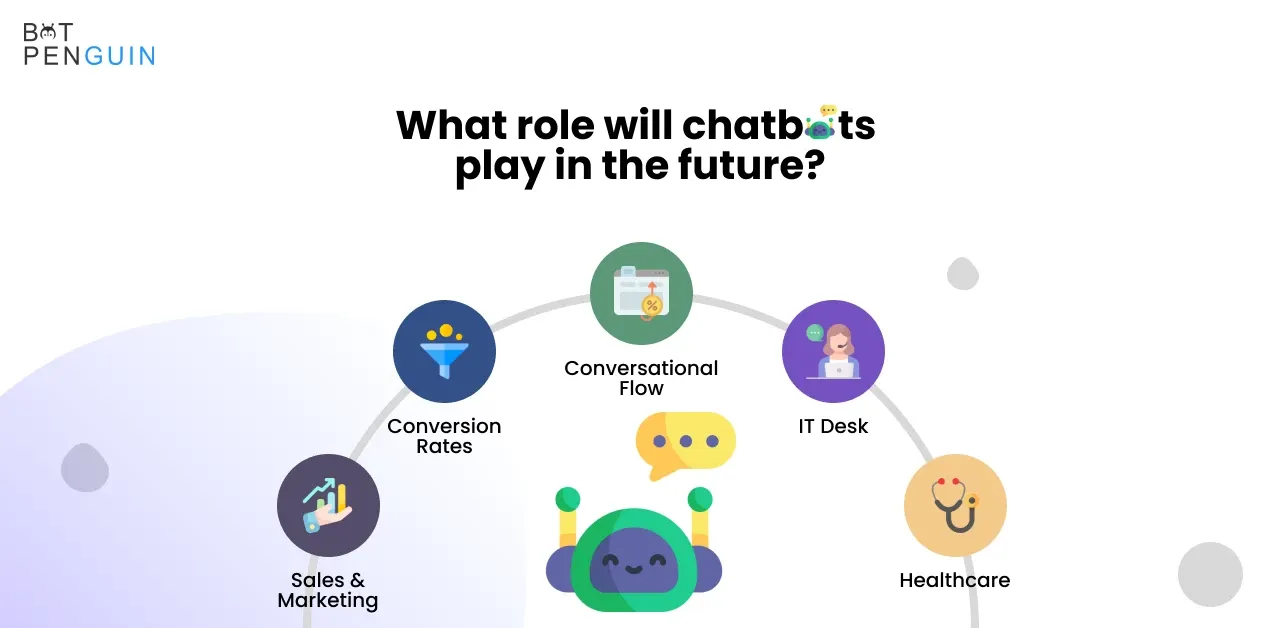 Since they have been around for a while, chatbots can provide users with a beautiful experience on all devices. Additionally, they offer comprehensive data on their clients, enabling businesses to customize their advertising.
The future of chatbots is promising, and they will undoubtedly be necessary for many fields.
Here are some quick facts on the significance of chatbots:
Internal corporate interactions should be handled by chatbots, which will also free up time for IT desk workers and enable them to tackle more challenging issues.

With complete phrases and a conversational flow that feels natural and smooth, chatbots can now converse with customers in your market.

Conversion rates on a website might go up with chatbots. These gadgets have been made user-friendly and aid consumers in progressing through the conversion process.

Chatbots' continual development will enable businesses to give the finest customer service possible by interacting with customers in real time.
The benefits of using chatbot as the key to the future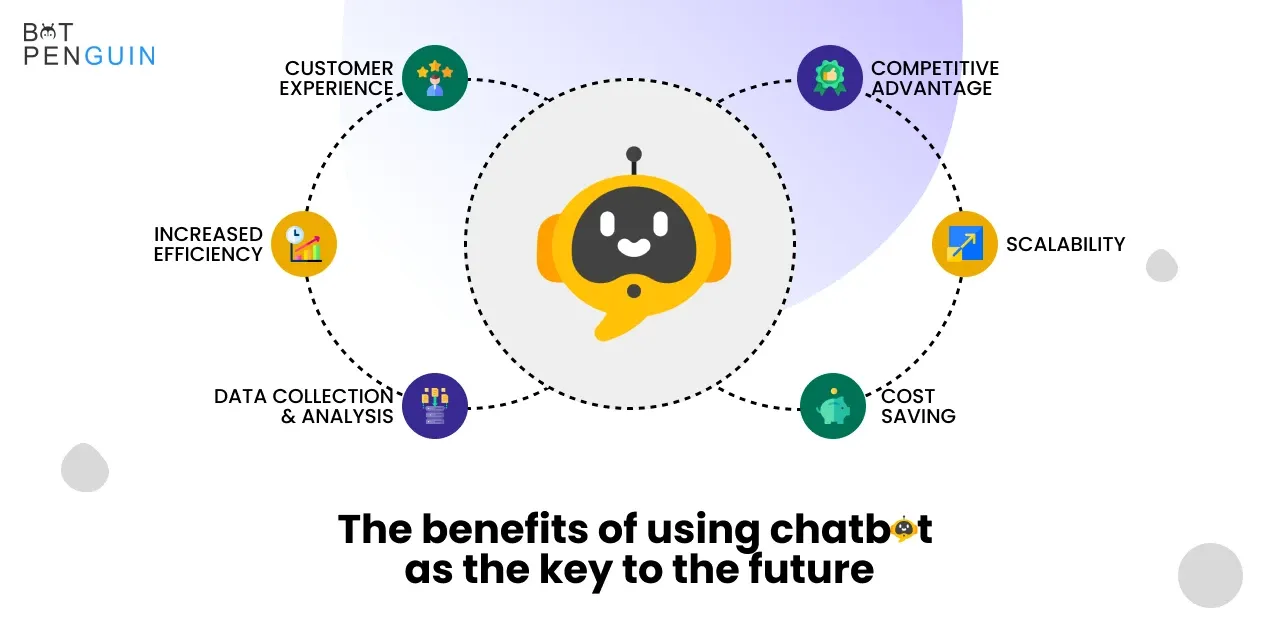 Quicker customer service
From those that sell online courses to e-commerce stores, WhatsApp Commerce offers the highest level of customer care customization for all enterprises. Each client is only a message away. The customer will find it convenient because assistance or clarification is just one message away.
The consumer no longer needs to contact an IVR, wait in line, and then speak with a customer support representative to describe the issue. They also avoid waiting for the customer service team's email, which ordinarily comes one day after the initial query. As an alternative, clients will only have to wait a short while for a response.
Easy Communication And Feedback
Due to the attractiveness of developing a personal connection with each customer, most chat apps have shifted toward the conversational commerce area.
Numerous business-focused features have been added to apps like WhatsApp and Facebook Messenger, including the capacity to create official company accounts with many functional built-in capabilities, such as:
Automated and instantaneous reactions

Communication analytics

sophisticated end-user control
Increase Personalization to Extreme Levels
WhatsApp and other chat apps offer one-on-one conversations. As a result, companies may modify their client interactions and marketing to suit their preferences. Such client preferences can be ascertained using the buyer persona.
Additionally, the option to move between chatbots' tailored and automated responses and live discussions with customer service representatives ensures that your consumers and clients have enduring relationships.
Make Intelligent Chat Flows
You may personalize your marketing efforts using WhatsApp Business, and the chat app offers the chance to create engaging marketing campaigns tailored to the customer's preferred chat app.
Various companies have carefully considered rules that let businesses send pre-approved messages; for instance, the WhatsApp Business API policy states that:
A brand may only communicate with customers using pre-approved templates. A brand has 24 hours to respond to a customer's communication after receiving it. The brands are free to use this window to spread any message, including commercials.
How is a chatbot boon to Customer support and value-added services?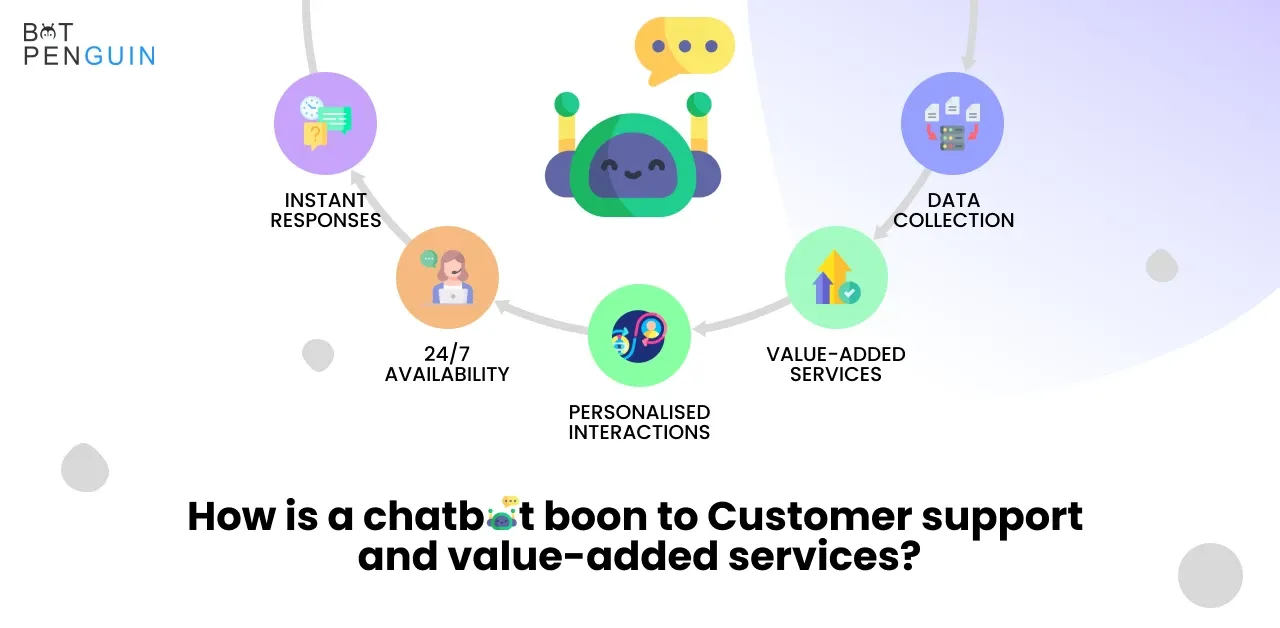 Chatbots are a godsend for customer care departments for both corporations and consumers. Due to increased accessibility and rapid responses, it is now possible to offer practical support or grievance redress.
They help in building a brand's reputation by helpful encounters that occur immediately and regularly. Additionally, problems can be resolved straight away on the chat rather than having to be escalated to a human agent. As a result, the customer support personnel are less stressed and better able to pick up where the chatbot left off because they are already familiar with the problem and the customer's specifics.
Chatbots also make sending value-added services like notifications and updates easier. The customer's past behavior and preferences can be used to target them automatically. Additionally, chatbots enable the bulk delivery of messages to various client categories.
FAQs
How are chatbots transforming society?
Because they are accessible and can be programmed to appear immediately on the screen when a website is browsed, chatbots are used more frequently. They make it possible for customers to receive immediate responses to inquiries, which is undoubtedly quicker than waiting for a customer support professional.
Do WhatsApp bots exist like those in Telegram?
Telegram and WhatsApp bots might have features that are comparable or equal. However, if you want to reach the most significant number of clients, WhatsApp should be the default option. There is sufficient information to conclude that WhatsApp has more users, making it a clear choice.
Conclusion
Artificial intelligence-powered chatbots are successful at building a positive perception of a brand. Any organization will benefit from their continued development and reliance on them to deliver excellent customer service. Chatbots provide in-depth answers to users.
The use of chatbots will continue to grow in the future. Aside from being practical, chatbots also generate income. In light of this, chatbots will soon be a reality in our online lives.
By 2023, chatbots are expected to be used by 40% of organizations for virtual assistants and 47% of enterprises for customer support. It means that chatbots will help businesses gain market share and will become an investment in enhancing customer service during the ensuing few years.
If you want a chatbot for your business, you can go with Botpenguin, an AI-based chatbot builder platform that will allow you to sign up for free.