Meetings aren't an easy task for both the conducting party and the attending party. Scheduling meetings with everyone's availability can cause many back and forth emails. If the meetings involve different time zones, it will drain your energy and time.
No one is efficient in bouncing between appoints scheduling and rescheduling it every time. That's how Calendly comes in with its scheduling meeting in one go strategy. For those new to Calendly, it is intelligent time-saving scheduling software that automatically schedules and manages meetings.
It offers functionality for the team and integrates with popular business applications like zoom and Salesforce. Also, more than 40% of businesses use Calendly for their meetings. Calendly integrates with your calendar and sets meeting preferences.
Then, team members and clients choose the available time slot fitting the rules. Take a look at the schedule of any corporate building. You will agree that there are numerous meetings in a day. But does scheduling a meeting the only work Calendly can do? No, it has many other features and services.
Continue reading to learn more about Calendly features, pricing, and more.
What is Calendly?
Calendly is a meeting scheduling software that saves you time by removing some of the most problematic aspects of scheduling, such as traversing availability and time zones. It works with your calendars and several other prominent business software.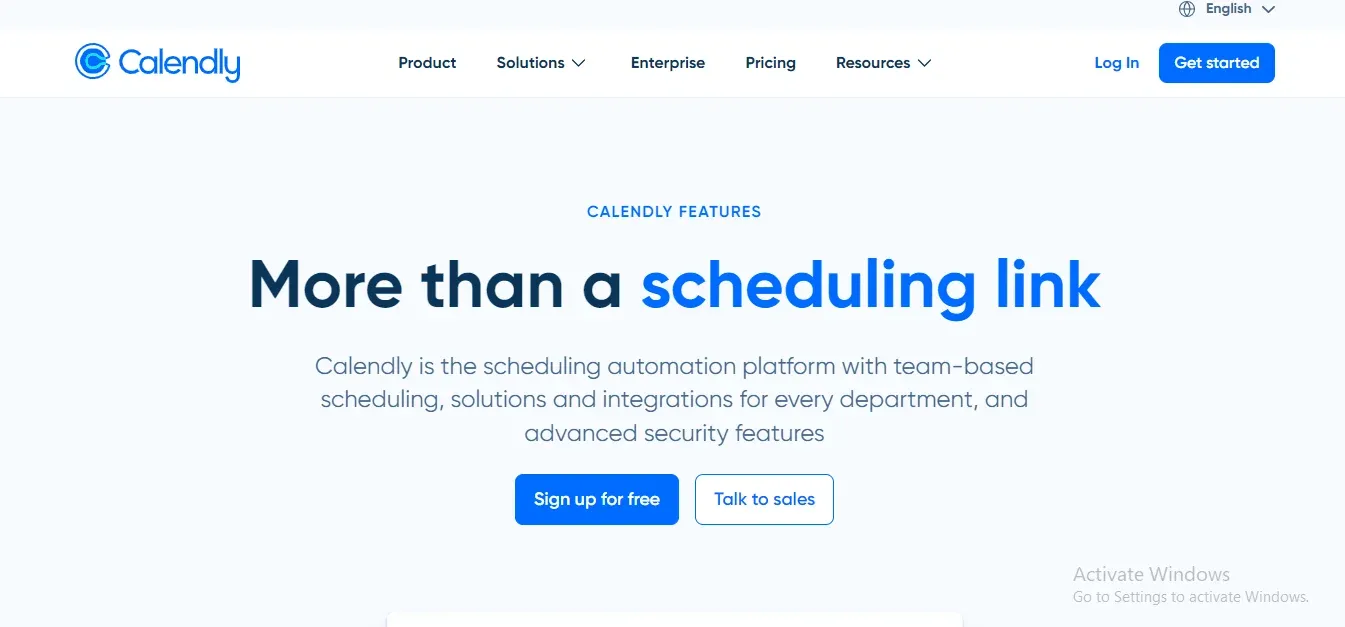 Calendly links can easily include in marketing campaigns and on your website. Set meeting preferences, select from various meeting options, send email and SMS reminders, and engage with your colleagues.
Calendly allows you to send automated text messages or emails.
Moreover, you can send email reminders, thank-you emails, requests for follow-up meetings, feedback surveys, and more when you schedule a meeting. It combines everything you need to book, track, and manage appointments into one simple, easy-to-use app.
In Alternative to Calendly, one can use a Chatbot to schedule an Appointment-

Who is Calendly for?
Calendly is for anybody who wants to arrange meetings or Schedule Appointments with prospects, clients, or team members easier. You might, for example, provide a link to Calendly on your website and allow people to book consultations.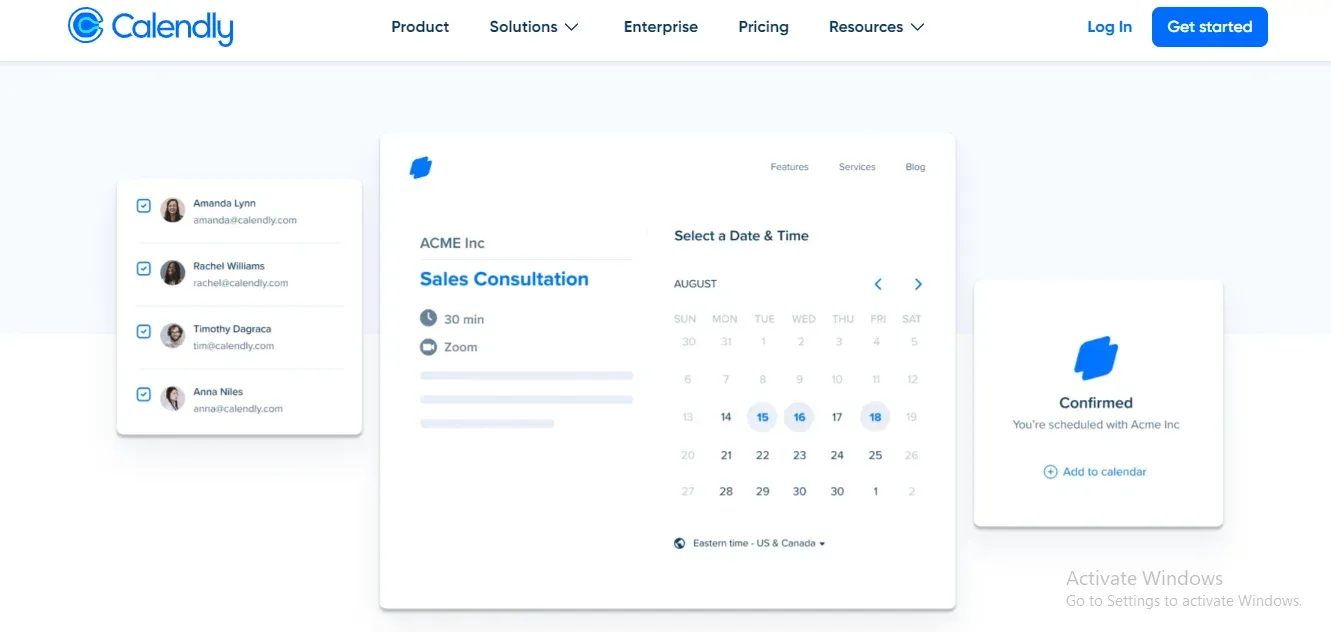 You may also use it to locate meeting times convenient for everyone in your team without sending many emails back and forth. It's beneficial for folks who wish to save time by automating tasks.
Calendly is likely to operate well with products you already use because it integrates with many popular business apps. Calendly is for you if planning, scheduling, and organizing meetings have become a full-time job.
Calendly's features
There are various features of Calendly, such as
Integrations
Calendly syncs with Google, Outlook, iCloud, and Office 365 calendars safely.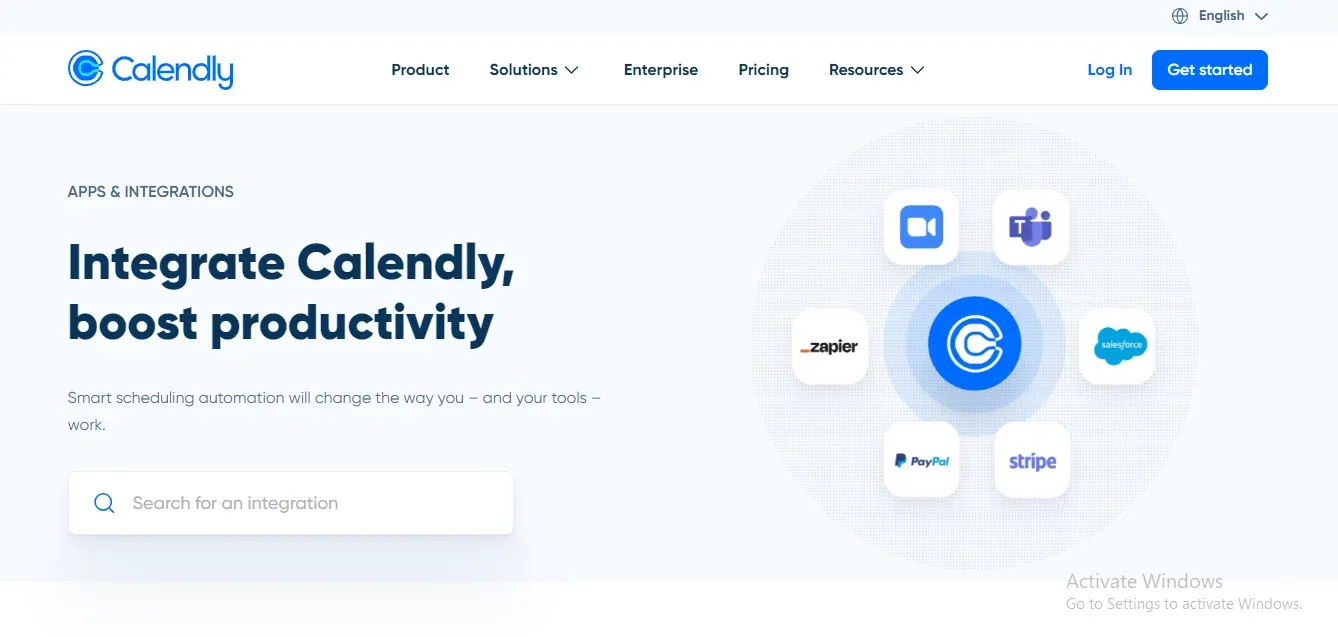 Calendly allows you to link up to six calendars and checks for availability to guarantee that you don't double book. It also has direct integrations with GoToMeeting and Salesforce and the ability to link more apps using Zapier.
Connect Zoom to your Calendly account for virtual meetings. It automatically stores the video conference details in your Calendly event.
It generates online conferences for you, adds appointments to your CRM, and sends out reminders to your attendees. Accept payments via Stripe or PayPal integrations if you charge a fee for your meetings.
You may also include the Calendly link on your website and in sales and marketing efforts to allow prospects to schedule appointments online.
Efficient Meeting Bookings
Calendly syncs with your calendar, and determining your availability is simple. It only displays visitors when you're available, so you'll never be double-booked. Clients can also only select from the types of meetings and meeting lengths you've set in advance.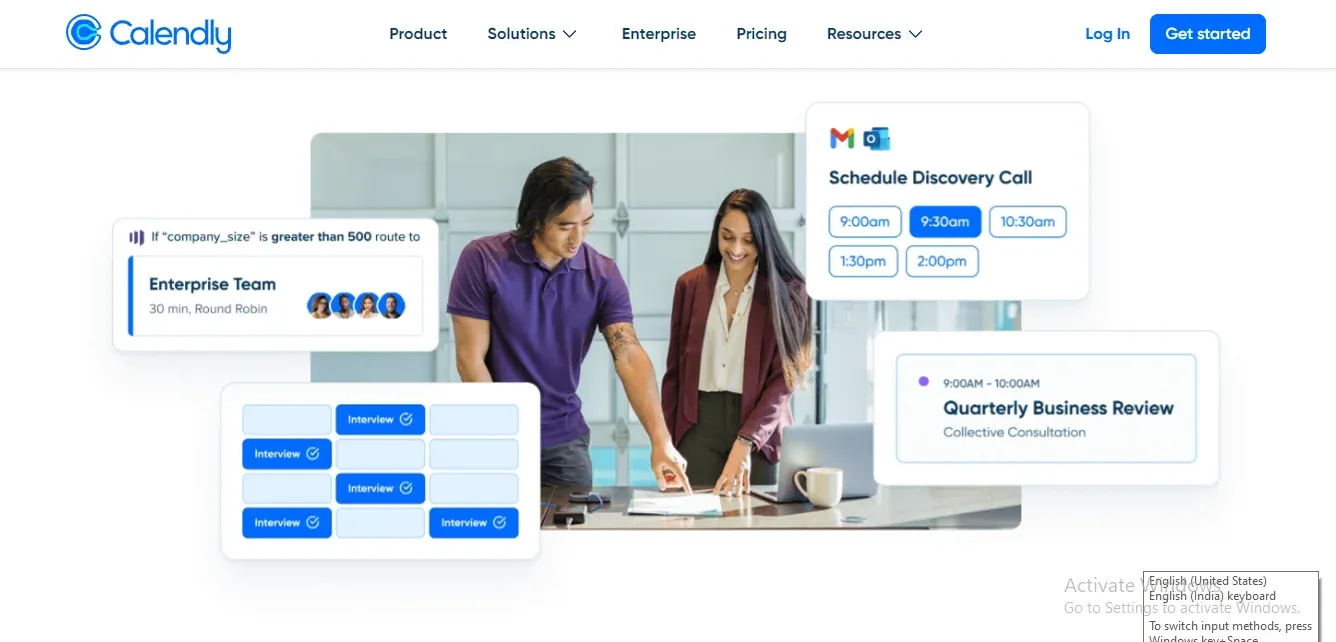 You may also provide numerous in-person or virtual places so that guests can choose how they want to interact with you. You may also control this if you prefer - the option is yours.
Then, using a customized URL, you may communicate your availability with anybody, anywhere.
You can add them to your website, social media accounts, web chat, and emails and text messages.
Your appointments will automatically sync with your calendars, so you'll always know what's on your to-do list.
On the other hand, if something crucial comes up, you cannot avoid it. You may also cancel your appointments, and it will notify your invitees instantly.
Multiple meeting types
To satisfy a range of demands, choose from some meeting kinds. Allow individuals to book one-on-one meetings with you or group meetings with several team members.
You may also host numerous invitees for training or webinars simultaneously. Calendly allows you to automatically assign sessions to your team members based on priority, availability, and equality characteristics.
Follow-Ups
Calendly uses automation to send out follow-ups and email reminders to your invitees, allowing you to focus on your job.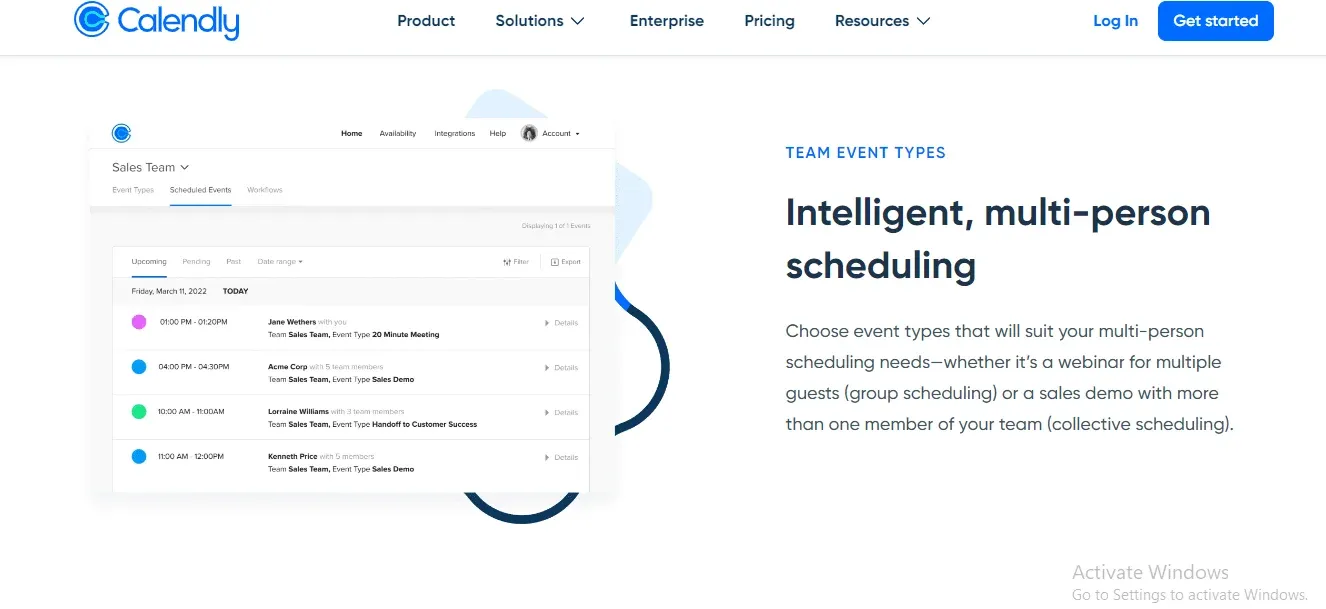 Time zone intelligence
It might not be easy to schedule meetings with persons in different time zones.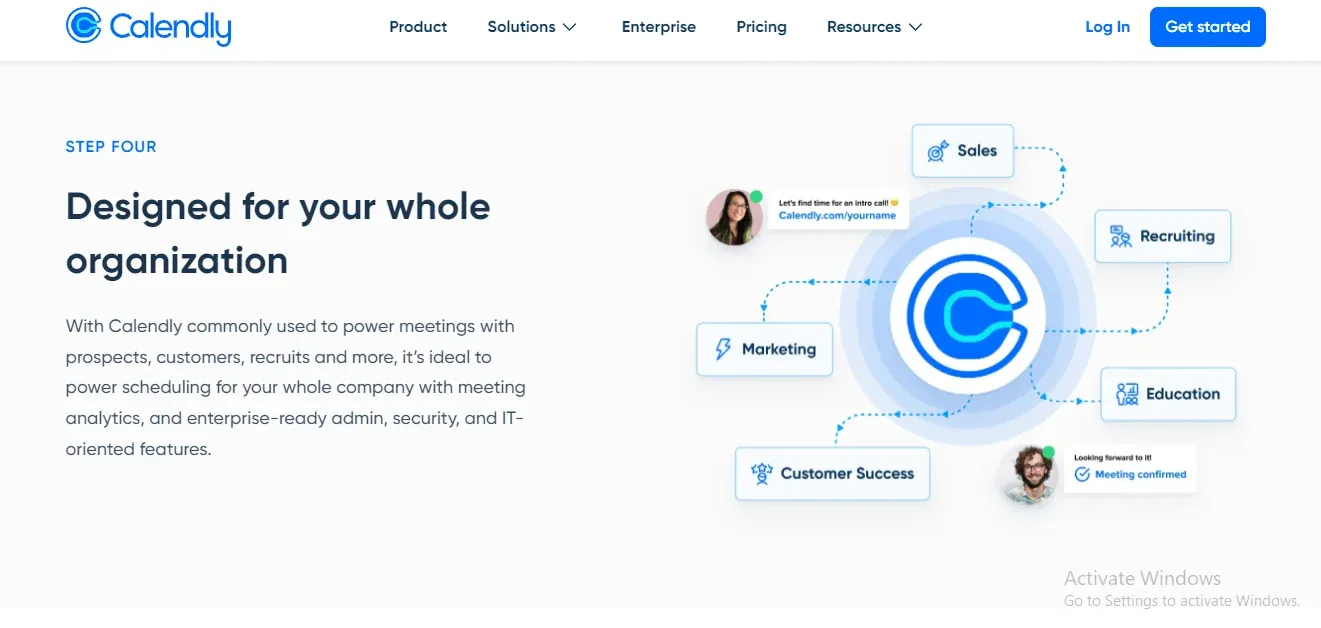 Calendly solves this problem by automatically recognizing time zones for all meeting participants, eliminating the need for the back-and-forth.
Meeting organizers will be able to check your availability in their local time zone.
Collect Payments
Calendly interfaces with Stripe and Paypal, allowing you to take payments when arranging a meeting. So, without worrying about submitting manual bills, you can be confident that you will get your payment on time.
Metrics
Calendly's built-in analytics and statistics make it simple to keep track of campaign scheduling activity, invitee involvement, and attendance.
Calendly has a mobile app so you can keep track of crucial data while on the road.
Personalize Notifications
You may customize check-ins and follow-ups with invitees on Calendly's higher tiers (more on pricing later).
You may even change the colors of those emails and remove Calendly's branding to make these alerts more personal.
Ease of use
Calendly's dashboard may be made more user-friendly. Some options and menus are concealed due to the minimalist design, making it challenging to discover what you need quickly.
Calendly, on the other hand, handles scheduling for you once the initial setup is complete and requires little maintenance on your side.
To keep Calendly running well, you don't need to change the tool or think about it.
Assistance
Calendly's support center has many articles categorized by topic. There are also blogs, movies, case studies, and a community forum on the website.
Calendly's direct client assistance, on the other hand, is restricted. Calendly aid is only available through email with the free plan.
Live chat is available to Premium and Pro members, but no phone assistance is available.
How Calendly Works
Calendly allows users to specify their available choices and send out their special meeting or appointment invitation link. The invitee gets a list of available times and dates depending on the user's availability.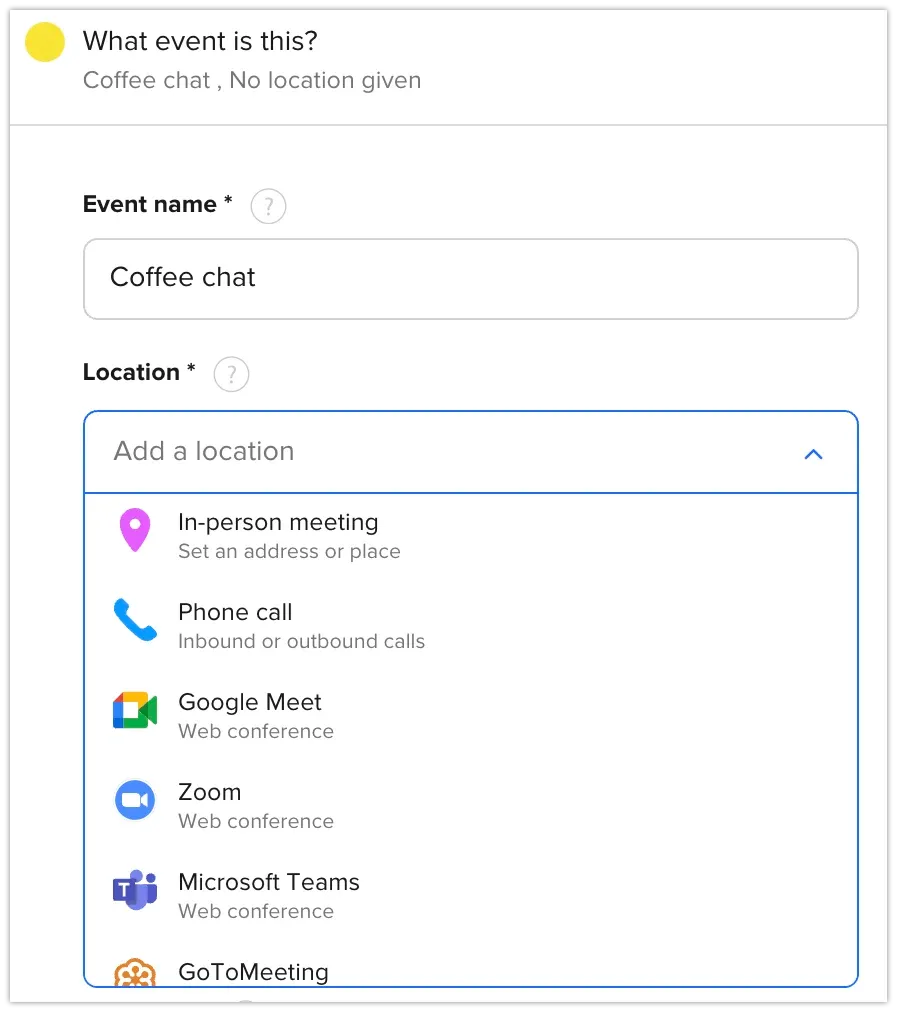 They can choose from that list. Users may establish an infinite number of distinct event kinds to fit their needs. Moreover, users can define a buffer time between appointments and impose a minimum scheduling notice period to avoid last-minute meeting bookings.
Calendly allows users to create and send out several invite kinds, allowing invitees to choose between meeting formats, team members to chat with, or both. Meetings can also be automatically allocated to any available staff member when an invitee requests.
After responding to the event confirmation page, you can send the invitees to a custom 'thank you' page. Calendly sends out bespoke confirmation emails and event reminders to invitees automatically and notifies all meeting attendees via email if someone cancels.
Calendly integrates with Google and Office 365 calendars to automatically update users' calendars. Calendly checks for any scheduling conflicts before adding events.
Calendly Pricing
Calendly has different pricing tiers which include-
Free Plan
Calendly does provide a free-forever plan for individual users. It, of course, comes with limitations. You can't arrange a group or collective meeting, for example, because it limits your account to only one event type.
Calendly's team pages and processes are also unavailable on this plan.
The Essential Subscription
It is priced at $8 a month and works best for small teams who require extensive features and customization. It gives two calendar connections per user. Group, communal, and round-robin events kinds are available.
You can also do unlimited active event types. You will find pages dedicated to teams. You'll be able to personalize your schedule pages and your email notifications.
The Advantage Plan
This plan, which costs $12 per month, is for teams with more sophisticated scheduling requirements.
Workflows, custom SMS alerts, further color customization, and the option to transfer invitees to another website after scheduling an appointment are all included in this package.
It also has Salesforce and HubSpot integrations. It also allows you to connect with Stripe and PayPay so that you may start accepting payments from customers through Calendly.
Finally, each user may link up to six calendars.
The Business Plan
Calendly will need to be contacted for a tailored estimate, as previously stated. However, we know that the Enterprise plan grants access to phone support and onboarding.
User groups, SCIM provisioning, and SAML-based single sign-on are among the additional admin features.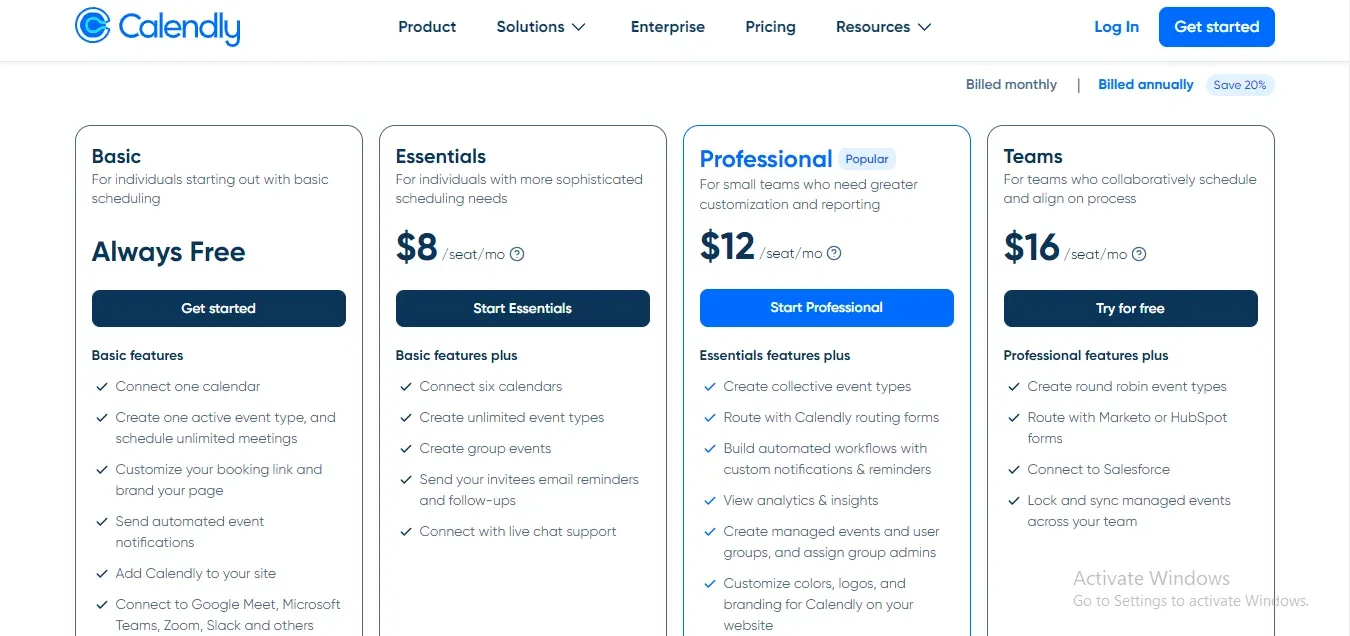 Conclusion
Calendly is undoubtedly a time saver tool for scheduling internal and client meetings. Its integrations assist you in video conferencing, CMRs, and lead generation.
With Calendly, you don't need to send emails about availability and time zones before scheduling any number of meetings. You can avoid double-booking errors, and all the scheduled meetings will be on one page.
With the premium plans, you can schedule video conferences and add meeting times to your CRMs. Not only that, but you can also accept payments directly through Calendly.
The prices are pretty reasonable for any budget. If you have trouble with meetings, go for Calendly and reduce your workload.


Frequently Asked Questions (FAQs)
How does Calendly simplify scheduling and appointment booking?
Calendly streamlines scheduling and appointment booking by allowing users to set their availability preferences, send scheduling links to invitees, automate reminders and notifications, and even collect payment for appointments in advance.
What integrations does Calendly offer with other calendar applications?
Calendly can integrate with popular calendar applications such as Google Calendar, Microsoft Outlook, iCloud, and more. It also offers integration with several video conferencing platforms like Zoom, GoToMeeting, and Microsoft Teams.
How does Calendly handle time zone differences for international users?
Calendly's scheduling pages detect a user's local time zone and adjusts available appointment times accordingly, making it easy to schedule appointments across different time zones.
What pricing plans does Calendly offer?
Calendly offers Basic, Essential, and Pro plans. Prices range from free for basic features, to $8 per user per month for Essential, and $12 per user per month for Pro plans with advanced features such as custom branding and integration with payment gateways.
How secure is the data stored in Calendly?
Calendly takes security seriously and provides end-to-end encryption for all data stored in its servers. It also offers two-factor authentication, SOC 2 Type 2 Compliance, and several other security features.