Are you looking to improve how you help your customers? New chatbot technology uses artificial intelligence to have natural conversations. Chatbots can understand customers and fix problems right away.
Off-the-shelf chatbots may not match your brand. This is where BotPenguin's custom chatbot comes in. With our solution, you can make a chatbot that looks and acts like your own company. It will help you work more efficiently.
Want to learn more? This article talks about how companies are using AI chatbots. We'll introduce BotPenguin's custom chatbot and its benefits. We'll also discuss where this technology is headed in the future.
By the end, you'll see why AI chatbots are so useful. More importantly, you'll learn how a customized chatbot from BotPenguin can really boost how you support customers.
Are you ready to make customer conversations better? Keep reading to find out how! So, let us start with knowing about the demands for Conversatioal AI.
The Rising Demand for Conversational AI
Conversational AI has recently gained immense popularity and for a good reason. Customers expect quick and personalized responses, and businesses strive to meet these expectations.
Traditional customer support systems may only sometimes be sufficient to handle this demand, which is where conversational AI comes into play.
Chatbots powered by AI algorithms can provide instant responses to queries, offer personalized recommendations, and even simulate human-like conversations.
Now it's time to know why you might need a White-Labeled ChatGPT solution.
The Need for White-Labeled ChatGPT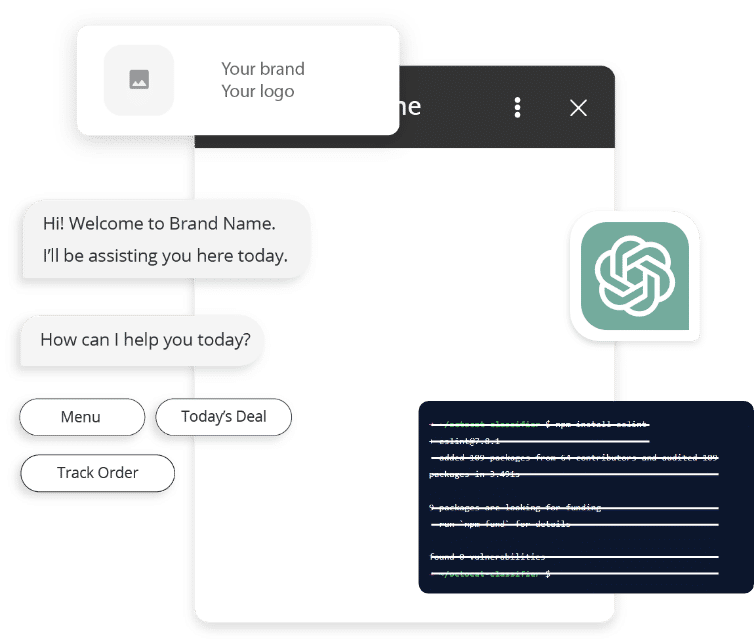 As businesses embrace conversational AI, customization and branding become crucial factors. Generic chatbots may not align with a brand's tone, voice, or visual identity.
This is where Whitelabel ChatGPT solutions, like BotPenguin, come into the picture.
By offering a white-labeled option, businesses can create their branded chatbot experience that aligns with their brand's aesthetics and personality.
You must be waiting to know more about it! No more waiting for here we are introducing BotPenguin'whitelabel ChatGPT.
Suggested Reading:
Introducing BotPenguin's Whitelabel ChatGPT

Level up your customer experience with a conversational ChatGPT chatbot branded exclusively for your business.
BotPenguin's white label ChatGPT enables you to:
Customize the Look and Feel



Brand the chatbot completely with your company's logo

, colors, and domain for a seamless customer experience.



Have Total Control



Have full control over pricing, terms, integrations, and more from an admin dashboard customized to your needs.



Provide Top-Notch Support



Provide world-class AI assistance to customers through ChatGPT's advanced natural language capabilities.



Boost Efficiency



Reduce costs and improve efficiency by automating repetitive customer queries and tasks.





Handle customer issues faster to improve satisfaction.



Gain a Competitive Advantage



Gain a competitive edge by being an early adopter of ChatGPT technology uniquely tailored for your industry.



Leverage Expertise



Leverage

BotPenguin's expertise in ChatGPT development

through robust integrations, custom plugins, and expert support.
BotPenguin makes it easy to launch and scale white-label ChatGPT solutions across industries like eCommerce, healthcare, finance, and more. Contact our team today to discuss pricing plans and get started building your branded ChatGPT experience.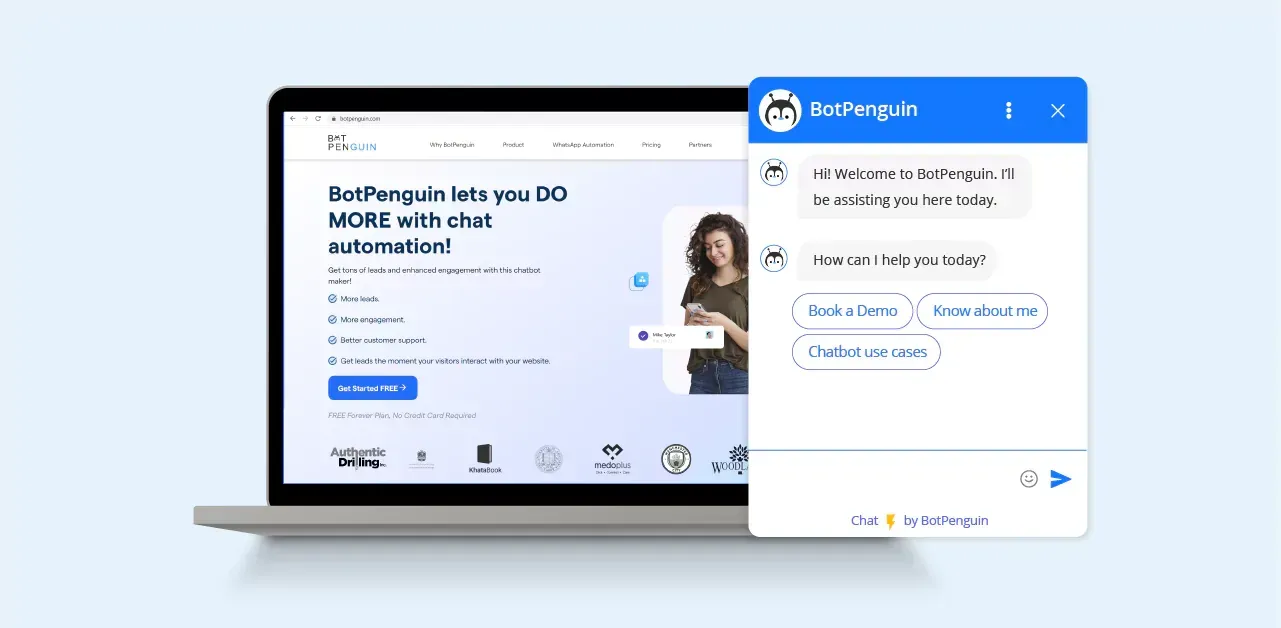 BotPenguin's Whitelabel ChatGPT: The Future of Branded Conversational AI
As ChatGPT and other large language models continue to advance, BotPenguin will stay at the cutting edge by regularly updating their white label chatbots with the latest capabilities from these models.
Customers will be able to seamlessly upgrade to new versions of ChatGPT without having to rebuild their chatbots from scratch.
BotPenguin will expand its library of pre-built plugins and integrations to cover more use cases and industries. This will make it even easier for customers to create powerful chatbots without any coding.
Advanced features like sentiment analysis, knowledge graph querying, and summarization will be natively supported.
The customization options will become highly flexible to accommodate unique brand identities and design preferences. Customers will be able to fully re-skin the user interface with their own colors, logos, avatars, and more.
The chatbots can also be private labeled to remove any references to BotPenguin or the underlying technologies.
Multi-lingual support will be expanded beyond English to reach global audiences. ChatGPT's already strong language abilities will be leveraged to support conversational experiences in dozens of languages. Translations will also be offered as a service.
Advanced analytics and monitoring dashboards will provide deep insights into user conversations, intents, resolutions and more.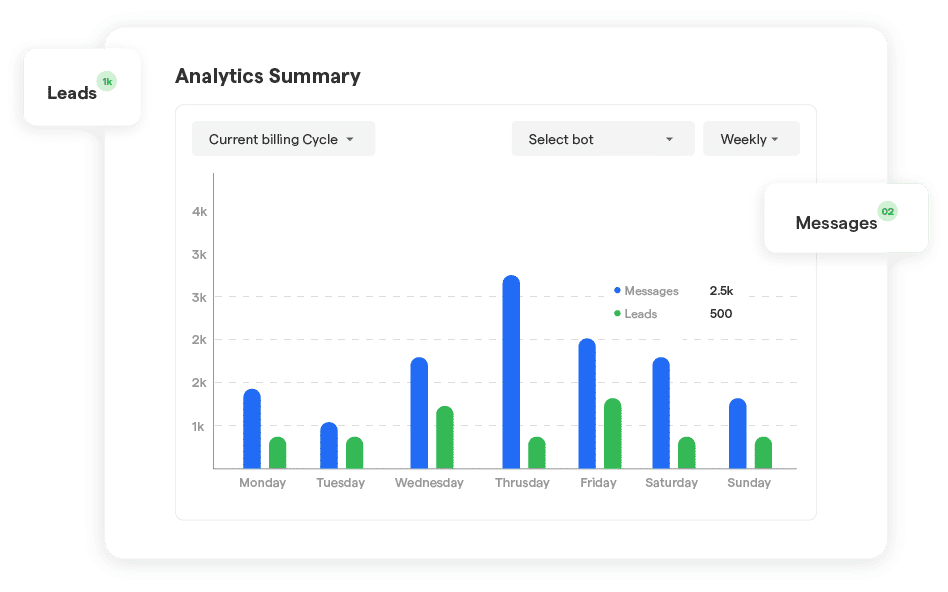 This will help customers continually optimize and improve their chatbot's performance. Integration with CRM, marketing and other business systems will unlock new automation possibilities.
The white label solution will be delivered through a flexible SaaS platform as a service model. This will eliminate upfront costs and allow scaling resources on demand.
BotPenguin aims to be the de facto platform for any organization looking to benefit from ChatGPT-powered conversational experiences.
Conclusion
The future of Conversational AI looks promising, and BotPenguin's Whitelabel ChatGPT is an exciting solution that empowers businesses to offer personalized and branded chatbot experiences.
As the industry continues to evolve, embracing Conversational AI and leveraging innovative solutions like BotPenguin's will be crucial for businesses to stay ahead.
So, why wait? Explore the world of Conversational AI with BotPenguin's Whitelabel ChatGPT and transform your customer interactions today!