Want to build Conversational AI chatbots for online businesses to engage more customers?
Let us introduce you to BotPenguin's chatbot implementation partnership.
BotPenguin chatbot implementation partnership gives you access to integrate cutting-edge chatbots seamlessly. It ensures your organization gains a competitive edge through future-proof conversational AI.
According to a 2022 IBM survey, 67% of IT leaders say they lack skills for AI adoption. With a BotPenguin partnership, you can have an experienced team to handle prompt engineering, use case optimization, and continuous bot improvement.
Whether you need virtual assistants, customer service chatbots, or any other AI solution, the BotPenguin chatbot implementation partnership delivers it.
So continue reading to learn more about BotPenguin chatbot implementation partnership.
What is BotPenguin?
BotPenguin is an AI-powered chatbot creation platform that allows businesses to easily build customized chatbots for platforms like Facebook Messenger, WhatsApp, SMS, and more.
With BotPenguin, no coding is required to create intelligent chatbots that engage customers 24/7. The user-friendly bot builder interface makes it simple for anyone to design and deploy chatbots that deliver results.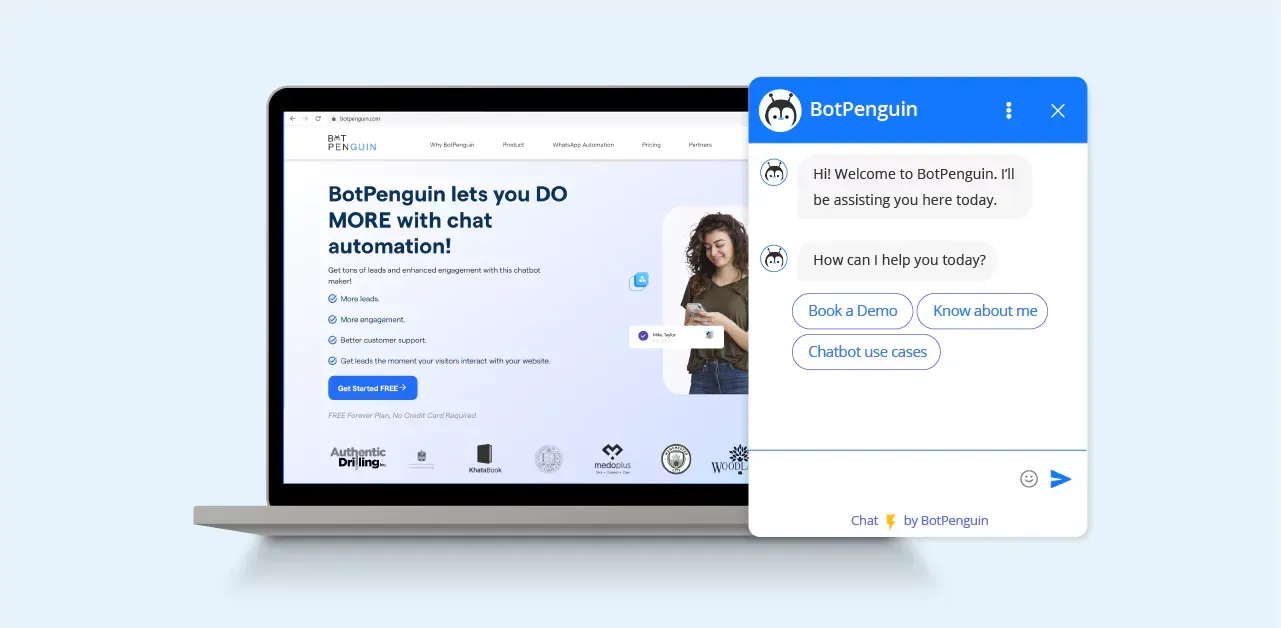 What is a chatbot implementation partnership?
A chatbot implementation partnership refers to an arrangement between a business and a chatbot technology provider to successfully develop, launch, and manage a chatbot. The implementation partner handles the technical work of building, testing, and optimizing bots according to the client's goals.
They also provide ongoing support to ensure the chatbot integrates well with existing systems and continues functioning smoothly after launch. This frees the business to focus on core operations while leveraging automation via chatbots.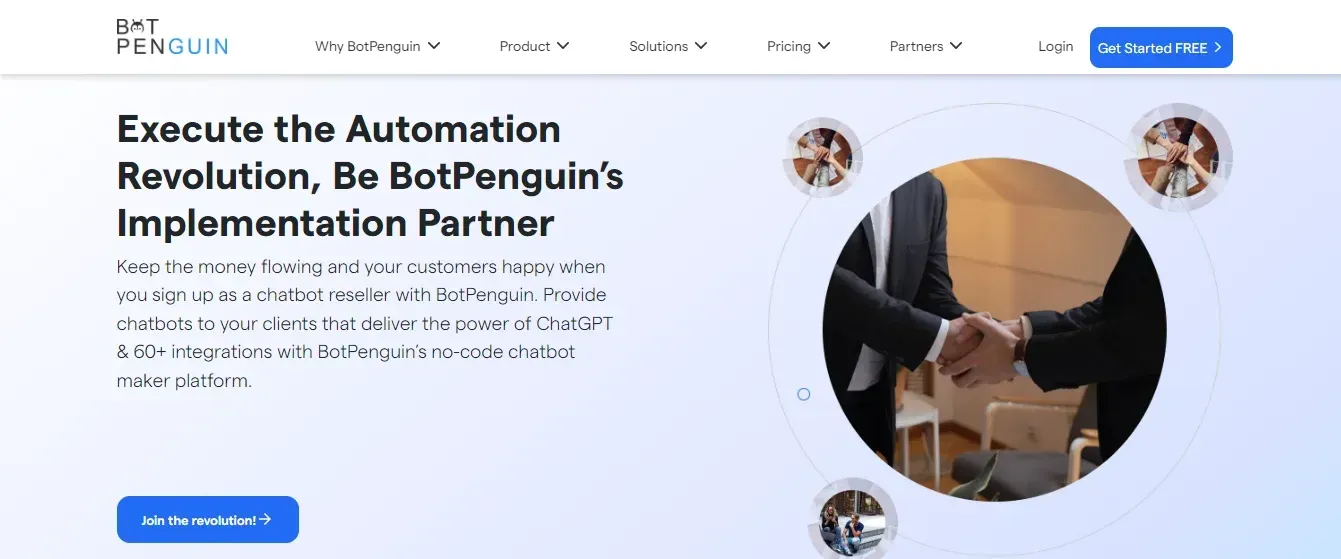 Why Partner with BotPenguin for Chatbot Implementation?
Here are the key reasons to consider the BotPenguin chatbot implementation partnership:
Turnkey Solutions: BotPenguin handles the end-to-end AI build including planning, development, testing, deployment, hosting, and ongoing improvements.

Speed: BotPenguin's expertise and structured process enable it to deliver custom conversational AI chatbots faster.

Scalability: BotPenguin's robust infrastructure and processes allow users to seamlessly scale chatbots as their needs grow.

Flexibility: They craft tailored solutions for your specific use cases, brand voice, and integration requirements.

Continuous Improvement: BotPenguin bots get smarter daily through rigorous QA, user feedback analysis, and retraining.

Experience: BotPenguin has successfully deployed chatbots for companies across industries.

Risk Reduction: BotPenguin's rigorous development and testing methodology minimizes errors and flaws.

Full Support: BotPenguin's chatbot experts provide ongoing monitoring, maintenance, and support after launch.
By leveraging the proven conversational AI expertise, BotPenguin chatbot implementation partnership delivers maximum ROI through highly effective, enterprise-grade chatbots.
Apart from Implementation Partner, BotPenguin offers other partner programs as well. These are-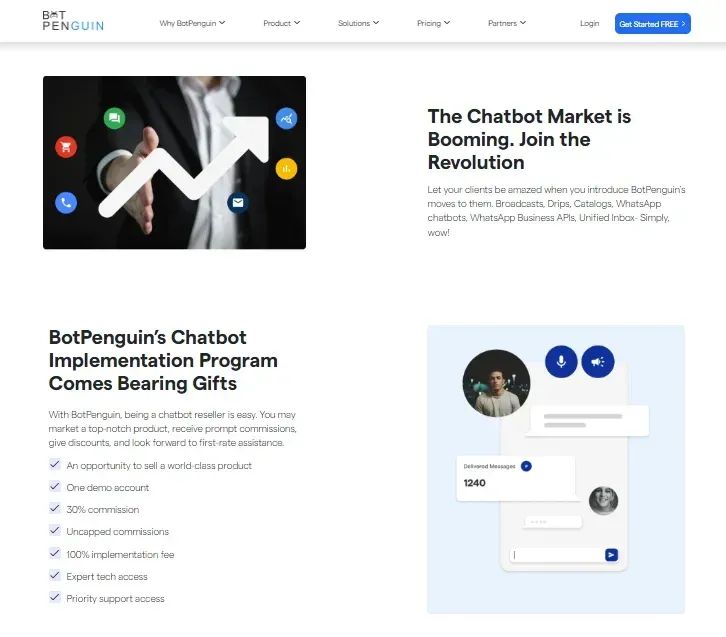 Who Can be a BotPenguin Chatbot Implementation Partner?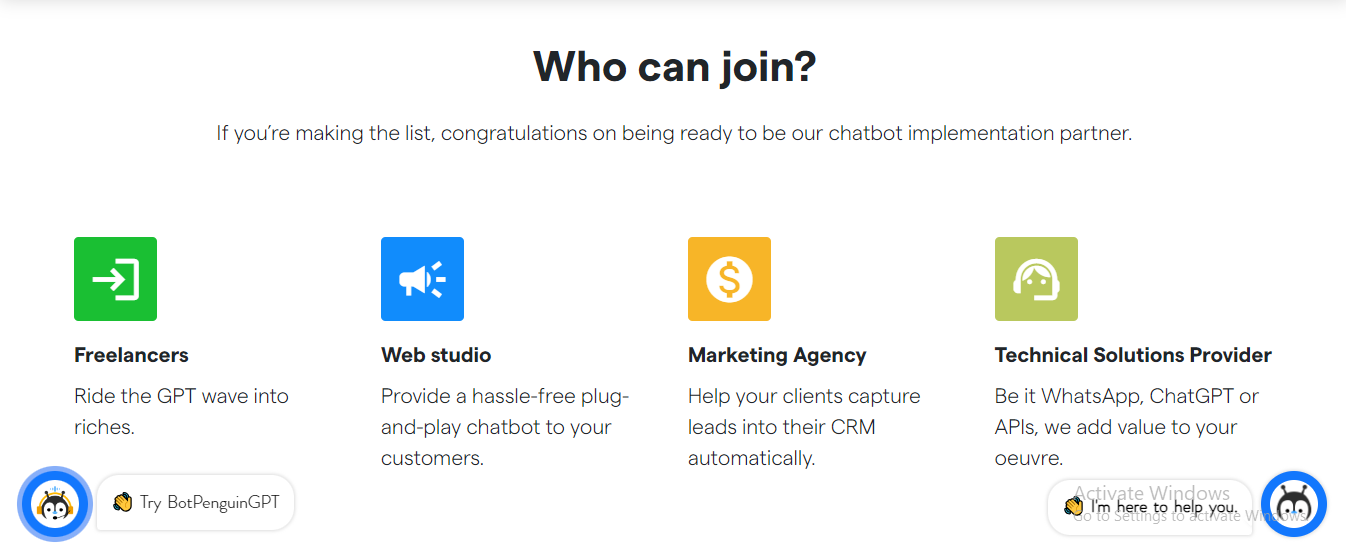 Who can ride the AI wave with BotPenguin? Honestly, Pretty much anybody who has the skills to sell and an audience/client base could be a BotPenguin Chatbot Implementation Partner. But for the sake of clarity, we have divided our Ideal partner personas into four broad categories:-
Freelancers



Are you a Freelancer who has a good client base? Why don't introduce BotPenguin to them, help them implement it, and earn hefty commissions right away?



Web Studios



Web Development service providers can implement BotPenguin on their projects to prepare them for better customer service and engagement.



Marketing Agency



BotPenguin is all in for Marketing. If you're a Marketing Agency, you can use BotPenguin to boost lead generation and introduce Marketing Automation to your clients' business.



Technical Solution Provider



Do you provide technical support and solutions? Join hands with BotPenguin and add AI to your arsenal.
How to Get Started a Chatbot Implementation Partnership With BotPenguin?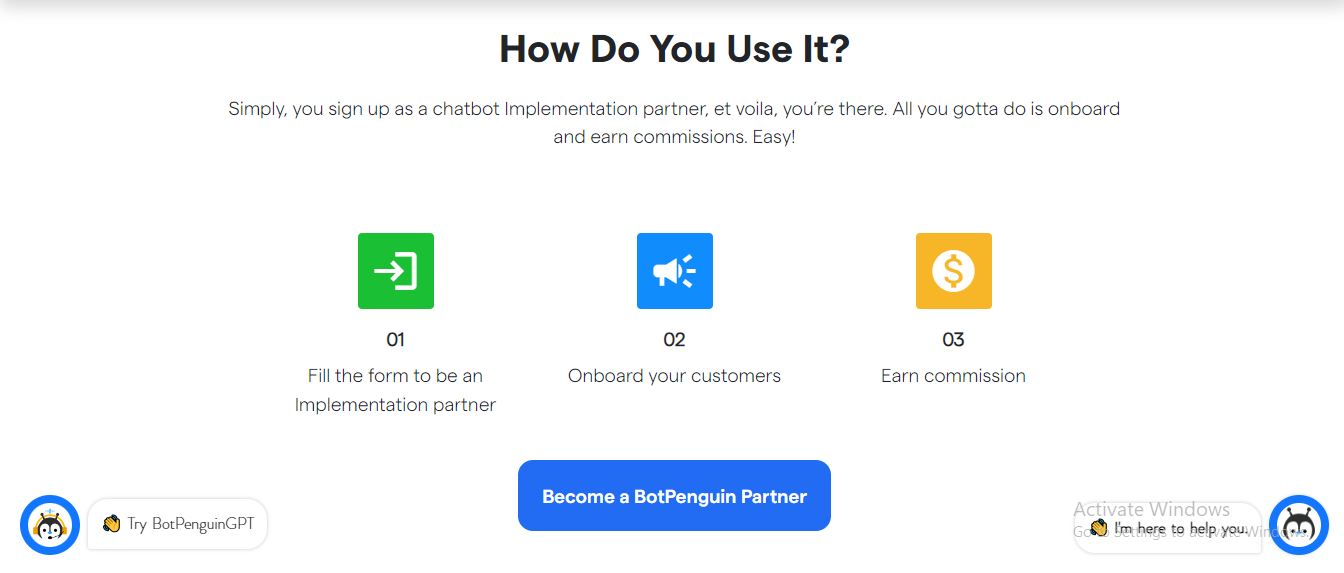 Ready to get started and become a Chatbot Implementation partner? Great! You're already halfway there. Now all you need to do is follow these simple three steps:-
Step 1
Fill out Form
Let us know that you're interested in joining as an Implementation partner by filling out a simple form. We'll reach out to you, onboard you, and provide you with everything you need.
Step 2
On-Board Your customers/clients
Introduce BotPenguin to your customers/clients and help them in implementation (Pretty much a drop-and-drop business. We've done all the leg work).
Step 3
Earn Commission
We don't need to explain this, do we? With every successful customer you bring, you get a prompt 30% commission.
Conclusion
In conclusion, the demand for conversational AI is rising exponentially. Gartner predicts over 50% of enterprises will deploy chatbots by 2030. However, developing robust, enterprise-grade chatbots requires hard-to-find expertise.
Partnering with an experienced chatbot implementation provider offers an invaluable opportunity to deploy results-driven chatbots at scale.
The right partner handles all the complex development, deployment, and optimization work. It enables businesses to reap the full benefits of conversational AI with minimal lift.
BotPenguin chatbot implementation partnership gives your organization a distinct competitive advantage.
Our rigorous process and proven ChatGPT integrated experience enable fast deployment of highly effective, scalable chatbots tailored to your needs. We seamlessly integrate AI into your tech stack and workflows for maximum business impact.
Don't miss the opportunity to engage customers, improve operations, and drive growth with our chatbot implementation partnership. Partner with us for the skills, speed, and support needed to make your AI aspirations a reality now.