Dreaming of launching a lucrative chatbot reselling business but don't know where to begin? You're not alone.
With the booming demand for conversational AI solutions, many aspiring entrepreneurs are keen to tap into this opportunity
However, without the right guidance and tools, the path to success can be unclear. How do you attract clients and deliver real value?
In this blog, learn the secrets to becoming a chatbot reselling rockstar with the power of BotPenguin
With the right strategies and partner, you can build a highly profitable chatbot empire and become a leader in this exploding industry.
Let's dive in!
What is Chatbot Reselling?
Chatbot reselling involves the process of creating and selling chatbots to businesses. It can enhance their customer experience, automate tasks, and increase efficiency. As a chatbot reseller, you act as a middleman, leveraging your expertise to provide tailored chatbot solutions to clients.
Importance of chatbots in today's digital landscape: Chatbots have revolutionized how a company interacts with its customers. They can provide instant responses, personalized recommendations, and round-the-clock support.
The growing demand for chatbot reselling services: With the increasing awareness of the benefits of chatbots, businesses across various industries are actively seeking chatbot solutions.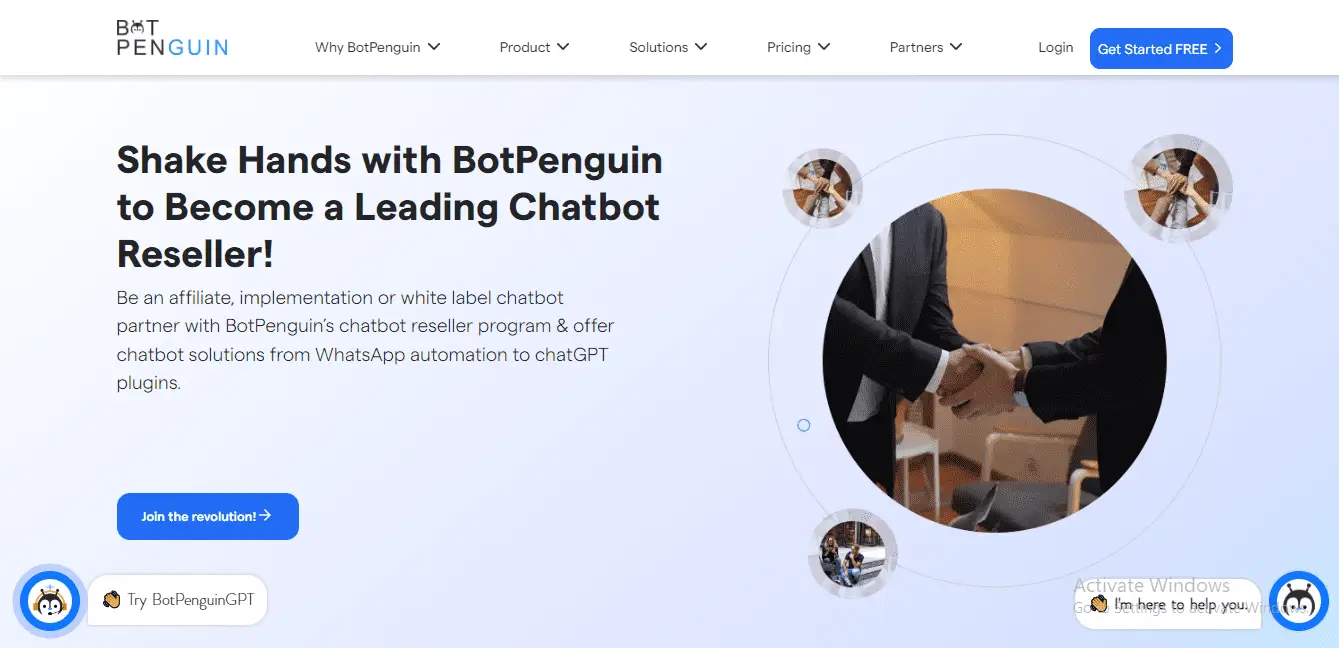 What is BotPenguin?
BotPenguin is a chatbot platform that allows businesses to create and deploy chatbots. The platform is designed to be easy to use, even for those without chatbot experience.
BotPenguin also offers a white-label chatbot reseller program. It allows businesses to create and sell chatbots under their brand name.
You will have access to a library of pre-built chatbot templates and a team of experts who can help you create custom chatbots. In addition, BotPenguin offers a variety of marketing and sales tools to promote your chatbots.
Why Choose BotPenguin for Chatbot Reselling?
BotPenguin reseller program provides all the tools and resources to create, customize, and sell chatbots. BotPenguin chatbot reseller program has nine unique reasons why someone might choose it:
Easy-to-use interface
BotPenguin's intuitive drag-and-drop interface allows even non-technical users to create chatbots effortlessly.
Multi-platform deployment
With BotPenguin, you can deploy chatbots across multiple platforms. It includes websites, messaging apps, and social media.
AI-powered chatbots
BotPenguin's chatbots have artificial intelligence capabilities, enabling natural language processing, sentiment analysis, and personalized responses.
Integration options
BotPenguin integrates with popular CRM systems, marketing automation tools, and third-party applications. Such as Facebook Messenger, WhatsApp, websites, CRM software, etc.
Analytics and Reporting
Track the performance of your chatbots with detailed analytics and reports, helping you optimize their effectiveness.
Pre-built chatbot templates
BotPenguin offers a library of pre-built chatbot templates. With this, businesses can quickly and easily create chatbots for various purposes.
Custom chatbot creation
Businesses can also create custom chatbots using BotPenguin's drag-and-drop chatbot builder.
24/7 support
BotPenguin offers 24/7 support to help businesses troubleshoot any problems with the platform.
Scalability
BotPenguin may offer scalability options, allowing businesses to start with a basic plan and upgrade to more advanced features as their chatbot requirements grow.
To sum up, with BotPenguin you get to become a leading Chatbot Reseller! Be an affiliate, implementation, or white-label chatbot partner with BotPenguin's chatbot reseller program & offer chatbot solutions from WhatsApp automation to chatGPT plugins:
How to Get Started with BotPenguin?
In this section, we will discuss how to start your journey with BotPenguin. Here is a step-by-step guide to signing up and creating an account on BotPenguin:
Step 1
Visit the BotPenguin website and click on the "Sign Up" button.
Step 2
Fill in the required details and create your BotPenguin account.
Step 3
Verify your email address from your account and log in to your BotPenguin account.
Step 4
Select a chatbot template that suits your client's needs, or start from scratch.
Step 5
Customize the chatbot's appearance, messages, and interactions using the drag-and-drop interface.
Step 6
Test the chatbot to ensure a seamless user experience before deploying it for clients.
How to set the right pricing for your Chatbots?
In this section, you can explore determining the right pricing strategy. With that, you can learn about different packaging options you can offer clients and how to create value propositions that will have them lining up to work with you.
Establishing a Pricing Strategy
Finding the right pricing strategy for your chatbot reselling services involves undertaking market research, considering a value-based pricing approach, and offering varying pricing tiers to cater to different client budgets and needs.
Creating Value Propositions
Stand out from the competitors by highlighting the unique benefits of your services. Points to emphasize include an enhanced customer experience enabled by your chatbots, increased business efficiency, and significant cost savings potential for clients.
Upselling Additional Services
Increase the perceived value and, consequently, the profitability of your offerings by adding complementary services, such as chatbot analytics, integration capabilities, or chatbot content creation.
The balance of pricing and adding value will create enticing propositions for potential clients and bolster the profitability of your chatbot reselling business.
Marketing and Selling Your Chatbot Reselling Services
Now that you've got your pricing and packaging in order, it's time to market and sell your chatbot reselling services with BotPenguin. This section explores developing a comprehensive marketing strategy, leveraging digital marketing channels, and building relationships to help you succeed.
Crafting a Marketing Strategy
Develop a comprehensive marketing strategy by defining your target audience, creating compelling messaging, producing engaging content, and utilizing social media to showcase your chatbot reselling services.
Harnessing Digital Channels
Leverage digital marketing channels to reach potential clients. Optimize your website for search engines, use pay-per-click advertising campaigns, engage in email marketing, and implement content marketing strategies to establish your presence and expertise.
Fostering Relationships
Build and maintain relationships with prospective clients by providing valuable insights and actively participating in industry discussions. Make use of social media platforms and online communities to demonstrate your expertise and foster trust in potential clients.
Both a well-crafted marketing strategy and active engagement in digital marketing will help you effectively attract new clients and grow your chatbot reselling business with BotPenguin.
Scaling Your Chatbot Reselling Business
In this section, we'll explore how to identify opportunities for scaling, hire and manage a team, and expand your service offerings.
Identifying Growth Potential
Take the opportunity to scale your chatbot reselling business by identifying new growth avenues. This could mean expanding vertically into new industry niches, growing geographically into different regions, or forming collaborative partnerships.
Effective Team Management
As your business expands, you'll need a supportive team. Manage your squad effectively by clearly defining roles, encouraging open communication, promoting continuous learning, and granting empowerment and autonomy.
Diversifying Service Offerings
Add value to your business by broadening your service offerings. This involves adapting your services to cater to unique industry needs and requirements, as well as tailoring your bots to different cultural nuances when expanding geographically.
Harnessing the Power of Partnerships
Consider forming alliances with related businesses. Partnerships and collaborations can significantly expand your reach, allowing you to offer complementary services and tap into their client base.
Encouraging Team Growth
Foster a learning environment where your team continuously stays updated with the latest chatbot trends and technologies. Encourage them to innovate and contribute ideas to your own, and clients' benefits.
Scaling your chatbot reselling venture involves strategically identifying growth opportunities, managing a supportive team effectively, broadening your service offerings, leveraging partnerships, and promoting a learning culture within your team.
Final Thoughts
The chatbot revolution is here. Get ahead of the curve by becoming a BotPenguin reseller today. With our easy bot builder, your clients can create intelligent chatbots for every need without coding
You consult, and we empower you with the technology to deliver transformative solutions. Monetize your expertise while wowing clients with smoother operations and 5-star customer experiences.
Be a trailblazer in this $15 billion industry.
Partner with BotPenguin to drive results and reap rewards as a chatbot reseller rockstar!