You are ambitious and have a good business concept. But how do you interact with your clients?
To begin with, you can use a spreadsheet or write your notes by hand. But as your company grows, you realize that the solution isn't scalable. Notes made by sellers are overlooked. Wherever you go, customers are curious.
Additionally, it takes various applications, even when everything happens on schedule. That demands a significant amount of labor and extensive data cross-referencing among programs.
Hence, it would help if you found something that suits you. Today, customers are managed by enterprise players using a CRM. One such CRM is Zoho, which offers enterprise-level service.
Over 3,500 people work for the entire company Zoho at various locations worldwide. More than 15% of the organization's designers are drawn from this program. Zoho is a collection of 11 business applications to aid with company coherence.
In this blog, we've gathered a range of Zoho CRM facts to assist you in managing the many aspects of your company and boosting productivity. So let us begin!
What is Zoho CRM?
To handle the sales, marketing, and customer support aspects of business-to-business (B2B) and business-to-customer (B2C) engagement strategies, Zoho has developed a cloud-based customer relationship management (CRM) platform.
Popular desktop Web browsers for Linux, Mac OS X, and Windows may access Zoho CRM, which is licensed as software as a service (SaaS). Along with the iPad and iPhone from Apple, the platform is also accessible as a mobile app for users on Android smartphones.
Although it is appropriate for businesses of all sizes, Zoho's CRM platform is especially well-liked by small businesses because of its flexible price and capabilities.
Along with email marketing, social CRM, marketing automation, and sales capabilities, it provides customers with the essential CRM tools they require.
Zoho CRM features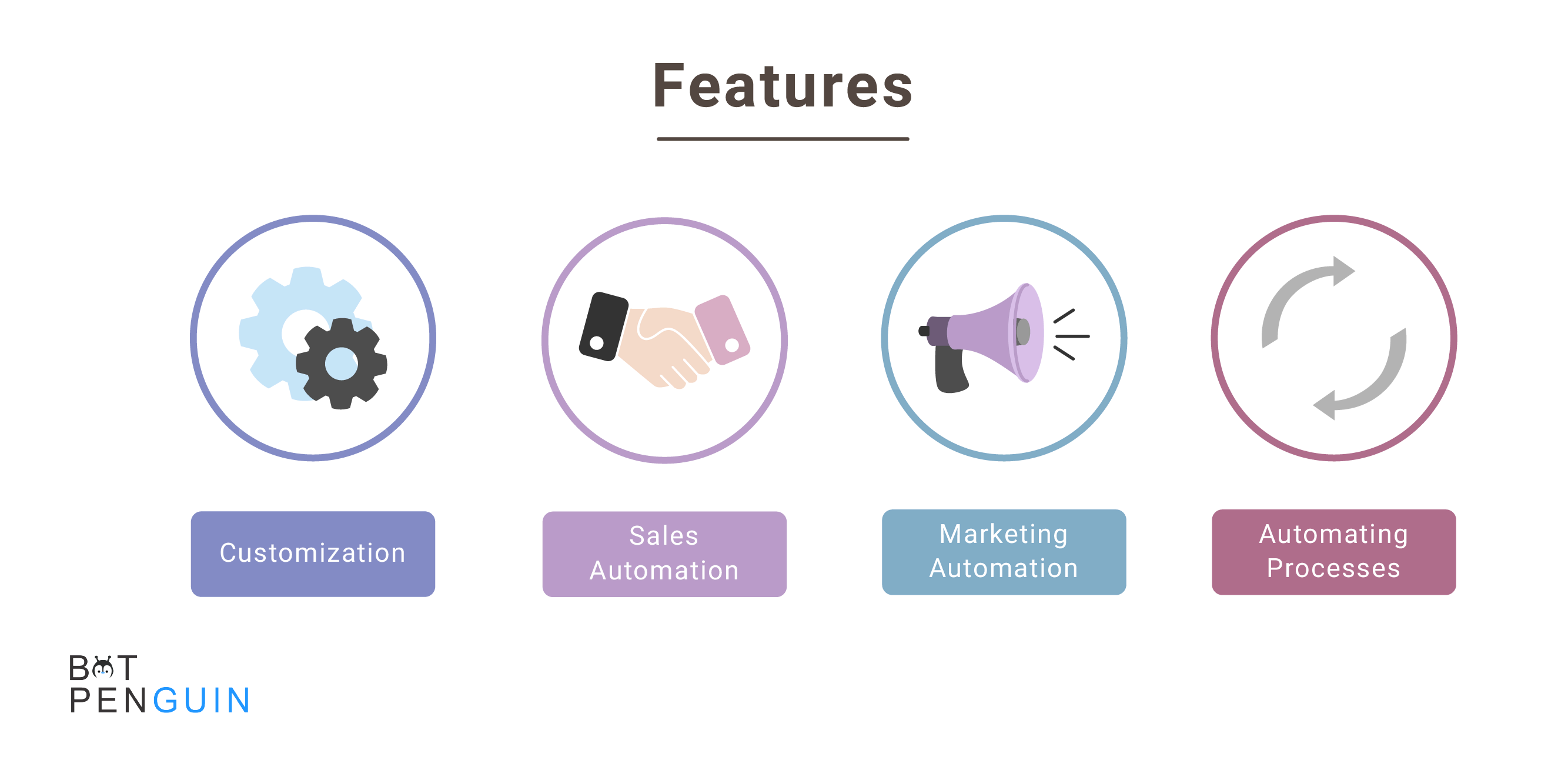 Zoho CRM feature: An Automated Sales Team
The Zoho CRM is great at increasing sales productivity, which is a direct advantage of having customer relationship management software. Your numerous sales activities, from sales appointment scheduling to keeping track of sales possibilities, are made simpler with its Sales Force Automation software.
Zoho CRM feature: Customization of the Platform
One of the critical characteristics of Zoho CRM is the capacity to adapt the platform's many applications to the demands of your company. You may conduct various tasks, like making unique buttons and layouts, gathering information from prospects, customizing tests, localizing languages, and much more.
Zoho CRM feature: Marketing Automation
In this regard, Zoho is the most incredible lead management tool because it generates high-quality leads that may eventually increase sales. You may get exponential returns from each of your business marketing initiatives using the marketing automation features provided by this relationship management platform.
Zoho CRM feature: Automating and Managing Processes
You may protect yourself from any economic upheaval with Zoho's assistance and stay current with rapidly shifting market trends. With automation, you may quickly address team or organizational inefficiencies while still having time to concentrate on other concerns that will boost your business' productivity and expansion.
Zoho CRM pricing
These packages are offered at various price points and cater to multiple demands.
Zoho

CRM (Enterprise edition): $50/user/mo x 10 users = $500/mo

Zoho CRM Plus (Enterprise edition by default): $69 per user per month x 10 users = $690 per month.

It provides analytics, projects, surveys, social media, campaigns, desks, sales IQ, and CRM.

It is comparable to purchasing CRM Enterprise for $500 per month and all other enterprise-level applications for $834 per month.
9 Interesting Facts You Didn't Know About Zoho
1. It integrates effortlessly with more than 750 apps.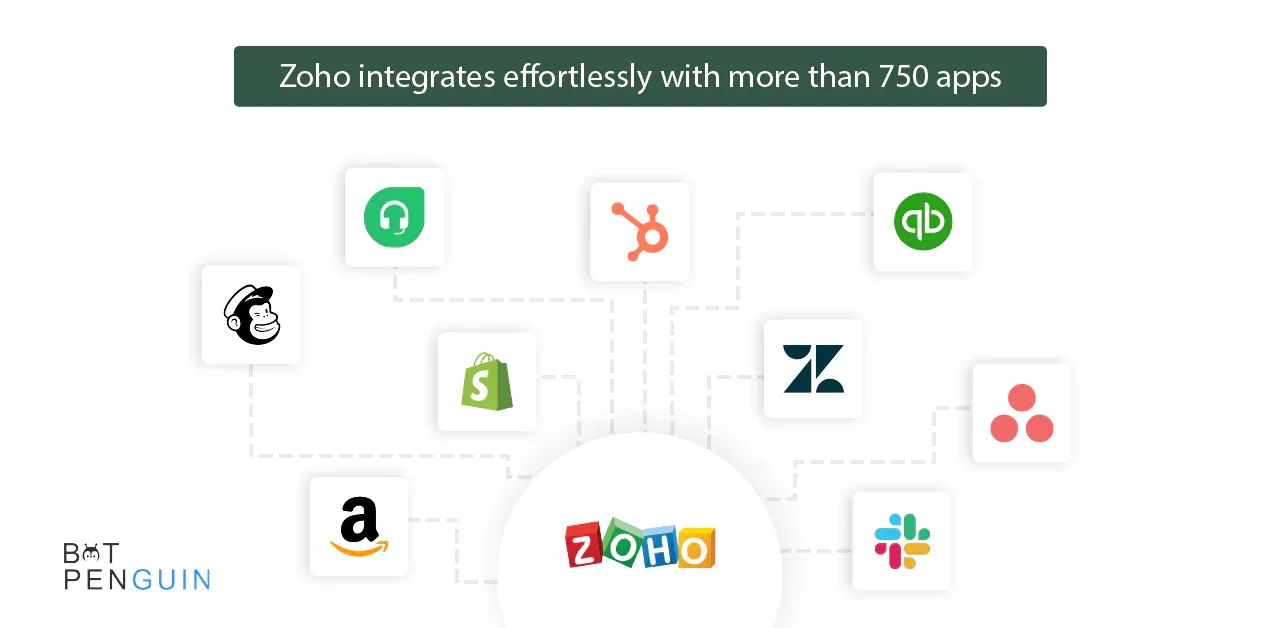 All efficiency gains aim to achieve automation. You are doing well if you wish to complete your assignment quickly. Zoho Software Integrations control the majority of automation efforts.
As a result, it offers a comprehensive suite of closely linked applications that ensure the seamless functioning of your whole organization. In other words, connecting third-party apps spans the gap to make your workflow efficient and automates time-consuming operations.
2. It is reasonable for all types of companies
You may utilize Zoho CRM's five plans—free edition, standard, professional, ultimate, and enterprise—monthly or yearly. You may alter or cancel your plan at any moment, which allows you to select the one that best meets your company's needs.
These plans are flexible and are based on per-user per-month billing on an annual basis. You don't need to enter contracts or pay additional fees to acquire Zoho CRM.
3. More robust and more efficient security personnel
A complete set of procedures, tools, and guidelines are included in Zoho Software to guarantee the security of your data. It safeguards your data and offers helpful advice on dealing with all security concerns using best security practices.
It also provides a higher degree of security, which helps to minimize implementation flaws and inconsistent mistakes.
4. Analysis, Reporting, and Automation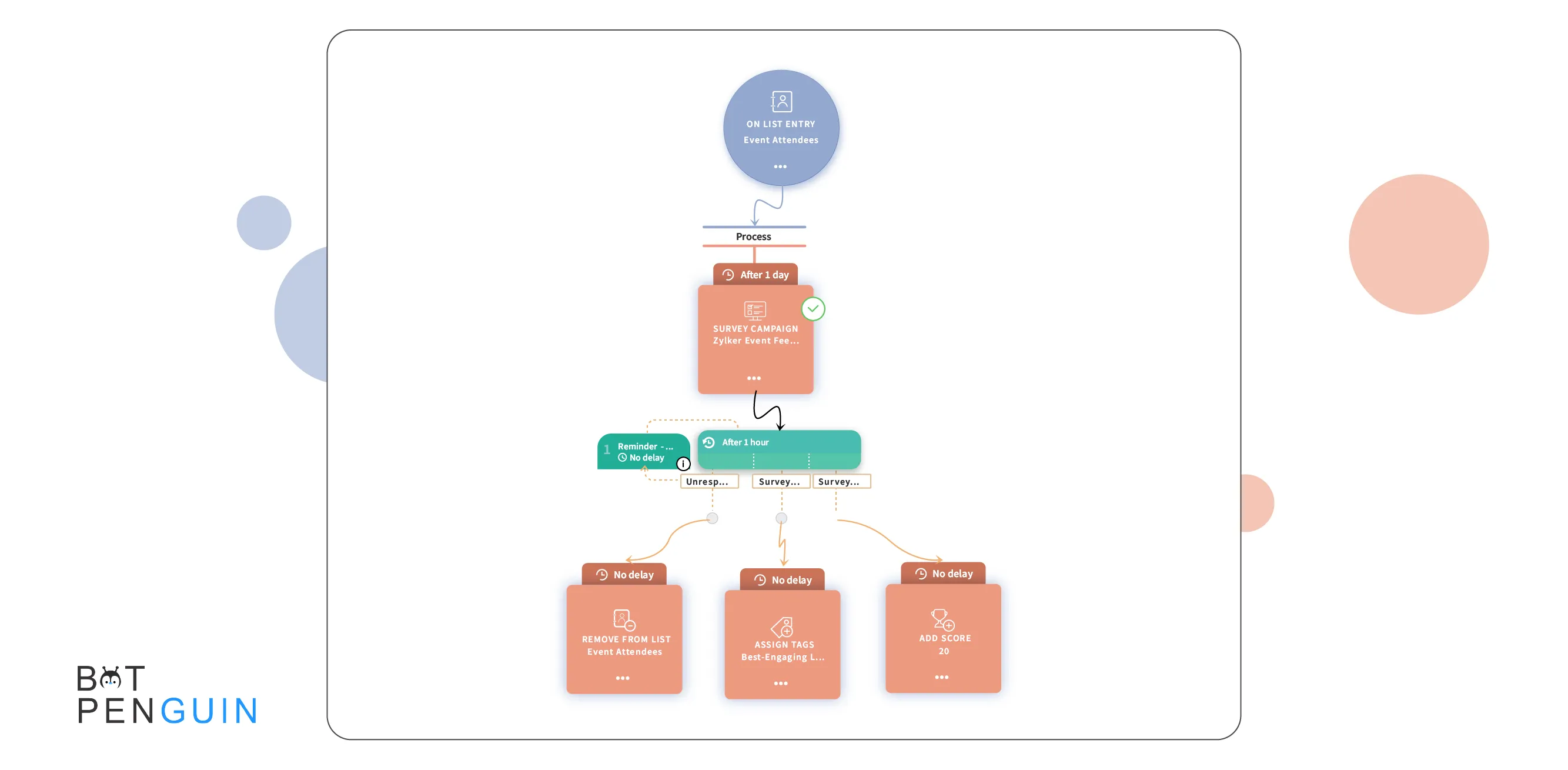 Utilizing Zoho CRM, you can alter all of that. The automated solution streamlines the process, relieving the sales staff of tedious activities so they can concentrate on nurturing qualified prospects. Lead management serves as the anchor for the entire application.
When it comes to maintaining customer interactions throughout the purchase process, Zoho excels. You can design immediate responses to specific client behaviors, such as customized emails. For forthcoming events, send invites andcreate reminders.
5. Create sustainable businesses.
The best software is never truly complete! It uses capabilities, simplicity, and features to improve the user experience. With its seamless apps, Zoho Software enables businesses to expand and create sustainable enterprises.
Additionally, it is developing new applications to address more significant consumer concerns. This long-term strategy enables you to maintain your organization.
6. Accepting various working styles
The Zoho software was created to improve teamwork! It allows you to work together and collaborate on documents, spreadsheets, and presentations with your team members and clients from all over the world,
It can save your documents in the cloud so that your employees may rapidly access them from anywhere and at any time, it is true whether your team is in the office or remotely.
7. Innovation is not just in software.
You have a unique opportunity to add more value to your company with the Zoho Office Suite. It prompts you to develop many connections across all of Zoho's applications and to insert pertinent business data strategically.
To keep you constantly informed about your customers and team, it connects marketing, sales, financing, and customer service procedures.
Additionally, it includes the whole suite to lessen the burden of unpleasant chores and uncomfortable headaches. For all account management and administration, it offers a solitary administrative dashboard and allows for flexible policy setting at the organizational level.
8. Pipeline administration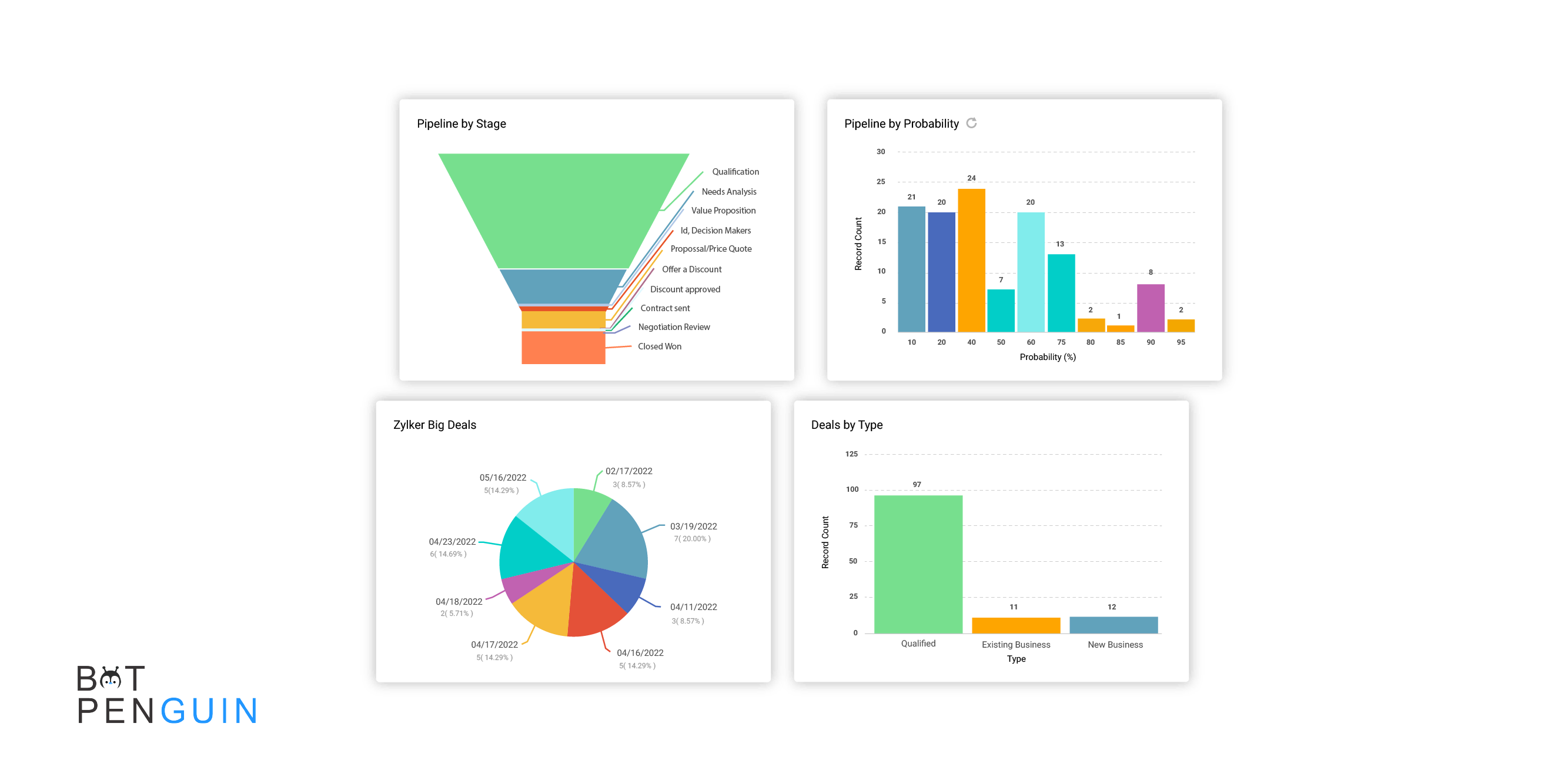 Users of Zoho CRM may discover, rate, and allocate leads to salespeople using pipeline management. Additionally, transaction management, account management, and contact management are included in this function.
9. Basic process guidelines for Zoho CRM
For improving conversion rates, Zoho offers a variety of information. Your progress toward achieving your short- and long-term company goals will be displayed in real-time comparisons, charts, and reports. You can see how much money or sales a specific effort brings in.
Identify and emphasize tendencies as well as recurring sales cycles. The information will highlight ineffective marketing tactics and point out areas for development.
Zoho will walk you through a few easy steps if you ever need to migrate data from one place to another or alter the format. Most migration is automated.
Conclusion
Software for managing client relationships is available, and one of the finest possibilities is Zoho. Small to medium-sized firms benefit most from the lower tiers of the pricing plans, while larger enterprises with more demands and more significant financial resources benefit most from the highest levels, such as Ultimate.
The adaptability of Zoho is another factor that contributes to its ranking among our top selections. It works for many different businesses in many other sectors. Additionally, Zoho is user-friendly partly due to the layout, which puts the essential functions on the home screen. The information you're looking for is now simpler to get.
We've covered 9 Interesting Facts You Didn't Know About Zoho. We sincerely hope you enjoy reading our posts. You can check out all about Zoho on the BotPenguin website and learn more about it. Before utilizing Zoho, you must be aware of its advantages.