From virtual customer engagement to boosting online sales, WhatsApp bots are revolutionizing the way businesses serve their customers. With over 2 billion active users, WhatsApp surpasses other messaging platforms like Facebook Messenger and WeChat. Discover how these chatbots can make your life easier and enhance your business operations.
What are WhatsApp chatbots?
WhatsApp chatbots are automated chat systems that use artificial intelligence and natural language processing to respond to customer inquiries and perform various tasks through the WhatsApp messaging platform. They are designed to provide quick and efficient customer service and can handle various tasks such as answering FAQs, booking appointments, processing orders, and more.
WhatsApp chatbots can also be integrated with a company's existing systems and databases, making it easier to provide personalized and relevant information to customers. With the growing popularity of WhatsApp as a communication channel, chatbots are becoming an increasingly popular solution for businesses looking to improve their customer experience and increase efficiency.
The Top 6 WhatsApp ChatBots You Should Be Inspiring.
You can build incredible no-code chatbots for WhatsApp Channel with the following AI-powered chatbot platform.
BotPenguin
BotPenguin is the Top Choice WhatsApp chatbot maker platform, It will interact with and engage your customers. But the fun continues because WhatsApp allows you to easily deploy drip campaigns, bulk messaging, live chat, track orders, and simply help your customers get the most up-to-date product information.
Isn't Penguin a sweetheart?
BotPenguin is the simplest chatbot builder for building the best AI chatbot. You can also set up meetings and appointments by syncing with your Google calendar or another planner integration of your choice. It is an ideal chatbot for most businesses, including banking, e-commerce, telecom, and real estate.
Features:
Drag-and-Drop Chatbot Builder

Chat Window

Agent Chat Interface

Analytics

Natural Language Processing (NLP)

Logic Branching

Supports Multiple Messaging Channels
Pricing:
$10/month
Custom
Engati
One of the more well-regarded chatbot tools available today is Engati. Customers laud the company for streamlining every aspect of its operations, from customer support interactions to how simple it is to use the tool to create conversational logic.
However, their omnichannel strategy is quite impressive. You can use Engati's tool to reach your audiences through more than 14 channels, including the company's website, mobile app, Skype, and social media platforms.
Features:
Performance Management

API Integration

Onboarding

Surveys & Feedback

Analytics

Custom Integrations

Advanced Reporting

Multi-Channel Communication

Chat / Messaging

Live Chat

Canned Responses
Pricing:
Free forever
$79/month
$249/month
Custom
SendPulse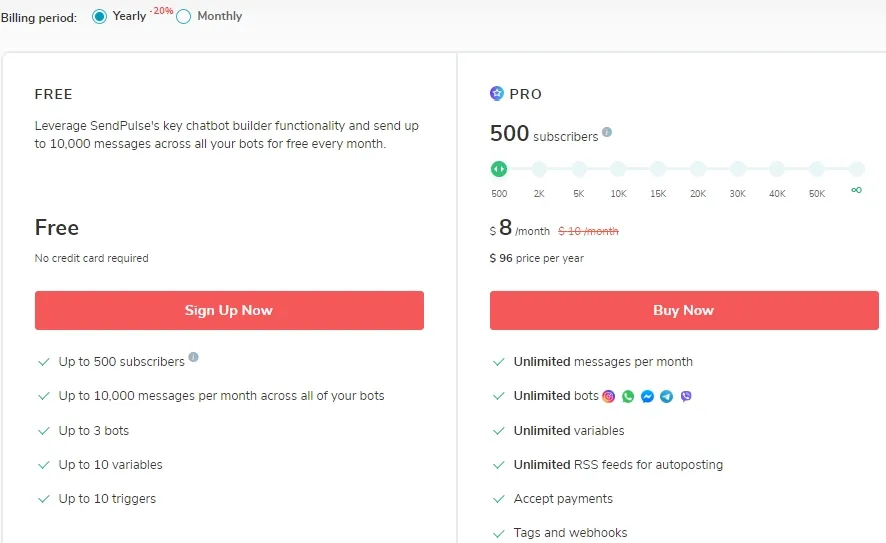 A multichannel marketing platform called SendPulse can assist you in streamlining your customer communication channels. Among its features are automated chatbot flows.
It also provides useful analytics. With this knowledge at your fingertips, it is much simpler to keep a tab on the number of messages sent, delivered, and opened, allowing you to adjust your marketing campaigns with greater knowledge.
Features:
Dashboard

Data Integration and Storage

Segmentation

Email Builder

A/B Testing

Marketing Automation

Other Marketing Channels

Deliverability
Pricing:
Free
$8/month
$9.60/month
$13.44/month
Freshworks

More than 50,000 companies from all over the world rely on Freshworks. Chatbots are one of the many products it offers. You can use WhatsApp's chatbots in addition to Facebook Messenger, Apple Business Chat, and the web.
You can create a chatbot to perform actions using triggers, update customer data automatically, respond to customer questions, or perform all these tasks. Creating a flow that will lead your audience through a logical troubleshooting process using its no-code builder is simple.
Features:
Chat Campaigns.

Contact Management.

Conversion Rate Optimization.

Customer Segmentation.

Deal Management.

Email Campaigns.

Event Tracking.

Sales Sequences
Pricing:
Free
$29/user/month
$69/user/month
$125/user/month
Gupshup
Gupshup provides a messaging platform that is known and used all over the world.
They offer messaging platforms, but their bot scripting tool makes them more well-known. Developers can use it to make chatbots that conduct basic and sophisticated interactions.
Additionally, they provide an out-of-the-box solution that enables you to create automated responses, personalize your chat assistant, and, if necessary, switch to live chat mode.
Features:
Automatic Call Distribution

Chat/Messaging

Communication Management

Interaction Tracking

Live Chat

Mobile Access
Pricing:
Custom
Flow bot builder

Bot flows

Template bot builder

Bot scripting

Adding NLP
Agentbot
Agentbot stands out thanks to its exquisitely crafted user interface. It is neat and provides a simple design decision tree to make it easier for you to create the best conversation flow quickly.
Additionally, Agentbot aids in elevating conversation flows based on client interactions. You can use AI to teach your bot to offer superior customer service and even to include fun extras like GIFs in its responses.
Features:
For Sales Teams/Organizations

Multi-Language

Predictive Analytics

Process/Workflow Automation
Pricing:
$99/month
$399/month
Custom
Custom

Final Words
Even though we've listed the top 6, several other WhatsApp bots can serve as inspiration.
Consider what your company currently needs when choosing the WhatsApp chatbot tool. Do shopper intentions matter? After the initial chat, do you want to be able to build relationships? Would creating something complex with extensive conversation flows be a wise business decision?
You need to be aware of all the limitations imposed by WhatsApp before you start developing chatbots for the platform. Starting from scratch with the bot can be challenging and time-consuming.
So, if we could persuade you to use a WhatsApp chatbot, arrange for a BotPenguin demonstration. It will help you to raise your ROI and improve customer satisfaction.
Begin today; it is not too late!
FAQs
What do WhatsApp chatbots refer to?
WhatsApp chatbots are automated chat programs or AI assistants that engage with users through the messaging platform, WhatsApp. Their purpose is to understand and respond to user queries, provide information, perform tasks, and offer personalized services.
How can WhatsApp chatbots simplify life?
WhatsApp chatbots simplify life by automating various tasks and providing quick access to information and services. They assist with activities such as appointment bookings, food ordering, customer support, personalized recommendations, news updates, and more.
How can businesses benefit from WhatsApp chatbots?
Businesses can benefit significantly from WhatsApp chatbots. They automate customer support, handle FAQs, facilitate appointment scheduling, process orders, offer product recommendations, send personalized offers, and engage with customers in an efficient and scalable manner.
Is it possible to create my own WhatsApp chatbot?
Certainly! It is possible to create your own WhatsApp chatbot. Several chatbot development platforms provide user-friendly interfaces and tools to build and deploy chatbots without extensive programming knowledge. These platforms often offer templates and pre-built components to simplify the process.
Are WhatsApp chatbots secure?
WhatsApp chatbots can be secure, but it depends on the implementation and security measures taken by the chatbot provider. It is important to ensure that chatbots handle user data responsibly, use encryption for sensitive information, and follow best practices to protect user privacy.