Automation with chatbots is nothing novel in the realm of technology. In reality, chatbots have been utilized in business in some capacity for most of the last ten years. However, these chatbots' abilities are getting better every year. Chatbots can understand customer inquiries and select the appropriate replies from a large body of data. Chatbots could learn on the fly and improve with each query thanks to natural language processing and artificial intelligence.
Let's examine five reasons why your website could require
with your chatbot.
1. You can use automation tool integrations with your chatbot to do Internal Process Improvement and Streamlining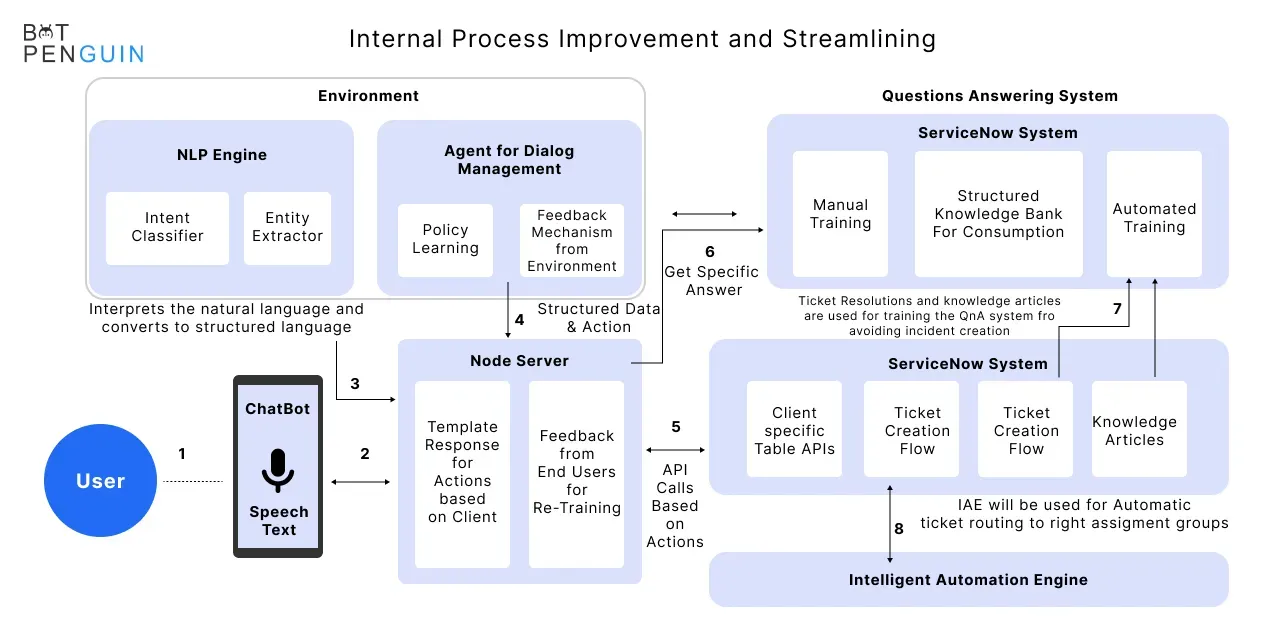 Chatbots are excellent automation tools for customer service, sales, and marketing, but they may also speed up internal operations like hiring, knowledge management, and HR inquiries, to name a few. Automation with chatbot usage to improve internal procedures has had a favorable effect, especially on HR.
The adoption of chatbots has undoubtedly alleviated many HR-related worries.
They are simple to connect with current systems and offer workers a seamless self-service user experience. The Automation of chatbots increased employee engagement while also speeding up the processing of HR inquiries by 30 to 50 percent.
Remote work is becoming necessary for many businesses as the global pandemic affects the workforce today. The best remote work management software must be used to ensure that your activities can continue smoothly.
2. Automation with chatbot integrations makes chatbots conversational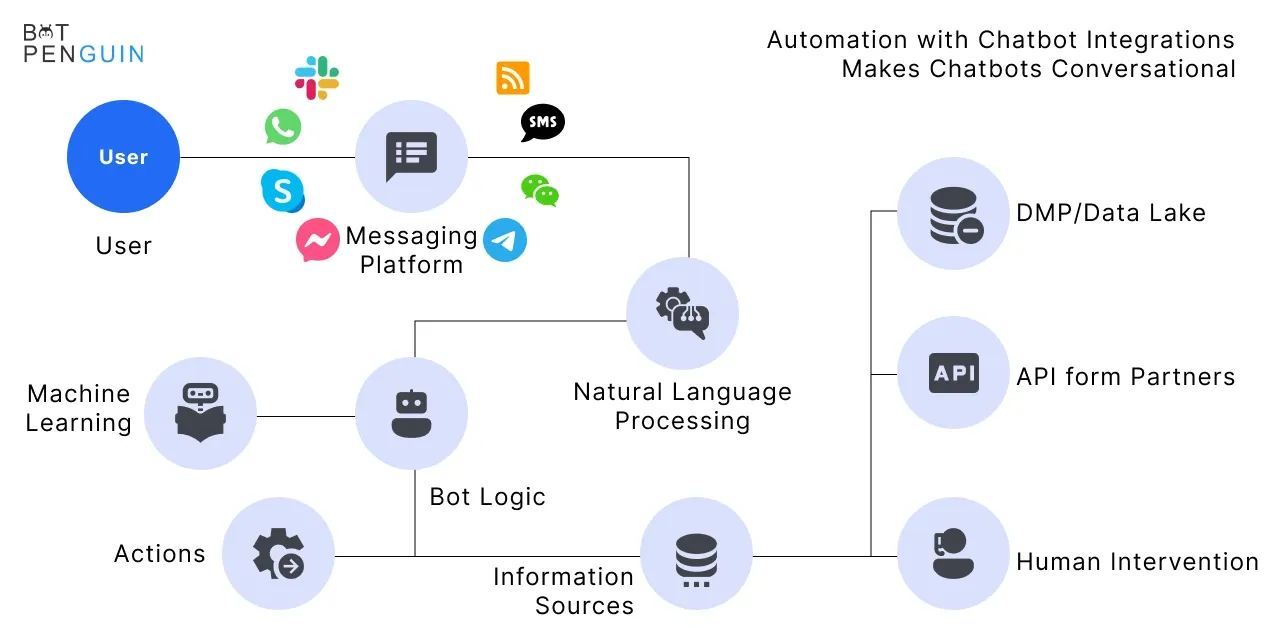 The development and widespread use of automation with chatbots have been made possible by developments in artificial intelligence (AI) and natural language processing (NLP). In reality, many of the industry's top customer care software programs have sophisticated chatbot features.
The greatest chatbots can answer questions and engage in human-like interactions with consumers. Chatbots are learning and becoming more intelligent at managing challenging conversations as they participate in more chats.
Intelligent chatbots that sound human-like have several benefits for organizations. One is that chatbots are impartial and emotionless. Even during a contentious encounter, chatbots may provide clients with outstanding replies. When dealing with angry and agitated consumers, a sensitive human agent may find formulating and giving impartial responses challenging
3. Automation tool integrations with your chatbot will decrease waiting times
Integrating automation techniques with your chatbot may dramatically cut client wait times. Your chatbot may give rapid help to clients by automating regular operations and giving quick, accurate replies, decreasing the need for them to wait for a human agent. This can result in enhanced client satisfaction and retention. Moreover, automated solutions can help you handle higher numbers of client questions without the need for extra people, decreasing wait times even further.
4. Automation tool integrations with your chatbot look for better leads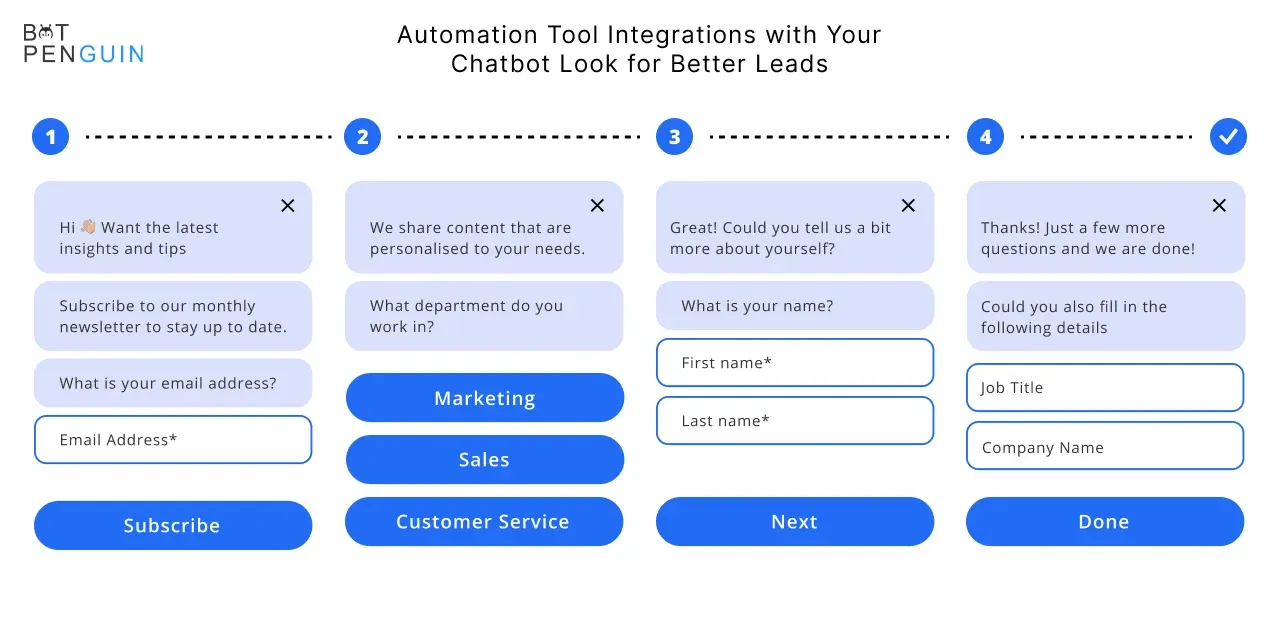 There are several methods for generating fresh leads. However, finding high-quality leads with the highest possibility of conversion is another matter. Finding high-quality information in today's business world is like seeking a hidden needle.
Landing pages and other conventional lead-generation techniques, such as clickable blurbs, deliver good results. However, most of the time, using such tactics, you can only get mediocre and unqualified leads. You can boost your lead-generation outcomes using chatbot technology. You can engage your prospects with an intelligent chatbot instead of sending them to a landing page, collect as much information as possible, and select healthy leads on whom you can concentrate your efforts.
You can target particular demographics and ultimately generate a sizable number of highly qualified leads for your company by linking your chatbots with other systems like CRM and marketing automation with chatbots.
5. With automation tool integrations with your chatbot, you can Develop insight
Integrating automation tools with your chatbot can enhance its capabilities and provide valuable insights. By automating routine tasks and processes, you can free up time for your team to focus on more complex issues. Additionally, these integrations can provide valuable data on customer interactions, allowing you to gain insight into customer behavior and preferences. With this information, you can refine your chatbot's responses and improve the overall customer experience.
FAQs
What advantages can chatbots that are included in staff processes offer?
A quality HR chatbot goes beyond a straightforward question-and-answer bot. An HR chatbot's usefulness lies in its ability to automate monotonous workflows and processes based on knowledge of the employee's purpose.
How can I track the performance of my chatbot automation integrations?
Many automation tools offer analytics and reporting features that allow you to track the performance of your integrations. You can use this data to make adjustments and optimize your chatbot's performance.
Conclusion
If you choose the proper AI chatbot, integrating one may be simple. Without the assistance of a skilled IT team, Automation with a chatbot may enhance your customer service conversations.
With BotPenguin, you can do more with Automation! With this chatbot creator, you can generate many leads and increase engagement.
BotPenguin has a good chance of increasing participation. And better customer service means obtaining leads when your visitors connect with your website.