What is Chat Automation?
Chat automation is using technology to automate and streamline communication between businesses and their customers through chat interfaces like chatbots or virtual assistants. Chat automation can answer different customer questions, help customers, and even take orders and payments.
Chat automation uses artificial intelligence (AI) and natural language processing (NLP) to understand customer questions and respond in a way that seems like a conversation between two people. This technology can be added to messaging platforms like Facebook Messenger, WhatsApp, or even a company's website chat interface.
But it's important to remember that chatbots can't replace real people, and some customer questions may need a human touch. So, businesses should find a good mix of chat automation and human interaction to give their customers the best experience possible.
Why Use Chat Automation?
Chat automation offers several benefits to businesses, including:
1. Improved Customer Satisfaction
Chat automation provides quick and efficient customer service, reducing response times and improving customer satisfaction. Chatbots can provide instant answers to common questions and assist with simple issues, freeing human agents to handle more complex inquiries. This improves the overall customer experience and increases customer loyalty.
2. Cost-Effective
Chatbots can handle multiple conversations at once, which cuts down on the need for human agents and saves money. This is especially helpful for businesses that get a lot of customer questions since chatbots can handle a lot of conversations at once.
3. 24/7 Support
Chatbots can provide customer support outside of normal business hours, improving customer satisfaction. Customers can get instant assistance with their queries, even when human agents are unavailable. This increases customer loyalty and helps businesses provide a seamless customer experience.
4. Scalability
Chatbots can handle many customer inquiries, making them ideal for high-traffic businesses. As customer inquiries increase, chatbots can handle the additional workload without additional resources. This allows businesses to scale their operations quickly and efficiently.
5. Data Collection
Chatbots can get information from users and give information that can be used to improve customer service. By looking at user data, businesses can find trends, common problems, and places to make changes. This lets businesses improve how they run and make the customer experience better.
6. Increased Efficiency
Chatbots can handle simple tasks quickly and efficiently, freeing up human agents to handle more complex inquiries. This improves the overall efficiency of customer support operations, reducing response times and increasing customer satisfaction.
7. Consistency
Chatbots provide a consistent customer experience, regardless of the time of day or the number of inquiries. Using pre-defined responses, chatbots can provide consistent and accurate customer information, improving the overall customer experience.
How does Chat Automation Work?
1. Types of Chatbots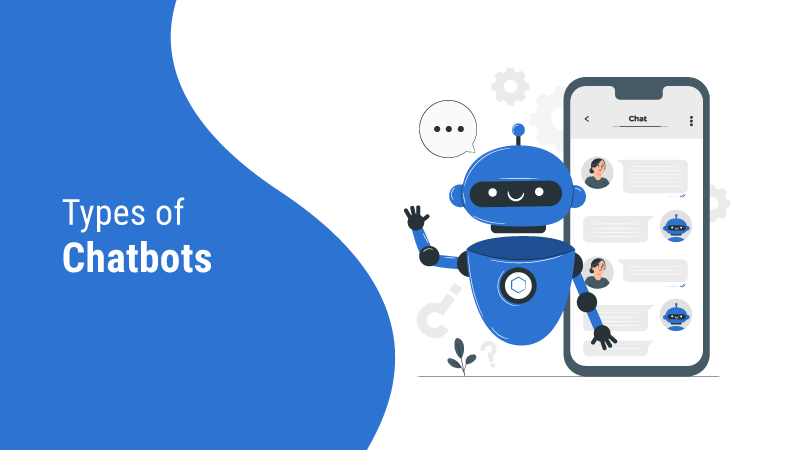 There are two types of chatbots: rule-based and AI-powered. Rule-based chatbots operate within a defined set of rules. In contrast, AI-powered chatbots use machine learning algorithms to understand and respond to user requests. AI-powered chatbots are more advanced and can provide a more natural conversation.
2. Chatbot Programming
Chatbot programming involves defining the bot's responses to specific user inputs. This is done using a programming language or chatbot development platform. The chatbot developer creates a set of pre-defined responses for the bot to use when a user enters a specific query. These responses can be based on keywords, phrases, or user intent.
3. Chatbot Implementation
Once the chatbot programming is complete, the chatbot needs to be implemented. This is done by integrating the chatbot with the company's website, mobile app, or social media channels. The chatbot can be integrated using a development platform or creating custom code.
4. Chatbot Interaction with Users
When a user types a question or phrase into the chat window, the chatbot analyzes the text using NLP and AI algorithms and responds appropriately. The chatbot can also ask follow-up questions or provide additional information based on the user's responses. Chatbots can handle multiple conversations simultaneously, providing quick and efficient customer service.
5. Chatbot Training
The chatbot needs to be taught so that it can give more accurate and useful answers. This means giving the chatbot examples of how to talk to people and letting it learn from these conversations. The chatbot can then use this information to get better at answering questions in the future.
6. Chatbot Analytics
Chatbot analytics provide insights into how the chatbot is performing. This includes metrics such as the number of conversations handled, response times, and customer satisfaction. Chatbot analytics can be used to identify areas for improvement and optimize the chatbot's performance.
7. Continuous Improvement
Chatbots need to be continuously improved to provide the best possible customer experience. This involves analyzing chatbot analytics, updating pre-defined responses, and training the chatbot on new data. By continuously improving the chatbot, businesses can provide a better customer experience and improve overall customer satisfaction.
Who can use Chat Automation?
Chat automation can be used by any business or organization that wants to provide quick and efficient customer service. It is especially useful for businesses with large customer inquiries, as chatbots can handle multiple conversations simultaneously.
Chat automation is also helpful for businesses operating 24/7, as chatbots can provide customer support outside normal business hours. This can improve customer satisfaction and reduce response times.
How to Implement Chat Automation?
1. Understand Your Audience
To create an effective chatbot, it's important to understand your audience. Determine customers' common questions or issues and create responses that address their needs. Use language that your audience is familiar with, and avoid using technical jargon.
2. Keep it Simple
Chatbots should be designed to provide quick and easy solutions to common customer queries. Keep the user interface simple and easy to navigate. Use clear and concise language to provide the necessary information without overwhelming the customer.
3. Test and Refine
Testing and refining your chatbot is essential to ensure it provides accurate and helpful responses to customer inquiries. Test the chatbot with various scenarios and tweak responses as necessary. Continuously analyze user data to identify areas for improvement.
4. Provide Personalization
Personalization can improve how customers feel and get them more involved. Use customer data to customize your responses and make suggestions based on how the customer has interacted with your business in the past.
5. Humanize the Experience
Chatbots can be programmed to provide human-like responses. Still, it's important to make it clear to customers that they are chatting with a bot. Use friendly language and provide options for customers to connect with a human agent if necessary.
6. Be Transparent
Be transparent about what the chatbot can and cannot do. Make it clear to customers that they are chatting with a bot and provide information on how to escalate their query to a human agent if necessary.
7. Monitor Performance
Regularly monitor your chatbot's performance to ensure it meets your business goals. Use analytics to track customer interactions, identify trends, and optimize responses.
Where to use Chat Automation?
Chat automation can be used in a variety of settings, including:
1. E-commerce Websites
Chatbots can tell customers about products, help them check out, and help them track their orders. Chatbots can also give customers personalized suggestions based on what they've looked at and bought in the past. This increases the chances of making a sale.
2. Customer Service Centers
Chatbots can answer common questions and provide basic troubleshooting assistance, freeing up human agents to handle more complex inquiries. This improves the overall efficiency of customer support operations and reduces response times.
3. Healthcare Organizations
Chatbots can provide patients with medical advice, help them find a doctor, and schedule appointments. Chatbots can also provide information about health insurance and answer common questions, improving the overall patient experience.
4. Travel and Hospitality
Chatbots can help customers book flights, hotels, and rental cars, and they can also tell them about local events and things to do. Chatbots can also give customized suggestions based on a customer's travel history and preferences, which makes the whole travel experience better.
5. Education
Chatbots can help students with their homework, tell them when classes start and how to sign up and answer common questions. Chatbots can also give personalized suggestions based on a student's academic history and interests, which makes the whole learning experience better.
6. Finance
Chatbots can provide customers with information about banking services, help with account management, and answer common questions. Chatbots can also provide personalized financial advice based on the customer's financial history and goals, improving the overall financial experience.
7. Human Resources
Chatbots can assist employees with HR-related inquiries like benefits, payroll, and policies. Chatbots can also provide onboarding assistance for new employees, improving the overall employee experience.
The Future of Chat Automation
The future of chat automation is very promising, with the development of more advanced AI algorithms and the increasing popularity of chat-based communication. In the coming years, we can expect to see more sophisticated chatbots that can understand and respond to complex user queries, as well as personalized and contextualized interactions that consider a user's history and preferences.
As chat automation becomes more prevalent, it will become increasingly important for businesses to ensure that their chatbots are designed with a user-centric approach, incorporating features such as personality, tone, and empathy to provide a more human-like experience. Additionally, businesses must invest in training their chatbots to handle sensitive or complex situations with care and accuracy.
TL;DR
Chat automation is a game-changer for customer communication. It offers businesses an efficient, cost-effective, personalized way to support their customers. As technology improves, chatbots will become even more advanced, making chat automation an essential tool for businesses of all sizes.
FAQs
1. What is chat automation and how does it work?
Chat automation refers to using AI-powered chatbots to handle customer interactions, automating responses, and providing 24/7 support without human intervention.
2. How can chat automation benefit my business?
Chat automation streamlines customer support, saves time, reduces costs, increases customer satisfaction, and allows your team to focus on higher-priority tasks.
3. Can chat automation integrate with my existing CRM software?
Yes, most chat automation platforms offer seamless integration with popular CRM systems, ensuring smooth data exchange and efficient customer relationship management.
4. How customizable are chat automation solutions?
Chat automation solutions are highly customizable, allowing you to tailor responses, conversation flows, and even the chatbot's appearance to align with your brand.
5. Are chat automation systems secure and GDPR compliant?
Reputable chat automation providers prioritize security and comply with GDPR, ensuring safe data handling, encryption, and adherence to privacy regulations.