Introduction
Discord has become a popular platform for gamers, streamers, and communities to connect and communicate with each other.
One of the most useful tools for managing a Discord server is the Mee6 bot.
Mee6 is a versatile bot that provides a range of features to help automate server management and enhance the user experience.
From moderation to music playback and leveling systems, Mee6 has it all. However, with so many commands available, it can be challenging to know where to start.
In this complete guide, we will explore the different commands available for Mee6 and how you can use them to customize your Discord server to suit your needs.
Whether you're a server owner or just looking to enhance your Discord experience, this guide will provide all the information you need to get started with Mee6.
So, let's dive in and discover how to take your Discord server to the next level with Mee6!
What is the Mee6 bot?
One of the most well-liked and useful bots for servers and communities on Discord is the Mee6 chat and moderation bot.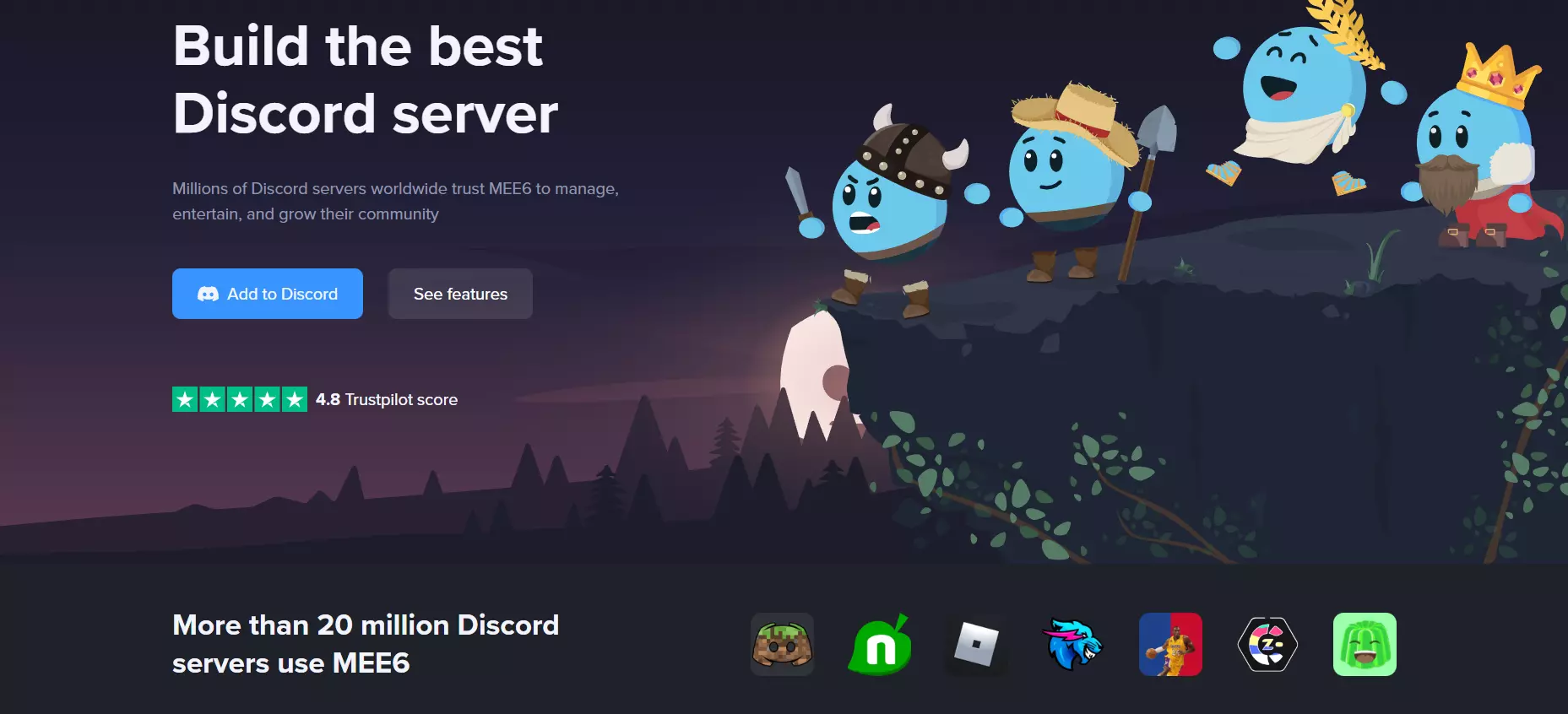 Users may establish rules for visitors and spam to keep their Discord server clean and secure and manage various server operations.
If your Discord server has a lot of different channels, which makes it hard to maintain track of visitor traffic, the Mee6 bot will prove to be beneficial to you.
Using Mee6, you may create commands, assign members levels based on their engagement, or notify them about upcoming events.
Mee6's numerous music features for playing and saving songs and playlists contribute to its popularity.
Just like music bots Try BotPenguin, a great chatbot for almost anything.

How to set up the Mee6 bot on discord?
Installing Mee6 Bot to a discord server is a quick and uncomplicated process. If you've installed any other bots to your discord server before, you'll need to repeat the process for Mee6.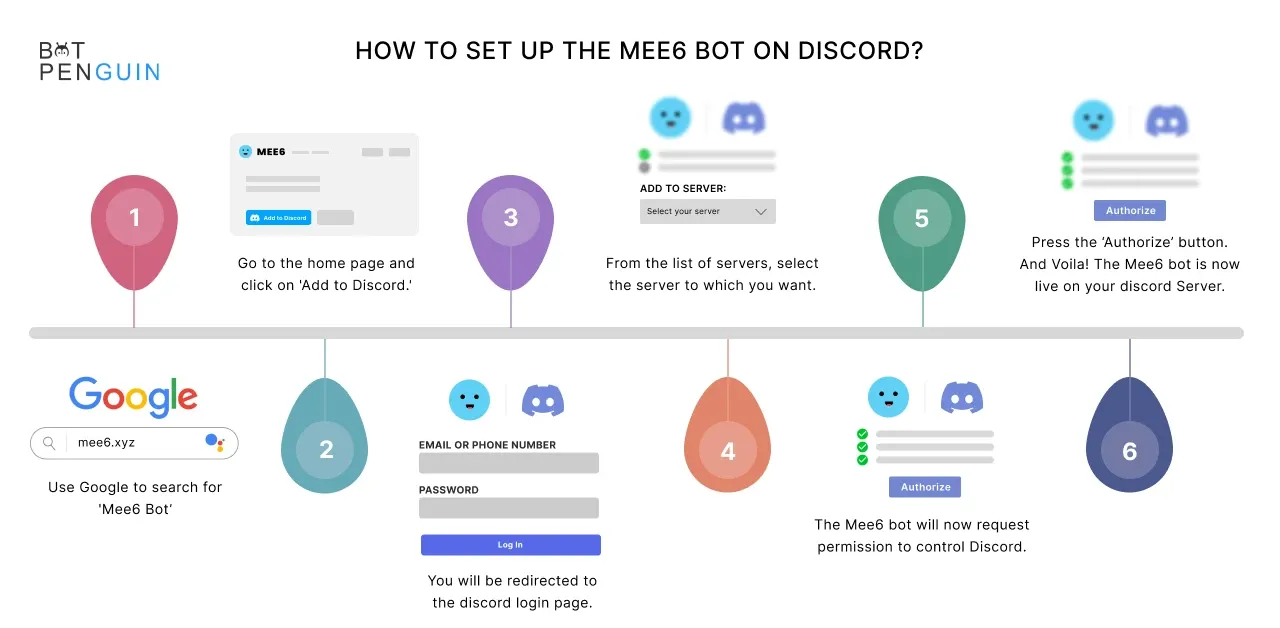 Listed below are a few quick and easy steps for setting up Mee6 on your discord server:
Step 1
Use Google to search for 'Mee6 Bot' or visit the official site at http://mee6.xyz/.
Step 2
Go to the home page and click on 'Add to Discord.'

Step 3
You will be redirected to the discord login page. If you are using a discord server, log in using your credentials.
Step 4
From the list of servers, select the server to which you want to add the MEE6 bot.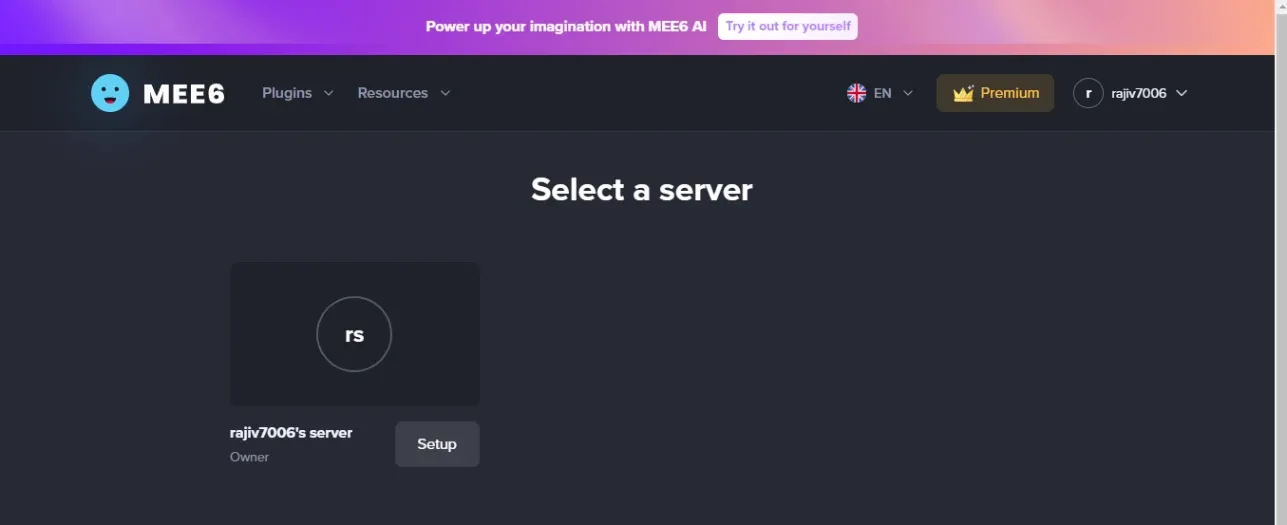 Step 5
To control and administer your Discord server, the Mee6 bot will now request permission. You must grant it the necessary rights to enable it to function correctly.
Step 6
Finally, press the 'Authorize' button. And Voila! The Mee6 bot is now live on your discord server.
What are the functions of Mee6?
After adding the bot, you can immediately use many of the MEE6 plugin's free features.
Nevertheless, remember that some features are only accessible through a paid membership.
Generally, the free version covers most Discord users' essential moderator needs.
Some of the free Mee6 bot features include: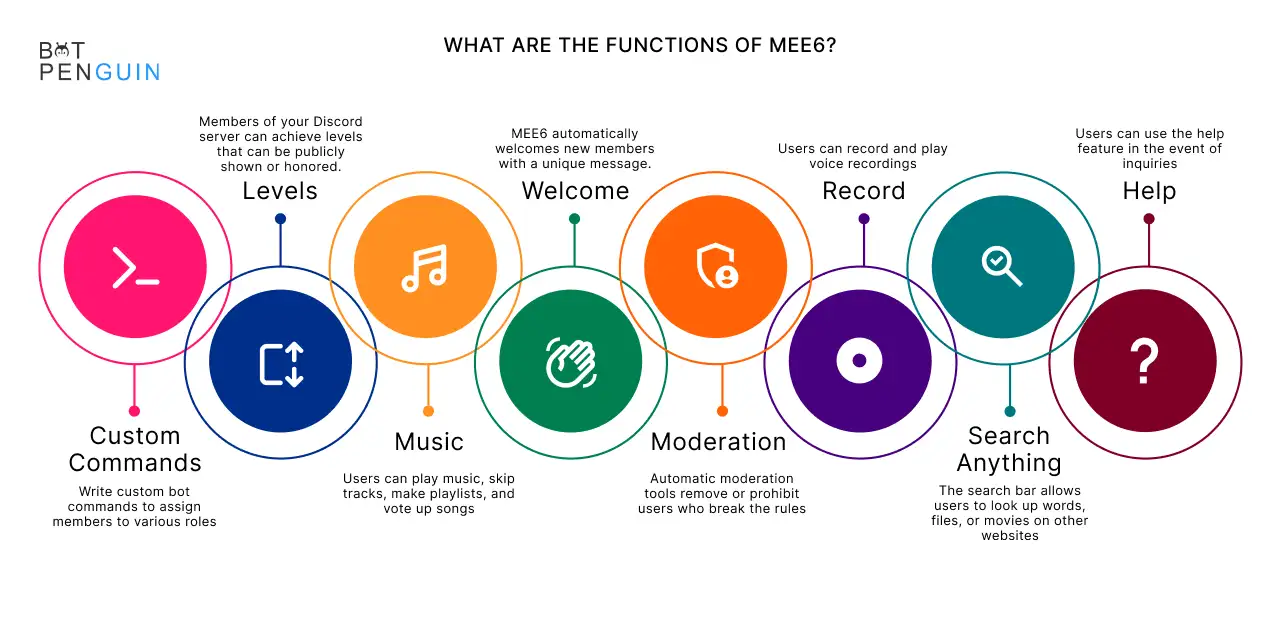 Custom commands
Write custom bot commands to assign members to various roles and send out automatic notifications or announcements.
Levels
Depending on their user behavior, members of your Discord server can achieve levels that can be publicly shown or honored.
Music
Users can play music, skip tracks, make playlists, and vote up songs using a variety of bot commands.
Welcome
MEE6 automatically welcomes new members with a unique message.
Moderation
Automatic moderation tools remove or prohibit users who break the rules and filter spam and inappropriate language.
Record
Users can record and play voice recordings whenever they want.
Search anything
The search bar allows users to look up words, files, or movies on other websites or search engines.
Help
Users can use the help feature in the event of inquiries or concerns.
Suggested Reading:
The Top 7 Features Of Mee6 Discord Bot

Troubleshooting the Mee6 discord bot
Worried because your bot isn't working?
Fret not!
First things first. Set your Mee6 bot offline.
If it's still not functioning properly on your discord server, check out Mee6's support server for further assistance!
In the event of Mee6 being offline and discord is aware that there is nothing you can do, just be patient while MEE6 wakes up!
Apart from Mee6, Try BotPenguin, a great chatbot for almost anything. And, it also offers chatbot creation for social platforms, websites, wordpress:
What to do If Mee6 Bot Not Working
Despite its extensive features, there are instances when the Mee6 discord bot may encounter issues.
When the Discord bot Mee6 isn't working correctly, here are some troubleshooting steps to follow.
Step 1
Make sure the Discord bot mee6 has the right permissions
The Mee6 discord bot needs the correct permissions on your server to function as you intend.
This can range from reading and sending messages, attaching files and reading message history to mentioning everyone, managing roles, and managing messages, so ensure the Mee6 bot has these.
Step 2
Check the syntax of your Mee6 bot commands
The Mee6 commands need to be written in a particular way to work. So, if you're encountering issues, verify that you're using the correct syntax for your Mee6 bot commands.
The Mee6 commands list on the official website is a good reference guide for this purpose.
Step 3
Ensure that Mee6 is online
Sometimes, the Mee6 bot might be offline due to server maintenance or other issues. You can check this by visiting the Mee6 Discord and checking its online status.
Wait for a while and see if the Mee6 discord bot comes back online.
Step 4
Clear the queue
If you're having trouble with Mee6 music commands, you might want to try clearing the music queue. You can use "Mee6 clear queue" command to do this.
Step 5
Try different music commands
If you're still having trouble getting Mee6 to play music after trying the "Mee6 play music" command, you could try other music commands.
The "Mee6 music commands" provides a list of all music commands that should help.
Step 6
Restart the bot
On some occasions, it might be necessary to restart the Discord Mee6. This is a more drastic measure and should be used when the other steps have proven unsuccessful.
Step 7
Visit Mee6 bot Discord support server
If nothing seems to work, the final step is to visit the Mee6 discord bot support server. Here you can connect with the Mee6 community and developers, who should be able to provide you with more specific advice and solutions.
Remember that even advanced technologies like Mee6 bot discord can face issues, errors, and glitches. However, with the right troubleshooting steps, you can get your Mee6 discord bot up and running again in no time.
Although it might take a while to find the root cause of the problem, the right solution can make the Mee6 Bot in your discord server function as smoothly as ever, helping you moderate an engaging and friendly online community.
Suggested Reading:
How to use the Mee6 Dashboard on Discord?
Pricing of Mee6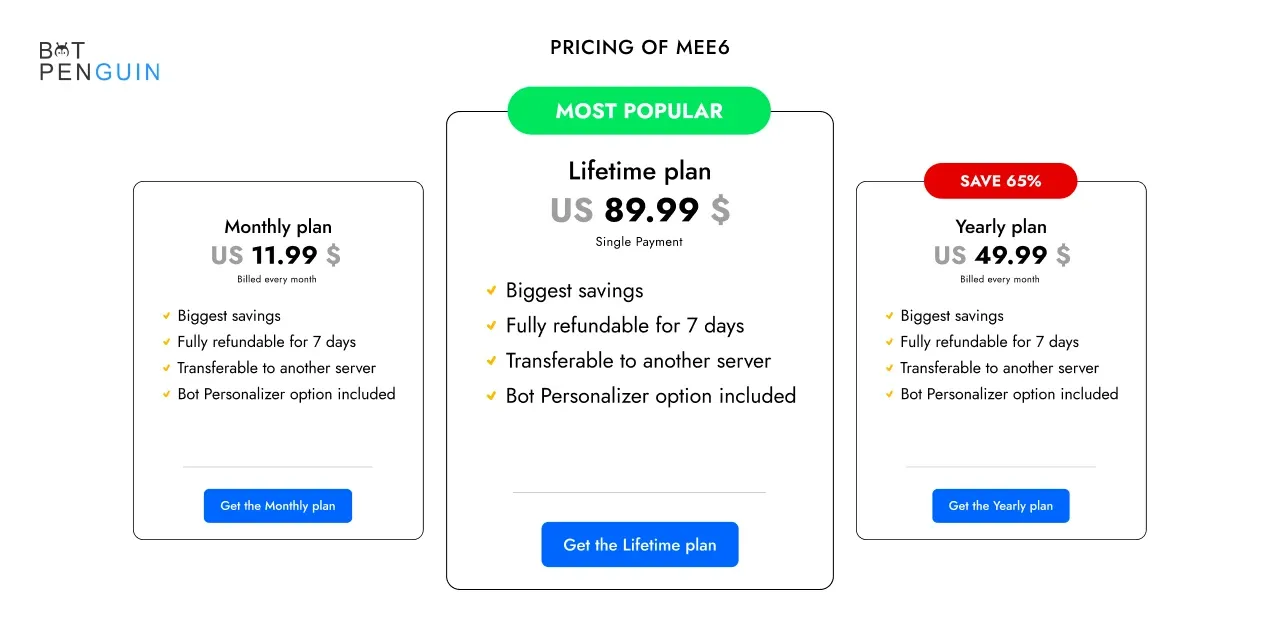 Monthly Plan:
Monthly subscription priced at US$11.99

Recurring billing every month

Fully refundable within 7 days of purchase

You can transfer your subscription to another server
Yearly Plan:
Yearly subscription priced at US$49.99

Recurring billing yearly

Fully refundable within 7 days of purchase

You can transfer your subscription to another server

Includes Bot Personalizer option for customization
Lifetime Plan:
Lifetime subscription priced at US$89.99

Single payment for lifetime access

Offers the biggest savings in the long run

Fully refundable within 7 days of purchase

You can transfer your subscription to another server

Includes Bot Personalizer option for customization
Mee6 discord bot commands
The Mee6 bot can be used to moderate your discord server and allow you to play songs.
The 2 types of Mee6 commands are—Moderator and Music commands.
Moderator commands
You can use MEE6 Bot to take on the role of server moderator and protect your server against spam, offensive content, excessive emoji use, etc.
A set of Mee6 Moderator Commands are provided below:
!ban: Use to ban a user from the server.
!tempban: Use to temporarily restrict a user from the server.
!clear: Use to delete channel messages based on specific rules.
!infractions: Use to display a user's infractions.
!kick: Use to kick a user from the server.
!mute: Use to mute a user on the server.
!template: Use to mute a user momentarily.
!role-info: Use to get info about a specific role.
!server-info: Use to get information about the current server.
!slow mode: Use to enable or disable slow mode in a channel.
!unban: Use to unban a user from the server.
!unmute: Use to unmute a user on the server.
!user-info: Use to get info about a specific user.
!warn: Use to warn a user.
Music commands
With its visual music player, the Mee6 bot lets you play and manage your music library.
You can play, stop, search for a song, play next, rewind, and loop the songs in a playlist using the Mee6 bot's music player dashboard without any commands.
You may find music on sites like Soundcloud, Twitch, and YouTube.
You can vote to skip the following song on the list or participate in a music quiz with your friends.
How to get mee6 to play music? Commands are listed below:
Use "!play" to start playing a song from the queue.
Press "!stop" to stop or pause the current song.
Type "!search" to search for a specific song.
Use "!record" to record the ongoing conversation in the voice channel.
Type "!stop-recording" to stop recording and get the link to the audio file.
Use "!seek" to jump to a particular time in the song.
Use "!volume" to increase or decrease the volume up to 200%.
Type "!add" to add a song to the queue.
Type "!queue" to see the list of all the songs in the queue.
Use "!clear-queue" to remove all the songs from the queue.
Press "!skip" to skip the next song in the queue.
Use "!vote-skip" to initiate a vote to skip the next song in the queue.
Use "!join" to make the MEE6 Bot join your voice channel.
Use "!leave" to make the MEE6 Bot leave your voice channel.
Type "!start-quiz" to start a music quiz with your friends in Discord.
Type "!stop-quiz" to stop the music quiz.

Suggested Reading:
Everything You Need To Know About Mee6 Discord Bot
Conclusion
The Mee6 Discord bot is a potent tool that can assist you in properly managing your server and interacting with your community.
You can automate many operations with its extensive feature set and programmable commands, from moderating conversation to rewarding active users.
Mee6 should be used wisely and sparingly, just like any other technology.
Overusing the bot's functionality or depending too heavily on automation might reduce the value of real human connection and degrade the user experience.
On the topic of bots, let's not forget about the coolest chatbot platform—BotPenguin!
With BotPenguin, you can build unique chatbots that can perform various tasks, such as responding to frequently asked inquiries, gathering user data, and making tailored recommendations.
BotPenguin makes it simple to build chatbots that can increase engagement and streamline productivity due to its user-friendly drag-and-drop interface and strong AI capabilities.
Want to know more about BotPenguin?
Frequently Asked Questions (FAQs)
What does the Mee6 bot do?
To facilitate moderating for crowded Discord servers and channels, the Mee6 bot offers useful functionality.
Mee6 can be used to build commands, welcome users, configure search features, play music, or include Twitch and YouTube.
Is Mee6 music free?
While MEE6's music is free, you can list up to 50 songs and participate in 3 daily music quizzes.
With the premium MEE6 bot, there are unlimited exams and up to 1,000 audio tracks in the queue.
How do I use Mee6 commands?
Here's how you can make custom commands for the MEE6 bot:
Sign up or log in to your existing account.

Navigate to the 'Dashboard' and select your server.

Click on the 'Custom command tab' and choose 'Create one.'

Enter a command and its response, remembering to add an exclamation mark (!) before the command.

Save the command by clicking 'Add.'

Test the command on your Discord server to ensure it works properly.
Can Mee6 play Spotify?
Yes, the Mee6 discord bot can play music from Spotify.
Other discord bots that can play music from Spotify are—Hydra and FredBoat
Is Mee6 a good bot?
One of the top discord bots and one of the most widely used moderator bots is MEEee6. It takes care of many tasks that a mod team would ordinarily perform.
How do you get Mee6 to greet people?
Enable and set up the "Send a private message to new users" option to send a private join message to new members.
After configuring the private join message, a user will receive a message welcoming them to your server the next time they join.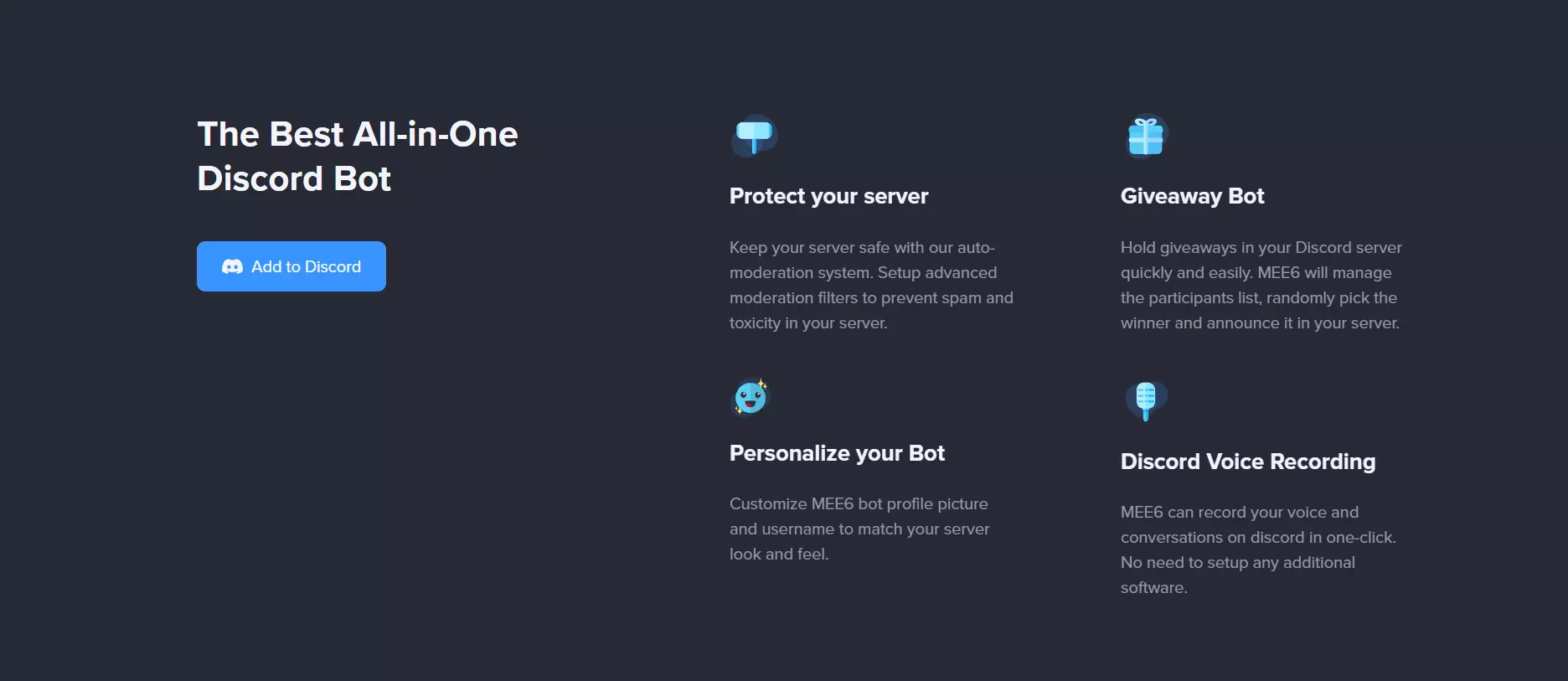 Does Mee6 count messages?
Most discord users are familiar with bots like Mee6, which count your messages and then assign you a score based on how many messages you write.
What is the coolest Discord bot?
Here are the top 5 coolest discord bots:
Mee6

Dank Memer

Helper.gg

ProBot

IdleRPG
How to play music with Mee6?
Using Mee6 to play music on your Discord server is quite simple. You just need to use the "!play" command followed by the name or URL of the song you want to play.
You can create a queue of songs and manage it using various Mee6 music commands.
Can Mee6 play music?
Yes, the Mee6 bot is capable of playing music on Discord. It includes music commands like "!play", "!stop", "!skip", which can be used to control music playback on your server.
What if the Mee6 music commands aren't working on my server?
If the Mee6 music commands aren't working on your Discord server, it's recommended to check whether the bot has the necessary permissions. Also, ensure you are using the correct command syntax.
Clearing the music queue or restarting the bot could also help resolve the issue.
If all fails, consider reaching out to Mee6's support server for further assistance.