You've landed on this blog, which means the idea of adding a WhatsApp Bot to a group chat is intriguing you.
And, why not? It'll simplify everything.
Want new leads? Just ask your WhatsApp bot to drop a message in the group chat.
Want new sales? Your WhatsApp bot drops a tailored pitch in the group chat.
How about reviews and feedback? Your WhatsApp bot seals the deal.
Want to get instant appointment bookings? Your WhatsApp Chatbot… Well, you get the idea.
The bottom line is adding WhatsApp chatbots to a group chat will be an absolute game changer.
But, Can you really add a chatbot to whatsapp group chat? We've revealed the answer, and it'll surprise you. Keep reading.
But before we talk about it, let's get our basics clear.
What is a Bot?
A computer program that acts as an agent for a user or another program or imitates human action is known as a bot. It is short for a robot and is also known as an internet bot.
Bots are typically employed to automate certain operations so that they may be carried out without human intervention.
What is a WhatsApp Bot?
A WhatsApp bot is an automated messaging system that allows businesses or individuals to interact with customers or users through WhatsApp.
Using the WhatsApp Business API connection, a WhatsApp bot offers users a real-time automated conversational experience right on the messaging platform.
On WhatsApp, chatbots can be rule-based (made up of interactions that resemble decision trees and provide a more organized experience) or NLP-based (using natural language processing for more or a more human conversational effect).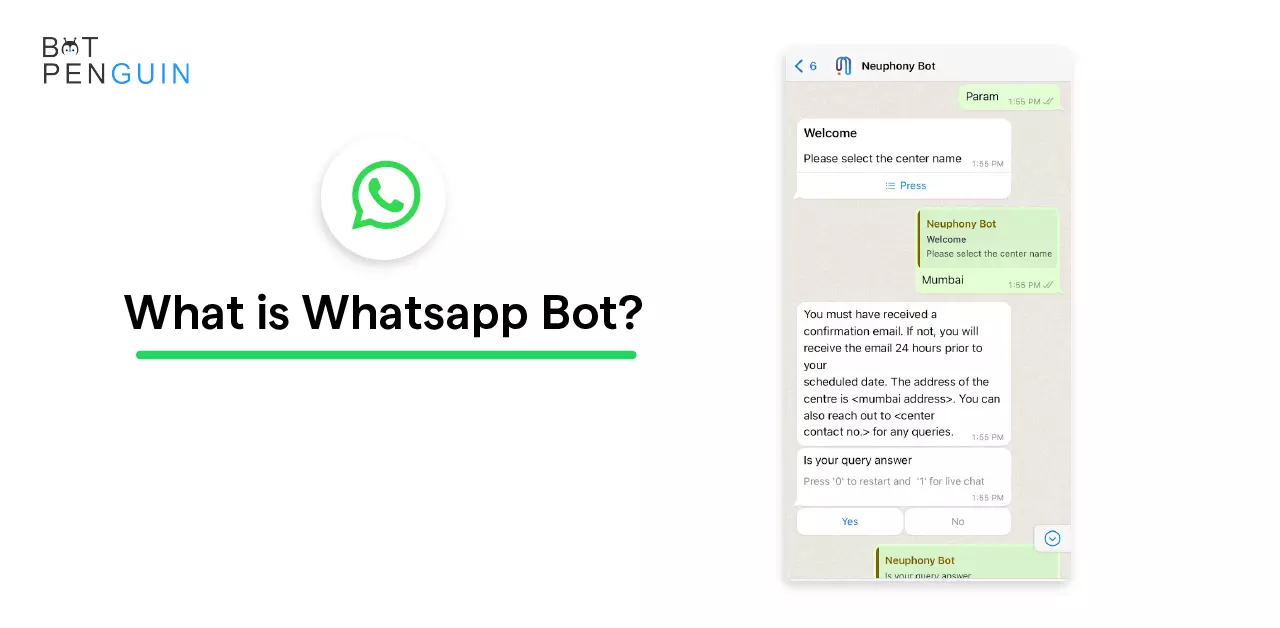 A WhatsApp chatbot's main benefits are as follows:
Being able to reach out to your client base quickly and asynchronously (at a time that works best for them)




Contacting clients with an app, they often use without putting them out of their comfort zone




Utilizing precise user history and data collecting to provide a tailored experience with each encounter

A WhatsApp bot for groups may be used for various tasks in addition to customer service, including booking, internal corporate communication, product promotion and recommendation, customer engagement, and consumer feedback.

Real estate, travel and hospitality, banking, education, online retail, and probably any subscription-based business are the sectors most likely to benefit from a WhatsApp chatbot.
What are WhatsApp groups and WhatsApp Communities?
A WhatsApp Group is something you are already familiar with if you use WhatsApp. You may invite others there, and they can talk with each other. A WhatsApp Group is a terrific way to schedule activities, plan a night out, or chat with coworkers.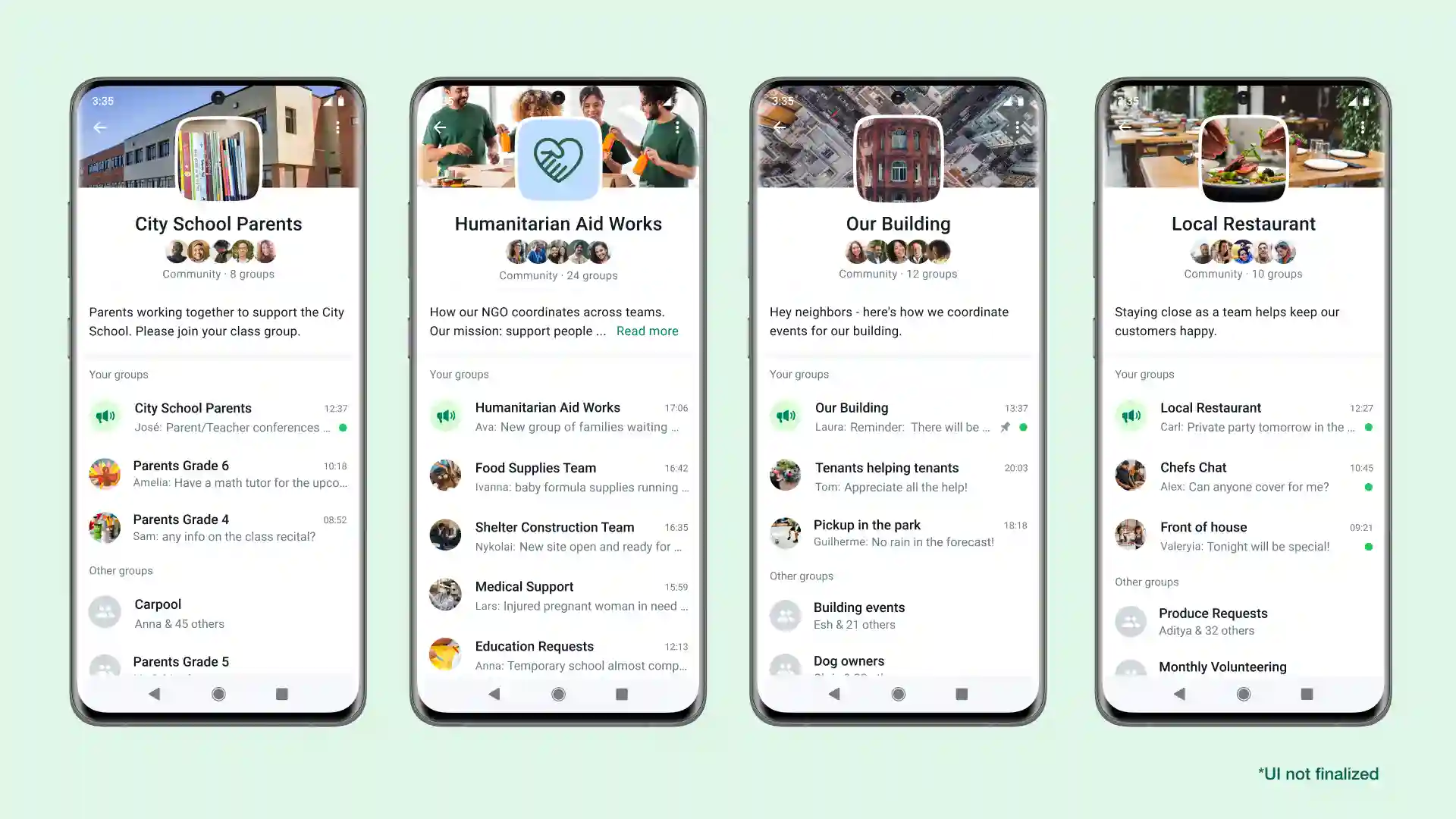 What does WhatsApp's group feature serve?
You may invite others there, and they can talk with each other. A WhatsApp bot for Groups is a terrific way to schedule activities, plan a night out, or chat with coworkers.

However, there is a user cap on WhatsApp Groups. A WhatsApp bot in a group chat can only have 256 users at a time. However, there is a user cap on WhatsApp Groups. A WhatsApp Group Chat can only have 256 users at a time.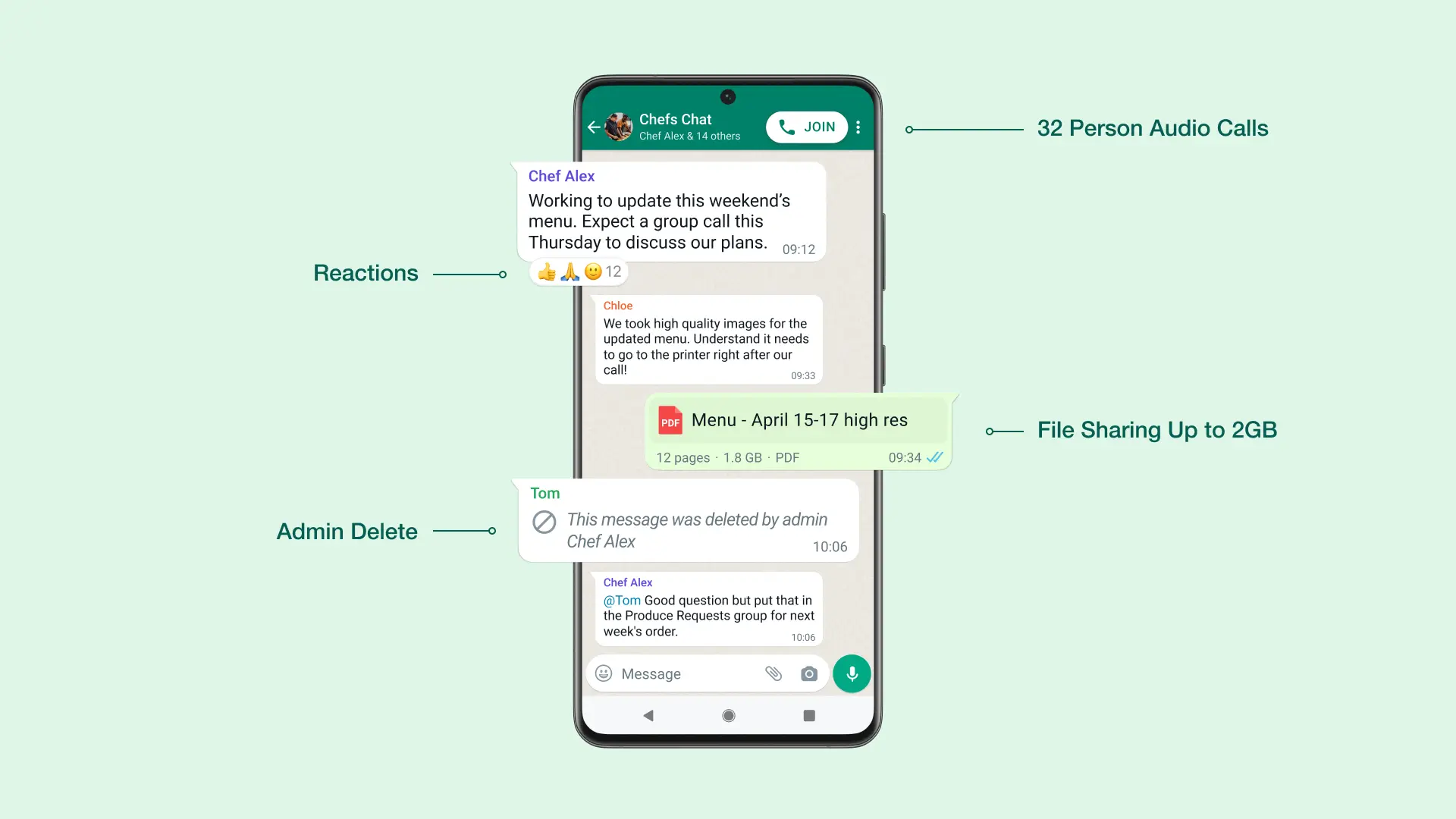 What's the point of using a WhatsApp bot in a group chat?
Why would you add a Chatbot to a group chat? Well, we can go on and on about this. But we think these 5 features top the list:

Need faster customer service response times? Your WhatsApp bot can instantly address common queries in the group chat.
Looking for survey responses or polls? Your WhatsApp bot can make it happen right there in the group chat.




Want efficient order updates and delivery tracking? Rely on your WhatsApp bot for real-time updates in the group chat.




Information overload? Your WhatsApp bot can provide concise, important updates, ensuring members stay informed within the group chat.




Need to streamline event reminders or promotional alerts? Your WhatsApp bot has got you covered.




Craving for organized,

automated interaction

? Your WhatsApp bot can meticulously manage conversational flow within the group chat.
Suggested Reading:
How do you add a WhatsApp bot to a group chat?
Here's the section you've clicked on this blog for– How to add a chatbot to WhatsApp group chat?
The answer will surprise you.
As of now, there's no such feature available that allows you to add a WhatsApp bot to a group chat. There might be one in the future, but there's no confirmation from Meta.
But, hold on! It's not the end of the world.
You can still get every benefit we've mentioned above using a WhatsApp Chatbot without any group. Read the next section.
How to use WhatsApp Chatbot without adding it to group chat?
Even though you can't add a WhatsApp chatbot directly to a group chat, you can still enjoy the advantages through alternative methods.

You see, WhatsApp chatbots are designed so you can use them without any group and still achieve your desired goals.

What are those methods? They are…
Individual Chats



Share the chatbot's WhatsApp link within the group, inviting group members to start individual chats with the bot.





All the essential functions, like customer service queries, sales pitches, and appointment bookings, can be carried out in one-on-one conversations.




Customized Broadcast Lists



Utilize

WhatsApp's 'Broadcast Lists'

feature to send personalized messages from your WhatsApp chatbot to multiple users simultaneously.





This approach allows you to share updates, promotions, and event reminders with contacts who have saved your number in their address book.




WhatsApp Business Account



Create a

WhatsApp Business

Account and use it in the group chat to provide support and information and respond to queries on behalf of the chatbot.





By leveraging the WhatsApp Business Account, you can offer tailored support, manage customer interactions, and engage with users more effectively.




Third-Party Integrations



Connect your WhatsApp chatbot with external platforms and tools to keep group conversations dynamic and efficient.





For instance, you can integrate your chatbot with a CRM, email marketing, or calendar management system, letting the chatbot facilitate instant, accurate, and relevant interactions outside the group chat.
This doesn't end here, you can take it even further with BotPenguin, the home of chatbot solutions.
And if you are the one who likes the no-coding chatbot building process, then you would definitely love it! With all the heavy work of chatbot development already done for you, simply use its drag-and-drop feature to build an AI-powered chatbot for platforms like: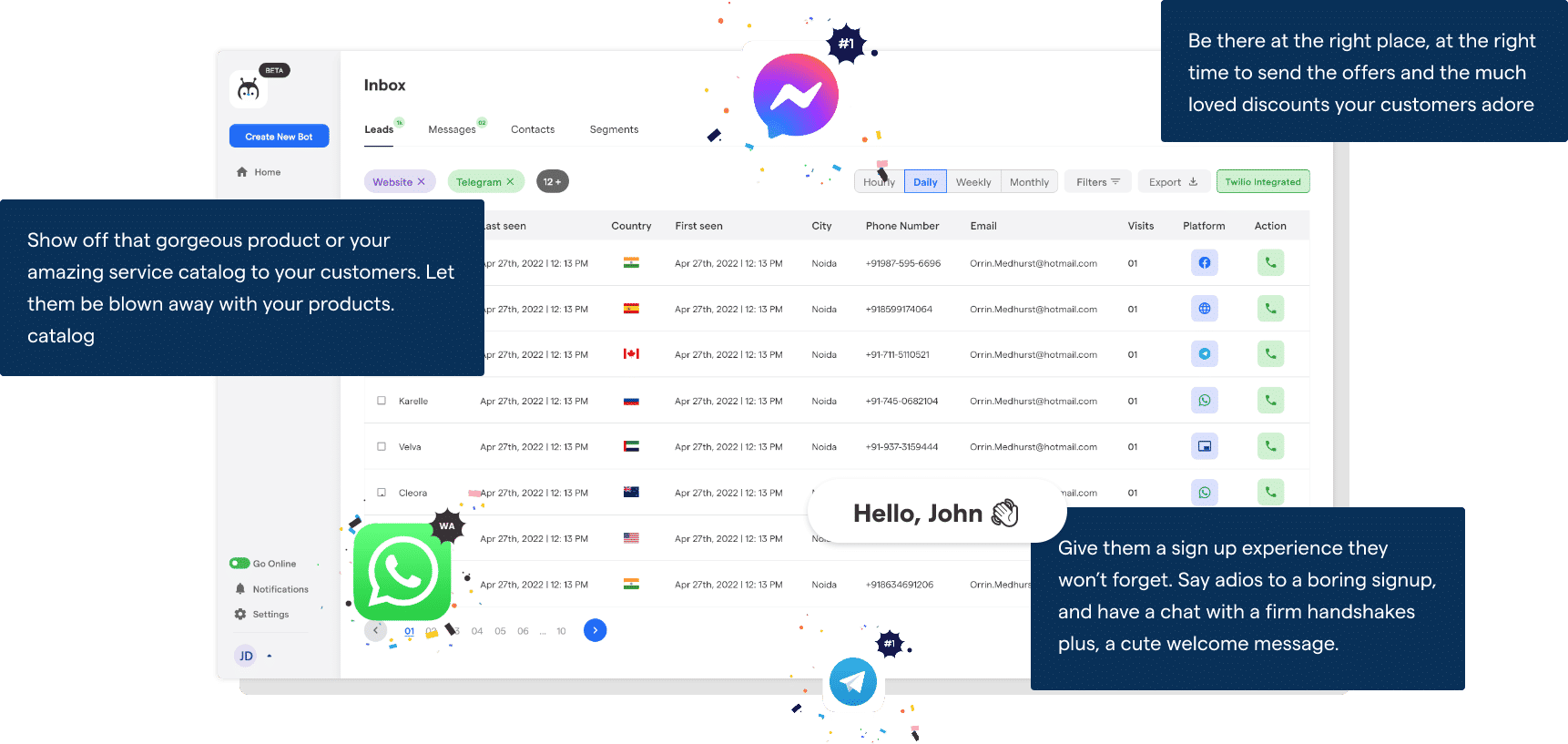 Introduce automation to your business with BotPenguin's WhatsApp Chatbot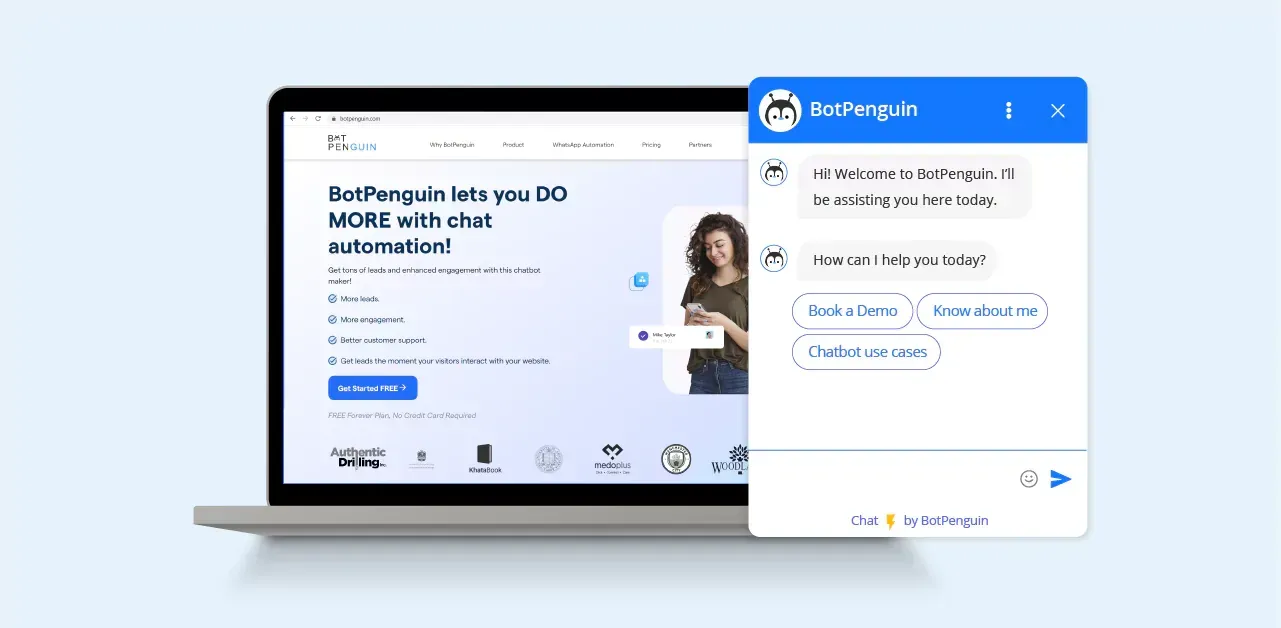 WhatsApp is hard to ignore - it's not just a tool for personal conversations anymore. It has become a powerful platform that can help enterprises connect with their customers more seamlessly.
And, that's where BotPenguin steps in.
BotPenguin's WhatsApp Chatbot leverages the power of artificial intelligence (AI) to provide automated, real-time, and personalized interactions directly within WhatsApp.
It's not merely about automation; it's about building customer relationships, enhancing engagement, and driving business growth.
With BotPenguin's WhatsApp Chatbot, you can supercharge your sales and support operations in the following ways:
Round-the-Clock Customer Service



The chatbot is available 24/7, ensuring your customers get the help they need, whenever they need it.



Enhanced Customer Engagement



Use BotPenguin to share instant responses, tailored content, and proactive notifications with your customers. This not only boosts the customer experience but also fosters engagement, leading to higher customer loyalty.



Seamless Sales Experience



From product inquiries to final checkouts, the chatbot can guide users through the entire sales journey, making it smooth and straightforward.
That's not all. BotPenguin's WhatsApp Chatbot is easy to implement and requires no coding knowledge.
Plus, it supports multiple languages, helping you reach a broader customer base. Integration with popular CRMs and marketing platforms also allows you to manage your customer database and track business metrics more effectively.
But, the real beauty of BotPenguin's WhatsApp Chatbot lies in its simplicity. It's designed to fit into your existing workflows and systems seamlessly, leading to minimal disruption and maximum productivity.
With BotPenguin, automation does not mean impersonation. It strives to deliver a human-like texting experience that your customers will love.
Introduce automation to your business with BotPenguin's WhatsApp Chatbot and watch your business reach new heights of success.
Suggested Reading:
Conclusion
So, it turned out that despite the shiny benefits, you can not add a WhatsApp bot to a group chat. And, there's no sign from Meta that this feature will be available in the future.
Does this mean you have to compromise? No! You can still get the same benefits and results with a WhatsApp Chatbot without adding it to any group.
You can use BotPenguin's WhatsApp Chatbot, Powered by the Official WhatsApp Business API, to introduce automation to your marketing. That too for free! Without any credit card!
With that note, we've reached the end of this short guide. We hope you got the answer and we've been able to provide you with a better alternative to adding chatbot to WhatsApp group.
Frequently Asked Questions (FAQs)
Whatsapp bot is it free?
The WhatsApp bot is, in fact, free. However, utilizing the bot to send or receive messages may result in data charges.
How can I build a bot?
A bot can be made in several different ways. Use a chatbot platform like BotPenguin, which enables you to develop bots without programming knowledge, as one option. Another option is to create a bot using a language like Python.
How do chatbots operate?
A chatbot responds to a user's input based on a predetermined set of rules after receiving information from the user. For purposes like customer service or marketing, this enables them to mimic a conversation with a person.
What kind of technology does a chatbot use?
Chatbots can employ various technologies depending on how they are implemented. Typically, they use some natural language processing (NLP) to comprehend user inquiries and provide answers, together with a rules engine to choose the most appropriate response. Additionally, they could employ machine learning to develop their comprehension over time.