What is Hyperautomation?
In the simplest terms, hyperautomation is the application of advanced automation technologies and techniques, primarily artificial intelligence (AI) and machine learning (ML), to ramp up business processes.
It implies an automation strategy that goes beyond traditional rule-based automation, integrating AI with Robotic Process Automation (RPA) to perform tasks that generally need human intelligence.
Hyperautomation vs Automation
Whereas traditional automation confines itself within rule-based tasks with predictable outcomes, hyperautomation probes into a wider range of processes. It tackles complex and non-routine tasks, benefiting tremendously from AI capabilities to process unstructured data, make decisions, and learn from experiences.
Driving Forces of Hyperautomation

What fuels hyperautomation? Let's break it down:
Technological Advancements
The rise and evolution of AI, ML, and other advanced technologies have been instrumental driving forces behind hyperautomation. Their capability to understand, learn, and perform tasks on their own has overhauled process automation, thus catapulting hyperautomation to the prominence it enjoys today.
Business Process Improvement
Hyperautomation often serves as an answer to business process improvement, reducing time-consuming manual labor, diminishing process errors, and fostering scalability. By automating complex tasks, hyperautomation allows employees to channel their effort and time toward more value-added work.
Key Components of Hyperautomation
In the heart of hyperautomation lie a few key components that make it what it is. Here's what they are: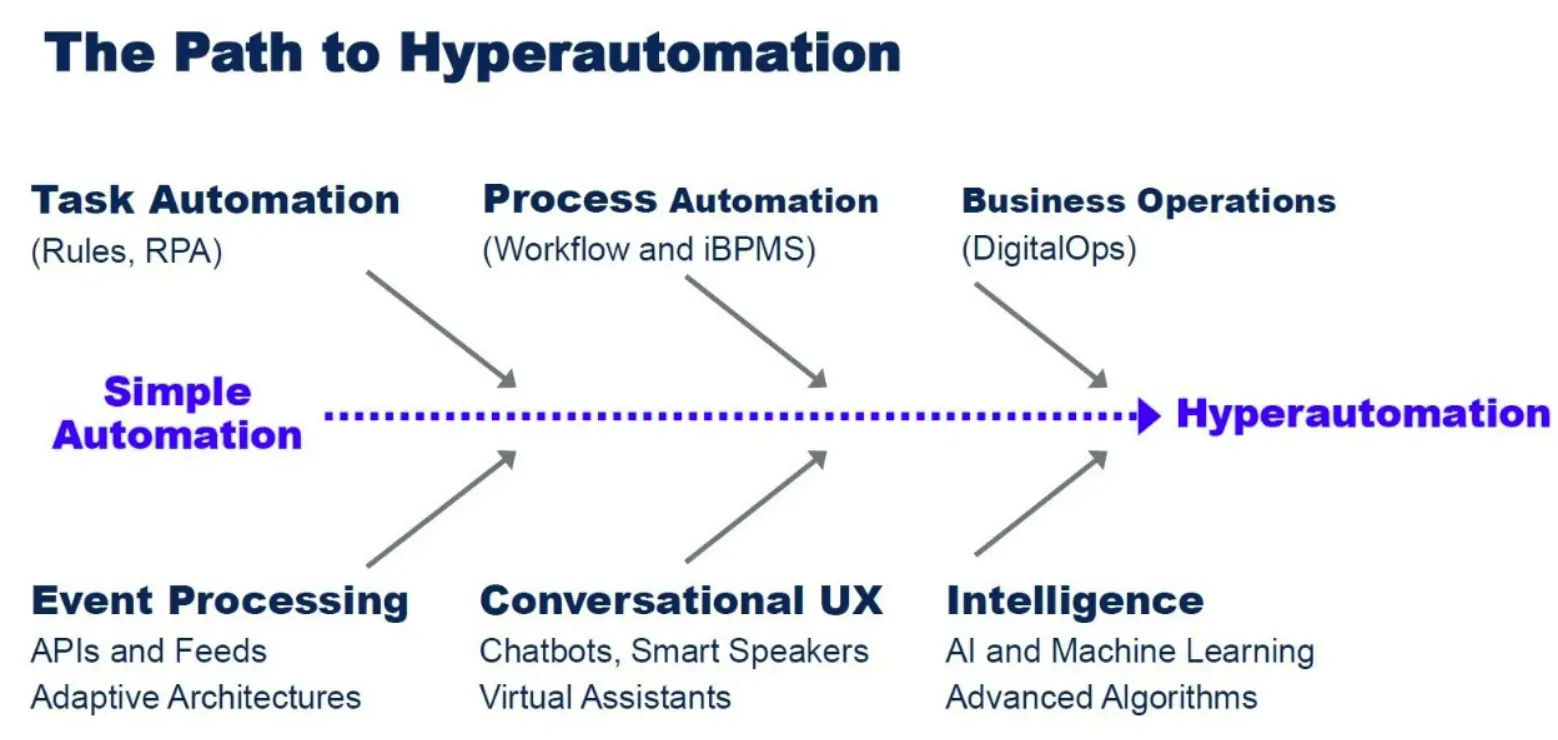 Robotic Process Automation (RPA)
RPA is the cornerstone of hyperautomation, providing the necessary base for automating repetitive, rule-based tasks. However, when it collaborates with AI and ML, it matures, graduating RPA to hyperautomation and enabling automation for a wider array of processes.
Suggested Reading: Robotic Process Automation: Types and Applications
Artificial Intelligence and Machine Learning
AI and ML endow hyperautomation with the ability to process unstructured data and make informed decisions. With these technologies, hyperautomation evolves beyond fixed rules and enhances business processes at an unprecedented pace and depth.
Benefits of Hyperautomation
What does it bring to the table? Here's a detailed look: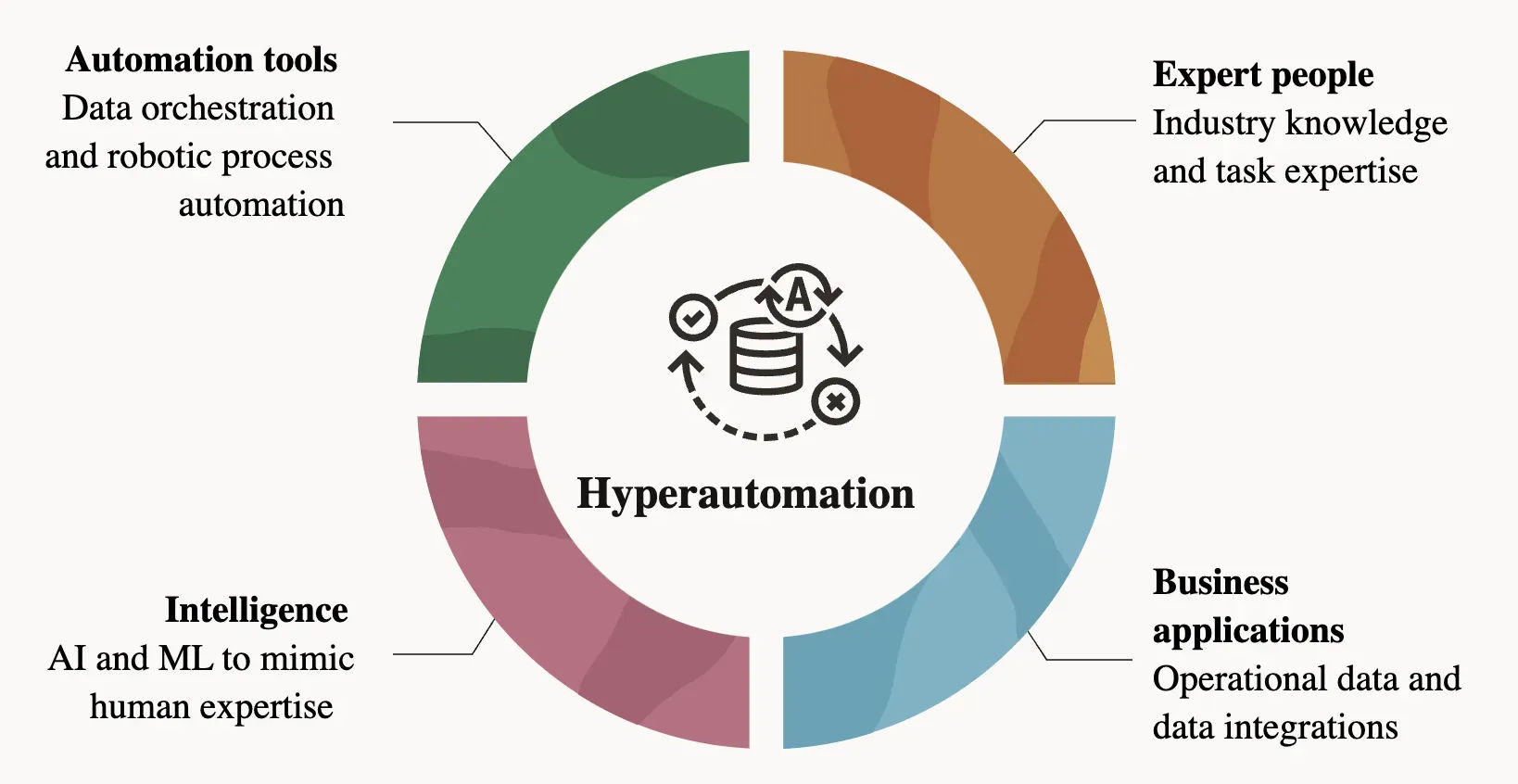 Efficiency and Productivity Enhancement
One of the top advantages of hyperautomation is the colossal enhancement in efficiency and productivity. By automating error-prone, tedious tasks, it allows employees to dedicate their attention to more strategic responsibilities, thereby improving overall efficiency.
Cost Savings
By saving time and minimizing errors, hyperautomation can generate substantial cost savings for businesses. Additionally, the scalability and adaptability it brings to the table often correlate with cost-effectiveness.
Possible Drawbacks of Hyperautomation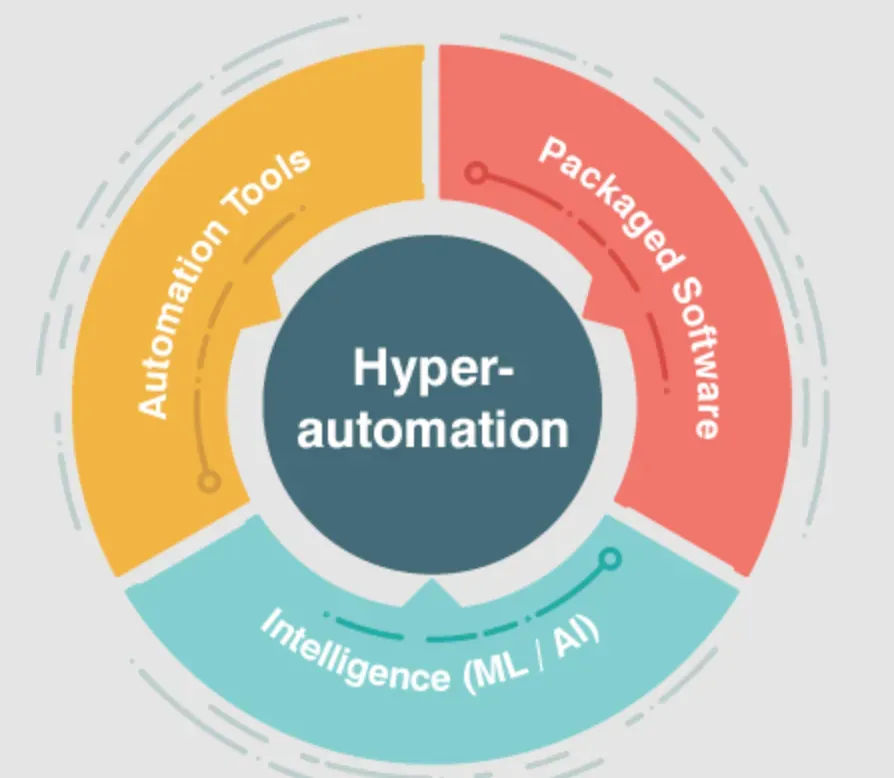 From technical difficulties to the requirement of substantial upfront investment, hyperautomation implementation can present a few formidable challenges. Moreover, sufficient human oversight remains crucial to prevent inaccuracies and oversights.
Skill Gap
Given the sophistication of hyperautomation tools, a skills gap could occur. Employees may need additional training to work alongside these advanced systems, which can act as a hurdle for many businesses, particularly smaller ones.
Future of Hyperautomation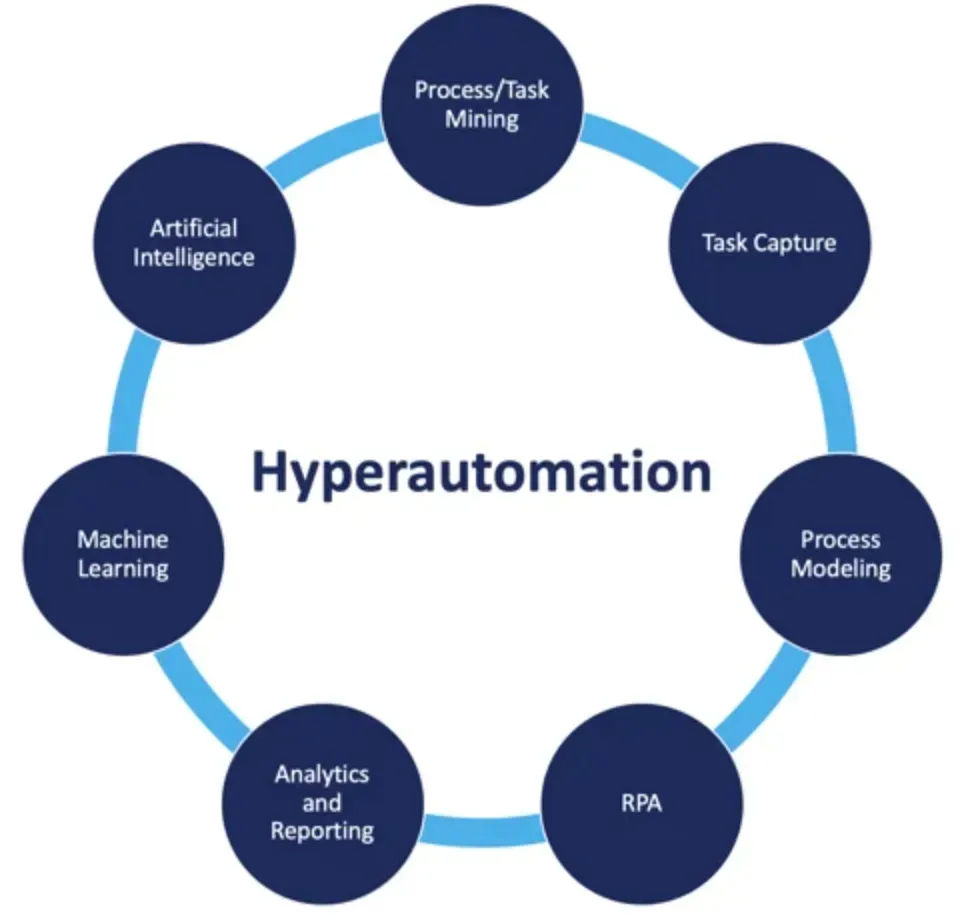 Hyperautomation is increasingly being recognized as a significant player in business' digital transformation journeys. Its potential to automate complex processes and make independent decisions positions it uniquely in shaping the digital future of businesses.
Continued Evolution and Integration
With the continuous advancements in technology, hyperautomation's evolution seems unstoppable. More extensive integration of AI and ML is expected, facilitating broader application across varied business functions and sectors.
Frequently Asked Questions (FAQs)
Can hyperautomation replace human workers?
Hyperautomation is not meant to replace human workers, but rather to augment their capabilities and free up their time for more valuable and strategic tasks. It helps to automate repetitive and mundane tasks, allowing employees to focus on more complex and creative work.
Is hyperautomation only relevant for large organizations?
No, hyperautomation is beneficial for organizations of all sizes. While larger organizations may have more complex processes to automate, smaller businesses can also leverage hyperautomation to increase efficiency, reduce costs, and improve their overall operations.
How long does it take to implement hyperautomation?
The time it takes to implement hyperautomation can vary depending on several factors such as the complexity of the processes being automated, the technologies being used, and the resources available. It's best to assess the needs and requirements of the organization to determine a timeline.
What skills are needed to implement hyperautomation?
Implementing hyperautomation requires skills such as process analysis, technology expertise, project management, and change management. Organizations may need to train existing employees or hire professionals with these skills to successfully implement hyperautomation.
Will hyperautomation be able to adapt to future technologies?
Yes, hyperautomation is designed to be flexible and adaptive to changing technologies. It can seamlessly integrate with new tools and technologies, ensuring that organizations can continue to leverage the benefits of automation as technology evolves.