What is Benchmarking?
Benchmarking is all about measuring an organization's products, services, or processes and comparing them to those of top performers in their industry, region, or niche. This process empowers organizations to gather insights, pinpoint gaps, and take action to enhance their performance.
Purpose of Benchmarking
By looking at how the best of the best are doing things, companies can set their own improvement goals, identify actions to bridge the gaps and establish a solid foundation for performance standards.
Why is Benchmarking Important?
Benchmarking is important for an organization's growth and pushing it toward excellence. Let's break down exactly why it's so essential: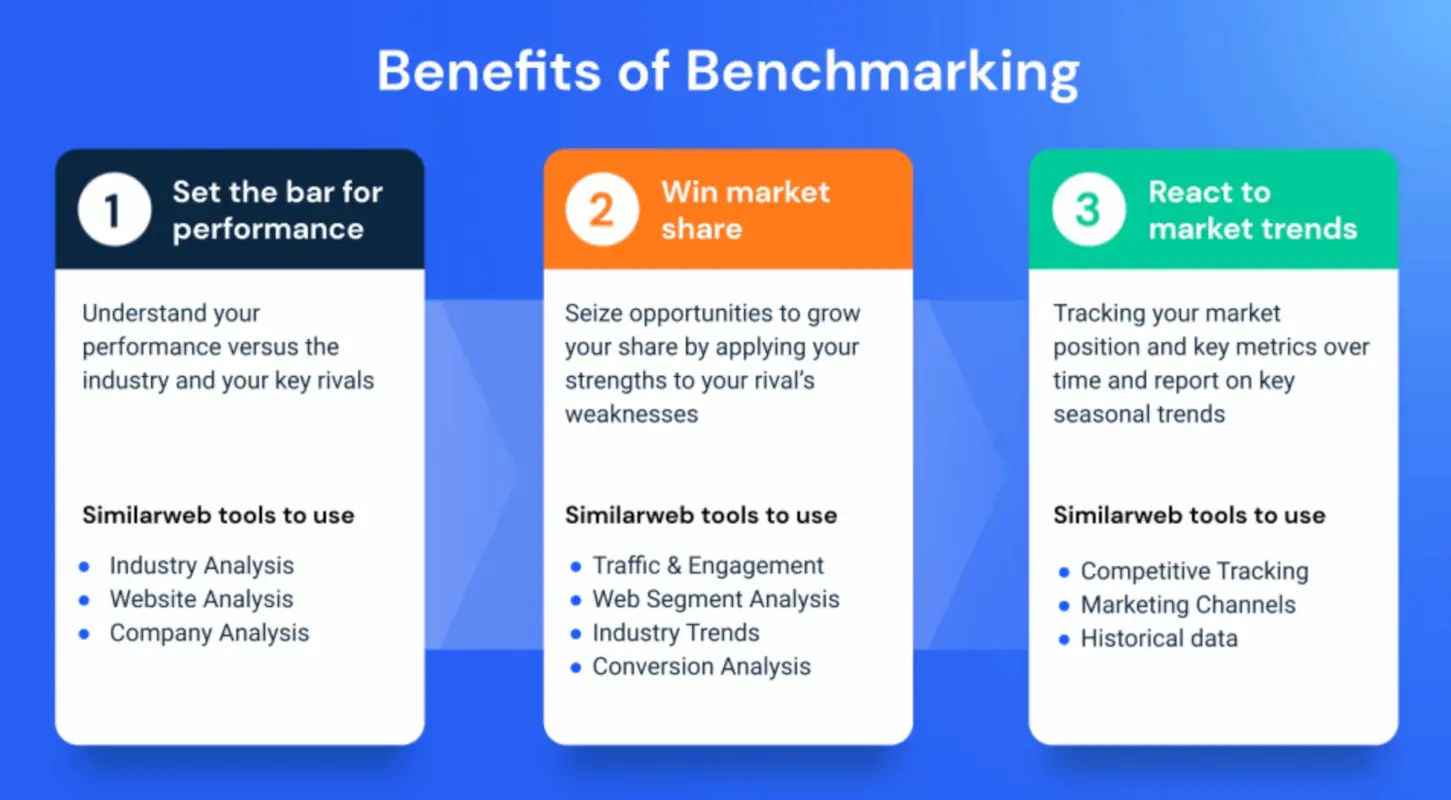 Importance of Benchmarking for Companies
When companies learn from the best practices of high-performing organizations, they can pinpoint the areas ripe for enhancement in their own products, services, or processes. Thanks to benchmarking, companies can work towards becoming industry leaders and keep improving their competitive edge.
Role of Benchmarking in Process Improvement
As a catalyst for process improvement, benchmarking gives companies a peek into how their competition scores superior results. By studying and adapting these proven methods, organizations can optimize their processes and elevate their overall performance.
Who Uses Benchmarking?
Businesses across the board can gain valuable insights from benchmarking and weave those successful strategies into their operations.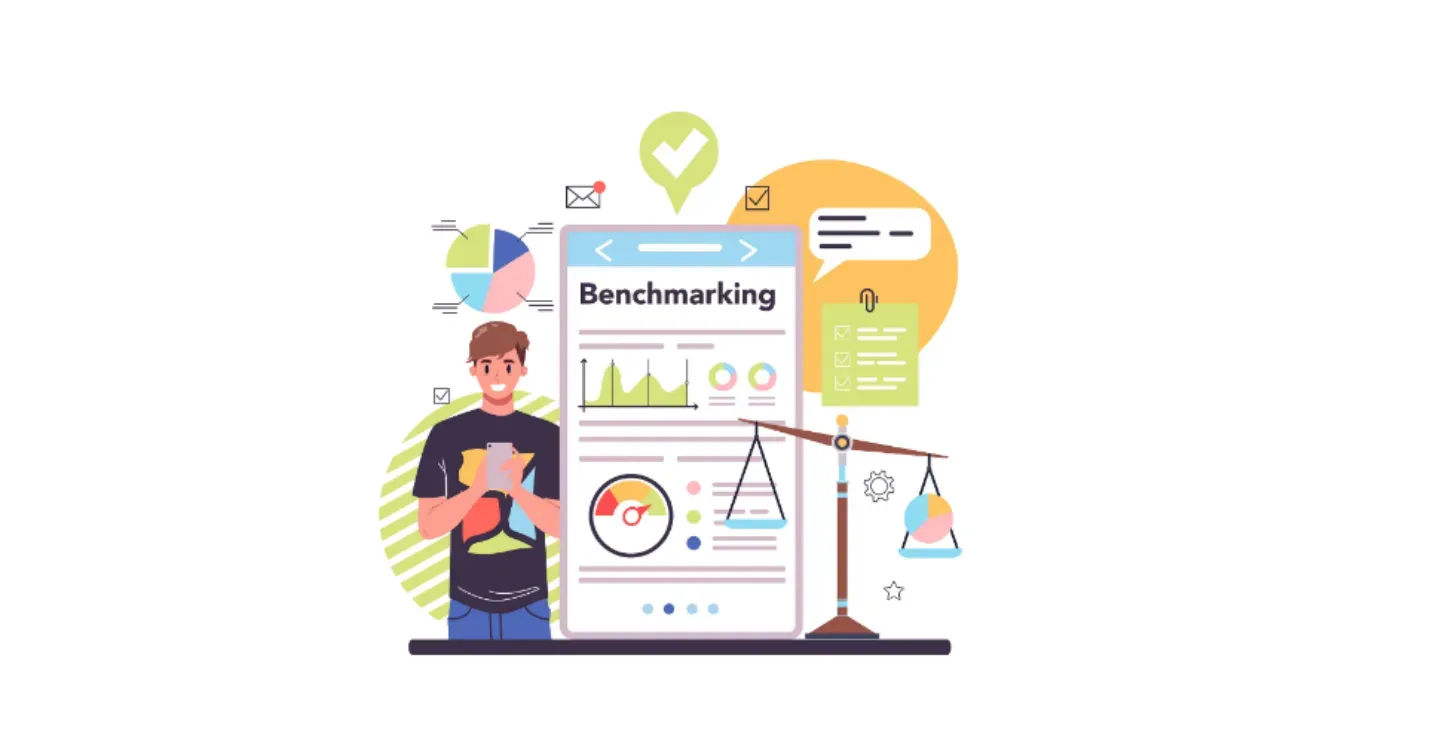 Companies and Organizations that Utilize Benchmarking
It doesn't matter if they're big, small, or somewhere in between – companies from various sectors and industries can harness the power of benchmarking to boost performance, refine operations, and achieve their objectives.
Industries that Benefit from Benchmarking
Benchmarking is especially advantageous for industries where competition runs high, continuous improvement is key, and customer satisfaction remains a priority. You'll frequently see it in action in fields like manufacturing, healthcare, finance, and hospitality.
When to Use Benchmarking?
Whether it's addressing specific situations or chasing continuous improvement, knowing when to kick off benchmarking activities plays a big part in making the most out of it.
Situations Where Benchmarking is Effective
Benchmarking shines bright when an organization wants to close performance gaps, spur innovation, enhance customer satisfaction, venture into new markets, or sharpen efficiency and productivity.
Timing and Frequency of Benchmarking
When it comes to timing and frequency, there's no one-size-fits-all. Organizations may opt for periodic benchmarking, or they may pivot and adapt their activities according to challenges and opportunities.
How is Benchmarking Conducted?
Benchmarking follows a structured approach to help organizations collect insights and put improvements into action. Key steps include:
Step 1
Identifying what to benchmark: Kick things off by deciding what you're looking to benchmark and which successful organizations to compare your performance against.
Step 2
Analyzing and studying superior processes: Next, analyze the data, dig into those top-tier processes, and find out what makes them so powerful. This will guide you in adapting and integrating those practices into your own business.
Step 3
Presenting findings to management: After gleaning insights, showcase your discoveries to management, highlighting improvement possibilities and gaining approval for your proposed course of action.
Step 4
Crafting an action plan and implementation: With a green light from management, develop a clear action plan and start implementing the improvements revealed through benchmarking. Monitor progress, revise strategies as needed, and make sure everything unfolds smoothly.
Types of Benchmarking
Different types of benchmarking are used in different industries. Here is a detailed breakdown:
In this section, we'll dive into the different types of benchmarking that businesses can utilize to compare and enhance their performance.
Internal Benchmarking
Internal benchmarking involves comparing processes and practices within the same organization. Through this method, you can encourage internal learning and improvement by replicating the successful strategies of one department in other units.
Competitive Benchmarking
Competitive benchmarking means directly comparing your company's performance and processes against your direct competitors. It allows you to identify your strengths and weaknesses and develop strategies to improve your competitive position.
Functional Benchmarking
Functional benchmarking entails comparing a similar function or process performed in different industries. It can reveal innovative practices and new viewpoints that you could adapt to gain an edge over your competitors.
Process Benchmarking
Process benchmarking focuses on discrete processes and operations. It involves in-depth analysis of crucial process steps and components to identify areas for improvement, streamline operations, and enhance efficiency.
Strategic Benchmarking
Strategic benchmarking compares high-level aspects of a business like organizational structure and overall approach. By studying successful companies even in different industries, you can pick up insights and strategies to drive growth and innovation.
By understanding and applying these types of benchmarking, businesses can foster continual improvements and stay ahead of the curve.
Frequently Asked Questions (FAQs)
What is Benchmarking?
Benchmarking refers to the process of measuring your organization's performance against top performers to identify areas for improvement.
How does Benchmarking benefit companies?
Benchmarking allows companies to learn from industry leaders, improve processes, and gain a competitive edge.
When should Benchmarking be used?
Benchmarking is effective when there are performance gaps, a need for innovation, customer satisfaction improvement, exploring new markets, or aiming for increased efficiency.
How is Benchmarking conducted?
Benchmarking involves identifying areas to benchmark, studying best practices, presenting findings, creating an action plan, and implementing improvements.
What are the different types of Benchmarking?
There are various types of benchmarking, including product, process, competitive, strategic, financial, functional, cross-industry, internal, and global benchmarking.