Introduction
Are you looking to level up your chatbot game and boost your business like never before? Answer to your question is to have a good integration partnership.
Among all the integration patterns available out there, BotPenguin stands out as the best. This AI chatbot platform can transform your integration partnerships game and increase your customer lifetime value
BotPenguin integration service has an impressive 98% customer satisfaction rate and 85% increase in partner revenue.
BotPenguin is also a cost-effective solution for integration partners. BotPenguin offers a free plan that is perfect for BotPenguin integration partners who are just getting started.
The integration partners who need more features, BotPenguin offers a variety of paid plans that are affordable and scalable.
No matter what type of integration partner you are, BotPenguin can help you to improve the customer experience for your clients.
In this blog post, we will go through the benefits of BotPenguin integration services and why it is THE go-to choice for integration partners!
What is BotPenguin?
BotPenguin is a powerhouse of AI capabilities designed to take your customer interactions to a whole new level.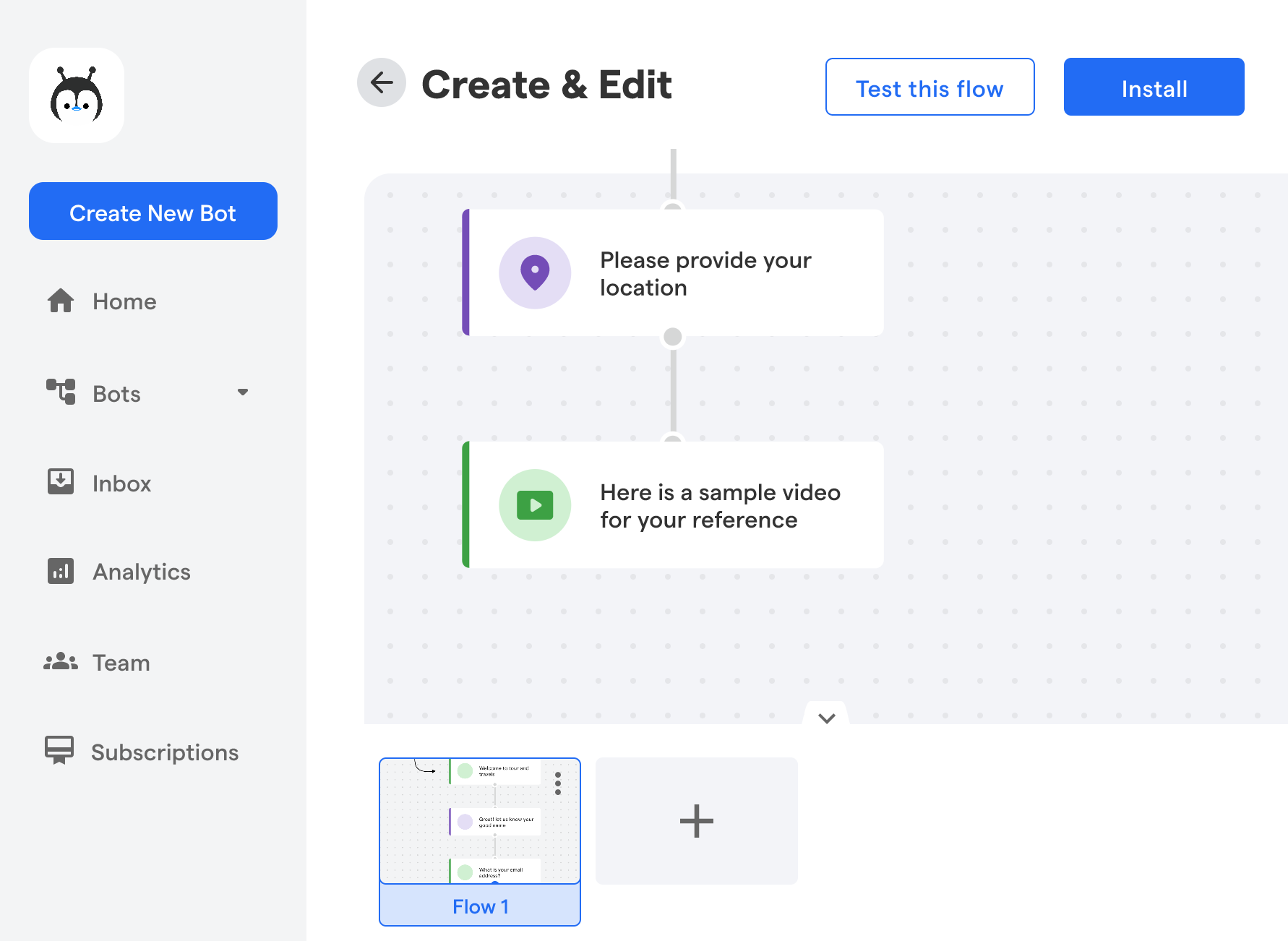 From answering FAQs to generating leads and offering personalized experiences, BotPenguin does it all with finesse.
BotPenguin Integration Platform
Picture this: an AI chatbot that understands natural language and adapts to every conversation seamlessly.
With smart algorithms and machine learning prowess, BotPenguin can learn from customer interactions. It can improve responses with each chat.
No more robotic, canned answers - just smooth, human-like conversations that leave customers feeling heard and valued.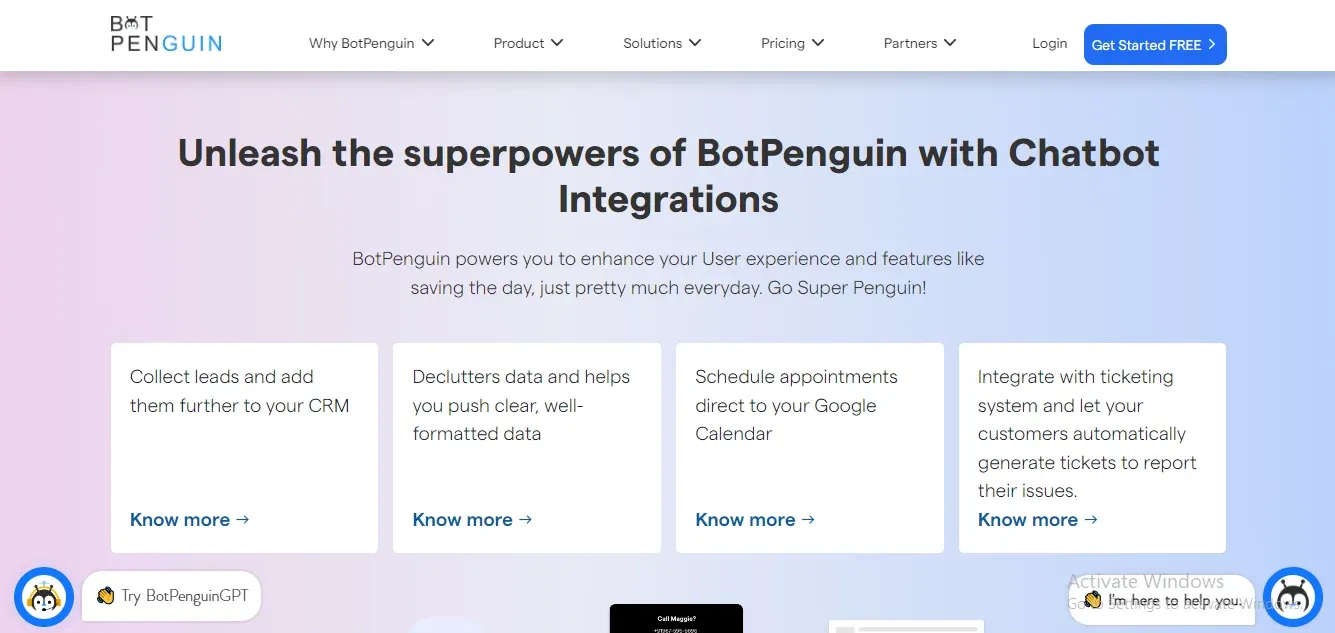 BotPenguin Integration Services
BotPenguin boasts an impressive array of features tailored to meet your business needs. It can even integrate with your existing CRM system, making it a match made in tech heaven.
To integrate BotPenguin with your data sources, you will need to create an integration in the BotPenguin dashboard.
The steps involved in creating an integration will vary depending on the data source. Once you have created an integration, you will be able to use it to collect, store, and manage data in your chatbotSome of the data sources that BotPenguin can integrate include:
Calendars: Google Calendar, Microsoft Outlook, etc
Along with 60+ integrations, BotPenguin has other features to look on
Who are Integration Partners?
An integration partner is a non-competing software company that integrates with your own.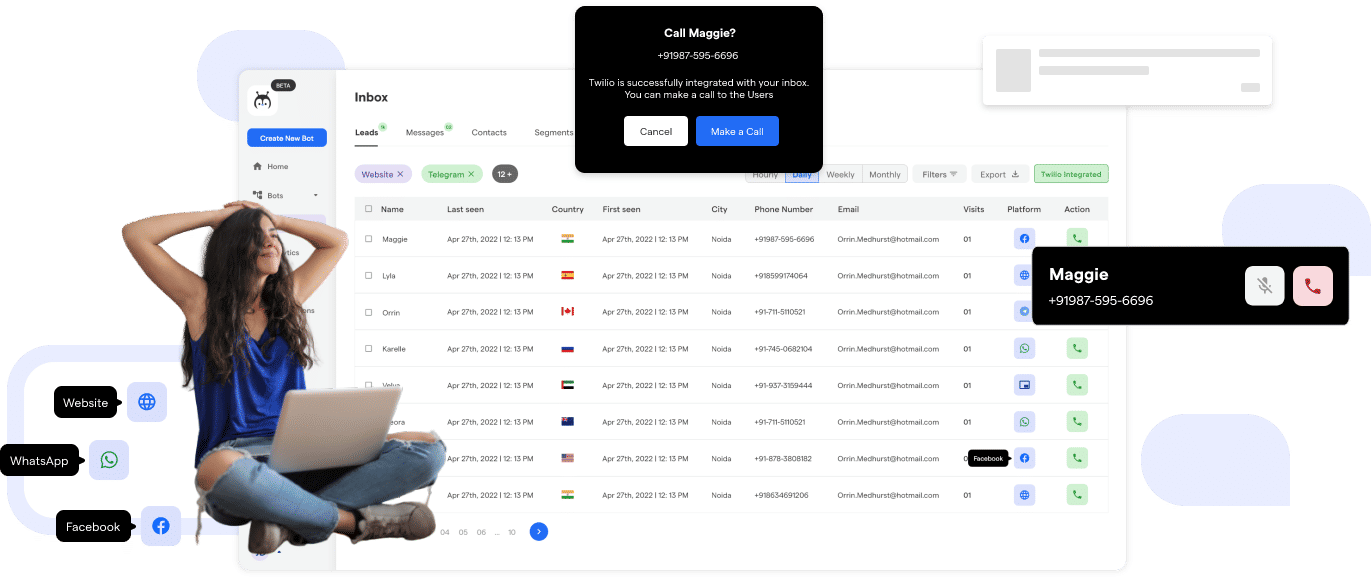 Integration partnership can help you to connect your software to other systems and applications. By doing this, they allow you to share data and automate tasks.
Benefits of Integrating with BotPenguin
As a BotPenguin integration partner, you're not just another face in the crowd. You get exclusive access to API documentation, developer resources, and even co-branding opportunities.
Moreover, you'll be part of an enthusiastic community of tech zealots, sharing many ideas and experiences.
Why Choose BotPenguin for Integration Partnerships?
There are many benefits of integrating with BotPenguin. Here are a few of them: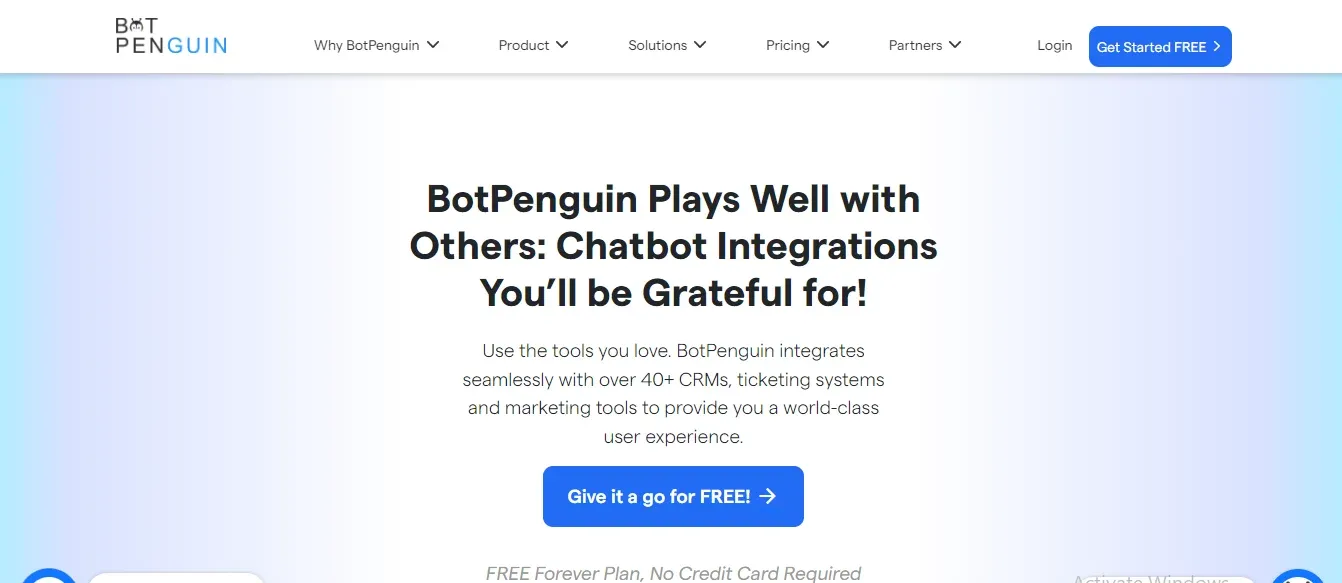 Customization Made Easy
One size doesn't fit all, and BotPenguin knows it. The platform offers extensive customization options for its integration partners. Tailor the chatbot's personality, design, and behavior to align perfectly with your brand identity.
Seamless Integration Galore
BotPenguin plays well with others, seamlessly integrating with a wide range of platforms and systems. Whether it's CRM, e-commerce, or customer support, this chatbot is the ultimate team player.
Success Stories that Speak Volumes
As we have mentioned earlier, the benefits of integrating with BotPenguin include an 85% increase in revenue. It also has a whopping 98% customer satisfaction rate. Now, that's what we call a recipe for success!
Expanded Market Reach and Customer Base
As a BotPenguin integration partner, you gain exposure to a broader market and tap into a vast customer base. The platform's popularity and reliability will help you attract new clients and expand your horizons.
Joint Marketing and Promotional Activities
From joint webinars to social media campaigns, your business can reach new heights and spread the word about our stellar partnership.
How to Become a BotPenguin Integration Partner?
Here are the steps on how to become a BotPenguin integration partner: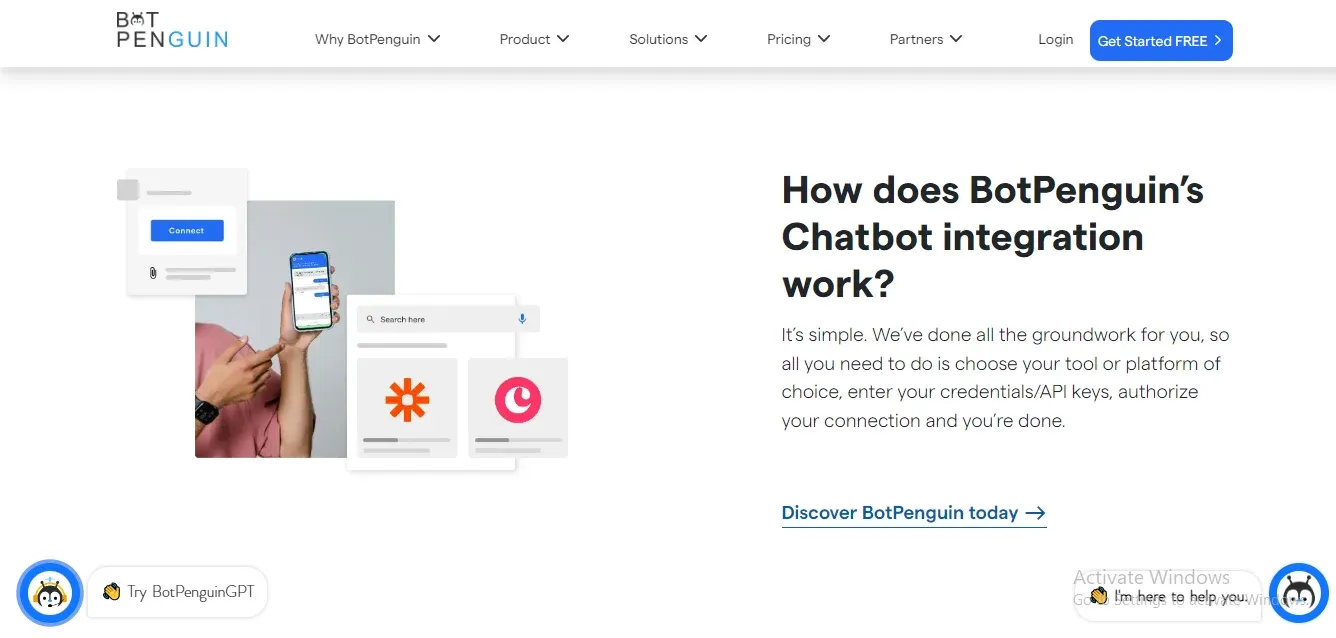 Step 1
Express Interest
Potential partners should head over to the BotPenguin website and fill out the Integration Partner application form.
BotPenguin will ask about the company, their tech expertise, and how they envision collaborating with BotPenguin.
Step 2
The Evaluation Process
Once BotPenguin receives the application, its team of tech experts will evaluate the company's qualifications and compatibility with BotPenguin.
BotPenguin is looking for innovation, passion, and a shared vision of enhancing customer experiences through cutting-edge chatbot integrations.
Step 3
Training and Onboarding
Next comes intensive training and onboarding to get the partner up to speed on BotPenguin's capabilities.
BotPenguin provides comprehensive resources and support to guide partners every step of the way.
Step 4
Collaboration and Support
As an integration partner, the company will work hand in hand with BotPenguin's developers to create seamless integrations across platforms and systems.
BotPenguin supplies partners with the tools, resources, and ongoing support needed to collaborate effectively.
Key Features for Integration Partners
Here are some key features for integration partners: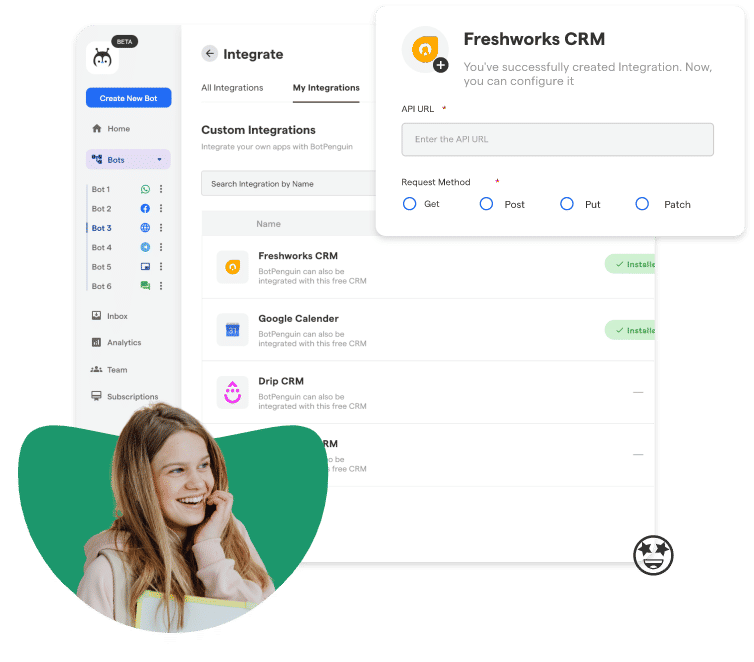 API Documentation and Developer Resources
BotPenguin provides integration partners with comprehensive API documentation that unlocks the full potential of the BotPenguin platform.
From endpoint references to code samples, BotPenguin supplies partners with all the technical resources needed.
Access to Exclusive Partner Tools
BotPenguin integration partners get access to a suite of exclusive tools designed to simplify the integration process.
From testing environments to debugging utilities, these resources help partners streamline development.
Co-Branding and White-Labeling Options
BotPenguin believes in collaborative success and provides partners with co-branding and white-labeling options.
This allows partners to showcase their brand alongside BotPenguin's and create a seamless customer experience.
Conclusion
In conclusion, BotPenguin is the perfect integration partner available out there. With its exceptional AI capabilities, seamless integrations, and the promise of a vibrant partnership, BotPenguin offers the best integration partnership.
BotPenguin is the ideal choice as it offers several features that make it easy to integrate with other systems. BotPenguin is also a cost-effective solution that is perfect for integration partners of all sizes.
Additionally, a study by InMoment found that chatbots can increase customer lifetime value by up to 10%.
So, what are you waiting for? Embrace the chatbot revolution and begin your integration partnership with BotPenguin.
Your business deserves the best, and BotPenguin is here to make it happen.