All website visitors desire immediate contact with a company, regardless of how big or small your company is. They will donate their hard-earned money to the business that responds first and provides them with all the information they want if they visit you and one of your rivals at 2 a.m. in the morning. Therefore, it is essential to communicate with clients as quickly as possible.
In blog we'll be talking about Botpenguin, one of the greatest alternatives to Drift, which offers open feedback.
Botpenguin is ideal for companies with 201 to 1000 employees. For chatbots, code-free creation, and contextual help, most users turn to BotPenguin. It is the top substitute for Drift.
What is Drift?
Drift is a cloud-based conversational marketing and sales platform that helps businesses to connect with their customers and prospects in real-time. It provides various tools for companies to engage with website visitors, capture leads, and automate sales and marketing workflows.
Drift CRM is a customer relationship management tool that is integrated into the Drift platform. Using Live Chat, Conversational Marketing, and Conversational Sales together in one platform is unique to Drift.
To provide a seamless customer experience, more than 50,000 businesses use a drift to align sales and marketing on a single platform. Drift helps businesses communicate effectively and personally with the right customers in real-time.
Are you looking for an alternative to Drift? Why is BotPenguin the best option to Drift?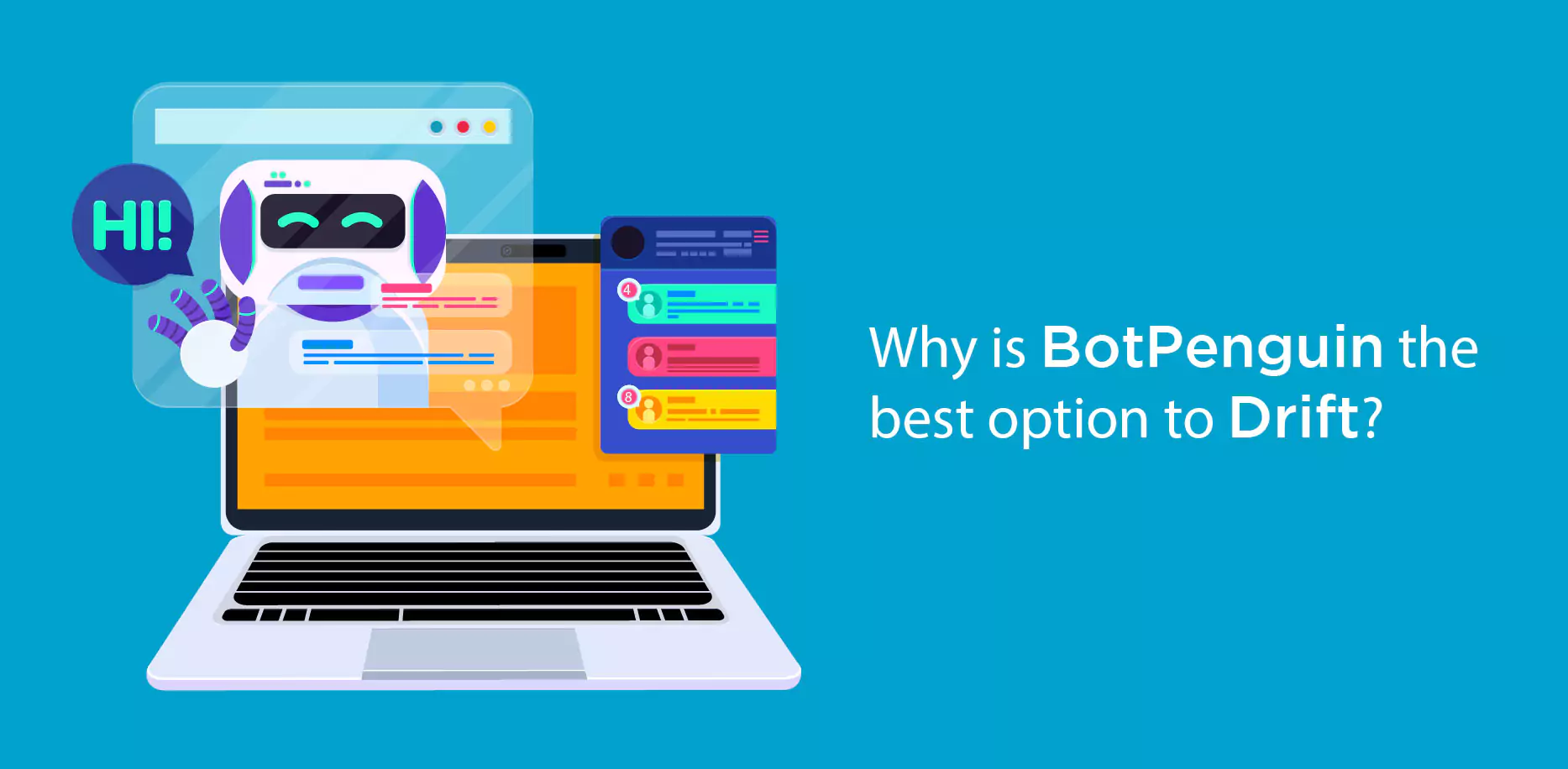 BotPenguin is the ideal remedy because, without coding knowledge, you can create a Botpenguin Chatbot for your company using the AI-powered Botpenguin Chatbot maker.
Easy accessibility: Your Chatbot by Botpenguin will have access to all platforms, including WhatsApp, Telegram, Messenger, and Instagram, to engage with your consumers thanks to its omnichannel chat interface.
Best Integration system of BotPenguin: BotPenguin's integrated system makes it easy to manage your chatbot and track its performance. BotPenguin is a 24-hour customer service platform that can handle all of your customers' needs. So why wait?
Easy to use: If you are looking for a chatbot builder that is effective and simple to use, BotPenguin is the only place to go! Chatbots can be quickly built and deployed without coding knowledge with BotPenguin AI-powered chatbot builder.
User-friendly: Chatbots like those from BotPenguin can get leads, respond to customer questions, and offer round-the-clock customer support for a fraction of the price of traditional customer service. Additionally, you may manage it all via the user-friendly, integrated system.
Automation: Botpenguin's chatbot for WhatsApp automates WhatsApp conversations to push broadcast ads and enhance eCommerce and customer care. E-Commerce companies can use Chatbot by Botpenguin's WhatsApp automation to enhance customer service and push broadcast advertisements.
Customer service: BotPenguin occasionally need help with customer service and eCommerce processes. Regardless of your customer service procedure, a chatbot by Botpenguin can help you enhance the customer experience. Bots can help customers find their needs using explicit content like FAQs, e-commerce product specifications, and tutorials.
Let's see what BotPenguin offers you.
It is a Lead Generation Chatbot. Don't let anyone leave your website without leaving their details for your sales team.

Chatbot for customer service Leaves the frequently asked questions in the hands of your bot.

BotPenguin, an order booking chatbot, manages your sales counter.

Chatbot assistant that plans appointments for you notifies you of reminders, and updates you.
Features offered by Botpenguin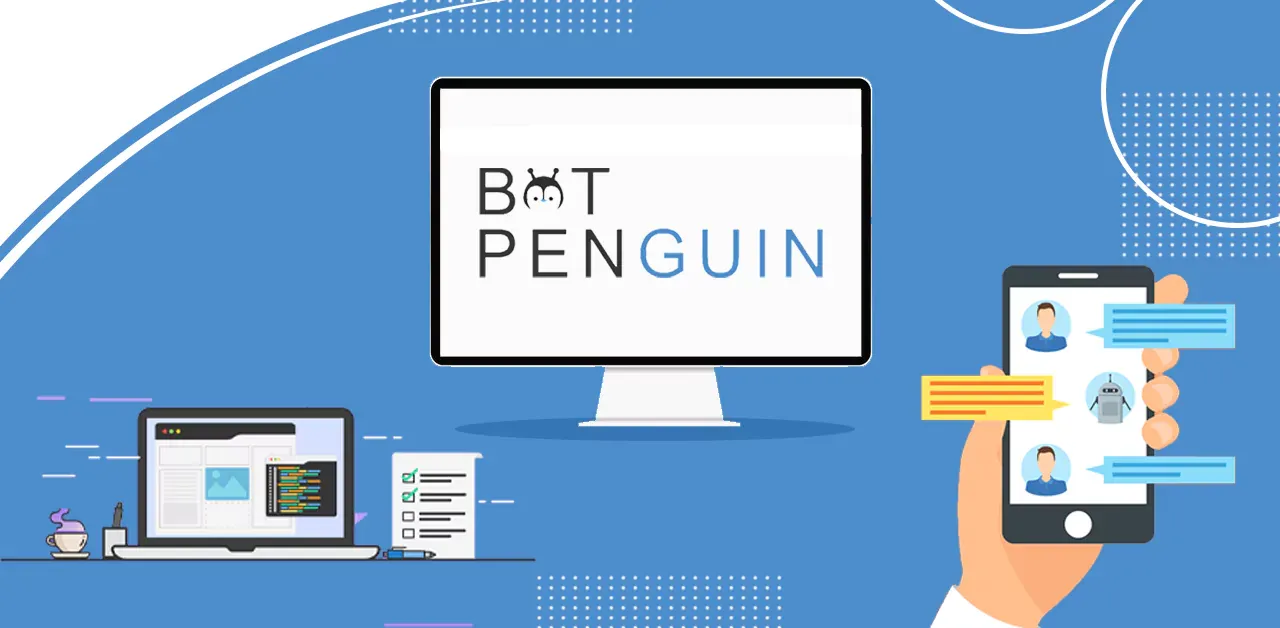 Quick and easy - With its drag-and-drop builder and excellent UI, you can create, design, and launch a chatbot in under 10 minutes.
Free- forever access lets you use and try it without incurring any costs or regrets.
Exceptional UX- Through tip tools, help texts, tutorials, and guidelines, the interface offers a fantastic user experience.
Multiple platforms- It integrates with websites, Facebook Messenger, WhatsApp, Telegram, and promotional pages.
Technical support- Technical support is free and will help you design, personalize, and use a bot for your company.
No Coding- BotPenguin offers a no-coding feature, which means you don't need programming or technical skills to create and deploy a chatbot. With BotPenguin, you can build a chatbot by simply using a drag-and-drop interface that allows you to add and customize the chatbot's features and responses.
Customer support - BotPenguin offers numerous support channels via email, live chat, or WhatsApp messages in case of a problem.
Ready to use templates - Select one of the more than 50 templates that best fits your company's requirements to create your WordPress chatbot easier.
Live chat plugins- It lets you engage with consumers in real-time for streamlined communication.
Chat widgets- It may be connected to promotional pages or advertisements to draw visitors in and direct them to chatbots.
CRM/APP Integration- Almost any CRM/APP, as well as your custom-coded app, is compatible with BotPenguin.
The price of BotPenguin is: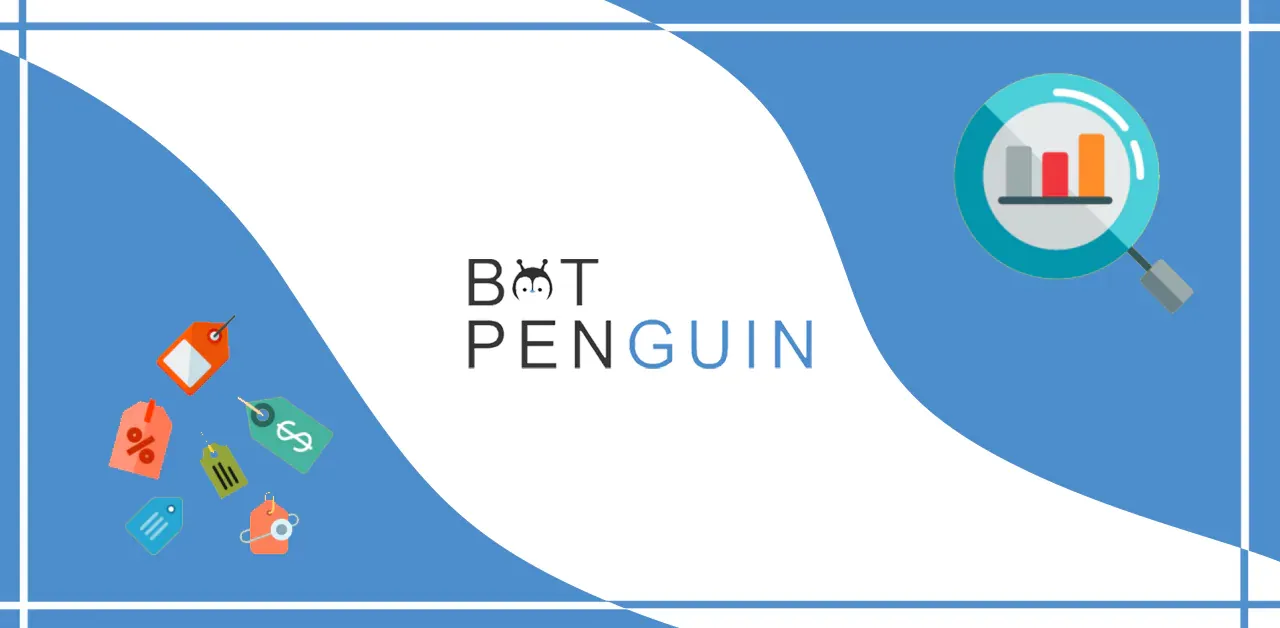 Baby: One Free Bot
Monthly Messages worth 2,000

1 team member

1 Facebook page

Live Chat

Constrained Flow

Storage of Data for 30 Days
King: $5 per month ($4.17 per month if paid yearly)
Unlimited Bots

3,000–500,000 monthly messages

Numerous Team Members

Ten profiles on Facebook

Live Chat

Constrained Flow

Schedule appointments

Export CSV

Integrations with Google Calendar, Bitrix, and Zoho CRM

Storage of Data for 90 Days

Analytics & Reports

Support by Email and Phone
Empire - From quotation
Unlimited Team Members, Facebook Pages, Bots, Messages, and Data Storage

Live Chat

Constrained Flow

Schedule appointments

Export CSV

Officer for Customer Success

Integrations with Google Calendar, Bitrix, and Zoho CRM
Integration with Botpenguin
BotPenguin provides a connection with over 55 CRMs and apps. BotPenguin can effortlessly link with the following.
Zapier: Use over a thousand applications to power your company with Zapier and BotPenguin. Using this chatbot platform, you can create a comprehensive business solution all under one roof. For optimum performance, quickly connect BotPenguin to all of your favorite applications.
GetResponse: To optimize the return on investment from email marketing, combine GetResponse with BotPenguin. You are powered by automated assistance, quick data access, and live chat in your email marketing campaign.
HelpDocs: Integrate BotPenguin with HelpDocs to produce an exciting knowledge base. Use live chat, automated and intelligent chat flows, broadcasts, and drip marketing from BotPenguin to handle problems, answer questions, and increase customer satisfaction.
ZingTree: Customer Journeys Made Simple With BotPenguin For Zingtree! Use interactive decision trees and chatbots to simplify consumer decision-making.
Bitrix24: BotPenguin Chatbot For Bitrix24 provides various Business Solutions Under One Roof! With this chatbot platform, BotPenguin manage everything from lead generation to customer care under one roof.
Zoho CRM: Lead Generation Made Simple With BotPenguin For Zoho CRM! With the help of the formidable BotPenguin and a force like Zoho, you can generate leads and handle client interactions like a pro.
And a lot more.
Why is BotPenguin the best platform for chatbot development for website?
1. Brand Trust Building Bot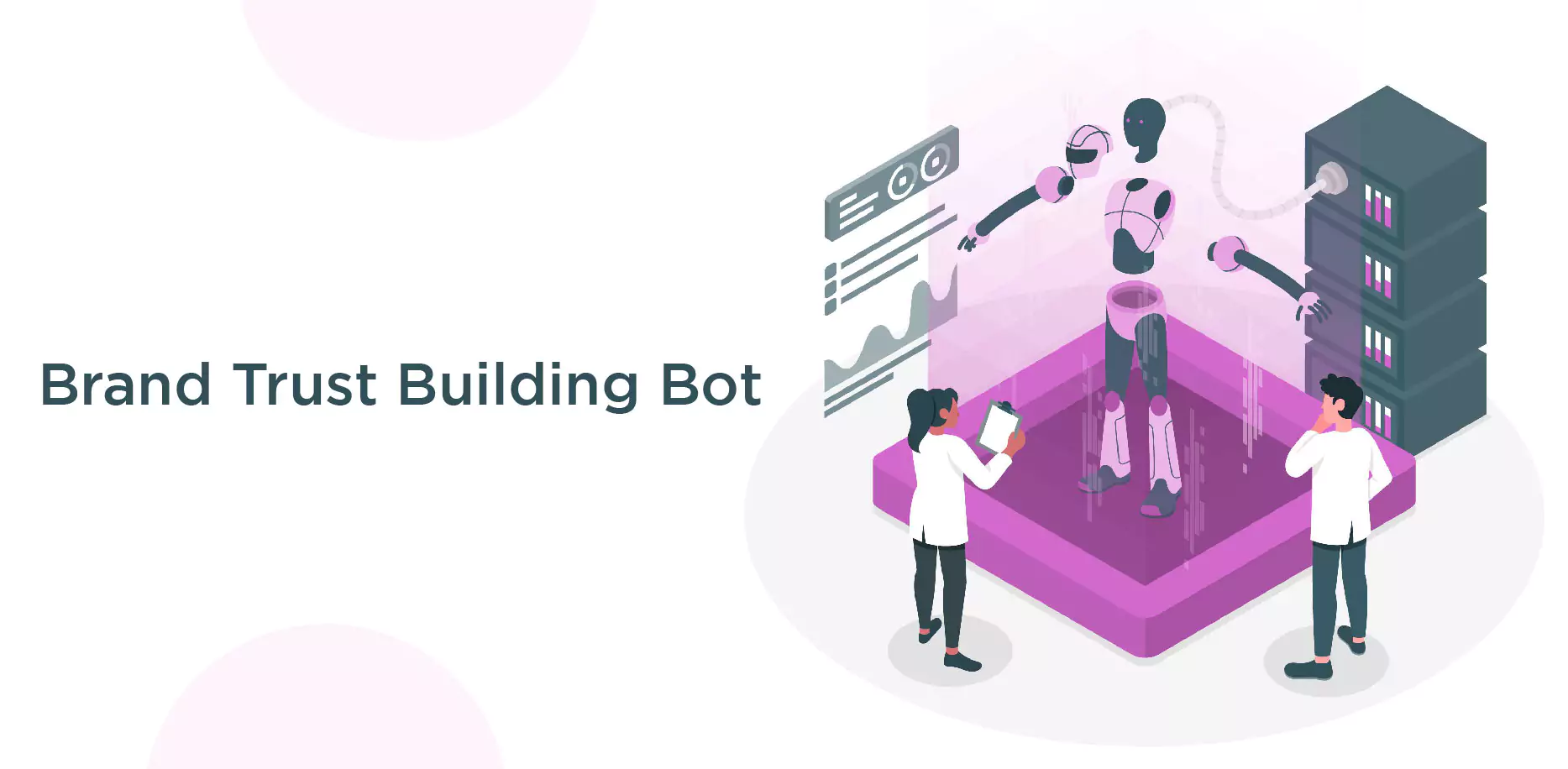 Penguin chatbots may assist in building trust and reputation for your business. The first time a potential consumer interacts with your company is generally through an AI chatbot, providing you with the ideal opportunity to inform them about your goods and services.
2. Never-Ending Patience
While BotPenguin chatbots cannot lose patience, customer care employees and customers occasionally do so. One of the failures connected to people is the irritation of the employee and the client while trying to solve an issue.
3. Quick and reliable responses
An operator may concentrate on one customer and respond to one query at a time. A BotPenguin chatbot, on the other hand, may respond to thousands of questions at once.
FAQs
1. Why would someone utilize Drift?
Drift enables real-time connection with website visitors to increase lead generation and sales prospects. A chatbot is included with the AI-enabled system to automate marketing funnels and boost client interaction.
2. How many people work for Drift?
Overall, the 253 Drift workers rate their leadership as A+, which places it in the Top 5% of businesses of comparable size. It also contains detailed evaluations of their CEO and management.
3. What other add-ons does BotPenguin provide?
Add-On for Conversational Forms

Live Chat Extension

AddOn for Chat Sessions

Add-on for Facebook Messenger

Red Label Supplement

AddOn for Mailing List Integration
Conclusion
When choosing between the two options, it's simple to feel overwhelmed. Each media possesses a unique combination of qualities that can be better suited for a particular type of organization than another.
Review the most crucial features of each chatbot platform before choosing one for your business. A deal-breaker can also be different price structures.
On the other hand, a few Drift rivals provide more than 30 pre-built connectors to meet all business requirements.
However, if you choose BotPenguin, you can be confident that it is the most outstanding chatbot choice available if you want to understand the marketing requirements for your business.