No matter how big or small, all B2B sales teams using a CRM have the same objective—to reduce time spent on laborious data entry and facilitate follow-up with prospects and customers.
Only 12% of businesses used cloud-based CRM in 2008; this figure has now risen to 87%!
With its automatic data enrichment, calendar and email synchronization, and simplicity of setup and use, Salesflare CRM makes it simple to achieve this.
Your specific use case for Salesflare may, however, be influenced by the size of your team.
After observing teams of all sizes, this tutorial has been created with step-by-step instructions on how to get started with Salesflare CRM. As well as a detailed list of best practices and recommendations to help you along the way.
Keep reading to learn more!
What is Salesflare?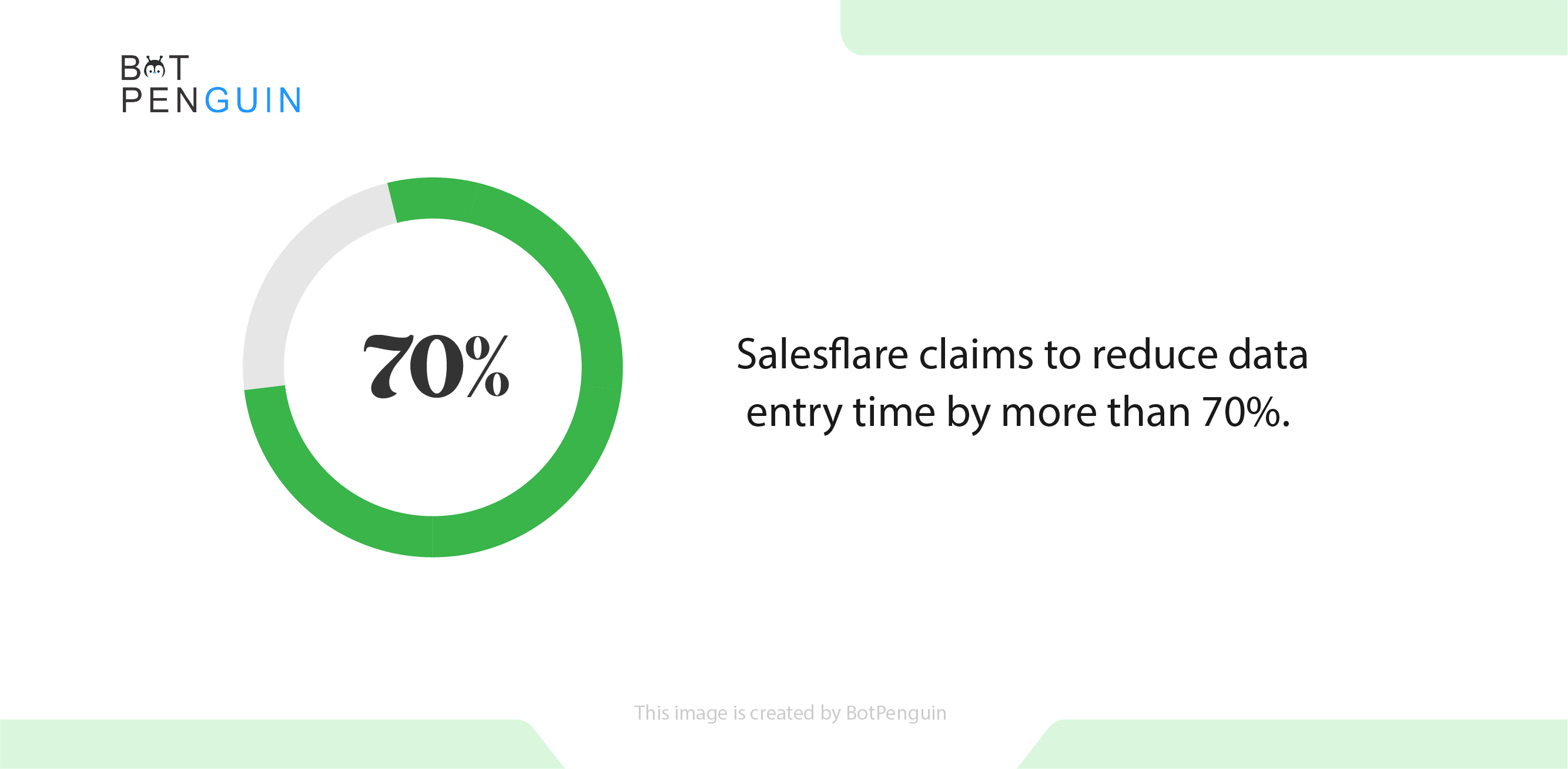 Salesflare CRM is a software solution designed for sales teams in businesses of all sizes.
The product is intended to reduce the time sales staff spend entering data into their CRM solution. Salesflare claims to reduce data entry time by more than 70%.
As a result, it is ideal for teams that spend a lot of time manually entering contact information into their sales software or have large client information databases.
The product's defining feature is its intelligent, automated data collection engine, which scours the internet, email accounts, and existing databases for client contact information.
The engine automatically populates the software's contact book, saving teams a significant amount of time.
Another useful feature is Salesflare's software collaboration tool. It captures detailed customer interaction data, allowing teams to track their conversations with their clients.
Why use Salesflare?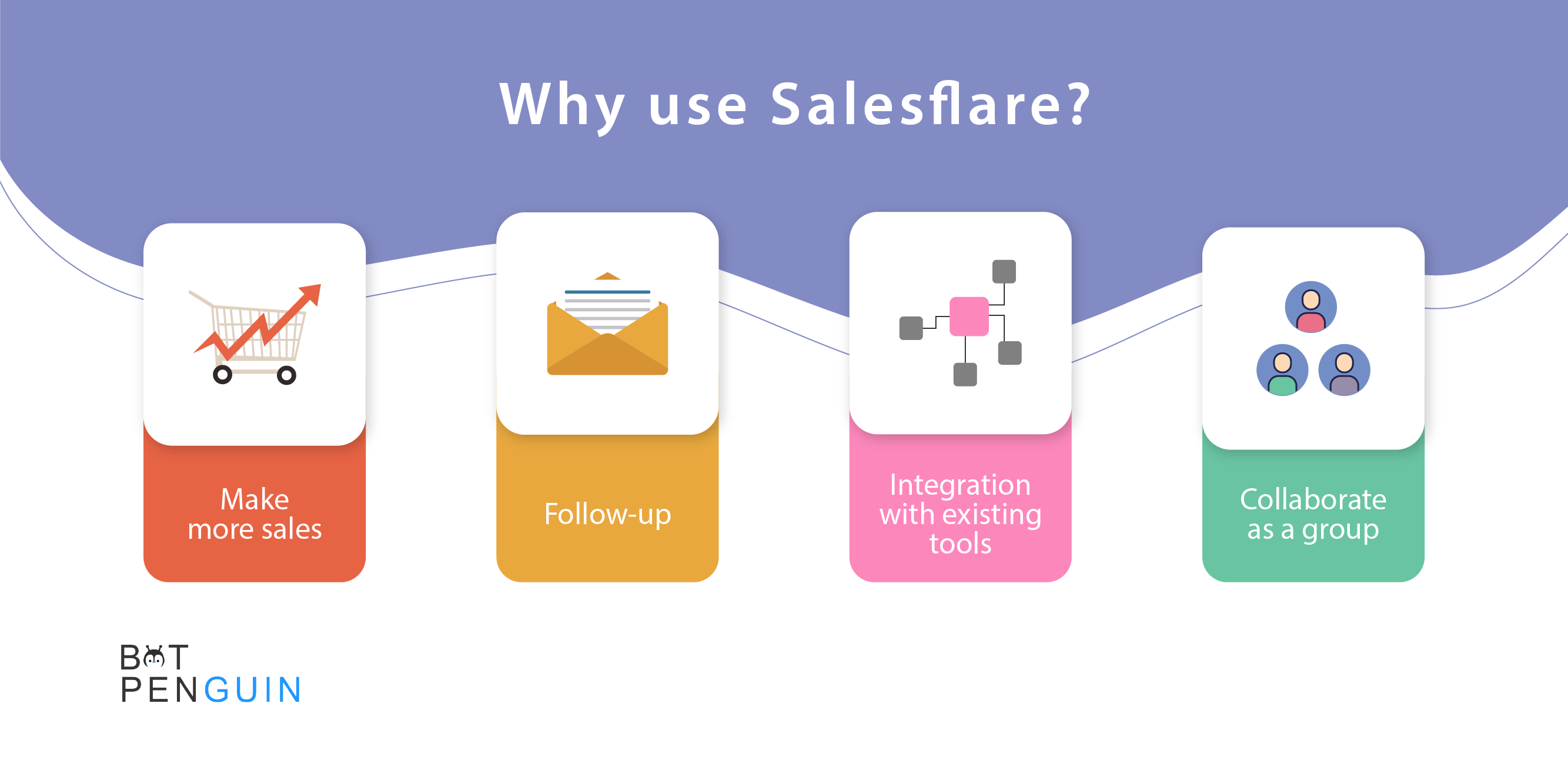 Here are a few reasons why you should consider using Salesflare:
1. Make more sales by entering fewer data
The typical salesperson only sells once a week. Salesflare CRM handles the data entry so you can focus on what is important.
2. Never again will you overlook a follow-up
Salesflare will automatically help you follow up on every opportunity at the right time and in the right way.
3. Collaborate as a group
Salesflare CRM displays who discussed what with customers, allowing you to address them as a group.
4. Integrate your sales arsenal
Salesflare CRM integrates with your existing tools and systems. A genuine productivity boost.
How to Get Started with Salesflare?
1. Install the mobile app, LinkedIn sidebar, and the Gmail/Outlook plugin
Your email messages and link-clicks are automatically tracked from the moment you install the plugin. You can also easily create accounts and opportunities from contacts you email or connect with on LinkedIn.
2. Sync your calendar
Your meetings and emails with contacts are automatically added to your task list and account timelines when you connect your calendar(s) and email(s), eliminating the need for you to log them manually.
3. Make a few accounts with connected opportunities and contacts
Understanding how accounts, contacts, and opportunities are related is critical to getting started correctly. Salesflare is designed for business-to-business transactions.
4. Set up your pipeline(s)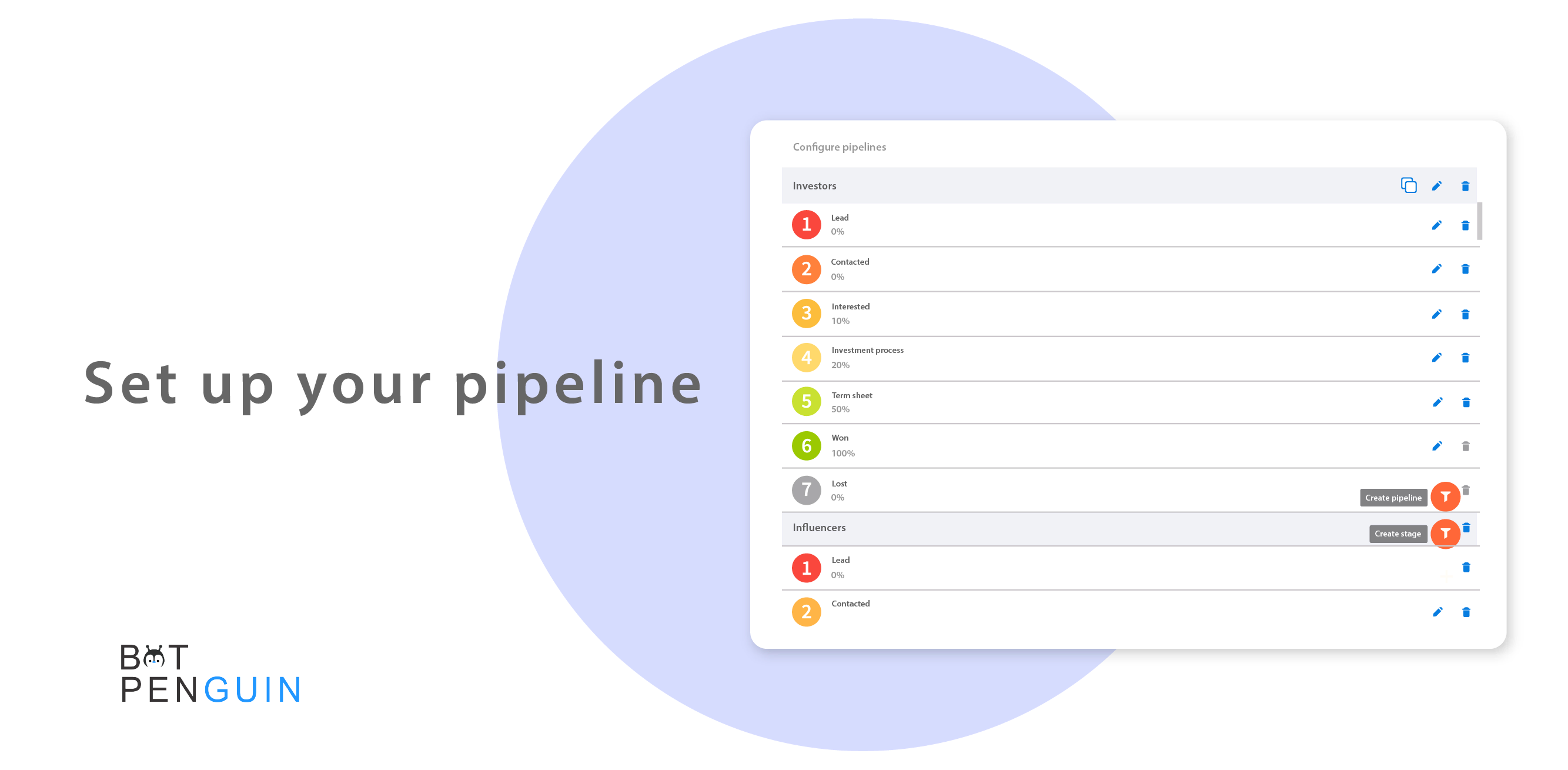 Everyone's sales process is unique. It's a good idea to tailor your pipeline to your specific needs to make follow-up easier. The more tailored your pipeline is to your sales process, the better.
5. Learn to manage your follow-up
The more you organize and automate your follow-up, the more time you will have to spend developing relationships with potential customers.
6. Learn about bulk actions and advanced filters
You can do almost anything with your data using advanced filters and bulk actions.
7. Invite team members
Invite colleagues to see how Salesflare works as part of a team.
8. Create custom fields
Salesflare provides you with standard and predefined fields, but everyone has unique data. Tags can be useful for custom data, but custom fields are often a better fit.
9. Import your data
Import existing leads into Salesflare so you can continue following up with them and begin analyzing your insights right away.
10. Install web tracking
Install the website tracking script so you can begin collecting data right away.
11. Flowchart for sending your first email
Reach out to customers and prospects on a large scale. Send out the initial email sequence.
12. Set up your automation
Connect all of your workflows so that data flows smoothly and is kept in one place.
How can Salesflare integration improve your customer support?
1. Connect Salesflare with LiveAgent
Salesflare is a CRM solution that can assist you with all of the above and more. The best part is that it's compatible with LiveAgent.
A simple LiveAgent plugin can assist you in connecting the two apps and creating a better workflow.
The Salesflare integration in LiveAgent allows you to import useful data into your help desk.
This allows you to keep track of task management and manage customer relationships without having to switch between apps.
Live chat typically necessitates quick responses from customer support agents, making it easier for customers to resolve their issues.
You can have all of the necessary data ready right away with Salesflare.
2. Connect Salesflare with Mailchimp
Authenticate Mailchimp and

Salesflare.

Pick one of the apps as a trigger that will kick off your automation.

Select a result action from the other app.

Select the data you want to send from one app to another.
That's it! More time to work on other things.
Salesflare Pros
The system is very simple to use, resulting in less work than with other tools.

It is compatible with Microsoft Outlook, Gmail, and LinkedIn social profiles.

You can send personal emails while keeping them separate from business communications.

Meetings in your calendar are tracked as tasks, simplifying follow-up and keeping you on track with prospects and customers.
Salesflare Cons
Only slightly customizable.

There are very few built-in integrations.

A credit card is required to get started, even with the free trial.
Salesflare Pricing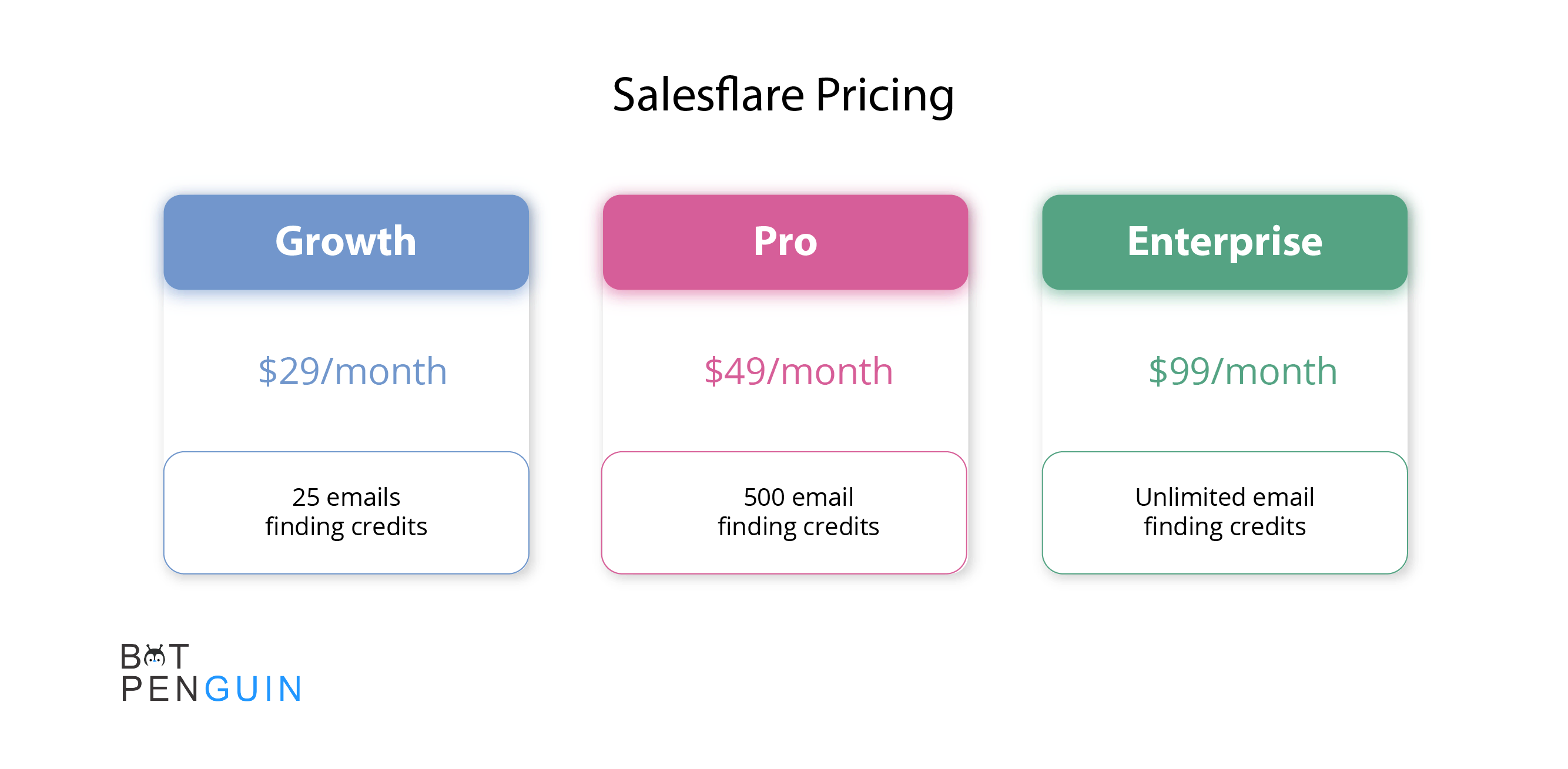 Their Growth Plan costs $29 per user per month if paid annually or $35 per user per month.
You can also begin with a 14-day free trial to ensure that this solution meets your requirements.
Growth:
$29/user/month

25 emails finding credits
Pro:
$49/user/month

500 email finding credits

Custom Dashboards
Enterprise:
$99/user/month

Unlimited email finding credits
The Bottom Line
Salesforce will increase your output and make your work easier.
CRM is well-liked by business owners due to its simplicity of use and integration with numerous applications. It offers the user a degree of customization and usability flexibility.
Salesflare enhances its product for small businesses by creating online chatbots, adding new functionality, and providing quick reporting.
Salesflare's usability, like that of earlier versions, continues to be one of its most important features.
Let's say you want to install Salesflare for your company. Check out the current trials to see if the CRM suits your workplace culture.
A platform for building chatbots powered by AI, BotPenguin has the best price range in its class, as well as enticing features and a simple user interface.
So what are you still waiting for? Go grab the offers soon.