Are you tired of spending countless hours manually managing your WhatsApp communication? If so, WhatsApp automation is the secret that allows you to streamline your WhatsApp processes. It saves you valuable time and energy.
WhatsApp has quickly become one of the most popular messaging platforms. With over 2.7 billion monthly active users on WhatsApp as of July 2023, it is still growing. It has become a go-to tool for personal and business communication alike.
According to a study by Invesp, 67% of consumers worldwide used automation tools for customer support in the past year. Whether you're a business owner looking to automate customer support or a social butterfly managing multiple group chats, these automation tools have got you covered
In this blog post, you will find the top 5 WhatsApp automation tools that will revolutionize the way you interact with your contacts and boost your productivity.
What are WhatsApp Automation Tools?
WhatsApp automation tools are software applications or platforms that enable you to automate various aspects of your WhatsApp communication. They leverage the power of technology to handle repetitive tasks, send automated messages, manage contacts, and even provide analytics and insights.
In short, WhatsApp automation tools take the manual labor out.
Why Should You Use the Best WhatsApp Automation Tools?
Top WhatsApp automation tools can be incredibly useful for various reasons. Here are some key benefits of using the best WhatsApp automation tools:
Boosting Efficiency and Saving Time
Time is precious, and automation tools help you make the most of it. By automating repetitive tasks, such as sending frequently used messages or managing customer inquiries, you can free up your time to tackle more pressing matters.
Automating Repetitive Tasks and Reducing Human Error
Humans make mistakes, especially when performing repetitive tasks. WhatsApp automation tools are here to save us from those blunders.
By automating processes like message sending, contact management, and data entry, you can eliminate the risk of human error. It also ensures accuracy and consistency across your WhatsApp communication.
Simplifying Communication Processes
Think about all the time and effort you spend typing the same responses, managing multiple group chats, or manually sending messages to your customers.
These tools empower you to automate replies, set up chatbots, schedule messages, and more. It allows you to focus on what truly matters.
Scaling Your Communication Efforts and Engaging Customers
As your business grows or your social circles expand, managing multiple chats and contacts can become overwhelming. WhatsApp automation tools provide scalability.
They allow you to effortlessly handle a larger volume of messages, manage numerous contacts, and keep the conversation flowing smoothly. No more drowning in a sea of messages!
Top 5 WhatsApp Automation Tools
In this section, you will see the top 5 best Whatsapp automation tools:
BotPenguin
BotPenguin is a cutting-edge platform. powered by advanced AI technology. It allows you to automate WhatsApp messages and responses with natural language processing capabilities. These features can help businesses improve customer engagement, lessen customer support expenses, and boost sales.
BotPenguin's features include no-code chatbot creation, natural language processing, and omnichannel communication. Chatbots by BotPenguin have helped businesses boost their sales by 15%. From setting up intelligent chatbots to sending personalized messages, BotPenguin takes your WhatsApp communication to the next level.
And the tech for BotPenguin just doesn't stop there. For every chatbot solution you can name, BotPenguin can do it. And there is just too much to offer: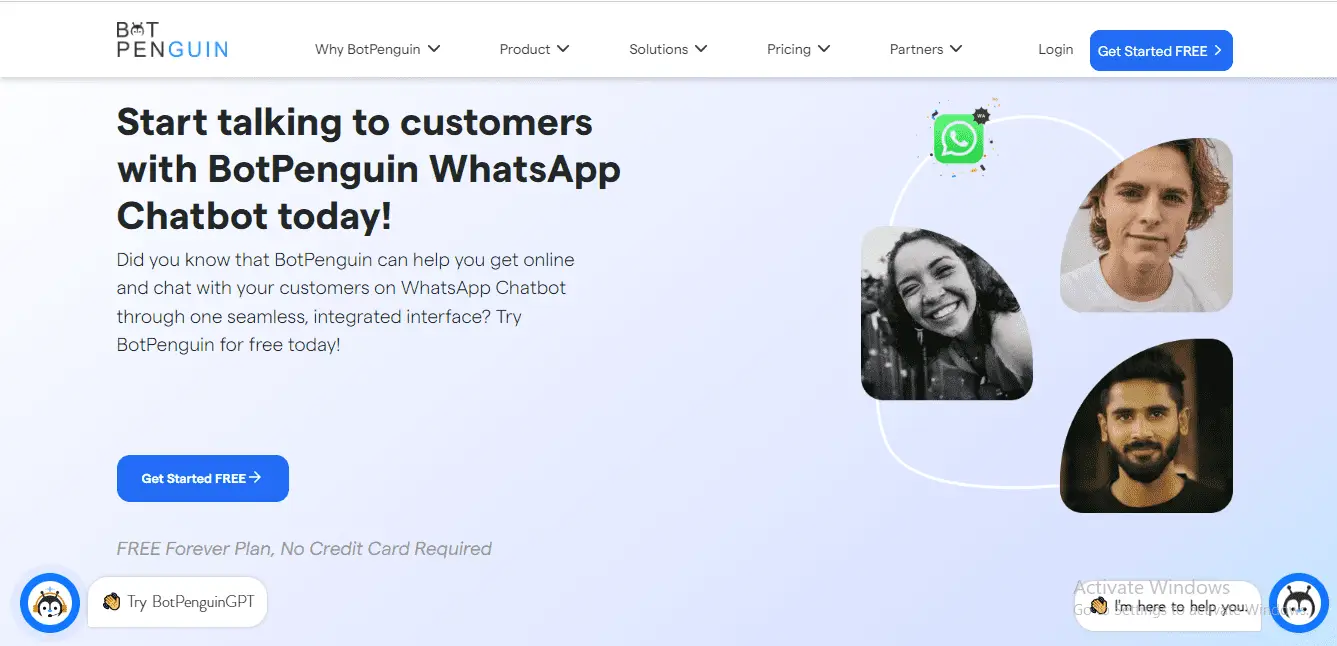 Zapier
Zapier is a popular automation tool that connects various apps, including WhatsApp, to streamline your workflows. With Zapier, you can create "Zaps" to automate tasks between different platforms. Want to automatically send a WhatsApp message when a new lead is captured? Zapier has got you covered!
Twilio API for WhatsApp
Twilio API for WhatsApp is a powerful tool that allows you to integrate WhatsApp into your applications and systems. It provides robust messaging capabilities, enabling you to send and receive messages programmatically. With Twilio API for WhatsApp, you can automate customer interactions, notifications, and more.
ManyChat
ManyChat is a versatile platform that lets you create interactive chatbots for WhatsApp. You can design chat flows, set up automated replies, and engage with your customers seamlessly. Whether you're looking to automate customer support or run marketing campaigns, ManyChat simplifies the process with its user-friendly interface.
Octane AI
Octane AI is a comprehensive platform that combines automation, AI, and messaging. It empowers you to automate WhatsApp messages, create chatbots, and even leverage AI for personalized recommendations. Octane AI's robust features and integrations make it a go-to tool for businesses looking to level up their WhatsApp game.
Conclusion
In this article, we covered the essentials, explored the top tools in the market, learned how to choose the perfect fit, and discovered how to get started on your automation journey.
Among the top WhatsApp automation tools, BotPenguin is among the best WhatsApp automation tools. BotPenguin is a no-code chatbot platform that helps businesses automate their customer service and marketing.
With BotPenguin, you can create and deploy WhatsApp chatbots in minutes, without any coding knowledge. BotPenguin's powerful AI engine can understand customer intent and respond accordingly, providing a personalized and engaging customer experience.
Take the time to evaluate the features, read user reviews, and consider pricing options. And once you've found your perfect match, dive into the setup process, and configure the automation settings.
WhatsApp automation is your gateway to efficiency, productivity, and success!