Introduction
Tired of spending hours creating chatbots that don't even work well?
Frustrated with the limited customization options offered by MobileMonkey?
Well, we've got some good news for you!
Meet BotPenguin, the ultimate MobileMonkey alternative.
With BotPenguin, you can create chatbots that engage your customers with witty conversations and provide personalized experiences.
It's a chatbot platform that's easy to use and doesn't require coding skills?
According to Statista, chatbots will save businesses over $8 billion per year by 2024.
And with 80% of businesses expected to use chatbots by then, it's clear that chatbots are the future of customer engagement.
Let's discuss this further and see why you should invest in BotPenguin as a Mobilemonkey alternative.
BotPenguin: Features at a Glance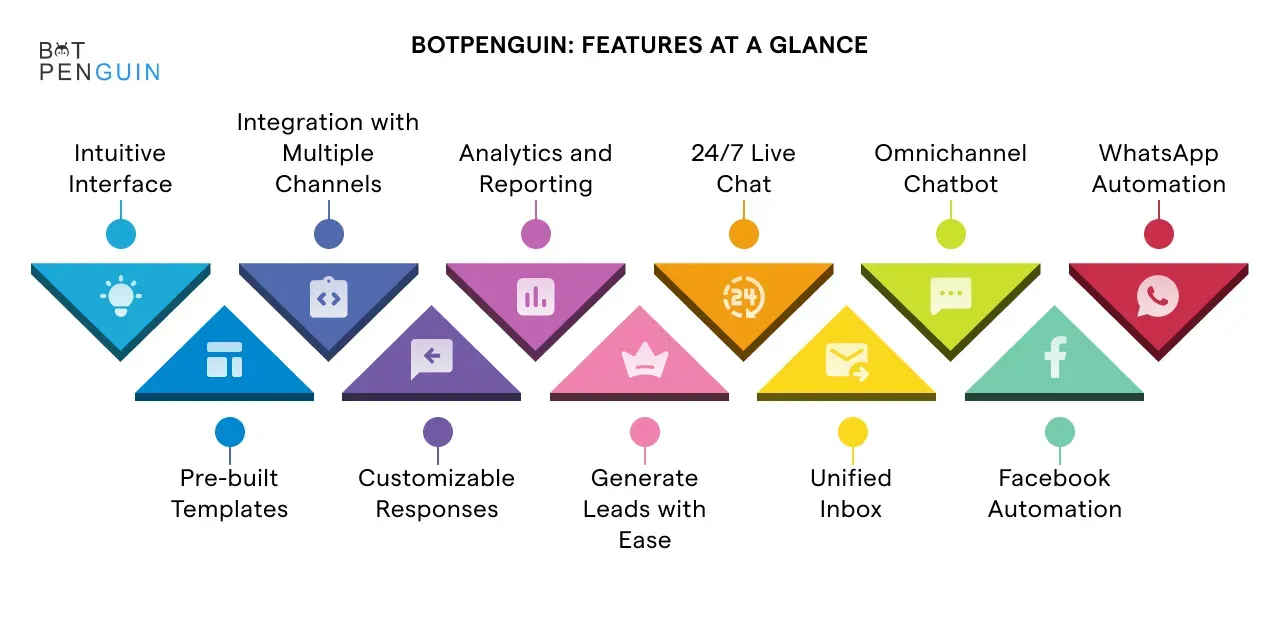 Listed below are some unique features of BotPenguin:
1. Intuitive Interface: Easy to Use and Navigate
BotPenguin's interface is user-friendly and easy to navigate, making it easy for businesses to create and manage chatbots.
You don't need to be a tech expert to use this platform.
2. Pre-built Templates: Customize to Suit Your Needs
BotPenguin offers a variety of pre-built templates that can be customized to meet the specific needs of a business.
With just a few clicks, you can customize your chatbot to reflect your brand's voice and personality.
3. Customizable Responses: Speak Your Brand's Voice
BotPenguin allows businesses to customize chatbot responses to accurately reflect the company's brand and voice.
This feature ensures that your customers' experience matches your brand's personality and tone.
4. Integration with Multiple Channels: Reach More Customers
BotPenguin can be integrated with various communication channels, such as Facebook Messenger, Slack, and WhatsApp, to reach a wider audience.
Your customers can reach out to you using their preferred channel.
5. Analytics and Reporting: Data-Driven Decisions
BotPenguin provides businesses with detailed analytics and reporting to help them understand the performance of their chatbots and make data-driven decisions.
You can tweak your chatbot to suit your customer's needs with the insights provided.
6. Generate Leads with Ease: Real Conversations, Real Results
BotPenguin sets itself apart from other chatbots by providing conversational lead generation.
It allows users to engage in a real conversation with a neighbor, making them feel at ease.
Moreover, BotPenguin provides valuable visitor insights to help you develop a better marketing plan.
7. 24/7 Live Chat: Exceptional Customer Service
The Live Chat feature enables excellent customer service and increases sales while building a nurturing relationship with your clients.
Your clients or prospects can contact you anytime, anywhere.
8. Unified Inbox: Easy Management
This amazing feature lets you receive all customer emails from platforms like Facebook, Telegram, WhatsApp, or your website in a single inbox.
It makes it easier to engage with your customers and provide them with top-notch support.
9. Omnichannel Chatbot: Versatile and Modern
BotPenguin is a modern and versatile chatbot available on multiple platforms and dedicated to ensuring customer satisfaction around the clock.
10. Facebook Automation: Maximize Your Facebook Presence
BotPenguin can help you make the most out of Facebook with automated chatbots that boost sales.
It can recommend products and collect feedback to enhance the customer experience.
Additionally, you can use BotPenguin to answer frequently asked questions and keep customers informed about their needs.
11. WhatsApp Automation: Next-Level Automation
Experience next-level WhatsApp automation and provide your customers with a complete shopping experience.
You can deploy a WhatsApp button, ads, and a QR code at your convenience.

You can also use Push Alerts and Notifications to inform customers about product updates and upcoming services.
What are the benefits of using BotPenguin?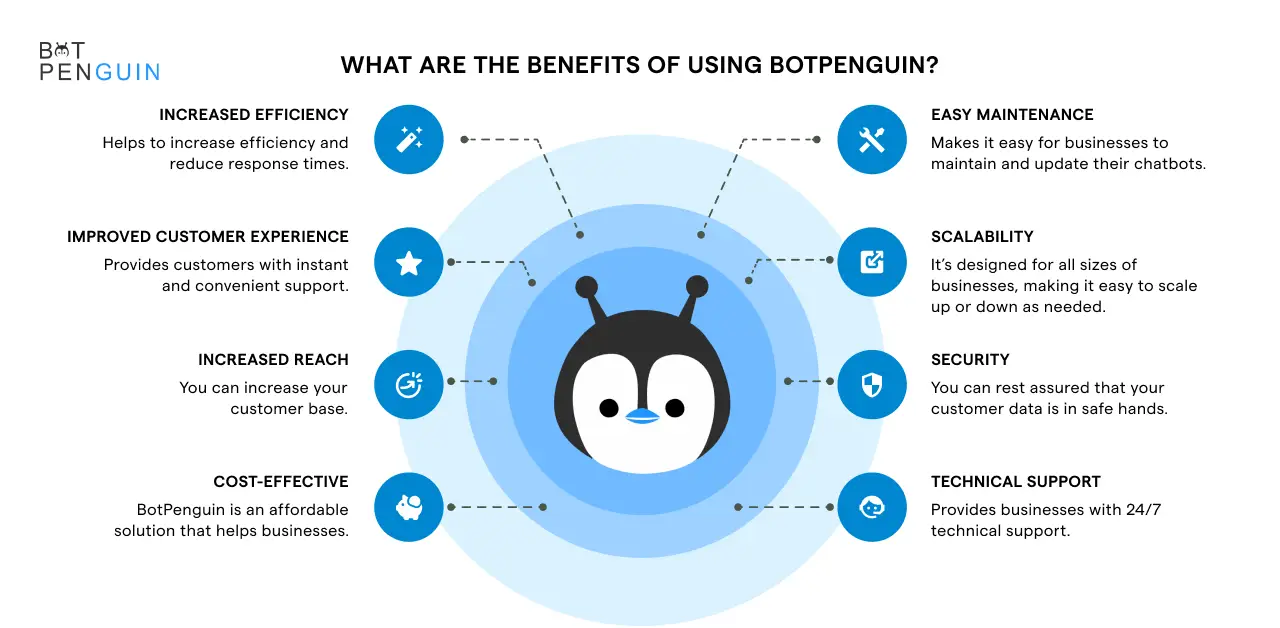 1. Increased Efficiency: Reduce Response Times
By automating customer support, BotPenguin helps businesses to increase efficiency and reduce response times.
You can focus on other crucial business aspects while BotPenguin handles the repetitive tasks.
2. Improved Customer Experience: Instant Support
BotPenguin provides customers with instant and convenient support, improving the overall customer experience.
Customers can reach out to you anytime, anywhere, and get instant assistance.
3. Increased Reach: Connect With More Customers
BotPenguin can be integrated with multiple communication channels, allowing businesses to reach a wider audience.
You can connect with customers on different platforms and increase your customer base.
4. Cost-Effective: Affordable Solution
BotPenguin is an affordable solution that helps businesses to save money on staffing and training costs.
You can increase your customer support without breaking the bank.
5. Easy Maintenance: Stay Relevant
BotPenguin makes it easy for businesses to maintain and update their chatbots, ensuring they remain relevant and effective over time.
You can tweak your chatbot as per customer needs and stay ahead of the competition.
6. Scalability: Accommodate Business Growth
BotPenguin is designed to accommodate businesses of all sizes, making it easy to scale up or down as needed.
You can add more features as your business grows.
7. Accessibility: Manage Your Chatbot Anywhere
BotPenguin is accessible from anywhere, allowing businesses to manage their chatbots from a desktop, laptop, or mobile device. You can manage your chatbot on the go.
8. Security: Protect Customer Data
BotPenguin places a high priority on security, ensuring that customer data is always protected and confidential.
You can rest assured that your customer data is in safe hands.
9. Technical Support: Get Help Anytime
BotPenguin provides businesses with 24/7 technical support, ensuring issues are quickly resolved and minimizing downtime.
MobileMonkey: Key Features
1. Powerful Chatbot Builder: Design Chatbots in Minutes
MobileMonkey's drag-and-drop chatbot builder allows you to create custom chatbots in minutes, without any coding skills required.
You can customize your chatbot's welcome message, add buttons and quick replies, and integrate with your CRM and other tools.
2. OmniChat: Connect with Customers on Multiple Channels
MobileMonkey's OmniChat feature lets you connect with customers on various channels, including Facebook Messenger, SMS, Web Chat, and Instagram DM.
You can engage with customers wherever they are and provide exceptional customer service.
3. Multi-Step Chat Flows: Personalize Customer Interactions
MobileMonkey's multi-step chat flows enable you to create personalized customer interactions.
You can ask qualifying questions, collect customer data, and provide relevant information based on their responses.
4. Lead Magnets: Capture More Leads
MobileMonkey's lead magnets feature lets you capture more leads and grow your email list. You can offer free resources, such as eBooks and webinars, in exchange for customer information.
5. Chat Blaster: Broadcast Messages to Your Audience
MobileMonkey's Chat Blaster feature allows you to broadcast messages to your audience on various channels.
You can send your customers updates, promotions, and other important information.
6. Chatbot Analytics: Track Performance and Optimize
MobileMonkey's feature provides valuable insights into your chatbot's performance.
You can track metrics such as engagement rate, click-through rate, and conversion rate, and optimize your chatbot accordingly.
7. Integrations: Connect with Your Favorite Tools
MobileMonkey integrates with various tools, including HubSpot, Salesforce, and Shopify, allowing you to connect with your favorite tools and streamline your workflow.
8. 24/7 Support: Get Help When You Need It
MobileMonkey provides 24/7 support to help you with any issues.
You can contact their team via chat, email, or phone and promptly get the help you need.
MobileMonkey: Pros and Cons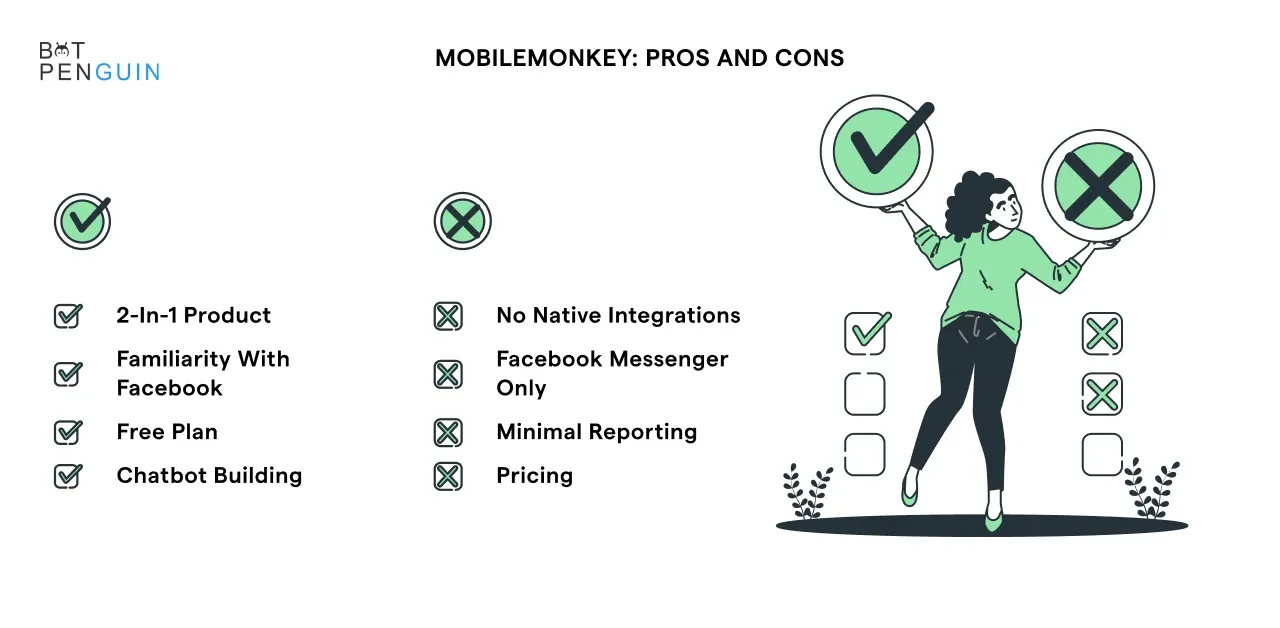 Pros:
2-in-1 product: MobileMonkey can be placed on your website and not just your Facebook page, providing users with more flexibility in terms of where they want their chatbots to be.
Familiarity with Facebook: It uses Facebook software as a basis for its platform, making it easy for visitors to use.
Free plan: MobileMonkey offers a free plan for users with basic features.
Chatbot building: MobileMonkey offers an easy-to-use interface for building chatbots, which is perfect for beginners.
Customer support: MobileMonkey has a dedicated customer support team that offers assistance to users when needed.
Cons:
No native integrations: Currently, there are no native integrations, which means that although the "semi-AI" chatbot can gather information from prospects, it cannot do much with it natively. Third-party integrations may be used but not integrated within the platform.
Facebook Messenger only: MobileMonkey only uses Facebook Messenger, which means that if someone is on your site and not logged into Facebook, they won't see the chatbot at all, and there is no backup.
Minimal reporting: The reporting feature in MobileMonkey is limited and does not connect to anything else due to the lack of integrations.
Pricing: Although the basic features are free, the advanced features are only available in the paid plan, which may not be feasible for small businesses or startups.
BotPenguin Vs. MobileMonkey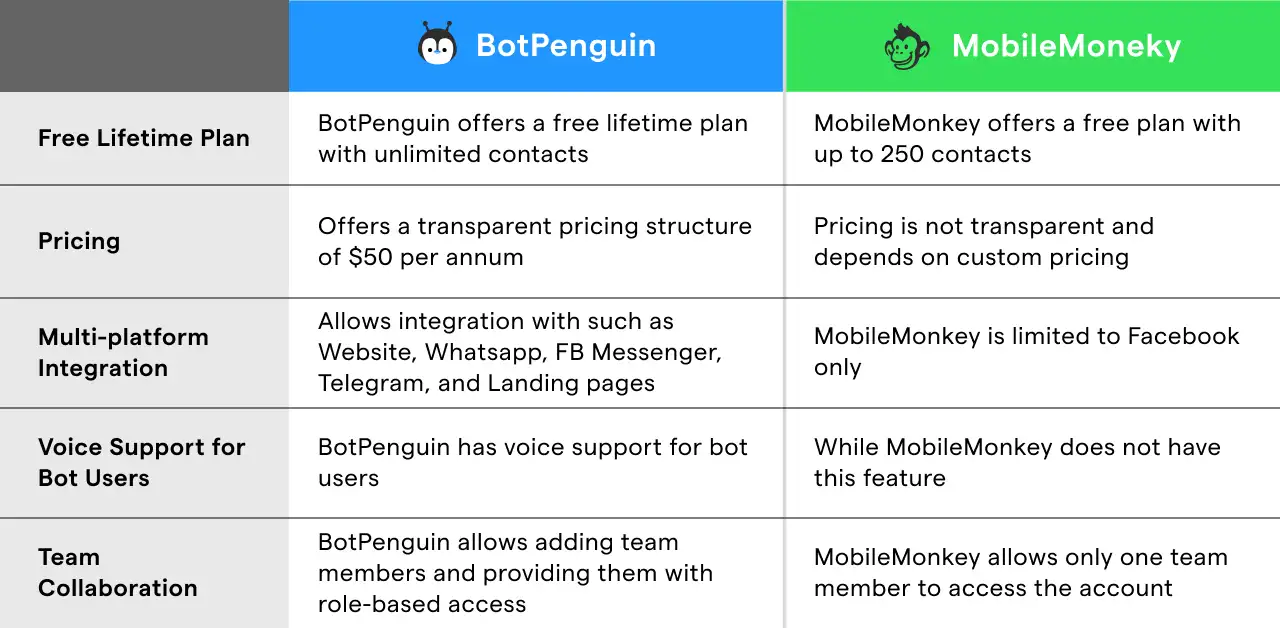 Is BotPenguin the best MobileMonkey alternative?
MobileMonkey and BotPenguin are popular chatbot builders that can help businesses automate customer support and engagement.
However, when it comes to choosing the best alternative, BotPenguin stands out for several reasons.
In this comparison, we'll show you how BotPenguin stacks up against MobileMonkey and why it's the best alternative for your needs.
1. Free Lifetime Plan
BotPenguin offers a free lifetime plan with unlimited contacts, while MobileMonkey offers a free plan with up to 250 contacts.
With BotPenguin, you can create chatbots without any time restrictions, making it the ideal choice for businesses that want to start small.
2. Pricing
BotPenguin offers a transparent pricing structure of $50 per annum, while MobileMonkey's pricing is not transparent and depends on custom pricing.
With BotPenguin, you can create unlimited bots and have unlimited contacts. In contrast, MobileMonkey allows unlimited bots with limited contacts of up to 1000.
3. Multi-platform Integration
BotPenguin allows integration with multiple platforms such as Website, Whatsapp, FB Messenger, Telegram, and Landing pages. Meanwhile, MobileMonkey is limited to Facebook only.
4. Multi CMS integration
BotPenguin allows integration with various content management systems such as custom websites, WordPress, WiX, Shopify, Joomla, and others.
MobileMonkey only supports Facebook chat widgets.
5. No code Chatbot builder
BotPenguin and MobileMonkey have a no-code chatbot builder to create bots without programming knowledge.
6. Ease of Management
BotPenguin has an easy-to-use interface with placeholders, help text, and tutorials, making it easy to navigate.
MobileMonkey's interface is complicated, making it difficult to manage.
7. Team Collaboration
BotPenguin allows adding team members and providing them with role-based access.
In contrast, MobileMonkey allows only one team member to access the account.
8. Multichannel Live Chat support
BotPenguin offers multichannel live chat support, while MobileMonkey only offers chat support on Facebook.
9. Human Handover and Real-time User Simulation with Typing Delays
BotPenguin and MobileMonkey allow human handover and real-time user simulation with typing delays.
10. Voice Support for Bot Users
BotPenguin has voice support for bot users, while MobileMonkey does not have this feature.
11. Multilingual Capabilities
BotPenguin and MobileMonkey both have multilingual capabilities.
12. Native Integration with CRMs/Apps
BotPenguin has 60+ integrations with native integration, while MobileMonkey only allows connection via Zapier.
13. Smart Intuitive Responses based on Keywords
BotPenguin has smart, intuitive responses based on keywords, while MobileMonkey does not.
14. User Segments based on Tag/Attributes for Campaigns and Broadcasts
BotPenguin and MobileMonkey have user segments based on tags/attributes for campaigns and broadcasts.
15. Block specific IPs. URLs, or Country Codes
BotPenguin allows blocking specific IPs, URLs, or country codes, while MobileMonkey does not.
16. Schedule Drip Campaigns for Customer Onboarding Journeys
BotPenguin allows scheduling drip campaigns for customer onboarding journeys, while MobileMonkey is unavailable on WhatsApp and Telegram.
17. Schedule Broadcasts Message
BotPenguin and MobileMonkey allow scheduling broadcast messages, but MobileMonkey is unavailable on WhatsApp.
18. WhatsApp Automation to Manage Catalogs, Orders, and Automated Responses
BotPenguin has WhatsApp automation to manage catalogs, orders, and automated responses, while MobileMonkey does not.
19. Unified Inbox
BotPenguin offers a unified inbox, while MobileMonkey does not.
20. Data Analytics, Bot-wise and Based on Leads/Messages
BotPenguin and MobileMonkey offer data analytics bot-wise and based on leads/messages.
21 . Customizable Reports
BotPenguin offers customizable reports, while MobileMonkey does not.
22. View and Download Customizable Data of Subscribers
BotPenguin and MobileMonkey both allow the viewing and downloading of customizable data of subscribers.
Detailed Comparison Of BotPenguin Vs. MobileMonkey
BotPenguin allows businesses to create chatbots that deliver instant and personalized support, improving customer satisfaction and increasing efficiency.
With its intuitive interface, customizable templates, and integration with multiple channels, BotPenguin is an ideal solution.
So if you want to automate customer support, increase your reach, or reduce costs, BotPenguin is the perfect MobileMonkey alternative.
With BotPenguin, you'll have all the tools and resources needed to create and manage chatbots easily and efficiently while providing your customers the best experience possible.
| | | |
| --- | --- | --- |
| Features | BotPenguin | Mobile Monkey |
| Free Lifetime Plan | Free forever. Unlimited contacts | Free forever with up to 250 contacts |
| Pricing | $50 per annum | Not transparent. Custom Pricing |
| Number of chatbots per account | Unlimited bots and unlimited contacts | unlimited bots with limited contacts upto 1000 |
| Multi-platform Integration (Website, Whatsapp, FB Messenger, Telegram, Landing pages) | Yes | Only Facebook |
| Multi CMS integration (custom website, WordPress, WiX, Shopify, Zoomla, and others) | Yes | Only as Facebook chat widget |
| No code Chatbot builder | Yes | Yes |
| Ease to manage Bot Installation and functionality. | Yes | No |
| Easy to navigate UI with placeholders, help text and tutorials | Yes | complicated |
| Add team members and provide them role-based access | Yes | Yes |
| Multi-channel Live Chat support | Yes | No |
| Human handover and real-time user simulation with typing delays | Yes | Yes |
| Voice support for Bot users | Yes | No |
| Multilingual Capabilities | Yes | Yes |
| Native integration with CRMs/Apps | 60+ integrations | no, can connect only via Zapier |
| Smart Intuitive responses based on keywords | Yes | No |
| User segments based on Tag/Attributes for campaigns and broadcasts | Yes | Yes |
| Block specific IPs. URLs or Country Codes | Yes | No |
| Schedule drip campaigns for customer onboarding journeys | Yes | Not available on WhatsApp and Telegram |
| Schedule broadcasts message | Yes | Not available on WhatsApp |
| WhatsApp Automation to manage catalogs, orders, and automated responses | Yes | No |
| Unified inbox | Yes | No |
| Data Analytics, bot-wise and based on leads/messages | Yes | Yes |
| Customizable reports | Yes | No |
| View and download customizable data of subscribers | Yes | Yes |
| Free bot Designing support | Yes | No |
| Omnichannel customer support via phone, email, chat, WhatsApp | Yes | WhatsApp support not available. |
| View conversation history of users | Yes | Yes |
| Enterprise-grade Security, SSL encryption | Yes | Yes |
| Affiliate programs and White label reseller plans | Yes | Yes |
| Knowledge base with Help Center, FAQs, Tutorials | Yes | Yes |
| Personalized onboarding of customers | Yes | No |