Struggling to efficiently schedule appointments with clients?

Tired of constant back-and-forth calls, texts and emails to coordinate times?

An automated booking chatbot could be the solution your business needs. But not all booking bots are created equal.
In this blog, we'll explore the top features you should prioritize when choosing an appointment scheduling chatbot.

You'll learn key capabilities like appointment reminders, calendar integration, flexible booking rules, customer management and more.
Follow along as we break down the must-have features for seamless booking experiences from the customer and business perspective.

With these insights, you can implement a scheduling chatbot that streamlines appointments, delights customers, and saves your team hours of manual work.

Let's start booking smarter!
What is an Appointment Booking Chatbot?
An appointment booking chatbot is a software application that uses artificial intelligence to automate booking appointments. Chatbots can book appointments for various businesses, including doctors' offices, dentists, hair salons, and restaurants.
Appointment booking chatbots typically work by asking the user a series of questions about their desired appointment. This information can include the appointment's date, time, and location and the services or products the user is interested in.
Once the user has provided this information, the chatbot will book the appointment and send the user a confirmation.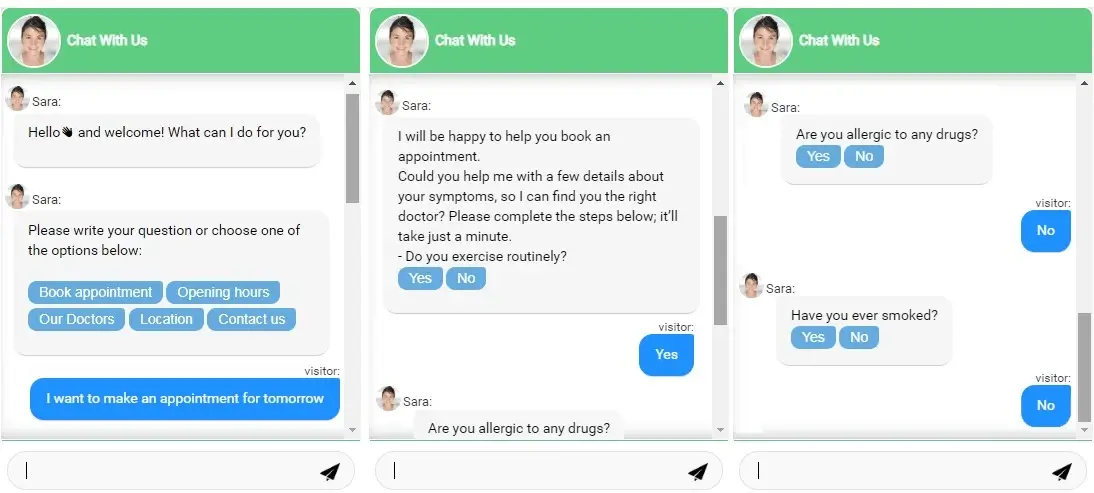 Key Features to Look for in an Appointment Booking Chatbot
In today's fast-paced world, appointment booking chatbots have emerged as essential tools for organizations. It helps in optimizing their scheduling procedures and improving client experience. However, there are some crucial factors to consider before you hop on the automation train:
User Interface Responsiveness
A well-performing chatbot should have a quick and responsive user interface (UI). Important features to note are easy navigation, clear and concise text, large buttons, and responsive images, making interactions smooth even on small screens.
Natural Language Processing Capabilities
An excellent chatbot can comprehend and respond accurately to non-structured questions with the help of Natural Language Processing (NLP). Key NLP features to look for include intent detection, entity extraction, and natural response generation.
Multi-Platform Support
For maximizing customer reach, the chatbot should be built to work with various platforms like Facebook Messenger, WhatsApp, and website chat.
Personalization Features
Personalized user experiences can lead to higher customer satisfaction. Consider chatbots that offer features like customer segmentation, a recommendation engine, and the ability to cross-sell and up-sell.
CRM Integration
To provide a more personalized experience, ensure your chatbot can integrate with Customer Relationship Management (CRM) software. For example, BotPenguin a free custom chatbot development platform aces in providing CRM integrations that include popular CRM platforms like ZOHO, Hubspot, Salesforce, Insightly, and many more.
And the tech for BotPenguin doesn't stop there. Along with the Appointment Booking Bot, BotPenguin offers various business automation solutions like:
Customizable Responses
Choose a chatbot that allows you to customize its responses to align with your brand's voice, tone, and personality.
Multilingual Support
Chatbots offering multilingual support cater to a broader group of users, thus enhancing user engagement and satisfaction.
Calendar Integration
Interoperability with various calendar systems helps avoid schedule conflicts and allows the chatbot to effectively book appointments.
Scalability
As your business grows, ensure your chatbot can handle an increasing number of user requests without hampering the user experience.
Data Privacy and Security
Given that data security is critical, an appointment booking chatbot should have robust security protocols and features including encryption, data access restrictions, and data backups.
Secure Payment Integration
For businesses that would be processing payments through the chatbot, it's important that the chatbot integrates with secure payment gateways. Features like PCI compliance, encryption, two-factor authentication, and fraud detection tools should be available.
Intelligent Suggestions
Chatbots capable of providing appropriate recommendations based on user preferences and previous data improve user decision-making and convenience.
Error Handling with Grace
A chatbot should be able to elegantly handle errors, have the capability to clarify user requests, or escalate them to a human agent when necessary.
Mobile Compatibility
To ensure the chatbot functions effectively on various devices and improves user participation, mobile compatibility is a critical feature.
Real-time Availability
The ability to display real-time availability information simplifies the booking process and improves conversion rates.
Ability to Assist with Complex Queries
Certain appointment booking requests may involve multiple parties or complex situations. Ensure your chatbot can handle such peculiarities and provide relevant responses.
Analytical and Insight Capabilities
Access to performance metrics and insights, like successful reservations and customer satisfaction, and visibility of frequently asked questions helps in improving chatbot performance.
Remember, all features are vital, but make sure the chatbot you choose aligns with your specific needs and business processes.
Conclusion
Booking appointments is a chore, no doubt about it. But chatbots are changing the game. As we've seen, the right appointment booking chatbot makes it easy for customers to schedule sessions and organizers to fill calendars.
No more exhausting back-and-forth emails and calls. Just simple, automated convenience 24/7.
Now, not all chatbots live up to the hype. To really transform bookings, you need one that's tailored to your business; one that can handle natural conversations and adapt to your processes.
That's where a platform like BotPenguin comes in. It allows you to build a chatbot to meet your exact needs. Configure it, train it, integrate it - so it works just as you want.
The results? Happier customers. More bookings. Hours saved. Operations streamlined. All thanks to AI automation that you customize.
BotPenguin hands you the tools to create chatbots that work for you, not the other way around. The platform really gives you full control over the booking experience you deliver. That's the beauty of it.
So if you're ready to turn booking chaos into scheduled order, a chatbot built your way may be the answer.

Sign up today and leverage the power of these nifty chatbots!