If you're thinking about using a virtual assistant, then Google Home must be on your list of options.
Google Home has become one of the top virtual assistant gadgets, snatching up a considerable market share. It's hardly surprising that Google Home has become more well-liked among tech and smart home enthusiasts, given its user-friendly interface, flexible features, and integration with Google's potent search engine.
Do you fear that it won't function with your current technology? You can easily control the atmosphere in your home thanks to Google Home's connection with various smart home gadgets. Do you worry about having to learn new things? Rest easy! Even individuals without much computer experience can effortlessly connect with their virtual assistant's thanks to Google Home's user-friendly interface.
Whether you're looking for hands-free control of your smart home, music streaming, daily reminders, or just a pleasant voice to talk with, Google Home has a lot to offer.
Let's explore and see if Google Home is the right choice for you.
Who can benefit from Google Home?
Google Home is designed to cater to various individuals, making it a versatile addition to any home. Here's a look at who can benefit the most from this intelligent device:
Homeowners
Homeownership comes with many duties, but Google Home can help you do them quickly. With Google Home as your smart hub, you can manage security systems and adjust lighting and thermostats more efficiently.
Renters
With Google Home, you can take advantage of the benefits of a smart home even if you don't own a home. You may easily manage your rented space with an internet connection and appropriate devices. A voice-activated lifestyle is here to replace conventional light switches.
Tech enthusiasts
Google Home is a must-have device for individuals who love to be on the bleeding edge of technology. It is the ideal companion for anyone who appreciates discovering the limitless possibilities of the digital world thanks to its voice assistant features and compatibility with other smart devices.
Busy professionals
If you're constantly on the go and find it challenging to keep up with your daily tasks, Google Home can be your assistant. Keep organized and on top of things by using it to create reminders, manage schedules, receive traffic information, and send messages.
What are the key features of Google Home?
Google Home offers various features that make it a game-changer for your home automation needs. Let's dive into some of its key features:
Voice Assistant Capabilities
Google Home serves as your virtual assistant by responding to your voice commands using the built-in Google Assistant. It's like having your butler available at all times, ready to do everything you ask of them, from answering queries and providing information to setting timers and playing music.
Smart Home Integration
You can control everything in your smart home, from the lights and thermostat to the security cameras and smart locks, thanks to Google Home's compatibility with a wide range of smart home gadgets. Use a simple voice command to set the ideal mood or safeguard your home.
Music and Entertainment
You can access an infinite music library with Google Home features. Google Home can play music from well-known services like Spotify and Pandora, so you can create the perfect atmosphere for a party or just unwind while listening to your favorite songs. Playback can even be managed solely with voice commands.
Daily Tasks and Reminders
Do you have to keep track of key dates or appointments? You can use Google Home as a memory bank. You can ask it to read your daily calendar, prepare shopping lists, and set reminders. It guarantees you will catch all of the beat and makes staying organized simple.
Information and Knowledge
There is a wealth of knowledge in Google Home. Looking for a quick dinner recipe? Looking for the most recent news? You may get up-to-date information from dependable sources by asking Google Home. It is like having your very own encyclopedia in your living room.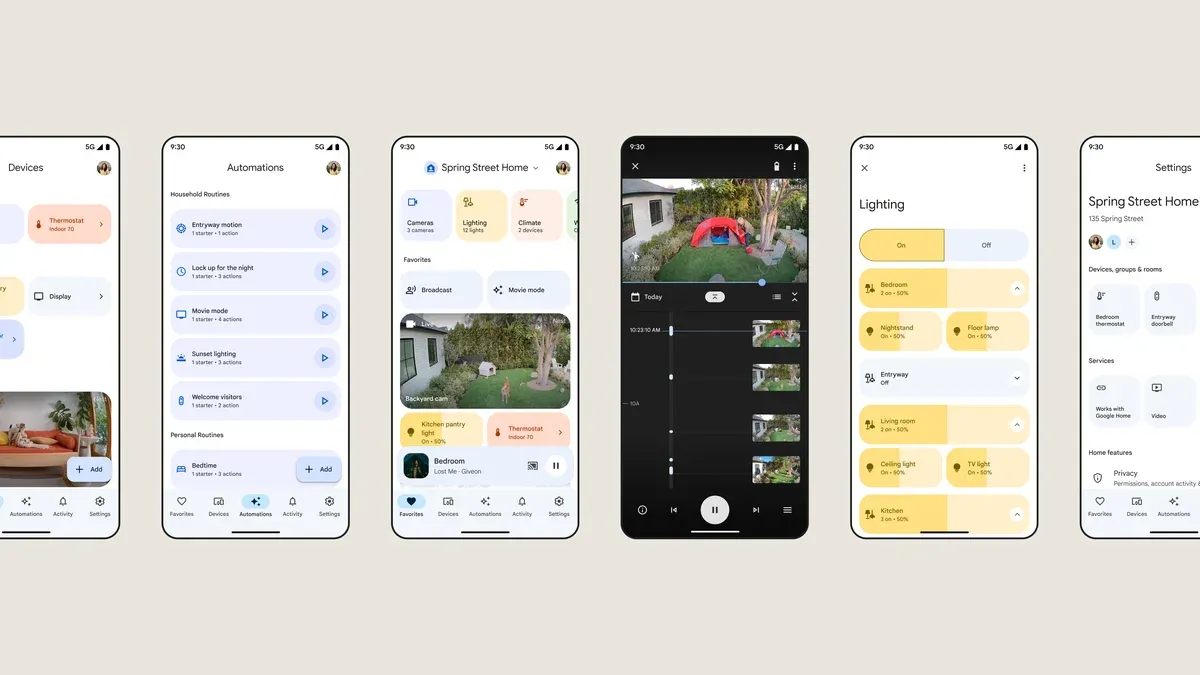 How to set up and use Google Home?
Setting up Google Home is a breeze. Let's go through the steps to get you started:
Unboxing and physical setup
Locate a good spot in your house for your Google Home after you've opened the box. Wait for it to turn on after plugging it into an electrical socket. You will be guided through the setup procedure by the device.
Connecting Google Home to your Wi-Fi network
Connect your Google Home to your Wi-Fi network using the Google Home app on your smartphone or tablet. This step makes sure that Google Home and other smart devices may communicate without interruption.
Configuring preferences and personalization
After you connect, customize the settings on your Google Home to make it uniquely yours. For a more individualized experience, you can select your preferred language, modify the volume, and link your music streaming accounts.
Interacting with Google Home through voice commands
Start speaking to your Google Home using voice commands now that it has been set up. Say "Hey Google" or "OK Google," then state your uncritical request. Try out various commands to utilize Google Home features to their most extraordinary capacity.
When and Where to Use Google Home?
Google Home is a versatile smart speaker used in various rooms. Whether you're looking to listen to music, control smart devices, or get answers to your questions, Google Home has got you covered. Let's explore some of the best places to use Google Home.
Living Room
The living room is an excellent place for your Google Home because it's frequently the center of action in a house. You can operate your entertainment system, get movie suggestions, play your favorite music, and even control the lights in the living room with Google Home installed. All of this can be done from the comfort of your couch. It is comparable to having a personal voice assistant at your disposal.
Kitchen
Another excellent location for Google Home is the kitchen. You can use Google Home commands to set timers, convert measurements, and locate step-by-step culinary instructions while cooking or experimenting with new recipes. While you chop, Swirl, and sauté, you may also listen to your favorite music for cooking or read the news.
Bedroom
Mornings can be made simpler and more fun if you have Google Home in your bedroom. You may ask Google Home to wake you up at a specified time rather than scrambling to find your phone to set the alarm. It can also be used as a noise generator for relaxation and sleep. Additionally, Google Home commands can stream audiobooks and podcasts if you like to listen to them before bed.
Home Office
Google Home might be a useful addition to your home office if you work from home. Before leaving for lunch, you can use it to manage your calendar, make reminders, and check the weather. While using voice commands on your computer, you may even create email draughts or request help with your research. It's like having a personal assistant whose sole job is increasing productivity.
Why Choose Google Home over Other Virtual Assistants?
Google Home offers several advantages over other virtual assistants, such as Amazon Alexa and Apple HomePod. Let's take a closer look at how Google Home stands out.
Comparison with Amazon Alexa
Google Home offers several advantages while being a fierce competitor to Amazon Alexa. One of the key differentiators is Google's extensive knowledge graph, which enables Google Home to give more precise and in-depth responses to your queries. Additionally, Google Calendar and Google Photos are easily integrated with Google Home, making it simpler to organize your daily responsibilities.
Comparison with Apple HomePod
Although Google Home provides a more complete smart home experience than Apple HomePod, Apple HomePod is known for its superb sound quality. With a greater selection of smart home platforms and devices supported by Google Home, you can manage your entire ecosystem from a single device. Additionally, Google Home has excellent voice recognition technology that ensures correct responses even in noisy settings.
How Google Home Protects Your Privacy and Data?
Privacy and data security are important considerations when using any smart home device. Google takes user privacy seriously and has implemented various measures to protect your information.
Data Collection and Storage
Google Home Keep an eye out for "Hey Google" or "OK Google" to activate. When turned on, it captures your voice instructions and transmits them to Google's servers for processing. You have control over managing and deleting your data, even though recordings are saved for better voice recognition. Within the Google Home app, you may manually go through and remove speech recordings or set up automatic deletion.
Privacy Settings and Controls
Google Home offers privacy controls and settings so you can choose how your device behaves. When locked, you can turn off speech recognition or decide whether Google Home obeys your spoken orders.
You may also check and control the permissions given to outside apps that work with Google Home.
Security Features and Safeguards
Encryption is used by Google Home to safeguard data transmission between your device and Google's servers.
In addition, Google updates its software frequently to fix security flaws and guard against new dangers. Regularly updating the firmware on your Google Home ensures it has the latest security features.
What are the Limitations of Google Home?
While Google Home is a powerful and feature-rich smart speaker, it has some limitations.
Compatibility with Other Devices and Platforms
Although Google Home is compatible with many smart home devices, some platforms or devices may need to be compatible. To guarantee seamless integration, confirming a smart home device's compatibility with Google Home is critical before purchasing.
Localization and Language Support
Depending on where you live, Google Home's features and language support may change. Only some regions may offer things like local news and weather updates. Check the official Google documentation to learn more about your area's features and language support.
Dependence on an Internet Connection
The Internet connection enables all of Google Home's functions and functionalities. Some operations might be limitless and accessible with an internet connection. It's vital to consider this restriction if your internet connection is unstable or you frequently experience outages.
Tips and Tricks for Maximizing Your Google Home Experience
To make the most of your Google Home, try these tips and tricks:
Customizing Routines and Shortcuts
You can program routines and shortcuts for Google Home to carry out your daily tasks more efficiently. Routines can be set up to do numerous tasks with a single command. Saying "Hey Google, good morning" can start a process that, among other things, switches on the lights, scans your calendar, and gives the weather report.
Exploring Third-Party Integrations and Apps
The usefulness of Google Home is further increased by integrating a wide range of third-party apps and services. In the "Explore" area of the Google Home app, you may find new apps and integrations that improve your experience with smart homes. The possibilities are infinite, from operating smart appliances to placing restaurant orders.
Troubleshooting Common Issues
Try a few standard troubleshooting techniques if your Google Home has any problems. The best fixes frequently involve restarting your device, verifying your internet connection, or returning your Google Home to factory defaults.
Further help can also be obtained by visiting the Google Home support website or by calling Google support.
Conclusion
The decision to choose a virtual assistant ultimately comes down to your personal preferences and requirements. However, Google Home has proven itself to be a highly capable and versatile option, offering seamless integration with the Google ecosystem, superior search capabilities, multilingual support, robust third-party integrations, user-friendly design, and continuous updates.
By opting for Google Home, you'll be investing in a smart home solution that not only simplifies your daily routines but also keeps evolving to meet your ever-changing needs. So, if you're looking for a reliable, efficient, and future-proof virtual assistant, Google Home might just be the perfect choice for you.
Frequently Asked Questions
What is Google Home and how does it work?
Google Home is a smart speaker powered by the Google Assistant. It can answer questions, play music, control smart devices, and more by using voice commands.
Is Google Home compatible with my existing smart home devices?
Google Home works with a wide range of smart home devices, including lights, thermostats, security cameras, and more. You can check device compatibility on Google's official website.
Can I use Google Home to make hands-free calls?
Yes, Google Home allows you to make hands-free calls to your contacts. You can simply say, "Hey Google, call [contact name]" to initiate a call.
Does Google Home support multi-room audio?
Yes, with multiple Google Home speakers, you can create a synchronized audio system throughout your home. This allows you to play music in multiple rooms simultaneously.
How does Google Home handle privacy and data security?
Google Home takes privacy and data security seriously. It only records audio after the "Hey Google" or "OK Google" wake words, and you have control over your data and privacy settings.
Can Google Home recognize different voices?
Yes, Google Home can recognize different voices and provide personalized responses for multiple users. This enables personalized recommendations and access to individual calendars.
Does Google Home have parental controls?
Yes, Google Home offers parental controls. Parents can set up filters and restrictions to ensure age-appropriate content and control their children's interactions with the device.
Can Google Home provide weather updates and news briefings?
Yes, Google Home can provide real-time weather updates and personalized news briefings. Simply ask, "Hey Google, what's the weather today?" or "Hey Google, give me the news."
Is Google Home compatible with music streaming services?
Yes, Google Home supports popular music streaming services such as Spotify, YouTube Music, and Pandora. You can play your favorite songs and playlists through voice commands.
Can I use Google Home to control my TV and entertainment system?
Yes, with compatible devices, you can use Google Home to control your TV and entertainment system. You can ask Google Home to play shows, movies, and videos on your television.